Press Release:
Three more media guests have been added to Boston Comic Con 2015! Kat Graham (star of The Vampire Diaries), Bob Morley (star of The 100), and Tyler Posey (star of Teen Wolf) will join us in just a few short weeks. Please note Kat will only appear on Friday July 31st and Saturday August 1st, Tyler and Bob will appear all three days of the con!
Kat Graham is an accomplished music artist and actress who currently stars as Bonnie Bennett on the CW's megahit series The Vampire Diaries. Her career began at an earlier age with guest appearances on several TV shows and commercials including Coca-Cola's "Wanna Fanta?" spots. Kat has also starred in feature films including 17 Again, The Roommate, and the title role in Honey 2.
Previously announced guests include: Stan Lee, Gillian Anderson, Billie Piper, Hayley Atwell, Robin Lord Taylor, Brett Dalton, Manu Bennett, Thomas Jane, Elvira, Eduardo Risso, Humberto Ramos, Jose Luis Garcia-Lopez, Tony Moore, Jason Latour, Joelle Jones, Steve Lieber, Annie Wu, Franco Aureliani, J. Bone, Frank Brunner, Michael Cho, Jeff Dekal, Evan Dorkin, Sara Dyer, Gerry Duggan, Mike Henderson, Mike Kunkel, John Layman, Stacey Lee, Laura Martin, Phil Noto, Dan Panosian, Yanick Paquette, Jeff Parker, Andrew C. Robinson, Kurtis J. Wiebe, Joshua Williamson, Brian Azzarello, Nick Bradshaw, Eric Canete, Frank Cho, Amanda Conner, Jimmy Palmiotti, Andy Belanger, Stephanie Buscema, Dave Johnson, Joe Prado, Tim Sale, Amy Reeder, Don Rosa, Stephane Roux, Frank Tieri, Todd Nauck, and more!
Tickets are now available for purchase. Please note that this year tickets will be sold ONLINE ONLY, there will not be any on-site ticket sales.
About Boston Comic Con:
The Boston Comic Con is a 100% independently run comic book show committed to bringing the biggest and best comic creators to New England. Run by fans for fans, Boston Comic Con is not affiliated with any other convention tour or corporate interests. Hosting over 120,000 square feet of vendors selling comic books, toys, posters, trading cards, and other pop culture memorabilia, this is a destination event for geeks of any stripe. This year's convention will be held Friday July 31st, Saturday August 1st, and Sunday August 2nd at the Seaport World Trade Center, 200 Seaport Blvd, Boston, MA 02210. For more information please go to our website at www.bostoncomiccon.com and follow us on Twitter (@BostonComicCon) and Facebook!
Press Release:
LEGENDARY AT SDCC 2014
At Comic-Con 2014, we invite our fans to 'step inside our worlds'.
We will be at San Diego Comic-Con 2014 hosting a booth on the show floor, holding a panel in Hall H, and much more.  Follow us on Twitter and Instagram for the latest announcements and updates.  We know everyone can't make it to Comic-Con so we will be covering all the activities through photos & videos, and hosting fan giveaways on our social accounts during and after Comic-Con.  Keep an eye out!
Legendary Booth
Booth Location: #3920
We have worked with master filmmaker Guillermo del Toro to bring his incredible imagination to life, delivering two unique fan experiences for Pacific Rim and Crimson Peak.  The booth hosts unique physical props from the hotly anticipated Warcraft, giving fans an exclusive first look right out of the world of the film.  Additionally the booth offers previews of Legendary's upcoming psychological thriller As Above/So Below and the new catalogue of titles from Legendary Comics.
Crimson Peak Gothic Gallery
Step inside the imagination of Guillermo del Toro with The Gothic Gallery, an immersive handcrafted exhibit from master filmmaker. This exclusive fan experience offers a glimpse behidnd the curtain of Crimson Peak, through an intimate set piece of the gothic haunted house he is creating… Beware Crimson Peak!
Head to facebook.com/CrimsonPeakMovie to view images of the Gothic Gallery and sign up for a chance to win an exclusive tour of the Gothic Gallery with the visionary filmmaker Guillermo del Toro.
Visit the Legendary Booth to experience the Gothic Gallery.
Pacific Rim Jaeger Pilot
We have worked closely with the leading pioneers of virtual reality, Oculus VR, to deliver a new benchmark in Oculus Rift experiences.
Fans will experience what it feels like to pilot a 250-story robot as they step into a fully-realized Jaeger Combat Simulator.  Strapping on the Oculus Rift headset, fans will 'Drift with the Rift' and experience the beloved universe of Pacific Rim in a whole new way.
Watch this video and visit the Legendary Booth at 9 am daily for tickets.  First come, first served.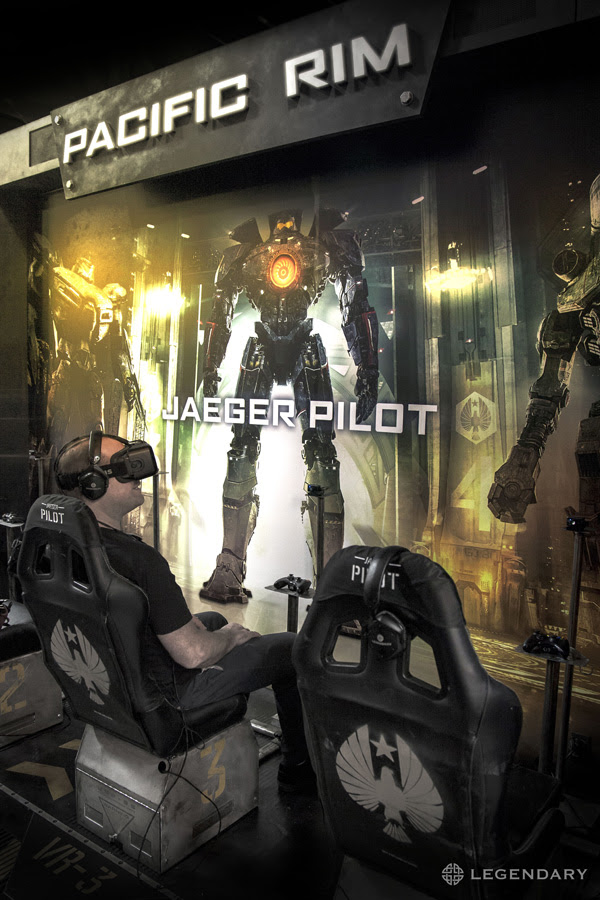 Signing with Warcraft Director Duncan Jones
Legendary and Warcraft fans now have the chance to meet director Duncan Jones, the man responsible for bringing Warcraft to the big screen.  Duncan Jones will be doing a signing on Saturday 7/26 at 2 pm at the Blizzard Booth (#115). Tickets will be handed out that morning at 11 am on a first come, first served basis at the Blizzard Booth.
Legendary's Film Panel – Hall H
Date: Saturday, July 26
Time: 12:35 pm
During our panel, we will be live tweeting from Hall H.  Follow along here:@Legendary.
Producer Thomas Tull from Legendary recently spoke with IGN while doing publicity for the release of new Godzilla movie. When asked when a trailer might be seen for Warcraft, Tull replied:
We show up every summer at Comic-Con – we really enjoy it, and the fans seem to enjoy taking a look at things, so I wouldn't be surprised.
Legendary Pictures' WARCRAFT, based upon Blizzard Entertainment's globally-renowned universe, will be released by Universal Pictures on Friday, December 18, 2015. WARCRAFT marks the first film dated under the recently formed partnership between Universal and Legendary.
The film, an epic adventure of world-colliding conflict, will be directed by Duncan Jones (Moon, Source Code) and is written by Charles Leavitt and Duncan Jones. The producers are Charles Roven and Alex Gartner for Atlas Entertainment and Thomas Tull and Jon Jashni for Legendary. Stuart Fenegan, Jillian Share and Brent O'Connor will serve as executive producers. Blizzard's Chris Metzen will co-produce.
Via Legendary: 
Legendary will be hosting several opportunities for fans to meet their favorite stars from upcoming films and get posters, t-shirts and memoribilia signed. Signing cards may be available at the booth, but we encourage you to also bring any items you would like signed.
Schedule:
Shadow Walk – Mark Waid, Shane Davis & Max Brooks
July 18, 5 – 6 pm
Seventh Son – Jeff Bridges, Ben Barnes, Kit Harington, Antje Traue and Sergei Bodrov
July 20, 11:40 am – 12:20 pm
300: Rise of an Empire – Eva Green, Sullivan Stapleton, Rodrigo Santoro & Noam Murro
July 20, 12:30 pm – 1:00 pm
Godzilla – Bryan Cranston, Aaron Taylor-Johnson, Elizabeth Olsen & Gareth Edwards
July 20, 12:30 pm – 1:00 pm
*Be sure to check the Events tab for the latest schedule and follow us on Twitter for breaking news and announcements. Schedule is subject to change. Note: photos above are from 2012 and do not represent who will be signing this year.
EVENTS SCHEDULE
Jul 18

Q&A with Travis Beacham, Writer of Pacific Rim
San Diego Comic-Con, Booth #3920

12:00PM – 1:00PM

Jul 18

Shadow Walk Signing – Mark Waid, Shane Davis & Max Brooks
San Diego Comic-Con, Booth #3920

5:00PM – 6:00PM

Jul 19

Portfolio Review with Bob Schreck
San Diego Comic-Con, Booth #3920

11:30AM – 12:30PM

Jul 20

Warner Bros. Pictures and Legendary Pictures Preview Their Upcoming Lineups
San Diego Comic-Con, Hall H

10:45AM – 1:15PM

Jul 20

Seventh Son Signing – Jeff Bridges, Ben Barnes, Kit Harington, Antje Traue and Sergei Bodrov
San Diego Comic-Con, Booth #3920

11:40AM – 12:20PM

Jul 20

300: Rise of an Empire Signing – Eva Green, Sullivan Stapleton, Rodrigo Santoro and Noam Murro
San Diego Comic-Con, Booth #3920

12:30PM – 1:00PM

Jul 20

Godzilla Signing – Bryan Cranston, Aaron Taylor-Johnson, Elizabeth Olsen and Gareth Edwards
San Diego Comic-Con, Booth #3920

1:00PM – 1:45PM
Press Release:
Legendary Entertainment Invites Fans to Play the "SnapTag Game" at Comic-Con: International 2011 San Diego
Legendary creates mass game play at Comic-Con challenging fans to find one another in a unique SnapTag Game. Winners rewarded with iPads, Legendary DVDs, and autographed first edition copy of Frank Miller's "Holy Terror."
San Diego, CA,  July 21, 2011
Legendary Entertainment, a leading media company with film, television and comics divisions, is offering Comic-Con attendees at the San Diego Convention Center from July 21-24, 2011, a unique mobile game to connect and engage with one another.
The centerpiece of the Legendary initiative at Comic-Con is the SnapTag™, a more accessible QR Code alternative, created by marketing technology companySpyderLynk. The object for Comic-Con fans is to use their phone to "snap and send" as many as 500 unique Legendary SnapTags displayed on the lanyard badges of other show attendees. Those with the most "snaps" at the end win.
The game is accessible to anyone at Comic-Con with a mobile phone. Fans snap and send a SnapTag over short code or email to activate participation. iPhone and Android users can download the SnapTag Reader app at the iPhone App Store and Android Market to activate participation with a scan. Custom responses are triggered confirming participation with each snap and send or scan.
How It Works
The first 500 attendees to come to the Legendary Pictures booth on July 21st will receive their own unique Legendary SnapTag lanyard. They then become a 'Snapee' in the race to collect the most Snaps – Snapees compete to get as many festival-goers as possible to snap and send or scan the SnapTag on their lanyard.
The 'Snapee' with the highest number of unique snaps from their lanyard tag will win the Grand Prize, which includes an iPad, a $500 gift certificate to iTunes, ten Legendary DVDs (Batman Begins, 300, The Dark Knight, Where the Wild Things Are, Watchmen, The Hangover, Clash of the Titans, Inception, The Town), two Holy Terror t-shirts by Graphitti, and an autographed first edition copy of Frank Miller's Holy Terror (when available).
All other attendees can participate in the sweepstakes portion of the game by finding a 'Snapee' and capturing their SnapTag. Each SnapTag sent in counts as one entry. Winners of the 10 iPads will be randomly selected from the total combined entries of all participants.
"The SnapTag game gives Legendary an opportunity to go beyond their booth to engage fans and enhance the Comic-Con experience," said Nicole Skogg, SpyderLynk Founder and CEO. "I am excited to see if anyone will capture each of the 500 SnapTags at the event."
In addition to the sweepstakes entries, tumblers will be given out to Snappers each day while supplies last. Instructions to pick them up will be included in the text response to players.
Game play begins with the opening of the conference at 10am on July 21st, and ends on Sunday, July 24th at 12pm. Winners will be notified via email on Tuesday, July 26th. Game play is open to anyone ages 13 and up who are legal residents of the 50 United States and the District of Columbia.
For Official Rules, prices, offers, odds and how to enter without using a cell phone, visithttp://www.legendary.com/snaptags-legal. Participants will need to send and receive three mobile messages to enter the Sweepstakes. Entry via MMS messaging may not be available via all wireless carriers.
About SpyderLynk
SpyderLynk activates branding to drive marketing results. SpyderLynk, the creator of the branded, algorithm-driven SnapTag™, enables brands such as Coke Zero, Revlon, L'Oreal, MillerCoors, Warner Brothers, Toyota, Bud Light and others to engage consumers and accelerate purchase cycles. A more sophisticated 2D Mobile Barcode, the SnapTag technology turns brand logos, featured on any type of packaging, advertising, signage or screens, into interactive marketing tools. Consumers with smart or standard camera phones can activate SnapTags to instantly access offers, content, promotions, and information. Based in Denver, Colorado, SpyderLynk was founded in 2006 and can be found online at http://www.spyderlynk.com.
Follow us on Facebook (facebook.com/snaptag), Twitter (@SpyderLynk) and through the #SnapTag hashtag.
About Legendary Entertainment
Legendary Entertainment is a leading media company with film, television and comics divisions dedicated to owning, producing and delivering content to mainstream audiences with a targeted focus on the powerful fandom demographic. Through complete or joint ownership, Legendary is building a library of marquee media properties and has established itself as a trusted brand which consistently delivers high-quality, commercial entertainment including some of the world's most popular intellectual property. Among the wholly-owned film projects that Legendary Entertainment is currently developing in-house are Pacific Rim, directed by Guillermo del Toro; an adaptation of the phenomenally successful interactive game universe Warcraft; Godzilla, based on Toho Company's famed character; Warren Ellis' Gravel; and Mass Effect, based on Electronic Arts and BioWare's hit videogame franchise. Legendary has co-produced more than 25 Warner Bros. films, including the recent smash hit, The Hangover Part II, which holds the distinction of posting the highest opening weekend gross ever for a comedy film, the critically acclaimed Inception, which has been a box office smash grossing more than $825 million worldwide, as well as the global blockbusters Clash of the Titans ($493 million worldwide), The Dark Knight ($1 billion worldwide), 300 ($456 million worldwide) and The Hangover ($467 million worldwide).
Follow Legendary on Twitter @LegendaryNews and visit the company's Facebook page athttp://www.Facebook.com/LegendaryEnt.