Press Release:
CBS TELEVISION STUDIOS ANNOUNCES ITS THURSDAY LINEUP OF BLOCKBUSTER PANELS AT COMIC-CON 2014 ON JULY 24
ELYES GABEL, KATHARINE MCPHEE, ROBERT PATRICK ("SCORPION"); MIKE VOGEL, DEAN NORRIS, RACHELLE LEFEVRE, COLIN FORD, ALEXANDER KOCH, EDDIE CAHILL ("UNDER THE DOME"); ADELAIDE KANE, TOBY REGBO AND MEGAN FOLLOWS ("REIGN") WILL BE IN ATTENDANCE
EXCLUSIVE SUPERHERO-INSPIRED "SCORPION" ART TO ALSO DEBUT AT COMIC-CON
July 8, 2014 – Los Angeles – CBS Television Studios will introduce a team of brilliant misfits, let a few Chester's Mill-ers out of the Dome and make way for a royal arrival with back-to-back panels at Comic-Con 2014 on Thursday, July 24 (11:15 AM-2:00 PM) in Ballroom 20. The events of the day will include an exclusive premiere screening of the highly anticipated new CBS series SCORPION, a special sneak peek of the global hit series UNDER THE DOME and a glimpse of what's ahead for fan-favorite drama REIGN. Additionally, don't miss the debut of superhero-inspired SCORPION art created exclusively for Comic-Con.
THURSDAY, JULY 24:
UNDER THE DOME (Ballroom 20) Hashtag: #DomeSDCC
11:15 AM-12:00 PM Panel & Exclusive Sneak Preview – The hit summer series is back for its second season, with higher stakes and catastrophic developments that leave no one safe under the dome. The inhabitants of Chester's Mill must decide who to rally behind as Big Jim continues to fight for the town's trust and allegiance, all while resources dwindle and the post-apocalyptic conditions continue to intensify. There are new faces, bigger mysteries, betrayed alliances and monumental revelations about the dome, which will lead to a shocking discovery of what is behind it. Follow us on this journey back under the dome, where you can't always believe what you see and nothing is impossible. An exclusive sneak preview at what's to come in season 2 will be followed by a panel discussion with cast members Mike Vogel ("Bates Motel"), Dean Norris ("Breaking Bad"), Rachelle Lefevre ("Twilight"), Alexander Koch, Colin Ford and Eddie Cahill with Executive Producer Neal Baer.
For the latest updates on UNDER THE DOME, go to www.facebook.com/UnderTheDomeCBS, http://underthedomeoncbs.tumblr.com, and follow @UnderTheDomeCBS and stars and producers @DeanJNorris, @RachelleLefevre, @Mike_Vogel, @colinfordactor, @EddiePCahill and @NealBaer on Twitter.
SCORPION (Ballroom 20) Hashtag: #ScorpionSDCC
12:05 PM-1:10 PM Exclusive Premiere Screening & Panel – Discover the new CBS drama coming this fall, based on the true story of Walter O'Brien, an eccentric genius with the world's fourth-highest I.Q. who has created a company of brilliant misfits who use their mental muscle to defend the planet against complex high-tech threats of the modern age. In this high-octane thrill ride from the makers of "Star Trek," "Transformers," "The Amazing Spider-Man 2" and "The Fast and The Furious," O'Brien's team uses their exceptional brainpower to solve the nation's crises, while also helping each other learn how to fit in. The exclusive screening of the pilot episode will be followed by a panel discussion with the real-life Walter O'Brien and series stars Elyes Gabel ("World War Z"), Robert Patrick ("Terminator 2"), Katharine McPhee ("Smash") and Executive Producers Nick Santora, Nicholas Wootton, Alex Kurtzman, Roberto Orci and Justin Lin. The panel discussion will be moderated by Sandra Gonzalez, Senior Television Reporter at Mashable.com.
For the latest updates on SCORPION, go to https://www.facebook.com/ScorpionCBS and follow @Scorpion_CBS, @katharinemcphee, @ElyesGabel, @robertpatrickT2, @NicholasWootton and @trailingjohnson on Twitter.
REIGN (Ballroom 20) Hashtag: #ReignSDCC
1:15 PM – 2:00 PM Panel & Exclusive Sneak Preview – The saga of Mary, Queen of Scots continues when REIGN returns for its second season this fall. Mary and Francis will rule a nation burning with plague, famine and religious strife. Powerful lords will rise from the ashes, fears and superstitions will take terrifying forms and marriages deemed sacred will be violated, all as Mary tries to save herself and her friends, and Francis learns his true enemy might be his own family. An exclusive sneak preview at what's to come in Season 2 will be followed by a panel discussion with cast members Adelaide Kane ("Teen Wolf"), Megan Follows ("Anne of Green Gables") and Toby Regbo ("Mr. Nobody"), along with Executive Producer Laurie McCarthy. The panel discussion will be moderated by Meeta Agrawal, Executive Editor at Entertainment Weekly.
For the latest updates on REIGN, go to https://www.facebook.com/cwreign, http://cwreign.tumblr.com/, and follow @CWReign, @AdelaideKane, @toby_regbo, @Lauriewritenow and @reignwriters on Twitter.
For exclusive content throughout Comic-Con, please follow the studio on Twitter @CBSTVStudios, on Instagram at http://instagram.com/cbstvstudios, on Tumblr at http://cbstelevisionstudios.tumblr.com/ and on Facebook at https://www.facebook.com/pages/CBS-Television-Studios/168799523230941.
Comments Off on Relativity Media Heads to SDCC 2011 with Shark Night, Haywire, The Raven, and Immortals
Press Release:
SHARK NIGHT 3D
Release date: 9/2/11
A sexy summer weekend turns into a blood-soaked nightmare for a group of college students trapped on an island surrounded by voracious underwater predators in Shark Night 3D, a terrifying thrill ride from director David Ellis (The Final Destination, Snakes On a Plane), featuring a red-hot young cast including Sara Paxton (Superhero Movie, Last House on the Left), Dustin Milligan ("90210," Slither), Chris Carmack ("The O.C."), Joel David Moore (Avatar), Chris Zylka (The Amazing Spider Man) and Katharine McPhee (The House Bunny).
Arriving by boat at her family's Louisiana lake island cabin, Sara (Sara Paxton) and her friends quickly strip down to their swimsuits for a weekend of fun in the sun. But when star football player Malik (Sinqua Walls) stumbles from the salt-water lake with his arm torn off, the party mood quickly evaporates. Assuming the injury was caused by a freak wake-boarding accident, the group realizes they have to get Malik to a hospital on the other side of the lake, and fast.
But as they set out in a tiny speedboat, the college friends discover the lake has been stocked with hundreds of massive, flesh-eating sharks! As they face one grisly death after another, Sara and the others struggle desperately to fend off the sharks, get help and stay alive long enough to reach the safety of dry land.
AVAILABLE TALENT:
Sara Paxton (Sleepover, Superhero Movie), Katharine McPhee (The House Bunny), Dustin Milligan (Final Destination 3), Chris Carmack (The Butterfly Effect 3: Revelations), Joel David Moore (Avatar), Sinqua Walls (From the Head), Alyssa Diaz (Red Dawn) and director David Ellis (Snakes on a Plane).
DATES:
Wednesday, July 20 – Private Press Event (please contact publicists for more information)
Thursday, July 21 – Press day with talent
HAYWIRE
Release date: 1/20/12
Mixed martial arts (MMA) superstar Gina Carano (American Gladiators) makes her feature film debut, starring and performing her own high-adrenaline stunts. The film's talented cast also includes Channing Tatum (GI Joe: Rise of the Cobra), Ewan McGregor (The Ghost Writer), Michael Fassbender (X-Men: First Class), Antonio Banderas (Desperado), Bill Paxton (Titanic), Michael Douglas (Wall Street: Money Never Sleeps) and Michael Angarano (Almost Famous).
In Haywire, an electrifying tale of espionage and betrayal, a female covert ops specialist (Carano), who works in the deadly world of international operatives, strikes back after discovering she's been double-crossed by someone close to her in the agency. The film is produced by Gregory Jacobs (Ocean's Trilogy) and written by Lem Dobbs (The Limey).
AVAILABLE TALENT:
Gina Carano (MMA Champion) and director Steven Soderbergh (Traffic, Ocean's Eleven)
DATE:
Friday, July 22
11:00am – 11:25am: Comic-Con Panel in Hall H
11:45am – 12:30pm: Official autograph signing at the Convention Center
1:00pm: Official Comic-con step & repeat and select press interviews
THE RAVEN (working title)
Release date: 3/9/12
In this gritty thriller, Edgar Allen Poe (John Cusack, Being John Malkovich) joins forces with a young Baltimore detective (Luke Evans, Immortals) to hunt down a mad serial killer who's using Poe's own works as the basis in a string of brutal murders. Directed by James McTeigue (V for Vendetta), the film also stars Alice Eve (Sex and the City 2), Brendan Gleeson (In Bruges) and Oliver Jackson-Cohen (Faster).
When a mother and daughter are found brutally murdered in 19th century Baltimore, Detective Emmett Fields (Luke Evans) makes a startling discovery: the crime resembles a fictional murder described in gory detail in the local newspaper—part of a collection of stories penned by struggling writer and social pariah Edgar Allan Poe. But even as Poe is questioned by police, another grisly murder occurs, also inspired by a popular Poe story.
Realizing a serial killer is on the loose using Poe's writings as the backdrop for his bloody rampage, Fields enlists the author's help in stopping the attacks. But when it appears someone close to Poe may become the murderer's next victim, the stakes become even higher and the inventor of the detective story calls on his own powers of deduction to try to solve the case before it's too late.
AVAILABLE TALENT:
John Cusack (Being John Malkovich, 2012), Luke Evans (Immortals, The Three Musketeers), Alice Eve (Men In Black III) and director James McTeigue (V for Vendetta)
DATE:
Friday, July 22
11:30am – 12:00pm: Comic-Con Panel in Hall H
12:15pm – 1:00pm: Official autograph signing at the Convention Center
1:30pm: Official Comic-con step & repeat and select press interviews
IMMORTALS
Release date: 11/11/11
Visionary director Tarsem Singh (The Cell, The Fall) and producers Gianni Nunnari (300), Mark Canton (300) and Ryan Kavanaugh (The Fighter) unleash an epic tale of treachery, vengeance and destiny in Immortals, a stylish and spectacular 3-D adventure. As a power-mad king razes ancient Greece in search of a legendary weapon, a heroic young villager rises up against him in a thrilling quest as timeless as it is powerful.
The brutal and bloodthirsty King Hyperion (Mickey Rourke) and his murderous Heraklion army are rampaging across Greece in search of the long lost Bow of Epirus. With the invincible Bow, the king will be able to overthrow the Gods of Olympus and become the undisputed master of his world. With ruthless efficiency, Hyperion and his legions destroy everything in their wake, and it seems nothing will stop the evil king's mission.
As village after village is obliterated, a stonemason named Theseus (Henry Cavill) vows to avenge the death of his mother in one of Hyperion's raids. When Theseus meets the Sybelline Oracle, Phaedra (Freida Pinto), her disturbing visions of the young man's future convince her that he is the key to stopping the destruction. With her help, Theseus assembles a small band of followers and embraces his destiny in a final desperate battle for the future of humanity.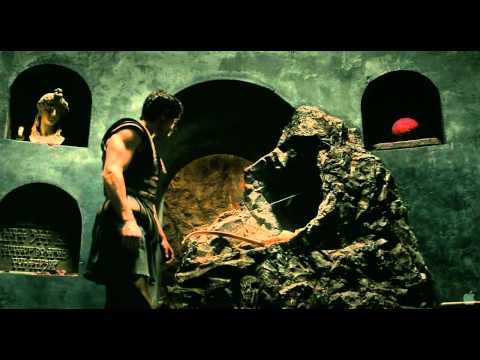 AVAILABLE TALENT:
Henry Cavill (Zach Snyder's upcoming Superman: Man of Steel), Luke Evans (The Three Musketeers, Clash of the Titans), Kellan Lutz (The Twilight Saga), Stephen Dorff (Somewhere), Freida Pinto (Slumdog Millionaire), Mickey Rourke (The Wrestler) and producers Mark Canton (300) and Gianni Nunnari (300).
DATE:
Saturday, July 23
1:00pm – 2:00pm: Comic-Con Panel in Hall H
2:30pm – 3:30pm: Official autograph signing at the Convention Center
4:00pm: Official Comic-con step & repeat and select press interviews