Comments Off on AZ – Fall Out Toy Works Signing
Pete Wentz, Patrick Stump, Joe Trohman, and Andy Hurley sign their new comic on Sept 19th.
Atomic Comics, 3155 W Chandler Blvd #105, Chandler, AZ 85226
(480) 940-6061
www.atomiccomics.com
Comments Off on NYC – Fallout Toy Works Signing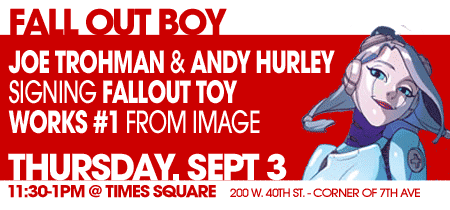 Fall Out Boy band members Joe Trohman and Andy Hurley will appear at Midtown Comics in Times Square on Thursday Sept. 3rd from 11:30AM to 1:00PM signing the comic book they inspired by Image — Fallout Toy Works #1. Tickets will be limited to the first 100 guests, to be distributed free at the time of the event. Purchase of the comic book is required.
Midtown Comics Times Square, 200 W 40th Street (Corner of 7th Avenue), New York, NY 10018