Gwyneth Paltrow (Iron Man, Shakespeare in Love) appears at Barnes & Noble on Tuesday April 12, 2016 at 1:00 PM to sign her new cookbook It's All Easy: Delicious Weekday Recipes for the Super-Busy Home Cook.
Purchase It's All Easy at the cashier starting at 9:00 AM on April 12 and join the signing line outside the front of the store. No memorabilia and no posed photography.
Barnes & Noble
555 Fifth Avenue, New York, NY 10017
212-697-3048
Andrew C. Robinson (Grayson, Fifth Beatle, The Wake), Bob Layton (Iron Man, Secret Wars, Valiant Comics), Darrell May (The Untamed, Niobe), and Sebastian Jones (Dusu, Erathune, I am Awesome) appear at Hypno Comics on Saturday, February 13, 2015 for the store's fourth anniversary celebration!
Hypno Comics & Games
1803 E. Main Street, Ventura, CA 93001
(805) 651-9767
Terrence Howard, Taraji P. Henson, Jussie Smollett, Bryshere Y. Gray, Trai Byers, Grace Gealey, Kaitlin Doubleday, Gabourey Sidibe, Ta'Rhonda Jones, Serayah, Lee Daniels, Danny Strong, Ilene Chaiken, and Brian Grazer appear at PaleyFest on Friday, March 11, 2016 at 7:30 PM to talk about EMPIRE!
Dolby Theatre
6801 Hollywood Blvd, Los Angeles, California 90028
(323) 308-6300
Press Release:
Stan Lee, the guy who created and co-created hundreds of iconic superheroes, including Spider-Man, Iron Man, Incredible Hulk, and Thor, is coming to Planet Comicon Kansas City at Bartle Hall May 20, 21 and 22. The legendary former publisher of Marvel Comics is scheduled to sign autographs, pose with fans for photo opportunities, and appear on stage for a Q&A session.
"Every year the show gets better," said Planet Comicon Kansas City founder and CEO Christopher Jackson. "We are incredibly excited and truly honored to have Stan Lee coming to Kansas City. He is a visionary who has brought a whole pantheon of modern mythology to life. The incredible imagination of Stan Lee fills our theaters, toy stores, and television screens."
Planet Comicon Kansas City has exploded in popularity and attendance since moving to the monster space at Bartle Hall in 2012. The annual show draws legions of fans of superheroes, science fiction, animation, television, movies, fantasy, and gaming, with acres of interactive exhibits, live art, costumes, performances and collectibles.
Other celebrity guests already announced for Planet Comicon in 2016 include Edward James Olmos (Battlestar Galactica, Miami Vice), Eve Myles (Doctor Who, Torchwood), Sean Maher (Firefly), and Jason Mewes (Clerks, Mallrats). Other comic creator guests include Bill Sienkiewicz (Elektra: Assassin), Jason Aaron (Star Wars, Thor), Joe Staton (Green Lantern, Dick Tracy), Cullen Bunn (Uncanny X-Men, The Sixth Gun), Brian Hurtt (The Sixth Gun, Queen & Country), Matt Kindt (Rai, Ninjak), Don Rosa (Uncle Scrooge), Freddie E. Williams II (Batman/TMNT), Dennis Hopeless (Spider-Woman), Phil Hester (Green Arrow, The Flash: Season Zero), Rick Burchett (Lady Sabre, Batman Adventures), and more!
"We will continue to announce celebrity guests over the next few months," Jackson said. "The final roster will include more than 25 celebrities who will be available to meet with their fans. Planet Comicon is designed for every fan in the family. We work for a great balance of comic book creators, celebrity guests, cosplay events, vendors, gaming, children's activities, performances, and panel programming. That's what has kept our event growing year after year."
Last year's Planet Comicon Kansas City drew a record-setting 54,000 fans to Bartle Hall, but Jackson expects the 2016 show to be the biggest yet.
Jackson noted that, "For the past two years, Planet Comicon has been on the same weekend as the Big 12 basketball tournament, which strained the limits of hotel rooms, parking, and other downtown accommodations. Our event has now moved to May, and we expect that to allow us to grow our show and improve the experience for fans even more."
Tickets for Planet Comicon Kansas City will be available at the door. In addition, advance memberships that include admission to the event can be purchased at the Planet Comicon Kansas City website, www.planetcomicon.com. A limited number of Stan Lee autograph and photo packages will be available and can be pre-purchased on the website.
"This will be Mr. Lee's first such appearance in Kansas City and we are extremely excited to welcome him as our guest of honor at Planet Comicon," Jackson said. "We expect the Stan Lee packages to sell out in advance of the show, so fans who want to meet him should book their packages well ahead of time."
Lee has appeared in more than 30 movies, including cameos in nearly every Marvel movie. He was recently named the most successful filmmaker of all time, as his legendary creations have grossed $15 billion worldwide.
FOUNDED IN 1999, PLANET COMICON KANSAS CITY is Kansas City's largest and longest-running comic book convention and pop culture expo, featuring the best in comic books, fantasy, science fiction television and movies. Past Planet Comicon guests have included William Shatner, Stephen Amell, Lou Ferrigno, Adam West, Kenny Baker, Cary Elwes, Karen Gillan and many more. Memberships that include admission can be purchased on the event website, www.planetcomicon.com. Tickets will also be available at the door.
Comics legend Stan Lee, co-creator of Spider-Man, Avengers, X-Men, Fantastic Four, Iron Man, and more, appears at Barnes & Noble on Saturday, January 30, 2016 at 2:00 PM to celebrate the release of "The Zodiac Legacy: The Dragon's Return." In this second illustrated novel of The Zodiac Legacy series, the dangerous dragon power only grows stronger within Jasmine, and Steven struggles to hold their ragtag team together. But as alliances become strained, the line between the "good guys" and the "bad guys" becomes blurrier and blurrier. And it all culminates in a major cliffhanger that readers won't see coming!
Stan Lee will be here to hand out pre-signed copies of "The Zodiac Legacy: The Dragon's Return."
This is a wristbanded event
-1 book per person/ 1 wristband per person – no exceptions
-Wristbands and books are limited to 300
-Wristbands will be issued to customers who purchase the book from Barnes & Noble at The Grove beginning at 9am on January 30
-the wristband will allow you into the event area where Stan Lee will hand you a pre-signed book
-personalization will not be available
-photos will not be permitted
-No memorabilia please
Barnes & Noble – The Grove
189 The Grove Dr, Los Angeles, CA 90036
(323) 525-0270
Joshua Middleton, Mitch Breitweiser, Elizabeth Breitweiser, and Rick Hoberg appear at Madness Games and Comics for three days worth of events!
Autograph Signing
Wednesday December 16, 5 pm to 9 pm
Come meet artists Joshua Middleton, Mitch Breitweiser, Elizabeth Breitweiser, and Rick Hoberg!
Art Workshop with Q&A and Portfolio Review
Thursday December 17, 5 pm to 9 pm
Join artists Joshua Middleton, Mitch Breitweiser, Elizabeth Breitweiser, and Rick Hoberg for a workshop, Q&A, and portfolio review. They'll discuss their processes, share behind-the-scenes stories, offer insight into tools and techniques, tips on working in comics, film, and animation industries, and answer questions along the way. Following the workshop, they'll be offering personalized critiques and advice in a portfolio review session. Portfolio reviews will be $50 for 15 minutes each with Mr. Middleton, Mr. & Mrs. Breitweiser, and Mr. Hoberg. There will be limited availability and preregistration is available in the store.
Autograph Signing
Saturday December 19, 10 am to 1 pm & 2 pm to 5 pm
Come meet artists Joshua Middleton, Mitch Breitweiser, and Elizabeth Breitweiser for autograph signings!
About the artists:
Come meet artist JOSHUA MIDDLETON and get your books signed! In addition to providing the cover for the exclusive Madness Games & Comics DARK KNIGHT III: THE MASTER RACE variant, Josh has illustrated covers for dozens of comics as well as interiors on books like NYX, SUPERMAN/SHAZAM: FIRST THUNDER, SUPERGIRL, and WONDER WOMAN. In addition to his comics work, Josh has been an art director and designer in feature film and television animation, with credits including Joss Whedon's SERENITY, GREEN LANTERN: THE ANIMATED SERIES, and season two of THE LEGEND OF KORRA.
Mitch Breitweiser has been penciling, inking, and painting his way through dozens of Marvel and Independent books and covers. His numerous works on CAPTAIN AMERICA have made him a fan favorite, not to be missed. Elizabeth Breitweiser is a colorist and cover artist. Some of her work includes OUTCAST by Robert Kirkman and Paul Azaceta, AMAZING SPIDER-MAN, FATALE, CAPTAIN AMERICA, THE FADE OUT, HULK, LEGENDS of the DARK KNIGHT, and WOLVERINE.
Rick Hoberg began working in the comic industry in the mid 1970's. He's drawn IRON MAN, INVADERS, THE BRAVE AND THE BOLD, CHECKMATE, BATMAN, GREEN ARROW, and JUSTICE LEAGUE. He's done production art/merchandise work for Lucasfilm's Star Wars films. In addition to comic work, he's worked at Hanna-Barbera as a storyman and animator.
All of the artists will have exclusive prints to offer.
Madness Games and Comics
3000 Custer Rd, # 310, Plano, TX 75075
(972) 943-8135
Denny O'Neil and Carl Potts appear at JHU Comic Books on Wednesday December 16th from 6:00 – 8:00 PM to unveil the new collected edition of LAST OF THE DRAGONS from Dover Comics & Graphic Novels!
JHU Comic Books MANHATTAN
32 East 32nd Street, New York, NY 10016
(212) 268-7088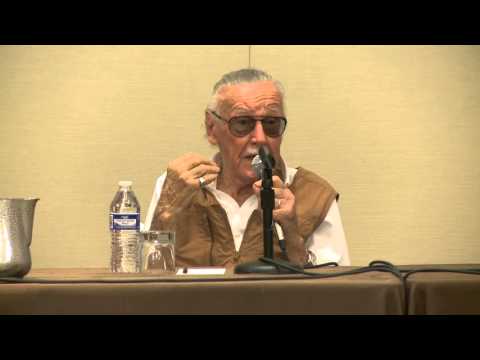 Watch The Man himself Stan Lee speak to a captivated audience at Boston Comic Con 2015 in a panel moderated by comic creator Jimmy Palmiotti and Stan's manager Max Anderson. The event featured a special appearance by Stan's best friend Ken Bald, Guinness World Record holder as the oldest living comic artist, and a phone call from Stan's wife Joanie.
Video courtesy of Ihungerproductions
Comics legend STAN LEE appears at Barnes & Noble to sign Amazing Fantastic Incredible: A Marvelous Memoir on Saturday November 7, 2015 at noon!
This is a wristbanded event. A wristband will be issued to customers who purchase *Amazing Fantastic Incredible: A Marvelous Memoir" at Barnes & Noble at The Grove beginning November 7th at 9am.
Stan Lee will not be signing any Memorabilia
About the book:
In this gorgeously illustrated, full-color graphic memoir, Stan Lee—comic book legend and co-creator of Spider-Man, the X-Men, the Avengers, the Incredible Hulk, Daredevil, and a legion of other Marvel superheroes—shares his iconic legacy and the story of how modern comics came to be.
Stan Lee is a man who needs no introduction. The most legendary name in the history of comic books, he has been the leading creative force behind Marvel Comics, and has brought to life—and into the mainstream—some of the world's best-known heroes and most infamous villains throughout his career. His stories—filled with superheroes struggling with personal hang-ups and bad guys who possessed previously unseen psychological complexity—added wit and subtlety to a field previously locked into flat portrayals of good vs. evil. Lee put the human in superhuman and in doing so, created a new mythology for the twentieth century.
In this beautifully illustrated graphic memoir—illustrated by celebrated artist Colleen Doran—Lee tells the story of his life with the same inimitable wit, energy, and offbeat spirit that he brought to the world of comics. Moving from his impoverished childhood in Manhattan to his early days writing comics, through his military training films during World War II and the rise of the Marvel empire in the 1960s to the current resurgence in movies, Amazing Fantastic Incredible documents the life of a man and the legacy of an industry and career.
Barnes & Noble – The Grove at Farmers Market
189 The Grove Drive Suite K 30 Los Angeles, CA 90036
323-525-0270
Eisner Award-winning artist Steve Leialoha appears at the Millbrae Library on Sunday, October 25, 2015 at 2:00 pm for an intimate gathering to share his techniques, skills, and stories from a forty-year career in comics. Leialoha is best known for his inking and penciling on Fables from the first issue to the last. Some drawing credits include Iron Man, X-Men, New Mutants, Spider-Man, Star Trek, and he inked Howard the Duck, Daredevil, Superman, Batman, Captain Marvel, Captain America, Secret Wars II, the original Star Wars movie adaptation, and much more.
Millbrae Library
1 Library Avenue, Millbrae, CA 94030
650.697.7607