Writer Greg Pak (Astonishing X-Men, Skaar, Kingsway West) appears for a special event at Midtown Comics Downtown on Wednesday, December 2, 2015 at 7:00 PM to sign the first issue of Totally Awesome Hulk!
Midtown Comics Downtown
64 Fulton Street, New York, New York 10038
(212) 302-8192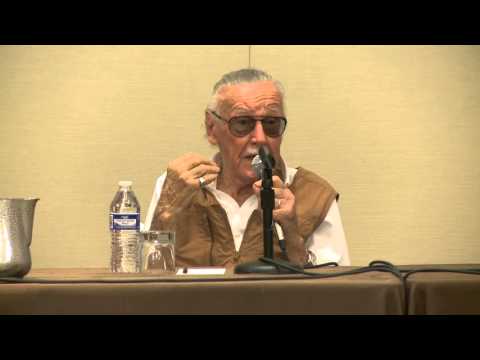 Watch The Man himself Stan Lee speak to a captivated audience at Boston Comic Con 2015 in a panel moderated by comic creator Jimmy Palmiotti and Stan's manager Max Anderson. The event featured a special appearance by Stan's best friend Ken Bald, Guinness World Record holder as the oldest living comic artist, and a phone call from Stan's wife Joanie.
Video courtesy of Ihungerproductions
Comics legend STAN LEE appears at Barnes & Noble to sign Amazing Fantastic Incredible: A Marvelous Memoir on Saturday November 7, 2015 at noon!
This is a wristbanded event. A wristband will be issued to customers who purchase *Amazing Fantastic Incredible: A Marvelous Memoir" at Barnes & Noble at The Grove beginning November 7th at 9am.
Stan Lee will not be signing any Memorabilia
About the book:
In this gorgeously illustrated, full-color graphic memoir, Stan Lee—comic book legend and co-creator of Spider-Man, the X-Men, the Avengers, the Incredible Hulk, Daredevil, and a legion of other Marvel superheroes—shares his iconic legacy and the story of how modern comics came to be.
Stan Lee is a man who needs no introduction. The most legendary name in the history of comic books, he has been the leading creative force behind Marvel Comics, and has brought to life—and into the mainstream—some of the world's best-known heroes and most infamous villains throughout his career. His stories—filled with superheroes struggling with personal hang-ups and bad guys who possessed previously unseen psychological complexity—added wit and subtlety to a field previously locked into flat portrayals of good vs. evil. Lee put the human in superhuman and in doing so, created a new mythology for the twentieth century.
In this beautifully illustrated graphic memoir—illustrated by celebrated artist Colleen Doran—Lee tells the story of his life with the same inimitable wit, energy, and offbeat spirit that he brought to the world of comics. Moving from his impoverished childhood in Manhattan to his early days writing comics, through his military training films during World War II and the rise of the Marvel empire in the 1960s to the current resurgence in movies, Amazing Fantastic Incredible documents the life of a man and the legacy of an industry and career.
Barnes & Noble – The Grove at Farmers Market
189 The Grove Drive Suite K 30 Los Angeles, CA 90036
323-525-0270
Hip-hop icon Darryl "DMC" McDaniels and writer Greg Pak (Totally Awesome Hulk, Storm, Batman/Superman) speak about comic books at St. John's University on Monday October 5, 2015 from 1:50 – 3:15 PM in the D'Angelo Center Room 206!
St. John's University
8000 Utopia Parkway, Queens, NY 11439
718-990-2000
Writer Greg Pak (Planet Hulk, Action Comics, Storm, X-Men) appears at Mission: Comics & Art on Monday, September 21, 2015 at 6:00 PM for a signing and Q&A to celebrate his new comic Kingsway West and his new children's book The Princess Who Saved Herself.
Mission: Comics & Art
2250 Mission Street, San Francisco, CA 94110
(415) 695-1545
Press Release:
The Beguiling is proud to welcome writer Greg Pak and artist Takeshi Miyazawa to Toronto on Tuesday, September 15, 2015 at 5:00 PM! These two fellas are the incredible team behind the comic adaptations of Jonathan Coulton's Code Monkey Save World and The Princess Who Saved Herself, as well as numerous books for Marvel comics, Dynamite Entertainment, and more! Both of the brand-new Coulton books will be available for sale at the event for the first time, as will a huge assortment of other titles by the pair!
Greg Pak is the New York-based writer of the just-announced "Totally Awesome Hulk" starring the character he created, Amadeus Cho! He has had lengthy runs on Hulk, Hercules, and more for Marvel Comics, and recently announced his new creator-owned series Kingsway West for Dark Horse Comics!
Takeshi Miyazawa is Canadian but has been working and drawing comics in Tokyo, Japan for the past 5 years! He is the new main artist on Ms. Marvel (with Adrian Alphona), and has worked on numerous series including Runaways, Turok, Amadeus Cho, and more. Takeshi will also be signing the next day at Page & Panel.
The Beguiling
601 Markham Street, Toronto, ON M6G 2L7
416-533-9168
Press Release:
Bedrock City Comics is excited to welcome Power Cubed writer, author, and cover artist Aaron Lopresti to our Westheimer location on Saturday, September 26, 2015 from 1:00 – 6:00 PM.
Lopresti has worked on a wide variety of characters including: Spider-Man, X-Men, The Hulk, The Avengers, Batman, Plastic Man, Green Lantern, Superboy, Xena, Star Trek, Gen 13, Mystic, and the self published Atomic Toybox (just to name a few).
Aaron will provide quick head shots for $10.00 and will have prints and sketchbooks to sell too.
Read on to get the details on Aaron Lopresti's remarkable Power Cubed first issue:
POWER CUBED #1 (OF 4)
DARK HORSE COMICS
(W/A/CA) Aaron Lopresti
What if you had a piece of technology that created anything you could possibly want, and all you had to do was imagine it? What would you wish for? For Kenny Logan, his first wish is to survive his eighteenth birthday! His unique matter-reinterpreting device has attracted the attention of a bumbling Nazi scientist with plans for world domination and an elite government agent who is hell bent on acquiring the device to stop an alien invasion at any cost. Aaron Lopresti delivers a comical coming-of-age tale in a fantastic sci-fi universe!
Aaron is also currently writing and drawing the up coming Metamorpho series for DC and is probably best known for his work on Wonder Woman, Justice League International, Ms. Marvel, Planet Hulk and most recently DC's Convergence.
Bedrock City Comic Co.
6516 Westheimer, Suite D, Houston, TX 77057
(713) 780-0675
Superstar writer Greg Pak drops by Zeus Comics on Sunday July 5th from 1:00-4:00 PM!
Pak will have copies of his new children's book "The Princess Who Saved Herself" (based on the beloved song by Jonathan Coulton).
His comics work span both Marvel and DC Comics including the "Truth" storyline on shelves now in both Action Comics and Batman/Superman plus World War Hulk, Incredible Hercules, Storm, and many others.
Zeus Comics
1334 Inwood Road, Dallas, TX 75247
(214) 219-8697
Writer Peter David, the fan-favorite scribe of Spider-Man 2099, All-New X-Factor, Dark Tower, and The Incredible Hulk, appears at JHU Comic Books on Wednesday, June 3rd from 6:00 – 7:30 PM to sign the first issue of Secret Wars: Future Imperfect from Marvel!
JHU Comic Books MANHATTAN
32 East 32nd Street, New York, NY 10016
(212) 268-7088
Boston Comic Con has added several guest comic creators, both returning friends and brand new additions, for the 2015 convention! Come meet them at the Seaport World Trade Center on July 31 – August 2. Joining us are:
Nick Bradshaw: Guardians of the Galaxy, Wolverine and the X-Men
Eric Canete: Iron Man: Enter the Mandarin, Amazing Spider-Man, Tron: Legacy
Erica Henderson: Unbeatable Squirrel Girl, The Best Thing
Phil Noto: Black Widow, Uncanny X-Force, Thunderbolts
Dan Panosian: Conan/Red Sonja, G.I. Combat, X-Factor Forever
Andrew C. Robinson: The Fifth Beatle, Justice League United, Hawkman
Tim Sale: Captain America: White, Daredevil: Yellow, Batman: The Long Halloween
Babs Tarr: Batgirl
Previously announced guests include: Stan Lee, Hayley Atwell, Robin Lord Taylor, Eduardo Risso, Humberto Ramos, Jose Luis Garcia-Lopez, Tony Moore, Jason Latour, Joelle Jones, Steve Lieber, Annie Wu, Franco Aureliani, J. Bone, Frank Brunner, Michael Cho, Jeff Dekal, Evan Dorkin, Sara Dyer, Gerry Duggan, Mike Henderson, Mike Kunkel, John Layman, Stacey Lee, Laura Martin, Yanick Paquette, Jeff Parker, Kurtis J. Wiebe, Joshua Williamson, Brian Azzarello, Frank Cho, Amanda Conner, Jimmy Palmiotti, Andy Belanger, Stephanie Buscema, Dave Johnson, Joe Prado, Amy Reeder, Stephane Roux, Don Rosa, Frank Tieri, and more!
*Please note Sean G. Murphy will not be appearing as previously announced. Boston Comic Con apologizes for the error and any confusion.
**Our condolences to the family and friends of Herb Trimpe on his untimely passing.
Tickets are now available for purchase. Please note that this year tickets will be sold ONLINE ONLY, there will not be any on-site ticket sales.
About Boston Comic Con:
The Boston Comic Con is a 100% independently run comic book show committed to bringing the biggest and best comic creators to New England. Run by fans for fans, Boston Comic Con is not affiliated with any other convention tour or corporate interests. Hosting over 120,000 square feet of vendors selling comic books, toys, posters, trading cards, and other pop culture memorabilia, this is a destination event for geeks of any stripe. This year's convention will be held Friday July 31st, Saturday August 1st, and Sunday August 2nd at the Seaport World Trade Center, 200 Seaport Blvd, Boston, MA 02210. For more information please go to our website at www.bostoncomiccon.com and follow us on Twitter (@BostonComicCon) and Facebook!