Thanks to ComingSoon.net, we get our first look at Henry Cavill in his Superman costume. Cavill is set to star in Man of Steel, recently pushed back to a June 2013 release.
Click on it to see it bigger.
Press Release:
SHARK NIGHT 3D
Release date: 9/2/11
A sexy summer weekend turns into a blood-soaked nightmare for a group of college students trapped on an island surrounded by voracious underwater predators in Shark Night 3D, a terrifying thrill ride from director David Ellis (The Final Destination, Snakes On a Plane), featuring a red-hot young cast including Sara Paxton (Superhero Movie, Last House on the Left), Dustin Milligan ("90210," Slither), Chris Carmack ("The O.C."), Joel David Moore (Avatar), Chris Zylka (The Amazing Spider Man) and Katharine McPhee (The House Bunny).
Arriving by boat at her family's Louisiana lake island cabin, Sara (Sara Paxton) and her friends quickly strip down to their swimsuits for a weekend of fun in the sun. But when star football player Malik (Sinqua Walls) stumbles from the salt-water lake with his arm torn off, the party mood quickly evaporates. Assuming the injury was caused by a freak wake-boarding accident, the group realizes they have to get Malik to a hospital on the other side of the lake, and fast.
But as they set out in a tiny speedboat, the college friends discover the lake has been stocked with hundreds of massive, flesh-eating sharks! As they face one grisly death after another, Sara and the others struggle desperately to fend off the sharks, get help and stay alive long enough to reach the safety of dry land.
http://www.youtube.com/watch?v=1krbqyU48k4
AVAILABLE TALENT:
Sara Paxton (Sleepover, Superhero Movie), Katharine McPhee (The House Bunny), Dustin Milligan (Final Destination 3), Chris Carmack (The Butterfly Effect 3: Revelations), Joel David Moore (Avatar), Sinqua Walls (From the Head), Alyssa Diaz (Red Dawn) and director David Ellis (Snakes on a Plane).
DATES:
Wednesday, July 20 – Private Press Event (please contact publicists for more information)
Thursday, July 21 – Press day with talent
HAYWIRE
Release date: 1/20/12
Mixed martial arts (MMA) superstar Gina Carano (American Gladiators) makes her feature film debut, starring and performing her own high-adrenaline stunts. The film's talented cast also includes Channing Tatum (GI Joe: Rise of the Cobra), Ewan McGregor (The Ghost Writer), Michael Fassbender (X-Men: First Class), Antonio Banderas (Desperado), Bill Paxton (Titanic), Michael Douglas (Wall Street: Money Never Sleeps) and Michael Angarano (Almost Famous).
In Haywire, an electrifying tale of espionage and betrayal, a female covert ops specialist (Carano), who works in the deadly world of international operatives, strikes back after discovering she's been double-crossed by someone close to her in the agency. The film is produced by Gregory Jacobs (Ocean's Trilogy) and written by Lem Dobbs (The Limey).
AVAILABLE TALENT:
Gina Carano (MMA Champion) and director Steven Soderbergh (Traffic, Ocean's Eleven)
DATE:
Friday, July 22
11:00am – 11:25am: Comic-Con Panel in Hall H
11:45am – 12:30pm: Official autograph signing at the Convention Center
1:00pm: Official Comic-con step & repeat and select press interviews
THE RAVEN (working title)
Release date: 3/9/12
In this gritty thriller, Edgar Allen Poe (John Cusack, Being John Malkovich) joins forces with a young Baltimore detective (Luke Evans, Immortals) to hunt down a mad serial killer who's using Poe's own works as the basis in a string of brutal murders. Directed by James McTeigue (V for Vendetta), the film also stars Alice Eve (Sex and the City 2), Brendan Gleeson (In Bruges) and Oliver Jackson-Cohen (Faster).
When a mother and daughter are found brutally murdered in 19th century Baltimore, Detective Emmett Fields (Luke Evans) makes a startling discovery: the crime resembles a fictional murder described in gory detail in the local newspaper—part of a collection of stories penned by struggling writer and social pariah Edgar Allan Poe. But even as Poe is questioned by police, another grisly murder occurs, also inspired by a popular Poe story.
Realizing a serial killer is on the loose using Poe's writings as the backdrop for his bloody rampage, Fields enlists the author's help in stopping the attacks. But when it appears someone close to Poe may become the murderer's next victim, the stakes become even higher and the inventor of the detective story calls on his own powers of deduction to try to solve the case before it's too late.
AVAILABLE TALENT:
John Cusack (Being John Malkovich, 2012), Luke Evans (Immortals, The Three Musketeers), Alice Eve (Men In Black III) and director James McTeigue (V for Vendetta)
DATE:
Friday, July 22
11:30am – 12:00pm: Comic-Con Panel in Hall H
12:15pm – 1:00pm: Official autograph signing at the Convention Center
1:30pm: Official Comic-con step & repeat and select press interviews
IMMORTALS
Release date: 11/11/11
Visionary director Tarsem Singh (The Cell, The Fall) and producers Gianni Nunnari (300), Mark Canton (300) and Ryan Kavanaugh (The Fighter) unleash an epic tale of treachery, vengeance and destiny in Immortals, a stylish and spectacular 3-D adventure. As a power-mad king razes ancient Greece in search of a legendary weapon, a heroic young villager rises up against him in a thrilling quest as timeless as it is powerful.
The brutal and bloodthirsty King Hyperion (Mickey Rourke) and his murderous Heraklion army are rampaging across Greece in search of the long lost Bow of Epirus. With the invincible Bow, the king will be able to overthrow the Gods of Olympus and become the undisputed master of his world. With ruthless efficiency, Hyperion and his legions destroy everything in their wake, and it seems nothing will stop the evil king's mission.
As village after village is obliterated, a stonemason named Theseus (Henry Cavill) vows to avenge the death of his mother in one of Hyperion's raids. When Theseus meets the Sybelline Oracle, Phaedra (Freida Pinto), her disturbing visions of the young man's future convince her that he is the key to stopping the destruction. With her help, Theseus assembles a small band of followers and embraces his destiny in a final desperate battle for the future of humanity.
AVAILABLE TALENT:
Henry Cavill (Zach Snyder's upcoming Superman: Man of Steel), Luke Evans (The Three Musketeers, Clash of the Titans), Kellan Lutz (The Twilight Saga), Stephen Dorff (Somewhere), Freida Pinto (Slumdog Millionaire), Mickey Rourke (The Wrestler) and producers Mark Canton (300) and Gianni Nunnari (300).
DATE:
Saturday, July 23
1:00pm – 2:00pm: Comic-Con Panel in Hall H
2:30pm – 3:30pm: Official autograph signing at the Convention Center
4:00pm: Official Comic-con step & repeat and select press interviews
WonderCon's 25th anniversary took place last weekend, April 1st-3rd at the Moscone Center in San Francisco. As an attendee for many years, I was shocked to see how crowded the show was for the duration of the show. With Marvel making their first appearance at the show, as well as mainstays such as DC Comics, Image, and Aspen, the show definitely had a strong comic vibe. However, more than most years, especially with some of the most anticipated comic adapted movies coming out this summer, Wondercon also emphasized their entertainment presence. With Green Lantern cast members Ryan Reynolds and Blake Lively signing at the DC booth, to fan photo ops of Henry Cavill (newly cast as Superman in Zach Snyder's next project), Luke Evans, and Isabel Lucas for the new Immortals movie, and Lily Collins, Paul Bettany and Cam Gigandet promoting Priest, along with a surprise appearance from Brandon Routh joining costar Sam Huntington for Dylan Dog, this WonderCon almost felt like a pre San Diego Comic Con show. While it was definitely awesome to see the stars promoting their films, I do hope that Wonder Con can still retain it's own identity and not turn into a San Diego Comic Con part 2. And now, onto the photos!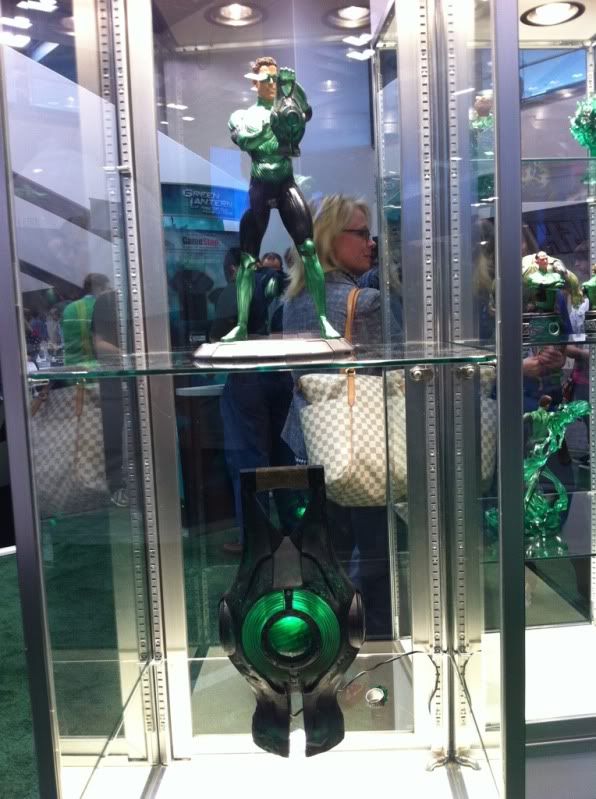 And of course, what good is a con without Cosplay? Here's some of the best ones I saw at the show:
Press Release:
WonderCon Schedule Released, Comics and Hollywood Stars Headline
Event's 25th Anniversary Promises to Be Most Spectacular to Date
SAN FRANCISCO, March 21, 2011 /PRNewswire-USNewswire/ — Comic-Con International (Comic-Con), the parent company of WonderCon, today released the much anticipated program schedule for the event, which will be held Friday through Sunday, April 1–3, at Moscone Center in San Francisco.
The popular convention features every major comic book publisher, as well as major Hollywood movie studios and stars of comics, movies, and television.
"This year's lineup is pretty spectacular," commented David Glanzer, WonderCon's Director of Marketing and Public Relations. "Programming is always at the heart of our shows, and I think this year's slate will prove to be among the most exciting yet."
Originally considered a regional show for Northern California, in recent years WonderCon has followed her sister event, the San Diego Comic-Con, in becoming a full-fledged national show attracting attendees and media from all over the country.
WonderCon 2011 features some of the premier stars of the comics world including Jason Aaron, Sergio Aragones, Berkeley Breathed, Tony Daniel, Mark Evanier, Adam Hughes, Robert Kirkman, Hope Larson, Bob Layton, Paul Levitz, Jeremy Love, Francis Manapul, Carla Speed McNeil, Terry Moore, Ryan Ottley, Joe Quesada, Frank Quitely, Amy Reeder, James Robinson, Seth, Bill Sienkiewicz, Len Wein, F. Paul Wison, Judd Winick, and Marv Wolfman.
Hollywood has a major presence at WonderCon this year as well, joining the action with an exclusive peek at Green Lantern with stars Ryan Reynolds, Blake Lively and Peter Sarsgaard; a Cowboys & Aliens discussion with director Jon Favreau; a special presentation on the movie Immortals featuring Henry Cavill (the new Superman) and Kellan Lutz; and appearances by V's Elizabeth Mitchell, Priest's Paul Bettany, Super's Rainn Wilson, Human Target's Mark Valley, and Breaking In's Christian Slater.
The complete WonderCon programming schedule can be found at http://www.comic-con.org/wc/wc_prog.php. WonderCon ticketing details and additional information about the Comic-Con family of conventions can be found at www.comic-con.org.
About WonderCon:
WonderCon, one of the country's best comics and popular arts conventions, is part of Comic-Con International (CCI), a nonprofit educational organization dedicated to creating awareness of, and appreciation for, comics and related popular art forms. The organization achieves its mission primarily through the presentation of conventions and events that celebrate the historic and ongoing contribution of comics to art and culture. In addition to San Francisco–based WonderCon each spring, CCI organizes San Diego Comic-Con each summer (the world's largest comics convention of its kind) and San Francisco's Alternative Press Expo (APE) each fall. On the web: WonderCon.org, Facebook.com/wondercon, Twitter.com/wondercon.
Press Release:

MEET THE NEW SUPERMAN
THIS WEEK'S ISSUE HAS THE EXCLUSIVE FIRST LOOK AT HENRY CAVILL AS THE NEW MAN OF STEEL, PLUS THE NEXT GENERATION OF SUPERHEROES
NEW YORK – Henry Cavill is Hollywood's newest superhero thanks in part to an all-star team of filmmakers (including Christopher Nolan and Zack Synder) that are set to relaunch the truest and bluest of all superheroes: Superman. This week's issue of Entertainment Weekly brings an exclusive look at the British man in tights, whose career may break the speed of sound.
To become Hollywood's new Man of Steel, Henry Cavill had to pass the Laugh Test. To wit: Could he wear the Superman suit without anyone giggling? And not just any Superman suit. To shoot his screen test last month, the 27-year-old British actor donned a replica of the costume Christopher Reeve wore in director Richard Donner's classic 1978 film. By today's standards, those sky blue spandex threads with the iconic S shield on the chest look dated—and hence an effective yardstick for the team now charged with making Superman fly for 21st-century moviegoers. "If you can put on that suit and pull it off," says director Zack Snyder, "that's an awesome achievement."
As an assistant helped him into the suit, Cavill was feeling less than super. He certainly has the face for Superman—solid chin, defined cheekbones, piercing eyes, dark hair. He's also 6′ 1″ and radiates intelligence, maturity, and all around good-guyness, though he's too humble to say so himself. But Cavill worried that the rest of him wasn't up to snuff. He had recently lost the muscle tone he gained to play a loincloth warrior in the mythic fantasy Immortals, due this November. "All I could think was, Oh, God, they're going to look at me and go, 'He's not Superman. Not a chance,' " recalls Cavill, best known for playing Henry VIII's buddy Charles Brandon on Showtime's The Tudors. "The actor inside me was going, 'You're not ready! You're not ready!' " Snyder saw something different. "He walked out and no one laughed," says the director, a geek pop idol for his work on Dawn of the Dead, 300, and Watchmen. "Other actors put that suit on and it's a joke, even if they're great actors. Henry put it on, and he exuded this kind of crazy-calm confidence that just made me go, 'Wow. Okay, this is Superman.' "
And with that, Superman's Hollywood relaunch is up, up, and almost away; shooting on the as-yet-untitled Warner Bros. film begins this summer under Snyder, producer Christopher Nolan (whose two Batman flicks have grossed nearly $1.4 billion at the box office worldwide), and screenwriter David S. Goyer, who also wrote Batman Begins, three Blade films, and Dark City. The result of their collaboration, due late next year, will be a must-see event, one the studio hopes will leave audiences in a must-see-more mood.
A NEW GENERATION SUITS UP!
The next two years will see a crush of movie superheroes, both familiar characters and newcomers to the multiplex. Here's a look at the coming wave of hero mania.
GREEN LANTERN
Ryan Reynolds stars as jet test-pilot Hal Jordan, who's recruited into an intergalactic police force with Earth as his beat. The draw for the audience may be that, like filmgoers, Jordan doesn't entirely comprehend his mission. The 34-year-old star says it helps that DC's Green Lantern isn't as widely known outside Comic-Con circles. "I liked that it wasn't in my vocabulary. It meant there was a process of discovery," says Reynolds. "He's not in the mainstream the way Superman or Spider-Man is." The movie also tackles its otherworldly extravagance with a sense of humor. Reynolds, a veteran of comedies like Van Wilder and The Proposal, says he used to think of himself as a strictly comic actor, not a hero: "I looked like Dick Van Dyke, so I thought I was going that route"
SPIDER-MAN
The new Spider-Man will test the limits of comic-book do-overs. (500) Days of Summer director Marc Webb and a new actor to wear the red-and-blue Spidey suit: The Social Network's Andrew Garfield, 27. Exec producer Avi Arad says the film won't erase what came before but will try to weave a narrative that could take place within the framework of the earlier films. "It's not a comeback," he says. "You have to look at it this way: Do you want to know more about Spider-Man? This movie is going to tell stories that you didn't see in movies 1, 2, and 3."
THE DARK KNIGHT RISES
Fans have relentlessly tried to guess which direction Christopher Nolan intends to take Christian Bale's Dark Knight in the director's final Batman film, but the filmmaker has offered scant hints. Nolan has confirmed he won't add the Riddler or bring back the Joker, out of respect for the late Heath Ledger's Oscar-winning work in The Dark Knight. But in recent weeks, he has cast Inception costar Tom Hardy as Bane, a chemically enhanced strongman who broke Batman's back in the 1993 comics, and Inception alumni Marion Cotillard and Joseph Gordon- Levitt are in talks for unspecified roles. Anne Hathaway is also on board as Selina Kyle, though Nolan's casting announcement made no mention of Kyle's alter ego, Catwoman. With all the cryptic clues, Nolan has already achieved the goal of every superhero film: keeping an audience in a state of perpetual suspense. And he hasn't shot a single frame of film.
Other exclusive sneak peeks include Thor, X-Men First Class, Captain America: The First Avenger, The Avengers, and The Wolverwine.
Link to full story on EW.com: http://popwatch.ew.com/2011/02/17/superman-henry-cavill-interview-ew-cover/