Press Release:
Comics publisher IDW is returning to WonderCon this weekend in a big way. In addition to panels and exclusives, IDW will be holding several signings with many of their best artists and writers.
Talent from IDW comics series Mars Attacks, Godzilla, G.I. JOE, Transformers, My Little Pony, Judge Dredd, Teenage Mutant Ninja Turtles, Star Trek, The Adventures of Rocky & Bullwinkle, and many others will be on hand at the IDW Booth #309. Attendees can swing by the booth to meet talent like Gabriel Rodriguez, Mark Evanier, Mike Costa, Scott Tipton, Chris Mowry, and others.
During selected signings, IDW will also be giving away free exclusive variants, preview comics, and posters to attendees, including:
Exclusive Winterworld Preview Ashcan!
Exclusive Little Nemo in Slumberland Preview Ashcan!
America's Army Show Exclusive #0 issue variant edition
America's Army Show Exclusive Poster
From the press release, here's the complete signing schedule, including what times you can stop by to pick up your free IDW exclusives:
WONDER CON 2014 IDW EVENT SCHEDULE! 
SIGNING AT THE IDW BOOTH, #309!
Friday April 18th
12:00 – 1:00  Love and Capes – Thom Zahler
1:00 – 3:00  IDW MVP & Guest of Honor – Gabriel Rodriguez (Locke & Key)
*Check out the Locke & Key: Alpha & Omega HC show exclusive, and Gabriel Rodriguez Locke & Key Artist's Edition Portfolio!
2:00 – 3:00  Mars Attacks, The Hollows, The Colonized – Chris Ryall
3:00 – 4:00  America's Army – M. Zachary Sherman
*Check out the exclusive free comics & posters!
3:00 – 4:00  Godzilla: Rulers of Earth – Chris Mowry
4:00 – 5:00  G.I. JOE: Special Missions – Paul Gulacy
5:00 – 6:00  Transformers – John Barber, Flint Dille, Mairghread Scott
6:00 – 7:00  My Little Pony – Tony Fleecs
6:00 – 7:00  Mean Streets: Baja – Ben Wagner
Saturday April 19th
11:00 – 12:00  Teenage Mutant Ninja Turtles – Tom Waltz
11:00 – 12:00 America's Army – M. Zachary Sherman
*Check out the exclusive free comics & posters!
12:00 – 1:00  Judge Dredd: Mega-City Two – Douglas Wolk
12:00 – 1:00  The Illegitimates – Marc Andreyko
1:00 – 2:00  Amelia Cole – D.J. Kirkbride
2:00 – 3:00  Darby Pop Bonanza! 
Eric Garcia – City: The Mind in the Machine
John Raffo – 7th Sword
Andrew Robinson – 7th Sword
Bernard Chang – City: The Mind in the Machine, Indestructible
3:00 – 4:00  LITTLE NEMO LAUNCH PARTY – IDW Guest of Honor Gabriel Rodriguez, Eric Shanower
* Check out the free advance ashcan!
4:00 – 5:00 Godzilla: Rulers of Earth – Chris Mowry
4:00 – 5:00  The Adventures of Rocky & Bullwinkle – Mark Evanier
5:00 – 6:00  T.H.U.N.D.E.R. Agents – Roger Robinson
5:00 – 6:00  G.I. JOE: The Cobra Files – Mike Costa
6:00 – 7:00  Star Trek: The Next Generation/Doctor Who – Scott Tipton
Sunday April 20th
12:00 – 1:00  Kill Shakespeare – Conor McCreery, Anthony Del Col
1:00 – 3:00  IDW MVP & Guest of Honor – Gabriel Rodriguez (Locke & Key)
*Check out the Locke & Key: Alpha & Omega HC show exclusive, and Gabriel Rodriguez Locke & Key Artist's Edition Portfolio!
3:00 – 4:00 Godzilla: Rulers of Earth – Chris Mowry
IDW Limited has launched an art competition on the website Infected By Art. The Grand Prize Winner will not only receive exclusive Locke & Key merchandise but also the opportunity to be a paid participant in an upcoming IDW Limited original art project!
Press Release:
Draw or paint your personal (or imagined!) fears into the bottle so you can conquer them once and for all!
Submission Period: October 17 – November 17, 2013
Fan Voting Period: November 12 – November 18, 2013
Fears… We've all got them to one degree or another. Your challenge is to create a work of art that shows off your real or imagined fears using the image below as a template to follow. There is no fee to enter this contest, and we're providing some great prizes as well, including the opportunity for the Grand Prize Winner to be a paid participant in an upcoming IDW Limited original art project!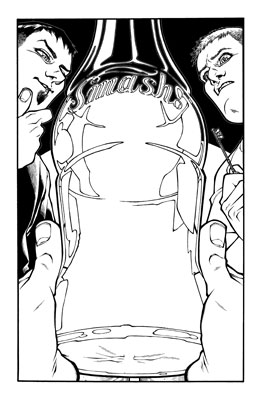 Once the November 17th deadline at midnight is hit, Locke & Key creators Joe Hill and Gabriel Rodriguez will each select one Runner Up and together they will also select the Grand Prize Winner. Fan voting will help select the 3rd Runner Up.
Remember, you have to use this image as the basis for what you create, but let your imaginations run wild! We allow each artist to submit up to 3 images towards the competition. Fan Voters will be allowed to vote for a maximum of 2 pieces of artwork they feel are most worthy. If you have any questions please contact Infected by Art.
The set up – as it appeared in LOCKE & KEY - is Kinsey (the female character) has removed aspects from her head she doesn't like, inside the bottle is the physical manifestation of her fear & sadness. Details on How To Enter.
THE IMAGE FILE YOU NEED TO WORK FROM
In order to submit your artwork to this contest, you must first save this image to your computer. To create a piece of traditional artwork you will need to transfer it to whatever surface you wish to work on (bluelined, etc), or use this file as the basis for of your digital artwork. Your entry must contain all elements from this image in order to qualify for entry.
ABOUT LOCKE & KEY
Acclaimed suspense novelist and New York Times best-selling author Joe Hill (NOS4A2, Horns, Heart-Shaped Box) creates an all-new story of dark fantasy and wonder: Locke & Key. Written by Hill and featuring astounding artwork from Gabriel Rodriguez, Locke & Key tells of Keyhouse, an unlikely New England mansion, with fantastic doors that transform all who dare to walk through them… and home to a hate-filled and relentless creature that will not rest until it forces open the most terrible door of them all… Visit the LOCKE & KEY website for more information about the series!
ORIGINAL IMAGE AS IT APPEARED IN THE COMIC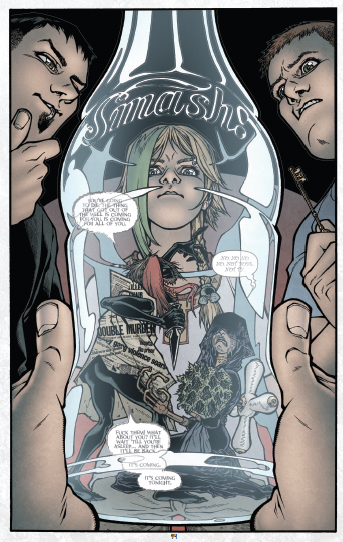 BOSTON COMIC CON returns on AUGUST 3-4 at new venue the SEAPORT TRADE CENTER. And here's what is going on for all you fans…
Comic Creator Guests: George Perez, Mike Mignola, Neal Adams, Joe Hill, Gabriel Rodriguez, Scott Snyder, Mark Bagley, Bill Willingham, Brian Azzarello, Nate Bellegarde, Buzz, Tony Daniel, Jim Calafiore, Howard Chaykin, Mark Chiarello, Mike Choi, Dan Didio, Ming Doyle, Joe Eisma, Agnes Garbowska, Michael Golden, Keron Grant, Paul Gulacy, Cully Hamner, Phil Jimenez, Dave Johnson, Barry Kitson, Aaron Lopresti, David Mack, Ed McGuinness, Terry Moore, Steve Niles, James O'Barr, David Petersen, Brandon Peterson, Joe Quinones, Khary Randolph, Tom Raney, Amy Reeder, Don Rosa, Craig Rousseau, Chris Ryall, Paul Ryan, Tim Sale, Alex Saviuk, Brian Stelfreeze, William Stout, Frank Tieri, Tim Townsend, Arthur Suydam, Dexter Vines, Lee Weeks, Maris Wicks, Charles Paul Wilson III, Dean Yeagle, Chrissie Zullo, and hundreds more in the BCC Artist's Alley.
Celebrity Guests: The Walking Dead's Laurie Holden, True Blood's Kristin Bauer, The Hobbit's Aidan Turner & Dean O'Gorman, and Futurama's Billy West.
Events: Free sketches by Arthur Suydam, Artist Portfolio Reviews by Mark Chiarello of DC Comics and Chris Ryall of IDW Publishing, Original Art Auction, Costume Contest, Magic The Gathering Tournament, Film Festival, Panels, Celebrity Photo Ops, and live entertainment.
Vendors: Vendors from all over the country selling new and old comic books, toys, posters, and all your favorite collectibles.
Plus this year's limited edition Boston Comic Con 2013 T-Shirt designed exclusively for the show by Tim Sale, and the limited edition My Little Pony Variant Comic Book designed exclusively for the show by Agnes Garbowska and IDW Publishing. Tim, Agnes, and IDW will all be on hand at the show!
Tickets are available online at the Boston Comic Con website or at the door the both days of the show.
ARTIST ALLEY LISTING:
Table ARTIST
AA201 Adams, Neal
AA221 Adams, Neal
AA222 Adams, Neal
AA223 Adams, Neal
AA224 Adams, Neal
AA225 Adams, Neal
AA136 Ally-Seals, Ian
AAW43 Almond, Bob
AA434 Amaru, George
AAW18 Ambruson, S.E.
AA218 Andrew, Roger
AA155 Archer, Kent
AAW24 Aucoin, Matt
AA318 Azzarello, Brian
AA403 Bagley, Mark
AA841 Barnes, Brenton, Stemmier, Egnet
AA342 Barnes, EJ Slater, Mark Co-drowned Town Press
AAW28 Barrett, Noah
AA232 Barrows, Brandon
AA205 Baselice, Brandon
AA349 Battalene, Stefanie
AA630 Bellegarde, Nate
AA317 Bessette, Matt Matt Bessette Co-1725 Studios
AA313 Beaudoin, Janella Mele J Mele Art
AA348 Boehm, Ellen – Fanartica
AA737 Boucher, Amanda
AAW09 Boveri, John / Zack Rezendes
AA737 Bresnahan, Kate / Amanda Boucher
AA738 Browne, Ryan
AA734 Brunelle, Richard – The Fat Squad
AA852 Buchner, Chris – Comic Book Artist Guild
AAW17 Budd, Dennis
AAW05a Burns, Jeff Super Knocked Up
AA202 Buzz
AA443 CAH Nickelsen, Destiny
AA130 Cain, Anne Anne Cain Co-Anne Cain Studio Mia
AA137 Calderon, JD
AAW08 Calafiore, Jim
AA213 Capobianco, Chris
AA142 Cardnal, John / Andy Driscoll / Mike Doherty / Andrew Houle / Michael
AA520 Carlson, Erik
AA220 Casey, Jason
AA156 Cavalear, Lisa
AA647 Chamberlain, Tim – Our Valued Customers
AA844 Chaykin, Howard
AA215 Chiarello, Mark
AA303 Choi, Mike
AA204 Clabaugh, Rich
AA304 Cook, Ashley
AA305 Cormack, Alex
AA134 Costello, Sam
AA143 Crockett, Michael/ John Cardinal / Andy Driscoll / Mike Doherty /Andrew Houle
AA432 Cuonzo, Frank M.
AA308 Dahl, Josh – Rapid City
AAW27 Daley, Rich
AA139 D'Angelo, Gina
AA227 Daniel, Tony
AA257 Davidson, Pat
AA237 Daxberger, Joe
AA842 Daxiong
AA843 Daxiong
AA256 Deering, Rachel
AA252 Del Col, Anthony – Kill Shakespeare
AA239 Dellagatta, Joseph
AA643 Demarjin, Haig – ZombieBomb
AAW32 Dimasi
AAW33 Dunfield, Megan
AA132 Derocher, Brad
AA829 DeSantis, Jeffrey
AA147 Diaz-Dickson, Paloma
AA742 Didio, Dan
AAW10 Dinnall, Olivia
AA144 Doherty, Mike / John Cardinal / Andy Driscoll / Andrew Houle
AA203 Dooney, Michael
AA632 Doran, Collen
AA326 Doyle, Ming
AA143 Driscoll, Andy Crockett
AA147 Dubrevil, Ellen Beall
AA251 Duda, Joseph / Wil Woods – Musetap
AA514 Dumo, Rob – Musetap
AA404 Dycus, Josh
AA405 Dycus, Josh
AAW16 Eaton, Kevin
AAW16 Edge, Andrew
AA841 Egnet, Kyle
AA241 Ehnot, Chris
AAW12 Einhaus, Kurt
AA425 Eisma, Joe
AA236 Elliot, Dave
AA240 Ellis, Mike – Pieces of Eights
AA206 Endres, Joe
AA729 Enslin, R. Craig – Robert Quill, Artist for Hire
AA733 Everston, William – Kalicorp Art Mysteries
AAw30 Faerber, Logan
AA247 Falkenburg, Joshua – Severed Head Comics
AA249 Farrar, Crystal
AA306 Feliciano, Cesar
AA644 Ferreira, David – Montserrat
AA448 Fetcher, Mat
AA249 Fine, Rebecca – Bexx Fine
AA332 Finn, Tim
AA827 Fire Exit
AA828 Fire Exit
AAW42 Fish, Andy
AA235 Fisher, GE
AA731 Flint, Brian
AAW24 Foltz, Holly / Jose Luis Olivares / Mo Oh / Jesse Lonergan / Matt Aucoin
AAW39 Forbes, Jack
AA210 Ford, Tina / Jason Gerstein
AAW22 Frankel, Mark
AA335 Gerstein, Jason / Keith Gleason – Reckless Sidekick Productions
AA312 Giallonga, Zack
AA334 Gleason, Keith
AA444 Golden, Christopher
AA726 Golden, Michael
AA429 Gordon, Michael / Laurence Hastings – New Legend Productions
AA138 Gosselin, Karen
AA226 Govar, Daniel
AA310 Grabowska, Agnes Scott Greb Co-Super Granny
AA636 Grant, Keron
AA154 Greb, Scott
AAW34 Greene, Zak – ZG Creations
AA157 Grifkin, Tonya
AA209 Gubicza, Brian
AA209 Gubicza, Jen
AA208 Gugliotti, Chris
AA637 Gulacy, Paul
AA254 Guzzo, Laura
AA435 Hahner, Douglas / Karen Hallion – Gray Haven Comics
AA410 Haley, TJ / Joe Dort / Halsey Warren / Leon
AA337 Hallion, Karen
AA406 Halsey Warren, Paige
AA219 Hamilton, Scott
AA439 Hamner, Cully
AA244 Hampton, Bo / Kelsey Hartsell – The Rubonic Plague
AA233 Hansche, Nicole
AA741 Hartsell, Kelsey
AA429 Hastings, Laurence
AA644 Hazen, Blyth – Montserrat
AAW05b Healy, Phil
AAW05 Hebert, Alan / Chris Hebert – HB Comics
AA328 Henderson, Erica
AA420 Hill, Joe
AA421 Hill, Joe
AA248 Hodgdon, Corey
AA748 Holly-Rosing, Madeleine
AA212 Holt, Christopher
AA142 Houle, Andrew
AA745 Huddleston, Terry / Erin Humiston – Run the Risk Comics
AA746 Huddleston, Terry
AA315 Humiston, Erin
AA228 Hunt, Ken
AA739 Hutchinsin, Eric
AA415 IDW
AA416 IDW
AA417 IDW
AA418 IDW
AA832 Inezian, Armand
AA305 James, Tyler
AA442 Jean, Nicole Marie
AA428 Jimenez, Phil
AAW37 Jimenez, Sandy
AA319 Johnson, Dave
AAW22 Jones, Joshua LA.
AA411 Kaboom Fredrick, Vince
AA412 Kaboom
AA413 Kaboom
AA414 Kaboom
AAW30 Kelley, Patt / Logan Faerber
AA831 Kelly, Brett
AAW15 Kennedy, Jay
AA231 Khanna, Daniel
AAW11 Killen, Bill
AA749 King, Hannibal
AAW44 Kitson, Barry / Aaron Kovalcsik – Monkey Chow
AA649 Kompan, Onrie
AA757 Kovalcsik, Aaron
AA840 Lagos, Arlene
AA311 Lamb, Braden / Shelli Paroline
AAW10 Lane, Linda / Olivia Dinnall – Lazer Lady Publishing
AA853 Lanouette, Donald U – Create Comics
AA854 Lanouette, Donald U – Create Comics
AA149 Lanz, Sandra
AAW26 La Palombara III, Louie
AA343 Leamy, Cathy – Metrokitty
AA150 Leblanc, David
AA519 Lee, Norman
AAW06 Leibelman, Leo
AAW07 Leibelman, Leo
AA406 Leon, Pablo
AA214 Lilly, Mike
AA238 Lolar, Joel
AA747 Lomas, Max
AAW24 Lonergan, Jesse
AA642 Lopresti, Aaron
AA408 Lovulo, Andrew
AA835 Luciano, Paul – Lanthan Mice
AA629 Mack, David
AA230 Maclean, Andrew
AA245 Mahan, Dave
AA206 Marquez, Jesus
AA432 Martino, Joe / Frank M. Cuonzo / Rob X. Roman – JGM Comics
AA131 Mathias, Donald – Panizles
AAW14 Maurizo, Richard
AA208 May, Jason / Juli Mayers / Kendra Saunders
AA856 Maydak, Mike
AA333 Mayers, Juli
AA345 Mazur, Dan – Boston Comic rRoundtable
AA346 Mazur, Dan – Ninth Art
AA153 McCormack, Clay
AA234 McCulllogh, Rhinnon
AA633 McGuinness, Ed
AA634 McGuinness, Ed
AA213 McLaughlin, Sean
AA211 McMenemy, Michael
AA845 Metcaff, Jason
AA445 Mignola, Mike
AA446 Mignola, Mike
AA643 Miller, Adam – ZombieBomb
AA756 Miller, Gregory
AA238 Miller, Riam
AAW20 Minor, Melissa – Radiant Grey
AA855 Mockaviak, Nick
AA645 Monserrat College of Art
AA645 Monserrat College of Art
AA730 Montinero, Scott
AA217 Moore, Lindsay
AA339 Moore, Terry
AAW29 Moutafis, Greg
AA307 Mulvey, Joe
AA145 Musto, Jackie – Kay and P Comics
AAW17 Newbold, David
AA146 Newirth, Jack / Will Wiggins
AA255 Ng, Elisa – Espressions Design
AAW15 Nichols, Ian / Jay Kennedy – Fat Cat Funnies
AA443 Nickelsen, Destiny
AA338 Niles, Steve
AA409 Norden, Amanda
AA728 O'Barr, James
AA740 O'Callaghan,Art
AAW31 O'Connor, George – Homeless Comics
AAW25 Oh, Mo
AAW25 Oliveras, Jose / Luis Holly Foltz / Mo Oh / Jesse Lonergan / Matt Aucoin
AA736 Palach, Kristin
AA648 Palazzo, Nicholas
AA250 Paolucci, Rob
AA311 Paroline, Shelli
AA140 Pelligrino, Rich
AA347 Peloquin, Justin
AA133 Pereira, Theresa
AA639 Perez, George
AA640 Perez, George
AA627 Peterson, Brandon / Stacey Lee Philips / Richard Lopez Ortiz
AA423 Peterson, David
AA216 Philips, Stacey Lee
AA148 Post, Leslie
AA151 Pratt, Tina
AA628 Purcell, Jack Quinn/Elliot
AAW39 Purkiss, Devon / Jack Forbes
AA236 Quinn, David
AA441 Quinn, Tracey Lee / Wilson Ramos / Eric Rivera
AA329 Quinones, Joe
AA314 Ramos, Wilson
AA515 Randolph, Khary
AA744 Raney, Tom
AA129 Ratcliffe, Eric – New Comic Day
AA327 Reeder, Amy
AAW09 Rezendes, Zack
AA449 Richard, Sara
AA141 Richmond, Landon – Know No Truth
AAW38 Rinaldi, Joel
AA314 Rivera, Eric
AA344 Roberge, Michelle – Saucy Miscreants
AA836 Roche, Darren
AA419 Rodriguez, Gabriel
AA436 Roll, Brian – Odyssey Art
AA433 Roman, Rob / Joe Martino / Frank M. Cuonzo / Rob X. Roman – JGM Comics
AA243 Rosa, Don
AA516 Rousseau, Craig
AA510 Ruttan, Andrew
AA510 Ruttan, Kevin
AA743 Ryall, Chris
AA641 Ryan, Paul
AA301 Sale, Tim
AA302 Sale, Tim
AAW36 Salvucci, Richard
AA846 Sanchez, Alex
AAW21 Sapountzis, Alex – Wayward Raven
AA732 Sardinha, Rick
AA333 Saunders, Kendra
AA242 Saviuk, Alex
AA431 Savory, Zeke
AA430 Schmalke, Josepg
AA830 Schultz, Erica – M3 The Comic
AA638 Schultz, Jeff
AA750 Schulz IV, Carl A
AA237 Sedani, Tony / Joe Daxberger
AA213 Seminara, Chris
AA341 Sharkey, Ryan – The New England Institute of Art
AA401 Shedd, Blair
AAW13 Silver, Tamsin
AA422 Skelton, Israel
AA342 Slater, Mark
AA437 Smith, Edward
AA847 Smith, Emily
AA309 Snider, David – Method Comix
AA447 Sniegoski, Thomas
AAW40 Snyder, Scott
AAW41 Snyder, Scott
AA839 Soares, Everett
AA839 Soares, Susan
AA438 Spay, Anthony
AA831 Squires, Alex / Brett Kelly – Opinions May Vary
AA851 St. Pierre, Joe
AA838 Steffan, Melinda
AA626 Stelfreeze, Brian
AA841 Stemmier, Ryan
AA152 Stevenson, Kristin
AA850 Stewart. Yale
AA126 Stout, William / Joshua Stulman – Israel Defense Comics
AA127 Stout, William
AA755 Stulman, Joshua
AAW01 Suydam, Arthur
AAW02 Suydam, Arthur
AAW02 Suydam, Arthur
AAW03 Suydam, Arthur
AAW04 Suydam, Arthur
AA246 Sylar, Matthew – Soda Poodle
AA833 Syphax, Jonathon – Masmedia Studios
AA751 Talbot, Eric – Requiem Designs
AA735 Taylor, Andrew – Potential
AA848 Theriault, Ron
AA440 Tieri, Frank
AA340 Townsend, Tim
AA331 Trang , Randall
AA754 Turnbull, Jack – Jack Turnbull Studios
AA450 Uminga, Chris
AA207 Vega, Estevan
AA635 Vines, Dexter
AAW23 Vinton Jr., Peter
AA837 Walko, Bill
AA350 Watson, Chris
AA229 Wauchope Scott
AA834 Weeks, Danelle – D.Bishop Hashtag the Planet
AA631 Weeks, Lee
AA336 West, Liss
AA330 Wicks, Maris
AA316 Wiggins, Will
AA407 Wilde, Scott
AA427 Willingham, Bill
AA424 Wilson, CP III
AA253 Wilson, Will – Ordinary Bill
AA135 Winnik, Javier Cruz
AA727 Witterstater, Renee
AA752 Wong, David
AA753 Wong, David
AA646 Wood, Aaron – Aaron Wood Design
AAW35 Wood, Jennie Johns
AA437 Woodall, Rich / Edward Smith
AA849 Woods, Ted
AA402 Woodward, JK
AA518 Wieringo, Matt
AA517 Yates, Kelly
AA826 YAYA Han
AA827 YAYA Han
AA128 Yeagle, Dean
AA747 Yi, Earl
AAW35 Yuskatis, John / Jennie Wood Johns – Boots and Pups
AAW19 Zaremba, Meghan
AA511 Zenescope
AA512 Zenescope
AA513 Zenescope
AA509 Zotos, Tom
AA426 Zullo, Chrissie
Press Release:
For its first appearance at Boston Comic-Con, IDW Publishing will be bringing the talented creators of Locke & Key and their collaborators, as the celebrated series opens the door on its final chapter, Locke & Key: Alpha. Boston Comic-Con will be held at the Seaport World Trade Center on August 3 – 4, and IDW will have some special surprises for the attendees!
Joe Hill and Gabriel Rodriguez will be appearing together for the last time before Locke & Key comes to its climactic conclusion. Joining the series creators will be IDW's Editor-in-Chief Chris Ryall. Shane Leonard, the artist behind Locke & Key's striking photo-variant covers, will also be in attendance alongside Israel Skelton, the Skelton Crew Studios mastermind behind IDW's sellout Locke & Key replica keys. Skelton will be bringing a variety of keys including the very limited SDCC Shadow Key and select other works with him for sale at the Skelton Crew booth, next to IDW's booth.
In addition to the Locke & Key gang, writer Jason Ciaramella (The Cape, Thumbprint) and Hill's newest collaborator Charles Paul Wilson III (Wraith: Welcome To Christmasland) will also be present for two huge signings with all these amazing creators in one place! The first signing will be held on Saturday from 1:00 pm – 2:30 pm and the next, Sunday from 3:15pm – 4:30pm. To help celebrate the tremendous signing C.P. Wilson III will be bringing some menacing prints with him from the new series Wraith: Welcome To Christmasland!
On Sunday August 4th a special Locke & Key panel will be held from 2:00pm – 2:45pm in the Waterfront Room featuring Hill, Rodriguez and Ryall as they reflect on the series and discuss the imminent harrowing future for the Lockes! A can't-miss panel at a can't-miss convention!
IDW is pleased to attend Boston Comic-Con, and looks forward to seeing you at the show!
Press Release:
In a brand-new limited series that will serve as a prequel to his New York Times bestselling novel, NOS4A2, Joe Hill will be taking readers on a dark plunge into the dizzying world of Christmasland. The first comic that Hill has written since the stunning conclusion of his award-winning masterpiece Locke & Key, Wraith: Welcome to Christmasland is equal parts mystery and horror.
According to Hill, "The world of NOS4A2 is very, very big, and I only had a chance to explore a part of it in the course of the novel. I told the story I wanted to tell, but I also feel there's a lot more to discover. In NOS4A2, we learn about Charles Talent Manx the iii, who has kept himself alive for over a century by draining an essential life force out of children, warping them into giddy monsters. When he's done with them—when Charlie has what he wants—he takes them to Christmasland, where they live forever and ever in an eternal Christmas Day. They live for fun and are good at having it, whether they're playing a game of tag… or a bloody game of scissors for the drifter. In Wraith, we're going back to Christmasland at an earlier time, to find out what happens when some unlucky grown-ups find themselves on Gumdrop Lane, and Charlie's children decide to have some fun with them. It's very much a standalone story, and it's my intention to craft something that can be loved by people who have never cracked the cover of NOS4A2, while hopefully giving those who liked the book a new Charlie Manx tale to enjoy."
In Wraith: Welcome to Christmasland, Hill is joined by illustrator Charles Paul Wilson III (Stuff of Legend), who provides interior art and creepy Christmasland-themed covers, as well as by his Locke & Key partner Gabriel Rodriguez, who is providing covers for each issue. Issue 1 (re)introduces the reader to Charlie Manx, his world, and his car, a vintage 1938 Rolls Royce Wraith that runs on human souls instead of gasoline. When a luckless child falls into Charlie's grasp, her new best friend soothes her with a story: his story. From there, the series introduces a new cast of characters to Christmasland, and fully delves into its wonderfully devilish delights, as the sound of sleigh-bells ring in the background…
"NOS4A2 was Joe Hill's most accomplished novel to date, and its memorable villain Charlie Manx deserves the additional focus this series will bring," said Chris Ryall, IDW's Chief Creative Officer. "Joe and CP Wilson III have some nightmarishly clever things planned for this series, from an advent calendar-style cover to some bloody good fun on the interiors as well. The readers are really gonna get taken for a ride in this one."
Joe Hill has made a name for himself as both a successful novelist and comic book author. Frequently publishing short stories and appearing in anthologies, Hill has rapidly become a literary force. His first novel Heart-Shaped Box won the Bram Stoker award for "Best First Novel." His critically acclaimed comic series from IDW, Locke & Key, was recently optioned for a film by Universal Pictures, and won Hill an Eisner award for "Best Writer."
Boston Comic Con is thrilled to welcome Locke & Key creators writer Joe Hill and artist Gabriel Rodriguez for a rare joint appearance at the rescheduled convention on August 3-4, 2013 at the Seaport World Trade Center! Also appearing will be IDW publisher Chris Ryall to celebrate the final issues of the popular and critically-acclaimed horror series.
Boston Comic Con 2013 Guests include: Neal Adams, Brian Azzarello, Mark Bagley, Mark Chiarello, Tony Daniel, Colleen Doran, Laurie Holden, Phil Jimenez, Ed McGuinness, Mike Mignola, Terry Moore, Steve Niles, Shelli Paroline, George Perez, Amy Reeder, Don Rosa, Craig Rousseau, Tim Sale, William Stout, Bill Willingham, and many, many more!
Tickets are $25 per day or $40 for the weekend and available through Eventbrite at the link!
About Boston Comic Con:
The Boston Comic Con is a 100% independently run comic book show committed to bringing the biggest and best comic creators to New England. Run by fans for fans, Boston Comic Con is not affiliated with any other convention tour or corporate interests. Hosting over 120,000 square feet of vendors selling comic books, toys, posters, trading cards, and other pop culture memorabilia, this is a destination event for geeks of any stripe. This year's rescheduled convention will be held Saturday August 3rd and Sunday August 4th opening at 10:00 am each day at the Seaport World Trade Center, 200 Seaport Blvd, Boston, MA 02210. For more information please go to our website at www.bostoncomiccon.com and follow us on Twitter (@BostonComicCon) and Facebook!
Creators Joe Hill & Gabriel Rodriguez sign at New Dimension Comics on Feb. 9th from 7-9pm. Also appearing will be IDW Chief Creative Officer / Editor-in-Chief Chris Ryall.
New Dimension Comics
Century III Mall
3075 Clairton Rd. #940, West Mifflin, PA 15213