Press Release:
Join MegaCon for an intimate and exclusive meet & greet event with legendary comic creator Stan Lee on Thursday May 26th at 9:00 PM! Includes, collectible badge and lanyard, autograph and the best selfie ever – bring your camera! NOTE: Admission to MegaCon is required to attend this special event. Tickets available at the link.
DISCLAIMER:
-Some Guests may charge additional fees for autographs and photo ops.
-Most Guests are available for the duration of the event, although some are only available for a portion i.e. a single day. Appearance day(s) will be posted on the website once confirmed by the Guest.
-Guest appearances subject to cancellation or schedule change, due to professional commitments.
-All events have a limited seating capacities and are offered on a first come, first served basis.
-All sales are final, no exchanges or refunds for any reason.
Artist James Sturm (Satchel Paige: Striking Out Jim Crow, The Golem's Mighty Swing) signs his new children's book BIRDSONG at the Takoma Park Library on Monday, April 11, 2016 at 7:00 p.m. Books sold by Politics & Prose.
Inspired by the Japanese art of kamishibai, or "paper theater," this wordless story is meant to inspire a performance. A boy and girl are cruelly teasing animals in a forest when a frightened bird takes flight. The children give chase up a mountainside and find themselves confronted by a mystical man who has feathers emerging from his clothing. With a flash like lightning, the children are transformed—into monkeys. Eventually captured by humans, they receive some of the cruel treatment they had earlier perpetrated themselves. In keeping with kamishibai tradition, this tale contains a lesson for young readers to discover as they turn the pages.
Takoma Park Library
101 Philadelphia Ave, Takoma Park, MD 20912
(301) 891-7259
Press Release:
World renowned comics artist ARTHUR ADAMS will be visiting Flying Colors on Saturday April 2, 2016 from 11:00 AM till 1:00 PM.
Art is the cover artist for Flying Colors exclusive edition of AVENGERS STANDOFF ALPHA #1 which features Pleasant Hill CA's historic landmark Soldier's Memorial Monument. This will be your best chance to get a signed copy of this special edition that is available exclusively at Flying Colors Comics in Concord CA.
His work includes X-MEN, FANTASTIC FOUR, SUPERMAN, GUARDIANS OF THE GALAXY, MONKEYMAN & O'BRIEN, ULTIMATE X, UNIVERSAL MONSTERS, the creation of LONGSHOT and so much more.
Arthur's work has influenced a generation of comics artists. He currently is Marvel's "go-to guy" for iconic and fan-favorite covers.
PLEASE NOTE: Due to the limited time Art has for this signing, he will not be able to do any sketches. We will be giving priority to fans buying Art's Flying Colors Pleasant Hill exclusive Avengers special edition. We reserve the right to limit the number of signatures on other items. Thanks for your understanding!
Flying Colors Comics
2980 Treat Blvd (at Oak Grove Rd), Concord, CA 94518
(925) 825-5410
Kerry Washington, Tony Goldwyn, Guillermo Diaz, Darby Stanchfield, Katie Lowes, Jeff Perry, Bellamy Young, Joshua Malina, Scott Foley, Portia de Rossi, Cornelius Smith Jr., Joe Morton, Betsy Beers, and creator Shonda Rhimes appear at PaleyFest on Tuesday, March 15, 2016 at 7:30 PM to talk about SCANDAL!
Dolby Theatre
6801 Hollywood Blvd, Los Angeles, California 90028
(323) 308-6300
Press Release:
Stan Lee, the guy who created and co-created hundreds of iconic superheroes, including Spider-Man, Iron Man, Incredible Hulk, and Thor, is coming to Planet Comicon Kansas City at Bartle Hall May 20, 21 and 22. The legendary former publisher of Marvel Comics is scheduled to sign autographs, pose with fans for photo opportunities, and appear on stage for a Q&A session.
"Every year the show gets better," said Planet Comicon Kansas City founder and CEO Christopher Jackson. "We are incredibly excited and truly honored to have Stan Lee coming to Kansas City. He is a visionary who has brought a whole pantheon of modern mythology to life. The incredible imagination of Stan Lee fills our theaters, toy stores, and television screens."
Planet Comicon Kansas City has exploded in popularity and attendance since moving to the monster space at Bartle Hall in 2012. The annual show draws legions of fans of superheroes, science fiction, animation, television, movies, fantasy, and gaming, with acres of interactive exhibits, live art, costumes, performances and collectibles.
Other celebrity guests already announced for Planet Comicon in 2016 include Edward James Olmos (Battlestar Galactica, Miami Vice), Eve Myles (Doctor Who, Torchwood), Sean Maher (Firefly), and Jason Mewes (Clerks, Mallrats). Other comic creator guests include Bill Sienkiewicz (Elektra: Assassin), Jason Aaron (Star Wars, Thor), Joe Staton (Green Lantern, Dick Tracy), Cullen Bunn (Uncanny X-Men, The Sixth Gun), Brian Hurtt (The Sixth Gun, Queen & Country), Matt Kindt (Rai, Ninjak), Don Rosa (Uncle Scrooge), Freddie E. Williams II (Batman/TMNT), Dennis Hopeless (Spider-Woman), Phil Hester (Green Arrow, The Flash: Season Zero), Rick Burchett (Lady Sabre, Batman Adventures), and more!
"We will continue to announce celebrity guests over the next few months," Jackson said. "The final roster will include more than 25 celebrities who will be available to meet with their fans. Planet Comicon is designed for every fan in the family. We work for a great balance of comic book creators, celebrity guests, cosplay events, vendors, gaming, children's activities, performances, and panel programming. That's what has kept our event growing year after year."
Last year's Planet Comicon Kansas City drew a record-setting 54,000 fans to Bartle Hall, but Jackson expects the 2016 show to be the biggest yet.
Jackson noted that, "For the past two years, Planet Comicon has been on the same weekend as the Big 12 basketball tournament, which strained the limits of hotel rooms, parking, and other downtown accommodations. Our event has now moved to May, and we expect that to allow us to grow our show and improve the experience for fans even more."
Tickets for Planet Comicon Kansas City will be available at the door. In addition, advance memberships that include admission to the event can be purchased at the Planet Comicon Kansas City website, www.planetcomicon.com. A limited number of Stan Lee autograph and photo packages will be available and can be pre-purchased on the website.
"This will be Mr. Lee's first such appearance in Kansas City and we are extremely excited to welcome him as our guest of honor at Planet Comicon," Jackson said. "We expect the Stan Lee packages to sell out in advance of the show, so fans who want to meet him should book their packages well ahead of time."
Lee has appeared in more than 30 movies, including cameos in nearly every Marvel movie. He was recently named the most successful filmmaker of all time, as his legendary creations have grossed $15 billion worldwide.
FOUNDED IN 1999, PLANET COMICON KANSAS CITY is Kansas City's largest and longest-running comic book convention and pop culture expo, featuring the best in comic books, fantasy, science fiction television and movies. Past Planet Comicon guests have included William Shatner, Stephen Amell, Lou Ferrigno, Adam West, Kenny Baker, Cary Elwes, Karen Gillan and many more. Memberships that include admission can be purchased on the event website, www.planetcomicon.com. Tickets will also be available at the door.
Comics legend Stan Lee, co-creator of Spider-Man, Avengers, X-Men, Fantastic Four, Iron Man, and more, appears at Barnes & Noble on Saturday, January 30, 2016 at 2:00 PM to celebrate the release of "The Zodiac Legacy: The Dragon's Return." In this second illustrated novel of The Zodiac Legacy series, the dangerous dragon power only grows stronger within Jasmine, and Steven struggles to hold their ragtag team together. But as alliances become strained, the line between the "good guys" and the "bad guys" becomes blurrier and blurrier. And it all culminates in a major cliffhanger that readers won't see coming!
Stan Lee will be here to hand out pre-signed copies of "The Zodiac Legacy: The Dragon's Return."
This is a wristbanded event
-1 book per person/ 1 wristband per person – no exceptions
-Wristbands and books are limited to 300
-Wristbands will be issued to customers who purchase the book from Barnes & Noble at The Grove beginning at 9am on January 30
-the wristband will allow you into the event area where Stan Lee will hand you a pre-signed book
-personalization will not be available
-photos will not be permitted
-No memorabilia please
Barnes & Noble – The Grove
189 The Grove Dr, Los Angeles, CA 90036
(323) 525-0270
Artist Leonard Kirk (Fantastic Four, X-Factor, Agents of Atlas) appears at Paradise Comics on Wednesday, December 16, 2015 from 3:00 – 7:00 PM to sign copies of his latest work Squadron Supreme #1!
Paradise Comics
3278 Yonge Street, Toronto, ON, M4N 2L6 Canada
416-487-9807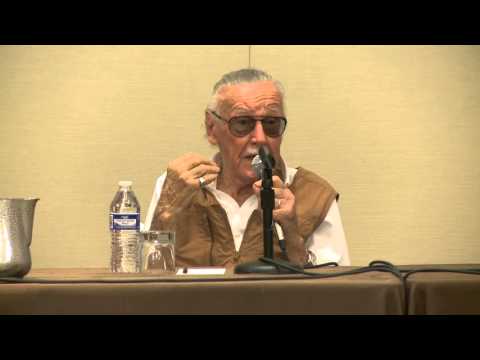 Watch The Man himself Stan Lee speak to a captivated audience at Boston Comic Con 2015 in a panel moderated by comic creator Jimmy Palmiotti and Stan's manager Max Anderson. The event featured a special appearance by Stan's best friend Ken Bald, Guinness World Record holder as the oldest living comic artist, and a phone call from Stan's wife Joanie.
Video courtesy of Ihungerproductions
Walter Simonson appears at JHU Comic Books on Wednesday, November 18, 2015 from 6:00 – 8:00 PM to sign IDW's collected edition of RAGNAROK: LAST GOD STANDING!
Ragnarök…the Twilight of the Gods in Norse mythology…the destruction of the Nine Worlds. And now, three hundred years later, the birth of vengeance. Walter Simonson returns to comics in this stunning all-new series.
**Purchase of Ragnarok: Last God Standing required for participation in signing event.
JHU Comic Books MANHATTAN
32 East 32nd Street, New York, NY 10016
(212) 268-7088
Comics legend STAN LEE appears at Barnes & Noble to sign Amazing Fantastic Incredible: A Marvelous Memoir on Saturday November 7, 2015 at noon!
This is a wristbanded event. A wristband will be issued to customers who purchase *Amazing Fantastic Incredible: A Marvelous Memoir" at Barnes & Noble at The Grove beginning November 7th at 9am.
Stan Lee will not be signing any Memorabilia
About the book:
In this gorgeously illustrated, full-color graphic memoir, Stan Lee—comic book legend and co-creator of Spider-Man, the X-Men, the Avengers, the Incredible Hulk, Daredevil, and a legion of other Marvel superheroes—shares his iconic legacy and the story of how modern comics came to be.
Stan Lee is a man who needs no introduction. The most legendary name in the history of comic books, he has been the leading creative force behind Marvel Comics, and has brought to life—and into the mainstream—some of the world's best-known heroes and most infamous villains throughout his career. His stories—filled with superheroes struggling with personal hang-ups and bad guys who possessed previously unseen psychological complexity—added wit and subtlety to a field previously locked into flat portrayals of good vs. evil. Lee put the human in superhuman and in doing so, created a new mythology for the twentieth century.
In this beautifully illustrated graphic memoir—illustrated by celebrated artist Colleen Doran—Lee tells the story of his life with the same inimitable wit, energy, and offbeat spirit that he brought to the world of comics. Moving from his impoverished childhood in Manhattan to his early days writing comics, through his military training films during World War II and the rise of the Marvel empire in the 1960s to the current resurgence in movies, Amazing Fantastic Incredible documents the life of a man and the legacy of an industry and career.
Barnes & Noble – The Grove at Farmers Market
189 The Grove Drive Suite K 30 Los Angeles, CA 90036
323-525-0270