Comments Off on SF – Savage Dragon #200 Signing
Erik Larsen, legendary comic creator and Image Comics co-founder, appears at Isotope – The Comic Book Lounge on Wednesday December 10, 2014 from 4:00 – 7:00 PM to celebrate the 200th issue of SAVAGE DRAGON!
ABOUT ERIK LARSEN:
Savage Dragon creator Erik Larsen has been in the comics business for over 25 years and shows no signs of slowing down. He has worked for most of the major publishers on titles including Amazing Spider-Man, Aquaman, The Punisher, Wolverine, Teenage Mutant Ninja Turtles, and more. He is the creator/writer/artist of Savage Dragon and former Publisher of Image Comics, the company he helped found in 1992 alongside notorious creators Todd McFarlane, Rob Liefeld, Jim Lee, Marc Silvestri, and Jim Valentino.
Isotope – The Comic Book Lounge
326 Fell Street, San Francisco, CA 94102
(415) 621-6543
Comments Off on CA – Savage Dragon Anniversary Signing
Press Release:
Erik Larsen, one of the founders of Image Comics and the creator of the Savage Dragon will appear at Collectors Haven in Oakland, California to do a special signing in honor of the 20th Anniversary of the Savage Dragon's ongoing series at Image Comics. Please join us on Saturday, August 31st from 1 -3 pm, for this very special signing as Erik will sign and talk to fans about the incredible journey from starting Image Comics to taking the Savage Dragon to issue #200 and beyond. Time permitting, Erik has agreed to do one or two commissioned pieces. Please inquire on our Facebook page at the link below for details.
Collectors Haven
374 17th Street, Oakland, CA 94612
(510) 788-4310
Comments Off on AZ – Free Comic Book Day 2013
Erik Larsen, Eric Canete, Brian Augustyn, Cassandra Poulson, and many more appear at Samurai Comics on Saturday May 4, 2013 for Free Comic Book Day!
Erik Larsen 
Eric Canete 
Cory Walker
Brian Augustyn 
Cassandra Poulson
Tony Parker
Eric M. Esquivel 
Jay Fotos 
Hi-Fi Color
Ben Glendenning 
Scott Godlewski 
Ryan Cody
Val Hochberg 
Jon Goff
Jim Hanna
Armand Villavert
Daniel Bradford 
Rob Osborne
John Derrick West
Jason Gonzalez 
Ernie Najera
Samurai Comics
1051 E. Camelback Road, Phoenix, AZ 85014
602-265-8886
Comments Off on CA – Savage Dragon Signing
Meet Erik Larsen,  co-founder of Image Comics and creator of Savage Dragon, at Phat Collectibles in Anaheim on Saturday March 23rd from 2:00 till 6:00 pm and in Huntington Beach on Sunday March 24th from 1:00 till 4:00 pm!
Phat Collectibles
16532 Beach Blvd., Huntington Beach, CA
1201 S. Euclid Street, Anaheim, CA 92804
Comments Off on SF – Nerdist Writers Panel
Michael Chabon, Erik Larsen, Glen David Gold, and Joshua Davis join host Ben Blacker for a special edition of the Nerdist Writers Panel at Wired Magazine on Friday, January 25, 2013 from 7:00 PM to 9:00 PM. Click here for tickets ($30)
Press Release:
Join Pulitzer Prize winning author Michael Chabon (The Amazing Adventures of Kavalier & Clay; Telegraph Avenue), novelist Glen David Gold (Carter Beats the Devil; Sunnyside), comic book writer/artist/publisher Erik Larsen (Savage Dragon), and journalist and Wired contributing editor Joshua Davis (The Underdog) as they talk with moderator Ben Blacker (co-creator, The Thrilling Adventure Hour) about the process and business of writing.
Proceeds from the live panel benefit 826Valencia, the non-profit tutoring program founded by Dave Eggers.
The Nerdist Writers Panel series is an informal chat with professional writers about the process and business of writing. Covering TV, film, comic books, music, novels, and any other kind of writing about which you'd care to hear.
The Nerdist Writers Panel podcast is available via Chris Hardwick's Nerdist network and is consistently a top TV/Film podcast on iTunes. Previous panelists have included Vince Gilligan (creator, Breaking Bad), Matthew Weiner (creator, Mad Men), Damon Lindelof (co-creator, Lost), Bob Odenkirk (co-creator, Mr. Show), and many, many more.
The Kitchen at Wired Magazine
520 3rd Street #305, San Francisco, CA 94107
Via their Facebook page, Image has provided an early look at the creators set to appear at their booth (#2729) during Comic-Con International 2012 in San Diego.
As you can see above, featured guests would appear to include:
Ryan Ottley
Nick Spencer
Robert Kirkman
John Layman
Charlie Adlard
Ed Brubaker
While they have yet to remove George Perez from the list (who announced via his Facebook page that he is cancelling his appearance this year), Comic-Con International has announced that their Special Guests list for 2012 is complete. The latest update contains 28 new names:
Press Release:
EXPERIENCE CREATIVITY AT IMAGE EXPO: A 3-DAY CELEBRATION OF CREATOR OWNED COMICS!
Berkeley, CA – 21 November 2011 — IMAGE EXPO is coming! Experience the creativity of the men and women making the best creator owned comics in America at this one-of-a-kind celebration commemorating the 20th Anniversary of Image Comics!
IMAGE EXPO is a three-day celebration of creator-owned comics happening at the Oakland Convention Center. Image partners Robert Kirkman, Erik Larsen, Todd McFarlane, Marc Silvestri, and Jim Valentino, will be the guests of honor, appearing throughout the weekend for signings, panels, and special events. Other special guests include Image founders Rob Liefeld, and Whilce Portacio, plus the creators of today's best creator-owned comics, including: Joe Casey, Jay Faerber, Jonathan Hickman, Ryan Ottley, Richard Starkings, Fiona Staples, and Brian K. Vaughan.
IMAGE EXPO is Northern California's premiere comic con experience in 2012. The three-day event takes place at the Oakland Convention Center in the heart of the bustling nightlife and restaurant center of downtown Oakland, CA on February 24-25-26.
IMAGE EXPO isn't just about Image Comics, it's a celebration of independent creativity in comics. The exhibit floor is open to anyone who makes creator-owned comics. We're also going to be hosting unique programming for fans, aspiring creators, and library professionals. We'll be continuing our tradition of supporting the Comic Book Legal Defense Fund's important work to protect creators and retailers by hosting special events including a massive benefit auction.
Get in on the ground floor and sign up for your exhibitor or artist alley space today! Contact info@ImageComicExpo.com for more information about the show and how to sign up to exhibit.
ABOUT AMAZING COMIC CONVENTIONS
Amazing Comic Conventions is a leading promotional company operated by Jimmy S. Jay and Jay Company Comics. The Amazing Arizona Comic Con is their signature event, kicking off the Comic Con Season each January. The Amazing Arizona Comic Con is the premiere destination for graphic novel pop culture in the Southwest. The 2012 Amazing Arizona Comic Con takes place January 6-7-8 at the Mesa Convention Center, in the Phoenix Metropolitan area. Guests for the upcoming event include Walking Dead creator/executive producer Robert Kirkman, legendary creator Rob Liefeld, Batman artist Greg Capullo, and many more. For more information, visit www.AmazingArizonaComicCon.com.
ABOUT IMAGE COMICS
Image Comics is a comic book and graphic novel publisher founded in 1992 by a collective of best-selling artists. Image has since gone on to become one of the largest comics publishers in the United States. Image currently has five partners: Robert Kirkman, Erik Larsen, Todd McFarlane, Marc Silvestri and Jim Valentino. It consists of five major houses: Todd McFarlane Productions, Top Cow Productions, Shadowline, Skybound and Image Central. Image publishes comics and graphic novels in nearly every genre, sub-genre, and style imaginable. It offers science fiction, romance, horror, crime fiction, historical fiction, humor and more by the finest artists and writers working in the medium today. For more information, visit www.imagecomics.com.
March 4th-6th marked the first time ever in it's 9 year history that Emerald City Comic Con kicked off on a Friday. Although it was my first time at this show, I've been told wonderful things, about the myriad of artists that flooded artist alley, the mobs of fans trying to meet creators, and how this show was truly a "comic centric" type of con, and not bombarded with Hollywood studios. I am happy to report that all of those things were true. With one of the biggest artist alley's I've seen, along with truly knowledgeable fans who lined up for commissions and autographs, Emerald City Comic Con is one of the best shows I've attended. It also doesn't hurt that Seattle had gorgeous weather that weekend, and had plenty of great restaurants within walking distance to the convention center. Here's a few photos from the show: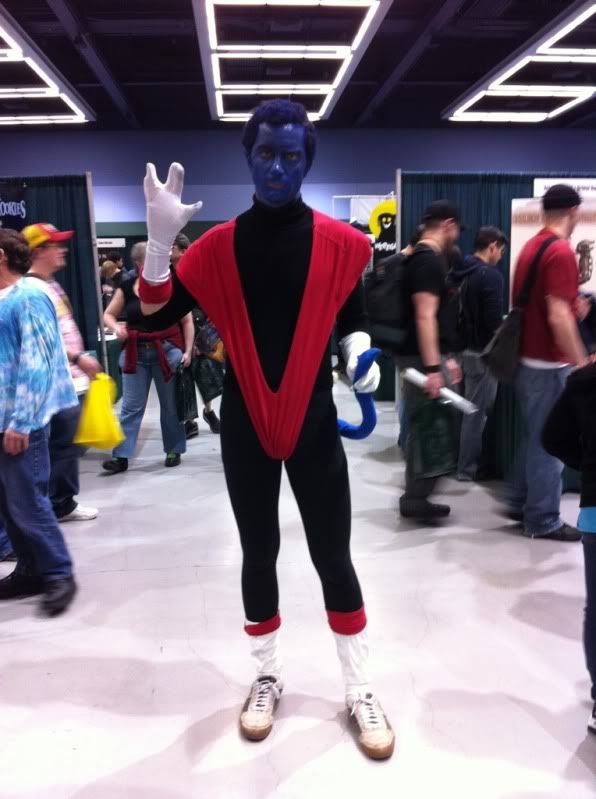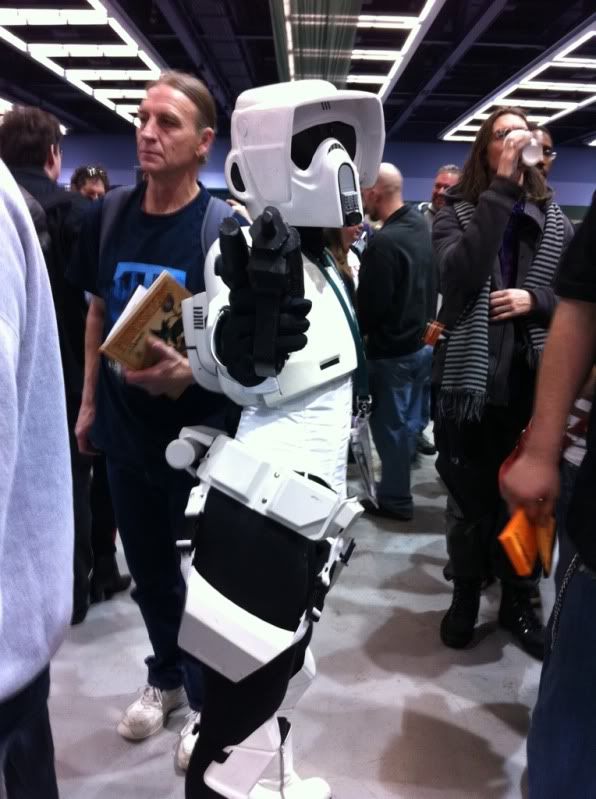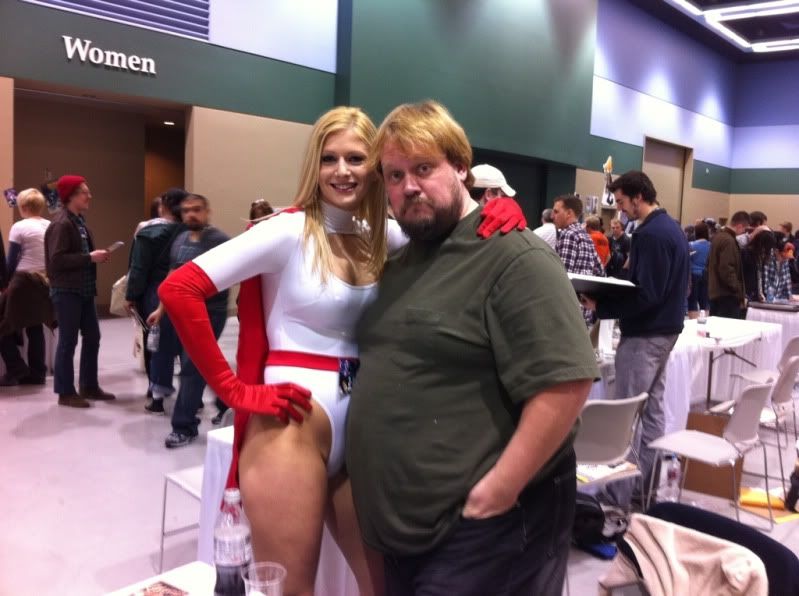 Comments Off on Monsters & Dames Returns for Emerald City Comicon 2011
Press Release:

ECCC PR: EMERALD CITY COMICONS' MONSTERS & DAMES CHARITY ART BOOK RETURNS, BIGGER & BETTER THAN EVER!
Seattle, WA – December 20, 2010 – Debuting again at the upcoming Emerald City Comicon (ECCC) will be the 2011 edition of the shows popular MONSTERS & DAMES art book. The 2011 book not only features an amazing cover by acclaimed illustrator Adam Hughes, but has expanded to a whopping SIXTY (60) pages of brand new illustrations by some of the top illustrators in comics and animation!
Since its inception in 2009, the MONSTERS & DAMES art books and auctions have raised over $10,000.00 for Seattle Children's Hospital, a premier child health care & pediatric center, recognized as one of the leading hospitals for children. The art book has sold out each year at the convention.
"Helping bring this book to life each year is an incredible experience," says ECCC Convention Director Jim Demonakos. "Being able to not only create a fun, collectible art book that fans love and at the same time raise a huge amount of money to benefit local children is very rewarding."
The full-color, 9″x12″, 60-page MONSTERS & DAMES hardcover is limited to 1000 individually numbered copies. The 2011 book features contributions from some of the top creators in the industry, including JG Jones, Geof Darrow, Cully Hamner, Bruce Timm, Humberto Ramos, Guy Davis, Todd Nauck, Frank Cho, Yanick Paquette, Skottie Young, Aaron Lopresti, Cliff Chiang, Mike McKone, Cameron Stewart, Erik Larsen, Chris Giarrusso, Pete Woods, Jonathan Hickman, Sean "Cheeks" Galloway and dozens more! For the complete list of creators involved in this amazing art book, visit http://www.emeraldcitycomicon.com/monstersndames.php
The Ninth Annual EMERALD CITY COMICON, newly expanded to three days, will be taking place March 4th-6th, 2011 at the Washington State Convention & Trade Center in beautiful downtown Seattle, WA.