The Photo Op schedule with celebrities including Stan Lee, William Shatner, Nichelle Nichols, George Takei, John Cusack, Christopher Lloyd, Ming-Na Wen, Hayley Atwell, John Barrowman, and many more at MegaCon‬ 2016 is now available. Tickets are now on sale via the website: www.MegaConvention.com/photo-ops
Press Release:
"C'mon Batman – There's not a moment to lose…". The excitement has been building and Motor City Comic Con 2016 is announcing a new cast of comic and media guests for its 27th
annual, three-day comic con and has opened ticket sales online. Michigan's number one pop culture event will toast the 50th anniversary of Batman with stars from the original cast in their last year of appearances before they hang up their capes. The weekend event will feature stars from popular television series and films like Doctor Who, Game of Thrones, The Walking Dead, Gotham, The X-Files, Monty Python, The Hobbit, and many more. "Holy smokes, Batman." This year's Motor City Comic Con will take place Friday, May 13 (12:30 p.m. to 7 p.m.), Saturday, May 14 (10:30 a.m. to 7 p.m.) and Sunday, May 15 (10:30 a.m. to 5
p.m.) at the Suburban Showplace, located at 46100 Grand River Avenue in Novi. Complete information about the event, tickets, panels and VIP passes is available at www.motorcitycomiccon.com
The weekend event features more than 300 creators, writers, illustrators and actors who will greet the fans, sign autographs, take pictures, and provide panels and Q & A discussions, while many super fans are dressed in their pop culture best. A popular event is Saturday's cosplay contest where a mix of celebrity judges determine the best costume winners, presenting prizes and gift packages. Motor City Comic Con's annual Saturday night bash celebrates comic con weekend with entertainment, refreshments, and light hors devours for the public. Sunday is Kid's Day featuring kid-friendly activities.
Hot off the Gotham Globe press, some of this year's Motor City Comic Con guest announcements include:
Lena Headey: The English actress is best known for her role as Cersei Lannister on HBO's Game of Thrones. Other appearances include: The Purge, Pride and Prejudice and Zombies, Terminator: The Sarah Connor Chronicles, Dredd, 300, and more.
Adam West: Known as the original Batman from the classic television series, his film, television, character, voice, and stage actor career spans over six decades, making nearly 50 movies. West is the author of Back to the Batcave, and Climbing the Walls.
Burt Ward: Known as the original Robin from the classic television series and Batman: The Movie (1966). Ward wrote tell-all autobiography Boy Wonder: My Life in Tights, and continues to appear in numerous reunions with co-star Adam West.
Billie Piper: The UK singer, dancer and television star is best known for her role as Rose Tyler in Doctor Who. Piper can also be seen on Penny Dreadful. Other television film roles include: The Ruby in the Smoke, and The Shadow in the North, and Secret Diary of a Call Girl.
Holland Roden: Known as Lydia Martin on MTV's Teen Wolf and as Emily Locke on Lost. Other appearances include: Weeds, Bring It On: Fight to the Finish, CSI: Crime Scene Investigation, Cold Case, Community, and Criminal Minds.
Tara Reid: Best known for her roles in American Pie, The Big Lebowski, Josie and the Pussycats, National Lampoon's Van Wilder, My Boss's Daughter, and SyFy's Sharknado.
Elden Henson: Actor best known for playing Matt Murdock's partner and best friend, Foggy Nelson in Marvel's Daredevil Netflix series, Fulton Reed in the Mighty Ducks trilogy, and Pollux in The Hunger Games: Mockingjay Part 1 and 2.
The Four Horsemen: A rare reunion after 15 years of the greatest wrestling faction of all time. Professional wrestlers Ric Flair, Arn Anderson, Tully Blanchard, Barry Windham and manager JJ Dillion were inducted into the WWE Hall of Fame in 2012.
Michael Nesmith: An American musician, songwriter, actor, producer, novelist, businessman, and philanthropist, Nesmith is best known as a member of the pop rock band The Monkees and co-star of the TV series The Monkees (1966-1968). This year marks the 50th anniversary of the show.
Michael Cudlitz: Known as Abraham Ford on AMC's The Walking Dead. He played John Cooper in series Southland, and has appeared in more than 20 films and television series such as Prison Break, Lost, The Dark Tourist, Surrogates, Tenure, Six Feet Under, and more.
Robin Lord Taylor: Dubbed as "favorite breakout star of television," Taylor is best known as Oswald Cobblepot or The Penguin on Gotham. Known for his role as Sam on The Walking Dead, and as Abernathy Darwin Dunlap in Accepted.
Dean O'Gorman: A New Zealand actor, artist and photographer, he is best known as Fili in The Hobbit trilogy, and as Kirk Douglas in Trumbo. Other appearances include: Shortland Street, Hercules: The Legendary Journeys, Young Hercules, Xena: Warrior Princess, and McLeod's Daughters.
Josh McDermitt: Comedian and star of AMC's The Walking Dead made his television debut on NBC's Last Comic Standing in 2006. He was casted in TV movie Rehab for Rejects and as Brandon on Retired at 35. McDermitt can also be seen in Middle Man and Odious.
Sonequa Martin-Green: An actress and producer, known for her role as Sasha in The Walking Dead, and as Tamara in Once Upon a Time.
Mitch Pileggi: An Italian-American actor best known for his role as Walter Skinner on The X-Files. He later reprised the role in the show's feature film The X-Files (1998) and The X-Files: I Want to Believe (2008).
Michael Trevino: Known as Tyler Lockwood in the CW series The Vampire Diaries, Lockwood also appeared in spin-off series The Originals.
Alan Davis: UK artist known for drawing the revamped Captain Britain story in The Mighty World of Marvel, he has also created D.R. and Quinch for 2000AD. Other recognizable works include: The Uncanny X- Men, Excalibur, JLA: The Nail, and JLA: Another Nail.
Kevin O'Neill: British comic artist is best known for his work on 2000AD, Marshal Law, and League of Extraordinary Gentlemen. Other works include: Omega Men, Tales of the Green Lantern Corp., Metalzoic, and Avatar's Cinema Purgatorio.
Neal Adams: Known for transforming Batman's realistic incarnation seen in Batman Begins and The Dark Knight. Other legendary comic book work includes: X-Men, Green Lantern/Green Arrow, and Deadman. Adams is preparing to release his graphic novel Blood, and a Harley Quinn book.
Bob Layton: A comic visionary, creator, writer, artist, designer, and entrepreneur, known for reinventing Iron Man in the 70s, turning it into an all-time best selling comic series. Layton launched the first mini- series in comics' history Hercules: Prince of Power.
Terry Jones: Best known as a member of the Monty Python comedy troupe, Jones co-directed Monty Python and the Holy Grail. Other directing credits include: Life of Brian, The Meaning of Life, Personal Services, Erik the Viking, Mr. Toad's Wild Ride, The Young Indiana Jones Chronicles, and Absolutely Everything.
Ian Ziering: Known for his array of acting including Beverly Hills 90210, No Way Back, What I Like About You, Melrose Place, and Happily Divorced. Ziering became the most in-demand actor for various animated films and television shows Spider-Man, Mighty Ducks, Batman Beyond, and Biker Mice from Mars.
Additional media and comic guest announcements are coming soon. For more information regarding Motor City Comic Con guests and events, visit www.motorcitycomiccon.com.
About Motor City Comic Con
Michigan's largest pop-culture event since 1989, Motor City Comic Con gathers comic book and multimedia dealers from across the country, offering a vast variety of pop-culture merchandise, including comics, art, t-shirts, movie memorabilia, posters and much more. Over 300 comic book creators, writers and artists are on site at Motor City Comic Con each year, as well as more than 50 actors from  the television and movie industry. Motor City Comic Con offers big fun for kids young and old.
Press Release:
Boston Comic Con is excited to announce that KARL URBAN, star of Star Trek, Dredd and The Lord of the Rings Trilogy will join us this summer at Boston Comic Con on August 13th and 14th!
Karl Urban is a New Zealand born actor with prolific credits in the comic book, science fiction, and fantasy film genres. He is best known for his roles as Eomer of the Riders of Rohan in Peter Jackson's The Lord of The Rings, the lead role of lawman Judge Dredd in the 2012 reboot Dredd, Agent Cooper in the film adaptation of Warren Ellis' comic book limited series, RED. In addition to his film roles Karl has been seen on television as both Cupid and Julius Caesar on cult classic Xena: Warrior Princess, Woodrow F. Call in the western miniseries Comanche Moon, and in the lead role of John Kennex on the sci-fi series Almost Human. Marvel just announced he will appear in Thor: Ragnarok as the villainous Skurge the Executioner!
Most recently Karl plays Dr. Leonard "Bones" McCoy in the new Star Trek film series, a role he actively pursued as a Star Trek fan and has been embraced by fans as faithful to DeForrest Kelley's original performance. This summer Karl will be seen as Dr. McCoy in Star Trek Beyond releasing on July 22, 2016 and will be featured in the upcoming Pete's Dragon remake.
Details on signing times and Photo Ops will be released closer to the convention.
Previously announced guest include comic creators Greg Capullo, Jae Lee, Erik Larsen, Terry Dodson, Mike Allred, Arthur Adams, Amanda Conner, Jim Cheung, Jimmy Palmiotti, Phil Jimenez and many more! Media guests include William Shatner (Star Trek), Karen Gillan (Guardians of the Galaxy), and Jenna Coleman (Doctor Who). Check the website for full details on exciting events!
Tickets are on-sale now at the link!
About Boston Comic Con:
The Boston Comic Con is a 100% independently run comic book show committed to bringing the biggest and best comic creators to New England. Run by fans for fans, Boston Comic Con is not affiliated with any other convention tour or corporate interests. Hosting over 120,000 square feet of vendors selling comic books, toys, posters, trading cards, and other pop culture memorabilia, this is a destination event for geeks of any stripe. This year's convention will be held Friday August 12th, Saturday August 13th, and Sunday August 14th at the Seaport World Trade Center, 200 Seaport Blvd, Boston, MA 02210. For more information please go to our website at www.bostoncomiccon.com and follow us on Twitter (@BostonComicCon) and Facebook!
Meet artists Jock and Dom Reardon Saturday 13 December 2014 from 3:00-5:00 PM at Gnash Comics, hear them talk about their work from 3:30pm, followed by a Q&A session. There will also be an exhibition of their original comic art!
Mark your calendars, comic collectors and art aficionados; two of the most celebrated British illustrators in the business will be making a personal appearance at GNASH Comics and Graphic Novels on Saturday December 13th.
Dom Reardon is a household name for British industry devotees thanks to a lengthy and renowned run with 2000AD, the Galaxy's Greatest Comic. Few things inspire more fear than the rule of Tharg, but Reardon has been responsible for countless sleepless nights for comic book consumers; in addition to a number of renowned Terror Tales, Reardon pencilled and inked the spine-chilling Caballistics, Inc. for over half a decade. Most recently Reardon has worked alongside fellow Brit Rob Williams in The Ten-Seconders and The Grievous Journey of Ichabod Azrael, in addition to providing illustrations for the feature-length graphic adaptation of Anthony Horowitz's Raven's Gate.
Jock, meanwhile, has worked within the mythical metropolises of Mega City One, Gotham and Hollywood since making his breakthrough at the turn of the millennium. In addition to eminent work on classic 2000 AD strips, Jock's distinctive drawings have graced countless covers and interiors for industry titans DC, Vertigo and Marvel – Hellblazer, The Losers, Batman, Swamp Thing, Wolverine and Daredevil are just a handful of the marquee characters pencilled by the illustrious illustrator. Currently scaring up a storm alongside celebrated Bat-scribe Scott Snyder with the spellbinding Wytches for Image Comics, an audience with Jock is not to be missed.
In addition to hosting an open Q&A for the fortunate attendees of the appearance alongside Reardon, Jock will also be signing copies of Dredd: The Illustrated Script and Visuals. A gorgeous tome that peeks behind the scenes of 2012's fantastic cinematic chronicle of everyone's favourite funnybook fascist, for which the Scottish sketcher provided the concept art, the book also provides a unique comic strip adaptation of Alex Garland's screenplay.
Gnash Comics
9A West Street, TQ13 7DT Ashburton, Devon UK
Press Release:
Four nights! Four movies! 4 actors! Emerald City Comicon is proud to partner with the Seattle Cinerama for our 2014 ECCC Cinema Series: a showing of each film and a Q&A with one of our celebrity guests. Admission for each film is $25/person (an ECCC badge does not provide entry to this event.)
Thursday March 27 brings you a screening of the fan-favorite The Princess Bride movie with the Dread Pirate Roberts himself, Cary Elwes!
On the following evening, Friday March 28, it's a showing of Serenity with Alan Tudyk (Wash)!
On Saturday March 29, Dredd comes to town with star Karl Urban, production designer Jock, and the writer of the official comic sequel, Arthur Wyatt!
And finally, The Terminator is back with star Michael Biehn (Kyle Reese)!
Doors open at 7:45PM, and the Q&As start at 8:30PM. Buy tickets at the link!
Poster art by Justin "Moritat" Norman.
Cinerama
2100 4th Ave Seattle, WA 98121
Arthur Wyatt, script-bot for 2000 A.D., will sign copies of Dredd: Underbelly the official movie sequel One-Shot at Zanadu Comics on Wednesday, January 29th from 4-7pm!!
Zanadu Comics
1923 3rd Ave, Seattle, WA 98101
Dredd 3D from Lionsgate Films, based off of the famed comic book character Judge Dredd, stars Karl Urban from Star Trek, and Olivia Thirlby from Juno! It will be released in theaters on September 21.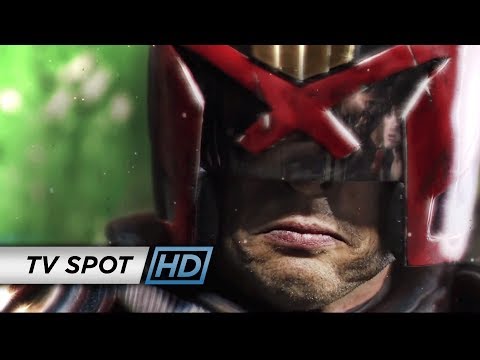 About the movie:
The future America is an irradiated wasteland. On its East Coast, running from Boston to Washington DC, lies Mega City One- a vast, violent metropolis where criminals rule the chaotic streets. The only force of order lies with the urban cops called "Judges" who possess the combined powers of judge, jury and instant executioner. Known and feared throughout the city, Dredd (Karl Urban) is the ultimate Judge, challenged with ridding the city of its latest scourge — a dangerous drug epidemic that has users of "Slo-Mo" experiencing reality at a fraction of its normal speed.
Stop by the Lionsgate Comic-Con booth at 11am today to meet Karl Urban, Olivia Thirlby and Lena Headey from #Dredd3D!

— LIONSGATE MOVIES (@lionsgatemovies) July 13, 2012