Jeff Kinney appears at Brookline Booksmith on Sunday, November 16th at 4:00 pm to present the latest Diary of a Wimpy Kid: The Long Haul
Greg Heffley and his family hit the road in author-illustrator Jeff Kinney's latest installment of the phenomenal bestselling Diary of a Wimpy Kid series.
This will be a ticketed event for up to 800 people. To make this a fun and safe event, everyone in line will be required to have a ticket (no exceptions!). Tickets are free with the purchase of Diary of a Wimpy Kid: The Long Haul. Each book purchase is good for up to three tickets per family. Nobody will be admitted to the event without a ticket. Tickets will be available on a first come, first served basis.
Brookline Booksmith
279 Harvard Street, Brookline, MA 02446
(617) 566-6660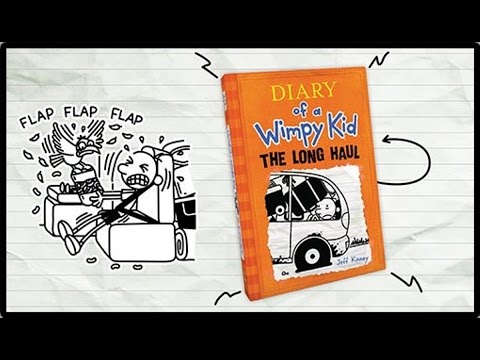 Cartoonist Jeff Kinney signs the latest Diary of a Wimpy Kid, THE LONG HAUL, at Barnes & Noble on Monday November 3, 2014 at 6:00 PM!
Barnes & Noble – Country Glen Center
91 Old Country Road, Carle Place, NY 11514
516-741-9850
Jeff Kinney speaks about drawing in reluctant readers at the Carle Museum on Sunday April 6, 2014 at 1:00pm.
Free with Museum Admission
Jeff Kinney's work has been widely credited for its ability to turn reluctant readers on to books. In his first visit to The Carle, he will share the incredible trajectory of his bestselling series, talk about its impact on readers, its wide reach around the globe, and the many unique experiences he has had since the first Diary of a Wimpy Kid book was first published in April 2007.
Reserve your space for the talk in the auditorium (413) 658-1126. We are unable to accept same-day phone reservations. Seating for the talk is limited; tickets will be handed out first come/first served and are non-refundable/non-transferable. Book signing to follow presentation, Limit one book from home/unlimited books from The Carle Bookshop.
Can't make it to the event? Contact The Carle Bookshop at (413) 658-1132 or shop@carlemuseum.org to reserve signed copies.
Eric Carle Museum of Picture Book Art
125 West Bay Road, Amherst, MA 01002
JEFF KINNEY appears at Books Inc. on Friday November 15, 2013!
Press Release:
Please join us for a celebration of the biggest book of 2013 Diary of a Wimpy Kid book 8, Hard Luck! It releases on November 5, 2013, and we are thrilled to announce that Jeff Kinney will be at Books Inc. Opera Plaza to sign books on November 15th, 2013 at 5pm.
Please join us to meet Jeff and for special Hard luck activities which will start 1 hour before the book signing and run throughout it.
The event will be capped at 1000 people, so please be sure to get your book and tickets early as they will go fast.
Your ticket includes a copy of Diary of a Wimpy Kid #8 Hard Luck. Get tickets at the link!
Books Inc. Opera Plaza
601 Van Ness Street, San Francisco, CA 94102
Jeff Kinney signs at Barnes & Noble on Thursday February 16, 2012 at 6:00 PM.
Author Event
Mr. Kinney is here in conjunction with the Celebration of Reading event. A portion of the proceeds from the books purchased for the signing will be used to help promote literacy.
Special Instructions
Wristbands will be issued starting at 10:00 am. You must purchase a copy of at least one of his books to get a wristband. Only one book can be brought from home to be signed. Due to the expected crowd size, Mr. Kinney will only be signing his name. Photos are allowed during signing, but no posed pictures.
Barnes & Noble – Bonita Springs
23130 Fashion Drive, Estero, FL 33928
239-947-8724