Press Release:
The Squad Up! Suicide Squad Cosplay Contest launches today from DC Entertainment and Warner Bros. and invites you to cosplay as your favorite squad member for a chance to win a trip to San Diego this July for Comic-Con International. Have you always wanted to build a Deadshot mask? Is Harley Quinn your spirit animal? Got a purple alligator-skinned coat in the back of your closet that you've been wondering what to do with? Then this contest is for you!
Here's how it works:
Assemble a costume based on the look of any of the following characters from Warner Bros.'s upcoming Suicide Squad film: Deadshot, The Joker, Harley Quinn, Colonel Rick Flag, Amanda Waller, Captain Boomerang, El Diablo, Killer Croc, Enchantress, Slipknot, and Katana.
Take a photo of yourself wearing your costume. Make sure it's a good quality photo that really shows off your costume!
You can find the full list of rules and conditions here. Trust us, you'll want to check them out. After the entry period, fans will be able to vote in two separate rounds and help us choose finalists in each of the character categories. Once we have our finalists, eleven different winners—one for each character—will be chosen.
We expect some heavy competition, but don't worry, we're here to help. At the link are some tips, as well as a gallery of characters to help with your costumes. Click on the photos to zoom in on them.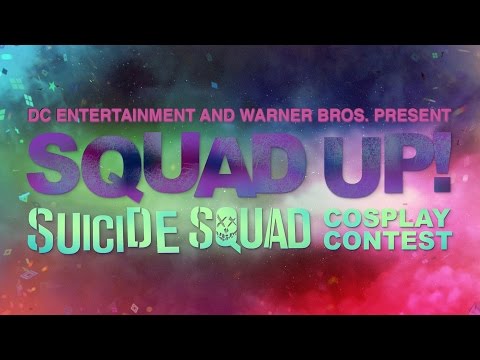 Golden Apple Comics celebrates Free Comic Book Day on Saturday May 7, 2016 with several creator signings.
9AM Signing
SHANNON LEE (Series Creator & Writer)
BERNARD CHANG (Cover Artist, Wonder Woman, etc.)
Signing copies of Bruce Lee: The Dragon Rises
10AM Signing
CHRISTOS GAGE (Daredevil TV, Buffy, Avengers, etc.)
Signing copies of ROM: Space Knight #0
2PM: Wonder Woman 77′ Crew:
MARC ANDREYKO
CAT STAGGS
JASON BADOWER
DAVID WOHL
*Free Batman/Superman Comic
Golden Apple Comics
7018 Melrose Avenue, Los Angeles, CA 90038
323-658-6047
Christos Gage and Ruth Fletcher Gage, writers of Netflix's hit DAREDEVIL series, appear at Golden Apple Comics on Sunday, August 16, 2015 from 3:00 till 6:00 PM to sign THE LION OF RORA!
Golden Apple Comics
7018 Melrose Avenue, Los Angeles, CA 90038
323-658-6047
Comments Off on MA – Justice League Beyond Signing
Writer Christos Gage signs at That's Entertainment on New Year's Day from 2:00 till 6:00 pm! He is currently scripting Superior Spider-Man, as well as Justice League Beyond, Buffy, Bloodshot & H.A.R.D. Corps, and the Amazing Spider-Man 2 video game! Also his new issue of FLASH will be on the rack when he appears.
That's Entertainment
244 Park Ave, Worcester, MA 01609
Comments Off on MO – Matt Kindt Signing
Matt Kindt signs at Star Clipper Comics on Wednesday, September 25, 2013 from 5:00pm until 7:00pm
Star Clipper Comics
6392 Delmar Blvd, St. Louis, MO 63130
Phone: (314) 725-9110