Hartford Comic Con returns this September 19-20, 2015 at the XL Center in Hartford, CT! In the very first year, over 11,000 fans attended and this year they are looking for even more fans to join in the fun!
The staff has been hard at work putting together a great guest line up for this year's convention and will continue to do so up to the opening of the show! Currently the following comic creators are scheduled to appear: Ray Fawkes, Chad Hardin, John Tyler Christopher, Ed McGuinness, Ben Templesmith, Dave Dorman, Jeremy Bastian, Craig Rousseau, Mark McKenna (special host for this year's Kids Conn!), Jack Purcell, Bob Almond, Khary Randolph, Paul Ryan, Sara Richard, Darby Pop!, Jeff Schultz, Ransom Getty, Nate Bellegarde, Mike Lilly, Matt Fletcher, Braden Lamb, Alex Sanchez, Eric Talbot, Alex Sanchez and Ale Garza!
Additionally several media guests from movies and television will also appear: Kelly Hu, Michael Jai White, Joey Lauren Adams, Christy Romano, BJ Britt, Ernie Hudson, Samantha Newark, Nicki Clyne, Robert Axelrod, Jeff Kline, Taimak, Tito Santana and Trina Nishimura!
For those interested in either Artist Alley tables or Vendor space, please visit our website www.hartfordcomiccon.com and follow the link under the registration tab.
Follow on Facebook for the most up-to-date information! RSVP on Facebook!
For those interested in attending our event, tickets are available directly from the XL Center's homepage www.xlcenter.com, by phone 877-522-8499, or by visiting the XL Center itself.
Scott Koblish, artist of X-Men '92, Deadpool, and more appears at Arsenal Comics & Games on Wednesday, August 26, 2015 from 2:00 – 6:00 PM to sign the latest issue of X-Men '92!
Arsenal Comics & Games
2405-A Michael Drive, Newbury Park, CA 91320
(805) 499-6197
Writers David Mandel (known for his television/movie projects including SNL, Seinfeld, EuroTrip, Curb Your Enthusiasm, and The Dictator) and Gerry Duggan (Deadpool, Secret Wars: Infinity Gauntlet, 1872) appear at Golden Apple Comics on Wednesday August 26, 2015 from 6:00 till 8:00 PM to sign comics including the debut of Mandel's HANK JOHNSON: AGENT OF HYDRA !
Golden Apple Comics
7018 Melrose Avenue, Los Angeles, CA 90038
323-658-6047
Rob Liefeld, creator of Cable, Deadpool, X-Force, and more, appears at Big Red Comics for a signing on Saturday August 15th from 2:00 – 5:00 PM!
Big Red Comics
162 N Glassell Street, Orange, CA 92866
(714) 650-0813
Next year's Deadpool film emerged as one of the highlights of this year's San Diego Comic Con. Here are the full panel, interviews including one with Rob Liefeld, and the leaked trailer (NOTE: The trailer is not work-friendly or kid-safe.)
Ryan Reynolds, Morena Baccarin, TJ Miller & Brianna Hildebrand's DEADPOOL Interview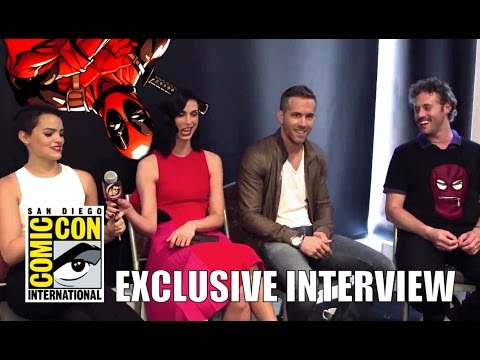 It wasn't until I got home, I realized my keys, wallet and kidney was missing. #Gambit. #deadpool pic.twitter.com/gFsYHBGcX5

— Ryan Reynolds (@VancityReynolds) July 12, 2015
"Now THAT's the way to end a panel." – @RealStanLee #HallH #SDCC pic.twitter.com/KGXwm3Soas

— 20th Century Fox (@20thcenturyfox) July 12, 2015
I love my team. @nottjmiller @ginacarano @missmorenab @VancityReynolds @briannahilde #Deadpool #SDCC2015 pic.twitter.com/OJs8RUeykW

— Ed Skrein (@edskrein) July 12, 2015
When they announced 'could all the super heroes come to the stage' it was a surreal and unforgettable moment 🙌🏼 #SDCC pic.twitter.com/uimfXcAhU6

— Ed Skrein (@edskrein) July 12, 2015
Press Release:
This morning, Ryan Reynolds and the cast of the upcoming film from 20th Century Fox, DEADPOOL, announced their appearance at this year's Comic Con in San Diego with a nod to The Merc's favorite TV Show, The Golden Girls, by tweeting the theme song. Below, find all the tweets from the DEADPOOL cast in order:
Hey #SDCC, Thank you for being a friend… pic.twitter.com/Kl52TtOPio

— Ryan Reynolds (@VancityReynolds) July 8, 2015
Travel down the road and back again…. #SDCC #Deadpool https://t.co/nQVy47vLFt

— Gina Carano (@ginacarano) July 8, 2015
. @ginacarano @VancityReynolds @deadpoolmovie "Your heart is true, you're a pal and a confidant…" pic.twitter.com/vAVbLTIY0n

— t.j. miller (@nottjmiller) July 8, 2015
.@nottjmiller And if you threw a party, invited everyone you knew… #SDCC #Deadpool pic.twitter.com/z4l9m7ZAF4

— Morena Baccarin (@missmorenab) July 8, 2015
.@missmorenab You would see, the biggest gift would be from me… pic.twitter.com/s2FpAxY30Q

— Brianna Hildebrand (@briannahilde) July 8, 2015
.@briannahilde And the card attached would say… pic.twitter.com/4s7W3vYyES

— Ed Skrein (@edskrein) July 8, 2015
@edskrein Eat me. https://t.co/BjDq8Y5khO

— Ryan Reynolds (@VancityReynolds) July 8, 2015
——————————
DEADPOOL
Action-Adventure
Release: February 12, 2016
Director: Tim Miller
Screenplay by: Paul Wernick & Rhett Reese
Producers: Simon Kinberg, Lauren Shuler Donner, Ryan Reynolds
Cast: Ryan Reynolds, Morena Baccarin, Ed Skrein, T.J. Miller, Gina Carano, Brianna Hildebrand
SYNOPSIS
Based upon Marvel Comics' most unconventional anti-hero, DEADPOOL tells the origin story of former Special Forces operative turned mercenary Wade Wilson, who after being subjected to a rogue experiment that leaves him with accelerated healing powers, adopts the alter ego Deadpool. Armed with his new abilities and a dark, twisted sense of humor, Deadpool hunts down the man who nearly destroyed his life.
DEADPOOL Official Socials
Website: http://www.foxmovies.com/deadpool
Facebook: https://www.facebook.com/DeadpoolMovie
Twitter: https://twitter.com/deadpoolmovie
Instagram: https://instagram.com/DeadpoolMovie/
Pinterest: https://www.pinterest.com/DeadpoolMovie/
Writer Fabian Nicieza, co-creator of Deadpool, appears at Steve's Comic Relief's Grand Re-Opening on Saturday July 11, 2015 from 1:00 pm until 5:00 pm alongside local artist Jack Lopez, Tom Romano, Laith Alabbad, Micky Fiedler, David G. Hardy, Bob Hazel, Alexis Rivera, Amber Morgan of Beads of Rohan, Craig Blake, Chris Alvarez, Kelly Gaspar, and Beth Brubaker will be painting faces!
Steve's Comic Relief
930 Woodbourne Rd, Levittown, PA 19056
(215) 945-7594
Joshua Covey, Eddie Nunez, Erick Osuna Cabral, Joey Lee Cabral, and Steven Crowe from Urban Myth Studios appear at Lobo Anime & Comics on Sunday, July 19, 2015 from 11:00am – 3:00pm!
Lobo Anime & Comics
1016 Juan Tabo Blvd NE Suite D, Albuquerque, NM 87112
(505) 332-0499
Writer Cullen Bunn (Deadpool's Secret Secret War, Magneto, The Sixth Gun, and many more) signs at Comic Book Jones on Wednesday July 1, 2015!
Comic Book Jones
2220 Forest Avenue, Staten Island, NY 10303-1700
781-448-1234
Deadpool Writer, Actor and Comedian Brian Posehn appears at Chapel Hill Comics for a signing on Saturday, June 13th from 1:00pm to 3:00pm.
Chapel Hill Comics
316 W Franklin Street, Chapel Hill, NC 27516
(919) 967-4439