Via DC Comics:
Enter for a chance to win two 4-day passes to San Diego Comic-Con® 2014 which includes the preview night, airfare vouchers for two, and a hotel to stay at in San Diego, California!
To enter, watch this week's episode of DC All Access, fill out the form answering all 3 questions correctly, and click "submit" by Monday, April 28 at 10:00am PST.
Watch DC All Access every week for 12 chances to win.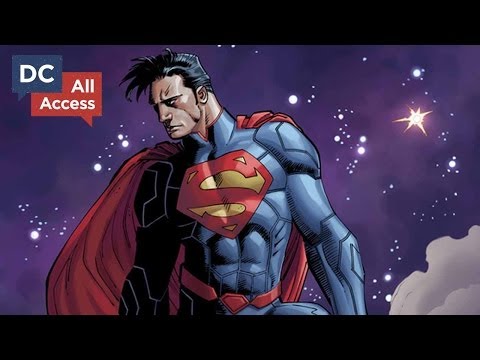 Comics writer Sterling Gates will sign his books from 4 to 6 p.m., Saturday, Jan 18, at Speeding Bullet Comics
Speeding Bullet Comics
614 N Porter Ave, Norman, OK 73071
Writer Marguerite Bennett appears at Midtown Comics' Downtown store on Wednesday February, 5th at 6:30pm for a signing of the Joker's Daughter #1!
Midtown Comics Downtown
64 Fulton Street, New York, NY 10038
Comics legend Neal Adams appears at Midtown Comics Downtown for a special signing of the all-new Detective Comics #27! The signing will take place on Thursday, January 9th at 6pm at our Downtown store. Purchase of Detective Comics #27 is required to attend the event.
Detective Comics #27:
DC Entertainment presents this mega-sized issue featuring an all-star roster of Batman creators past and present! Don't miss a modern-day retelling of The Dark Knight's origin by the incredible team of writer Brad Meltzer and artist Bryan Hitch! Plus, all-new stories by Scott Snyder and Sean Murphy, Peter J. Tomasi and Guillem March, Paul Dini and Dustin Nguyen, Gregg Hurwitz and Neal Adams and more! Also in this issue, John Layman and Jason Fabok kick off the new storyline 'GOTHTOPIA'! It's a bright, shiny, happy place where dreams come true… as long as you don't look at things too closely.
Midtown Comics
64 Fulton Street, New York, NY 10038
Jimmy Palmiotti & Amanda Conner take Harley Quinn on in her brand new monthly ongoing series and they will appear at Heroes Haven to celebrate the release of Harley Quinn #1 on Saturday, December 21, 2013 from 2:00pm to 4:00pm. Do not miss this great event! CGC SIGNATURE CERTIFICATION AVAILABLE!
Harley is set to begin her new life, but she needs a job first! Enter the Coney Island Roller Derby! It's game time as Harley sets out to destroy her competition – literally! For more information and RSVP click here…
Heroes Haven
4339 Gunn Hwy, Tampa, FL 33618
813-269-8859
Amanda Conner and Jimmy Palmiotti appear at Phat Collectibles on Wednesday, November 20, 2013 at 4:00pm!
Press Release:
The bombastically talented Amanda Conner and Jimmy Palmiotti are bringing Harley Quinn back to monthly comics and they're debuting it here at Phat Collectibles! This bombastic debut issue features art by award-winning illustrators including Darwyn Cooke, Sam Kieth, Tony S. Daniel, Paul Pope, Walter Simonson, Art Baltazar and others—but will any of them measure up to the exacting standards of the Clown Princess of Crime? Don't miss the thrilling return of Harley Quinn in her own monthly series!
That's just the begining! Jane Vasko, the nearly unbreakable vigilante best known as Painkiller Jane, stalks her prey to Marvel's Icon imprint. Guided by writer and co-creator Jimmy Palmiotti and a team of talented artists, including Juan Santacruz, Asam Lofti, and Paul Mounts, the four issue PAINKILLER JANE limited series finds Vasko in New York defending the life of a Saudi Arabian princess against scores of lethal hired killer sand looking back on the times before she received her powers.
Phat Collectibles
1201 S. Euclid Street, Anaheim, CA 92804
Writer Charles Soule (Superman/Wonder Woman) appears at Phat Collectibles on Saturday, November 9, 2013 at 2:00pm!
Phat Collectibles
1201 S. Euclid Street, Anaheim, CA 92804
Writer Jeff Parker appears at Earth-2 Comics on Thursday, October 17, 2013 from 5:00pm until 7:00pm!
Earth-2 Comics
15017 Ventura Blvd, Sherman Oaks, CA 91403
(818) 386-9590
Jeff Parker signs at Beach Ball Comics on Wednesday, October 16, 2013 from 5:00pm until 7:00pm!
Press Release:
Put on your go-go boots and get ready to "Batusi" back to the Swingin' 60s as DC Comics reimagines the classic Batman TV series in comics form for the first time! Come meet writer JEFF PARKER (Hulk, Venom, X-Men & more!) and find out what's in store next for the Campiest Caped Crusader of them all!
Beach Ball Comics
3024 W Ball Rd Ste G, Anaheim, CA 92804
Scott Snyder, Rafael Albuquerque, Sean Murphy, and more speak at the School of Visual Arts on Tuesday, October 15, 2013 from 7:00 PM to 8:30 PM!
Press Release:
A panel discussion featuring comics all-stars Scott Snyder (American Vampire, The Wake, Batman), Sean Murphy (American Vampire, The Wake, Punk Rock Jesus), Rafael Albuquerque (American Vampire, Uncanny X-Force), MFA Visual Narrative Chair Nathan Fox (Dogs of War, DMZ) and Mark Doyle, editor at DC Comics/Vertigo. The panelists talk about their careers, creative process and collaborations, as well as what inspires and informs their approach to telling tales of horror in the realm of graphic novels and sequential art. Presented by the Office of Career Development and the MFA Visual Narrative Department.
Admission is free but please RSVP here
School of Visual Arts
209 East 23rd Street, New York, NY 10010