According to The Hollywood Reporter, regular writers Amanda Conner and Jimmy Palmiotti will write the one-shot, but no artist has been announced.
Press Release:
HARLEY QUINN INVADES SAN DIEGO COMIC-CON!
Fan-favorite Harley Quinn might have launched a new monthly series and become a best seller since that debut, but now she's got her sights on something bigger—San Diego's famed Comic Convention!
Today, at DCE's Retailer Roadshow in Florida, the writers behind the fun and humorous series, Amanda Conner and Jimmy Palmiotti, were on hand to announce an exciting new HARLEY QUINN one-shot.
Scheduled for release in July, HARLEY QUINN INVADES SAN DIEGO COMIC-CON arrives just in time for SDCC!
Writer/artist Francis Manapul (The Flash, Legion of Super-Heroes) appears at The Silver Snail on Wednesday April 2nd from noon till 2:00 pm to sign DETECTIVE COMICS #30!
The Silver Snail
329 Yonge Street, Toronto, ON M5B 1R7
Press Release:
The John F. Kennedy Presidential Library and Museum unveiled a special new display of rare Superman artwork created by legendary comic book artist Al Plastino featuring President John F. Kennedy. The story, told in ten hand-drawn story boards, was written in collaboration with the Kennedy White House in an effort to promote the President's initiative encouraging physical fitness. The never-before-displayed original artwork will be shown in the Library's museum through June 2014 with potential to be extended.
In 1963, the Kennedy White House launched a highly innovative marketing effort in collaboration with DC Comics (then called National Periodical Publications), the publisher of Superman, to create a story that would promote the President's Council on Physical Fitness. A hallmark of the Kennedy Administration, the Council established physical fitness curriculum for the country and initiated a national publicity campaign on the topic. In "Superman's Mission for President Kennedy" JFK calls upon Superman to help inspire the nation to exercise, eat better, and get stronger.
"The alliance between the Kennedy White House and the Superman comic strip designed to promote President Kennedy's physical fitness initiative demonstrates how innovative the administration was in communicating and advancing key initiatives," said Tom Putnam, Director of the Presidential Library. "Thanks to the Superman artist, Al Plastino, and the generous donation of DC Comics, we are pleased that this artwork will be available for the public to view for the very first time."
The Superman piece was in production when President Kennedy was assassinated in November 1963, and the project was set aside. Eight months later, with the encouragement of President Lyndon Johnson, the story was published as a special tribute to President Kennedy. The final page of the published version states that the story's original artwork would be donated to the Kennedy Library, which was then in the planning stages.
Al Plastino, who drew Superman for 20 years, took special pride in his drawings for this story. In late 2013, nearly a half a century later, when the artist learned that his original artwork was slated for auction, his family contacted the Kennedy Library to see if it had any record of the material ever being part of its holdings. A thorough search showed no evidence that the artwork had ever been offered to the Library or was ever a part of its collections.
In December 2013, just a month after Mr. Plastino passed away, DC Comics acquired the original drawings and offered them to the Kennedy Library, where they have become part of the permanent collection.
Upon securing the artwork, DC Comics issued a statement saying, "As a tribute to honor him and preserve his artistic legacy, DC Entertainment is pleased to confirm that we have acquired the art and will be donating it to the JFK Library, fulfilling Plastino's longtime hope for the story, which he often pointed to as one of his most important artistic contributions."
For more information, please contact the JFK Library at their website: www.jfklibrary.org
John F. Kennedy Presidential Library and Museum
Columbia Point, Boston, MA 02125
(617) 514-1600
Toll free (866) JFK-1960
Artist Cliff Chiang appears at Society of Illustrators on Thursday, March 27, 2014 from 6:00 pm until 9:30 pm for Dare2Draw!
About Cliff Chiang:
Cliff Chiang's artwork has been hailed for its "fluid and confident storytelling" and "sweeping linework and nuanced style." Graduating from Harvard University with a joint degree in English Literature and Visual Arts, he worked in editorial at Disney Adventures Magazine and Vertigo/DC Comics before making the leap into freelance illustration.
Clients include DC Comics, GQ Magazine, Lucasfilm, Warner Animation, Dark Horse Comics, Dynamic Forces Entertainment, and the ACLU, on books such as Batman, Dr. Thirteen: Architecture & Mortality, Beware the Creeper, Human Target, Detective Comics: Josie Mac, Green Arrow & Black Canary, Grendel: Red, White, and Black, Red Sonja: Monster Isle, Swamp Thing, and Wonder Woman.
He is currently working on DC Comics' Wonder Woman with writer Brian Azzarello. He lives and works in Brooklyn, New York.
Cover $15 Online ($20 at the door)
Tickets: http://dare2draw-soi.eventbrite.com/
Society of Illustrators
128 East 63rd Street, New York, NY 10065
Press Release:
Announcing DC Entertainment's Emerald City Comicon Exclusives and Signing Schedule!
Seattle is home of The Space Needle, famous for fish-throwing at Pike Place Market, and of course, the home of Emerald City Comicon!
If you're heading to the Emerald City Comicon at the end of the month, you won't want to miss DC Entertainment's panels and exclusives throughout the course of the convention. Stop by the DCE Booth to say hello! And be sure to attend the fantastic panels and creator signings we'll be hosting throughout the weekend. This year, DC Entertainment is thrilled to have two exclusive variant comic book covers for sale at ECCC.
Illustrated by fan favorite artist Greg Capullo, the convention exclusive for BATMAN #29, written by Scott Snyder, takes the latest "Riddler" themed cover and gives it a location-specific touch: green for Emerald City! The "DARK CITY" chapter of "ZERO YEAR" reaches its conclusion in this amazing, extra-sized issue!
Written by Neil Gaiman and illustrated by J.H. Williams III, THE SANDMAN: OVERTURE #1 has an exclusive 3-D motion cover never before seen on this highly anticipated issue. You won't want to miss out on this exclusive! The first issue of this new miniseries also features a stunning double-page interior foldout.
THE SANDMAN: OVERTURE #1 3-D exclusive variant will be available for $15 and the Emerald City Comicon BATMAN #29 exclusive variant will be available for $10. Check them out in the gallery above.
And we're thrilled to announce that artist extraordinaire Jim Lee will be signing from 2:00-4:00pm on Friday, March 28th in the designated Emerald City Comicon signing area. More details below.
Take a look at the panel and signing schedule* below so you don't miss a thing. Or by downloading the DC Entertainment Events App on Apple's App Store or the Google Play Store, stay up to speed on all DC Entertainment happenings.
Hope to see you there!
Friday, March 28
10:30-11:30am – Creator Signing*
Talent: Brian Buccellato, Christopher Burnham
12:00-1:00pm DC COMICS – The Eternal Batman
Panelist(s): Matt Idelson
Moderator(s): Larry Ganem Talent: Ray Fawkes,Dustin Nguyen,Tim Seeley,Scott Snyder,James Tynion IV
Batman: Zero Year continues as one of the biggest Bat-stories ever told! Now with the launch of the weekly Batman Eternal, there has never been a better time to walk the streets of Gotham City! Join the talent behind the Dark Knight for an exclusive look at what's in store for the World's Greatest Detective!
Room TCC 301
1:00-2:00pm – Creator Signing*
Talent: Dustin Nguyen, Derek Fridolfs
2:00-3:00pm – Creator Signing*
Talent: Jeff Lemire, Ray Fawkes, Robbi Rodriguez
2:00-4:00pm DC Entertainment Co-Publisher Jim Lee – Creator Signing**
Talent: Co-Publisher Jim Lee (SUPERMAN UNCHAINED, JUSTICE LEAGUE)
**NOTE: Wristband required. Wristbands will be given away at the start of the day at the DCE Booth. Available while supplies last.
Location TBD
4:00-5:00pm – Creator Signing*
Talent: Charles Soule, Alessandro Vitti
5-6pm DC Entertainment – ALL ACCESS
Panelist(s): Matt Idelson, Will Dennis
Moderator: Larry Ganem Talent: Mark Buckingham,Amanda Conner,Derek Fridolfs,Kyle Higgins,Jeff Lemire,Jimmy Palmiotti,Robbi Rodriguez,Scott Snyder,Bill Willingham
At DC Entertainment, there's never been a better time to be a fan!  Come by for unfiltered access to all things DC Entertainment!  Find out what they have to share from behind-the-scenes at your favorite and most talked about Publisher!  Joining the All-Access party will be some of the industry's top talents, so don't miss out!
Room TCC 301
2:00-3:00pm – Creator Signing*
Talent: Scott Snyder

Saturday, March 29
10:30-11:30am – Creator Signing*
Talent: Ann Nocenti, Kyle Higgins
12:00-1:00pm – Creator Signing*
Talent: Gail Simone, Freddie E. Williams II
2-3pm DC COMICS: THE NEW 52
Panelist(s): Matt Idelson
Moderator: Larry Ganem Talent: Brian Buccellato,Jeff Lemire,Ann Nocenti,Gail Simone,Scott Snyder,Charles Soule,Alessandro Vitti
New and veteran fans alike are welcomed to be a part of history as the DC team and top-notch talent discuss the books that are shaping this new era of DC Comics! Don't miss this exclusive look inside the hottest comic line in decades!
Room TCC 301
2:00-3:00pm – Creator Signing*
Talent: Jimmy Palmiotti, Yanick Paquette
4:00-5:00pm – Creator Signing*
Talent: Bill Willingham, Mark Buckingham
5:30-6:30pm – Creator Signing*
Talent: Scott Snyder, Dustin Nguyen

Sunday, March 30
10:30-11:30am – Creator Signing*
Talent: Jeff Parker
12:00-1:00pm – Creator Signing*
Talent: Charles Soule, Alessandro Vitti
2-3pm ART MASTERS: DRAWING DC
Moderator: Larry Ganem
Talent: Yanick Paquette, Freddie Williams II

DC Entertainment is proud to have some of the most immensely talented artists working in comics today. Join us for a unique look into their visual approach in shaping some of your favorite books!
Room TCC 301
2:00-3:00pm – Creator Signing*
Talent: Bill Willingham, Mark Buckingham
3:30-4:30pm – Creator Signing*
Talent: Scott Snyder, James T. Tynion IV
Emerald City Comicon takes place March 28-30 at the Washington State Convention Center in Seattle, Washington. To purchase the variant covers, head on over the Graphitti Designs booth (#1804), where they will be available while supplies last. And visit the DC Entertainment booth (#1802) to meet some of your favorite writers and artists.
*Signing schedule is subject to change.
Back by popular demand! BOSTON COMIC CON is thrilled to welcome superstar writer SCOTT SNYDER for the 2014 convention! Scott joins a spectacular guest list which already includes his BATMAN collaborator, artist GREG CAPULLO! Bring your copies of Zero Year, Death of the Family, and Night of the Owls to be signed by both of them. In addition Scott has written several acclaimed series including AMERICAN VAMPIRE, THE WAKE, SWAMP THING, SUPERMAN: UNCHAINED, and more! Join us at the Seaport World Trade Center on August 8-10, 2014 for what is sure to be the biggest comic book convention to ever hit Boston!
Previously announced guests include Jason Momoa, Jewel Staite, James Marsters, Eve Myles, Simon Bisley, Amanda Conner, Adam Kubert, Jeff Smith, Danielle Corsetto, Carlos Pacheco, Jimmy Palmiotti, Eric Powell, Gail Simone, Stan Sakai, and many more!
For the full guest list plus artist alley, exhibitor, and film fest registration please check out the Boston Comic Con website!
Online ticket purchases are available at the link! Tell your friends!
About Boston Comic Con:
The Boston Comic Con is a 100% independently run comic book show committed to bringing the biggest and best comic creators to New England. Run by fans for fans, Boston Comic Con is not affiliated with any other convention tour or corporate interests. Hosting over 120,000 square feet of vendors selling comic books, toys, posters, trading cards, and other pop culture memorabilia, this is a destination event for geeks of any stripe. Next year's convention will be held Friday August 8th, Saturday August 9th and Sunday August 10th at the Seaport World Trade Center, 200 Seaport Blvd, Boston, MA 02210. For more information please go to our website at www.bostoncomiccon.com and follow us on Twitter (@BostonComicCon) and Facebook!
Artist Jason Fabok appears at Mike's Comics for a signing as part of their Free Comic Book Day celebration on Saturday May 3rd, 2014! Jason is a Canadian-born comic book artist working for DC Comics. He is currently working on Batman: Detective Comics with writer John Layman.
Attendees can also receive Tickets to the upcoming Galaxy Comic Con!
Mike's Comics
8110 S. Orange Blossom Trail, Orlando, Florida 32809
Kevin Conroy, Chip Kidd, Marc Tyler Nobleman, Kevin Smith, and Michael Uslan appear on a panel moderated by USA Today's Whitney Matheson at the Paley Center for Media on Monday, May 5, 2014 at 6:30 pm! Celebrate 75 years of Batman!
Press Release:
Kevin Conroy, Voice of Batman, Batman: The Animated Series; The New Batman Adventures; Batman Beyond
Chip Kidd, Designer, Batman: The Complete History; Author, Batman: Death by Design
Marc Tyler Nobleman, Author, Bill the Boy Wonder: The Secret Co-Creator of Batman
Kevin Smith, Filmmaker; Writer, Batman comic books; Host, Fat Man on Batman podcast
Michael Uslan, Executive Producer, The Dark Knight film trilogy; Author, The Boy Who Loved Batman
Moderator: Whitney Matheson, Columnist, USA Today's "Pop Candy"
Even your grandmother could name Batman's sidekick or home base (or maybe both). The Dark Knight is arguably the world's most popular superhero and one of the most iconic and influential fictional characters of all time. Celebrate the seventy-fifth anniversary of his first appearance, in Detective Comics #27 (May 1939), with this panel of influential creators and interpreters of Batman entertainment, all of whom were fans first. (Bring your grandmother.)
Paley Supporting and Patron Members: Tickets on Sale Now
Paley General Members: On Sale Friday, February 21 at noon
General Public: On Sale Monday, February 24 at noon
Paley Center for Media
25 West 52 Street, New York, NY 10019
Via DC Comics:
Enter for a chance to win two 4-day passes to San Diego Comic-Con® 2014 which includes the preview night, airfare vouchers for two, and a hotel to stay at in San Diego, California!
To enter, watch this week's episode of DC All Access, fill out the form answering all 3 questions correctly, and click "submit" by Monday, April 28 at 10:00am PST.
Watch DC All Access every week for 12 chances to win.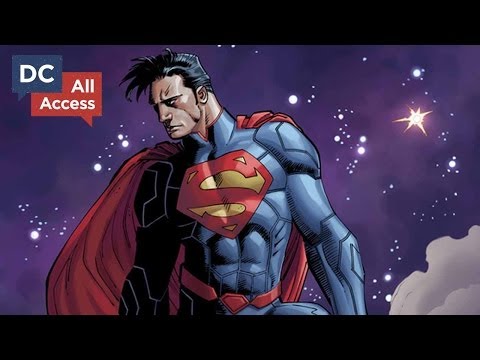 Comics writer Sterling Gates will sign his books from 4 to 6 p.m., Saturday, Jan 18, at Speeding Bullet Comics
Speeding Bullet Comics
614 N Porter Ave, Norman, OK 73071