Jimmy Palmiotti and Amanda Conner appear at Yancy Street Comics on Wednesday, December 16, 2015 from 4:00 till 6:00 PM! Bring some of your own books to get signed or pick up some of their great new releases coming out in December: Superzero #1, Harley's Little Black Book #1, and Harley Quinn #23!
Yancy Street Comics
9409 US 19 (inside Gulfview Square Mall), Port Richey, FL 34668
727-817-0888
Writer Charles Soule appears at 8th Dimension Comics and Games on Wednesday, December 2, 2015 at 6:30 PM for a release day signing of DAREDEVIL #1!
A prolific comic book writer, Soule also has written Letter 44, Lando, She-Hulk, The Death of Wolverine, Swamp Thing, Superman/Wonder Woman, Thunderbolts, and more! Issues written by Soule will be on hand for purchase. There is no charge for autographs.
8th Dimension Comics and Games
15210 West Road, Houston, TX 77095
(281) 856-6506
New Jersey Comic Expo (#NJCE) makes its debut this weekend on November 21st and 22nd with several special guests!
Best-selling and fan favorite superstar comic book artist Jim Lee will be making a rare appearance at NJCE on Sunday, November 22nd. Jim's appearance at NJCE is his final U.S. convention appearance of the year! Attendees will have the chance to line up for a special TWO HOUR hour signing with a two-item limit! The signing will begin at 10AM and will be first come, first served.
Writer Garth Ennis, best known as the co-creator of the Vertigo comic Preacher with Steve Dillon, which is coming soon to AMC, and his fan beloved nine-year run on Marvel's Punisher. So if you have a stack of the plethora of comics authored by Mr. Ennis, you may want to bring them to the 2015 NJCE, because this will be his ONLY appearance in the great state of New Jersey.
Superstar Comic Book artist John Cassaday will be making a rare appearance this weekend at the New Jersey Comic Expo! Appearing both Saturday & Sunday, John who most recently handled the art on the first six issues of Marvel's flagship Star Wars book, will be signing books for fans and will also be available for meet & greet session via our VIP packages.
Angel and Person of Interest's Amy Acker will be joining us on Saturday and Drea de Matteo (The Sopranos, Sons of Anarchy) and from Marvel's Daredevil on NetFlix Peter Shinkoda and Tommy Walker will be there all weekend. In addition to signing autographs for fans (Additional fees apply) at their tables in our Celeb Signing Area we will also be offering the opportunity to have a professional photo with your favorite celeb taken by Epic Photo-Ops, the convention photo pros.
Other guests include: Mark Bagley, Frank J. Barbiere, Chris Batista, Ryan Bodenheim, Ivan Brandon, June Brigman, Jim Calafiore, Dennis Calero, Joe Caramagna, Paul Castiglia, Chris Claremont, Toby Cypress, Vito Delsante, Todd Dezago, Steve Ellis, The Fraim Bros, Bryan J.L. Glass, Justin Gray, Scott Hanna, Joe Harris, Edwin Huang, Jamal Igle, Jeff King, Joseph Michael Linsner, Shawn Martinbrough, Ben McCool, Mark Morales, Rags Morales, Rudy Nebres, Fabian Nicieza, Cary Nord, Carl Potts, Rodney Ramos, Tom Raney, Ivan Reis, Rod Reis, Dave Roman, Craig Rousseau, Fernando Ruiz, Buddy Scalera, Bob Schreck, Jeffery Shultz, Alex Simmons, Louise Simonson, Walter Simonson, Frank Tieri, Peter J. Tomasi, Ethan Van Sciver, Charles Paul Wilson III, and more! For the full guest list, tickets, and further details please check the website: www.newjerseycomicexpo.com
Brian K. Vaughan, Marcos Martin, and Muntsa Vincente appear at Midtown Comics Downtown on Saturday, December 5, 2015 at 1:00 PM to sign hardcover copies of their sci-fi mystery comic hit, The Private Eye! The Eisner Award-winning digital comic takes place in a future where everyone's secrets were exposed, so each person feels the need to come up with a secret identity. The story will still remain in its original widescreen format in the hardcover collection (which contains issues #1-10).
Purchase of the Private Eye HC is required to attend and everyone is limited to having only two items signed.
Midtown Comics Downtown
64 Fulton Street, New York, New York 10038
(212) 302-8192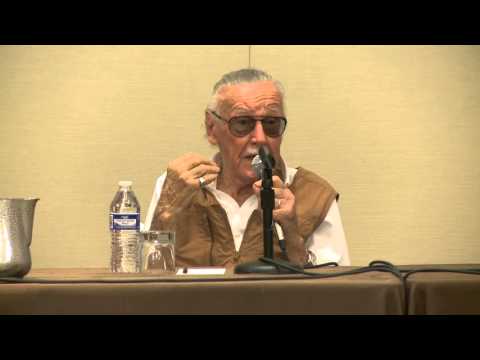 Watch The Man himself Stan Lee speak to a captivated audience at Boston Comic Con 2015 in a panel moderated by comic creator Jimmy Palmiotti and Stan's manager Max Anderson. The event featured a special appearance by Stan's best friend Ken Bald, Guinness World Record holder as the oldest living comic artist, and a phone call from Stan's wife Joanie.
Video courtesy of Ihungerproductions
Writer Mark Waid (Black Widow, Daredevil, Archie) appears at Aw Yeah Comics on Saturday, November 14, 2015 from 2:00 – 5:00 PM to sign copies of his new comic All-New All-Different Avengers #1!
This is a ticketed event, everyone coming to the signing must purchase a copy of Avengers #1.
Aw Yeah Comics
107 N High St, Muncie, IN 47305
(765) 282-5297
Bill Sienkiewicz, Yuko Shimizu, and David Mack appear at the Philadelphia Museum of Art on Wednesday, October 28, 2015 at 6:30 PM!
Press Release:
Join The Philadelphia Museum of Art for a panel discussion and book signing in celebration of "Prometheus Eternal," the Museum's first comic book inspired by the Rubens masterpiece "Prometheus Bound." Artists Bill Sienkiewicz, Yuko Shimizu, and David Mack will be joined by Josh O'Neill, publisher from Locust Moon Comics to discuss the collaboration and how "Prometheus Bound" inspired this contemporary re-telling of the ancient myth. Copies of "Prometheus Eternal" will be available for purchase. This talk is moderated by Christopher Atkins, The Agnes and Jack Mulroney Associate Curator of European Painting and Sculpture before 1900.
Philadelphia Museum of Art
2600 Benjamin Franklin Pkwy, Philadelphia, PA 19130
(215) 763-8100
Comic creator David Mack (KABUKI, DAREDEVIL, ALIAS, FIGHT CLUB 2) appears at Laughing Ogre Comics on Friday, October 23, 2015 from 6:00 – 8:00 pm for a signing!
Laughing Ogre Comics
4258 N. High Street Columbus, OH 43214
(614) 267-6473
Comics legend STAN LEE appears at Barnes & Noble to sign Amazing Fantastic Incredible: A Marvelous Memoir on Saturday November 7, 2015 at noon!
This is a wristbanded event. A wristband will be issued to customers who purchase *Amazing Fantastic Incredible: A Marvelous Memoir" at Barnes & Noble at The Grove beginning November 7th at 9am.
Stan Lee will not be signing any Memorabilia
About the book:
In this gorgeously illustrated, full-color graphic memoir, Stan Lee—comic book legend and co-creator of Spider-Man, the X-Men, the Avengers, the Incredible Hulk, Daredevil, and a legion of other Marvel superheroes—shares his iconic legacy and the story of how modern comics came to be.
Stan Lee is a man who needs no introduction. The most legendary name in the history of comic books, he has been the leading creative force behind Marvel Comics, and has brought to life—and into the mainstream—some of the world's best-known heroes and most infamous villains throughout his career. His stories—filled with superheroes struggling with personal hang-ups and bad guys who possessed previously unseen psychological complexity—added wit and subtlety to a field previously locked into flat portrayals of good vs. evil. Lee put the human in superhuman and in doing so, created a new mythology for the twentieth century.
In this beautifully illustrated graphic memoir—illustrated by celebrated artist Colleen Doran—Lee tells the story of his life with the same inimitable wit, energy, and offbeat spirit that he brought to the world of comics. Moving from his impoverished childhood in Manhattan to his early days writing comics, through his military training films during World War II and the rise of the Marvel empire in the 1960s to the current resurgence in movies, Amazing Fantastic Incredible documents the life of a man and the legacy of an industry and career.
Barnes & Noble – The Grove at Farmers Market
189 The Grove Drive Suite K 30 Los Angeles, CA 90036
323-525-0270
Writer/director Kevin Smith appears at The Comedy Attic on both Monday October 26th and Tuesday October 27th at 7:00 and 10:00 PM!
A writer, comedian, podcaster, and film director, KEVIN SMITH has written and directed numerous films, including Clerks, Mallrats, Chasing Amy, Dogma, Jay & Silent Bob Strike Back, Red State, and Tusk; Creator of AMC's Comic Book Men; authored Silent Bob Speaks, Shootin' the Sh*t with Kevin Smith, My Boring-Ass Life and Tough Sh*t: Life Advice from a Fat, Lazy Slob Who Did Good. He can be heard daily at Smodcast.com, a vast network of podcasts.
An Evening with Kevin Smith is a chance to get up close and personal with the man who brought the world these films.
The Comedy Attic
123 S Walnut St, Bloomington, Indiana 47404
(812) 336-5233