Awesome Con welcomes DANAI GURIRA (Michonne on The Walking Dead) to their 2014 show! Danai will be appearing both Saturday and Sunday. She joins a lineup including fan favorites like Billie Piper, George Perez, Cary Elwes, Steve Niles, Sean Astin, Marc Hempel, Ron Glass, Jewel Staite, Timothy Zahn, and many more!
About Danai Gurira:
Actress and playwright Danai Gurira stars as one of the most popular characters in AMC's critically-acclaimed original series "The Walking Dead." Based on one of the most successful comic books of all time, "The Walking Dead" follows a group of survivors who are searching for a safe home after a zombie apocalypse. In the season two finale, Gurira's heroine 'Michonne' bursts onto the scene as the mysterious sword-wielding zombie slayer. "The Walking Dead" wrapped its third season in style, logging a monster 11 million total viewers for the season, making it the first original cable series ever to end the broadcast television season as the number one show in delivery for adults 18-49.
Prior to joining "The Walking Dead," Gurira finished production on the independent drama "Mother of George," the story of an African woman's struggle after arriving in the U.S. to honor her heritage while attempting to define her new marriage in modern terms. The film premiered at the Sundance Film Festival and was acquired by Oscilloscope Laboratories. "Mother of George" will premiere in New York on September 13, 2013 and will expand to Los Angeles and an additional 10-20 markets the following week. Zeba Blay, from Indiewire, said "…Gurira, eerily luminescent in every frame, perfectly captures a part of the African experience – the struggle to reconcile tradition and heritage with modern, Western point-of-view."
Gurira also starred in the multiple-award winning film "The Visitor," opposite Richard Jenkins, in which she played a Senegalese immigrant in New York trying to survive while her illegal immigrant boyfriend is detained by the U.S. government.  Other film credits include "Three Backyards" and "Restless City." Her television credits include roles on "Law and Order: Criminal Intent," "Lie to Me" as well as a recurring role on the HBO David Simon series "Treme."
An award-winning playwright, her most recent play "The Convert" (Stavis Award) is an historical drama set in Rhodesia (now Zimbabwe). Part of a trilogy Gurira is writing about her native country's coming of age, the play ran at Woolly Mammoth Theatre in Washington, D.C. from February 13 to March 10, 2013.
Gurira was born in the U.S. and raised in Zimbabwe. She earned an MFA in theatre from NYU after moving back to the U.S.  Her initial success was as the co-lead of "In the Continuum" (a play she co-created and co-wrote while in the acting program at NYU.)  The upbeat powerful story focused on two women: one, an upper class, educated newscaster in Africa; the other, an impoverished teenager in south central L.A., who discover that they are HIV positive, and learn to cope in the face of hatred, discrimination and ignorance. Gurira performed the play off-Broadway, in numerous theaters around the U.S., and in Africa. She received numerous accolades including an Obie, the Outer Circle Critics John Gassner Award, the Global Tolerance Award (Friends of the United Nations) and the Theater Hall of Fame Honors.  Gurira also received the Helen Hayes Award (Woolly Mammoth).
She subsequently received a grant for research in Liberia and Sierra Leone which resulted in her second play "Eclipsed"—the story of women abductees trying to survive during that region's devastating civil war.  Gurira won Best Playwright at the NAACP Theater Awards and Best New Play at Helen Hayes Awards. And, on Broadway, Gurira starred Bartlett Sher's award winning revival of "Joe Turner's Come and Gone." She also earned the Actor's Equity Callaway Award for her performance as Isabella in the 2011 Shakespeare in the Park production of "Measure for Measure."
Gurira is also a Hodder Fellow at Princeton and a commissioned playwright with Yale Rep.  She is co-founder of Almasi (Al-ma-see), a Zimbabwean American Dramatic Arts Collaborative Organization. Their mission is to instill professional values, skills and practices in the Zimbabwean Dramatic Arts through education and collaboration with professional American dramatic artists and artistic institutions.
Gurira divides her time between New York and Los Angeles.
Awesome Con DC will be on April 18-20, 2014 at the Walter E. Washington Convention Center in Washington, DC. Show hours are 3pm-8pm Friday, 10am-7pm Saturday, and 10am-5pm Sunday. Details at the website:  www.awesomecondc.com

A picture from Walking Dead Season 4 Episode 1. (Photo taken by Gene Page)
The cast of the AMC hit show The Walking Dead, including Andrew Lincoln, Norman Reedus, Steven Yeun, Lauren Cohan, Danai Gurira, David Morrissey, Chad Coleman, Scott Wilson, Executive Producer and Showrunner Scott Gimple, Executive Producer Gale Anne Hurd, Executive Producer Robert Kirkman, Executive Producer David Alpert and Executive Producer and Special Effects Make-up Supervisor Greg Nicotero spoke at SDCC 2013, and Convention Scene's own Richard Oh was there.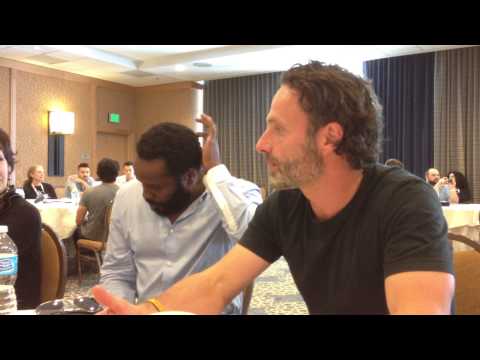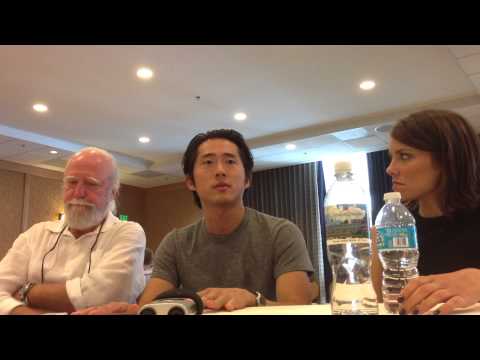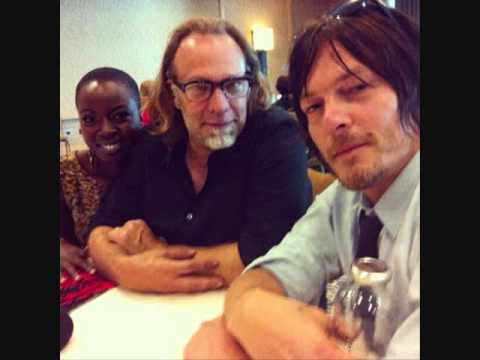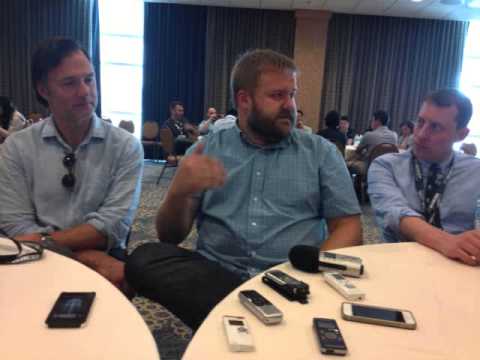 Via AMC: 
The cast and producers of AMC's The Walking Dead will participate in an hour-long panel at this year's Comic-Con in San Diego, CA. Moderated by Talking Dead host Chris Hardwick, The Walking Dead panelists will discuss what fans can expect in the highly anticipated fourth season, which debuts in October.
The Walking Dead panelists include Andrew Lincoln, Norman Reedus, Steven Yeun, Lauren Cohan, Danai Gurira, David Morrissey, Chad Coleman, Scott Wilson, Executive Producer and Showrunner Scott Gimple, Executive Producer Gale Anne Hurd, Executive Producer Robert Kirkman, Executive Producer David Alpert and Executive Producer and Special Effects Make-up Supervisor Greg Nicotero.
In addition, fans this year are invited to participate in the second annual The Walking Dead Escape, a zombie obstacle course at Petco Park during Comic-Con weekend. The course is open Jul. 19 & 20 from 5PM to 10PM PT and allows survivors to climb, crawl and slide as part of the adventure and to also avoid confrontation by hordes of walkers.
More Details
• Autograph session on Fri., Jul. 19 11:15AM at Booth #4237
• Panel on Fri., Jul. 19 at 1:35PM-2:30PM in Hall H
• The Walking Dead Escape at Petco Park July 19 and 20, 5PM to 10PM.
The Walking Dead returns this October. Check back at AMC.com for The Walking Deadupdates from San Diego Comic-Con 2013.
Via ECCC: 
Unfortunately, Carrie Fisher has canceled her scheduled appearance at ECCC.
Apparently, she had a medical incident last week, on the 22nd. Here's is the statement we received from her management this morning:
"Ms. Fisher had a medical incident and she's doing much better, but doctors don't want her working for about a month."
If Carrie Fisher was the ONLY reason you were coming to ECCC (seriously?! :), we're making an exception to our 30-day refund policy and you may request a refund for the next 24 hours through Eventbrite (through 12:30pm on Wednesday the 27th) and those tickets will then go back out to the general public for purchase.
Her panel for Saturday at 6pm is now being replaced with a Walking Dead panel featuring both Michael "Merle" Rooker and Danai "Michonne" Gurira.
Press Release:
LOS ANGELES COMIC BOOK AND SCIENCE FICTION CONVENTION PRESENTS STARS OF THE WALKING DEAD FEBRUARY 24, 2013
Los Angeles, CA-January 22, 2013-The LOS ANGELES COMIC BOOK AND SCIENCE FICTION CONVENTION presents DANAI GURIRA ("Michonne") and LAURIE HOLDEN ("Andrea") two of the popular Stars of THE WALKING DEAD AMC Cable series at the SUNDAY, FEBRUARY 24, 2013 show.
DANAI GURIRA stars as Michonne, the kitana wielding Zombie Killer and one of the most popular characters in THE WALKING DEAD series. LAURIE HOLDEN stars as Andrea, one of the original surviving cast members in THE WALKING DEAD series. DANAI's other credits include Law and Order, Treme, and Life on Mars. LAURIE'S other credits include starring as Marita Covarrubias in The X-Files and as Debbie Mclivane, the girlfriend of Ben Grimm (The Thing) in the first Fantastic Four Movie. DANAI and LAURIE will be signing autographs from 12:00 P.M.-3:00 P.M. THE WALKING DEAD is currently the Highest Rated Cable series and the #1 Best Selling Comic Book series.
Other Special Guests Appearing:
WHILCE PORTACIO (Artist) and GLEN BRUNSWICK (Writer), the creative team of the Image Comic Book NON HUMANS, a four issue mini-series with a storyline of "Blade Runner meets Toy Story." WHILCE is known for his work on such Comic Books as Marvel Comics Uncanny X-Men and Image Comics Wetworks. GLEN is known for such titles as Gray Area and Jersey Gods. WHILCE and GLEN will be signing autographs at no charge from 11:00 A.M.-3:00 P.M.
RAY PARK, currently starring as Snake Eyes in the soon to be released G.I. JOE: RETALIATION will be signing autographs. RAY is also known for his role as Darth Maul in Star Wars Episode 1: The Phantom Menace and as The Toad in X-Men.
RADAMES PERA, who starred as young Kwai Chang Caine "Grasshopper" in the 1972-75 KUNG FU Television Series. RADAMES starred as the younger version of Caine played as an adult by David Carradine. RADAMES is the only surviving cast member from KUNG FU and he is making his First Autograph Signing Appearance at the Convention. RADAMES also starred in a classic Rod Serling's Night Gallery episode Silent Snow/Secret Snow, Little House on the Prairie, Shazam!, and Six Million Dollar Man.
EDWARD FURLONG starred as John Connor in JAMES CAMERON'S TERMINATOR 2: JUDGMENT DAY, and his other credits include The Crow: Wicked Prayer, Pet Sematary Two, Detroit Rock City, and several episodes of the television series CSI:NY.
TIM DUNIGAN starred as CAPTAIN JONATHAN POWER in the 1987-1988 Television Series CAPTAIN POWER AND THE SOLDIERS OF THE FUTURE. TIM'S other credits include starring as Davy Crockett in Walt Disney's Wonderful World of Color and Wizards and Warriors.
The LOS ANGELES COMIC BOOK AND SCIENCE FICTION CONVENTION is the real deal with an incredible track record serving the Comic Book Collecting community for 36 years. REGULAR ADMISSION is only $10.00, five years and under are free. EARLY ADMISSION is only $12.00. Show Hours are 10:00 A.M.-5:00 P.M. The February 24, 2013 Convention is located at the Shrine Auditorium Expo Center, 700 West 32nd Street, in Los Angeles, CA (across from USC College). The Dealers Room features over one hundred tables of Comic Books, Toys, Trading Cards, DVDs, and many other Collectibles. Check www.comicbookscifi.com for more information such as the appearance time of all guests. All celebrity guests charge a fee for each autograph but it includes a choice of photo.
Press Release:
Zombies beware! Actress Walking softly; carrying a big…..katana!
The Walking Dead star to "drop jaws" at Emerald City Comicon 2013!
 Seattle, WA – Beautiful and multi-talented actress Danai Gurira ("Michonne" from The Walking Dead) is the twelfth special celebrity guest announced for the upcoming Emerald City Comicon taking place on March 1st – 3rd, 2013 at the Washington State Convention Center. She will be appearing all three days!
Danai Gurira is best known as the mysterious and deadly "Michonne" on AMC's The Walking Dead, who has quickly become a viewer favorite during the show's third season. Her character is a force to be reckoned with, not only sporting a dangerous katana but also also having two zombies, whom she has removed the jaws from, shackled in tow with her.
Other television credits include Law and Order: Criminal Intent, Lie to Me, HBO's Treme and the US version of the hit series Life On Mars.
Gurira was critically praised for her co-starring role as "Zainab" in the 2007 Oscar-nominated film The Visitor, about a lonely middle-aged man forced to deal with the issues of immigration and cross-culture communication in post-9/11 New York City. The film nabbed her the award for Best Supporting Actress from the Method Fest Film Festival.
Gurira's also appeared as "Jeanne-Baptiste" Wes Craven's horror flick My Soul to Take, the Ricky Gervais comedy Ghost Town and in the independent film Restless City.
Gurira is also an accomplished playwright, having received multiple honors, including an Obie and the Helen Hayes Award, for her play In the Continuum, which dealt with two black women living with HIV. Other plays she penned include the Sierra Leone and Liberia civil war drama Eclipsed and the 19th Century period piece The Convert, about a woman who turns to Catholicism to escape an arranged marriage. She made her Broadway debut in the August Wilson play Joe Turner's Come and Gone.
Joining Gurira at ECCC 2013 will be  previously announced guests  Sir Patrick Stewart ("Captain Jean-Luc Picard in Star Trek The Next Generation, "Dr. Charles Xavier" from the X-Men films), Billy Dee Williams ("Lando Calrissian" from The Empire Strikes Back and Return of the Jedi), Walter Koenig ("Chekov" from classic Star Trek), Natalia Tena (Harry Potter, Game of Thrones), Paul McGillion (Stargate Atlantis), Michael Shanks (Saving Hope, Stargate SG-1), Kristin Bauer ("Pam" from HBO's True Blood), Gillian Anderson ("Agent Scully" from The X-Files), Chandler Riggs ("Carl Grimes" on AMC's The Walking Dead), Adam West (TV's classic Batman) and Dirk Benedict ("Faceman" from The A-Team, "Starbuck" from Battlestar Galactica). More fantastic celebrity guests yet to be announced!
Tickets for Emerald City Comicon 2013 are ON SALE NOW by visiting www.emeraldcitycomicon.com or any number of local comic book stores, also listed on the website!
ECCC 2013 will feature its most expansive variety of film/television stars, voice actors, comic guests, vendors, merchandise, gaming, contests, artists, speakers and pop culture yet!
With record-breaking attendance of over 53,000 attendees in 2012, Emerald City Comicon has established itself as one of North America's largest and most respected shows of its kind anywhere in the world and has become the premier event of its kind in the Northwest. Founded in 2003 by Seattle-area entrepreneur and Geekwire's "Geek of the Year" Award winner Jim Demonakos, ECCC has become highly regarded in both national and international circles as one of the most fan and family-friendly shows in existence.
Look for regular press releases containing all of the latest news leading up to the show in March 2013. For more information, please visit ECCC's website at www.emeraldcitycomicon.com
Press Release:
ANDREW LINCOLN AND ADDITIONAL CAST MEMBERS OF THE WALKING DEAD TO APPEAR ON PANEL AT NEW YORK COMIC CON
Other Panelists Include Showrunner and Executive Producer Glenn Mazzara; Executive Producers Robert Kirkman and Gale Anne Hurd
Norwalk, CT, September 14, 2012: New York Comic Con (NYCC) officials have confirmed that a high profile panel focusing on season three of AMC's hit television series The Walking Dead will take place at this year's pop culture extravaganza. Cast members including Andrew Lincoln will be joined by showrunner and executive producer Glenn Mazzara as well as executive producers Robert Kirkman and Gale Anne Hurd. Moderated by Talking Dead host Chris Hardwick, The Walking Dead panel, which will take place in the IGN Theater on Saturday, October 13, 5:00pm – 6:00pm, will include an exclusive clip from the premiere episode of season three.
In addition to Andrew Lincoln, additional cast members participating in the panel include Norman Reedus,Chandler Riggs, Danai Gurira, David Morrissey and  Michael Rooker. There will also be a limited signing for 50 fans and tickets for the signing will be given away on a first served basis on Saturday morning (10/13). Further details about the signing will be announced soon. The Walking Dead, which returns to AMC on October 14 at 9:00pm (EST)/8:00pm (CST), was originally a comic book series created by writer Robert Kirkman in 2003. It won the 2010 Eisner Award for Best Continuing Series and the television series premiered to enormous attention and acclaim on October 31, 2010.
New York Comic Con, which will take place October 11 – 14, 2012 at NYC's Javits Center, is one of New York's largest annual events, last year attracting over 100,000 attendees. The pop culture convention draws a wide cross section of fans eager to meet and greet the creators, actors, writers, musicians and artists.  The show includes top talent from the worlds of comics, film, television, music, books and gaming.
"The Walking Dead is a huge attraction for our fans and I am enormously grateful to AMC for making this possible," notes Lance Fensterman Show Manager for NYCC and Group Vice President for ReedPOP. "This is a star-studded line up of panelists and I know that we will have thousands of fans who will want to be on hand to hear these creators, producers and stars talk about their contribution to this incredible show. I can't thank these guests enough for giving their time and talent to New York Comic Con."
Tickets for New York Comic Con in 2012 are currently available for purchase at www.NewYorkComicCon.com. Anyone interested in exhibiting at New York Comic Con should contact Larry Settembrini, Larry@ReedPOP.com. Other information about the show, as well as news about ReedPOP, which organizes a range of pop culture events, is available at facebook.com/NewYorkComicCon and twitter.com/NY_Comic_Con . Organizers note that many more guests will be announced over the next few weeks and fans should keep their eyes on NYCC's website and blog for additional comics, entertainment and anime announcements.
ABOUT REEDPOP: ReedPOP is a boutique group within Reed Exhibitions which is exclusively devoted to organizing events, launching and acquiring new shows and partnering with premium brands in the pop culture arena. ReedPOP is dedicated to producing celebrations of popular culture throughout the world that transcend ordinary events by providing unique access and dynamic personal experiences for consumers and fans. The ReedPOP portfolio includes: New York Comic Con (NYCC), Chicago Comic & Entertainment Expo (C2E2), Penny Arcade Expo (PAX) Prime & East, Star Wars Celebration, Fantasy Football Fest and the UFC Fan Expo. The staff at ReedPOP is a fan based group of professionals producing shows for other fans, thus making them uniquely qualified to service those with whom they share a common passion. ReedPOP is focused on bringing its expertise and knowledge to world communities in North America, South America, Asia and Europe.