Press Release:
The Squad Up! Suicide Squad Cosplay Contest launches today from DC Entertainment and Warner Bros. and invites you to cosplay as your favorite squad member for a chance to win a trip to San Diego this July for Comic-Con International. Have you always wanted to build a Deadshot mask? Is Harley Quinn your spirit animal? Got a purple alligator-skinned coat in the back of your closet that you've been wondering what to do with? Then this contest is for you!
Here's how it works:
Assemble a costume based on the look of any of the following characters from Warner Bros.'s upcoming Suicide Squad film: Deadshot, The Joker, Harley Quinn, Colonel Rick Flag, Amanda Waller, Captain Boomerang, El Diablo, Killer Croc, Enchantress, Slipknot, and Katana.
Take a photo of yourself wearing your costume. Make sure it's a good quality photo that really shows off your costume!
You can find the full list of rules and conditions here. Trust us, you'll want to check them out. After the entry period, fans will be able to vote in two separate rounds and help us choose finalists in each of the character categories. Once we have our finalists, eleven different winners—one for each character—will be chosen.
We expect some heavy competition, but don't worry, we're here to help. At the link are some tips, as well as a gallery of characters to help with your costumes. Click on the photos to zoom in on them.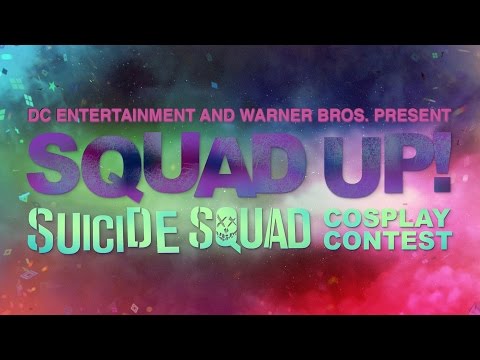 I went to Rhode Island to see John and Chris. John is my best friend of 25 years. We have been through it all: four divorces (two each), five marriages (he can make it six), new careers, new houses, and the almost-death of his first son, Jonathan, back in 2000. John and I have been to a number of conventions together (see here, for example), and it was time to add the Rhode Island Comic-Con to our roll.
Chris is Chris Claremont. I love John like a brother, but let's be clear: Chris is what drew me, a lifelong Southerner, to New England on the cusp of winter (November 5-8). I have been a fan of Chris since high school, when my friend Margot introduced me to a pretty cool comic called The Uncanny X-Men. The first issue I bought was #216. I read it, was hooked, and started buying it each month. My father noticed my zeal, and realizing he could teach investment skills while doing something fun with his soon-to-be-too-old-for-him son, he started advancing me allowances to buy back issues. I learned to grade comics and spot value, and within a year, I owned issues as far back as #12, the first appearance of Juggernaut.
I just realized: that was when Stan Lee was still writing the series.
Eventually, I let my collection stagnate, and then I sold it in 1999 for a couple thousand bucks so I could marry wife #2. (Now I don't have her or the comics, and guess which I miss more?) But I never forgot my adoration of Chris Claremont. Then I saw he would be in Rhode Island, and I called John, with whom I hadn't planned a trip all year. John said, "I'm in," and I thought, You better be.
Rhode Island Comic-Con isn't as large as San Diego or C2E2, and it isn't as venerable as, say, DragonCon. But it is on the rise. I had this brought home to me when I talked to Susan Soares, the director of media. She told me she was expecting 60,000 attendees. In 2012, there were 16,000. This is an increase of 275%—in only three years! It is the "largest and most income-generating event in the state," according to Susan, who expects the convention to keep growing because (1) Rhode Island is not a saturated market, (2) the staff is professional and easy-going, and (3) they advertise the heck out of it.
The growth hasn't been easy to manage, however. In 2014, the convention made headlines for the wrong reasons, overselling and getting shut down for half a day by the Providence fire marshal (see this link for the full story). I asked Susan how that contretemps would be avoided this year, and she outlined a three-part strategy:
Expansion. Last year's event was confined to the convention center in downtown Providence. This year, they planned to situate some elements (like the dealer room) in the adjacent Dunkin Donuts Center.
Day 3. Instead of being Saturday and Sunday only, this year's convention would start on Friday.
Scanned badges. Using the New York Comic-Con model, convention employees would scan badges as people enter and exit. This would allow them to track how many people are in the convention center at any time, thereby not exceeding capacity and getting shut down.
Overall, the strategy was a success. They had sold out of Saturday one-day tickets by 11:00am on Saturday, but I heard no other accounts of people being turned away. There were, however, navigation problems. In a convention spread across two buildings, I was surprised by the dearth of directional signs. Plus there were no printed maps—the only map was on the mobile app—so all weekend, I heard people murmuring "Where is the dealer room?" or "I can't find Vic Mignogna's table!"
After two circumnavigations of artist alley, I found Chris Claremont, who had been gracious enough to agree to an interview.
Me: Chris, I want you to know: you are the reason I am at this convention. I wanted to see you. Princess Leia? Pssssh. Besides, she cancelled.
Chris: Oh, really? She cancelled?
Me: Yeah. [And she wasn't the only one. Nearly a dozen celebrities were quietly flensed from the web site as of Friday morning. I'm used to one or two no-shows, but double digits?]
Chris: The funniest thing I've heard is the projected opening weekend gross for that film global is one billion. I saw the very first show of Star Wars at the Astor Plaza in New York, and it was empty. It gradually filled up, but there were empty seats, and we figured, nice movie when it started, but when it finished, it was like, holy shit. We walked out the door, and the line was four-deep around the block, and it didn't go away for about three months.
Me: Speaking of movies, what do you think about Marvel's movies, especially X-Men?
Chris: So far, Marvel has done very, very well. Kevin Feige is a brilliant film exec. Lauren Shuler-Donner is a brilliant film exec. Between the two of them, they have nailed the Marvel pantheon. The X-Men movies maybe aren't as financially lucrative as The Avengers. On the other hand, the casting of them is breathtaking, from the first X-Men to Days of Future Past—and, from all accounts, Apocalypse. Kevin, by the same token, starting with Iron Man, it's been an incredible ride. I mean, Ant-Man? Who would have thought Ant-Man?
Me: Ant-Man was good.
Chris: That's the point. It was good. And, more importantly, the actors playing the roles seem to enjoy the experience. They want to come back for more.
Me: Did you have any involvement in the X-Men movies?
Chris: Well, I helped crystallize the deal that got it all started back in the beginning, when I was briefly an executive at Marvel. I provided north of 80 percent of the source material for the characters. I mean, they're all my guys and gals. And two-thirds of them are pretty much straight adaptations of my work. I suppose you could honestly say it was all my fault.
Me: And we're very grateful.
Chris: Actually, the funny part is, every so often I sneak into the Marvel movies. Scarlett Johannson's secret identity in Iron Man 2, when she walks into Tony's house and is introduced as Natalie Rushman . . . well, Natalie Rushman is a secret identity that I invented for the Black Widow when she did a four-part team-up where she had lost her memory as the Black Widow and thought she was a schoolteacher from Boston named Natalie Rushman [this takes place in Marvel Team-Up #82-85, and the alias is actually Nancy Rushman].
Me: Cool. Switching gears a little, you've written comic books, and you've written prose novels. What's the difference in writing the two?
Chris: When you're writing comics, the writer's job is to tell the story to the visual artist. All the work that goes into writing a novel goes into describing the scene. [He opens a copy of Marada the She-Wolf. A Red Sonja-like character, Marada was created by Chris and the English artist John Bolton.] So it's describing this scene so that John Bolton could bring it to life brilliantly. Which he does. It's giving him the sequence of events and allowing him to do what he does best, which is draw a picture that makes you go, wow! When I first drafted this scene, there was going to be lots of dialogue about how she lost her father, lost her mother, yadda yadda yadda, blah blah blah. But when I got to the scene, when you see the images, when you get to this image, you don't need any words. I mean, if you can't figure out what's going on, if you can't figure out the emotional relationships just from looking at it, then neither of us is doing our job. John did his job brilliantly, unlike me talking now. The key to being a writer in comics is to know when to shut the hell up and let the artist do the work.
Me: So would your instructions for that panel be "Have someone lying on the bed," or would you describe exactly how it should look?
Chris: Well, depends on the scene. Marvel did a 9/11 remembrance book [Heroes, released December 2001] where a writer and an artist would team up to do a poster commemorating what happened and how they felt about it, and when my page came around, I spent about 2,000 words describing the scene, and Salvador [Larocca] just drew this brilliant, brilliant picture, and as far as I was concerned, it didn't need anything more from me. I had done my work, he had done his work, and the end result was brilliant.
Me: Very good. So you were inducted into the Comic Book Hall of Fame earlier this year. What was that like?
Chris: A lot of fun. One of the more unexpected things in my life. It's way too cool for the likes of me.
Me: It doesn't surprise me at all.
Chris: Well, you can think that. I'm not supposed to because I'm supposed to be shy and modest. But it's way cool.
Me: When did you start doing conventions?
Chris: When they started asking me. How else can you meet the fans? In the old days, it was more fun because people would write letters, and the nice thing about them is it tells you what they were thinking of and how they were reacting to specific issues. Now it's all posted online, and you seriously have to go looking for it. There aren't that many hours in a day. But conventions are a really nice way of putting a face on the readership.
Me: What are a couple of your more memorable convention experiences?
Chris: Just meeting people. It's a weird sensation when you run into creators, actors, people you've respected, and they tell you how cool you are, and you go, "No no no, that's my line."
Me: Do fans ever just go to pieces meeting you? Do they cry? Hyperventilate?
Chris: Oh yeah. But the cool thing is that now I'm starting to see a lot more young kids coming, which leads one to believe there's hope.
Me: What advice would you give to aspiring writers?
Chris: Get a day job [laughs]. Being a writer is like being an artist: if you've got the bug, you do it. You don't argue. You can't argue. Then it's just a matter of kicking at the wall until something sells. And then, once you make the first sell, you go for the second, then the third, then the fourth, and so on. There's no real secret to being a writer. There's just having an idea and then having the madcap determination to see it through to fruition.
You might assume this is an excerpt from the interview. It is not. This short conversation lasted over 20 minutes because we were sitting at Chris's table in artist alley, and he was signing books all the while. My recording of the interview is peppered with crowd noise, his sidebars with other fans, and announcements blasted over the PA system. Chris had trouble getting into the convention—apparently, his vendor badge could not be located—and the interview started late, when he already had more people waiting for him than a Soviet bread line. Yet it was one of my best interviews ever. Chris is articulate and witty, and he cares a lot for his fans. Though I didn't hyperventilate, meeting Chris Claremont is one of the highlights of my life. And it happened at Rhode Island Comic-Con.
The rest of the convention was as you might expect. Dunkin Donuts Center is a basketball arena, which makes it an odd venue for a convention. The dealer room was on the court, which was roomy, but some of the celebrities were tucked away in what looked like janitor closets. Know who had the longest signing lines that I saw? Tom Kenny and Bill Fagerbakke—you know, SpongeBob and Patrick, which confirms my theory that the next growth market for collectors is 1990s memorabilia.
There were few fan-led panels, which disappointed John. Such panels were the seed of conventions back in the 1970s, but they are in danger of disappearing in this bigger-is-better era. John likes the panels. He considers himself a fan but not a super-fan. The super-fan award goes to the girl I saw at Jim Beaver's table. Tears streaked her teenaged face, and after she and her mother walked away, they stopped and hugged as though a dog had died.
Friends, that is fandom. That is love. Wil Wheaton says that the defining characteristic of being a nerd is that "we love things. Some of us love Firefly and some of us love Game of Thrones, or Star Trek, or Star Wars, or anime, or games, or fantasy, or science fiction. Some of us love completely different things. But we all love those things SO much that we travel for thousands of miles … we come from all over the world, so that we can be around people who love the things the way that we love them."
Rhode Island was a great place to go for love. The convention is young, so I have no doubt they will work out the problems of limited space and no maps and unreliable celebs. Every staff member I saw, every volunteer I talked to, was a delight, which confirms what Susan Soares told me in the beginning.
So if you have the chance, go to Rhode Island Comic-Con next November. Buy your badge early. Study the schedule. Stay hydrated. It will be one of your best shows all year.
_______________________
John and I weren't the only attendees.
This guy was also there. Wait, he's at every convention!
Due to the no-weapons policy, this guy wasn't allowed to be armed.
Chris Claremont signs my comic.
The Fonz tells me to leave the convention.
Whoops! This isn't the way to the men's room.
An angel just below my shoulder.
Various winners from Saturday night's costume contest, which had 70-80 total entries.
"You scratch my back, I'll scratch yours."
Jim Beaver asked me where I am from. "North Carolina," I said. He nodded and said, "That explains it." I wanted to say, "Right. Like Bobby Singer doesn't have a rural accent!"
John and Groot, not seeing eye-to-eye.
"Uh, Doctor? I think you regenerated a little too far back."
This gal is a great little Kidder.
Not something you see at most conventions, but a good idea.
This guy also shows up at every convention. It's like he has a time machine or something.
Back in 2011, John sent me an email that read, "Son, look at this." John and I have called each other "son" for twenty years. It's our oldest invention, the stone tools of our friendship. His email included a link to a convention called DragonCon, which I was unfamiliar with. "We should go to this to watch all the freaks," he went on. "We'd have the time of our lives!"
We went to DragonCon that year, plus the next two. In 2014, John was unavailable, so I took my wife and daughter, who went with me again this year, marking my fifth Labor Day weekend spent in Atlanta, Georgia.
* * *
DragonCon has been held in the Dogwood City since 1986, when it was started by a science fiction and gaming group, the Dragon Alliance of Gamers and Role-Players (DAGR). From the outset, it was different. In an era when most conventions focused on a single universe (Star Wars, Star Trek, Doctor Who) or medium (comics, games, science fiction), DragonCon was founded as a multi-genre convention, and it has remained one ever since.
That first gathering drew 1,400 fans and featured some surprisingly renowned guests: Robert Asprin, Lynn Abbey, Michael Moorcock, and the band Blue Öyster Cult. Attendance grew every year, doubling in some years. By 1995, it was at 14,000. It topped 40,000 in 2010, and in 2015, just five years later, over 65,000 were expected. Heck, there are now more volunteers (2,300+) than inaugural attendees!
Most gatherings of that size take place in convention centers, but DragonCon is still hotel-based. Initially confined to the Piedmont Plaza, it now swamps five four-star venues: the Hilton, Hyatt Regency, Marriott Marquis, Sheraton, and Westin. Vendor booths are located in a sixth building, the AmericasMart. Over 3,000 hours of programming are spread among those hotels, divided into fortysomething tracks. Tracks such as comics and Tolkien are the DNA of DragonCon. Others like podcasting, Whedon Universe, and filking are newer. The curriculum is always changing, always improving, according to Dan Carroll, DragonCon's director of media. The alternate history track, for example, was added seven years ago when a panel on the topic was planned for 400 people. Over 3,000 showed up.
I went to one panel this year. Cacophonously titled "Legendary SW Authors Talk Mythos," it featured four writers—Rebecca Moesta, Timothy Zahn, Michael Stackpole, and Kevin J. Anderson—who have totaled no fewer than 50 Star Wars novels. To call these authors "legendary" carries a double meaning, as their works, like others of the Star Wars Expanded Universe, are no longer canon thanks to a 2014 Lucasfilm decree. (This article describes the new continuity in detail.)
The authors talked about this decision, not to bellyache but to explain that it isn't the degradation most fans seem to think. They knew from the start that they were scribblers, hired to tell tales from someone else's world. They didn't feel betrayed; they felt lucky for the opportunities. After all, it isn't just any world—it is Star Wars, one of the best worlds in this, or any, universe. Besides, there is nothing to stop Lucasfilm from taking their work—say, Michael Stackpole's X-Wing books—and turning it into a separate movie or TV series, a possibility hinted at during last year's San Diego Comic-Con.
The panelists discussed other topics, including their tastes in stories (westerns, Doc Savage, Edgar Rice Burroughs, and fortuitously, romances like Gone with the Wind), what influenced them as writers, and how they collaborate. It was a fascinating colloquy despite the feebleness of the moderator, a supposed Star Wars blogger whose questions were rambling and confused the panelists. One question had already been answered by Stackpole, and after the moderator asked it, Kevin J. Anderson said, "Mike, you want to run through that again?" The moderator smiled, turned to the audience, and said, "Never mind. We'll take your questions now."
* * *
One of the biggest attractions of DragonCon is the Walk of Fame, where all the TV, movie, gaming, and other guests interact with fans. Over 400 guests attended this year, a few of them household names: Stephen Amell, John Barrowman, Katie Cassidy, Karen Gillan, Nichelle Nichols, and Edward James Olmos. I wanted to interview some guests, a process DragonCon manages better than most conventions. Reporters who are granted press passes must be separately approved for interviews. These approvals are based on the size of their media outlets. Once I got my approval, I could request interviews with up to ten guests.
With over 500 interview requests for 114 slots (according to Samantha Douglas, the interview coordinator), not every reporter approved for interviews actually gets one. Imagine my surprise when I was offered two: one with Sylvester McCoy, who played the Seventh Doctor on Dr. Who, and one with Caroll Spinney, who played Big Bird and Oscar the Grouch on Sesame Street. The interviews were actually press conferences held in one of the Marriott meeting rooms. About twelve reporters were at each one. Most represented nerd-news sites like ConventionScene, though I also saw CNN and Georgia Public Broadcasting.
Through no fault of DragonCon, the press conferences were disasters. After we waited thirty minutes for Sylvester McCoy, someone came in to say that he was cancelling. His panel had run long, and because he was leaving that afternoon, there was no time to reschedule. Carol Spinney was over an hour late (he simply forgot) and stayed only about ten minutes. Here is a bit of what he had to say:
Reporter: I heard in other interviews that you based Big Bird on a four-year-old child. Over the years, have you had to adjust your characterization of that four-year-old child version of Big Bird based on the generations?
Spinney: Actually, initially, since I decided Big Bird could not read or write, he was four-and-a-half. Then I had to go up to six. And now he has been six for years. He is a precocious child of six. He travels by himself with a dog. And he went to China, somehow. I don't know how he got tickets. I think it's just fun playing him as a kind of wide-eyed child. I get letters all the time from children saying, "Big Bird, you're my best friend. Please come and play with me." One said, "How about next Thursday?"
Reporter: When the movie [Follow That Bird, 1985] came out, Big Bird had already been around for a while, and a whole generation of children had been watching him and relating to him as a friend, and kids really felt that their friend had been kidnapped. Were you expecting Big Bird to connect to a whole country of children at that deep of a level?
Spinney: I didn't really know what to expect. When Jim Henson hired me, we were both puppeteers. I would do whatever characters needed performing, but by the third year, with Big Bird, I was so busy. They tried to have me continue doing the incidental stuff too, but one day, Big Bird was in almost all the scenes, and I had to keep taking a taxi up and down Broadway [performing as different characters in different scenes], so one day I said, "Let's not play this game anymore." On the fourth year, I said I was busy enough that we needed more puppeteers. So we got some more.
Reporter: I saw that you visited the Center for Puppetry Arts yesterday. Can you talk about what you saw and did there?
Spinney: Well, the museum is going to open by November. They have so many things to display. I saw the place where they are building and repairing puppets, a lot of the Henson puppets that are worn-out. Some of the material has decayed. It has turned to powder. The only puppet I ever created myself is one that has gone to pieces. It was Bruno, who carried Oscar's trash can around. There were fake arms going to Bruno's shoulders, and my hands were inside. Oscar would come up and try to boss him around, but Bruno would not be bossed. I designed Bruno so that my head was in his head. I could see out through where the bags under his eyes would be. He looked like a Bert-type puppet. That way, we could get Oscar out on stage for concert tours. I asked a couple of years ago why we don't use Bruno in shows anymore. He doesn't exist. He has turned to powder. I asked why they don't make a new one. It would cost $20,000, so good-bye, Bruno.
Reporter: You are an animator as well. Are you planning on making any future animations?
Spinney: Not really. After four years of doing it in Boston, I kind of got tired of it. I was glad it didn't have to be my permanent career. I was hired by Disney Studios to be an animator, though I didn't take the job. This was 1957, and the pay was only $56 a week for the first two years. I decided I'd try for something different, so I did. Walt [Disney] actually walked into the room during my interview. I never actually got to speak to him. I had always had a bucket list of three people I would like to meet: Andrew Wyeth, who I spent an afternoon with once and his son Jamie; Walt Disney—at least I was in the same room with him, and I turned his company down; and the other one was Jim Henson, who personally hired me. So I guess I accomplished all those.

Caroll Spinney in the interview room
* * *
Suppose you are thinking of going to DragonCon in 2016, which will be its 30th anniversary. What do you need to know?
 Book early. Tickets are plentiful, but the hotels fill up fast. The marketing manager at the Hyatt told me that it takes fifteen minutes to sell his 1,250 guest rooms for DragonCon weekend.
Prepare to wait. You will wait for autographs. You will wait for panels. You will wait for the Heroes & Villains ball or the DragonCon Burlesque or panels with the biggest celebrities. Heck, you will wait for an elevator or a restroom. Get used to it.
Pay in cash. I have a dream that someday the DragonCon decision-makers will realize they need to mail pre-paid badges. What's the point of buying online when you have to pick them up in-person? This means 65,000 people standing in line. Yes, registration starts on Thursday, but this benefits only those who buy a weekend pass. Those who want a one-day pass on Saturday can only buy it on Saturday and must pick it up on-site, even if they paid online. You may as well pay for a one-day on-site, and if you do, pay cash. The cash line is terribly shorter and faster than the credit card line.
 Account for the parade. A highlight of the weekend is the Saturday parade, which starts at 10:00am and stretches through downtown. Over 80,000 people show up to watch, making it the second largest parade in the state of Georgia (the first is the Savannah St. Patrick's Day Parade). Along the parade route, every inch of sidewalk bears a geeky gawker. It's like a Marvel mosh pit, so plan accordingly. I heard one woman complaining that she had missed her Saturday morning photo op (which she had paid for) because she could not reach the hotel through the throng.
 Schedules are bunk. The program you are handed at registration contains a detailed schedule for the entire weekend. It is outdated the moment it is printed. There is a smartphone app that is kept current, but even it is not omniscient. For example, when I entered the Walk of Fame on Saturday, I saw a handwritten sign taped above Karen Gillan's booth announcing that she would arrive on Sunday. DC Comics luminary George Perez left at 1:00pm on Saturday, and that was announced only when his signing line was cut off at noon. And I've already mentioned the press conference bloopers. Bottom line: No one can manage a convention of this heft flawlessly, so be flexible. Don't have a meltdown when something goes awry.
Take care of yourself. Dan Carroll calls DragonCon an "immersive experience." This can be dreadful if you don't manage it. He told me about an attendee some years back, a diabetic, who fainted during a session in the gaming room. She told the EMT who restored her that she hadn't eaten in two hours. "When did you last eat?" the EMT asked. "Around 2:00," the woman answered. The EMT looked at her and said, "Honey, it's now 11:00."
Six buildings. 65,000 attendees. 2,400 volunteers. A $55 million economic impact. You may have attended conventions in the past, but none compares to DragonCon, one of the United States' largest and most venerable. Nowhere is this more evident than in the cosplays, which are more sumptuous than those you'll see anywhere. Check them out for yourself below. Maybe I'll see you there next year, when I plan to be dressed like this.
* * *
Gotham City's underworld, circa 1925
I didn't want trouble, but these guys brought it. Big trouble.
George Lucas's first casting attempt
Here's Sam. Where's Dean?
It's always hot in Georgia in early September. Some people respond by practically going nude.
Who you gonna call? Sorry, wrong ghostbusters.
Maybe Mystery Inc. was looking for these guys. I found them instead.
I went to DragonCon looking for a life-size Barbie doll. Here it is.
This was a ood cosplay . . . I mean, a good cosplay.
An impromptu Muppet Show breaks out.
I found a baby once. Then this guy took him from me.
Preach it, Deadpool. Preach it.
Want to know what 3,000+ cosplayers in a parade look like? Here's a glimpse.
Want to know what happens when my wife and daughter spend an entire weekend together? Here's a glimpse.
Get ready for a new era in cosplay South Florida!
Shock Pop Comiccon presents to you the most prestigious, competitive, and professional cosplay event to ever take place in South Florida. Shock Pop Comiccon proudly presents, the South Florida Cosplay Championships. Featuring the largest payout for a cosplay event EVER in the history of South Florida conventions. With up to over $4,000 more in payout than any other event in South Florida. Honoring our tradition to do everything bigger and better than you have ever seen before in South Florida, let's go ahead and tell you what this event is all about.
First off, the unique part about this event is, the prizing is tiered. Meaning, the more people who participate, the more we pay out. We start at a base payout for the first 100 participants, and raise the payout for every 99 people who join the event. Capping the increase at 600 participants. So tell all your friends about this, because the more people who show, the more money you make!
The cosplay event will take place on Saturday February 14th, and will consist of a pre judging estimated to take 3 hours, and main competitions which we are slating for 1 hour and 30 minutes. There will be two separate sets of judges, one for the pre judging, and one for the main competition. We will be listing the judges shortly, as well as the times, we strongly suggest you register and get your admission now, we don't expect spots for this to last very long.
In order to register for this event, you must
1) Purchase a Weekend pass or Saturday Admission
2) Fill out pre registration form, and send it to shockpopcosplay@gmail.com . The Form is available on our website.
3) Select free cosplay ticket on Eventbrite ticket registration page.
Also we can now announce that immediately following the cosplay event will be a live performance from V Is For Villains.
Categories we will be paying out for are
South Florida Cosplay Champion (Our Best in Show)
Comic Book Cosplay
Movie and T.V. Cosplay (Includes Horror)
Anime & Fantasy Cosplay
Video Games Cosplay
Group (Max 8 People)
Juniors (8-14 years old)
Rising Star
A couple quick notes!
We do not distinguish competitors based on skill level.
Newer cosplayers are welcome and encouraged. We have a Rising Star category which recognizes skilled cosplayers who are just beginning, and have the makings of becoming future Cosplay Champions.
So now, let's get to the fun part!
Payout for 0-199 participants
South Florida Cosplay Champion- $800
Comic Book Cosplay $100
Movie and T.V. Cosplay $100
Anime & Fantasy Cosplay $100
Video Games Cosplay $100
Group $100
Juniors (8-14 years old) $100
Rising Star $100
Payout for 200-299 Participants
South Florida Cosplay Champion- $1300
Comic Book Cosplay $170
Movie and T.V. Cosplay $170
Anime & Fantasy Cosplay $170
Video Games Cosplay $170
Group $170
Juniors (8-14 years old) $170
Rising Star $170
Payout for 300-399 Participants
South Florida Cosplay Champion- $1800
Comic Book Cosplay $240
Movie and T.V. Cosplay $240
Anime & Fantasy Cosplay $240
Video Games Cosplay $240
Group $240
Juniors (8-14 years old) $240
Rising Star $240
Payout for 400-499 Participants
South Florida Cosplay Champion- $2300
Comic Book Cosplay $310
Movie and T.V. Cosplay $310
Anime & Fantasy Cosplay $310
Video Games Cosplay $310
Group $310
Juniors (8-14 years old) $310
Rising Star $310
Payout for 500 to 599
South Florida Cosplay Champion- $2800
Comic Book Cosplay $385
Movie and T.V. Cosplay $385
Anime & Fantasy Cosplay $385
Video Games Cosplay $385
Group $385
Juniors (8-14 years old) $385
Rising Star $385
Payout for 600 or More Participants
South Florida Cosplay Champion- $3300
Comic Book Cosplay $460
Movie and T.V. Cosplay $460
Anime & Fantasy Cosplay $460
Video Games Cosplay $460
Group $460
Juniors (8-14 years old) $460
Rising Star $460
For 12 years, Rick Fortenberry and Dave Hinson (of Dave's Comics in Fort Mill, SC) have been delighting Charlotte area comic book collectors with their Charlotte Comicon. The show is held three times a year–in April, August and December–and never fails to entertain. I suppose this would be a good time to mention that I have been involved with this show in both a volunteer and working capacity for a couple of years now. But, I promise not to let personal feelings get in the way of an honest convention report.
The Charlotte Comicon averages between 1,100-2,000 visitors per show, with ages ranging from toddler to senior citizen. Most of them are die hard comic collectors, as this show is predominantly a 'trade show'. With 35 vendors and 24 special guests (artists, authors, and so forth) at their April 13, 2014 show, there were plenty of treasures to be found. I have seen this show grow exponentially in recent years, even causing them to change venues to their current home at the Crown Plaza Executive Park Hotel.
One aspect of the show that has continued to expand is the Cosplay participation. Years ago, the number of attendees in costume was less than 100. Now, hundreds show up at Charlotte Comicon dressed not only as their favorite comic book characters, but recognizable characters from movies, television, novels, anime, manga, and more. This year's spring show had 164 contestants just  for their costume contest! I do not envy the job of the judges, whatsoever. There were multiple age divisions for competition and Honorable Mention awards given out as well. Winners from each division were given cash prizes that they could spend in the dealer room. The costume contest is one of the bigger draws for the younger crowd that attends each show.
Seeking to connect with their cosplay fan base, Fortenberry and Hinson arranged for a special Secrets of Cosplay panel. The hour-long panel featured professional cosplayers DJ Spider, Amberle Linnea, Todd Lacey, Eve Madison and 'The Clown Prince of Charlotte' Victor Goldberg. Each panelist addressed specific topics such as the politics of cosplay, construction tips, and staying in character. It was standing room only in the ballroom that housed the panel, as the audience hung on their every word. Some went so far as to take notes during the panel and many hands went up when it was time for the Q & A segment. I know a lot of the familiar faces who attend the Charlotte Comicon regularly came away from that session eager to put their knowledge to use. The level of costumes at the summer show should be extraordinary.
Another new addition to the spring show was the Tribute to Charlton Comics panel, featuring Michael Eury (Editor-in-Chief Back Issue Magazine), Dan Johnson (Comics Historian) and Fester Faceplant (Artist, Writer). This hour-long panel with Q & A gave a unique history of Charlton Comics, 1946-1985, and the original characters that ended up being acquired and re-imagined by the likes of DC Comics. I admit, I knew nothing going into this panel, but by the end was fascinated with the industry and the backstory of the likes of The Watchmen. The Charlton Arrow #1 was being sold in limited quantities after the panel. Charlton Arrow is a limited edition collection of stories by Charlton veterans as well as contributors from DC Comics, Marvel and  Archie. This historical look at the world of comics was enough to make me hungry for more. I hope that Charlotte Comicon will continue to include such panels.
All in all, Charlotte Comicon is exactly what they claim to be: a family-friendly show. For six hours and $5.00 (free if you are in costume or under the age of 12) you can enjoy a day meeting authors, watching artists paint and draw bringing characters to life before your eyes, and take in one of the wackiest costume parades I have ever seen. Here's where my honesty  kicks in…if you have trouble with tight spaces, you might want to consider that when attending one of their shows. They get more and more crowded each time and maneuverability in the dealer room can be daunting at times, especially if you are wearing a costume. Beyond the tight quarters, I have never had a bad experience at a Charlotte Comicon.
There was a big announcement made at the spring show, however, that should alleviate some of the traffic. Fortenberry and Hinson will be adding a third ballroom for the remainder of the 2014 shows. This additional room will house a Toy Show, with vendors and collectibles as far as the eye can see. With comics in one room, toys and collectibles in another, and cosplay/panels in yet another room, even if their attendance doubles as a result, it shouldn't feel crowded and will remain a fun and affordable outing for families. I'm looking forward to watching this little show grow and grow. Who knows? Perhaps in the near future it could end up being a full weekend? Until then, I don't think Charlotte Comicon or its fans have anything to worry about.
The next show will be held from 10am to 4pm on August 3, 2014. Information can be found at charlottecomicon.com
Tampa Bay Comic Con and Fan Expo Canada get bigger and adds sports stars, Thor is headed to Disneyland, and the Heroes of Cosplay get reviewed.
Boston Comic Con is happy to announce that cosplay favorite Yaya Han will appear at the 2013 convention and hosting the annual costume contest! Make sure you dress to impress!
Yaya Han is a costume designer, model and cosplay entertainer with 13 years of experience. After discovering cosplay at her first con over a decade ago, she quickly absorbed the heart and soul of costume design and creation. To this day Yaya has made 200 (and counting) costumes in the genres of anime/manga, comic books, video games, sci-fi and of course from her own original designs. Her intricate and lavish creations have won many awards and acclaim world wide, and Yaya has been featured in a myriad of magazines, websites, and television programming. Commercially, Yaya's visage has been drawn, painted and sculpted by a number of noted professional artists and she enjoys modeling and collaborating with photographers and artists.
Additionally, Yaya has taught a multitude of panels on costume craftsmanship, presentation, makeup, wigs and more; and judged as well as hosted countless costume contests and performed in front of many peers and fans alike on stage. Over the past several years, Yaya has traveled to a long roster of conventions and events within the USA as well as internationally to Italy, Mexico, Canada, United Kingdom, Scotland, Japan, Costa Rica, Australia, Germany and Brazil as a Guest of Honor. Yaya is a strong advocate of preserving cosplay as an art form and encourages and mentors new cosplayers to improve their craftsmanship constantly. She is extremely excited for her first visit to Boston, and Boston Comic Con! For more information, visit www.yayahan.com
Tickets for Boston Comic Con are $25 per day or $40 for the weekend and available through Eventbrite at the link!
Artist alley and vendor table registration is also open. Forms can be found on the Boston Comic Con website.
About Boston Comic Con:
The Boston Comic Con is a 100% independently run comic book show committed to bringing the biggest and best comic creators to New England. Run by fans for fans, Boston Comic Con is not affiliated with any other convention tour or corporate interests. Hosting over 40,000 square feet of vendors selling comic books, toys, posters, trading cards, and other pop culture memorabilia, this is a destination event for geeks of any stripe. Next year's convention will be held Saturday April 20th and Sunday April 21st opening at 10:00 am each day at the Hynes Convention Center, 900 Boylston Street, Boston, MA. For more information please go to our website at www.bostoncomiccon.com and follow us on Twitter (@BostonComicCon) and Facebook!
Photos from the SDCC: San Diego Comic-Con International 2012 Group Pool on Flickr.
A cosplay lipdub performed by cosplayers at EXPOCOMIC 2011 in Madrid, Spain to the tune of "Sexy and I Know It" by LMFAO.
Press Release:
In addition to the all-star line-up of talent scheduled at this year's 12th Baltimore Comic-Con, the show will host their third annual costume contest … back by HUGE demand!  This year, the event will be held Saturday and it will be larger than ever!
"After a second year of an outstanding costume contest, where we literally had to break down walls to meet demand – we are thrilled to bring it back in 2011," said Marc Nathan, Baltimore Comic-Con promoter, "and we were totally caught off-guard when hundreds entered last year.  For the second straight year, the contestants and audience overflowed the planned contest room."  He went on to add, "This year, we are planning for it to grow again.  We are taking it up a notch this year by getting an even larger space!" 
 
The $1,000 grand prize will be awarded to the best over-all costume at the event, including all of the over-13 and under-13 categories.  Category winners will win a $100 gift certificate to Cards, Comics and Collectibles of Reisterstown, Maryland.  Additionally, all category winners will receive ONE pass to see an Avengers movie sneak preview, and a free two-day pass to the 2012 Baltimore Comic-Con.
Our categories will include the following:
     Best Male (over 13) Superhero
     Best Male (over 13) Non-Superhero
     Best Female (over 13) Superhero
     Best Female (over 13) Non-Superhero
     Best Group (majority of members over 13)
     Best Male (under 13) Superhero
     Best Male (under 13) Non-Superhero
     Best Female (under 13) Superhero
     Best Female (under 13) Non-Superhero
 
     Best Group (majority of members under 13) 
 
A panel of celebrity media judges will determine the contest winners, including some world-famous comic book creators!
 
The contest will start at 1pm on Saturday, August 20th at the Baltimore Convention Center!  Registration will begin as soon as the show opens at 10:00am.  Contest Registration forms will be handed out at all ticket booths for all patrons interested in entering the costume contest to further speed the registration process.  Over 13 registration will cost $5.  Under-13 registration will be free.
 
PLEASE NOTE: NO WEAPONS WILL BE ALLOWED WITHIN THE CONVENTION CENTER.  Do not bring real swords, guns, or any other type of an authentic weapon!!! Only props allowed!!!