Press Release:
REVOLUTION DIGITAL CARDS DEBUT AT COMIC-CON®
REVOLUTION FANS "FLOCK TO UNLOCK" NEW SERIES OF DC COMICS DIGITAL CHARACTER CARDS AT HIT SHOW'S COMIC-CON 2013 SESSION
Miles Matheson Character Profile Is First to Be Revealed by Show Creator/Executive Producer Eric Kripke
SAN DIEGO and BURBANK, Calif. (July 20, 2013) — Revolution's resident anti-militia rebel Miles Matheson has been freed from digital lockdown in today's packed Comic-Con panel session! Warner Bros. Worldwide TV Marketing, DC Entertainment and NBC have teamed up to create a series of seven original digital trading cards — one for each of Revolution's series regulars — that can be unlocked when fans tweet the #RevolutionCon hashtag. After more than 1,500 attendees at the Revolution Comic-Con panel tweeted while using the designated #RevolutionCon hashtag, the first card (for Miles Matheson) was revealed in the room by show creator/executive producer Eric Kripke. Subsequent cards will be revealed as fans continue hitting further social media thresholds.
Created by a DC Comics artist in conjunction with Revolution producers, each profile card features an illustrated graphic of each of the seven series regulars — Miles Matheson (Billy Burke), Tom Neville (Giancarlo Esposito), Jason Neville (JD Pardo), Sebastian Monroe (David Lyons), Aaron Pittman (Zak Orth), Rachel Matheson (Elizabeth Mitchell) and Charlie Matheson (Tracy Spiridakos) — as well as a brief summary of the characters.

 
In addition to the original illustration and overview of the characters' journeys, each card contains a hidden letter which, when combined with the hidden letters on the other cards, reveals a written clue about the show's second season. Fans must collect all seven to unlock the hidden message.

 
The cards were unveiled to the Revolution fandom at the show's Comic-Con panel session on Saturday afternoon. Soon after introducing the "Flock to Unlock" initiative and a collective call to action, members of the audience began tweeting en masse to the #RevolutionCon hashtag, prompting the release of the first digital profile (Miles Matheson).

 
Upon reaching announced Twitter thresholds for each subsequent character, the remaining cards will be released on Revolution's Facebook,Twitter and Tumblr pages throughout the weekend and into next week, as fans continue tweeting. As each of the cards is unveiled, fans can find the hidden letters, leading to the season two message. After being unlocked, all of these digital profiles will live on an NBC.com microsite at www.nbc.com/revolution/cards, with links to the Revolution show homepage at www.nbc.com/revolution.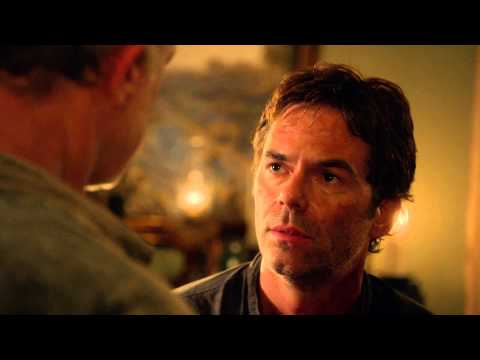 NBC's #1 scripted television series returns for its second season on Sept. 25, airing on a new day and time: Wednesdays at 8/7c. Starring Billy Burke (Twilight movies), Tracy Spiridakos (Being Human), Giancarlo Esposito (Breaking Bad), Zak Orth (Melinda and Melinda), David Lyons (ER), JD Pardo (The Twilight Saga: Breaking Dawn – Part 2) and Elizabeth Mitchell (Lost), Revolution was created by Eric Kripke (Supernatural) and is executive produced by Kripke, J.J. Abrams (Lost, Fringe, Person of Interest), Bryan Burk (Lost, Fringe, Person of Interest), Rockne S. O'Bannon (Defiance, V) and Jon Favreau (Iron Man movies).
From Bonanza Productions Inc. in association with Bad Robot Productions, Kripke Enterprises and Warner Bros. Television, Revolution is an epic adventure that follows a family's struggle to reunite in a post-apocalyptic American landscape where every piece of technology had mysteriously blacked out worldwide. Setting in motion a swashbuckling journey that led to the reason the lights went out, the season one finale found the show's heroes at the Tower and the switch to turn the lights back on — but the mystery of the blackout is just the beginning.
Become a fan of the show on Facebook at www.facebook.com/Revolution and follow the show on Twitter at @NBCRevolution. For additional information about Warner Bros. Television activities at Comic-Con, please follow us on Twitter @TheWBdotcom (hashtag #WBSDCC) and visitwww.thewb.com/comiccon.
There was a lot going on at SDCC today…Hunger Games, X-Men: Days of Future Past, Guardians of the Galaxy, the announcing of the subtitle (and protagonist) for the next Avengers movie…but the announcement that stole the show was for the Man of Steel's follow-up…Batman and Superman together in one movie!
Keenspot has a live feed from their SDCC booth, and you can watch it right here.


Streaming live video by Ustream
Another day…another digest! Get all the latest SDCC photos, reports, videos, and more. Updates throughout the day.
Marvel is providing live coverage from SDCC.
MTV is live from SDCC with hosts Josh Horowitz and Steven Smith, and we have the live stream for you right here.
Thursday Schedule:
11:00 "RWBY" Exclusive
11:15 Workaholics Cast
11:30 Bill Paxton
11:45 Gravity Director
12:00 Valiant Comics
12:15 Matty Collector Exclusive Giveaways
12:30 The To Do List Cast
12:45 Superman Unchained
1:30 Jeph Loeb for Marvel TV
2:00 Ender's Game Cast
2:30 Rick Remender
2:45 Divergent Full Cast Exclusive
3:30 Teen Wolf Cast & Exclusive Trailer
4:15 Game of Thrones John Bradley
4:30 Gale Anne Hurd
5:00 Gametrailers Takeover
(And remember, all times are PST!)
You ready for another SDCC digest? Of course you are!
Press Release:
WHO ARE THOSE CAPED DEMON-HUNTERS?
SUPERNATURAL'S JARED PADALECKI AND JENSEN ACKLES GET IN TOUCH WITH THEIR INNER SUPER HEROES IN PREPARATION FOR COMIC-CON 2013 WITH THE SIGNATURE WARNER BROS. CAPED BACKPACK
BURBANK, Calif. (July 17, 2013) — Men in … Capes? In preparation for Comic-Con 2013, Supernatural's Jared Padalecki and Jensen Ackles got in touch with the super hero within by modeling Warner Bros. signature caped Comic-Con backpacks. With production on the ninth season of the hit series just beginning and an appearance at 2013 Comic-Con International: San Diego this Sunday, series stars Padalecki and Ackles took a moment to show off the Supernatural bag and more importantly, to road-test its fashion cape accessory!
To get a closer look at the Supernatural bag as well as images of all the Warner Bros. TV series Comic-Con bags, click here: http://bit.ly/12H1gXG

 
Supernatural returns to Hall H at Comic Con on Sunday, July 21, from 10:00–11:00 AM with a special video presentation as well as a cast/producer Q&A. Recurring guest star Mark A. Sheppard joins series stars Padalecki, Ackles and Misha Collins alongside executive producers Jeremy Carver and Robert Singer. Additionally, the cast and executive producers will be signing for fans at the Warner Bros. booth (#4545) afterward at 12:45–1:30 PM.

 
Supernatural returns for its ninth season on October 15, 2013, airing on a new day this fall: Tuesdays at 9/8c on The CW.

 
For continuing info on the Studio's plans at Comic-Con, please visit www.thewb.com/comiccon and follow us on Twitter at @TheWBdotcom (hashtag #WBSDCC).
Keep checking back for more setup images as the day leads into Preview Night! Also, if you are on Flipboard, don't forget to check out our SDCC mag there as well: http://flip.it/5IXc9
Press Release:
CBS CONSUMER PRODUCTS REVEALS EXCLUSIVE ITEMS AND TALENT SIGNINGS AT COMIC-CON© INTERNATIONAL 2013
Unique Promotional Products From Star Trek, NCIS, Dexter® and The Twilight Zone Will Be Available at Premier Pop Culture Convention
NEW YORK, NY – July 16, 2013– CBS Consumer Products arrives at Comic-Con© International: San Diego 2013 armed with an array of unique and exclusive products based on popular television franchises, including Star Trek, NCIS, Dexter and The Twilight Zone.
Star Trek fans will have an assortment of one-of-a-kind products to choose from including the debut of cards featuring four of the Klingon Houses. The cards will be available at Star Trek licensee booths throughout the show with an exclusive mini poster available at the CBS Interactive booth (#4245). Locations and times of the card giveaways will be revealed via Twitter (@StarTrek) and fans can also purchase larger prints and other products featuring the Klingon designs at the StarTrek.com Shop (http://shop.startrek.com/).
A list of the top exclusives, signings and promotional items follows:
STAR TREK
Anovos (Booth #4149)
Anovos will have a wide selection of high-end authentic reproductions of Star Trek costumes available for purchase. Star Trek: The Original Series Seasons 1 and 3 pants ($150 each), pants from the 2009 Star Trek film ($150), and Star Trek Into Darkness Khan undershirts ($85) will see limited release as Comic-Con exclusives. Fans can pick up Star Trek The Original Series Kirk, Spock and Scotty duty uniform tunics ($199), Star Trek: The Next Generation Picard and Data ties ($40), and a Star Trek: The Original Series Season 1 Captain's casual uniform wrap ($650, orders being taken at Comic-Con for its first run). A prototype of a Star Trek Into Darkness Khan Jacket will also be on display.
Bif Bang Pow! (Booth #2343)
Bif Bang Pow! is launching a number of exciting items at Comic-Con. Among the special offerings is a Star Trek: The Next Generation Wesley Crusher Build-a-Bridge Deluxe Bobble Head 1 of 8; the first in the "Build-a-Bridge" series to form a mini-replica of the bridge of the U.S.S. Enterprise NCC-1701-D;. and the Star Trek: The Original Series Fine Art Coasters Set of 40, Series 1 , accompanied by a signing with artist Juan Ortiz on Sunday July 21st from 2 PM – 3 PM (subject to change). In addition, a Star Trek: The Next Generation/Doctor Who limited edition tin tote set that includes an exclusive version of the Doctor Who TARDIS Monitor Mate, and a Star Trek: The Next Generation U.S.S. Enterprise NCC-1701-D Monitor Mate (shipped later via online registration) will be available, along with signings from Star Trek/Doctor Who Assimilation 2 illustrator and writers J.K. Woodward, Scott Tipton and David Tipton on Saturday July 20th from 10:30 AM – 11:30 AM (subject to change). Likewise, collectors can pick up a one-of-a-kind Star Trek / The Twilight Zone "The Captain and The Passenger Monitor Mates" – Convention Exclusive set that includes two 4-inch scale Monitor Mate miniature bobble heads of William Shatner as seen in two of his most revered roles. Sneak peeks of Big Bang Pow! concepts for co-branded Star Trek: The Original Series /The Big Bang Theory action figures will be shown to fans and avid collectors.
Chronicle Books (Booth #1506)
Chronicle Books will be selling its new book, How to Speak Klingon: Essential Phrases for the Intergalactic Traveler.
Cubify (Booth #5337)
Cubify will have an on-site scanning station for fans to order their own personalized 3-D printed Star Trek figurines.
Diamond Select (Booth #2607)
Diamond Select Toys will offer a 'fully cloaked' Klingon Bird-of-Prey, a variation on its most recent electronic starship, as its Comic-Con© exclusive this year. The cloaked Bird-of-Prey is seen in numerous Star Trek films as well as The Next Generation television series. This collectible is cast entirely in transparent plastic and has had all of its electronics removed, rendering it somewhat invisible. It measures 12 inches long with a 19-inch wingspan, comes with a transparent display base as well as translucent landing gear, so you can land it in the public park of your choice. The ship is limited to only 200 pieces, and will only be available at the Diamond Select Toys booth in a window box for the price of $60.
DK Publishing (Booth #2913-G)
DK Publishing will be showcasing Star Trek: The Visual Dictionary.
Funko (Booth #5343)
Funko will be exclusively offering for sale a co-branded Star Trek/The Big Bang Theory Pop! Figure that looks as if it's "beaming up."
Hallmark (Booth #2913-H)
As a Comic-Con exclusive, Hallmark will be offering a battle-scarred variant of its U.S.S. Kelvin™ keepsake ornament as featured in the 2009 Star Trek movie. Additional ornaments being offered for sale include the U.S.S. Kelvin with lights and regular paint, "Arena" episode motif featuring the fight scene between Kirk and the Gorn with sound, and "Chief Engineer Montgomery Scott" (fourth in the Star Trek legends series). Deep Roy, Keenser in the new Star Trek films, will make daily afternoon appearances in the booth to sign autographed pictures for purchase. Hallmark will also be offering sneak peeks of its 2014 ornament line.
HASBRO (Booth #3213)
Fans can see the KRE-O STAR TREK U.S.S. VENGEANCE building set from Star Trek Into Darkness for the first time in person in the Hasbro booth.
Her Universe (Booth #2913-F)
Her Universe will be premiering the Spock V-neck T-shirt, designed with a deep V, and the iconic Star Trek insignia, highlighted with gold foil.
IDW Publishing (Booth #2643)
IDW will host multiple creator signings, including Mike Johnson, Scott Tipton & David Tipton, and J.K. Woodward. Large Booth Graphics for the Star Trek Ongoing Series, the Stardate Collection Vol. 1, and the Khan mini-series will be available for purchase, and the booth will be carrying a full line of both regular and limited-edition Star Trek comics and graphic novels. Fans looking for even more Star Trek should attend the IDW panel, which will prominently feature the iconic franchise.
Light Speed Fine Art (Booth #3745)
Light Speed Fine Art will be hosting a signing with a number of Star Trek: The Next Generation actors, including Brent Spiner (Lieutenant Commander Data), Michael Dorn (Lieutenant Commander Worf) and Marina Sirtis (Commander Deanna Troi).
Moebius (Booth #5349)
Moebius will be showing a concept for its high-end, Star Trek: The Original Series 12-inch Kirk action figure.
NECA (Booth #3145)
NECA will show the Star Trek: Attack Wing miniatures game, which will be available for purchase in August.
QMx (Booth #3249)
QMx will be debuting the Vengeance Artisan Replica from Star Trek Into Darkness and the Enterprise NX-01 Artisan Replica from Star Trek: Enterprise. Comic-Con will be the first time fans can purchase the Spock, Kirk and Uhura Q-Pop figures, the 2013 Starfleet Academy Class ring replica, the plush Enterprise and Tribble collectibles. Exclusively for Comic-Con, the "Mirror Universe" Spock Q-Pop will be available for purchase. Finally, visitors will be able to see the phaser replica that's included in an Amazon.com bundle for the Star Trek: Into Darkness Blu-ray.
ThinkGeek (Booth #5541)
ThinkGeek will be selling its latest Star Trek item – an inflatable U.S.S. Enterprise.
WeLoveFine (Booth #5647)
Mighty Fine will offer a limited number of exclusive Star Trek "Comic-KHAAAAN! 2013″ T-Shirts. Artist Juan Ortiz will be signing at the WeLoveFine Pop-Up Shop at the Hilton San Diego Gaslamp (401 K Street) on Sunday July 21 at 10:30 am.
Mimoco (Booths #2913-M and 5338)
Mimoco will have the SDCC '13 limited edition Star Trek Into Darkness Klingon Captain MIMOBOT USB flash drive (edition of 1000) alongside Star Trek: The Original Series' Captain Kirk, Spock, Sulu and and Star Trek: The Next Generation's Picard and Data. The USB flash drives will be available in sizes from 8GB up to 64GB.
Rubies (Booth #3649)
Rubies will be selling Captain Kirk, Spock, Scotty and Uhura costumes along with Spock ears and wigs, and a phaser weapon.
Square Enix (Booth #3829)
Square Enix will be showing sculpts of their high-end collectible Star Trek Into Darkness 10" Captain Kirk and Spock Play Arts KAI action figures.
Titan Entertainment (Booth #5537)
Titan will host a signing with artist Juan Ortiz to celebrate the release of his book Star Trek: The Art of Juan Ortiz on Sunday, July 21 from 12 -1 pm at AA05, and they will also preview the new Khan bust amongst others and have a limited number of Picard and Kirk busts on sale.
DEXTER
ANOVOS (Booth #3635)
Anovos Booth #2 will feature a Dexter 'kill table' with props provided by the show. Have your picture taken as one of Dexter's victims for a unique experience. Fans can also purchase a Dexter "thumbdrive" ($20). Check Booth for hours of operation.
Entertainment Earth (Booth #2343)
To commemorate the "Final Season" of Dexter, Bif Bang Pow! designed two convention exclusives, Dexter 3 3/4-inch Action Figure in Tin Tote with Blood Slide Box and a Dexter Blood Spatter Analyst Bobble Head. The air-conditioner-themed tin tote features a Dexter 3 3/4-inch Action Figure sporting his camera, ID badge, and a little extra blood, six blood slides as well as a wooden blood slide box replica to store them in. Additionally, a bonus talking key chain with five authentic Dexter phrases is included. The 7-inch resin bobble head resembles the favorite blood-spatter expert / serial killer on the job in his pink shirt holding a blood slide and slide box. Also, fans can enjoy signings from a few cast members of Dexter Thursday July 18th – David Zayas and Aimee Garcia 1:30 PM – 2:30 PM (subject to change), Jennifer Carpenter 3:30 PM – 4:30 PM (subject to change), and Yvonne Strahovski 4:45 PM – 5:15 PM (subject to change).
NCIS
Bif Bang Pow (Booth #2343)
Bif Bang Pow! produced NCIS' irreverent young Goth-girl lab tech Abby Sciuto in a captivating 4 1/2-inch tall resin Monitor Mate bobble head convention exclusive in the image of actress Pauley Perrette… that sits on top of your computer monitor.
HAPPY DAYS
Hallmark (Booth #2913-H)
Hallmark will be selling a Happy Days ornament with sound and a lighted string.
MORK & MINDY
Hallmark (Booth #2913-H)
Hallmark will be commemorating the 35th Anniversary of Mork & Mindy with a keepsake ornament.
THE TWILIGHT ZONE
Bif Bang Pow (Booth #2343)
From the intriguing The Twilight Zone episode "Time Enough at Last," Bif Bang Pow! designed a marvelous replica convention exclusive that includes a stack of Henry Bemis' precious books and his signature glasses with black frames and thick, clear lenses. Moreover, collectors can get a one-of-a-kind Star Trek/The Twilight Zone "The Captain and The Passenger" Monitor Mates – Convention Exclusive set that includes two Monitor Mate miniature bobble heads of William Shatner as seen in two of his most revered roles, airline passenger Bob Wilson and U.S.S. Enterprise Captain James T. Kirk.