Producers Jeph Loeb and Jeffrey Bell, along with the cast of Agents of SHIELD spoke to the media at Wondercon 2016, and Convention Scene's own Richard Oh was there!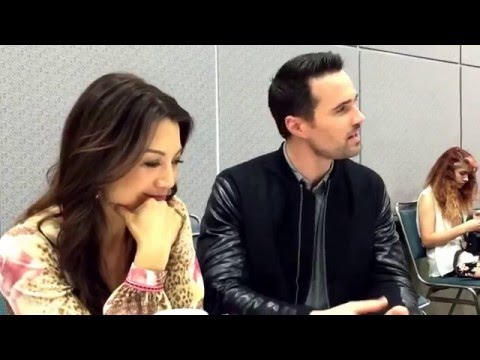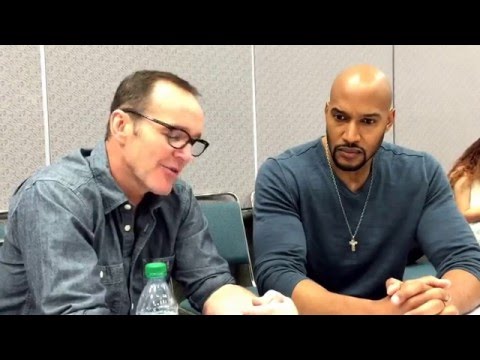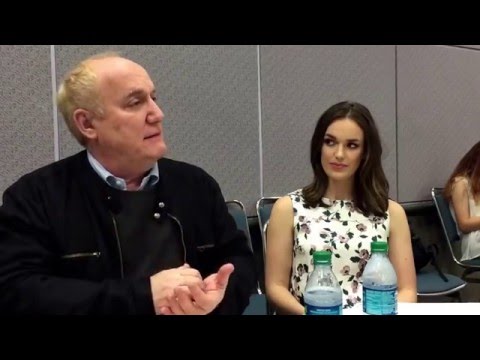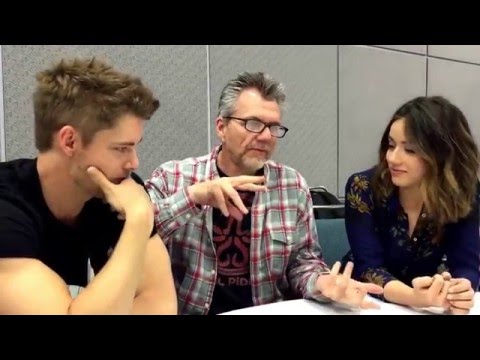 Press Release:
Long Beach Comic Con Announces Highlights From Its Guest List, Full Programming Slate & Key Initiatives for September 12 & 13th, 2015
Long Beach, CA (September 2, 2015) – In advance of the seventh annual Long Beach Comic Con, MAD Event Management announced today highlights from its guest list, the full slate of programming for the convention and several major initiatives. All told, the convention will play host to more than 175 guests, 100 panels, and 300 artist alley exhibitors and more than 475 exhibitors. The convention will be held September 12th and 13th in the main exhibition hall at the Long Beach Comic Convention Center.
This year's Long Beach Comic Con guest list is amazingly diverse with over 175 guests, including:
Popular TV, Film & gaming stars:

John Barrowman (Merlin from ARROW);
Chloe Bennet (Skye on MARVEL'S AGENTS OF SHIELD);
Peter Shinkoda and Tommy Walker (Marvel's DAREDEVIL)
Maitland Ward Baxter (BOY MEETS GIRL).
Acclaimed TV & Film writers:

Tara Butters and Michele Fazekas (Marvel Entertainment's AGENT CARTER);
Christos Gage and Ruth Fletcher Gage (Marvel's DAREDEVIL);
Marc Guggenheim (ARROW);
Jeff King (WHITE COLLAR);
Man of Action's Joe Casey, Joe Kelly, Duncan Rouleau and Steven T. Seagle), the creators of BEN 10 and the team/characters in BIG HERO 6
More than 150 comic book writers and artists:

Legendary artist Art Adams (GUARDIANS OF THE GALAXY TEAM UP);
Kris Anka (Marvel's CAPTAIN MARVEL)
Joe Casey (SEX)
Adam Kubert and the Joe Kubert School, making their first appearance at a Long Beach Show;
Joshua Hale Fialkov (THE LIFE AFTER);
Kyle Higgins (C.O.W.L.)
Joe Kelly (I KILL GIANTS)
Dustin Nguyen (DESCENDER);
David Petersen, celebrating the 10th anniversary of MOUSE GUARD;
Duncan Rouleau (THE GREAT UNKNOWN)
Stan Sakai, the legendary creator of USAGI YOJIMBO;
Steven T. Seagle (It's a bird …)
Marc Silvestri, popular artist and CEO of Top Cow Productions;
STAR WARS artists Stuart and Kathryn Immonen;
Legendary writers Len Wein (SWAMP THING) and Marv Wolfman (NEW TEEN TITANS).
Cosplay fan favorites:

Nicole Marie Jean
Miss Chrissy Lynn;
Raychul Moore;
Destiny Nickelsen;
International Cosplayer Giada Robin;
Vampy Bit Me;
Vegas Power Girl.
"Long Beach Comic Con is a celebration of the creative arts," said Long Beach Comic Con Executive Director and Co-Founder Martha Donato. "In addition to panels devoted to DC Entertainment, Marvel Entertainment, Aspen Comics, Image Comics and Dark Horse Comics, we have amazing, family-friendly programming dedicated to animation, tv, film and novels and exhibitors and sponsors such as Columbia Memorial Space Center, Lionsgate Films, and T-Mobile and sponsors like Bernina and Kettle.
Programming highlights include:
Anniversary panels for 30 Years of ROBOTECH animation and 10 years of MOUSE GUARD graphic novels;
Breaking Into Hollywood A conversation with Ralph Garman (BATMAN '66 MEETS THE GREEN HORNET), Joshua Fialkov (AFRO SAMURAI: RESURRECTION), Marc Guggenheim (ARROW) and Kyle Higgins (THE LEAGUE), moderated by Aaron Couch, LA Digital News Editor of People Magazine;
Buffy the Vampire Slayer panel;
"Couples Therapy", in which KROQ 's Ralph Garman talks with Hollywood power couple Tara Butters (MARVEL'S AGENTS OF SHIELD) and Marc Guggenheim (ARROW);
The Devastator Presents: Funny Book Fest;
Dwayne McDuffie Awards Announcements of nominees for the award, to be presented at Long Beach Comic Expo next spring;
GeekFest Film Fest, including three full length feature films, short films, web series and fan films including a "Star Wars Musical";
How to Conquer the Animation World with James Ganiere (CEO at Rio Vista Universal), Dean DeBlois (writer and director of HOW TO TRAIN YOUR DRAGON 3), Mike Morris (Animator for THE SIMPSONS), Terran Gregory (Project Director at Blizzard Entertainment) and Forrest Whaley (ForrestFire101 – Maker Studio/YouTube).
#PerformanceMatters. Creating your Character in Video Games. Troy Baker (BATMAN: ASSAULT ON ARKHAM), Crispin Freeman (WORLD OF WARCRAFT), Phil LaMarr (MWETAL GEAR SOLID 2), Liam O'Brien (WORLD OF WARCRAFT), America Young (HALO 5) and Thom Willams (MIDDLE EARTH: SHADOW OF MORDOR)
Psychology of Daredevil. Join Dr. Andrea Letamendi, who has a Ph.D. in Clinical Psychology, Christos Gage and Ruth Fletcher Gage, writers on Netflix's original DAREDEVIL series, and actors Tommy Walker (Francis) and Peter Shinkoda (Nobu) as they discuss the intersection of psychology and comic books, specifically focusing on the characters they write and play on DAREDEVIL.
A Q &A with John Barrowman;
Shades & Shadows Reading Series including a live show;
A STAR WARS panel with Brian Miller , illustrator for Topps, novelist Cecil Castellucci (STAR WARS: MOVING TARGET), and Stuart Immonen, artist for Marvel's best selling STAR WARS comic books.
2 days of #MakeComics panels devoted to teaching aspiring writers and artists how to make comics.
New initiatives and exclusives include:
Girl Scouts of Greater Los Angeles
Girl Scouts of Greater Los Angeles
Due to generous donations and grants, 200 greater Los Angeles girls—including 100 girls from underserved communities—will take part in a program that includes meeting comic professionals, playing laser tag and attending a workshop where they can earn their Comic Book Artist and Novelist badges. This year actress Chloe Bennet, who plays Skye on MARVEL'S AGENTS OF SHIELD, will be presenting the girls with their Comic Artist badges.
"At the Long Beach Comic Con, middle school and high school Girl Scouts will be able to work one-on-one with professional comic book artists, writers, editors, and young adult novelists to create a comic book page from start to finish," said Lise L. Luttgens, Girl Scouts of Greater Los Angeles' Chief Executive Officer. "Girl Scouts is all about giving girls access to hands-on experiences that empower them to discover and pursue their passions, and this unique collaboration with the Long Beach Comic Con is a perfect example of that."
Golden Apple LBCC-Exclusive STAR WARS variant cover
Exhibitor Golden Apple Comics will sell a Long Beach Comic Con exclusive edition of STAR WARS: SHATTERED EMPIRE issue 1 with a cover by artist Phil Noto. The comic is an exclusive available through Golden Apple and GameFly. Golden Apple will be exhibiting at LBCC at booth # 1024.
The Hero Initiative Limited Edition Beer designed by artist Clayton Crain
The Hero Initiative, a charity dedicated to helping comic book creators in financial need, has partnered with Los Angeles brewery MacLeod Ale for a limited-edition label for The King's Taxes Scottish Ale, designed by GHOST RIDER and CARNAGE artist Clayton Crain. The art will appear on a limited run of bottles, signed prints and commemorative glasses. Hero Initiative will host a special tasting from 6 PM to 9 PM Saturday, and have a full selection of The King's Taxes merchandise available.
LifeStream Blood Bank, a not-for-profit blood bank with host a blood drive on site
A MAGIC: THE GATHERING tournament
CoastCardsAndCollectibles.com will host a Magic the Gathering tournament, which will include on-demand Origins Drafts and Standard Constructed as well as running Standard Constructed and Modern Main Events.  Kids(12 and under) will also have exclusive Pokemon and MtG events on both days!"
The Inaugural Long Beach Space Expo
The Columbia Memorial Space Center is partnering with Long Beach Comic Con for Space Expo 2015, an innovative and one-of-a-kind program that will connect comic book convention attendees directly with the world of scientific discovery. Panels will be held featuring top aerospace industry notables discussing hot button scientific topics and there will be interactive exhibits featuring robotics, 3D printing, and even a spacesuit – all curated by Columbia Memorial Space Center, the prestigious CA-based learning center dedicated to bringing the wonder and excitement of science to audiences of all ages and backgrounds.
"The Space Expo is an innovative way to connect the public to space and science," said Columbia Memorial Space Center President Ben Dickow. "Instead of making people come to us, we're taking science and technology to them with two full days of activities and speakers who are at the top of the space field. The Expo will give the public the opportunity to interact directly with NASA professionals and space explorers. We've put together the largest collection of JPL scientists we know of, outside of an academic conference, all ready to share their love of space with you!"
Enjoy an exciting weekend full of exceptional guests and exhibitors, and engaging panels, at Long Beach Comic Con, Saturday, September 12 from 10:00 am – 7:00 pm and Sunday, September 13 from 10:00 am – 5:00 pm at the Long Beach Convention Center. The show opens to advance ticket holders both days at 9:30 AM. Tickets are available now through the website: www.longbeachcomiccon.com.
Follow Long Beach Comic Con on Facebook and Twitter for the latest news and information.
Long Beach Comic Con is an annual event held at the Long Beach Convention Center that celebrates comic books and pop culture and showcases the exceptional works of talented writers, artists, illustrators and creators of all types of pop culture. At Long Beach Comic Con, you'll find exhibitors promoting and selling all types of related products, as well as entertaining and educational programs for all ages, guest signings and meet & greet sessions with celebrities. Long Beach Comic Con is a MAD Event Management, LLC production. To learn more and purchase tickets, please visit www.longbeachcomiccon.com.
BERNINA International AG has been one of the world's leading sewing and embroidery machine manufacturers for more than 120 years. The Swiss family-owned company's products are synonymous with innovation and precision. Above all, they are known for their durability. BERNINA sewing machines are used worldwide by people with a passion for sewing. BERNINA is a byword not only for excellent sewing and embroidery machines and overlockers, but also for a comprehensive range of accessories and creative software solutions. There are no limits to your creativity with BERNINA.
The Columbia Memorial Space Center, located in Downey, California, is a hands-on learning center dedicated to bringing the wonder and excitement of science and innovation to audiences of all ages and backgrounds.  Through world-class programs and engaging exhibits, the Space Center strives to ignite a community of critical and creative thinkers. 
Girl Scouts of Greater Los Angeles serves more than 40,000 girls in partnership with more than 20,000 volunteers throughout the diverse communities of Los Angeles County and parts of Kern, San Bernardino, and Ventura counties. The council engages girls through programs in Leadership, Business and Financial Literacy, Outdoor Adventure, STE[A]M (science, technology, engineering, art, math), and Healthy Living. To join, volunteer, reconnect, or support, visit www.girlscoutsla.org or call 213-213-0123.
The Hero Initiative is the first-ever federally chartered not-for-profit corporation dedicated strictly to helping comic book creators in need. Hero creates a financial safety net for yesterday's creators who may need emergency medical aid, financial support for essentials of life, and an avenue back into paying work. It's a chance for all of us to give back something to the people who have given us so much enjoyment. Since its inception, The Hero Initiative has had the good fortune to grant over $700,000 to the comic book veterans who have paved the way for those in the industry today. For more information, visit www.heroinitiative.org or call 626-676-6354.
Kettle Brand® has been making great-tasting, all-natural chips since 1982. They're made from only the most natural, real food ingredients, finest potatoes, best oils and craft cooking methods.  That's why they taste so great.  Plus, they're backed by a company commitment to sustainability, which includes wind power, solar power, green building and biodiesel initiatives.  Kettle Brand® Potato Chips: simply great tasting, all-natural potato chips made by a company that cares. Learn more at www.KettleBrand.com
The cast of Marvel's Agents of S.H.I.E.L.D. appears at Paley Fest on Sunday, October 19, 2014 at 4:00 PM! Panelists scheduled to appear include: Clark Gregg, Ming-Na Wen, Chloe Bennet, and Jeph Loeb (Executive Producer)
Paley Center for Media
25 West 52 Street, New York, NY 10019
Press Release:
Marvel TV Comes to San Diego Comic-Con
Learn where to find 'Marvel's Agents of S.H.I.E.L.D.' & 'Marvel's Agent Carter' at SDCC!
Wondering what "Marvel's Agents of S.H.I.E.L.D." have been up to all summer? To prepare for its fall return at the new time of 9:00 p.m. ET Tuesday nights, Comic-Con International will be hosting a panel with all your favorite agents to talk about "Marvel's Agents of S.H.I.E.L.D." and "Marvel's Agent Carter"!
On Friday, July 25, prepare yourselves for the Marvel Television Presents panel, moderated by Jeph Loeb, Marvel's Head of Television, which promises exciting news and fun surprises for fans! Join Jeph and "Marvel's Agents of S.H.I.E.L.D." Executive Producers Jed Whedon, Maurissa Tancharoen and Jeffrey Bell, along with cast members Clark Gregg (Phil Coulson), Ming-Na Wen (Melinda May), Brett Dalton (Grant Ward), Chloe Bennet (Skye), Iain de Caestecker (Leo Fitz) and Elizabeth Henstridge (Jemma Simmons).
Plus, learn more about midseason series "Marvel's Agent Carter" with Executive Producers Tara Butters, Michele Fazekas, Christopher Markus, Stephen McFeely and Louis D'Esposito and series star Hayley Atwell ("Marvel's Captain America: The First Avenger"), in this can't miss Q&A panel that will take you behind the scenes and into the future of Marvel's live action television series.
Be in Ballroom 20 from 3:00-4:00 p.m. PT Friday, July 25, and check out an autograph session for "Marvel's Agent Carter" preceding the panel from 1:00-2:00 p.m. PT at the Marvel Booth (#2329) on the Convention Floor. Plus, on Saturday, July 26, meet the "Marvel's Agents of S.H.I.E.L.D." cast and Executive Producers for an autograph session from 10:00-11:00am at the Marvel Booth (#2329).
And don't forget to check out Marvel's Agents of S.H.I.E.L.D. at its new time of 9:00 p.m. ET on Tuesday nights this fall to find out who you can trust, who you can't, and more on just what's going on with Coulson!