Face front, True Believers! Marvel has released their panel schedule for New York Comic Con 2014! They will also live blog the convention so fans can follow along at home. Details at the link!
FRIDAY, OCTOBER 10
Marvel 75th Anniversary:
X-Men- The Shifting Face of Mutantkind
Time: 11:00 a.m. – 11:45 a.m. EDT
Room: 1A18
Join X-Editor Michael Marts as he sits down with the renowned X-Men creators who have shaped the mythos of mutantkind! This retrospective panel takes fans through the X-Men's publication history and gives them an inside look into the creative process behind fan-favorite characters and books! A can't-miss-panel for any mutant-lover! Panelists include Fabian Nicieza (CLASSIC X-MEN), Chris Claremont (UNCANNY X-MEN), Len Wein (WOLVERINE), and other special guests!

MARVEL: Breaking into Comics the Marvel Way
Time: 11:15 a.m. – 12:00 p.m. EDT
Room: 1A06
Have a passion for the inner workings of the comics industry? Curious about breaking into the field as a writer or artist? Sit down with a group of Marvel professionals from every corner of the business, and get insider tips, advice, and first-hand accounts of what it takes to start a career in comics today! Panelists include Talent Scout Jeanine Schaefer, Russell Dauterman (THOR), Kelly Sue DeConnick (CAPTAIN MARVEL), Gerry Duggan (NOVA), Sam Humphries (LEGENDARY STAR-LORD), and Charles Soule (DEATH OF WOLVERINE)!


Marvel 75th Anniversary:
Crafting the Marvel Event
Time: 12:00 p.m. – 12:45 p.m. EDT
Room: 1A18
Sit down with Executive Editor Tom Brevoort for an inside look into how a major Marvel event is constructed, from the perspective of writers, artists, and editors. Hear first-hand accounts about the creative collaborations that brought you Marvel's biggest stories! Panelists include Brian Michael Bendis (ALL-NEW X-MEN), Kurt Busiek (AVENGERS), Tom DeFalco (AMAZING SPIDER-MAN), J.M. DeMatteis (CAPTAIN AMERICA), Al Milgrom (WEST COAST AVENGERS), Fabian Nicieza (X-MEN), and Jim Starlin (INFINITY GAUNTLET).
Marvel 75th Anniversary:
World Outside Your Window – Diversity in Marvel Comics 
Time: 1:00 p.m. – 1:45 p.m. EDT 
Room: 1A18
Take a look inside Marvel's ground-breaking history, as we shine the spotlight on the creators who challenged, re-defined, and shaped Marvel's perception as an innovative publisher of comics. Join Marvel's Editor-in-Chief Axel Alonso and a mighty gathering of Marvel creators as they discuss the importance of diversity in comics and how Marvel upholds the tradition of presenting the world outside your window. Panelists will include Kurt Busiek (MARVELS), Kelly Sue DeConnick (CAPTAIN MARVEL), Kieron Gillen (YOUNG AVENGERS), Ann Nocenti (DAREDEVIL), and other Mighty Marvel Guests!
Marvel 75th Anniversary:
Guardians of the Galaxy- Then and Now
The Evolution of the Marvel Cosmic Universe
Time: 2:00 p.m. – 2:45 p.m. EDT
Room: 1A18
Following the smashing success of Guardians of the Galaxy, we decided to take fans through the history of one of Marvel's quirkiest teams, as well as Marvel's cosmic universe at large! This 75th Anniversary panel will feature current "cosmic" creators, as well as the writers and editors who shaped Marvel's cosmic universe! Join us as we go back in time, and get an exclusive look inside the creation of some of your favorite space-facing characters! Panelists will include Gerry Duggan (NOVA), Al Milgrom (CAPTAIN MARVEL), Doug Moench (INHUMAN), and Jim Starlin (INFINITY GAUNTLET).
MARVEL: House of Ideas Digital Panel                                
Time: 2:15 p.m. – 3:00 p.m. EDT
Room: 1A06
Love having the best comics in the industry on your mobile devices? Want to know how Marvel stays on the cutting edge of technology while bringing you what you love? Want to learn more about Infinite Comics? Well, this panel is for you, True Believer! Get exciting news from Executive Editorial Director of Digital Ryan Penagos and other guests including Talent Scout C.B. Cebulski, VP CRM Daniele Campbell and others! Find out what's happening with the Marvel Comics App, Marvel AR, new digital games, Marvel's vast social media presence and more in this can't-miss panel!

Marvel 75th Anniversary:
Friendly Neighborhood Marvel
Time: 3:00 p.m. – 3:45 p.m. EDT
Room: 1A18
Join Marvel's Chief Creative Officer Joe Quesada as he sits down with creators of past and present to shine the spotlight on Marvel's street-level characters. This panel will include Spider-Man and Daredevil creators, as well as writers and artists who have contributed to the mythos of heroes like Spider-Man, Daredevil, Moon Knight, Luke Cage, and more! Panelists include Mark Bagley (ULTIMATE SPIDER-MAN), Gerry Conway (AMAZING SPIDER-MAN), Tom DeFalco (AMAZING SPIDER-MAN), J.M. DeMatteis (SPECTACULAR SPIDER-MAN), Ralph Macchio (DAREDEVIL), Doug Moench (MOON KNIGHT), and Ann Nocenti (DAREDEVIL).

Marvel Animation Presents                                        
Time: 4:15 p.m. – 5:00 p.m. EDT
Room: 1A06
Jeph Loeb (Marvel's Head of Television) brings you the biggest animation panel in this universe – or any other. Get an exclusive first look at content from "Marvel's Hulk and the Agents of S.M.A.S.H." season two and the future of Marvel Animation.
 
Marvel's Agents of S.H.I.E.L.D.        
Time: 5:45 p.m. – 6:45 p.m. EDT
Main Stage 1D
Jeph Loeb (Marvel's Head of Television) returns with exciting news and the world premiere of an all new episode of Marvel's Agents of S.H.I.E.L.D. before it debuts on ABC!
                               
 
SATURDAY, OCTOBER 11
 
MARVEL: Death of Wolverine – The Logan Legacy
Time: 4:15 p.m. – 5:00 p.m. EDT
Room: 1A06
Get ready, X-Fans, for the biggest mutant on mutant showdown of the year in the pages of DEATH OF WOLVERINE! Join a star-studded lineup of X-writers as they discuss the future of Logan and the impact his death will have on the rest of the X-Men titles! Plus, get the scoop on other titles starring Marvel's merry mutants! This panel will be jam-packed with X-Men creators, so no fan should miss out! Panelists will include Executive Editor Mike Marts, Brian Michael Bendis (ALL-NEW X-MEN), Peter David (ALL-NEW X-FACTOR), Gerry Duggan (DEADPOOL), Greg Pak (STORM), Charles Soule (DEATH OF WOLVERINE), Len Wein (INCREDIBLE HULK) and other Mighty Marvel Guests!
 
MARVEL: Cup O'Joe
Time: 12:45 p.m. – 1:45 p.m. EDT
Empire Stage 1-E
Join us for this Convention favorite! Here is your chance to Q&A with Marvel's Chief Creative Officer Joe Quesada, for this no-holds-barred exposéon everything Marvel. Got a question about a favorite hero? Want to hear groundbreaking news straight from the source? Need a rundown on breaking developments in Marvel comics, film, and T.V? This panel is for you! With special announcements galore! Featuring Executive Editor Tom Brevoort, writers Brian Michael Bendis (ALL-NEW X-MEN), Kelly Sue DeConnick (CAPTAIN MARVEL), Gerry Duggan (DEADPOOL), Sam Humphries (LEGENDARY STAR-LORD), Dan Slott (AMAZING SPIDER-MAN), and other Mighty Marvel guests!
 
Disney Infinity 2.0: Marvel Super Heroes Behind the Scenes
Time: 3:15 p.m. – 4:00 p.m. EDT
Room:1A06
Join the Disney Infinity: Marvel Super Heroes team for a first-hand, behind-the-scenes look at the story behind what it was like to bring the Marvel Super Heroes to Disney's expanding video game platform! The development team from Marvel, Avalanche Studios and Disney Interactive will dive into how the game has evolved, how the stories developed, and various other aspects of the creative process. This unprecedented all-access look at this momentous game release is not to be missed!
 
Marvel's Daredevil, Exclusively on Netflix
Time: 5:15 p.m. – 6:15 p.m. EDT
Main Stage 1D
Join the cast of "Marvel's Daredevil" in their first-ever appearance with show-runner Steve DeKnight and moderator Jeph Loeb (Marvel's Head of Television) to answer questions and reveal secrets from the hotly-anticipated show debuting on Netflix in 2015.


SUNDAY, OCTOBER 12
 
Marvel Unlimited Plus Members Only Panel
Time: 11:00 a.m. – 11:45 a.m. EDT
Room:1A21
This exclusive panel is just for Marvel Unlimited Plus members! Join Executive Editorial Director of Digital Ryan Penagos and top Marvel creators for a private panel discussion of what's happening inside the Marvel Universe. Get FREE merchandise*, sneak peeks of upcoming Marvel comics, a Q&A session to answer all your burning questions, and more surprises to be announced. Not to be missed! Panelists will include Brian Bendis (ALL-NEW X-MEN), Gerry Duggan (NOVA), Dan Slott (AMAZING SPIDER-MAN), Nick Spencer (AVENGERS WORLD), and Ryan Stegman (INHUMAN)! Marvel Unlimited Plus Members ONLY – show your Member Card or confirmation email at the door for access to the event!
*Merchandise available while supplies last.
MARVEL: Axel-In-Charge
12:15 p.m. to 1:00 p.m. EDT
Room: 1A06
Axel Alonso, Marvel's Editor-in-Chief, is taking the stage! Don't miss inside looks at Marvel's most creatively diverse titles, plus some major announcements including the future of everyone's favorite avenging archer! And of course, you the fans will get to ask Axel the hard-hitting questions! Other panelists will include Gerry Duggan (NOVA), Kieron Gillen (ANGELA: ASGARD'S ASSASSIN), Ales Kot (BUCKY BARNES: THE WINTER SOLDIER), Phil Noto (BLACK WIDOW), James Robinson (FANTASTIC FOUR), Charles Soule (DEATH OF WOLVERINE), Nick Spencer (AVENGERS WORLD), G. Willow Wilson (MS. MARVEL), and other Mighty Marvel guests!
 
Women of Marvel
Time: 1:15 p.m. – 2:00 p.m. EDT
Room:1A06
From Ms. Marvel to Black Widow, from Twitter to tumblr, women in comics has been one of the most talked-about topics in the industry recently. Join the conversation as women from every discipline in the creative process at Marvel discuss what it's like working as a woman in comics today and what it means for the future of the industry! Plus, plenty of special announcements! Panelists will include Talent Scout Jeanine Schaefer, Editors Sana Amanat, Katie Kubert, Ellie Pyle, and Emily Shaw, Associate Producer Judy Stephens, writers Kelly Sue DeConnick (CAPTAIN MARVEL), Erica Henderson, Margi Stohl, and G. Willow Wilson (MS. MARVEL), and artists Marguerite Bennett (ANGELA: ASGARD'S ASSASSIN), Sara Pichelli (GUARDIANS OF THE GALAXY), and Stephanie Hans (ANGELA: ASGARD'S ASSASSIN)!
 
MARVEL: Spider-Verse
Time: 4:00 p.m. – 4:45 p.m. EDT
Room:1A10
This is your panel for all things Spider-Man! Join us as we discuss the most epic Spidey event of all time as every Spider-Man EVER comes together to face a world-ending threat! Plus, get the low-down on Silk, the mysterious new character who has everybody talking! Panelists will include Senior Editor Nick Lowe, writers Peter David (SPIDER-MAN 2099), Christos Gage (SUPERIOR SPIDER-MAN), Jason Latour (WOLVERINE AND THE X-MEN), Dan Slott (AMAZING SPIDER-MAN), and Robbie Thompson (SPIDER-VERSE), and artists Stacey Lee (NEW WARRIORS), Humberto Ramos (AMAZING SPIDER-MAN), Robbi Rodriguez (EDGE OF SPIDER-VERSE)and more special guests!
More on Marvel.com: http://marvel.com/news/comics/23387/nycc_2014_panel_and_liveblog_schedule#ixzz3FZviIixo
Press Release:
Celebrity appearances, artist meet-and-greets, a film festival, a Cosplay costume contest, the first official after party and Cosplay Harbor Cruise are among many activities lined up for this year's Boston Comic Con. Boston Comic Con will bring its first three-day convention to the Seaport World Trade Center Friday August 8 through Sunday August 10, 2014. In the seven years since its founding, Boston Comic Con has grown from a one-day show that attracted an estimated 900 comic book enthusiasts to last year's record turnout of more than 23,000, which organizers expect to top this year.
"The community in Greater Boston that loves comic books and related television and film is tremendous and growing," said Nick Kanieff, a founder of Boston Comic Con. "We are home to some of the industry's most talented artists and devoted fans, all of which will join us in great numbers this August. Boston Comic Con has just enough of a celebrity touch to bring in ardent fans while still honoring the artists and writers who are the backbone of the industry."
The 2014 Boston Comic Con will feature celebrity appearances by Jason Momoa of "Game of Thrones"; John Barrowman of "Doctor Who," "Torchwood" and "Arrow"; Sean Astin of "The Goonies" and "The Lord of the Rings" trilogy; James Marsters of "Buffy the Vampire Slayer" and "Angel"; Katie Cassidy of "Arrow"; Eve Myles of "Torchwood"; Jewel Staite of "Firefly"; Sam Witwer of "Being Human"; and Darryl McDaniels, aka DMC, of Run-DMC, one of the founding fathers of the hip hop and rap movement, who is producing his own comic about a rap superhero. Celebrities will also participate in panel discussions, Q&As, photo ops, and signing autographs throughout the three-day convention.
Among the 200+ comic book creators taking part in the convention are well known artists such as artist Greg Capullo and writer Scott Snyder, who together produced legendary Batman story arcs as The Court of Owls, Death of the Family and Zero Year for DC Comics. Indie sensation Jeff Smith, creator of the fantasy epic Bone, makes rare appearance at this year's convention. Also featured is artist Adam Kubert, best known for his work with Marvel Comics on Wolverine, Incredible Hulk, Ultimate Fantastic Four, and X-Men. He is both a graduate of and an instructor at the famed Kubert School, founded by his father, legendary artist Joe Kubert. Other creators include Skottie Young, whose current project, Rocket Raccoon ties in with Marvel's summer blockbuster Guardians of the Galaxy, fan-favorite Gail Simone, writer of Batgirl, Birds of Prey, and Wonder Woman, and Mark Waid who is the most prolific writer of popular characters such as Superman, Spider-Man, and Daredevil.
Participating Boston-area artists include husband and wife team Shelli Paroline and Braden Lamb, Joe Quinones, Maris Wicks, Ming Doyle, Norman Lee, Sara Richard, and several others.
Boston Comic Con is especially proud of its showcase of 14 top women creators including: Christy Blanch, Danica Brine, Katie Cook, Danielle Corsetto, Ming Doyle, Dawn Griffin, Rebekah Isaacs, Shelli Paroline, Sara Richard, Gail Simone, Cat Staggs, Babs Tarr, Maris Wicks, and Chrissie Zullo.
"Boston Comic Con is at the forefront of supporting local artists, especially women creators. It is truly an organic, home-grown event that has gained popularity over the past few years," said Kanieff, a Framingham resident who is also an avid collector. "We welcome everyone, from families with young children, to college students, to older comic book fans. There is something for everyone at Boston Comic Con."
New This Year
The first Boston Comic Con Cosplay Harbor Cruise will take place on Saturday, August 9 from 8 p.m. to 11 p.m. The cruise will be hosted by Ivy Doomkitty, international costume designer and cosplayer, and features noted cosplayers including Nicole Marie Jean, Destiny Nickelsen, and Bethany Maddock. After the harbor cruise, Boston Comic Con will host the official "after party" at Laugh Boston, at the Westin Waterfront Hotel. Also new this year, a limited number of tickets will be sold to allow early entry on the first day of Boston Comic Con, Friday, August 8 at 1 p.m., one hour before the general admission at 2 p.m.
Additionally, Marvel editor C.B. Cebulski will be on hand to provide portfolio reviews for aspiring comic artists. And this year's exclusive t-shirt features Rocket Raccoon drawn by Guardians of the Galaxy artist Nick Bradshaw with colors by Rich Woodall.
"Not only is Boston Comic Con drawing interest from the area's extensive comic book community, but it's becoming a destination event that brings tourists to Boston," said Kanieff. "The growing excitement around this convention demonstrates the strength and vibrancy of the creative community we have here in Boston and in the surrounding region."
More information about events, artists and celebrity guests can be found on www.bostoncomiccon.com. General admission and VIP tickets are on sale now, as are tickets for celebrity photo ops. Boston Comic Con is also accepting entries for this year's film festival.
For information on ticket sales please visit: www.bostoncomiccon.com.
Press Release:
Boston Comic Con has added several new guests to an already huge list of creators! Marvel Editor and talent scout C.B. Cebulski, who has worked on titles including X-Men, Avengers, and Spider-Man, will appear to conduct a limited number of portfolio reviews. This is a rare opportunity to sit down with Marvel's top talent scout and show off your talents. More information on the portfolio reviews and the schedule will be announced closer to the convention.
Additionally, Silver Age legend Neal Adams appears at Boston's biggest comic conventions once again! Neal has been one of the most influential artists in the industry both on the page and behind the scenes. From returning Batman to his dark and gritty roots to campaigning for creators' rights, Adams and his photo-realistic art have graced the pages of The Brave and the Bold, Deadman, Uncanny X-Men, Avengers, Green Lantern / Green Arrow, and most recently Batman: Odyssey.
Local artist Ming Doyle, whose credits include Guardians of the Galaxy, Jennifer's Body, Fantastic Four, and Tantalize, is a frequent guest of artist alley. She also co-created the webcomics The Loneliest Astronauts, Boldly Gone, and Mara from Image Comics. She recently drew Quantum & Woody for Valiant!
Artist Alex Saviuk appears once again at Boston Comic Con 2014. Alex began his career in the 1970s on Green Lantern, Flash, Hawkman, and Superman. He became well-known as a Spider-artist with a seven year run on Web of Spider-Man, and has drawn the Spider-Man newspaper strip since 1997. Other recent work includes penciling Stan Lee's The Mighty Seven for Archie Comics, and another daily comic, The Phantom.
The most beloved man in comics Frank Tieri is a writer whose credits include Wolverine, Deadpool, Iron Man, and Infinity Heist for Marvel Comics; and Savage Hawkman, JSA: Classified, Gotham Underground, and Outsiders for DC Comics. He also worked on the popular Marvel vs. Capcom video game series and the cartoon Ultimate Spider-Man!
Previously announced guests include Jason Momoa, Jewel Staite, Sam Witwer, Simon Bisley, Greg Capullo, Amanda Conner, Danielle Corsetto, Ivy Doomkitty, Adam Kubert, Carlos Pacheco, Jimmy Palmiotti, Eric Powell, Gail Simone, Stan Sakai, Jeff Smith, Scott Snyder, Skottie Young, and many more! For the full guest list plus artist alley, exhibitor, and film fest registration please check out the Boston Comic Con website!
Online ticket purchases are available at the link!
About Boston Comic Con:
The Boston Comic Con is a 100% independently run comic book show committed to bringing the biggest and best comic creators to New England. Run by fans for fans, Boston Comic Con is not affiliated with any other convention tour or corporate interests. Hosting over 120,000 square feet of vendors selling comic books, toys, posters, trading cards, and other pop culture memorabilia, this is a destination event for geeks of any stripe. This year's convention will be held Friday August 8th, Saturday August 9th and Sunday August 10th at the Seaport World Trade Center, 200 Seaport Blvd, Boston, MA 02210. For more information please go to our website at www.bostoncomiccon.com and follow us on Twitter (@BostonComicCon) and Facebook!
Press Release:
Planet Comicon 2014 will have more programming than ever before, with five rooms of events stretching over three days. This schedule is presented for your convenience. All events, panelists, and other details are subject to change.
Friday, March 14

3:00 – 3:50 PM

Margot Kidder: Superman's Lois Lane! Margot Kidder is most famous for her acclaimed performance as Lois Lane in four Superman films. ROOM 3501 (Upper level)
Webcomics: Inside Out Who needs ink on paper? Join a discussion of what it takes to create comics magic on the web. ROOM 2502 (Lower level)
Comics without Capes: Leading comics creators discuss crafting successful series outside the superhero genre.  Explore the worlds of cowboys, comedic teen soap opera, and even biographical comics. Moderated by Jai Nitz. ROOM 2504 (Lower level)

4:00 – 4:50 PM

Michael Dorn & Marina Sirtis: ST:TNG's Klingon and Betazoid stars take the stage to take you behind the scenes of one of the greatest science fiction series in history.ROOM 3501 (Upper level)
Craft Your Fandom: Cosplay from Concept to Completion: Join leading cosplay and prop-builder experts in a look at where to start making your favorite prop or costume. Featuring Abby DarkStar, Zen Dragon, and more to be announced. ROOM 2502 (Lower level)
Vampires Don't Sparkle: That's right…we said it! We want our meat eating, sunlight obliterating, butt-ugly vampires back! Bram Stoker would be doing cartwheels in his grave is he saw what vampires have become.  We are taking it back, today!!! ROOM 2503 (Lower level)

Visual Storytelling Success: Artists discuss their approach to creating comics that tells the story and engages the reader. ROOM 2504 (Lower level)
Kansas City Comics Creators: Kansas City has one of the most vibrant communities of comics creators. Jason Aaron and Ande Parks lead a panel of the local talent. ROOM 2505 (Lower level)

Saturday, March 15

11:00 – 11:50 AM

Wil Wheaton: He's back! One of Planet Comicon's favorite guests has returned. You know him from ST:TNG, The Big Bang Theory, Stand By Me, and much more. – ROOM 3501 (Upper level)
Bad Karma: Bad Karma is a creative collective, whose members include Alex Grecian, Jeremy Haun, B. Clay Moore, and Seth Peck. Their first joint project was Bad Karma Volume One featuring five original, creator owned concepts in self-contained stories. Meet the creators and listen as they answer questions about the Kickstarter process, the concept behind the book and what's next for Bad Karma. ROOM 2502 (Lower level)
Khemia Creations: The Art of Stage Combat: Come join Khemia Creations as we display a series of stage combat sketches that can be easily adapted into stage or video skits! After each showcase fight, a thorough dissection of the combat choreography will be given so that you can learn how it's done. ROOM 2503 (Lower level)
Sherlock Holmes: A Study in Fandom – Destination: 221B Baker Street – Sherlock Holmes fandom has never been more popular. Join an interactive Q&A covering the Holmes and Watson in every media, from novels to television, movies to comics. The panel includes Rob Davis (Illustrator of Sherlock Holmes: Consulting Detective), Tammy Lynn Garrison (Editor of Investigating Sherlock Holmes), and Ellie Ann Soderstrum (Producer of Steampunk Holmes). ROOM 2504 (Lower level)
Star Wars Costuming: Meet and Greet – Get to know the local Star Wars Costuming Group Chapters: 501st Legion, Rebel Legion, Mandalorian Mercs, and The Dark Empire. ROOM 2505 (Lower level)

Noon – 12:50 PM

Jewel Staite: Everything's Shiny! Jewel Staite portrayed Kaylee Frye in Firefly and Serenity, and Dr. Jennifer Keller on Stargate: Atlantis. –ROOM 3501 (Upper level)
Sexuality in Cosplay: A frank discussion of the role of sexuality in cosplay featuring prominent cosplay personalities. May not be suitable for all audiences. Parental guidance suggested. ROOM 2502 (Lower level)
Comic Geeks – A Web Series – A screening of the Comic Geeks pilot, a new series debuting in 2014. The story follows three friends at various stages of comic geekery: Dan, the die-hard weekly shopper, Jeff, the indie-only cartoonist, and Brian, who struggles with reading comics and acting like an adult. Together, the three try to figure out what makes a comic geek, and how to be an adult doing it. ROOM 2503 (Lower level)
Crowdfunding – Kickstarter. Indygogo. Rockethub. What's crowdfunding all about? How can creators like you use it to feed their creativity – any maybe event their families? ROOM 2504 (Lower level)
Marvel: Your Universe – What's happening now and next from Mighty Marvel? Leading Marvel creators take the stage. Featuring a roster of Marvel creators including Jason Aaron. Moderated by Marvel's V.P. of Creator Development, C.B. Cebulski. ROOM 2505 (Lower level)

1:00 – 1:50 PM

Brent Spiner & LeVar Burton: Two of Star Trek's most memorable performers tag-team on the Planet Comicon stage. Ask your questions of the actors who brought android Data and Chief Engineer Geordi La Forge to life. - ROOM 3501 (Upper level)
The Last Ride of Lee Salem, Editor of Calvin and Hobbes – Enjoy a Q & A with Lee Salem, the man who edited Calvin and Hobbes, For Better or For Worse, Doonesbury, The Far Side, Cathy, FoxTrot, The Boondocks, Cul De Sac, Lio and dozens of other comics. The industry icon is transitioning to the role of President Emeritus of Universal Uclick as of March 2014. He has a wealth of experience and stories that any comics fan and creator will find enlightening. Joining him will be those influenced by his work in the comics industry including Bill Amend, creator of Foxtrot. Plus, a there will be a reading of statements regarding his work provided by Bill Watterson (Calvin and Hobbes), Lynn Johnston (For Better or For Worse), Jan Eliot (Stone Soup), Richard Thompson (Cul De Sac) and Mark Tatulli (Lio). ROOM 2502 (Lower level)

Zero Budget Filmmaking – The internationally awarded Brass Engine Productions team will give you tips and tricks to make your film or series without spending a lot of cash. Come and get a Q&A with Director Ben Watkins, and watch clips from the production's web series and other projects done on a shoestring budget. – ROOM 2503 (Lower level)
Pencil, Brush, and Stylus: Comics Art Today – A panel of comics most popular artists discuss their projetcs, techniques, and inspirations. – ROOM 2504 (Lower level)

2:00 – 2:50 PM

Sylvester McCoy: The Tardis has landed… in Middle Earth? He's Radagast the Brown fromThe Hobbit movies! He's also Doctor Who's seventh Doctor! He's one of the biggest fandom mash-ups ever! Moderated by theTraveling the Vortex podcast crew – ROOM 3501 (Upper level)
Researching Comics with the Grand Comics Database – Dive deep into comics and comics history! Leading members of the Grand Comics Database community will be discussing a bit of the history of the GCD and its roots in the early days of internet comics fandom, along with its current status and abilities in helping people research various comic books and comic book creators. – ROOM 2502 (Lower level)
Charlton Arrow – From the 40s thru the 80s, Charlton was the "other" comics publisher of  mystery, romance, and superhero titles. Join Paul Kupperberg and Rick Stasi, two of the creators of Charlton Arrow, for a trip down memory lane and an introduction to their new comics zine that celebrate some of Charlton's lesser known creations. – ROOM 2503 (Lower level)
Deadpool Double Dare -Deadpool creators  display a dynamic dose of Deadpool discussion. – ROOM 2504 (Lower level)
Kids' Costume Contest: It's a cavalcade of cute! A special costume contest just for the younger set. – ROOM 2505 (Lower Level)

3:00 – 3:50 PM

Making of Archer – Discover the animation secrets behind FX's hit series Archer. Featuring storyboard artist Kevin Mellon and the team from Kansas City's own Trinity Animation. – ROOM 2502 (Lower level)
Breaking into Comics - How do you become a professional comic book or comic strip creator? Join a panel of editors who specialize in spotting new talent: C.B. Cebulski (VP of Creator Development at Marvel), Shena Wolf (Acquisitions Editor and Universal Uclick), and Joe Rybandt (Editor at Dynamite Entertaintment). – ROOM 2504 (Lower level)
John Ratzenberger: He may be most famous as Cliff Clavin from Cheers, but John Ratzenberger's nerd movie cred is truly amazing. "It's a little known fact" that his filmography includes Star Wars Episode V: The Empire Strikes Back, Superman: The Movie, Superman II, and every single Pixar movie ever made! – ROOM 2505 (Lower Level)

4:00 – 4:50 PM

Heroic Prose: Genre Fiction – Kings of the Keyboard and Princesses of Prose! A panel of prodigious purveyors of thrilling novels and short fiction reveal the stories behind their stories. – ROOM 2502 (Lower level)
Pros and Cons of the Shared Universe – SciFi4Me Radio's H20 podcast tackles explore the ups, downs, ins, and outs of consuming and creating tales in shared universes. Hosts Jason P. Hunt and Tim Harvey interview Star Trek novelist Kevin Dilmore. – ROOM 2503 (Lower level)
Announcement coming soon – ROOM 2504 (Lower level)
Zoie Palmer: A lively Q&A with one of the stars of the Syfy series Lost Girl. – ROOM 2505 (Lower Level)

5:00 PM until who knows when!
Adult Costume Contest: Captivated by cosplay creativity? This is your event! – ROOM 3501 (Upper level)

Sunday, March 16th

11:00 – 11:50 AM

Femi Taylor: The delightful Femi Taylor is best known for playing Jabba the Hutt's Twi'lek slave dancer Oola in Star Wars Episode VI: Return of the Jedi. She is a Nigerian-born British dancer and actress who spent years training with the London Contemporary Dance Company and the Alvin Ailey American Dance Theater in New York. In addition to RotJ, she appeared in the original London cast of Andrew Lloyd Weber's musical Cats! – ROOM 3501 (Upper level)
DC Universe: Best of the Best – A celebration of the best of DC Comics through the years, from the Golden Age to today. Join leading creators for a discussion of the DC Comics that inspired them! Moderated by long-time DC editor and writer Paul Kupperberg. – ROOM 2502 (Lower level)
Karate Chopping Robots & Killer Carnies: The Art and Science of Digital Comics and Games – Mobile-based comics and games are transforming the entertainment industry. Indie game and comic developers have more opportunity than ever before to make their mark and create some major waves. Join Kung Fu Robot creator Jason Bays and Burn the Lot co-creator Cameron Calder as they share their experiences in mobile-based interactive comic and game development. From concept to development to launch and beyond, these Kansas City-area veterans will offer their unique perspective to this exciting and ever-changing scene. – ROOM 2503 (Lower level)

Noon – 12:50 PM

David Yost  – The Blue Power Ranger has arrived! David Yost played Billy Cranston, the Blue Ranger, on the international television series Mighty Morphin Power Rangers, Power Rangers Zeo, and the film Mighty Morphin Power Rangers: the Movie. – ROOM 3501 (Upper level)
Timey Wimey Puppet Show – Direct from the YouTube web series and packed appearances at DragonCon and Gallifrey One, we're pleased to present  this family-friend Punch-and-Judy-inspired Doctor Who comedy puppet show.  The show is for all ages! – ROOM 2502 (Lower level)
Khemia Creations: Cosplay Photography and Modeling – Whether you're in front of behind the camera, this is the panel for you! We will be discussing techniques on how to make your cosplay photography go from a snapshot to a work of art! For those with camera in hand, we'll tell you how to make the most of your environments, angles, and lighting to ensure you can capture the best images at every convention. For those wanting to show off their costume creations, we'll give beginner modeling tips to offer your best side to camera every time! – ROOM 2503 (Lower level)
So you want to build an R2 Unit - Come join us for the in's and out's of building your own R2D2 or other Astromech droid. We will give you an idea of what it skills are needed, and the resources available to help you on your journey. – ROOM 2504 (Lower level)

Eddie McClintock: Eddie McClintock is best-known for his role as Secret Service agent Pete Lattimer on the Syfy series Warehouse 13. But, the actor is also an artist, who was inspired to purse his passion by comic books. He says, "It all started with Herb Trimpe andThe Incredible Hulk." Now is your chance to meet Pete Lattimer and learn the answers to your Eddie McClintock questions. – ROOM 2505 (Lower Level)

1:00 – 1:50 PM

Lee Majors: The Six Million Dollar Man  – An actor of international importance, Lee Majors has  continually proven himself to be a favorite of audiences worldwide. Lee Majors' performances and personas have made an indelible impact on television programs. From his initial role of Heath Barkley on The Big Valley to the Men From Shilo to Owen Marshall Counselor at Law to The Fall Guy and Raven. It was his starring role as Steve Austin on the overwhelmingly popular The Six Million Dollar Man that Lee became an icon and part of the American culture. – ROOM 3501 (Upper level)
How To Market Comic Strips Today – In previous decades, comic strips were the delicious and funny center of a reader's daily dose of communication, placed in the middle of their newspapers and hearts. Today, comic strips and webcomics have enjoyed a strong renaissance in pop culture. How has this happened; how are cartoonists sharing their art and stories today? This panel will share the wide experiences of print, syndicated and web cartoonists alike. From viral marketing, presences at events such as San Diego Comic Con and Planet ComiCon, social media outreach, tours and more, we'll hear from some of the engaging storytellers that are creating today. – ROOM 2502 (Lower level)
Star Wars in American Culture – Explore the influences and impact of the single most important film of the twentieth century. We will take a look at the many ways this pop culture phenomenon connects to our everyday lives. Presented by Dr. Bradley Will, Dr. Stephen Schleicher, and Dr. Scott Robson of Fort Hays State University. – ROOM 2503 (Lower level)
Dynamic Cover Design - Top artists reveal the tips and tricks that produce covers with a powerful pop. – ROOM 2504 (Lower level)
For the Love of Comics – What do you love about comics? Today's top creators, including Jason Aaron, discuss the comics they love the most. Moderated by C.B. Cebulski. – ROOM 2505 (Lower level)

2:00 – 2:50 PM
Concept Design for Comic Books - Comic and concept artist Steven Sanders has designed a number of characters and locations for Marvel Entertainment, among other companies. Using examples from Marvel, he'll explain how concept design in comics is different than concept design in video games or film, and will show what is needed to make good designs for comics. – ROOM 2502 (Lower Level)
50 Years of GI Joe – the first action figure – A history of GI Joe, the world's first action figure, from its beginnings 50 years ago in 1964, to the present day. We will discuss the evolution of the brand from a 12 inch everyman solider to a modern team of hundreds of small action figures, as well as several odd and interesting detours and off-shoots along the way. We also will cover the brand's current fandom, including online resources and fan projects. – ROOM 2503 (Lower Level)

DMC: Comics and Hip Hop – As a founder of Run-D.M.C., Darryl "DMC" McDaniels is a pioneer of hip hop culture. Now he's turned his creative passion to comics! Already a hero to his millions of fans around the world, DMC's accomplishments read like a laundry list of musical and cultural accolades: Grammy nominated musician, multi-platinum recording artist, Rock-N-Roll Hall of Fame inductee and rap/rock pioneer who's influenced music since the first time he's ever touched a mic. Adding to his long lists of firsts, DMC is teaming up with some prominent fixtures in the comic book and music world to craft the first 100% authentic, unapologetic, indie, hip hop comic book. – ROOM 2505 (Lower level)
4:30 – 6:00 PM
TREKtacular ST:TNG Cast Reunion: This is a separately ticketed event. Seating is extremely limited! See this page to order tickets. – ROOM 3501 (Upper level)
Planet Comicon is Kansas City's largest comic book and pop culture convention. Now in its thirteenth year! The convention will be held at the Kansas City Convention Center on March 14-16th. Please visit their website for the full guestlist, ticket information, and more!
Emerald City Comicon has added Jock, Brom, CB Cebulski, Kurt Busiek, Joe Quinones, Maris Wicks, Sina Grace, and many more more comic creators to their special guests roster in the new year! This year's ECCC will be held on March 28-30, 2014 Check out their website to find the latest on everything ECCC, including lists of guests, exhibitors, artists, schedules, gaming and events! www.emeraldcitycomicon.com
Brom
Gothic fantasy artist Brom is most well-known for his work on role-playing games. His recent works are Krampus: the Yule Lord, The Child Thief, The Plucker, The Devil's Rose.
CB Cebulski
Writer of such books as Wolverine: In The Flesh, Strange Tales, X-Infernus, Runaways, War of Kings: Darkhawk, Astonishing Tales, various What If? titles and Avengers Fairy Tales for Marvel Comics, for whom he is also a talent scout and editor.
Brad Guigar
Writer of Tales from the Con, creator/writer/artist of Evil Inc., Courting Disaster, and How to Make Webcomics.
Alvin Lee
A video game and game promotional artist, who has worked on League of Legends, Masters of the Universe, Marvel vs. Capcom.
Eddie Nunez
Cover artist for comics such as Ben 10, Ame-Comi Girls, Jinnrise, Fanboys vs. Zombies, Valen the Outcast.
Stephen Silver
Character designer for Disney TV Animation, Sony Feature Animation and Nickelodeon Animation, designing characters for shows such as Kim Possible, Danny Phantom, Kevin Smith's Clerks The Animated Series and many more.
Ryan Browne
Artist of Bedlam and The Manhattan Projects, co-creator of Smoke and Mirrors, creator of God Hates Astronauts and Blast Furnace.
Kurt Busiek
Eisner Award-winning writer/creator of Astro City, writer of Marvels, Superman, Conan, Trinity, JLA/Avengers, Marvels: Eye Of The Camera, Spider-Man/Mary Jane, Wednesday Comics, The Brave and the Bold, Iron Man, I Am An Avenger, Age Of Heroes, Kirby: Genesis and many more.
Shannon Denton
Writer of Pilot Season: Fleshdigger, Graveslinger, and Outlaw Territory, artist on Deadpool, Fantastic Four and Star Wars, character designer on X-Men:TAS and Spider-Man Unlimited, storyboard artist on TMNT & Avengers: EMH.
Sina Grace
Artist and writer for Regular Show, Adventure Time, The Walking Dead, The Li'l Depressed Boy comics, as well as Burn the Orphanage, Not My Bag.
B. Clay Moore
Writer of The Vampire Diaries, A+X, Ben 10, JSA Liberty Files: The Whistling Skull, Legends of the Dark Knight.
Jose Delbo
Recent recipient of the Inkpot Award for Achievement in Comic Arts, Delbo has been an artist in the comics industry for over fifty years, including runs on The Transformers, Thundercats, Detective Comics, and The Superman Family.
Dennis Hopeless
Writer of Cable And X-Force, Avengers Arena, The Answer!, Legion Of Monsters and X-Men: Season One.
Todd Nauck
Artist of Invincible Universe, DC Nation Super Spectacular, Spider-Man, and Teen Titans. Cover artist for FF, Guarding the Globe, and more.
Peter Nguyen
Artist on Batman Beyond, Batman Beyond: Unlimited, and Batman: Arkham Unhinged.
Joe Quinones
Artist on the upcoming Black Canary and Zatanna: Bloodspell graphic novel, as well as issues of FF, Batman '66, Batman Black and White. Cover artist for Captain Marvel, Serenity: Leaves on the Wind, Robocop: Last Stand, The Amazing Spider-Man.
Maris Wicks
New York Times bestselling illustrator of Primates: The Fearless Science of Jane Goodall, Dian Fossey, and Birutė Galdikas. Writer on Batman Black and White, colorist on Batman '66, and cover artist for Adventure Time.
Brian Buccellato
Co-writer on an upcoming run on Detective Comics, writer of Forever Evil: Rogues Rebellion, All New Executive Assistant: Iris, The Black Bat, and previously a co-writer and colorist on The Flash.
Jim Calafiore
Artist of Leaving Megalopolis, Red Lanterns, Green Lantern, Green Lantern: New Guardians, Secret Six, Deadpool, Suicide Squad, Batgirl, Exiles, New Excalibur and Aquaman.
Jon Goff
Writer for Spawn, Jack Rabbit, and Bungie's new video game Destiny.
Marat Mychaels
Cover artist for Grimm Fairy Tales, Joe Palooka, Army of Darkness, and penciller for Grifter.
Chris Roberson
Writer for numerous titles, including Codename: Action, Doc Savage, The Shadow, Edison Rex, The Mysterious Strangers, Masks.
Kyle Higgins
Writer of Batman Beyond 2.0, Nightwing, Masters of the Universe, Deathstroke, Supreme Power, Batman, Detective Comics and Captain America.
Jason Latour
Writer of Wolverine and the X-Men, Winter Soldier, Infinity: Against the Tide and Wolverine: Japan's Most Wanted, artist of Sledgehammer 44, Django Unchained and the upcoming Southern Bastards with fellow ECCC guest Jason Aaron.
Carlo Pagulayan
Artist of Iron Man, Red She-Hulk and Hulk, as well as cover artist of Alpha Flight, Uncanny X-Force, Guardians of the Galaxy, Incredible Hulks, Herc and Silver Surfer.
Stephen Segovia
Artist of Adventures of Superman, Superior Carnage, X-Treme X-Men and Silver Surfer. Cover artist of Red Hood and The Outlaws, Green Lantern: New Guardians and Red Lanterns.
Press Release:
Marvel To Conduct Programming Panels, Portfolio Reviews At Wizard World Philadelphia Comic Con, May 31 – June 2
Character-Based Entertainment Leader Brings 'Breaking Into Comics The Marvel Way' And 'From NOW To Infinity' To Pennsylvania Convention Center; Talent Scout C.B. Cebulski, Others To Review Attendees' Work
NEW YORK and PHILADELPHIA, May 16, 2013 – Marvel Entertainment will host two programming panels and conduct two portfolio reviews at the 2013 Wizard World Philadelphia Comic Con Friday, May 31, through Sunday, June 2 at the Pennsylvania Convention Center.
The panels are entitled "MARVEL: Breaking Into Comics the Marvel Way," set for Friday at 5 p.m. Saturday's panel, "MARVEL: From NOW! to Infinity," will take place from 4-5 p.m. Additionally, Marvel will be accepting portfolios on Friday and Saturday, and talent scout C.B. Cebulski and others will conduct reviews on Saturday and Sunday from 2-3:30 p.m. in Room 110.
"We are excited to bring an industry leader like Marvel to Wizard World shows," said John Macaluso, Wizard World CEO. "Many of our fans have a close connection with the movies, comics and characters Marvel produces, and these two panels and review sessions are excellent additions to an already packed lineup for Philadelphia Comic Con attendees."
Eisner Award Hall of Famer Stan Lee, co-creator of many of those characters, is among the headliners at Philadelphia Comic Con, which will be held May 30 – June 2. "Torchwood" and Zero Dark Thirty star John Barrowman, "Serenity" and Firefly standouts Gina Torres and Summer Glau, William Shatner ("Star Trek," "Boston Legal"), "The Walking Dead" trio of Michael Rooker, Norman Reedus and Jon Bernthal, Manu Bennett ("Arrow," The Hobbit: An Unexpected Journey) are among the top celebrities at the event.
Barry Kitson ("Amazing Spider-Man"), Phil Noto ("Uncanny X-Force"), Khoi Pham ("Scarlet Spider"), Julian Totino Tedesco ("Thunderbolts") and Leinil Yu ("Indestructible Hulk") lead a top-drawer collection of well-known artists and writers, many with Marvel connections, attending the show.
The first panel, "Breaking Into Comics the Marvel Way," features Kitson, Noto, Tedesco, Yu and Cebulski helping aspiring artists find out the answers on how to get their foot in the door and make their job MARVEL.
Then, "From NOW! to Infinity" highlights the current slate of Marvel NOW! titles and the forthcoming summer mega-event Infinity, with editors Tom Brennan and Jake Thomas, Noto, Pham, Yu, Cebulski and other Marvel guests taking questions on what's to come in the Marvel Universe.
Wizard World Comic Con events bring together thousands of fans of all ages to celebrate the best in pop-fi, pop culture, movies, graphic novels, comics, toys, video gaming, television, sci-fi, gaming, original art, collectibles, contests and more. Wizard World Philadelphia Comic Con show hours are Thursday, May 30, 3-8 p.m.; Friday, May 31, noon – 7 p.m.; Saturday, June 1, 10 a.m. – 7 p.m., Sunday, June 2, 10 a.m. – 5 p.m.
For more on the 2013 Wizard World Philadelphia Comic Con, visit http://www.wizardworld.com/home-pa.html.
About Marvel:
Marvel Entertainment, LLC, a wholly-owned subsidiary of The Walt Disney Company, is one of the world's most prominent character-based entertainment companies, built on a proven library of over 8,000 characters featured in a variety of media over seventy years. Marvel utilizes its character franchises in entertainment, licensing and publishing.
About Wizard World:
Wizard World (OTCBB: WIZD) produces Comic Cons and pop culture conventions across North America that celebrate graphic novels, comic books, movies, TV shows, gaming, technology, toys and social networking. The events often feature celebrities from movies and TV, artists and writers, and events such as premieres, gaming tournaments, panels, and costume contests.
The full event schedule can be found at www.wizardworld.com.
***** SAVE THE 2013-14 DATES *****
May 30 – June 2 – Wizard World Philadelphia Comic Con
June 28-30 – Wizard World New York City Experience
August 8-11 – Wizard World Chicago Comic Con
September 20-22 – Wizard World Ohio Comic Con
October 18-20 – Wizard World Nashville Comic Con
November 22-24 – Wizard World Austin Comic Con
January 24-26, 2014 – Wizard World Portland Comic Con
February 7-9, 2014 – Wizard World New Orleans Comic Con
April 4-6, 2014 – Wizard World St. Louis Comic Con
Via Marvel:
Marvel's Agent M joins Executive Editor Tom Brevoort, talent scout C.B. Cebulski and editors Ellie Pyle and Jordan D. White in Chicago, from April 26-28, for C2E2 2013! Will you be at the convention as well?
What are you most looking forward to seeing from Marvel at C2E2? Let us know in the comments below or on Twitter by tweeting @Marvel or using the hashtag #MarvelC2E2!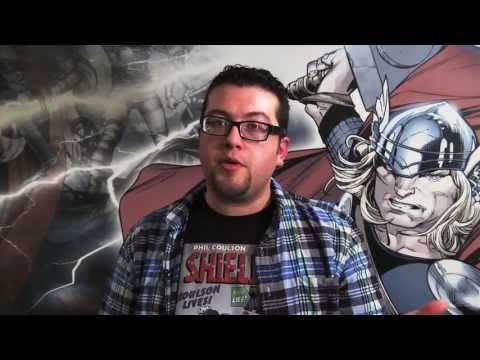 Press Release:
Marvel takes San Diego by storm this July during Comic Con International! Marvel will be in full force to provide an exclusive look into all things Marvel (Booth #2329)! No one can compare to what Marvel has planned because we're running a veritable cornucopia of panels that will span the four daylong event. If you're a True Believer (and we know you are) you can't afford to miss out on these exclusive Marvel panels! Trust us no fan will be disappointed because whether you're a lifelong Marvelite, or a casual fan there will be something for you to enjoy.
Thursday, July 21st
10:15 – 11:15 AM MARVEL: BREAKING INTO COMICS THE MARVEL WAY – You have the talent. You have the imagination. You have the "Go get 'em Tiger" determination that would make the Bullpen proud. But where do you go from there? Discover the next step in your budding comics career with world-renowned talent scout C.B. Cebulski, Skottie Young (Ozma of Oz), Humberto Ramos (Amazing Spider-Man), and Marvel SVP of Brand Planning & Communications Mike Pasciullo, as they give you all the right pointers towards getting a foot in the door at Marvel Comics. Discussing all entry points across every department, this can't miss panel is must for all Marvel hopefuls! Room 6DE
1:00 – 2:00 PM MARVEL DIGITAL: WHAT'S NEXT?! COMICS…AND BEYOND! – Join members of the Marvel Digital Media Group for the first word on Marvel digital comics, casual games, original streaming video productions, social media outreach and the future of Marvel's ever-expanding digital endeavors.  Room 7AB
4:30 – 5:30 PM MARVEL: NEXT BIG THING – The Marvel Universe is where the biggest comic stories happen—so wouldn't you like to be the first to know what we've got planned? Get the latest news on Marvel's plan for their biggest heroes and villains, with some surprises along the way! Join panelists Greg Pak (Incredible Hulks), Jonathan Hickman (FF), Jim McCann (Marvel Zombies Christmas Carol), Nick Spencer (Ultimate Comics X-Men), Editor in Chief Axel Alonso and more as they answer all your burning questions while giving you a sneak-peek at the future of Marvel! Room 6DE
Friday, July 22nd
12:30 – 1:30 PM MARVEL: YEAR OF THE X-MEN – The bonds of brotherhood have been broken between Cyclops and Wolverine, as their feud reaches its boiling point – tearing the X-Men apart in X-Men: Schism. But after the dust settles, what's next for the X-Men and their allies? Enter X-Men Regenesis, where we answer all your questions and reveal exclusive details about what's next! You've got questions & these people have answers! Writers Marjorie Liu (X-23), Rick Remender (Uncanny X-Force), Chris Yost (X-Men: First to Last) and Editor in Chief Axel Alonso are on hand to lay out what's going on with the X-Men for this all-new, all-DEADLY panel! Room 6DE
1:45 – 2:45 PM MARVEL: AMAZING SPIDER-MAN AND HIS AVENGING FRIENDS – Spider-Man's riding high after hitting the Big Time, but it'll all come crashing down this summer in Spider-Island! It's the fight of his life and we've got an in depth look inside the event that changes the course of Peter Parker's life. But ol' Web-Head isn't the only New Yorker with a major storyline this summer! Daredevil makes his return, Punisher wages a new war, Venom explores the dark side of saving the world and more of your favorite heroes are back with a vengeance! Sit down with our spectacular panel of creators, including Zeb Wells (Avenging Spider-Man), Rick Remender (Venom), Mark Waid (Daredevil), Greg Rucka (Punisher), Humberto Ramos (Amazing Spider-Man), Senior Editor Steve Wacker, Editor in Chief Axel Alonso and more as they lay the groundwork for New York City's greatest heroes. And don't forget to grab your exclusive Daredevil pin – only at this panel! Room 6DE
4:30 – 5:30 PM MARVEL TELEVISION PRESENTS: ANIME ON G4 – Marvel Television and G4 take your favorite characters – Iron Man, Wolverine, The X-Men and Blade –  to Japan to tell their stories in a whole new way, beautifully animated by the anime masters at Madhouse. Also, watch a never-before-seen episode with Marvel's Head of TV, Jeph Loeb and surprise guests! Plus, get a sneak peek at The X-Men's explosive first episode. Room 6BCF
Saturday, July 23rd
10:30 – 11:30 AM MARVEL TELEVISION PRESENTS – Marvel's Head of TV, Jeph Loeb, brings the inside scoop on Marvel's latest series that take your favorite heroes from page to screen. Get a first look at the premiere of The Avengers: Earth's Mightiest Heroes season 2, a sneak peek at a certain ULTIMATE webslinger, and a few other surprises from Marvel Television. Room 6BCF
12:30 – 1:30 PM MARVEL INTERACTIVE: MARVEL VIDEO GAMES – Learn all about Spider-Man: Edge of Time, X-Men Destiny, Captain America: Super Soldier, Super Hero Squad Online, Super Hero Squad 3DS and uDraw, Marvel Pinball and the Marvel Universe MMO. Also, find out some exciting new details about the future of Marvel vs. Capcom 3 and other Marvel games via exclusive trailers, surprise reveals, and Q&A with the game creators from some of the industry's top publishers. Room 6A
2:45 – 3:45 PM MARVEL: CUP O' JOE – This is it, Mighty Marvel fans- the no-holds-barred, anything goes, full of surprises panel you wait all year for, and it's here!  Marvel's Chief Creative Officer Joe Quesada takes on all questions, shocks the audience with jaw-dropping announcements, and keeps you guessing with surprise guests.  You never know who will show up, but you better be here, because this is the panel that everyone will be talking about! Room 6BCF
Sunday, July 24th
11:15 AM – 12:15 PM MARVEL: WOMEN OF MARVEL PRESENTED BY OXYGEN
Forget Spider-Woman & Emma Frost, meet the real Ms. Marvels of the comic world!  Join women from every discipline in the creative process at Marvel to hear what it's like working as a woman in comics today. These ladies are busting through the four-color ceiling! Guests include host Grace Randolph (The Weekly Watcher), writer Marjorie Liu (X-23), artist Christina Strain (Runaways) and more, brought to you by Oxygen. Room 5AB
12:30  – 1:30 PM MARVEL: FEAR ITSELF – The biggest comic book event of the year has everyone talking—but just want comes after it concludes? We've got the exclusive news here, with the big announcements that'll change the future of the Marvel Universe—and set your favorite characters in exciting new directions. Be the first to know the biggest news of the weekend as the creators behind the comic blockbuster event answer your questions and leave you cheering! Join Senior Editor Steve Wacker, Senior Vice President C.B. Cebulski,  Nick Spencer (Iron Man 2.0), and more for the news you can't miss. Room 6DE
And to learn more about the Amazing Spider-Man and Ghost Rider, Spirit of Vengeance films, check out Sony's panel on Friday, July 22nd at 2pm in Hall H!
Do yourself a favor True Believers, head on over to the San Diego Convention Center July 21st to the 24th. No fan can miss out on the fantastic line up of superstar talent, exciting panels, and loads of top secret information that Marvel will be dishing up in San Diego!
Can't make it to the convention? Follow along on the Marvel Events App and events.marvel.com, the best way to get exclusive videos, real-time announcements from the convention floor and up-to-the-minute panel, in-booth, and signing schedules of all your favorite Marvel creators!
Press Release:
Axel Alonso, Tom Brevoort, C.B. Cebulski, Steve Wacker, Nick Lowe, and Mark Paniccia appear for the Marvel: Meet The Publishers event at Midtown Comics Downtown.
Join us at Midtown Comics Downtown for Marvel: Meet the Publishers! This one of a kind event will feature a Q&A with the editor in chief and six editors at Marvel Comics, all of whom are instrumental in the daily creative decision-making process at Marvel, while guiding the fates of the iconic characters of the Marvel Universe. Learn more about what goes into the creation of events like Fear Itself, and Death of Spider-Man and ask about daily life in the fabled bullpen of Mighty Marvel Comics!
Axel Alonso, Editor in Chief
Tom Brevoort, Senior Vice President of Publishing & Executive Editor
C.B. Cebulski, Senior Vice President of Creative & Creator Development
Steve Wacker, Spider-Man Senior Editor
Nick Lowe, X-Men Senior Editor
Mark Paniccia, Hulk Senior Editor
Come with questions! This will be a unique event that will allow YOU to ask the hard-hitting questions you've been dying to know!
Learn what goes into making all of your favorite comics every week direct from the publishers!
Midtown Comics
64 Fulton Street, New York, NY 10038
On Medium at Large, the official blog for C2E2 promoters ReedPop, the Marvel signing schedule has been revealed:
FRIDAY, MARCH 18TH
2 to 3 PM
REILLY BROWN
TIM SEELEY
FRANK TIERI
FRED VAN LENTE
3 to 4 PM
BRYAN J.L. GLASS
JIM MCCANN
CHRIS SAMNEE
NICK SPENCER
4 to 5 PM
MATT FRACTION
DAVID LISS
STUART MOORE
5 to 6 PM
JEPH LOEB
5 to 6 PM
BRIAN MICHAEL BENDIS
6 to 7 PM
JOE QUESADA
–
SATURDAY, MARCH 19TH
11 AM to 12 PM
C.B. CEBULSKI
TONY MOORE
NICK SPENCER
ALESSANDRO VITTI
12 to 1 PM
JOE QUESADA
1 to 2 PM
STUART MOORE
RYAN STEGMAN
FRANK TIERI
DEXTER VINES
2 to 3 PM
JEPH LOEB
3 to 4 PM
REILLY BROWN
FRED VAN LENTE
DAVID LISS
CLAY MANN
4 to 5 PM
BRIAN MICHAEL BENDIS
MATT FRACTION
5 to 6 PM
ERIC CANETE
JANET LEE
JIM MCCANN
CHRIS SAMNEE
–
SUNDAY, MARCH 20TH
11 AM to 12 PM
C.B. CEBULSKI
BRIAN MICHAEL BENDIS
CLAY MANN
SKOTTIE YOUNG
12 PM to 1 PM
MATT FRACTION
RYAN STEGMAN
FRED VAN LENTE
ALESSANDRO VITTI
1 PM to 2 PM
JEPH LOEB