Brandon Routh signs at Krypton Comics on Saturday May 4, 2013 for Free Comic Book Day! Autographs are $40 each (your item or his photos). A picture with Mr. Routh is only $10.
In 2005 Brandon Routh soared into the media limelight when he was cast as "the Man of Steel" in director Bryan Singer's highly anticipated revival of the original superhero film franchise "Superman Returns."
Born in Des Moines, Iowa and raised in nearby Norwalk (about 100 miles south of Woolstock, the hometown of TV's original "Superman," George Reeves), the strapping 6'3″ Routh was a high school athlete who swam and played soccer, as well as starring in several theatrical productions. He attended the University of Iowa for a year before heading to Hollywood in search of his big break.
Routh got his first major role in 1999 on the television sitcom "Odd Man Out." This was followed by a four-episode stint on the nighttime soap "Undressed" and an appearance on "Gilmore Girls" in 2000. The actor earned steady work on the daytime drama "One Life to Live," originating the role of Seth Anderson from 2001-2002. His subsequent primetime credits include guest stints on "Cold Case," NBC's "Will & Grace" and "Oliver Beene." Routh recently appeared in an episode of NBC's horror anthology series FEAR ITSELF.
Brandon was seen in "Scott Pilgrim vs. The World," a Universal film opposite Michael Cera and directed by Edgar Wright. The comedy is about Scott Pligrim who must defeat his new girlfriend's seven evil ex's in order to win her heart. This past TV season, Routh guest stared on NBC's "Chuck" as "Shaw", a mysterious new spy who takes control as the new leader of Operation Bartwoski, becoming a mentor to Chuck and a rival in his affections for Sarah. Routh can also be seen in "Dead of Night," a film about the beloved Italian comic book hero, Dylan Dog. He graced the big screen in Kevin Smith's film, "Zack and Miri Make a Porno" with Seth Rogen and Justin Long, as well as "Life is Hot in Cracktown," based on the novel by Buddy Giovinazzo, where he stars opposite Lara Flynn Boyle and Kerry Washington, and the romantic comedy "Table for Three." He is in the post-production stage on "Unthinkable," a psychological thriller also starring Samuel L. Jackson, as well as the dark comedy "Miss Nobody," where he stars opposite Leslie Bibb and Missi Pyle, about a secretary who discovers she has a talent for murder as she ascends the corporate ladder. Brandon can now be seen in the indie feature "Fling," which recently premiered on Showtime, about a couple in an open relationship who are stretched to the breaking point when each partner finds themselves falling in love with other people. Mr. Routh most recently appeared in the sitcom "Partners" about two lifelong friends, who are both architects, and form a business partnership.
Krypton Comics
2819 South 125th Avenue #261, Omaha, NE 68144-3873
WonderCon's 25th anniversary took place last weekend, April 1st-3rd at the Moscone Center in San Francisco. As an attendee for many years, I was shocked to see how crowded the show was for the duration of the show. With Marvel making their first appearance at the show, as well as mainstays such as DC Comics, Image, and Aspen, the show definitely had a strong comic vibe. However, more than most years, especially with some of the most anticipated comic adapted movies coming out this summer, Wondercon also emphasized their entertainment presence. With Green Lantern cast members Ryan Reynolds and Blake Lively signing at the DC booth, to fan photo ops of Henry Cavill (newly cast as Superman in Zach Snyder's next project), Luke Evans, and Isabel Lucas for the new Immortals movie, and Lily Collins, Paul Bettany and Cam Gigandet promoting Priest, along with a surprise appearance from Brandon Routh joining costar Sam Huntington for Dylan Dog, this WonderCon almost felt like a pre San Diego Comic Con show. While it was definitely awesome to see the stars promoting their films, I do hope that Wonder Con can still retain it's own identity and not turn into a San Diego Comic Con part 2. And now, onto the photos!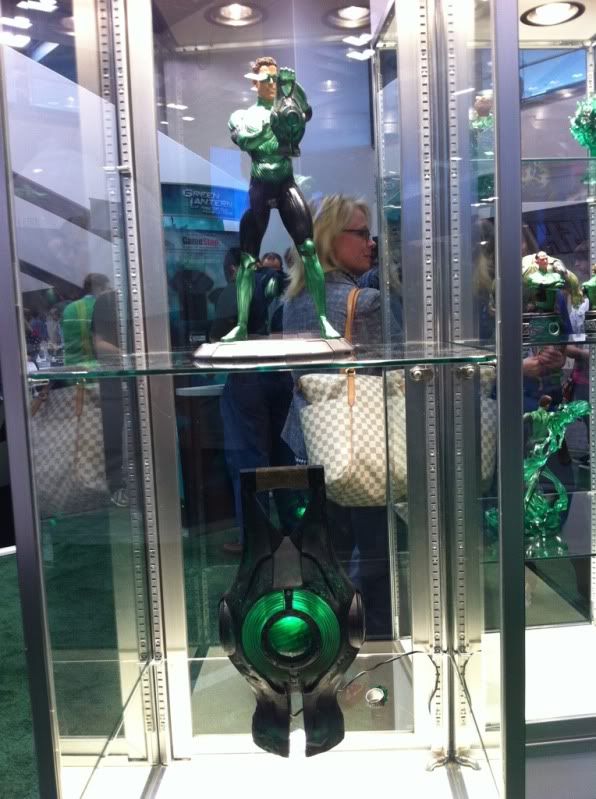 And of course, what good is a con without Cosplay? Here's some of the best ones I saw at the show:
Michael Cera, Mary Elizabeth Winstead, Jason Schwartzman, Brandon Routh, Anna Kendrick, Satya Bhabha, Johnny Simmons, and Mark Webber with director Edgar Wright and comic book creator Bryan Lee O'Malley will be on-hand to sign Blu-ray/DVD copies of Scott Pilgrim vs. the World.
WHERE: Amoeba Music, 6400 Sunset Boulevard, Hollywood, CA 90028
TIME: 6:30pm get in line early!
ADDITIONAL INFORMATION: The first 200 fans to purchase the Blu-ray/DVD (starting Tuesday, November 9th at 10:30am) will receive a special pass for the signing. Fans may also come and join the "wait-list" to participate in the signing if time permits.
The Autograph Schedule for SDCC is now available.
Scheduled signers, just to name a few, include Olivia Munn, Clive Barker, Neil Gaiman, John Kricfalusi, James Jean, Jim Caviezel, Jamie Campbell-Bower, Robert Carlyle, Alaina Huffman, Ming-Na, Adam West, Alan Dean Foster, Jim Valentino, Brandon Routh, Sam Huntington, Yaphet Kotto, Elvira, Thomas Jane, Kathy Najimy, Adrian Paul, Brande Roderick, J. Michael Straczynski, and Jane Wiedlin.
Located upstairs in the Sails Pavilion, the Autograph Area is the place to go for a special memento from a variety of artists, authors and actors from every era of popular culture. Some are signing right after their spotlight panel, so check the program grid daily.

The Autograph Area is open from 11:00 AM to 7:00 PM Thursday through Saturday, and 11:00 a.m. to 5:00 p.m. Sunday. No autograph sessions will be held before or after these times, but fans are welcome to come on up and get in line when the convention hall opens.

Due to high demand and the limited time available from notables appearing to sign autographs, the Autograph Area Coordinator may at any time shut down a line, even if people are still waiting for an autograph. We apologize for any inconvenience or disappointment.

Changes and surprise additions will occur throughout the show, so be sure to check the daily newsletter and the information boards located throughout the center. Schedules will be posted at the Autograph Area Information Desk, staffed 10:30 AM to 7:00 PM Thursday through Saturday, and 10:30 AM to 5:00 PM Sunday.

Most autograph signings are of a limited nature. Your badge does not guarantee autographs at any event.
All guests (that are at tables, booths, etc.) are required to sign one Program Book for free.
The wait is over! Comic-Con International has announced the programming for Preview Night, Wednesday, July 22nd, and Thursday, July 23rd.
Where else can you see Dave Gibbons, Robert Zemeckis, Tim Burton, Stan Lee, James Cameron, Sigourney Weaver, Terry Gilliam, and Nicholas Cage in the same day?
Everyone will be picking it apart and naming their favorites in the days to come, but here are a few things that caught my eye already:
10:15-11:15 Summit Entertainment: Astro Boy— A superhero origin story set in a futuristic world, Astro Boy is an all-new CG-animated feature film based on the classic manga about a young robot with incredible powers and his adventure-filled journey in search of his identity and destiny. Director David Bowers, producer Maryanne Grager, and stars Freddie Highmore (Astro) and Kristen Bell (Cora) debut footage exclusive to Comic-Con 2009 and answer your questions about bringing this beloved hero to the big screen. Room 6BCF
10:30-11:30 Motion Comics: Graphic Novels in The Digital Age— Warner Premiere is one of the pioneers in the production of Motion Comics, which include Watchmen, Peanuts, Batman: Black and White, and many others. Motion Comics are short-form videos that use subtle movements, voice-overs, sweeping music scores, and stunning comic book artwork to bring an engaging visual experience to life. Moderated by Gregory Noveck (DC Comics), with panelists Paul Levitz, (DC Comics, Batman: Black and White), Dave Gibbons (Watchmen, Batman: Black and White), Paul Dini (Batman: Black and White, Mad Love), Lydia Antonini (Warner Premiere), Dylan Coburn (Karactaz, Superman: Red Son), and Stephen Fedasz (Perpetual Notions), who discuss graphic novel storytelling and production in the digital age. Attendees will also see the debut of two DC Motion Comic series during this panel. Room 6DE
11:00-12:30 Disney: 3D Panel— Walt Disney Pictures presents key filmmakers, select cast members and previously unseen footage from its upcoming slate, including Disney's A Christmas Carol, Alice In Wonderland and Tron. Special guests include Robert Zemeckis, Tim Burton, Sean Bailey, Steve Lisberger, and moderator Patton Oswalt. Hall H
11:15-12:15 The Middleman Cast Reunion and Lost Episode Table Read— Creator Javier Grillo-Marxuach (Lost) and the complete cast—including Matt Keeslar, Natalie Morales, Brit Morgan, Mary Pat Gleason, Jake Smollett, Mark Sheppard, Brendan Hines, Sarah Watson, Jordan Rosenberg, Margaret Dunlap, and Andy Reaser—reunite to celebrate the DVD release of The Middleman: The Complete Series from Shout! Factory, with an exclusive table read of the lost 13th episode, The Doomsday Armageddon Apocalypse, which was never produced for television but is now available as a graphic novel from Viper Comics. Room 6A
11:45-12:45 DC: Superman: Two Worlds— Torn between New Krypton and Earth, the Man of Steel has only just begun his latest adventure. You've seen the stories: a new planet of Kryptonians; scores of super-powered beings. The people behind Superman's future are here to face the most trying times in his life. Meet the talented folks behind Superman as they give you a glimpse of what is in store for our favorite Super-family. Featuring Superman group editor Matt Idelson, writers Geoff Johns (Adventure Comics, Superman: Secret Origins), Greg Rucka (Action Comics), James Robinson (Superman), Sterling Gates (Supergirl), Renato Guedes (Superman), and more! Room 6DE
12:45-1:45 Disney: Stan Lee's Time Jumper— Don't miss Stan Lee and Walt Disney Studios Home Entertainment as they present a special sneak peek of their new digital motion comic series Time Jumper. Comic book legend Stan Lee is joined by Natasha Henstridge (one of the character voices in Time Jumper), Omar Ponce (writer), and Anthony Diecidue (artist) for a Q&A session. Room 6BCF
12:45-2:00 20th Century Fox and James Cameron present Avatar— In this first public screening of footage in 3D from his much-anticipated action/adventure/fantasy, James Cameron, producer Jon Landau, and cast members take you to a spectacular new world beyond imagination. Conceived 14 years ago and over four years in the making, Avatar breaks new ground in delivering a fully immersive, emotional story and reinvents the movie-going experience. Hall H
2:00-3:00 Sony Pictures Animation: Cloudy with a Chance of Meatballs— In 2009, Columbia Pictures' and Sony Pictures Animation's Cloudy with a Chance of Meatballs will be the most delicious event since macaroni met cheese. Inspired by the classic children's book, the film focuses on a town where food begins to fall from the sky like rain. Bill Hader (Saturday Night Live, Night at the Museum: Battle of the Smithsonian) is the voice of Flint Lockwood, a young inventor who dreams of creating something that will improve everyone's life. Anna Faris (The House Bunny) takes on the role of Sam Sparks, a weathergirl covering the phenomenon who hides her intelligence behind a perky exterior. James Caan plays Tim Lockwood, Flint's technophobic father. SNL's Andy Samberg plays Brent, the town bully who has plagued Flint since childhood. Bruce Campbell plays Mayor Shelbourne, who figures out that Flint's invention can put the town, and more importantly himself, on the map, and Mr. T plays the by-the-rules town cop, Earl Devereaux. Bobb'e J. Thompson (Role Models) is Carl Devereaux, Earl's son. Appearing in person: Anna Faris, Bill Hader, Andy Samberg, Bobb'e J. Thompson, and directors Chris Miller and Phil Lord. Room 6BCF
2:15-3:15 Summit Entertainment— Summit Entertainment presents a sneak peek of exclusive footage of some of its upcoming major film releases!
Astro boy—A classic superhero origin story set in a futuristic world, Astro Boy is an all-new CG-animated feature film about a young robot with incredible powers and his adventure-filled journey in search of his identity and destiny. Join Freddie Highmore and Kristen Bell as they premiere the final trailer for Astro Boy before it's in theaters.
Sorority Row—When five sorority girls inadvertently cause the murder of one of their sisters in a prank gone wrong, they agree to keep the matter to themselves and never speak of it again, so they can get on with their lives. This proves easier said than done, when after graduation a mysterious killer goes after the five of them and anyone who knows their secret. Join the cast of Sorority Row as they debut footage from the film exclusive to Comic-Con 2009.
The Twilight Saga: New Moon—Summit Entertainment is proud to present the panel for The Twilight Saga: New Moon, the highly anticipated sequel to last year's box office smash Twilight. Surprise members of the cast will answer your questions about the second film in the series and debut never-before-seen footage from the new film.
Hall H
3:00-4:00 Robot Chicken with Titan Maximum— Seth Green (co-creator, Robot Chicken and Titan Maximum), Matthew Senreich (co-creator, Robot Chicken and Titan Maximum), Tom Root (head writer, Robot Chicken/co-creator, Titan Maximum) and Doug Goldstein (head writer, Robot Chicken) with Chris McKay, Breckin Meyer, Kevin Shinick, Mike Fasolo, and Dan Milano discuss the popular Adult Swim series Robot Chicken. They will also discuss the upcoming new stop-motion animated series Titan Maximum, slated to premiere on Adult Swim this fall. Join this meet-up of show creators, writers and voice actors for a Q&A, moderated by Keith Crofford, vice president of Adult Swim production. Room 6A
3:00-4:00 Masters of the Web— For the third year in a row the most popular genre and movie websites are coming together to discuss how new media have affected moviemaking, what it takes to run a popular site, and much more in a panel discussion and Q&A session. Participants include Robert Sanchez (IESB.net), Ryan Rotten (Shocktilyoudrop.com), Mike Sampson (Joblo.com), Jeremy Smith (Aintitcoolnews.com), Brad Miska (Bloody-Disgusting.com), Drew McWeeny (Hitfix.com), Devin Faraci (CHUD.com), Paul Christensen (Movieweb.com), Wilson Morales (Blackfilm.com/AOL Black Voices), Vic Holtreman (Screenrant.com), and George Roush (Latinoreview.com). Director Kevin Munroe (TMNT, Dead of Night) moderates, with Brandon Routh and Sam Huntington on hand to preview an exclusive sneak peek of their new film Dead of Night, based on the Dylan Dog comic books. Room 32AB
3:30-5:00 Golden and Silver Age of Comics— A Comic-Con tradition: the yearly gathering and discussion of the clan of some of the finest comic book creators ever to put pen or typewriter to paper! This year's panel—moderated by Mark Evanier—includes Comic-Con special guests Murphy Anderson (Hawkman), Gene Colan (Tomb of Dracula), Ramona Fradon (Aquaman), Russ Heath (The Haunted Tank), Jack Katz (The First Kingdom), Jerry Robinson (Batman), and Leonard Starr (Mary Perkins On Stage). Both Katz and Starr, known best for their underground comix and comic strip work, respectively, also worked in comics in the Golden and Silver Ages. The stories these people can tell are the stuff of legend…be a part of the yearly magic of this panel. Room 8
3:45-4:45 Entertainment Weekly: Wonder Women: Female Power Icons in Pop Culture— EW will moderate a conversation with Sigourney Weaver (Avatar), Elizabeth Mitchell (Lost), Kristen Bell (Veronica Mars), and other stars about the actresses who have redefined the rules and the female characters that have shattered the glass ceiling for all women. Basically: a discussion with women who kick ass. Ballroom 20
4:45-5:15 Terry Gilliam's The Imaginarium of Dr Parnassus— Celebrating the 40th Anniversary of both Comic-Con and Monty Python, we welcome the sole American Python, the great animator and director Terry Gilliam (Time Bandits, Brazil, 12 Monkeys) to introduce you to his new film starring Christopher Plummer, Johnny Depp, Heath Ledger, Colin Farrell, Jude Law, Verne Troyer, Tom Waits, and Lily Cole. Dr. Parnassus is a fabulous anachronism, touring the streets of modern-day London in a horse-drawn carnival wagon accompanied by his beautiful daughter, devoted dwarf, and neophyte barker. On stage Parnassus plays a holy man whose Imaginarium can realize the innermost fantasies of all who dare to enter. Backstage, he is a drunkard, a gambler who centuries ago lost a wager with the Devil and must now pony up with his daughter once she turns sixteen. Tomorrow. Yet, there may still be hope for the Doctor and Valentina in the person of Tony, a well-dressed amnesic they rescue from a perilous fate and invite into their world of unrelenting magic and possibility. Hall H
5:00-6:00 Showtime: Dexter— Calling all Dexter fans! If you're a Dexter fanatic and can't wait for the new season, you don't want to miss this killer panel! Moderator Ralph Garman (KROQ Entertainment Reporter) presides over a revealing interview and Q&A session with the stars and executive producers of Dexter. Plus, get an exclusive first look at clips from the new season! Featured panelists include series star/executive producer Michael C. Hall (Dexter), Julie Benz (Rita), Jennifer Carpenter (Deb), and executive producers John Goldwyn, Sara Colleton, Clyde Phillips, and Melissa Rosenberg. The new season premieres September 27 at 9:00 PM EST/PST only on Showtime! Ballroom 20
5:45-6:45 Kick-Ass— World premiere footage from Kick-Ass, based on Mark Millar's bestselling comic, is presented by director Matthew Vaughn (Stardust, Layercake). Joining him on the panel are Nicolas Cage, Christopher Mintz-Plasse (Superbad), and comic co-creator John Romita Jr., among others, including a surprise guest. You don't want to miss the chance to be the first to experience this gritty, brash, and funny actioner. Hall H
9:30-12:00 Halloween Comes Early: Trick 'r Treat Screening— Be among the first to see writer/director Michael Dougherty's (Superman Returns, X2) creepy, darkly comic celebration of the scariest night of the year. Trick 'r Treat takes the Creepshow/Tales from the Crypt approach to nefarious new depths with four interwoven tales set on Halloween night: a high school principal who moonlights as a vicious serial killer; a young virgin whose quest for that special someone takes a gruesome turn; a group of teens who carry out a cruel prank with disastrous consequences; and a cantankerous old man who battles a mischievous trick-or-treating demon. Prior to the screening, Ain't It Cool News mogul Harry Knowles will moderate a panel featuring Michael Dougherty and members of the cast, including Anna Paquin (True Blood, X-Men), Tahmoh Penikett (Battlestar Galactica, Dollhouse), and Brian Cox (The Bourne Identity, X2). A collection of creepy stories that mixes fun with fear, candy with poison, and laughter with screams, the critically acclaimed Trick 'r Treat will be released on Blu-ray Hi-Def and DVD and On Demand by Warner Home Video in October. Ballroom 20
Dead of Night stars Brandon Routh, Sam Huntington, Anita Brie, along with Director Kevin Munroe, will preview the film at The Masters of the Web panel and sign autographs immediately after:
The Masters of the Web, yes we are callous enough to call ourselves that, will be holding a panel again this year at the largest gathering of geeks anywhere on Earth – San Diego Comic Con International.

The panel will be held on Thursday from 3:00 – 4:00 in Room 32AB. Last year it was standing room only so if you are coming, plan to get there early!

We've got some big surprises with director Kevin Munroe moderating the panel this year as well as stars Brandon Routh, Sam Huntington and Anita Briem in attendance to give us a sneak peek at the big screen adaptation of the Dylan Dog comic books, DEAD OF NIGHT.

An autograph signing session for DEAD OF NIGHT will immediately follow the panel and will include Brandon Routh, Sam Huntington, Anita Briem and Kevin Munroe over in Autograph Alley. An exclusive First Look DEAD OF NIGHT poster will be given away.

Masters of the Web Panel with an Exclusive Sneak Peek at Dead of Night – For the third year in a row the most popular genre and movie websites are coming together to discuss how new media have affected movie making, what it takes to run a popular site, and much more in a panel discussion and Q&A session. Participants include Robert Sanchez (IESB.net), Ryan Rotten (Shocktilyoudrop.com), Mike Sampson (Joblo.com), Jeremy Smith (Aintitcoolnews.com), Brad Miska(Bloody-Disgusting.com), Drew McWeeny (Hitfix.com), Devin Faraci (CHUD.com), Paul Christensen (Movieweb.com), Wilson Morales (Blackfilm.com/AOL Black Voices), Vic Holtreman (Screenrant.com) and George Roush (Latinoreview.com).
Source: IESB.net