Neil Gaiman (American Gods, Coraline, Sandman) appears at the Tulsa Performing Arts Center on Tuesday, March 10, 2015 at 7:00 PM!
Bestselling author Neil Gaiman is listed in the "Dictionary of Literary Biography" as one of the top ten living post-modern writers. A prolific creator of works of prose, poetry, film, journalism, comics, song lyrics, and drama, Gaiman's latest book is "The Truth Is a Cave in the Black Mountains."
Tickets available at the link…
Tulsa Performing Arts Center
110 East 2nd Street, Tulsa, OK 74103
(918) 596-7122
Writer/director John Michael McDonagh and actor Brendan Gleeson appear for a special advance screening of Fox Searchlight's CALVARY to be followed by a Q & A on Tuesday July 22, 2014 at 7:00 PM. Presented by the Irish Film Festival.
Get free tickets at the link SOLD OUT
Kendall Square Cinema
1 Kendall Square, Cambridge, MA 02139
617-621-1202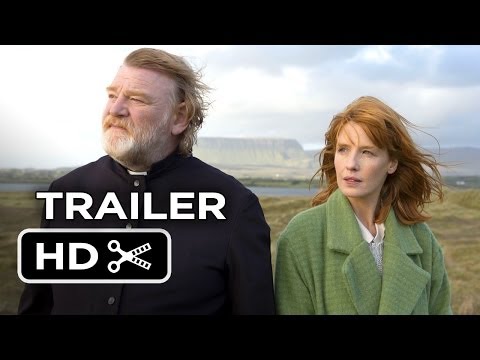 Writer Neil Gaiman (Sandman, American Gods, Doctor Who) speaks at Rowan University on Friday March 7th at 7:00 pm! This lecture is open to the public. Please note, there will be no book signings before or after this lecture.
Rowan University
201 Mullica Hill Road, Glassboro, NJ 08028
(856) 256-4000
Neil Gaiman and Patton Oswalt appear on Tuesday, June 28th at 8pm (Doors at 7:00pm).
New York Times bestselling author, Neil Gaiman, discusses American Gods: The Tenth Anniversary Edition with comedian Patton Oswalt at the historic Saban Theatre in Beverly Hills.
First published in 2001, American Gods became an instant classic—an intellectual and artistic benchmark from the multiple-award-winning master of innovative fiction, Neil Gaiman. Now discover the mystery and magic of American Gods in this tenth anniversary edition. Newly updated and expanded with the author's preferred text, this commemorative volume is a true celebration of a modern masterpiece by the one, the only, Neil Gaiman.
CLICK HERE FOR TICKETS: $15 without book; $35 with book*
*Note: Mr. Gaiman will only be pre-signing books for ticket buyers who have ordered Admission w/ Book in advance. If you would like a signed copy of American Gods: The Tenth Anniversary Edition from this event, it's imperative that you order accordingly now as there will not be an opportunity after the event to get additional books signed.
**All tickets and books will be available for pickup at Saban Theatre Will Call night of show. No physical tickets will be mailed for this event.
Bestselling author Neil Gaiman has long been one of the top writers in modern comics, as well as writing books for readers of all ages. He is listed in the Dictionary of Literary Biography as one of the top ten living post-modern writers, and is a prolific creator of works of prose, poetry, film, journalism, comics, song lyrics, and drama.
His New York Times bestselling 2001 novel for adults, American Gods, was awarded the Hugo, Nebula, Bram Stoker, SFX, and Locus awards, was nominated for many other awards, including the World Fantasy Award and the Minnesota Book Award, and appeared on many best-of-year lists.
Saban Theatre
8440 Wilshire Blvd, Beverly Hills, CA 90210
Neil Gaiman appears on Friday, June 24, 2011 at 8:00 p.m.
HURRY! Tickets can be purchased through The Fitzgerald Theater's box office at 651-290-1200.
Neil Gaiman is one of the most engaging, smart writers we know. (@neilhimself) Turns out he's pretty funny, too. He's behind the Sandman graphic novels – the only comics to ever make the New York Times bestseller list. He's won a ton of awards for his writing – The Newberry Medal, the Carnegie Medal in Literature the Bram Stoker award. His written books and screenplays – "American Gods", "The Graveyard Book", "Coraline", "Beowulf". He returns to Wits™ this spring and charms us all with his English accent and his way with words.
Paste magazine has called him one of the "100 Greatest Living Songwriters." Stephen King has said of one of Josh's songs: "This is the most exuberant outburst of imagery since Bob Dylan's "A Hard Rain's A-Gonna Fall," in 1963." Most everybody agrees Josh Ritter is a rare talent. (@joshritter) He will woo you from the stage of the Fitzgerald at this final Wits show of the season, where you can also be one of the first to get his new novel, "Bright's Passage" (out in bookstores June 28, 2011). It's a book that inspired Pulitzer Prize-winning author Debby Applegate say "In his debut novel Josh Ritter displays the same love of language and historical detail, the same irresistible combination of wit and earnestness, that make him such a brilliant songwriter. He's created a genuine work of literature." You would be crazy to not see this show.
Bonus: Kevin Murphy and Bill Corbett – the Box Dwellers! For ten years Kevin Murphy (@kwmurphy) co-wrote and directed the Peabody Award-winning series Mystery Science Theater 3000, and starred as the plucky red robot Tom Servo. Bill Corbett (@billcorbett) also wrote and performed on the show as well, providing the voice of the robot Crow (v.2.0) and playing various other strange characters — including the all-powerful but clueless alien The Observer (a.k.a. "Brain Guy"). They both are part of the RiffTrax team that makes MP3 tracks you can play in-sync with your favorite movies. We've asked them to come and riff on Wits™. They'll be in a box seat at the Fitz, talking about the show and what people are saying on Twitter. Like our own, modern-day Statler and Waldorf.
Fitzgerald Theatre
10 E. Exchange St, St. Paul, MN