Author George R.R. Martin (Game of Thrones) appears at the Cocteau Cinema on Wednesday June 18th at 6:20 pm for a reading and interview to benefit the New Mexico Book Association. The interview will be conducted by local radio personality Mary-Charlotte Domandi. The focus will be on Mr. Martin's experiences in publishing and his views on the rapidly-changing book business, topics that should be of great interest to our members.
The cost is $10 for NMBA members and seniors, and $12 for everyone else.
Jean Cocteau Cinema
418 Montezuma Ave Santa Fe NM 87501
(505) 992-8783
Ron Perlman, star of Beauty and the Beast, Hellboy, Sons of Anarchy, and Pacific Rim just to name a few has been an announced as a guest of Emerald City Comicon 2014! Mr. Perlman will appear on Saturday and Sunday only.
His voice credits include multiple video games (Fallout, HALO, Lords of Everquest) and animated series (particularly his role as Slade "Deathstroke" Wilson in multiple DC Comic cartoons).
This year's ECCC will be held on March 28-30, 2014 Check out their website to find the latest on everything ECCC, including lists of guests, exhibitors, artists, schedules, gaming and events! www.emeraldcitycomicon.com
Animator Ron Husband appears at Barnes & Noble on Saturday November 23, 2013 at 1:00 PM to sign his new book, Quick Sketching! A veteran of Disney Studios Mr. Husband worked on many feature films including The Rescuers, Pete's Dragon, The Small One, The Fox and the Hound, The Black Cauldron, The Great Mouse Detective, Oliver & Co., The Little Mermaid, The Rescuers Down Under, Aladdin, The Lion King, Beauty and the Beast, Hercules, Atlantis: The Lost Empire, Fantasia 2000, and Treasure Planet before moving on from the animation world into the publishing world and working as a  Character Artist for Disney Consumer Products.
Barnes & Noble
13400 Maxella, Marina Del Rey, CA 90292
310-306-3213

Beauty and the Beast by Andy Park.
The cast of the CW hit show Beauty and the Beast, including stars Kristin Kreuk and Jay Ryan, along with executive producers Jennifer Levin and Sherri Cooper spoke at SDCC 2013, and Convention Scene's own Richard Oh was there.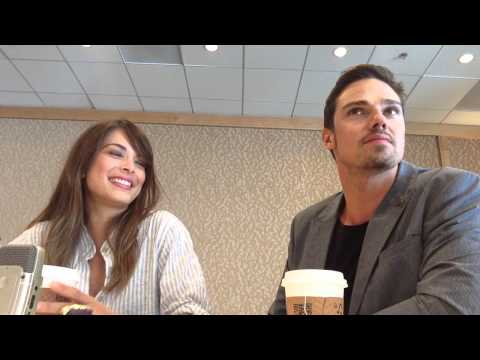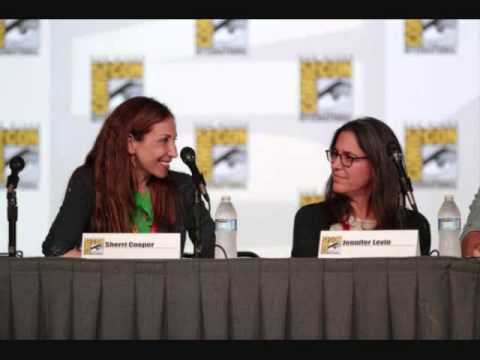 The executive producers and stars of Beauty and the Beast were interviewed at Comic Con in San Diego, and Convention Scene's own Richard Oh was there. Listen to the audio below.
Press Release:
CBS TELEVISION STUDIOS TO FEATURE WORLD PREMIERE SCREENINGS OF HIGHLY-ANTICIPATED NEW SERIES "Elementary" AND "Beauty And The Beast" AT COMIC-CON 2012
Star-Studded Panels to Include Jonny Lee Miller and Lucy Liu for "Elementary," and Kristin Kreuk and Jay Ryan for "Beauty And The Beast"
June 26, 2012 – Los Angeles – CBS Television Studios will feature the world premiere screenings of its highly-anticipated fall series Beauty And The Beast and Elementary at Comic-Con 2012 during back-to-back panels inBallroom 20 on Thursday, July 12. After premiering the first episodes exclusively for Comic-Con fans, panel discussions will follow with producers and fan-favorites Kristin Kreuk and Jay Ryan from Beauty And The Beast and producers and series stars Jonny Lee Miller and Lucy Liu for Elementary.
Beauty And The Beast Screening and Panel Hashtag: #batbSDCC
(Thursday, July 12 at 3:30-4:35 PM, Ballroom 20)
Kristin Kreuk ("Smallville") and Jay Ryan ("Terra Nova") along with Executive Producers Jennifer Levin ("Without a Trace"), Sherri Cooper ("Brothers & Sisters"), Brian Peterson ("Smallville") and Kelly Souders ("Smallville") discuss the new CW fall series, a modern adaptation of a beloved fairy tale. Centering on Catherine Chandler (Kreuk), a tough-minded NYPD homicide detective who is haunted by witnessing her mother's murder nine years ago – as well as the murderer's quick demise at what she perceived to be the hands of a beast. After years of searching, Catherine finally discovers the beast is Vincent Keller (Ryan), a survivor of a military experiment that went disastrously wrong and left him to lead a secret life in hiding. Join the cast and producers for an exclusive viewing of the first episode, followed by a panel discussion moderated by Dalton Ross (Assistant Managing Editor,Entertainment Weekly).
Kreuk, Ryan and the show executive producers will participate in an exclusive autograph signing following the panel at the CW/CBS Booth at 5:00-6:15 PM on the convention floor.
For the latest updates on Beauty And The Beast and BTS coverage of Comic-Con, go to:www.cwtv.com/beautyandthebeast, www.facebook.com/BeautyandtheBeast; Twitter: @CW_Network, @CBSTVStudios, @MsKristinKreuk
Elementary Screening and Panel Hashtag: #ItsElementary
(Thursday, July 12 at 4:40-5:45 PM, Ballroom 20)
Sir Arthur Conan Doyle introduced the world to Sherlock Holmes and Dr. Watson over 120 years ago, and this fall on CBS the legendary characters get a contemporary update cracking cases in present-day New York City. Brilliant investigator Sherlock, played by Jonny Lee Miller ("Dexter"), is a recent rehab graduate paired with his worst nightmare: sober coach Joan Watson, played by Lucy Liu ("Charlie's Angels"). Together, Sherlock's unique detective skills and Watson's medical expertise form a formidable force capable of solving the NYPD's most impossible cases. Be the first to see the premiere episode of the new television series followed by a panel discussion with series stars Jonny Lee Miller, Lucy Liu, Executive Producers Robert Doherty and Carl Beverly and moderated by Entertainment Weekly's Assistant Managing Editor Dalton Ross.
For the latest updates on Elementary and behind-the-scenes coverage of Comic-Con 2012, go to www.cbs.com/shows/elementary, www.facebook.com/ElementaryCBS; Twitter: @Elementary_CBS, @CBSatComicCon @CBSTVStudio
Stars Miller and Liu and creators of Elementary will participate in an exclusive autograph signing at the CBS/CW Booth on Thursday, July 12 at 11:30 AM- 12:30 PM.
For continuing info on the Studio's plans at Comic-Con, please follow us on Twitter @CBSTVStudios and visit http://cbstelevisionstudios.tumblr.com/.
Don Hahn and Mike Carroll screen their film in conjunction with AIB on November 9th.
Join AIB as we welcome producer and owner of Stone Circle Productions, Don Hahn on Tuesday, November 9th. Besides producing award winning films such as Disney classics Beauty and the Beast and The Lion King, Hahn is also a painter, author, and director.
3:15pm, Room 215 at 700 Beacon Street: "Why We Create" presentation with Don Hahn
7pm, Marran Theater at 34 Mellen Street: Screening of Hand Held, a documentary film produced by Hahn about the Romanian children's AIDS crisis in the early 1990s and chronicled by photographer Mike Carroll. Following the overthrow of the Communist regime in that country, Carroll photographed the crisis and the lives of these children over the next 20 years. Carroll will be in attendance as well.
Press Release:
Animation greats Hayao Miyazaki and John Lasseter and directors Robert Zemeckis and Tim Burton will take part in their first ever Comic-Con at the San Diego Convention Center July 23-24. The filmmakers will be on hand to help Walt Disney Studios Motion Pictures showcase a wide-ranging roster of upcoming films, including 3D juggernauts ALICE IN WONDERLAND, TRON and DISNEY'S A CHRISTMAS CAROL, and animated gems THE PRINCESS AND THE FROG, BEAUTY AND THE BEAST, PONYO and the TOY STORY trilogy.
Zemeckis, Burton, Miyazaki and Lasseter will take part in industry panels.
COMIC-CON'S FIRST EVER 3D PANEL — Veteran directors Robert Zemeckis and Tim Burton join TRON producers Sean Bailey and Steve Lisberger on Thurs., July 23 at 11 a.m. for an unprecedented presentation featuring behind-the-scenes filmmaker insights about the highly anticipated 3D adventures DISNEY'S A CHRISTMAS CAROL, ALICE IN WONDERLAND and TRON. In addition to Q&A opportunities with each of the filmmakers, the 90-minute panel will feature never-before-seen concept art, trailers, actual 3D film footage and other Comic-Con-only footage debuts. In a groundbreaking technical feat, this is the first time ever that 3D footage will be shown at Comic-Con. Patton Oswalt will moderate.
ANIMATION PANEL — Animation legends Hayao Miyazaki and John Lasseter join veteran animation directors Lee Unkrich, Kirk Wise, Ron Clements and John Musker on Fri., July 24 at 12:45 p.m. for an animation panel which will highlight upcoming animated films, including Disney•Pixar's TOY STORY/TOY STORY 2 double feature, Disney•Pixar's TOY STORY 3, Walt Disney Animation Studios' BEAUTY AND THE BEAST, Walt Disney Animation Studios' half-hour holiday TV special PREP & LANDING, Walt Disney Animation Studios' THE PRINCESS AND THE FROG and Miyazaki's PONYO. John Lasseter will host the panel and Patton Oswalt will moderate a group Q&A following the presentation, which will include filmmaker insights, trailers and select film sequences.
ABOUT THE MOVIES
PONYO
From the Academy Award®-winning director and world-renowned Japanese animation legend Hayao Miyazaki comes PONYO, a story inspired by Hans Christian Andersen's fairy tale "The Little Mermaid." Already a box-office success in Japan, the story of a young and overeager goldfish named Ponyo (voiced by NOAH CYRUS) and her quest to become human features an outstanding roster of voice talent, including CATE BLANCHETT, MATT DAMON, TINA FEY, FRANKIE JONAS, CLORIS LEACHMAN, LIAM NEESON, LILY TOMLIN and BETTY WHITE. PONYO opens in U.S. theaters on Aug. 14, 2009.
TOY STORY & TOY STORY 2 – DOUBLE FEATURE (In Disney Digital 3Dâ"¢)
Disney●Pixar's TOY STORY and TOY STORY 2 return to the big screen in an exciting double feature Oct. 2, 2009—this time in Disney Digital 3Dâ"¢.
TOY STORY
They're toys, they talk—at least when people aren't around—and they're back… celebrating the return of the "Toy Story" franchise—this time in Disney Digital 3Dâ"¢! TOY STORY, the film that started it all, takes moviegoers back to that fantastic fun-filled journey, viewed mostly through the eyes of two rival toys— Woody (voice of TOM HANKS), the lanky, likable cowboy, and Buzz Lightyear (voice of TIM ALLEN), the fearless space ranger. The comically-mismatched duo eventually learn to put aside their differences when circumstances separate them from their owner Andy and they find themselves on a hilarious adventure-filled mission where the only way they can survive is to form an uneasy alliance.
TOY STORY 2
Disney•Pixar's TOY STORY 2 picks up as Andy heads off to Cowboy Camp, leaving his toys to their own devices. Things shift into high gear when an obsessive toy collector named Al McWhiggin (voice of WAYNE KNIGHT), owner of Al's Toy Barn, kidnaps Woody (voice of TOM HANKS). At Al's apartment, Woody discovers that he is a highly valued collectible from a 1950s TV show called "Woody's Roundup," and he meets the other prized toys from that show – Jessie the cowgirl (voice of JOAN CUSACK), Bullseye the horse and Stinky Pete the Prospector (voice of KELSEY GRAMMER). Back at the scene of the crime, Buzz Lightyear (voice of TIM ALLEN) and the gang from Andy's room – Mr. Potato Head (voice of DON RICKLES), Slinky Dog (voice of JIM VARNEY), Rex (voice of WALLACE SHAWN) and Hamm (voice of JOHN RATZENBERGER) – spring into action to rescue their pal from winding up as a museum piece. The toys get into one predicament after another in their daring race to get Woody home before Andy returns.
DISNEY'S A CHRISTMAS CAROL (In Disney Digital 3Dâ"¢ and IMAX® 3D)
DISNEY'S A CHRISTMAS CAROL, a multi-sensory thrill ride re-envisioned by Academy Award®-winning filmmaker Robert Zemeckis, captures the fantastical essence of the classic Dickens tale in a groundbreaking 3D motion picture event. Ebenezer Scrooge (JIM CARREY) begins the Christmas holiday with his usual miserly contempt, barking at his faithful clerk (GARY OLDMAN) and his cheery nephew (COLIN FIRTH). But when the ghosts of Christmas Past, Present and Yet to Come take him on an eye-opening journey revealing truths Old Scrooge is reluctant to face, he must open his heart to undo years of ill will before it's too late. Opens in theaters nationwide on Nov. 6, 2009.
THE PRINCESS AND THE FROG
Walt Disney Animation Studios presents the musical THE PRINCESS AND THE FROG, an animated comedy set in the great city of New Orleans. From the creators of "The Little Mermaid" and "Aladdin" comes a modern twist on a classic tale, featuring a beautiful girl named Tiana (ANIKA NONI ROSE), a frog prince who desperately wants to be human again, and a fateful kiss that leads them both on a hilarious adventure through the mystical bayous of Louisiana. THE PRINCESS AND THE FROG marks the return to hand-drawn animation from the revered team of John Musker and Ron Clements, with music by Oscar®-winning composer Randy Newman. Opens on November 25, 2009 in NY and LA, and on December 11, 2009 nationwide.
PREP & LANDING
PREP & LANDING is ABC's first television special produced by Walt Disney Animation Studios. The half-hour holiday special reveals the never-before-told tale of an elite unit of Elves known as Prep & Landing. Every Christmas Eve, this high-tech organization ensures that homes around the world are properly prepared for a visit from the Big Guy (aka Santa Claus). After working tirelessly on Prep & Landing for 227 years, an elf named Wayne (voice of Dave Foley) is upset when he doesn't receive an expected promotion to be the Director of Naughty List Intelligence. Instead, Magee (voice of Sarah Chalke), the North Pole Christmas Eve Command Center Coordinator (NPCECCC for short), partners Wayne with Lanny (voice of Derek Richardson), an idealistic rookie who has an undying enthusiasm for Christmas. During their Christmas Eve mission, Wayne and Lanny encounter unexpected challenges that push them to their limits.
BEAUTY AND THE BEAST (In Disney Digital 3Dâ"¢)
Walt Disney Pictures' magical animated classic BEAUTY AND THE BEAST returns to the big screen in Disney Digital 3Dâ"¢, introducing a whole new generation to the Disney classic with stunning new 3D imagery. Opening Feb. 12, 2010, the film captures the fantastic journey of Belle (voice of PAIGE O'HARA), a bright and beautiful young woman who's taken prisoner by a hideous beast (voice of ROBBY BENSON) in his castle. Despite her precarious situation, Belle befriends the castle's enchanted staff—a teapot, a candelabra and a mantel clock, among others—and ultimately learns to see beneath the Beast's exterior to discover the heart and soul of a prince. Featuring unforgettable music by Howard Ashman and Alan Menken, and an enormously talented vocal ensemble, BEAUTY AND THE BEAST was the first—and only—animated feature to receive a Best Picture nomination from the Academy of Motion Picture Arts and Sciences.
ALICE IN WONDERLAND (In Disney Digital 3Dâ"¢)
From Walt Disney Pictures and visionary director Tim Burton comes an epic 3D fantasy adventure ALICE IN WONDERLAND, a magical and imaginative twist on some of the most beloved stories of all time. JOHNNY DEPP stars as the Mad Hatter and MIA WASIKOWSKA as 19-year-old Alice, who returns to the whimsical world she first encountered as a young girl, reuniting with her childhood friends: the White Rabbit, Tweedledee and Tweedledum, the Dormouse, the Caterpillar, the Cheshire Cat, and of course, the Mad Hatter. Alice embarks on a fantastical journey to find her true destiny and end the Red Queen's reign of terror. The all-star cast also includes ANNE HATHAWAY, HELENA BONHAM CARTER and CRISPIN GLOVER; Linda Woolverton wrote the screenplay. Capturing the wonder of Lewis Carroll's beloved "Alice's Adventures in Wonderland" (1865) and "Through the Looking-Glass" (1871) with stunning, avant-garde visuals and the most charismatic characters in literary history, ALICE IN WONDERLAND comes to the big screen in Disney Digital 3Dâ"¢ on March 5, 2010.
TOY STORY 3 (In Disney Digital 3Dâ"¢)
The creators of the beloved "Toy Story" films re-open the toy box and bring moviegoers back to the delightful world of Woody, Buzz and our favorite gang of toy characters in TOY STORY 3. Lee Unkrich (co-director of "Toy Story 2″ and "Finding Nemo") directs this highly anticipated film, and Michael Arndt, the Academy Award®-winning screenwriter of "Little Miss Sunshine," brings his unique talents and comedic sensibilities to the proceedings. TOY STORY 3 comes to theaters nationwide in Disney Digital 3Dâ"¢ on June 18, 2010.
TRON (title not final) (In Disney Digital 3Dâ"¢)
TRON is a 3D high-tech adventure set in a digital world that's unlike anything ever captured on the big screen. Sam Flynn (GARRETT HEDLUND), the tech-savvy 27-year-old son of Kevin Flynn (JEFF BRIDGES), looks into his father's disappearance and finds himself pulled into the same world of fierce programs and gladiatorial games where his father has been living for 25 years. Along with Kevin's loyal confidant (OLIVIA WILDE), father and son embark on a life-and-death journey across a visually-stunning cyber universe that has become far more advanced and exceedingly dangerous.