Press Release:
Morning Glories Creators Nick Spencer and Joe Eisma Celebrate 50 Issues Together in Long Beach This September!
Two months before Long Beach Comic Con returns to the Long Beach Convention Center, and MAD Event Entertainment is pleased to announce the addition of Nick Spencer and Joe Eisma, the team behind the critically acclaimed Image Comics series Morning Glories to this year's show!
Nick Spencer and Joe Eisma's critical darling and commercial success celebrates 50 consecutive issues today with the release of a special 64-page issue commemorating five years of mystery with a blockbuster Season Two finale!
In addition to his long running original series at Image, Nick Spencer is recently known for his Captain America: Steve Rogers series, which has had fans and critics alike talking for months. Spencer has also previously worked on multiple titles at DC and Marvel respectively, and is the creator of The Fix, Bedlam, and Thief of Thieves at Image.
Joe Eisma has done work for Boom Studios as well as Long Beach Comic Con exhibitor, IDW, drawing such series as Big Trouble in Little China and G.I. Joe: Cobra!
Spencer and Eisma will appear throughout the weekend, and together on the Image Comics panel on Saturday September 17, 2016 at 2:00 PM!
Click Here to get your tickets now!
Kids 10 & Under get in FREE with a paid adult. Limit 2 children per paid adult.
About Long Beach Comic Con:
Long Beach Comic Con is an annual event held at the Long Beach Convention Center each fall. It's a celebration of comic books and pop culture that showcases the exceptional works of talented writers, artists, illustrators and creators of all types of pop culture. At Long Beach Comic Con you'll find exhibitors promoting and selling all types of related products, as well as entertaining and educational programs, guest signings, and meet & greet sessions with celebrities. Long Beach Comic Con is a production of MAD Event Management, LLC. Visit www.longbeachcomiccon.com for additional information.
Writer/artist Phil Hester appears at Kowabunga Comics on Saturday, July 2nd at 1:00 PM to celebrate the release of Deathstroke Annual #2!
Phillip Hester has been writing and drawing comics for nearly three decades, beginning while still a student at the University of Iowa. After a toiling in the world of black and white indie comics, he broke into the mainstream with a long run as artist of DC's Swamp Thing with writer Mark Millar. At nearly the same time he wrote and drew the Eisner Award nominated series The Wretch. In 2001 Phil drew Kevin Smith's revival of Green Arrow with long time inker Ande Parks, also for DC. He wrote the original graphic novel The Coffin with artist Mike Huddleston, which was optioned for a feature film by James Cameron. At Image Comics he created Firebreather with artist Andy Kuhn, which became an Emmy-winning animated television feature for Cartoon Network.
His work, as both artist and writer, has been featured in hundreds of comics from nearly every major American publisher and includes runs on such titles as The Darkness, Wonder Woman, Ant-Man, Ultimate Marvel Team-Up, Nightwing, Invincible Universe, Batman Beyond, The Flash: Season Zero, The Thrilling Adventure Hour: Beyond Belief, Deathstroke, and his current Image project Mythic with artist John McCrea. Phil lives in rural Iowa with his family.
Kowabunga Comics
102 N Main St, Oconomowoc, WI 53066
(262) 569-9999
Press Release:
Join MegaCon for an intimate and exclusive meet & greet event with legendary comic creator Stan Lee on Thursday May 26th at 9:00 PM! Includes, collectible badge and lanyard, autograph and the best selfie ever – bring your camera! NOTE: Admission to MegaCon is required to attend this special event. Tickets available at the link.
DISCLAIMER:
-Some Guests may charge additional fees for autographs and photo ops.
-Most Guests are available for the duration of the event, although some are only available for a portion i.e. a single day. Appearance day(s) will be posted on the website once confirmed by the Guest.
-Guest appearances subject to cancellation or schedule change, due to professional commitments.
-All events have a limited seating capacities and are offered on a first come, first served basis.
-All sales are final, no exchanges or refunds for any reason.
The Photo Op schedule with celebrities including Stan Lee, William Shatner, Nichelle Nichols, George Takei, John Cusack, Christopher Lloyd, Ming-Na Wen, Hayley Atwell, John Barrowman, and many more at MegaCon‬ 2016 is now available. Tickets are now on sale via the website: www.MegaConvention.com/photo-ops
Comic creators Amy Chu, Alitha Martinez, and David Walker sign at Bedrock City Comic Co. on Thursday, April 21, 2016 at 5:00 PM!
Chu writes comics for DC, Marvel, IDW, Valiant, Alpha Girl Comics. (Poison Ivy, Deadpool, Infinite Ant-Man, and X-Files)
Walker is best known for his work on Cyborg, Shaft and Power Man & Iron Fist.
Martinez has drawn for Marvel, DC, & Vertigo. (Batgirl & Iron Man)
Bedrock City Comic Co.
6516 Westheimer, Suite D, Houston, TX 77057
(713) 780-0675
Press Release:
The 92nd Street Y proudly announces a special Reel Pieces event on Wednesday evening, May 18.
After a preview of All the Way — in which Bryan Cranston reprises his Tony Award winning role as President Lyndon B. Johnson — Moderator Annette Insdorf will interview Cranston, actor Anthony Mackie (who plays Martin Luther King, Jr.), director Jay Roach and writer Robert Schenkkan.
An HBO film, All the Way is a behind-the-scenes look at Johnson's tumultuous first year in office following the assassination of President Kennedy: as the Vietnam War escalates, he struggles to pass his landmark Civil Rights bill. It boasts a cast including Melissa Leo (Lady Bird Johnson), Bradley Whitford (Hubert Humphrey), Stephen Root (J. Edgar Hoover) and Frank Langella (Sen. Richard Russell).
Brief Bios
Bryan Cranston is the multiple winner of Emmy, Golden Globe and SAG Awards for his portrayal of Walter White on "Breaking Bad." He received an Oscar nomination for playing the hero of Trumbo (2015), directed by Jay Roach.
In addition to Game Change and Recount for HBO, Jay Roach's directing credits include Meet the Parents and the Austin Powers trilogy.
Anthony Mackie is a two-time Independent Spirt Award nominee, for The Hurt Locker and Brother to Brother. His other films include Our Brand Is Crisis, Triple 9, Black or White, Real Steel, Ant Man, Avengers: Age of Ultron and the Captain America series. His theatrical credits include Ma Rainey's Black Bottom, A Soldier's Play and Talk, for which he won an Obie Award.
An writer, actor and producer, Robert Schenkkan won the Pulitzer Prize for his play, The Kentucky Cycle. He adapted his Tony Award winning play All the Way for the screen.
92nd Street Y
1395 Lexington Avenue, New York, New York 10128
212-415-5500
Press Release:
Stan Lee, the guy who created and co-created hundreds of iconic superheroes, including Spider-Man, Iron Man, Incredible Hulk, and Thor, is coming to Planet Comicon Kansas City at Bartle Hall May 20, 21 and 22. The legendary former publisher of Marvel Comics is scheduled to sign autographs, pose with fans for photo opportunities, and appear on stage for a Q&A session.
"Every year the show gets better," said Planet Comicon Kansas City founder and CEO Christopher Jackson. "We are incredibly excited and truly honored to have Stan Lee coming to Kansas City. He is a visionary who has brought a whole pantheon of modern mythology to life. The incredible imagination of Stan Lee fills our theaters, toy stores, and television screens."
Planet Comicon Kansas City has exploded in popularity and attendance since moving to the monster space at Bartle Hall in 2012. The annual show draws legions of fans of superheroes, science fiction, animation, television, movies, fantasy, and gaming, with acres of interactive exhibits, live art, costumes, performances and collectibles.
Other celebrity guests already announced for Planet Comicon in 2016 include Edward James Olmos (Battlestar Galactica, Miami Vice), Eve Myles (Doctor Who, Torchwood), Sean Maher (Firefly), and Jason Mewes (Clerks, Mallrats). Other comic creator guests include Bill Sienkiewicz (Elektra: Assassin), Jason Aaron (Star Wars, Thor), Joe Staton (Green Lantern, Dick Tracy), Cullen Bunn (Uncanny X-Men, The Sixth Gun), Brian Hurtt (The Sixth Gun, Queen & Country), Matt Kindt (Rai, Ninjak), Don Rosa (Uncle Scrooge), Freddie E. Williams II (Batman/TMNT), Dennis Hopeless (Spider-Woman), Phil Hester (Green Arrow, The Flash: Season Zero), Rick Burchett (Lady Sabre, Batman Adventures), and more!
"We will continue to announce celebrity guests over the next few months," Jackson said. "The final roster will include more than 25 celebrities who will be available to meet with their fans. Planet Comicon is designed for every fan in the family. We work for a great balance of comic book creators, celebrity guests, cosplay events, vendors, gaming, children's activities, performances, and panel programming. That's what has kept our event growing year after year."
Last year's Planet Comicon Kansas City drew a record-setting 54,000 fans to Bartle Hall, but Jackson expects the 2016 show to be the biggest yet.
Jackson noted that, "For the past two years, Planet Comicon has been on the same weekend as the Big 12 basketball tournament, which strained the limits of hotel rooms, parking, and other downtown accommodations. Our event has now moved to May, and we expect that to allow us to grow our show and improve the experience for fans even more."
Tickets for Planet Comicon Kansas City will be available at the door. In addition, advance memberships that include admission to the event can be purchased at the Planet Comicon Kansas City website, www.planetcomicon.com. A limited number of Stan Lee autograph and photo packages will be available and can be pre-purchased on the website.
"This will be Mr. Lee's first such appearance in Kansas City and we are extremely excited to welcome him as our guest of honor at Planet Comicon," Jackson said. "We expect the Stan Lee packages to sell out in advance of the show, so fans who want to meet him should book their packages well ahead of time."
Lee has appeared in more than 30 movies, including cameos in nearly every Marvel movie. He was recently named the most successful filmmaker of all time, as his legendary creations have grossed $15 billion worldwide.
FOUNDED IN 1999, PLANET COMICON KANSAS CITY is Kansas City's largest and longest-running comic book convention and pop culture expo, featuring the best in comic books, fantasy, science fiction television and movies. Past Planet Comicon guests have included William Shatner, Stephen Amell, Lou Ferrigno, Adam West, Kenny Baker, Cary Elwes, Karen Gillan and many more. Memberships that include admission can be purchased on the event website, www.planetcomicon.com. Tickets will also be available at the door.
Comics legend Stan Lee, co-creator of Spider-Man, Avengers, X-Men, Fantastic Four, Iron Man, and more, appears at Barnes & Noble on Saturday, January 30, 2016 at 2:00 PM to celebrate the release of "The Zodiac Legacy: The Dragon's Return." In this second illustrated novel of The Zodiac Legacy series, the dangerous dragon power only grows stronger within Jasmine, and Steven struggles to hold their ragtag team together. But as alliances become strained, the line between the "good guys" and the "bad guys" becomes blurrier and blurrier. And it all culminates in a major cliffhanger that readers won't see coming!
Stan Lee will be here to hand out pre-signed copies of "The Zodiac Legacy: The Dragon's Return."
This is a wristbanded event
-1 book per person/ 1 wristband per person – no exceptions
-Wristbands and books are limited to 300
-Wristbands will be issued to customers who purchase the book from Barnes & Noble at The Grove beginning at 9am on January 30
-the wristband will allow you into the event area where Stan Lee will hand you a pre-signed book
-personalization will not be available
-photos will not be permitted
-No memorabilia please
Barnes & Noble – The Grove
189 The Grove Dr, Los Angeles, CA 90036
(323) 525-0270
Marvel really produced a winner with Ant-Man with great characters and great visuals. I enjoyed it a great deal. I was expecting more of a comedic caper movie, but it surprised me with how serious and dramatic it was at times.
Paul Rudd stars as the Scott Lang version of the character. After pulling off a Robin Hood-style heist and ending up in prison, he's trying to put his life back together and stay connected with his daughter. I've always liked Paul Rudd as an actor, and I think he does a great job in this.
I wasn't very enthusiastic about the decision to make Hank Pym (Michael Douglas) an older character, but I can see how it really works in this movie. The heart of this film involves two fathers and two daughters. Lang is trying to be the hero his daughter deserves while Hank is trying to reconnect with his daughter Hope (Evangeline Lilly). It all has a great deal of emotional resonance. It also manages to address the age-old comic book conundrum as to why some inventors in the Marvel Universe don't make their technological creations more readily available.
The first half of the movie might seem to drag a bit as Scott goes through quite a lot of preparation and training, but the movie really picks up when Scott and crew go into action for the task for which Hank recruited him. The end sequence manages to bring all the supporting characters together in a cool way. Along the way we also get a fun fight with a guest-starring member of the Avengers (which, of course, builds up to Ant-Man's inclusion in the upcoming Captain America: Civil War)!
Although this was a troubled production with original director Edgar Wright dropping out while the movie was in pre-production, Marvel really pulled it together and made it one of their best films. Since Marvel has been very genre-oriented of late and this movie was described as a heist movie, I'm really curious to see where they go with the already announced sequel Ant-Man and the Wasp. At any rate, we are sure to see more of Evangeline Lilly which is never a bad thing in my book.
Minor Caution for Parents: This movie does have some blatant profanity in it (as did Guardians of the Galaxy). As the parent of young kids myself, I really wish Marvel wouldn't go this route and would instead keep it family-friendly.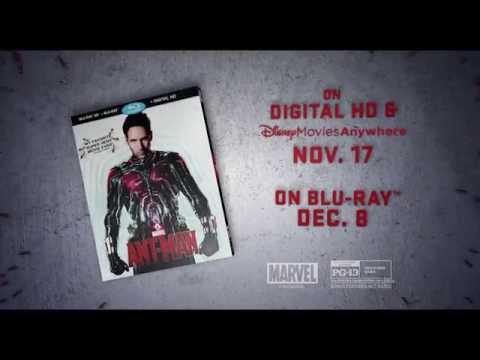 SYNOPSIS:   The next evolution of the Marvel Cinematic Universe introduces the newest member of the Avengers: Marvel's Ant-Man. Armed with the amazing ability to shrink in scale but increase in strength, master thief Scott Lang joins forces with his new mentor Dr. Hank Pym to protect the secret behind his spectacular Ant-Man suit from ruthless villains! With humanity's fate in the balance, Pym and Lang must plan and pull off a daring heist against insurmountable odds. Filled with humor, awesome special effects and exclusive bonus features, this action-packed adventure takes you to new levels of pulse-pounding excitement!
CAST:    Paul Rudd (This is 40, Role Models) as Ant-Man/Scott Lang, Evangeline Lilly (The Hobbit: The Battle of the Five Armies, Lost) as Hope van Dyne, Corey Stoll (This Is Where I Leave You, The Bourne Legacy) as Yellowjacket/Darren Cross, Bobby Cannavale (Spy, Chef) Michael Peña (Cesar Chavez, The Martian) Tip "T.I." Harris (Identity Thief, Entourage),Wood Harris (Justified, The Wire), Judy Greer (Tomorrowland, 13 Going on 30), David Dastmalchian (The Dark Knight, Prisoners), as Paxton, and Michael Douglas (Last Vegas, The Game) as Dr. Hank Pym
BONUS:Digital HD*, Disney Movies Anywhere (DMA), 3D Blu-ray Combo Pack, Blu-ray
Making Of An Ant-Sized Heist: A How-To Guide –
Set your watch and count down the action in this fast-paced behind-the-scenes look at how to pull off a heist movie, including Scott Lang's hilarious heist "family," Ant-Man's costume, plus amazing stunts and effects.
Let's Go To The Macroverse –
Shrink down to size in this fascinating look at creating the world from Ant-Man's perspective, from macro photography through the subatomic.
A hard-hitting collection of content, including a glimpse at the future of Pym Technologies with Darren Cross, anchor Christine Everhart's interview with soon-to-be-released prisoner Scott Lang on his notorious VistaCorp heist, and more.
Deleted & Extended Scenes
Audio Commentary By Peyton Reed And Paul Rudd
*Digital bonus offerings may vary by retailer
DVD:
FEATURE RUN TIME:Approximately 117 min.
RATINGS:PG-13 in U.S.; PG in CE; G in CF
ASPECT RATIO:Blu-ray 3D, Blu-ray & DVD = 1080p High Definition / 1.85:1
AUDIO:Blu-ray 3D & Blu-ray 2D = English 7.1 DTS-HDMA, French-Canadian 5.1 Dolby Digital, Latin Spanish 5.1 Dolby Digital, English DVS 2.0 Dolby Digital
DVD = English/Latin Spanish/French Canadian 5.1 Dolby Digital, English DVS 2.0 Dolby Digital
LANGUAGES:English
SUBTITLES:English, French, and Spanish
SOCIAL MEDIA:
Facebook
Ant-Man:https://www.facebook.com/antman
Marvel: https://www.facebook.com/Marvel
Disney Movies Anywhere:https://www.facebook.com/DisneyMoviesAnywhere
Twitter
@Ant-Man: https://twitter.com/AntMan
@Avengers: https://twitter.com/Avengers
@Marvel: https://twitter.com/Marvel
@DisneyAnywhere: https://twitter.com/DisneyAnywhere
Tumblr
Marvel:http://marvelentertainment.tumblr.com
DMA: http://disneymoviesanywhere.tumblr.com
Instagram
 https://instagram.com/therealagentm
YouTube
 https://www.youtube.com/user/MARVEL
ABOUT DISNEY MOVIES ANYWHERE (DMA):
Disney Movies Anywhere (DMA) is an engaging and family-friendly cloud-based digital movie service that makes it simple to buy your favorite Disney, Pixar, Marvel and Star Wars movies once and watch them anywhere.  With DMA you can explore Disney's library of over 450 eligible digital movies, discover hours of new and exclusive short-form content, and watch your digital movies from the comfort of the living room or across multiple mobile devices.  Using the free DMA apps and website, you can connect your DMA account with participating providers including iTunes, Amazon Video, VUDU, Microsoft Movies and TV and Google Play and unlock access your eligible movie collections across platforms and devices –  iPhone, iPad, iPod Touch, Apple TV/Airplay, Amazon's Fire tablets, Fire TV and Fire TV Stick, Microsoft Movies and TV service on Windows and Microsoft Xbox devices, Android mobile and tablet devices and Android TV, Chromecast and the Roku® platform.  In addition, you can redeem Digital Copy codes found in Disney, Pixar and Marvel Blu-rays and DVDs, as well as earn Disney Movie Rewards points with every digital purchase.
About Marvel Entertainment
Marvel Entertainment, LLC, a wholly-owned subsidiary of The Walt Disney Company, is one of the world's most prominent character-based entertainment companies, built on a proven library of more than 8,000 characters featured in a variety of media over seventy-five years.  Marvel utilizes its character franchises in entertainment, licensing and publishing.  For more information visit marvel.com.  © 2015 MARVEL
ABOUT THE WALT DISNEY STUDIOS:
For over 90 years, The Walt Disney Studios has been the foundation on which The Walt Disney Company was built. Today, the Studio brings quality movies, music and stage plays to consumers throughout the world. Feature films are released under the following banners: Disney, including Walt Disney Animation Studios and Pixar Animation Studios; Disneynature; Marvel Studios; Lucasfilm; and Touchstone Pictures, the banner under which live-action films from DreamWorks Studios are distributed. The Disney Music Group encompasses the Walt Disney Records and Hollywood Records labels, as well as Disney Music Publishing. The Disney Theatrical Group produces and licenses live events, including Disney on Broadway, Disney On Ice and Disney Live!.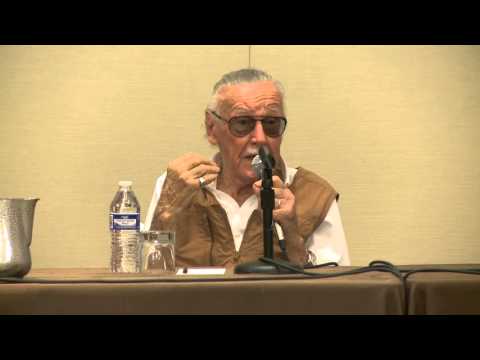 Watch The Man himself Stan Lee speak to a captivated audience at Boston Comic Con 2015 in a panel moderated by comic creator Jimmy Palmiotti and Stan's manager Max Anderson. The event featured a special appearance by Stan's best friend Ken Bald, Guinness World Record holder as the oldest living comic artist, and a phone call from Stan's wife Joanie.
Video courtesy of Ihungerproductions