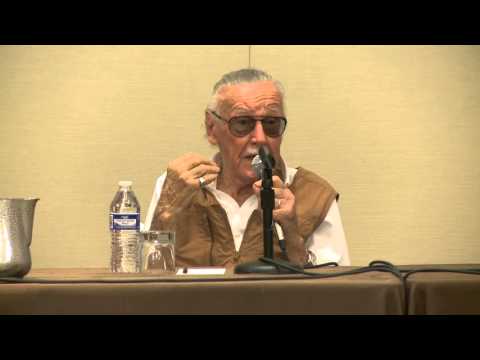 Watch The Man himself Stan Lee speak to a captivated audience at Boston Comic Con 2015 in a panel moderated by comic creator Jimmy Palmiotti and Stan's manager Max Anderson. The event featured a special appearance by Stan's best friend Ken Bald, Guinness World Record holder as the oldest living comic artist, and a phone call from Stan's wife Joanie.
Video courtesy of Ihungerproductions
Comics legend STAN LEE appears at Barnes & Noble to sign Amazing Fantastic Incredible: A Marvelous Memoir on Saturday November 7, 2015 at noon!
This is a wristbanded event. A wristband will be issued to customers who purchase *Amazing Fantastic Incredible: A Marvelous Memoir" at Barnes & Noble at The Grove beginning November 7th at 9am.
Stan Lee will not be signing any Memorabilia
About the book:
In this gorgeously illustrated, full-color graphic memoir, Stan Lee—comic book legend and co-creator of Spider-Man, the X-Men, the Avengers, the Incredible Hulk, Daredevil, and a legion of other Marvel superheroes—shares his iconic legacy and the story of how modern comics came to be.
Stan Lee is a man who needs no introduction. The most legendary name in the history of comic books, he has been the leading creative force behind Marvel Comics, and has brought to life—and into the mainstream—some of the world's best-known heroes and most infamous villains throughout his career. His stories—filled with superheroes struggling with personal hang-ups and bad guys who possessed previously unseen psychological complexity—added wit and subtlety to a field previously locked into flat portrayals of good vs. evil. Lee put the human in superhuman and in doing so, created a new mythology for the twentieth century.
In this beautifully illustrated graphic memoir—illustrated by celebrated artist Colleen Doran—Lee tells the story of his life with the same inimitable wit, energy, and offbeat spirit that he brought to the world of comics. Moving from his impoverished childhood in Manhattan to his early days writing comics, through his military training films during World War II and the rise of the Marvel empire in the 1960s to the current resurgence in movies, Amazing Fantastic Incredible documents the life of a man and the legacy of an industry and career.
Barnes & Noble – The Grove at Farmers Market
189 The Grove Drive Suite K 30 Los Angeles, CA 90036
323-525-0270
Press Release:
Planet Comicon – Kansas City will be bigger than ever in 2016. It's scheduled for May 20, 21, and 22 in Bartle Hall. The annual event is Kansas City's largest comic book and pop culture convention.
As always, Planet Comicon 2016 will feature an array of fandom favorites. "We work for a great balance of comic book creators, media guests, cosplay events, vendors, gaming, children's activities, performances, and panel programming," Planet Comicon CEO Christopher Jackson said. "That's what has kept our event growing year after year."
Be sure to add Planet Comicon – Kansas City 2016 to your calendar now for May 20 – 22, 2016. You can also keep up on the latest events by liking us on Facebook, and following us on Twitter. Join fandom's finest for a weekend of fantastic fun!
First guests announcements
Over the next few weeks, Planet Comicon will begin announcing guests on our website and social media. But as a subscriber to our email updates, you get a sneak peek at the first confirmed creator guests right now!
*Jason Aaron: writer of Marvel's Star Wars, Thor, and Image Comics' Southern Bastards.
*Terry Beatty: Syndicated cartoonist of The Phantom and Rex Morgan M.D.; co-creator of Wild Dog and Ms Tree.
*Rick Burchett: Eisner-winning artist of The Batman and Robin Adventures and Batman: The Gotham Adventures.
*Kevin Dilmore: Star Trek novelist whose works include co-writing Star Trek: Seekers: Point of Divergence.
*Chris Grine: Cartoonist of Dark Horse's Chickenhare and the web comic Wicked Crispy.
*Jeremy Haun: Artist and writer known for Detective Comics, Berserker, Battle Hymn, and the new Image Comics series The Beauty.
*Phil Hester: Artist and writer known for Green Arrow, Firebreather, Ant-Man, and The Flash: Season Zero.
*Dennis Hopeless: Writer of Marvel's Spider-Woman and Inferno.
*Kevin Mellon: Storyboard artist on FX's Archer and artist of the comic books Suicide Sisters and Heart.
*B. Clay Moore: Comics writer whose work includes The Whistling Skull, Adventures of Superman, and The Vampire Diaries.
*Jai Nitz: Writer of Dream Thief: Escape, The Green Hornet, and The Amazing Spider-Man Annual.
*Seth Peck: Comics writer of X-Men and Fear Itself: Wolverine.
*Steven Sanders: Artist of Wolverine and the X-Men, Infinity: the Hunt, and Our Love is Real.
*Rob Schamberger: Painter known for portraits of WWE wrestling superstars.
*Dan Scott: Cover artist for Conan The Avenger and Star Wars: Knights of the Old Republic.
*Greg Smallwood: Artist of Dream Thief: Escape and Moon Knight. 2015 recipient of the Russ Manning Award for most promising new talent.
*Rick Stasi: Artist, instructor, and voice performer who has drawn Action Comics, Bugs Bunny, and Charlton Arrow.
*Kyle Strahm: Artist whose work includes Image Comics' Haunt and the new series Spread.
*Dayton Ward: Star Trek novelist whose work includes co-writing Star Trek: Seekers: Point of Divergence.
*Freddie E. Williams II: Comics and cover artist known for JSA: All-Stars, Legendary Star-Lord, and Infinite Crisis: Fight for the Multiverse.
*Mike Worley: Artist whose work includes Big Bang Comics and Simpsons Comics Presents Bart Simpson.
We'll announce many more comics creators, novelists, cosplay celebrities, and media guests in the next two months. And as an email subscriber, you'll find out first about popular media guest announcements.
Artist Brent Schoonover appears at Source Comics & Games on Wednesday, July 15, 2015 to sign ANT-MAN ANNUAL #1!
Source Comics & Games
2057 Snelling Ave North, Roseville, MN 55113
651-645-0386
Press Release:
Boston Comic Con has received clearance from S.H.I.E.L.D. to announce that Hayley Atwell, star of Agent Carter, is our latest guest addition for 2015! A fan favorite since her debut in Captain America: The First Avenger, Peggy Carter is slated to make appearances in both this year's Marvel movies, Avengers: Age of Ultron and Ant-Man! Haley will meet fans for autographs and photos on Saturday August 1st and Sunday August 2nd ONLY at Boston Comic Con! *UPDATE* Photo ops are available now at the link!
Previously announced guests include: Stan Lee, Eduardo Risso, Humberto Ramos, Jose Luis Garcia-Lopez, Tony Moore, Jason Latour, Joelle Jones, Steve Lieber, Annie Wu, Franco Aureliani, J. Bone, Frank Brunner, Michael Cho, Jeff Dekal, Evan Dorkin, Sara Dyer, Gerry Duggan, Mike Henderson, Mike Kunkel, John Layman, Laura Martin, Jeff Parker, Kurtis J. Wiebe, Joshua Williamson, Amanda Conner, Jimmy Palmiotti, Stephane Roux, Frank Cho, Brian Azzarello, Amy Reeder, Don Rosa, Frank Tieri, Andy Belanger, Stephanie Buscema, Joe Prado, Dave Johnson, and more!
Tickets are now available for purchase. Please note that this year tickets will be sold ONLINE ONLY, there will not be any on-site ticket sales.
About Boston Comic Con:
The Boston Comic Con is a 100% independently run comic book show committed to bringing the biggest and best comic creators to New England. Run by fans for fans, Boston Comic Con is not affiliated with any other convention tour or corporate interests. Hosting over 120,000 square feet of vendors selling comic books, toys, posters, trading cards, and other pop culture memorabilia, this is a destination event for geeks of any stripe. This year's convention will be held Friday July 31st, Saturday August 1st, and Sunday August 2nd at the Seaport World Trade Center, 200 Seaport Blvd, Boston, MA 02210. For more information please go to our website at www.bostoncomiccon.com and follow us on Twitter (@BostonComicCon) and Facebook!
Press Release:
Cinerama and Emerald City Comicon are once again partnering to bring you the Second Annual ECCC Cinema Series! This unique event runs three nights at Seattle's famous Cinerama and brings together movie stars talking about their films in an intimate Q&A before a screening of those same movies in glorious high definition!
On Thursday March 26, come watch one of the best pulp action films of all time, Raiders of the Lost Ark! *Unfortunately Karen Allen has had to cancel her appearance at this event.*
On Friday March 27, it's Excelsior time with Stan "The Man" Lee as he introduces you to the film that brought together the best of Marvel's Cinematic Universe and made them a team, The Avengers! *SOLD OUT.*
On Saturday March 28, don't miss a Q&A with Brandon Routh that you'll tell the cleaning lady about on Monday, before watching the cult hit Scott Pilgrim vs. The World! *Unfortunately Brandon Routh has had to cancel his appearance at this event.*
All Q&A's will begin at 8:30 pm, with the screenings at 9:00 pm. The Q&As will be hosted by Mike Robles. Tickets are $25 each, and available directly from Cinerama.
Poster art by Chrissie Zullo
Cinerama
2100 4th Ave Seattle, WA 98121
Meet Evangeline Lilly as she reads and signs her new book, The Squickerwonkers, at Chapters on Thursday January 29th at 7:00 PM. Evangeline is best known for her work as an actress on the hit TV show Lost but her foremost passion has always been writing. This eccentric and visually stunning cautionary tale is her first published work and will appeal to adults and children alike.
Event Guidelines:
-Space will be available on a first-come, first-served basis.
-Evangeline Lilly will personalize ONE (1) book per customer and autograph all other books.
-NO memorabilia or additional items will be permitted for the signing including posters, clothing, DVD's or any other paraphernalia related to her acting career on Lost, The Hobbit, Ant-Man…etc. Book signing only.
-Candid photos only, no posed photography or video recording will be permitted.
-Proof of purchase required from a Chapters, Indigo or Coles location.
Chapters
788 Robson St Vancouver, BC V6Z, Canada
Legendary comic creator Stan Lee appears at Barnes & Noble at The Grove on Saturday, January 31, 2015 at 2:00 pm, to discuss CONVERGENCE. In his first prose novel, factions, each comprised of people who harness animal power from the Chinese zodiac, fight to control the fate of the world.
(This is a wristbanded event. Please note that B&N will have pre-signed copies of CONVERGENCE for sale on the day of the event. Stan Lee will not be signing book on-site.)
Barnes & Noble – The Grove at Farmers Market
189 The Grove Drive Suite K 30, Los Angeles, CA 90036
323-525-0270
Stan Lee and Roy Thomas will sign copies of 75 Years of Marvel at Taschen Books in Beverly Hills on December 5, 2014 from 6:00 till 7:00 PM. Pre-order is encouraged to guarantee your signed copy. First-come, first served, with limited availability.
Then on Saturday December 6th at 2:00 PM, Stan and Roy will be at the Hammer Museum for a Q&A with writer/filmmaker Kevin Smith! Details at the link…
A Hulk-sized tome spanning eight decades of the heroic rise of Marvel as it magically mutated from 1939's four-color upstart to a 1960s pop-culture dynamo to current Hollywood heavy hitter. With essays by comics historian Roy Thomas and a huge fold-out timeline that chronicles the entire Marvel history.
The XL-format book includes:
– More than 700 pages of near 2,000 images including vintage comic books, one-of-a-kind original art, behind-the-scenes photographs and film stills, as well as rare toys and collectibles
– A four-foot accordion-fold timeline
– Biographies of more than 300 artists, writers, editors, and famous fans who helped shape Marvel's history
RSVP to (310) 274-4300 or store-beverly@taschen.com to reserve.
Taschen Books
354 N Beverly Dr, Beverly Hills, CA 90210
(310) 274-4300
Evangeline Lilly appears at the Forbidden Planet London Megastore on Thursday 4th December from 5:30 to 6:30pm to sign The Squickerwonkers.
Meet Selma of the Rin-Run Royals, a clever little girl who is spoiled to the core. One day Selma stumbles upon a band of colourful marionettes, and gets more than she bargained for. The remarkable Squickerwonkers of the fabulous Squickershow are about to teach Selma that she'll not always get her way.
Beautifully illustrated by Johnny Fraser-Allen, this eccentric and visually stunning cautionary tale will appeal to adults and children alike.
Evangeline Lilly is an award-winning Canadian actress who starred as Kate Austen in Channel 4's Golden Globe-winning Lost, written by J.J. Abrams. Lilly is also known for her roles in the feature films The Hobbit: The Desolation of Smaug, The Hurt Locker, Afterwards, and Real Steel. Lilly will return as Tauriel in The Hobbit: There and Back Again, the final film in Peter Jackson's The Hobbit trilogy, set for UK release in December 2014.
Please note that, due to time restraints, Evangeline Lilly will only be signing copies of The Squickerwonkers.
Forbidden Planet London Megastore
179 Shaftesbury Avenue, London, WC2H 8JR