I'm still having trouble getting excited for this movie, but at least this trailer doesn't make it look like a horror movie. Also, this version seems to get Peter's snappy patter, and they have the acrobatics down. Still preferred the Raimi version of the costume, though. The movie is set for release on July 3rd and stars Andrew Garfield in the title role.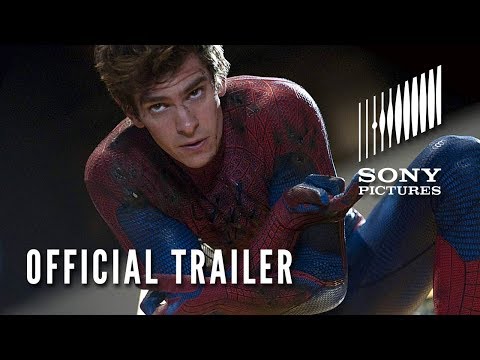 The Massachusetts Independent Comics Expo has released the schedule for this weekend's show!
Workshops & Artist Demos
12pm – Foldy Comics! – Jerel Dye presents an innovative way of making a your own comic book from a single sheet of paper.  This is a kid-friendly workshop or for anyone just getting started in the comic craft.
1pm – Watercolor Demonstration with Ellen Crenshaw
2pm – Comic Lettering and Inking with David Marshall
3:15pm – Creating Digital Comics – Walkthrough the software and techniques with webcomic artist Andy Wong.
4:30pm – Coloring Comics with Braden Lamb
Panels
Comics & …! is a day-long program of panel discussions exploring diverse topics in independent comics.  Each panel will take place in University Hall's Amphitheater, 2nd Floor.
COMICS & TEACHING: Beyond Maus and Persepolis
11:00 AM - Comics such as Spiegelman's Maus and Satrapi's Persepolis have found a solid foothold as legitimate classroom texts. However, there are many other noteworthy graphic novels that could also find their way into the K-16 curriculum. This panel will explore specific strategies for teaching comics and teaching with comics, looking past the "canonical" texts noted above.
MODERATOR: David Marshall PANELISTS: Michael Gianfrancesco, Director, New England Comic Arts in the Classroom; Educator, North Providence High School; Maureen Bakis, author The Graphic Novel Classroom; Alexander Danner, instructor, Emerson College Graphic Novel Program; Robert Shreefter, Professor, Lesley University.
COMICS & CHILDREN'S LITERATURE: Smart Comics For Kids
12:15 PM – This panel of writers, artists, and reviewers will discuss today's comics storytelling for kids, the challenges of appealing to different age groups, and the changing roles of such "gatekeepers" as librarians, comic shops, publishers, parents, and digital portals.
MODERATOR: J. L. Bell, Society of Children's Book Writers and Illustrators PANELISTS: Robin Brenner, creator of noflyingnotights.com, Jef Czekaj, author-illustrator. Gareth Hinds, author-illustrator, Shelli Paroline, artist, Colleen AF Venable, scripter and designer
COMICS & SOCIAL JUSTICE: Cartoons with a Cause
1:30 PM – Our panelists discuss ways in which the comics medium can be valuable in political discourse, and how independent comics can be an important focus of community activism as well as provide voices for — and representations of — minorities and other marginalized groups.
MODERATOR: Che Salazar PANELISTS: Rebecca Migdal, World War Three Illustrated; Colin Tedford, Trees & Hills Comics Group; Tak Toyoshima, creator Secret Asian Man; Anna Mudd, Harvard Center for Middle Eastern Studies
COMICS & FASHION : Project: Rooftop
2:45 PM – Since 2006 the Project : Rooftop website has examined the trend of independent illustrators redesigning superhero costumes, and now the discussion goes live at MICE! This panel will focus on a few comic book characters, looking at how they've been visually interpreted over the years by professionals and fans alike.
MODERATOR: Braden Lamb PANELISTS: Joe Quinones (Wednesday Comics, Amazing Spider-Man), Ming Doyle (Tantalize, The Loneliest Astronauts), and Jennifer Ngan (Instructor, Art Institute of Boston).
COMICS & COLLABORATION: Teamwork 101
4:00 PM – Many of the best comics and graphic novels are created through collaboration between a writer and artist. This panel will present several experienced teams of artists and writers, to share their insights on the pleasures and pitfalls of creative teamwork. How are comics partnerships formed and successfully maintained to produce the optimum results? What surprises have writers and artists encountered in the process of collaboration? What should less experienced creators seeking collaborators look for or be wary of?
MODERATOR: Alexander Danner PANELISTS: TBA
COMICS & TECHNOLOGY: Digital Comics
5:15 PM – Digital creation and distribution of comics are here to stay and will only get more important to the future of the medium. What are the best platforms – currently, or on the horizon — for the production and delivery of digital comics? How can artists and writers adapt themselves to new devices and software, and what improvements can be anticipated? What are the implications of these new technologies for the artist's work and income?
MODERATOR: Dirk Tiede (Paradigm Shift) PANELISTS: Kevin Church (Writer, The Line), Christopher Baldwin (Little Dee) Box Brown (Everything Dies)
Dan Slott appears at Midtown Comics on Friday, September 30 from 6:30pm – 7:30pm!
Press Release:
It's the Midtown Comics Book Club! Join us for our monthly Graphic Novel book club at our Downtown store.
This month's book will be Spider-Man: A Matter of Life and Death from Marvel Comics, and writer Dan Slott will be there to discuss the book with the club! If that's not enough to entice, free coffee and donuts will be served.
Don't have the book yet? Save 25% off cover price at any of our three stores (in-store only). Just mention the Midtown Comics Book Club at the cash register!
The Book Club will meet on Friday September 30th at 6:30PM at Midtown Comics Downtown.
SEATS ARE VERY LIMITED!
Midtown Comics Downtown
64 Fulton Street, New York, NY
Artist Reilly Brown signs at Dewey's Comic City on Saturday, September 17th from 1 to 3pm!
Reilly, who may be best known for his work on the series Cable & Deadpool, has also worked on a wide variety of Marvel titles, including Amazing Spider-Man and Incredible Hercules. 
Dewey's Comic City
13 Park Avenue, Madison, NJ 07940
Will Conrad and Mike Deodato sign in the Orlando vicinity this week, meeting fans and doing quick sketches. You can also purchase original art and have them signed on the spot, take pictures and have fun with Will and Mike pestering each other
Signing schedule –
Monday August 8th
From Noon – 2pm
Acme Superstore
905 Florida 434 #100, Longwood, FL 32750
(407) 331-0433
From 3pm – 7pm
Heroes Landing
12348 Roper Boulevard, Clermont, FL 34711
(352) 242-9636
Wednesday August 10th
From 12pm – 2pm
Pop City Comics
2114 Edgewater Drive, Orlando, FL 32804
(407) 422-4555
Starting at 3pm
Coliseum of Comics Fashion Square Mall
3201 E. Colonial Drive, Orlando, FL 32803
(407) 228-1210
Starting at 4:30pm
Coliseum of Comics Millenia
4672 Millenia Plaza Way, Orlando, FL 32839
(407) 363-7676
Starting at 6:30pm
Coliseum of Comics Kissimmee
3159 W. Vine St. (US Hwy. 192), Kissimmee, FL 34744
(407) 870-5322
Writer Dan Slott (Amazing Spider-Man, She-Hulk, Arkham Asylum: Living Hell) signs at Orbital on Friday, August 20, at 5pm!
Orbital Comics
8 Gt Newport Street, London WC2H 7JA, United Kingdom
020 7240 0591
Writer DAN SLOTT talks all about Spider-Island with assistant editors ELLIE PYLE and RACHEL PINNELAS!
Hosted by Pete LePage, Justin Tyler, and Alex Zalben
…And you know all of the news about the show, RIGHT?!
1. We're at a new location on the East side! Brand new!
2. There is a beautiful bar in the new location that is extremely suitable to hang out in. So plan on coming early and hanging out late!
3. We are giving away tons and tons of free comics!
Also, you could win a $25 Gift card to Midtown Comics!
And all the comic book news and opinions IN THE WORLD!
Tuesday, July 26 @ 8:00pm
@ The Peoples Improv Theater
123 E. 24th Street, btwn. Park & Lexington, New York, NY
Tickets: $5
Online: ThePIT-NYC.com
Phone: 1-800-838-3006
Questions? 212-563-7488
AND AS ALWAYS…
The show is sponsored in part by Midtown Comics
Want to watch the show live, but can't make it in NYC? Check out our livestream of the show!
A high quality version of the first Amazing Spider-Man teaser trailer is now available. It is set to be released in 3D on July 3, 2012, with Andrew Garfield as Peter Parker / Spider-Man,
Emma Stone as Gwen Stacy, and Rhys Ifans as Dr. Curt Connors / The Lizard
Via EW:
Spidey's back! Well, almost. The Amazing Spider-Man doesn't hit theaters for another year, but in anticipation of next week's Comic-Con (July 21-24 in San Diego) we've got first looks at and inside scoops about the webslinger's highly anticipated return — including interviews with stars Andrew Garfield and Emma Stone and with director Marc Webb.
For even more on The Amazing Spider-Man, as well as EW's jam-packed guide to Comic-Con – includes sneak peeks at Total Recall, The Walking Dead, Spartacus, Terra Nova, and much more – pick up the new issue of Entertainment Weekly, on stands Friday, July 15.
July 10, 2011 by Colin Solan
Filed under Animation, California, Comic Books, Comic Strips, Comic-Con International, Convention News, Movies, Television, Top Stories, Video Games
Press Release:
Marvel takes San Diego by storm this July during Comic Con International! Marvel will be in full force to provide an exclusive look into all things Marvel (Booth #2329)! No one can compare to what Marvel has planned because we're running a veritable cornucopia of panels that will span the four daylong event. If you're a True Believer (and we know you are) you can't afford to miss out on these exclusive Marvel panels! Trust us no fan will be disappointed because whether you're a lifelong Marvelite, or a casual fan there will be something for you to enjoy.
Thursday, July 21st
10:15 – 11:15 AM MARVEL: BREAKING INTO COMICS THE MARVEL WAY – You have the talent. You have the imagination. You have the "Go get 'em Tiger" determination that would make the Bullpen proud. But where do you go from there? Discover the next step in your budding comics career with world-renowned talent scout C.B. Cebulski, Skottie Young (Ozma of Oz), Humberto Ramos (Amazing Spider-Man), and Marvel SVP of Brand Planning & Communications Mike Pasciullo, as they give you all the right pointers towards getting a foot in the door at Marvel Comics. Discussing all entry points across every department, this can't miss panel is must for all Marvel hopefuls! Room 6DE
1:00 – 2:00 PM MARVEL DIGITAL: WHAT'S NEXT?! COMICS…AND BEYOND! – Join members of the Marvel Digital Media Group for the first word on Marvel digital comics, casual games, original streaming video productions, social media outreach and the future of Marvel's ever-expanding digital endeavors.  Room 7AB
4:30 – 5:30 PM MARVEL: NEXT BIG THING – The Marvel Universe is where the biggest comic stories happen—so wouldn't you like to be the first to know what we've got planned? Get the latest news on Marvel's plan for their biggest heroes and villains, with some surprises along the way! Join panelists Greg Pak (Incredible Hulks), Jonathan Hickman (FF), Jim McCann (Marvel Zombies Christmas Carol), Nick Spencer (Ultimate Comics X-Men), Editor in Chief Axel Alonso and more as they answer all your burning questions while giving you a sneak-peek at the future of Marvel! Room 6DE
Friday, July 22nd
12:30 – 1:30 PM MARVEL: YEAR OF THE X-MEN – The bonds of brotherhood have been broken between Cyclops and Wolverine, as their feud reaches its boiling point – tearing the X-Men apart in X-Men: Schism. But after the dust settles, what's next for the X-Men and their allies? Enter X-Men Regenesis, where we answer all your questions and reveal exclusive details about what's next! You've got questions & these people have answers! Writers Marjorie Liu (X-23), Rick Remender (Uncanny X-Force), Chris Yost (X-Men: First to Last) and Editor in Chief Axel Alonso are on hand to lay out what's going on with the X-Men for this all-new, all-DEADLY panel! Room 6DE
1:45 – 2:45 PM MARVEL: AMAZING SPIDER-MAN AND HIS AVENGING FRIENDS – Spider-Man's riding high after hitting the Big Time, but it'll all come crashing down this summer in Spider-Island! It's the fight of his life and we've got an in depth look inside the event that changes the course of Peter Parker's life. But ol' Web-Head isn't the only New Yorker with a major storyline this summer! Daredevil makes his return, Punisher wages a new war, Venom explores the dark side of saving the world and more of your favorite heroes are back with a vengeance! Sit down with our spectacular panel of creators, including Zeb Wells (Avenging Spider-Man), Rick Remender (Venom), Mark Waid (Daredevil), Greg Rucka (Punisher), Humberto Ramos (Amazing Spider-Man), Senior Editor Steve Wacker, Editor in Chief Axel Alonso and more as they lay the groundwork for New York City's greatest heroes. And don't forget to grab your exclusive Daredevil pin – only at this panel! Room 6DE
4:30 – 5:30 PM MARVEL TELEVISION PRESENTS: ANIME ON G4 – Marvel Television and G4 take your favorite characters – Iron Man, Wolverine, The X-Men and Blade –  to Japan to tell their stories in a whole new way, beautifully animated by the anime masters at Madhouse. Also, watch a never-before-seen episode with Marvel's Head of TV, Jeph Loeb and surprise guests! Plus, get a sneak peek at The X-Men's explosive first episode. Room 6BCF
Saturday, July 23rd
10:30 – 11:30 AM MARVEL TELEVISION PRESENTS – Marvel's Head of TV, Jeph Loeb, brings the inside scoop on Marvel's latest series that take your favorite heroes from page to screen. Get a first look at the premiere of The Avengers: Earth's Mightiest Heroes season 2, a sneak peek at a certain ULTIMATE webslinger, and a few other surprises from Marvel Television. Room 6BCF
12:30 – 1:30 PM MARVEL INTERACTIVE: MARVEL VIDEO GAMES – Learn all about Spider-Man: Edge of Time, X-Men Destiny, Captain America: Super Soldier, Super Hero Squad Online, Super Hero Squad 3DS and uDraw, Marvel Pinball and the Marvel Universe MMO. Also, find out some exciting new details about the future of Marvel vs. Capcom 3 and other Marvel games via exclusive trailers, surprise reveals, and Q&A with the game creators from some of the industry's top publishers. Room 6A
2:45 – 3:45 PM MARVEL: CUP O' JOE – This is it, Mighty Marvel fans- the no-holds-barred, anything goes, full of surprises panel you wait all year for, and it's here!  Marvel's Chief Creative Officer Joe Quesada takes on all questions, shocks the audience with jaw-dropping announcements, and keeps you guessing with surprise guests.  You never know who will show up, but you better be here, because this is the panel that everyone will be talking about! Room 6BCF
Sunday, July 24th
11:15 AM – 12:15 PM MARVEL: WOMEN OF MARVEL PRESENTED BY OXYGEN
Forget Spider-Woman & Emma Frost, meet the real Ms. Marvels of the comic world!  Join women from every discipline in the creative process at Marvel to hear what it's like working as a woman in comics today. These ladies are busting through the four-color ceiling! Guests include host Grace Randolph (The Weekly Watcher), writer Marjorie Liu (X-23), artist Christina Strain (Runaways) and more, brought to you by Oxygen. Room 5AB
12:30  – 1:30 PM MARVEL: FEAR ITSELF – The biggest comic book event of the year has everyone talking—but just want comes after it concludes? We've got the exclusive news here, with the big announcements that'll change the future of the Marvel Universe—and set your favorite characters in exciting new directions. Be the first to know the biggest news of the weekend as the creators behind the comic blockbuster event answer your questions and leave you cheering! Join Senior Editor Steve Wacker, Senior Vice President C.B. Cebulski,  Nick Spencer (Iron Man 2.0), and more for the news you can't miss. Room 6DE
And to learn more about the Amazing Spider-Man and Ghost Rider, Spirit of Vengeance films, check out Sony's panel on Friday, July 22nd at 2pm in Hall H!
Do yourself a favor True Believers, head on over to the San Diego Convention Center July 21st to the 24th. No fan can miss out on the fantastic line up of superstar talent, exciting panels, and loads of top secret information that Marvel will be dishing up in San Diego!
Can't make it to the convention? Follow along on the Marvel Events App and events.marvel.com, the best way to get exclusive videos, real-time announcements from the convention floor and up-to-the-minute panel, in-booth, and signing schedules of all your favorite Marvel creators!