On July 23-27th, San Diego was host to the 2014 San Diego Comic Con! After 10 years of attending this show, I was definitely looking forward to seeing what sort of amazing spectacles Comic Con had in store for me this year. After a week of recovery from the show, I had to admit, compared to all the other Comic Cons, this one was a bit more low key. There weren't many major announcements on the movie front, and while there were some exciting TV shows on hand, I definitely didn't feel the major buzz I typically do at SDCC.
However, like all previous Comic Cons, it's a great time to mingle with artists, writers, and friends you never get to mingle with anywhere else outside of SDCC. It was fun watching the stars come on the show floor, watching artists draw some amazing commissions, and seeing the amazing exhibits some of the booths displayed, including all of the Batman cowls celebrating the Caped Crusader's 75th birthday, as well as some very cool props from the latest movies. While it lacked that extra spark that San Diego usually brings to the table, it still was, is and always will be THE place to be. And now, on to some of the sights I saw during the weekend.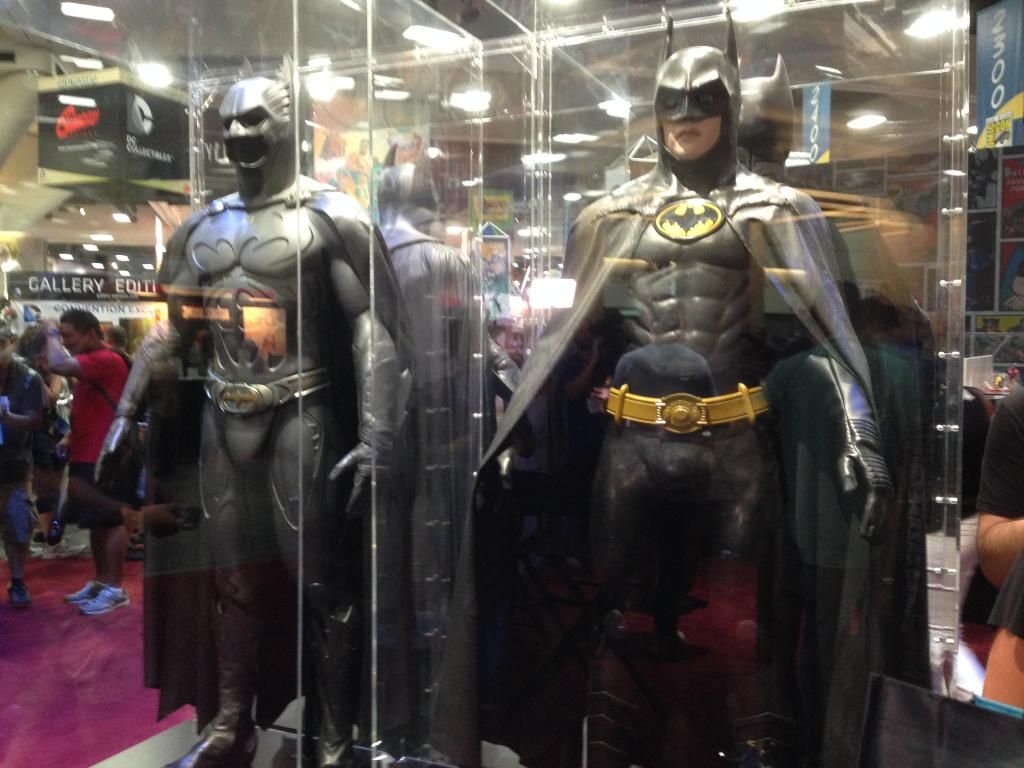 I didn't take a lot of cosplay pics this year, but here's a few that stood out!
A look at some of the cosplayers of Comic-Con, videos of The Avengers: Age of Ultron panel and Zack Snyder and friends, plus lots of more.
Legendary hip-hop icon and Rock and Roll Hall of Fame inductee Darryl DMC McDaniels (Run-DMC) along with Editor-in-Chief Edgardo Miranda-Rodriguez and artists the MadTwiinz,  Mike & Mark Davis, appear at Boston Comic Con to talk about their forthcoming graphic novel DMC #1 scheduled for release on October 29, 2014. DMC, the inaugural title from Darryl Makes Comics, imagines an alternate history that blends traditional comic book storytelling with the pressures and anxieties of 1980s NYC, and explores how we got to where we are now. DMC is a superhero for those who need one most. Don't miss their panel on Saturday August 9th at 4:00 PM!
Listen to his interview with Boston Herald Radio at the link!
Other guests include Sean Astin, John Barrowman, Jason Momoa, Jewel Staite, Sam Witwer, Simon Bisley, Greg Capullo, Amanda Conner, Danielle Corsetto, Ivy Doomkitty, Adam Kubert, Carlos Pacheco, Jimmy Palmiotti, Eric Powell, Gail Simone, Stan Sakai, Jeff Smith, Scott Snyder, Mark Waid, Skottie Young, and many more! For the full guest list plus artist alley, exhibitors, and panel/film fest schedule please check out the Boston Comic Con website!
Online ticket purchases are available at the link!
About Boston Comic Con:
The Boston Comic Con is a 100% independently run comic book show committed to bringing the biggest and best comic creators to New England. Run by fans for fans, Boston Comic Con is not affiliated with any other convention tour or corporate interests. Hosting over 120,000 square feet of vendors selling comic books, toys, posters, trading cards, and other pop culture memorabilia, this is a destination event for geeks of any stripe. This year's convention will be held Friday August 8th, Saturday August 9th and Sunday August 10th at the Seaport World Trade Center, 200 Seaport Blvd, Boston, MA 02210. For more information please go to our website at www.bostoncomiccon.com and follow us on Twitter (@BostonComicCon) and Facebook!
This was the inaugural year for Con-Gregate, a general sci-fi convention held in Winston-Salem, NC on July 11-13. The guest of honor was New York Times bestselling author Larry Correia, known for his Monster Hunter series, though he does have other writing credits, including "The Christmas (Noun)" and "The Christmas (Noun) 2: The Nounening." (What's next? "How the Gerund Stole Christmas"?) Other guests included writers A.J. Hartley and Faith Hunter; Magic: The Gathering artist Mark Poole; and movie make-up professional Jennifer McCollom.
The con was led by a team of veterans, including folks from RavenCon, Stellar Con, and DragonCon. Yet, as with any first-time event, there were hiccups. Larry Correia's first book signing was held on Saturday morning, when a lot of convention goers weren't yet up and at 'em. The lighting was poor in the vendor room, and though much was made in the convention program about name badges (even vendor badges bore individuals' names), I never saw a staffer checking them.
Still, it was a fun weekend, with a costume contest, a book launch party (D.B. Jackson's A Plunder of Souls), a charity auction (I won a signed photo of Avery Brooks as Capt. Benjamin Sisko), and some fascinating panels. Plus one of my favorite groups, the Carolina Ghostbusters (www.carolinaghostbusters.com), made an appearance. On Friday, I got a chance to talk to three team members–"Doc" Geressy, Chuck Carte, and Mikki Smith.
Me: How did the Carolina Ghostbusters get started?
Doc: About 5 years ago, I got divorced and laid off from work in the same week. I got a great severance package and didn't have anyone to spend it on, so I was like, I'm gonna build a Ghostbusters car. That was five years ago. It took about 2½ years to get everything together. Once the car was built, we started getting requests for conventions, charity events, car shows, baseball games, birthday parties, weddings . . . we do a lot of weddings, oddly enough. We spend about 70-80 days a year on the road now, with the vehicle, and I never would have imagined, but it has been the most awesome thing ever. We got to meet Dan Aykroyd. He signed the car. We met Ernie Hudson from the film. So it's been a lot of fun.
Me: How did you meet Dan Aykroyd?
Chuck: He was on his Crystal Head Vodka tour, doing signings of the bottles when the liquor had first come out. And we got treated really well by the Aykroyd camp as soon as they saw us in our car. He ushered us to the front of the line, took photos with us, signed the car, and he was just a real . . . I look at it as my favorite moment of getting to do this, getting to meet him, and just how cool he was to us.
Me: Why Ghostbusters?
Doc: I am a big fan of movie cars, always have been, and when I was originally going to build a movie car, I had thought about doing a classic Batmobile. I had some people looking for a late model Lincoln to use as the base for it, and we ended up finding this hearse first, and one of the guys called me and was like, hey, would you be interested in doing a Ghostbusters car? I was like, sure, love to, and so we ended up doing a Ghostbusters car instead. And it is actually, interestingly enough, the most recognizable movie car with the least amount of screen time. It is only in the film for 5 minutes and 28 seconds. But everyone knows it. We have had people drive 20-30 miles out of their way to take pictures with us.
Me: And you also have the Men in Black car, right?
Doc: That is our new one. We're about a year into that build, and it was another one where the car kind of found me. We ended up getting it at a really good deal. It had low miles and was in excellent condition. So we started the build on that. We should have it done in the next year. It is actually roadworthy now, but there are a lot of things we want to do to it, and a lot of props we need to build. It's probably about 80% done.
Me [to Mikki]: Tell me about your involvement with the group.
Mikki: Honestly, I asked. That sounds kind of like a boring way. Basically, I originally hired the Carolina Ghostbusters for a very small, one-off convention that I ran called Jax Con that happened in my hometown of Jacksonville, Florida—
Doc: It was an awesome convention.
Mikki: Thank you so, so much. That's what people say now. That's not what people said right after it happened.
Chuck: That's what I said right afterward.
Mickey: Me booking [the Ghosbusters] was literally the best thing I ever did for that convention. After that, I was still really into cons, and I started going to them more and more, especially local cons. I became really good friends with the team, became pretty good friends with Doc and Chuck and Cher [Cheralyn Lambeth, another group member]. That was kind of how I got involved. I think at XCon 2013 was my first official event, and I worked that one. I was an intern for about 6 months, and now I have been moved up to Acting Ensign of the Deck Department, and I serve under Chuck Carte, who is a fantastic immediate boss.
Chuck: Thank you. I don't get that often.
Me: I was reading on your web site that you also do paranormal investigations. Tell me a little about that.
Doc: About 30% of what we do is paranormal investigations. We are the only Ghostbusters group in the country that actually does paranormal investigations as well. Sometimes we joke that the Ghostbusters car is our dog and pony show, but we have a lot of fun going out and actually not just dressing up as Ghostbusters but actually being Ghostbusters to an extent.
Me: How do you measure your success as paranormal investigators?
Chuck: Whether or not the check clears.
Doc: Yeah, that's a good answer! [Laughs] We approach things from a very scientific viewpoint, very much like the Ghostbusters did in the film. We don't employ or work with any mediums or psychics because we can't quantify that information. We try to be as empirical as possible, and we have captured some amazing photographs, we've got some awesome EVPs [electronic voice phenomenon], and just the experiences of being able to travel around. One of the things that being Ghostbusters has provided us is a lot of access to places that other paranormal groups can't get into. People see the car or they see us, and they're like, oh, you guys are like legit! There are so many other paranormal groups out there that are just as legitimate as we are, but just that knowledge of Ghostbusters affords us the ability for people to just wave us in and be like, yeah, come investigate this place.
Me: What are you working on next? What are your goals?
Doc: Oh god. Replenishing my bank account is what I'm working on right now.
Chuck: The speedboat from Thunder in Paradise.
Doc: Yeah, I gotta buy a boat trailer first.
Mikki: You've been talking about the Blues Brothers car lately.
Doc: I would love to find a Blues Brothers car. That would be the next thing on the list. I also really like the ambulance from Cannonball Run. That would be another one.
Me: I guess it's time to wrap up. Can you say a few words about your podcast?
Doc: Our podcast is called Sci-Fried Eggs, and we get to travel to all these conventions and meet all these cool guests, and we bring that to the rest of the people. So if you miss the convention, or even if you're at the convention and you didn't get to meet that person you wanted to meet, we may have interviewed them [on the podcast], so you can check them out.
And while you're at it, check out the photos below.
Carolina Ghostbusters: they're ready to believe you.
No, this isn't a promo poster for Avengers 2. It's the winners of the Con-Gregate costume contest.
Must . . . not . . . make . . . bird-brain joke.
"Good evening, Clarice."
Get a glimpse of the Batman v. Superman footage from Comic-Con plus a Mad Max trailer, Wonder Woman revealed, the complete Age of Ultron poster, and more.
July 28, 2014 by Colin Solan
Filed under Animation, Comic Books, Comic Strips, Convention News, Cosplay, Gaming, Horror, Massachusetts, Movies, Other, Science Fiction and Fantasy, Television, Top Stories, Video Games, Webcomics
Press Release:
Celebrity appearances, artist meet-and-greets, a film festival, a Cosplay costume contest, the first official after party and Cosplay Harbor Cruise are among many activities lined up for this year's Boston Comic Con. Boston Comic Con will bring its first three-day convention to the Seaport World Trade Center Friday August 8 through Sunday August 10, 2014. In the seven years since its founding, Boston Comic Con has grown from a one-day show that attracted an estimated 900 comic book enthusiasts to last year's record turnout of more than 23,000, which organizers expect to top this year.
"The community in Greater Boston that loves comic books and related television and film is tremendous and growing," said Nick Kanieff, a founder of Boston Comic Con. "We are home to some of the industry's most talented artists and devoted fans, all of which will join us in great numbers this August. Boston Comic Con has just enough of a celebrity touch to bring in ardent fans while still honoring the artists and writers who are the backbone of the industry."
The 2014 Boston Comic Con will feature celebrity appearances by Jason Momoa of "Game of Thrones"; John Barrowman of "Doctor Who," "Torchwood" and "Arrow"; Sean Astin of "The Goonies" and "The Lord of the Rings" trilogy; James Marsters of "Buffy the Vampire Slayer" and "Angel"; Katie Cassidy of "Arrow"; Eve Myles of "Torchwood"; Jewel Staite of "Firefly"; Sam Witwer of "Being Human"; and Darryl McDaniels, aka DMC, of Run-DMC, one of the founding fathers of the hip hop and rap movement, who is producing his own comic about a rap superhero. Celebrities will also participate in panel discussions, Q&As, photo ops, and signing autographs throughout the three-day convention.
Among the 200+ comic book creators taking part in the convention are well known artists such as artist Greg Capullo and writer Scott Snyder, who together produced legendary Batman story arcs as The Court of Owls, Death of the Family and Zero Year for DC Comics. Indie sensation Jeff Smith, creator of the fantasy epic Bone, makes rare appearance at this year's convention. Also featured is artist Adam Kubert, best known for his work with Marvel Comics on Wolverine, Incredible Hulk, Ultimate Fantastic Four, and X-Men. He is both a graduate of and an instructor at the famed Kubert School, founded by his father, legendary artist Joe Kubert. Other creators include Skottie Young, whose current project, Rocket Raccoon ties in with Marvel's summer blockbuster Guardians of the Galaxy, fan-favorite Gail Simone, writer of Batgirl, Birds of Prey, and Wonder Woman, and Mark Waid who is the most prolific writer of popular characters such as Superman, Spider-Man, and Daredevil.
Participating Boston-area artists include husband and wife team Shelli Paroline and Braden Lamb, Joe Quinones, Maris Wicks, Ming Doyle, Norman Lee, Sara Richard, and several others.
Boston Comic Con is especially proud of its showcase of 14 top women creators including: Christy Blanch, Danica Brine, Katie Cook, Danielle Corsetto, Ming Doyle, Dawn Griffin, Rebekah Isaacs, Shelli Paroline, Sara Richard, Gail Simone, Cat Staggs, Babs Tarr, Maris Wicks, and Chrissie Zullo.
"Boston Comic Con is at the forefront of supporting local artists, especially women creators. It is truly an organic, home-grown event that has gained popularity over the past few years," said Kanieff, a Framingham resident who is also an avid collector. "We welcome everyone, from families with young children, to college students, to older comic book fans. There is something for everyone at Boston Comic Con."
New This Year
The first Boston Comic Con Cosplay Harbor Cruise will take place on Saturday, August 9 from 8 p.m. to 11 p.m. The cruise will be hosted by Ivy Doomkitty, international costume designer and cosplayer, and features noted cosplayers including Nicole Marie Jean, Destiny Nickelsen, and Bethany Maddock. After the harbor cruise, Boston Comic Con will host the official "after party" at Laugh Boston, at the Westin Waterfront Hotel. Also new this year, a limited number of tickets will be sold to allow early entry on the first day of Boston Comic Con, Friday, August 8 at 1 p.m., one hour before the general admission at 2 p.m.
Additionally, Marvel editor C.B. Cebulski will be on hand to provide portfolio reviews for aspiring comic artists. And this year's exclusive t-shirt features Rocket Raccoon drawn by Guardians of the Galaxy artist Nick Bradshaw with colors by Rich Woodall.
"Not only is Boston Comic Con drawing interest from the area's extensive comic book community, but it's becoming a destination event that brings tourists to Boston," said Kanieff. "The growing excitement around this convention demonstrates the strength and vibrancy of the creative community we have here in Boston and in the surrounding region."
More information about events, artists and celebrity guests can be found on www.bostoncomiccon.com. General admission and VIP tickets are on sale now, as are tickets for celebrity photo ops. Boston Comic Con is also accepting entries for this year's film festival.
For information on ticket sales please visit: www.bostoncomiccon.com.
Sting shows up at the WWE panel, Matthew McConaughey shows up to push Interstellar, and Microsoft releases a trailer for HALO Nightfall.
This past weekend was ConnectiCon in Hartford, CT. Founded in 2002 primarily as a gaming convention, it has come to encompass multiple genres and attracts attendees from all over the country.  It roots in gaming are still clearly apparent as they host a gaming room equal the size of the main vendor/artist area which hosted hundreds if not thousands of gamers playing Magic: The Gathering, Yu-Gi-Oh, WarHammer, and many other table top games. Naturally there is also a large contingent of cosplayers dressed as their favorite characters from TV, moves, comic books and video games. The projected attendenace fo this year was 17,000 people and while there were certainly a lot of people in the Hartford Convention Center, it was laid out and organized so it never felt crowded. The autograph lines for guests moved surprisingly fast and, provided you showed up a little early, panels were easy to get into.
A big draw for this year's ConnectiCon was the wealth of guests from the voice acting industry. A growing trend at conventions across the country, these talented performers need only a microphone to display their gift for breathing life into characters. Guests included Invader Zim's Richard Horvitz and Rikki Simons, Pinky and the Brain's Maurice LaMarche and Rob Paulsen, Batman: The Brave and the Bold's Dietrich Bader, Mass Effect's Jennifer Hale, and Legend of Korra's Janet Varney. Speaking to the press, Horvitz and Simons said they love having meeting fans who grew up watching Zim and are now cosplaying as their characters. The also mentioned people sometime have full sleeve tattoos where they leave room to get autographed. Horvitz said, "We always ask them to please not get murdered because we're afraid the police will think the killer signed their work."
As an actor who had success in on-screen roles on The Drew Carey Show, Outsourced, and Office Space, Bader remarked that he is in awe at the talent of his cartoon co-stars and how unpretentious and friendly most are compared to the rest of Hollywood. When asked what his favorite character to play was, Bader immediately and unequivocally said "Batman." Prior to being cast on Brave and the Bold Bader had not been terribly well-versed in Bat-lore but said that getting into character really moved him especially in the scene where Batman confronts his parents' killer, during Bader said he had literal tears running down his face.
On panels with LaMarche and Paulsen it was readily evident that their their friendship and work relationship easily rolls into one another. Paulsen remarked several times that his co-stars are people with whom he would choose to be friends had they never met at work. They often finished one another's jokes and would goad the other into saying a favorite line or catchphrase. They credited a mutual love of Monty Python and Beyond the Fringe as instantly cementing their bond when the first worked together.
LaMarche and Paulsen shared many stories from Animaniacs and Pinky and the Brain, one being the famous "Yes, Always" sketch in which LaMarche faithfully recreates a famous outtake of Orson Welles recording a commercial for peas in which the famous director angrily tells off the staff. LaMarche had regaled his co-stars, directors, and engineers with his rendition so it was added to the script as a suprise for LaMarche. They also regaled the audience to a reading of "Green Eggs in Ham" with Paulsen reading Sam I Am (in the voice of Pinky) and LaMarche playing the main character as the Brain. The showstopper, however, was Paulsen singing "Yakko's World" in which he rattles off every single country in the world to which the entire crowd clapped along.
Finally, Janet Varney who voices the title character of The Legend of Korra spoke about the series to a full panel room of Avatar-fans. She noted that they all had very pointed questions regarding many of Korra's decisions on the show. Varney said while she often disagrees with Korra's actions that is part of what makes her a well-rounded character. Twice during the Q&A Varney had to apologize for "rudely" taking a phone call. The first was from Firelord Zuko (actor Dante Basco) who called in to look for his honor and the second was Bolin (voice actor PJ Byrne), both whom were kind enough to say hello to the fans and field a question or two.
Fans were very excited to meet the people who helped bring their animated favorites to life. LaMarche said it best, "Hearing I made your childhood better makes my middle age better." Here's looking forward to seeing what voice talents are scheduled for next year's show!
July 10, 2014 by Colin Solan
Filed under Animation, Anime, Comic Books, Comic Strips, Convention News, Cosplay, Horror, Manga, Massachusetts, Movies, Other, Science Fiction and Fantasy, Television, Top Stories, Video Games
Press Release:
Boston Comic Con, Dick's Last Resort, Newbury Comics, and Faneuil Hall Marketplace are teaming up for the second annual pre-convention Boston Comic Con Costume Contest on Wednesday, July 30, 2014 from 11:45 am – 1:00 pm. The contest is open to the public and will feature a costume parade around Faneuil Hall Marketplace and prizes for the top three winners. Boston Comic Con will be held August 8-10, 2014 at the Seaport World Trade Center.
Contestants of all ages are encouraged to dress up as their favorite superhero, comic book character, and beyond (all costumes should be family friendly). The contest will kick off with a "Costume Parade" around Quincy Market, beginning and ending at Dick's Last Resort (Boston Comic Con will also host its annual Costume Contest "Cosplay" during the Convention on Sunday, August 10th at 4:00 pm at the Seaport World Trade Center)
Prizes for 1st, 2nd and 3rd place winners will be awarded. 1st place winner will receive two VIP passes to the three day Boston Comic Con ($240 value that includes a limited-edition T-shirt). The 2nd place winner will walk away with a $100 gift certificate to Dick's Last Resort. The 3rd place winner will be awarded a $50 gift certificate to Newbury Comics.
Costume contestants should arrive at Dick's Last Resort at 11:45 am to check in and register. The parade will begin at 12:15 pm and the final winners will be announced at 12:45 pm. Judges will include representatives from Newbury Comics at Faneuil Hall, Faneuil Hall Marketplace  and Boston Comic Con.
The event is free and open to the public. However, space is limited and contestants will be accommodated on a first come, first served basis. Adults and children of all ages are welcome to compete!
About Newbury Comics
Newbury Comics, a longtime exhibitor at Boston Comic Con, will be located at the Boston Comic Con Exhibition area in the Seaport World Trade Center. Newbury Comics will be giving out free promotional items at Boston Comic Con so stop by and visit their booth! Newbury Comics Faneuil Hall Marketplace store is located in the North Market building and is one of 28 stores all based in New England. Newbury Comics is independently owned and operated by its original founder for more than 30 years and specializes in music, movies and pop culture goods.
About Dick's Last Resort at Faneuil Hall Marketplace
Dick's is located in the Historic Quincy Market at Faneuil Hall Marketplace in Boston. It's just a napkin's throw away from the Harbor and the Boston Aquarium. Stop by and let yer hair down, enjoy some grub or toss back a few cold ones on our rockin' patio. It's all in fun at Dick's in Boston, so come see why Dick has been infamous since the rowdy times began in 1993.
About Boston Comic Con
The 8th Annual Boston Comic Con will host a three-day convention at the Seaport World Trade Center Friday August 8 through Sunday August 10, 2014. A-list celebrities from the genres of science fiction fantasy, horror and beyond will participate in panel discussions, Q&As, photo ops and autograph signings throughout the convention, alongside 200+ comic book creators from the local region and beyond. In addition, a Comic Book film festival will be held throughout the weekend and a Comic Book art auction will be held on Sunday, August 10. New this year, a third day was added on Friday, August 8, first Cosplay Harbor and the official "after party" at Laugh Boston on Saturday, August 9, and a limited number of VIP entry tickets on the convention's first day at 1 p.m. August 8, one hour before general admission. Celebrity appearances by Jason Momoa of "Game of Thrones," John Barrowman of "Doctor Who," "Torchwood" and Arrow," Sean Astin of "The Goonies" and "The Lord of the Rings" trilogy, James Marsters of "Buffy the Vampire Slayer" and "Angel," Katie Cassidy of "Arrow," Eve Myles of "Torchwood," Jewel Staite of "Firefly,"Sam Witwer of "Being Human" and Darryl McDaniels, aka DMC, of Run-DMC.
Press Release:
Steven Yeun, Dave Bautista, Manu Bennett, James Marsters Headline Celebrity Guests At Inaugural Wizard World Richmond Comic Con, September 12-14
WWE® Hall of Famer Ricky 'The Dragon' Steamboat™, Adam West, Burt Ward, Alan Tudyk, Eliza Dushku, Michael Madsen, Jon Bernthal, Michael Rooker, Top Comics Creators At Pop Culture Festival At Greater Richmond Convention Center
RICHMOND, Va., July 7, 2014 – Steven Yeun, Michael Rooker and Jon Bernthal of "The Walking Dead," Adam West and Burt Ward of "Batman", Manu Bennett (The Hobbit, "Arrow"), Dave Bautista (a.k.a. WWE® Superstar Batista™, also starring in the summer blockbuster Guardians of the Galaxy), WWE® Hall of Famer Ricky 'The Dragon' Steamboat™ and James Marsters ("Buffy The Vampire Slayer," "Torchwood") are among the celebrities scheduled to attend the inaugural Wizard World Richmond Comic Con, September 12-14 at the Greater Richmond Convention Center. It is the 11th of 16 events scheduled in the 2014 series produced by Wizard World, Inc. (OTCBB: WIZD) and will also feature a top-drawer collection of well-known comics artists and writers and a variety of activities, exhibitors and special attractions.
Yeun will appear on Saturday and Sunday, Sept. 13-14; the WWE stars will attend on Saturday only; the others are scheduled for all three days.
Other notables scheduled include Eliza Dushku ("Buffy The Vampire Slayer," "Angel"), Giancarlo Esposito ("Once Upon a Time," "Breaking Bad"), Alan Tudyk ("Firefly," Wreck-It Ralph), Michael Madsen (Reservoir Dogs, "24"), Ernie Hudson (Ghostbusters, "Heroes"), Lou Ferrigno ("The Incredible Hulk," "The King of Queens"), Jason David Frank ("Mighty Morphin' Power Rangers"), Sara Underwood ("Attack of the Show") and the Boondock Saints duo of Sean Patrick Flanery and David Della Rocco.
Superstar comics creators scheduled to attend include Eisner Award Hall of Famer Neal Adams ("Batman," "X-Men"), Ethan Van Sciver ("Green Lantern," "Flash"), Kevin Eastman (Co-Creator, "Teenage Mutant Ninja Turtles"), Kevin Maguire ("Justice League," "Batman Confidential"), John Tyler Christopher ("Amazing Spider-Man," "X-Men"), Michael Golden ("Hulk," "Star Wars"), Arthur Suydam ("Marvel Zombies," "Army of Darkness") and Greg Horn ("Guardians of the Galaxy," "The Avengers").
Wizard World Comic Con events bring together thousands of fans of all ages to celebrate the best in pop-fi, pop culture, movies, graphic novels, cosplay, comics, toys, video gaming, television, sci-fi, gaming, original art, collectibles, contests and more. Wizard World Richmond Comic Con show hours are Friday, Sept. 12, 3-8 p.m.; Saturday, Sept. 13, 10 a.m.-7 p.m., Sunday, Sept. 14, 11 a.m.-5 p.m.
A first-class lineup of topical programming takes place all three days at the event, with celebrity Q&A's, the Wizard World Film Festival, comics-themed sessions, costume contest, movie screenings, evening parties and more. Sunday, Sept. 14, is also Kids Day, with an array of activities and programming specially designed for the younger Wizard World fans.
Richmond Comic Con is also the place for cosplay, with fans young and old showing off their best costumes throughout the event. Fans dressed as every imaginable character – and some never before dreamed – will roam the convention floor, often stopping by the Show Stage, the ideal place to see and be seen.
For more on the 2014 Wizard World Richmond Comic Con, visit http://www.wizardworld.com/home-richmond.html.
About Wizard World:
Wizard World (OTCBB: WIZD) produces Comic Cons and pop culture conventions across North America that celebrate graphic novels, comic books, movies, TV shows, gaming, technology, toys and social networking. The events often feature celebrities from movies and TV, artists and writers, and events such as premieres, gaming tournaments, panels, and costume contests.
The full event schedule can be found at www.wizardworld.com.
Wizard World 2014 Schedule
January 24-26 – Wizard World Portland Comic Con
February 7-9 – Wizard World New Orleans Comic Con
March 7-9 – Wizard World Sacramento Comic Con
March 28-30 – Wizard World Louisville Comic Con
April 4-6 – Wizard World St. Louis Comic Con
May 2-4 – Wizard World Minneapolis Comic Con
May 30-June 1 – Wizard World Atlanta Comic Con
June 19-22 – Wizard World Philadelphia Comic Con
August 1-3 – Wizard World San Antonio Comic Con
August 21-24 – Wizard World Chicago Comic Con
September 12-14 – Wizard World Richmond Comic Con
September 26-28 – Wizard World Nashville Comic Con
October 2-4 – Wizard World Austin Comic Con
October 31-November 2 – Wizard World Ohio Comic Con
November 7-9 – Wizard World Tulsa Comic Con
November 21-23 – Wizard World Reno Comic Con