MAD Event Management Announces New Comic Book Convention
WARWICK, NY (March 10, 2015)…MAD Event Management is proud to announce the third addition to their comic convention line up, the New Jersey Comic Expo which is scheduled for November 21 & 22, 2015 at the New Jersey Convention & Exposition Center in Edison, NJ. Joining its sister conventions, Long Beach Comic Con and Long Beach Comic Expo, New Jersey Comic Expo will be part of a three-show series.
"The success of films and television shows based on comic book characters originates with the creators," said Martha Donato, President of MAD. "The comic shows we produce are first and foremost produced for anyone who has an affinity for comics, animation, games – really any type of pop culture that values content and its creators. We strive to create an environment that brings together a group of people who want to celebrate a culture and a lifestyle. And most of our team who produces the shows are based in the NY/NJ area, so this is a great place for us to do a home show."
For more information about New Jersey Comic Expo, visit www.newjerseycomicexpo.com.
About MAD Event Management:
MAD Event Management is an all-purpose event planning facilitator whose principal owner has over 18 years of experience producing annual large-scale consumer conventions around the country, including Los Angeles, New York, Philadelphia, Chicago and Dallas. MAD's capabilities include: Site Selection, Exhibit Staffing, Marketing Plans, Vendor Selection, Floor Plan Development, On-Site Execution, Sponsor Exhibitor Sales, Travel Management, Contract Development, Setup & Disassembly and Contract Coordination.  Visit www.madeventmanagement.com for additional information.
About the New Jersey Convention & Exposition Center:
What makes us New Jersey's #1 Showplace? LOCATION, LOCATION, LOCATION! The New Jersey Convention and Exposition Center is situated in Edison, NJ, in the heart of one of the nation's fastest growing and most affluent geographic regions. The New Jersey Convention and Exposition Center is located in the geographic heart of the Northeast, adjacent to the confluence of I-95 (The NJ Turnpike), I-287, The Garden State Parkway, and US Route 1 & 9, and 35. Just 15 minutes south of Newark Liberty Airport, 40 minutes south of Midtown Manhattan and 60 minutes from Northeast Philadelphia. The New Jersey Convention and Exposition Center is convenient to all major transportation centers with public transportation available from New York City provided by AMTRAK to both New Brunswick and Islen/Metropark.
Hassle-free move-in and operations gives a show manager the freedom and convenience they deserve. The largest venue in Northern New Jersey, the New Jersey Convention and Exposition Center offers ground level accessibility, fourteen loading docks, and two drive-in doors.
Join Kurtis J. Wiebe (Rat Queens, Pisces), Kate Leth (Power Up!), Ed Brisson (Sheltered, Cluster), Leila Del Duca (Shutter), Joshua Williamson (Birthright, Nailbiter), Jim Zub (Wayward, Skullkickers) and Kelly Fitzpatrick (Peter Panzerfaust, Rat Queens) for an evening of drinks and board games at the Ray Gun Lounge on Saturday, March 28th at 8:00 pm!
Free admission, but a suggested donation of any amount to Gay City, who will be on site, would be much appreciated!
Ray Gun Lounge
501 E Pike St, Seattle, WA 98122
Press Release:
This April, attendees of Star Wars Celebration Anaheim will witness the global  premiere of Star Wars Rebels season two, which continues the epic adventures of the crew of the Ghost and further reveals the early days of the rebellion against the Empire.  Fans will be the first to see the first episode of season two following an encore screening of the series' two-part season one finale.
At Celebration, there will also be a special Star Wars Rebels panel featuring members of the cast and crew from the Disney XD animated series. Dave Filoni (Executive Producer, Supervising Director), Freddie Prinze, Jr. (Kanan), Vanessa Marshall (Hera), Tiya Sircar (Sabine), Steve Blum (Zeb), Taylor Gray (Ezra) and other special guests will discuss the startling season one finale and offer exclusive sneak peeks of what's to come in season two.
Dexter's Laboratory. Johnny Bravo. The Powerpuff Girls. Cow and Chicken. Ben 10. Samurai Jack. Ed, Edd n Eddy. Camp Lazlo. For over twenty years, Cartoon Network has provided original programs that are now considered classics. Young adults look back fondly on the series. Kids cosplay as the characters. Every time I take my daughter into Hot Topic (with a hat pulled over my eyes, not to keep from being recognized, but because, to the target audience, I don't belong), I see familiar faces adorning shirts, shoes, notebooks, lunch boxes, lip balm, and lots of other stuff. Now the network has released DVDs of two new series, Clarence and Steven Universe. Will they, too, become part of the national zeitgeist?
Previewed at the 2013 San Diego Comic-Con and debuting the following year, Clarence tells the story of Clarence Wendell, a fourth-grade boy with an unusual trait in these postmodern times: he sees the good in everybody. His best friends are Jeff Randell and Ryan "Sumo" Sumozski. Jeff is brainy and aloof (hence, the square-shaped head), while Sumo is the spaz of the trio. Series creator Skyler Page worked on the industry juggernaut Adventure Time, and Clarence sports a similar style and absurd humor. Critics like the show, which will appeal more to younger kids than teens. Adult viewers may be disappointed with this DVD, however, which has only 12 episodes, less than half of the 29 that have aired. The pilot episode is present, but there are few special features–no commentary or deleted scenes, and no creator interview (which makes sense: Page was fired from the show back in July). Still, the episodes are entertaining, if not clever, and at roughly 13 minutes each, you can watch one while cooking Kraft Mac & Cheese. Always a plus.
Steven Universe is a little older, premiering on November 4, 2013. Created by Rebecca Sugar (another Adventure Time alum!), the show has a more action-oriented plot than Clarence. Steven is the youngest member of a group of warriors called the Crystal Gems. Drawing their power from four mystical gemstones–garnet, amethyst, pearl, and rose quartz–the team hangs around the town of Beach City, racking up one cool adventure after another. Occasionally, they do something heroic, such as using a laser to destroy a giant, menacing red eye, but more often, Steven's troubles are, beneath their sci-fi veneer, pretty typical. In one episode, he forms a magic bubble to protect a would-be girlfriend, Connie, from a falling rock, but then he can't make the bubble disappear. This is just like childhood: getting in over your head with no real plan how to get out. Perhaps it is this universality of theme that has made Steven Universe a hit with critics and viewers alike. One quibble: the 12 episodes on the DVD are not episodes 1-12 but a random assortment. Because each episode builds on the next, watching them out of order is not the ideal way to experience this highly enjoyable show.
Clarence episodes
1. Fun Dungeon Face Off
2. Pretty Great Day with a Girl
3. Lost in the Supermarket
4. Clarence's Millions
5. Jeff's New Toy
6. Zoo
7. Rise 'n' Shine
8. Average Jeff
9. Slumber Party
10. Dream Boat
11. Too Gross for Comfort
12. Neighborhood Grill
Steven Universe episodes
1. Laser Light Cannon (originally episode 2)
2. Gem Glow (originally episode 1)
3. Cat Fingers (originally episode 6)
4. Bubble Buddies (originally episode 7)
5. Tiger Millionaire (originally episode 9)
6. Steven's Lion (originally episode 10)
7. Onion Trade (originally episode 15)
8. Giant Woman (originally episode 12)
9. Lars and the Cool Kids (originally episode 14)
10. Rose's Room (originally episode 19)
11. Beach Party (originally episode 18)
12. Steven and the Steven (originally episode 22)
About Cartoon Network
Cartoon Network (CartoonNetwork.com) is regularly the #1 U.S. television network in prime among boys 6-11 and 9-14. Currently seen in 97 million U.S. homes and 194 countries around the world, Cartoon Network is Turner Broadcasting System, Inc.'s ad-supported cable service now available in HD offering the best in original, acquired and classic entertainment for kids and families. In addition to Emmy-winning original programming and industry-leading digital apps and online games, Cartoon Network embraces key social issues affecting families with solution-oriented initiatives such as Stop Bullying: Speak Up and Move it Movement.
Turning Broadcasting System, Inc., a Time Warner company, creates and programs branded news, entertainment, animation and young adult media environments on television and other platforms for consumers around the world.
Press Release:
Boston Comic Con welcomes living legend STAN LEE for a rare New England appearance! Stan will be signing autographs and doing fan photo ops all day Saturday and all day Sunday. Stan's co-creation—alongside artists such as Jack Kirby and Steve Ditko—of superheroes including Spider-Man, Iron Man, Daredevil, The Avengers, X-Men, Fantastic Four, and Silver Surfer ushered in the Marvel Age of Comics. As the preeminent spokesman of Marvel Comics, he continues to appear in virtually every film, cartoon, and television show Marvel produces.
In addition, Stan will be appearing at a special Friday night VIP event that is limited to only 400 people! Don't miss a once in a lifetime opportunity to hang out with "The Man." For more information and to purchase tickets click here…
Previously announced guests include: Eduardo Risso, Humberto Ramos, Jose Luis Garcia-Lopez, Tony Moore, Jason Latour, Joelle Jones, Steve Lieber, Annie Wu, Franco Aureliani, J. Bone, Frank Brunner, Michael Cho, Jeff Dekal, Evan Dorkin, Sara Dyer, Gerry Duggan, Mike Henderson, Mike Kunkel, John Layman, Laura Martin, Jeff Parker, Kurtis J. Wiebe, Joshua Williamson, Amanda Conner, Jimmy Palmiotti, Stephane Roux, Frank Cho, Brian Azzarello, Amy Reeder, Don Rosa, Frank Tieri, Andy Belanger, Stephanie Buscema, CB Cebulski, Joe Prado, Dave Johnson, and more!
Tickets are now available for purchase. Please note that this year tickets will be sold ONLINE ONLY, there will not be any on-site ticket sales.
If you are coming in from out of town, the official Boston Comic Con hotel is the Seaport Hotel which is attached to the show venue (The Seaport World Trade Center). To book your hotel room, call the Seaport reservations desk at 617-385-5000 and ask for The Boston Comic Con attendee rate. Hotel rooms at the official Boston Comic Con hotel sell out quickly.
About Boston Comic Con:
The Boston Comic Con is a 100% independently run comic book show committed to bringing the biggest and best comic creators to New England. Run by fans for fans, Boston Comic Con is not affiliated with any other convention tour or corporate interests. Hosting over 120,000 square feet of vendors selling comic books, toys, posters, trading cards, and other pop culture memorabilia, this is a destination event for geeks of any stripe. This year's convention will be held Friday July 31st, Saturday August 1st, and Sunday August 2nd at the Seaport World Trade Center, 200 Seaport Blvd, Boston, MA 02210. For more information please go to our website at www.bostoncomiccon.com and follow us on Twitter (@BostonComicCon) and Facebook!
Writer/artist Chip Zdarsky signs Sex Criminals v2 and Howard The Duck #1 on Wednesday, March 11, 2015 from 6:00-8:00 pm!
Press Release:
The one and only Chip Zdarsky, artist and co-creator of Sex Criminals, writer and co-creator of the forthcoming Kaptara, and star of our dreams, will be teaming with The Beguiling to do an event of sub-epic proportions, in celebration of his epic new HOWARD THE DUCK #1 and the long-awaited SEX CRIMINALS VOLUME 2!
The event takes place Wednesday March 11th, just down the street from The Beguiling at No One Writes To The Colonel (College & Bathurst). Chip Zdarsky will be doing a short presentation, having a drink or two, and signing your copies of HOWARD THE DUCK and SEX CRIMINALS and whatever else you bring! The Beguiling will ALSO be involved in the presentation, having three to six drinks, and will have ALL of the Howard The Duck #1 covers (including variants) on hand for your purchasing pleasure. Plus more-or-less every issue of Sex Criminals, the Sex Criminals trade paperbacks, and maybe some treasured-Zdarsky-rarities too!
No One Writes to the Colonel
460 College Street, Toronto, ON M6G 1A1
Lego fans wait no more! LEGO: DC Comics Super Heroes: Justice League vs. Bizarro League is here along with an awesome Bizarro name-generator app and exclusive Digital Trading Cards.
One lucky winner will receive LEGO Justice League vs. Bizarro League Blu-ray+DVD+Digital HD UltraViolet Combo Pack + with Batzarro LEGO minifigure!
Deadline to enter is March 4, 2015.
The Story: Batman has joined the newly formed Justice League in order to keep tabs on Superman, a mistrust that is complicated by Superman's clumsy – but well-meaning – clone, Bizarro. Bizarro's creation of the Bizarro League has caused confusion amongst the world's greatest Super Heroes, but an even greater and mysterious threat may force the Justice League and Bizarro League to band together to defeat evil.
Superman Digital Exclusive Trading Card

Download and print out free trading cards!

Use our widget to record your entries:
Each household is only eligible to win LEGO: DC Comics Super Heroes: Justice League vs. Bizarro League (Blu-ray+DVD+Digital HD UltraViolet Combo Pack) Blu-ray via blog reviews and giveaways. Only one entrant per mailing address per giveaway. If you have won the same prize on another blog, you will not be eligible to win it again. Winner is subject to eligibility verification.
Warner Home Video is sponsoring this contest and has provided the prize and materials.
The prize will be sent via FedEx or USPS. No P.O. Boxes please. Giveaway open to the U.S. and Canada.
Writer Greg Rucka and artist Michael Lark appear at Fantastic Comics for a Q&A and signing on Saturday, March 21, 2015 from 3:30 – 6:00 PM! RSVP on Facebook!
After the signing, fans are invited to head on over to TR!CKSTER for an art show of Michael's work and a reception with both creators from 7:00 to 9:30 PM. RSVP on Facebook!
Fantastic Comics
2026 Shattuck Ave, Berkeley, CA 94704
510-848-2988
Tr!ckster
2631 Ashby Ave, Berkeley, CA 94705
510-665-8900
Every pony is unique! If you lived in Equestria, what would your CUTIE MARK be? The Cutie Marks Crusaders can help you find out! MY LITTLE PONY–FRIENDSHIP IS MAGIC: ADVENTURES OF THE CUTIE MARK CRUSADERS is coming to DVD on February 24, 2015 in the U.S. and Canada from Shout! Factory Kids in collaboration with Hasbro Studios. Offered as a bonus feature is a fun new sing-along and coloring sheets!
I was ten years old when I got my first My Little Pony doll. Back then, the ponies had sad, dreamy looking eyes with round faces. I collected a number of them, my favorite being the one with shamrocks on its butt; the phrase "cutie mark" hadn't come along yet. The most exciting thing you could expect to do with your pony was brush its hair. Soon after, a cartoon series premiered. As a kid in the '80s I can tell you, it was pretty lame. Fast forward 20 years. I was married with a little girl who was in love with My Little Pony. For years, I've watched this child obsess over every detail of every pony. The toys evolved in appearance and developed an incredibly in-depth back story. By 2010, animator and writer Lauren Faust (The Power Puff Girls) gave the world My Little Pony–Friendship is Magic, bringing the franchise a commercial success never imagined. Here is some information about the new DVD:
"In EQUESTRIA, obtaining a CUTIE MARK is an important coming-of-age moment for a young Pony. After all, Ponies acquire their CUTIE MARKS only after they discover a unique characteristic about themselves, setting them apart from all other Ponies. So when Sweetie Belle, Scootaloo and Apple Bloom meet, they instantly become friends and make it their mission to find their CUTIE MARKS! They are the Cutie Mark Crusaders!"
My daughter is 16.5 years old now and a Junior in High School. I wish you could have seen her face when I told her that I'd been tasked with reviewing this DVD! We watched it together and she provided detailed commentary during and after every episode. That right there was worth every moment.
As a family who were long-time fans of The Power Puff Girls, it was easy to fall in love with the Friendship is Magic series. In fact, the characters of Sweetie Bell, Scootaloo and Apple Bloom are essentially a redux of the PPG's Blossom, Bubbles and Buttercup characters. But, the pop culture references don't stop there. Parents watching this series with their children will be entertained by look-a-like Ponies that pop up in every episode. Any cartoon that can find a way to work in 'Doctor Whooves' gets two thumbs up from me. Keep an eye out on this DVD for the 'cast' of The Big Lebowski at the bowling alley.
These Generation 4 My Little Pony characters are a lot of fun to watch no matter what your age. Each character, as expressed by their Cutie Mark, represents an aspect of friendship. The series offers good moral messages for young children. Though, its most impressive to me how this series has touched so many teens and even adults with its inside humor and positive messages. Having spawned an entire sub-culture of fans across the globe, My Little Pony has united many people in a fandom that will be around for many, many years to come. It is a far cry from the Pony days of my youth. I, for one, am glad to see this franchise re-imagined for a new generation. The target demographic is young girls aged 4-7, however this series is one that is highly enjoyed by every member of my household regardless of age or gender. I would highly recommend this DVD to those interested in joining the Pony movement. With 5 individual episodes and approx. 110 minutes running time, The Adventures of the Cutie Mark Crusaders will win your family over!
"For even more Pony fun, PlayDate Digital has announced the new Cutie Pox Storybook App. When Apple Bloom becomes impatient waiting for her Cutie Mark, she decides to take things into her own hooves! In this interactive story book, follow Apple Bloom and the fillies as they learn that taking the easy path toward your goals isn't always the best way. Enter the world of Equestria in this story book adventure full of excitement, humor and friendship! The release of "Cutie Mark Crusaders" marks the first of a series of planned collaborations between PlayDate Digital and Shout! Factory to cross-promote My Little Pony–Friendship is Magic stories and media. In this collaboration, products contain promotional material highlighting a variety of products. In addition, Shout! Factory and PlayDate will host contests and offer value-added bonus material."
Episodes: The Cutie Mark Chronicles, The Cutie Pox, Flight to the Finish, Pinkie Pride, and Twilight Time.
Bonus Features: Sing-Along, Coloring Sheets, and More!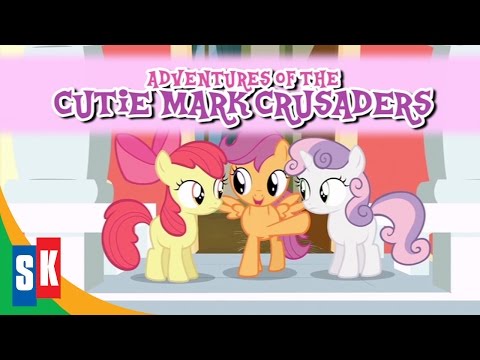 Also available on DVD from Shout! Factory Kids: My Little Pony Equestria Girls: Rainbow Rocks; My Little Pony Equestria Girls; My Little Pony-Friendship is Magic: Spooktacular Pony Tales; My Little Pony-Friendship is Magic: The Keys of Friendship; My Little Pony-Friendship is Magic: A Dash of Awesome; My Little Pony-Friendship is Magic: A Pony for Every Season; My Little Pony-Friendship is Magic: Princess Twilight Sparkle; My Little Pony-Friendship is Magic: Pinkie Pie Party; My Little Pony-Friendship is Magic: Adventures in the Crystal Empire; My Little Pony-Friendship is Magic: Royal Pony Wedding; My Little Pony-Friendship is Magic: Season Three; My Little Pony-Friendship is Magic: Season Two; My Little Pony-Friendship is Magic: Season One; My Little Pony-Friendship is Magic: The Friendship Express; My Little Pony The Complete Series (Classic); My Little Pony: Escape from Catrina and Other Adventures; My Little Pony: Classic Movie Collection; My Little Pony: A Very Minty Christmas; My Little Pony: Twinkle Wish Adventure.
About Hasbro Studios:
Hasbro Studios is responsible for entertainment brand-driven storytelling for Hasbro across television, film, commercial productions and short-form content. It develops, produces and distributes TV shows based on Hasbro's world class brands, including TRANSFORMERS, MY LITTLE PONY, LITTLEST PET SHOP and FAMILY GAME NIGHT. Many of these shows air on Discovery Channel Family Channel and on networks in more than 180 territories globally. Since its formation in 2009, the studio has received nine Daytime Emmy wins.
On the film side, the studio has developed and produced a number of features based on Hasbro's brands. In addition to partnering with leading studios, the company intends to make movies based on new and existing Hasbro brands for audiences globally through Allspark Pictures film label. Films in development or planned for release include OUIJA (Universal), CANDY LAND (Sony), GI JOE 3 (Paramount), JEM AND THE HOLOGRAMS (Universal and Allspark Pictures), MAGIC: THE GATHERING (21st Century Fox), and an animated feature based on MY LITTLE PONY (Allspark Pictures).
About Shout! Factory:
Shout! Factory, LLC is a diversified multi-platform entertainment company devoted to producing, uncovering, preserving and revitalizing the very best of pop culture. Founders Richard Foos, Bob Emmer and Garson Foos have spent their entire careers sharing their music, television and film favorites with discerning consumers the world over. Shout! Factory's DVD and Blu-Ray offerings serve up feature films, classic and contemporary TV series, animation, live music and comedy specials in lavish packages crammed with extras. Shout's audio division boasts GRAMMY nominated box sets, new releases from storied artists, lovingly assembled album reissues and indispensable "best of" compilations. In addition, Shout! Factory maintains a vast digital distribution network which delivers video and audio content to all the leading digital service providers in North America. Shout! Factory also owns and operates Timeless Media Group, Biograph Records, Majordomo Records, HighTone Records and Video Time Machine. These riches are the result of a creative acquisition mandate that has established the company as a hotbed of cultural preservation and commercial reinvention. Shout! Factory is based in Santa Monica, California. For more on Shout! Factory, visit shoutfactory.com
Press Release:
HavenCon is thrilled to welcome actors Janet Varney and PJ Byrne! They will be with us both Saturday April 4th and Sunday April 5, 2015 to speak with fans as well as providing autographs. *please note Dante Basco had to cancel his appearance due to his filming schedule*
JANET VARNEY
Janet Varney is a comedian, actor, writer and producer. In the animation world, she is lucky enough to be the voice of Korra on Nickelodeon's hit series The Legend of Korra. She also spent seven wonderful years hosting TBS's "Dinner and a Movie," recurred on HBO's Entourage, was a series regular on the beloved E! and Yahoo series Burning Love seasons 1 and 3, and has made guest appearances in hit shows including How I Met Your Mother, Key and Peele, Psych, Bones, on the panel of Chelsea Lately, as a regular co-host on HuffPost Live, and has appeared in films such as Still Waiting, Drillbit Taylor, and Judy Moody and the Not Bummer Summer. Janet is the host of the popular Nerdist podcast The JV Club and the co-founder, creative director and producer of SF Sketchfest, the San Francisco Comedy Festival, now in its 14th year.
P.J. Byrne, known as Bolin from Legend of Korra! That's right, we are reuniting members of #TeamAvatar.  Both P.J. and Janet will be with us both days to talk all things Korra and more!  P.J. also has a very impressive list of credits in other films and works including "The Wolf of Wall Street", "Final Destination 5″, and so many more.  You can view his full filmography at the link….
Pre-purchase an autograph from one of our special guests and be the first in line!  Everyone who pre-registers for a VIP or 2-Day pass and pre-purchases an autograph will receive an exclusive #TeamAvatar badge!  *If you have already purchased a VIP or 2 day pass and would like to upgrade to the #TeamAvatar badge, pre-purchase an autograph and we'll take care of the rest!  Register before March 1st and Save 25% on all passes with promo code TeamAvatar!
Purchase admission tickets and autographs at the link!