Press Release:
Overstreet and Hero Get the Spirit
Dave Johnson Tackles Will Eisner's Classic Character for the Guide!
[Los Angeles, California and Timonium, Maryland] – Perhaps no other creator championed the different forms that comic books and comic book artwork can take better than Will Eisner. From the pages of The Spirit sections in local newspapers in the 1940s and '50s to pioneering graphic novels to the U.S. Army's P.S. Magazine, Eisner relentlessly showcased what could be done with the art form.
Now, Gemstone Publishing and the Hero Initiative, the first 501 (c)(3) charity dedicated to helping comic book creators in need, and artist Dave Johnson have teamed-up to put Eisner's famous character on the cover of a limited edition of The Overstreet Comic Book Price Guide #45. All funds raised from the sales of this volume go to Hero.
As with past collaborations between Gemstone and Hero, this version of the Guide will be available only in the special hardcover edition limited to 500 copies. It will go on sale at Comic-Con International: San Diego on Wednesday, July 8, 2015 at the Hero Initiative booth, #5003. There will be no soft cover edition of this version, and it will retail for $35.
"In addition to loving comics and pushing them for all they were worth, my friend Will Eisner was equally committed to the cause of his fellow creators. So in the 75th anniversary year of his beloved creation, we're very happy to have The Spirit on the cover of The Hero Initiative edition of The Overstreet Comic Book Price Guide #45. Purchasing a copy is a great way for fans to celebrate Will's legacy while raising funds for a tremendous cause," said Steve Geppi, President and CEO of Gemstone Publishing and Diamond Comic Distributors.
Known for his incredible illustration and inventive design skills, Dave Johnson made a name for himself with striking, evocative covers on such series Vertigo's 100 Bullets, Marvel's Deadpool, DC's Uncle Sam and the Freedom Fighters, among many others. For this cover, in the tradition of Will Eisner, he illustrated the Guide's logo as part of the overall image.
The Hero Initiative edition will be available exclusively from Hero. An extremely limited number of copies will be available from Hero's website and through a select group of participating retailers.
"Our thanks to Steve Geppi, Bob Overstreet, and their team at Gemstone Publishing, who once again have delivered a great, must-have item for serious collectors and Hero supporters," said Hero President Jim McLauchlin. "Dave Johnson's timely 75th anniversary tribute to The Spirit and Will Eisner and the Guide's 45th anniversary make an excellent team."
Johnson joins a roster of celebrated artists who have contributed covers for the special Hero Initiative limited editions including John Romita, Jr., Klaus Janson and Dean White (#40), John Romita, Sr., Tom Palmer and Dean White (#41), Matt Wagner and Ryan Brown (#42), Terry Moore and Brian Miller (#43) and Herb Trimpe, Tom Palmer and Laura Martin (#45).
The standard editions of The Overstreet Comic Book Price Guide #45 feature Captain Action by Paul Gulacy, Bloodshot and X-O Manowar by Cary Nord, Captain America and Agents of S.H.I.E.L.D. by Greg Land, and Superman by Joe Shuster.
About The Hero Initiative
The Hero Initiative is the first-ever federally chartered not-for-profit corporation dedicated strictly to helping comic book creators in need. Hero creates a financial safety net for yesterday's creators who may need emergency medical aid, financial support for essentials of life, and an avenue back into paying work. It's a chance for all of us to give back something to the people who have given us so much enjoyment. Hero is a federally recognized 501(c)(3) charity. The Hero Initiative Limited Edition Hardcover version of The Overstreet Comic Book Price Guide #45 is scheduled to go on sale at The Hero Initiative booth at Comic-Con International: San Diego on Preview Night, Wednesday, July 8, 2015 and afterward through a limited number of Hero affiliates. This version will be available in hardcover only and is limited to 500 copies. The retail price is $35. Information on special signings during the show will be released soon.
About Gemstone Publishing
Best known as the home of The Overstreet Comic Book Price Guide, Gemstone Publishing was formed by Diamond Comic Distributors President and Chief Executive Officer Stephen A. Geppi as a conduit for his efforts in preserving and promoting the history of the comics medium. Gemstone's product line includes publications such as The Overstreet Comic Book Grading Guide, The Big Big Overstreet Comic Book Price Guide, Hake's Price Guide To Character Toys, The Overstreet Guide To Collecting Comics, and Comic Book Marketplace. Gemstone also publishes Scoop, a free weekly e-newsletter which looks inside the world of pop culture with a focus on auctions, toys, comics, posters, art and anything and everything pop culture.
DARK HORSE ANNOUNCES SAN DIEGO COMIC-CON 2015 EXCLUSIVES
GAME OF THRONES, FIGHT CLUB 2, AND MORE EXCLUSIVES AVAILABLE AT BOOTH #2615FOR IMMEDIATE RELEASE: MILWAUKIE, OR—Dark Horse is proud to announce its vast selection of exclusive merchandise for San Diego Comic-Con International 2015! From the anticipated HaloPelican Dropship Replica to variant covers by some of the most talented artists in the comics industry, including Becky Cloonan, Charlie Adlard, Joëlle Jones, and Colleen Coover, Dark Horse has fans covered!All exclusive merchandise will be available at the Dark Horse booth (#2615) over the course of SDCC 2015. Please note that there will be a fixed number of exclusives set aside for each day of the convention.

Check out the full roster of Dark Horse SDCC 2015 exclusives, along with quantity and price, below!
The Goon 3D Print 
$25.00
Limited Edition of 300
5 per person per day
Halo UNSC Pelican Dropship Replica – SDCC Exclusive Bronze Edition
$50.00
Limited Edition of 400
1 per person per day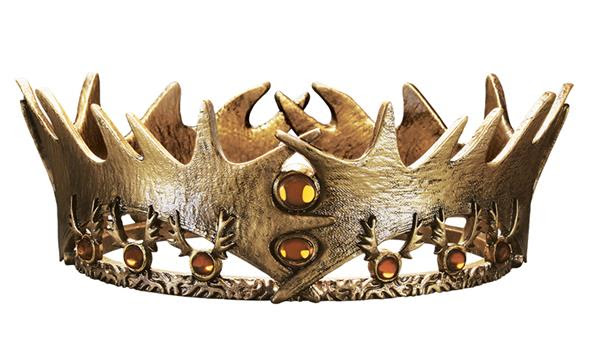 Games of Thrones: Robert Baratheon Crown – SDCC Exclusive Mini Replica
$60.00
Limited Edition of 400
2 per person per day
Dragon Age: Inquisition Deluxe Playing Cards – Series Two – Convention Exclusive
$8.00
Limited Edition of 2,000
10 per person per day
Fight Club 2 #1 Convention Exclusive Variant Cover by Joëlle Jones
$5.00
Limited Edition of 1,000
5 per person per day
Archie vs. Predator #1 San Diego Comic-Con International Exclusive Variant Cover by Colleen Coover
$5.00
Limited Edition of 1,000
5 per person per day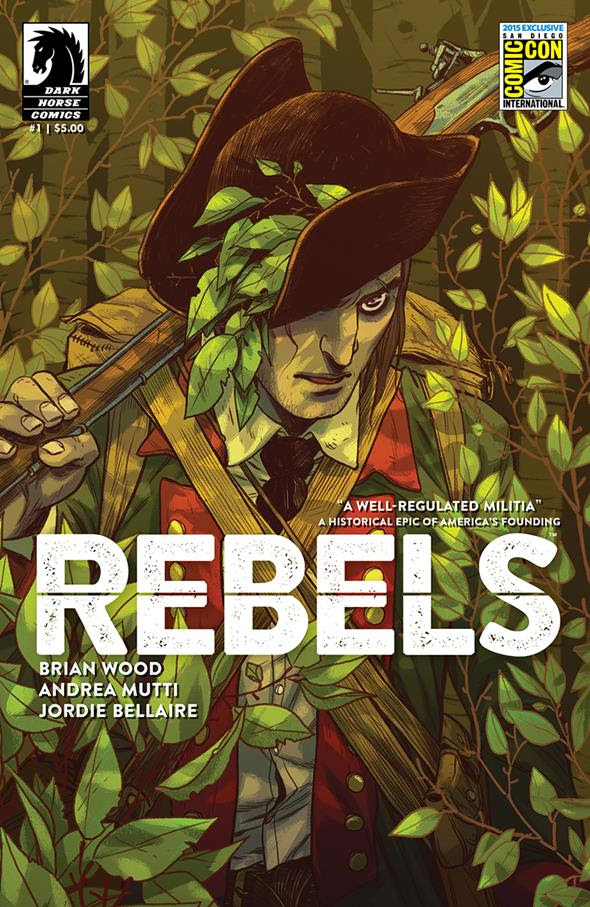 Rebels #1 San Diego Comic-Con International Exclusive Variant Cover by Becky Cloonan
$5.00
Limited Edition of 1,000
5 per person per day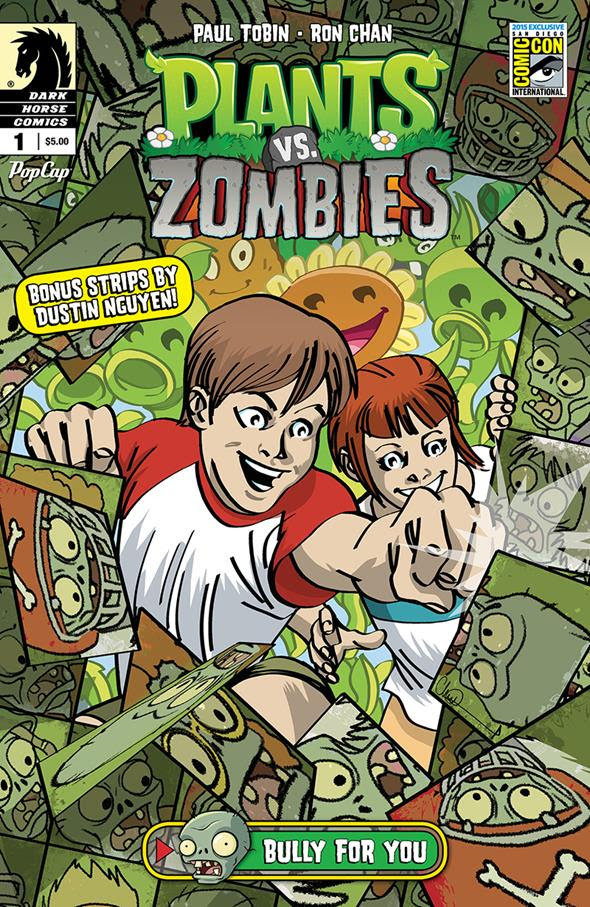 Plants vs. Zombies: Bully for You #1 San Diego Comic-Con International Exclusive Variant Cover by Charlie Adlard
$5.00
Limited Edition of 1,000
5 per person per day
Groo vs. Conan San Diego Comic-Con Exclusive Hardcover Edition
$30.00
Limited Edition of 300
5 per person per day
The Goonies 30th Anniversary San Diego Comic-Con Exclusive Print by Eric Powell
$20.00
Limited of 1,500
5 per person per day
Prometheus: Fire and Stone Slipcase – Convention Exclusive
$50.00
Limited Edition of 500
5 per person per day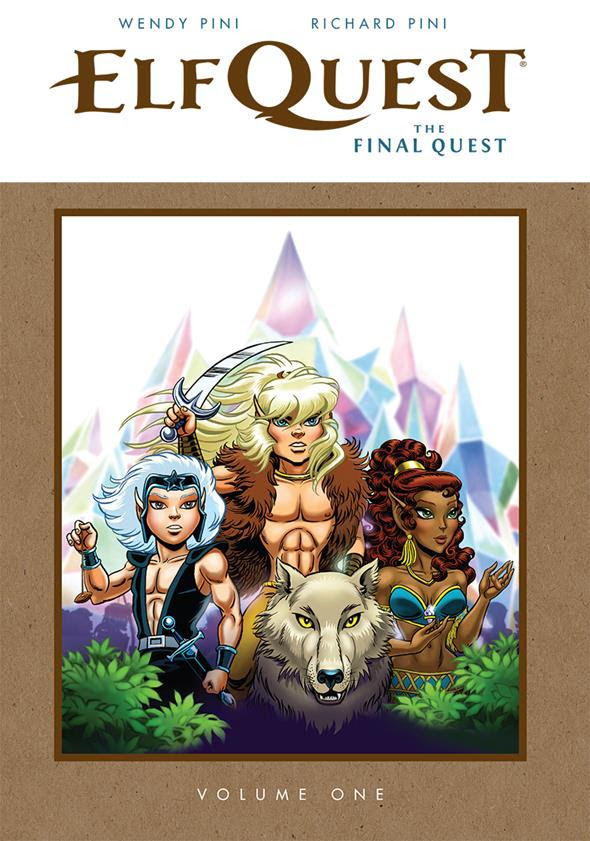 Elfquest: The Final Quest Hardcover – Convention Exclusive
$30.00
Limited Edition of 1,000
5 per person per day
Press Release:
USA NETWORK PREMIERES NEW ORIGINAL DRAMA SERIES "COLONY" FROM EXECUTIVE PRODUCER CARLTON CUSE, LEGENDARY TELEVISION AND UNIVERSAL CABLE PRODUCTIONS AT SAN DIEGO'S COMIC-CON
Comic-Con Panel and Screening Features Josh Holloway ("Lost"), Sarah Wayne Callies ("Walking Dead"), Executive Producers Carlton Cuse ("Lost") and Ryan Condal ("Hercules")
WHAT: USA Network unveils COLONY, its newest drama series, at San Diego's Comic-Con with an autograph signing and panel discussion on Friday, July 10, followed by an exclusive premiere screening with the cast and executive producers on Saturday, July 11. All events will feature stars Josh Holloway ("Lost"), Sarah Wayne Callies ("The Walking Dead"), Amanda Righetti ("The Mentalist"), Peter Jacobson ("House") and executive producers Carlton Cuse ("Lost," "The Strain") and Ryan Condal ("Hercules"). Set in the very near future, COLONY centers on one family's struggle to survive and bring liberty back to the people of an occupied Los Angeles. SAG winner Josh Holloway ("Lost") stars as former FBI agent Will Bowman and Satellite Award winner Sarah Wayne Callies ("The Walking Dead") stars as his wife, Katie, in the series which takes place in a dangerous world of divided ideologies. While some choose to collaborate with the occupation and benefit from the new order, others rebel and suffer the consequences. After being separated from their middle son during the invasion, Will and Katie are willing to do whatever is necessary to be reunited with him. So when the powerful Proxy Synder (Peter Jacobson, "House") offers Will a chance to get his son back if he will collaborate with the occupational government, Will and Katie find themselves faced with the toughest decision of their lives. They will have to go beyond whatever they thought possible, risking their lives and their relationship to protect their family. COLONY is a co-production between Legendary Television and Universal Cable Productions.
WHO: Carlton Cuse, Ryan Condal, Josh Holloway, Sarah Wayne Callies, Amanda Righetti, Peter Jacobson
WHEN & WHERE:
Friday, July 10
COLONY Autograph Signing Begins: 2:30- 3:15 p.m. Convention Center Floor at the Legendary Booth 3920
Comic-Con Panel Featuring Sneak Preview of COLONY Begins: 4:30 p.m. San Diego Convention Center, 111 W. Harbor Dr., San Diego Room: 6BCF
Saturday, July 11
COLONY Premiere Screening of Entire Pilot Episode Begins: 12:00 p.m. Press Must RSVP to attend Horton Grand Theatre, 444 4th Ave., San Diego
http://www.usanetwork.com/colony
THE CAST AND PRODUCERS OF AMC'S "THE WALKING DEAD" AND HIGHLY ANTICIPATED SERIES "FEAR THE WALKING DEAD" AND "INTO THE BADLANDS" INVADE SAN DIEGO COMIC CON 2015
WHAT:          The cast and producers of AMC's record-breaking hit series "The Walking Dead" along with the upcoming highly anticipated series "Fear The Walking Dead" and "Into the Badlands" will participate in panels at this year's Comic-Con in San Diego, CA.
WHO:             "The Walking Dead" panelists include cast members Andrew Lincoln, Norman Reedus, Steven Yeun, Lauren Cohan, Danai Gurira, Melissa McBride, Chandler Riggs, Michael Cudlitz, Lennie James and Sonequa Martin-Green along with Executive Producer and Showrunner Scott M. Gimple, Executive Producer Gale Anne Hurd, Executive Producer Robert Kirkman, Executive Producer, Director and Special Effects Make-up Supervisor Greg Nicotero and Executive Producer David Alpert.  The panel will be moderated by "Talking Dead" host Chris Hardwick.
"Fear The Walking Dead" panelists include cast members Kim Dickens, Cliff Curtis, Alycia Debnam-Carey, Frank Dillane, Elizabeth Rodriguez, Lorenzo James Henrie, Ruben Blades and Mercedes Mason along with Executive Producer andShowrunner David Erickson, Executive Producers Robert Kirkman, Gale Anne Hurd, Greg Nicotero and Dave Alpert.   The panel will be moderated by "Talking Dead" host Chris Hardwick.
"Into the Badlands" panelists include cast members Daniel Wu, Marton Csokas, Aramis Knight, Emily Beecham and Orla Brady as well as Creators, Showrunners and Executive Producers Alfred Gough and Miles Millar, Executive Producer and Director David Dobkin and Executive Producer and Fight Director Stephen Fung.  The panel will be moderated by IGN's Roth Cornet.
WHEN:           "The Walking Dead"
Autograph session from 

10:00-11:00am

on Friday, July 10, Booth #4237
·         Panel from 

12:00-1:00pm

, on Friday, July 10, Hall H
                        "Fear The Walking Dead" 
Panel from 

1:00-2:00pm

on Friday, July 10, Hall H
·         Autograph session 

1:00-2:00pm

 on Saturday, July 11, Hilton Gaslamp
Starlight Terrace
                        "Into the Badlands" 
Panel from 

10:30-11:30am

, on Saturday, July 11, Room 5AB
About "The Walking Dead"
Based on the comic book series written by Robert Kirkman and published by Image Comics, "The Walking Dead" reigns as television's most watched drama for Adults 18-49. "The Walking Dead" tells the story of the months and years that follow after a zombie apocalypse, and follows a group of survivors, led by police officer Rick Grimes, who travel in search of a safe and secure home.  The series, which has been heralded by critics as "an honest-to-God phenomenon" (Variety), "relentless and provocative" (Orlando Sentinel) and "brilliantly engaging" (TheHollywoodNews.com), stars Andrew Lincoln as Rick Grimes; Steven Yeun as Glenn; Norman Reedus as Daryl Dixon; Chandler Riggs as Carl; Lauren Cohan as Maggie; Danai Gurira as Michonne; Melissa McBride as Carol; Sonequa-Martin Green as Sasha and Michael Cudlitz as Abraham.  The series is executive produced by Showrunner Scott M. Gimple, Robert Kirkman, Gale Anne Hurd, David Alpert, Greg Nicotero and Tom Luse.
About "Fear The Walking Dead" 
A companion series to "The Walking Dead," the #1 show on television among adults 18-49, "Fear the Walking Dead" is executive produced by Robert Kirkman, Gale Anne Hurd, Greg Nicotero, David Alpert and showrunner David Erickson and produced by AMC Studios. Co-Executive Producer Adam Davidson, who directed the pilot, is also directing the second and third episodes. The series' first season, consisting of six one-hour episodes, will premiere on AMC in late summer.
The series, set in Los Angeles, stars Kim Dickens as Madison, Cliff Curtis as Travis, Frank Dillane  as Nick, Alycia Debnam-Carey as Alicia, Elizabeth Rodriguez as Liza, Ruben Blades as Daniel, Mercedes Mason as Ofelia and Lorenzo James Henrie as Chris.
About "Into the Badlands" 
In a land controlled by feudal barons, "Into the Badlands" tells the story of a ruthless, well-trained warrior named Sunny (Daniel Wu) and a young boy named M.K. (Aramis Knight) who embark on a journey across a dangerous land to find enlightenment.
AMC has ordered six, one-hour episodes for "Into the Badlands," which will premiere in late 2015. The project was created by writers/showrunners Al Gough and Miles Millar ("Shanghai Noon," "Smallville"). They'll serve as executive producers along with David Dobkin ("The Judge," "Wedding Crashers," "Shanghai Knights"), Oscar-nominated producers Stacey Sher and Michael Shamberg ("Pulp Fiction," "Contagion"), and Stephen Fung and Wu ("Tai Chi Zero").
Artist Darick Robertson appears at New England Comics on Wednesday, June 24, 2015! He will sign at the Malden store from 3:00 – 5:00 PM and the Harvard Square store from 6:00 – 8:00 PM! Darick's work includes Transmetropolitan with Warren Ellis, The Boys with Garth Ennis and Happy! with Grant Morrison! Darick has also worked on Wolverine, Nightcrawler, New Warriors, and Punisher for Marvel!
New England Comics – Harvard Square
14A Eliot Street, Cambridge, MA 02138
617-354-5352
95 Pleasant Street, Malden, MA 02148
781-322-2404
Press Release:
UNIVERSAL TELEVISION BRINGS 'HEROES REBORN' AND 'GRIMM' TO COMIC-CON
Creator Tim Kring, Jack Coleman, Zachary Levi and Cast Bring Exclusive Trailer to San Diego as Fans Set to Pack Hall H
UNIVERSAL CITY, Calif. — June 16, 2015 — Universal Television is arriving at Comic-Con with one of the most highly anticipated new shows of the fall, "Heroes Reborn," as well as longtime Comic-Con favorite "Grimm."
From Tim Kring, who imagined NBC's original critically-acclaimed "Heroes" series, comes "Heroes Reborn," an epic 13-episode event series that chronicles the lives of ordinary people who discover they possess extraordinary abilities. Watch an exclusive extended trailer.  Moderated by returning cast member Greg Grunberg, participate in a Q&A session with Tim Kring and the cast: Jack Coleman, Zachary Levi, Robbie Kay, Kiki Sukezane, Ryan Guzman, Gatlin Green, Henry Zebrowski, Judith Shekoni, Danika Yarosh and Rya Kihlstedt. (All subject to production availability.) Also learn about the digital prequel series and the video and mobile games.
Sunday, July 12, 1:45-2:45 p.m., Hall H
NBC's hit Friday night series "Grimm" returns to Comic-Con, featuring an exclusive sneak peek from the upcoming fifth season's premiere episode. Nick Burkhardt has faced some insane obstacles from becoming a zombie to losing his abilities as a Grimm; however, all this pales in comparison to not only losing his mother but having the love of his life die in his arms. How will Nick cope? Will he find any solace with his new child with Adalind? Join your fellow "Grimmsters" for a panel filled with Wesen, season five themes, and of course, a Q&A session with the cast: David Giuntoli, Russell Hornsby, Silas Weir Mitchell, Reggie Lee, Sasha Roiz, Bree Turner, Claire Coffee, and executive producers/writers Jim Kouf, David Greenwalt and Norberto Barba.
Saturday, July 11, 3-3:45 p.m., Ballroom 20
Universal Television is one of the largest and most successful television production companies in the United States. The studio currently produces nearly 20 primetime series as well as late night and reality programs for a variety of network, cable, and digital platforms. Acclaimed series produced by Universal Television include "Brooklyn Nine-Nine," "The Mindy Project," "Unbreakable Kimmy Schmidt," "Law & Order: SVU," "Chicago Fire" and "Bates Motel,"among numerous others, and all of NBC's successful late-night programs. Universal Television is a division of NBCUniversal, which develops, produces and markets the best entertainment, news and information to a global audience.
SYFY ANNOUNCES 2015 STAR-STUDDED SAN DIEGO INTERNATIONAL COMIC-CON PANELS, FEATURING THE EXPANSE, CHILDHOOD'S END, 12 MONKEYS, DOMINION, Z NATION AND SHARKNADO 3!
NEW YORK – June 16, 2015 – Syfy today announced five star-studded 2015 San Diego International Comic-Con panels and two exclusive screenings, showcasing The Expanse, Childhood's End, 12 Monkeys, Dominion, Z Nation and Sharknado 3. The schedule includes:
THURSDAY, JULY 9
DOMINION
SCREENING: 8:15pm – 10:00pm | Room 6DE
All hell is breaking loose as the battle between angels and mankind continues in a second season of Syfy's hit show Dominion. Join executive producer Vaun Wilmott for an exclusive screening of the first two episodes of Season 2. See episode 2 one week before it premieres on Syfy! 
FRIDAY, JULY 10
SHARKNADO 3: OH HELL NO!
PANEL: 7:15pm – 8:15pm | Room 6A
Join stars Ian Ziering (Fin Shepard), Tara Reid (April Wexler), Cassie Scerbo (Nova Clarke) and David Hasselhoff (Gil Shepard), director Anthony C. Ferrante and writer Thunder Levin for a fin-tastic behind-the-scenes journey into the global pop culture sensation followed by a Q&A session. Moderated by Damian Holbrook of TV Guide Magazine.  
SATURDAY, JULY 11:
CHILDHOOD'S END
PANEL: 11:00am – 12:00pm | Indigo Ballroom, Hilton Bayfront Hotel
Based on the Arthur C. Clarke classic novel, the upcoming six-hour miniseries stars Mike Vogel (Bates Motel), Julian McMahon (Nip/Tuck), Daisy Betts (Last Resort), and Yael Stone (Orange is the New Black). The cast will be on hand along with screenwriter Matthew Graham (Doctor Who) to discuss how they brought the iconic novel to the screen for the very first time.
12 MONKEYS
PANEL: 12:00pm – 1:00pm | Indigo Ballroom, Hilton Bayfront Hotel
Join executive producers Terry Matalas and Travis Fickett, and stars Aaron Stanford (James Cole), Amanda Schull (Dr. Cassandra Railly), Kirk Acevedo (Ramse), Barbara Sukowa (Jones),  Emily Hampshire (Jennifer Goines) and Todd Stashwick (Deacon) of Syfy's critically-acclaimed series as they dissect the mysteries of the first season and hint at the twists and turns coming in Season 2. Moderated by Natalie Abrams of Entertainment Weekly.
THE EXPANSE
SCREENING AND PANEL: 4:00pm – 5:30pm | Indigo Ballroom, Hilton Bayfront Hotel
Join the cast members Thomas Jane (The Punisher), Steven Strait (Magic City), Shohreh Aghdashloo (The House of Sand and Fog), Cas Anvar (Olympus), Dominique Tipper (Vampire Academy) and Wes Chatham (The Hunger Games: Mockingjay) and executive producers Mark Fergus, Hawk Ostby and Naren Shankar for a first-ever, exclusive screening of the series premiere before it airs on Syfy in December! The Expanse is set 200 years in the future after mankind has colonized the solar system. The show is based on The New York Times bestselling book series.
Moderated by book author James S.A. Corey (Daniel Abraham and Ty Franck).
Z NATION
PANEL:  5:30pm – 6:30pm | Indigo Ballroom, Hilton Bayfront Hotel
Dust off the Z-Whackers and join cast members DJ Qualls (Citizen Z), Kellita Smith (Warren), Keith Allan (Murphy), Russell Hodgkinson (Doc), Nat Zang (10K) and Anastasia Baranova (Addy) and executive producer Karl Schaefer of fan-favorite zombie show, Z Nation, as they provide a behind-the-scenes look at what fans can expect to see this fall when Season 2 premieres on Syfy. Moderated by Z Nation writer-producer Craig Engler.
Press Release:
Wizard World Comic Con Orlando Added To Largest Pop Culture Convention Schedule, August 5-7, 2016
Inaugural Event Set For Orange County Convention Center
ORLANDO, Fla., June 3, 2015 – Wizard World, Inc. (OTCBB: WIZD) today announced the addition of Wizard World Comic Con Orlando to its 2016 schedule. The inaugural event will be held August 5-7 at the Orange County Convention Center.
Celebrity and comics creator guests and other details about the event will be announced as they are confirmed..
Wizard World has 26 events scheduled on its 2015 calendar. Confirmed events for 2015 and 2016 are available at www.wizardworld.com/wizcon.html. Along with Albuquerque, N.M., and Greenville, S.C., Orlando is one of three inaugural shows to date scheduled for 2016 Wizard World debuts.
Wizard World Comic Con events bring together thousands of fans of all ages to celebrate the best in pop-fi, pop culture, movies, graphic novels, cosplay, comics, television, sci-fi, toys, video gaming, gaming, original art, collectibles, contests and more. Wizard World Comic Con Orlando show hours are tentatively set for Friday, August 5, 2016, 3-8 p.m.; Saturday, August 6, 2016, 10 a.m.-7 p.m.; and Sunday, August 7, 2016, 11 a.m.-5 p.m.
Wizard World Comic Con Orlando is also the place for cosplay, with fans young and old showing off their best costumes throughout the event. Fans dressed as every imaginable character – and some never before dreamed – will roam the convention floor.
For more on the 2016 Wizard World Comic Con Orlando, visit www.wizardworld.com/home-orlando.html.
Professional photo ops with Boston Comic Con's Media Guests Billie Piper, Elvira: Mistress of the Dark, Gillian Anderson, Thomas Jane, Robin Lord Taylor, Hayley Atwell, Brett Dalton, and Stan Lee are now available at the link!
Please note: Prices, times, and guests are subject to change and do not include taxes or fees, so be sure to check the schedule at the show to verify times. You are welcome to have up to 4 individuals & any children under 3 in one photo op (not counting the celebrities) for one price.Please ensure you have valid admission into the convention before purchasing photo ops.
Unless otherwise specified, guests will NOT be appearing in costume
In order to reduce the wait time for our customers we have implemented a "group" system for some very popular guests, meaning the photo op is subdivided into smaller sessions. While the photo op itself might start at 5pm, for example, your actual ticket may have a later time of 5:30 or 6:00 posted on it. Tickets are sold on a first come, first served basis and these photo ops may last up to 2 hours, so please arrive only a few minutes before the time printed on your ticket! Arriving any earlier will not be useful to you as you will be asked to come back for the time on your ticket.
On-site sales will be cash only. You are encouraged to pre-purchase as sessions can sell out and you avoid the ATM line-ups.
LAST DAY FOR REFUNDS: emails that were time stamped no later than midnight EST Sunday, July 26th, 2015. We will be unable to offer refunds after that time unless a guest has to postpone their appearance.
About Boston Comic Con:
The Boston Comic Con is a 100% independently run comic book show committed to bringing the biggest and best comic creators to New England. Run by fans for fans, Boston Comic Con is not affiliated with any other convention tour or corporate interests. Hosting over 120,000 square feet of vendors selling comic books, toys, posters, trading cards, and other pop culture memorabilia, this is a destination event for geeks of any stripe. This year's convention will be held Friday July 31st, Saturday August 1st, and Sunday August 2nd at the Seaport World Trade Center, 200 Seaport Blvd, Boston, MA 02210. For more information please go to our website at www.bostoncomiccon.com and follow us on Twitter (@BostonComicCon) and Facebook!
Guests include: Stan Lee, Billie Piper, Hayley Atwell, Robin Lord Taylor, Brett Dalton, Thomas Jane, Elvira, Eduardo Risso, Humberto Ramos, Jose Luis Garcia-Lopez, Tony Moore, Jason Latour, Joelle Jones, Steve Lieber, Annie Wu, Franco Aureliani, J. Bone, Frank Brunner, Michael Cho, Jeff Dekal, Evan Dorkin, Sara Dyer, Gerry Duggan, Mike Henderson, Mike Kunkel, John Layman, Stacey Lee, Laura Martin, Phil Noto, Dan Panosian, Yanick Paquette, Jeff Parker, Andrew C. Robinson, Kurtis J. Wiebe, Joshua Williamson, Brian Azzarello, Nick Bradshaw, Eric Canete, Frank Cho, Amanda Conner, Jimmy Palmiotti, Andy Belanger, Stephanie Buscema, Dave Johnson, Joe Prado, Tim Sale, Amy Reeder, Don Rosa, Stephane Roux, Frank Tieri, Todd Nauck, and more!
Tickets are now available for purchase. Please note that this year tickets will be sold ONLINE ONLY, there will not be any on-site ticket sales.
Press Release:
Yu-Gi-Oh! Creator Kazuki Takahashi Makes His First Appearance At Comic-Con International: San Diego
World-Renowned Manga Artist Headlines Panel Discussion and Meets with Fans for Autograph Signing
NEW YORK, June 10, 2015  — Sure to cause unprecedented excitement among anime and pop culture fans, Kazuki Takahashi, the world-renowned manga artist and creator of Yu-Gi-Oh!, will make his first U.S. public appearance at this year's Comic-Con International: San Diego, which takes place July 9-12, 2015.
Traveling from his home in Japan, Mr. Takahashi will address Comic-Con fans about the preparations and production underway for the highly anticipated third Yu-Gi-Oh! feature film, which is scheduled for release in 2016. Mr. Takahashi will also explore his passions for illustration, design and gaming and how they meld into inspiring new ideas that have kept the Yu-Gi-Oh!  brand fresh and engaging for nearly two decades. The panel date, time and location will be announced by Comic-Con later this month.
"Fans of Yu-Gi-Oh! appreciate just how extraordinary a public appearance by Mr. Takahashi is, and we are thrilled that he has agreed not only to attend and speak at San Diego Comic-Con, but also to take the time to meet with fans and sign autographs, a very rare occurrence indeed," said Kristen Gray, Senior Vice President, Operations and Business & Legal Affairs at 4K Media Inc., a member of Konami Group.  "Additionally, Mr. Takahashi has provided an illustration of Yugi — the most iconic character from his famous series — for inclusion in the Comic-Con International: San Diego souvenir book for the event."
Since launching Yu-Gi-Oh!, the global phenomenon that has captured the hearts of millions of fans, Mr. Takahashi's creative vision has yielded two theatrical movies and five animated TV series broadcast in more than 65 countries.  The newest series, Yu-Gi-Oh! ARC-V, premieres in the United States later this year, setting the stage for the debut of the brand's third feature film slated to hit theaters in 2016.
As he creates new manga and games, Mr. Takahashi's projects always center on the value of friendship – the core idea that runs throughout the world of Yu-Gi-Oh! and continues to entice fans to this day.  The Yu-Gi-Oh! Trading Card Game holds the Guinness Book of World Records as the best-selling trading card game of all time with over 25 billion cards sold.
About 4K Media
4K Media Inc., a wholly owned subsidiary of Konami Digital Entertainment, Inc., manages the licensing and marketing of the Yu-Gi-Oh! franchise outside of Asia. In addition, 4K Media handles brand management and the production and distribution of the Yu-Gi-Oh! television series. The Yu-Gi-Oh! animated franchise, with over 650 episodes, consists of the original Yu-Gi-Oh! , Yu-Gi-Oh! GX, Yu-Gi-Oh! 5D's, Yu-Gi-Oh! ZEXAL and the new series, Yu-Gi-Oh! ARC-V. The series have been translated and broadcast in 65 countries on leading networks.  The Yu-Gi-Oh! website is available at www.yugioh.com