Writer/artist Chip Zdarsky signs Sex Criminals v2 and Howard The Duck #1 on Wednesday, March 11, 2015 from 6:00-8:00 pm!
Press Release:
The one and only Chip Zdarsky, artist and co-creator of Sex Criminals, writer and co-creator of the forthcoming Kaptara, and star of our dreams, will be teaming with The Beguiling to do an event of sub-epic proportions, in celebration of his epic new HOWARD THE DUCK #1 and the long-awaited SEX CRIMINALS VOLUME 2!
The event takes place Wednesday March 11th, just down the street from The Beguiling at No One Writes To The Colonel (College & Bathurst). Chip Zdarsky will be doing a short presentation, having a drink or two, and signing your copies of HOWARD THE DUCK and SEX CRIMINALS and whatever else you bring! The Beguiling will ALSO be involved in the presentation, having three to six drinks, and will have ALL of the Howard The Duck #1 covers (including variants) on hand for your purchasing pleasure. Plus more-or-less every issue of Sex Criminals, the Sex Criminals trade paperbacks, and maybe some treasured-Zdarsky-rarities too!
No One Writes to the Colonel
460 College Street, Toronto, ON M6G 1A1
Lego fans wait no more! LEGO: DC Comics Super Heroes: Justice League vs. Bizarro League is here along with an awesome Bizarro name-generator app and exclusive Digital Trading Cards.
One lucky winner will receive LEGO Justice League vs. Bizarro League Blu-ray+DVD+Digital HD UltraViolet Combo Pack + with Batzarro LEGO minifigure!
Deadline to enter is March 4, 2015.
The Story: Batman has joined the newly formed Justice League in order to keep tabs on Superman, a mistrust that is complicated by Superman's clumsy – but well-meaning – clone, Bizarro. Bizarro's creation of the Bizarro League has caused confusion amongst the world's greatest Super Heroes, but an even greater and mysterious threat may force the Justice League and Bizarro League to band together to defeat evil.
Superman Digital Exclusive Trading Card

Download and print out free trading cards!

Use our widget to record your entries:
Each household is only eligible to win LEGO: DC Comics Super Heroes: Justice League vs. Bizarro League (Blu-ray+DVD+Digital HD UltraViolet Combo Pack) Blu-ray via blog reviews and giveaways. Only one entrant per mailing address per giveaway. If you have won the same prize on another blog, you will not be eligible to win it again. Winner is subject to eligibility verification.
Warner Home Video is sponsoring this contest and has provided the prize and materials.
The prize will be sent via FedEx or USPS. No P.O. Boxes please. Giveaway open to the U.S. and Canada.
Writer Greg Rucka and artist Michael Lark appear at Fantastic Comics for a Q&A and signing on Saturday, March 21, 2015 from 3:30 – 6:00 PM! RSVP on Facebook!
After the signing, fans are invited to head on over to TR!CKSTER for an art show of Michael's work and a reception with both creators from 7:00 to 9:30 PM. RSVP on Facebook!
Fantastic Comics
2026 Shattuck Ave, Berkeley, CA 94704
510-848-2988
Tr!ckster
2631 Ashby Ave, Berkeley, CA 94705
510-665-8900
Every pony is unique! If you lived in Equestria, what would your CUTIE MARK be? The Cutie Marks Crusaders can help you find out! MY LITTLE PONY–FRIENDSHIP IS MAGIC: ADVENTURES OF THE CUTIE MARK CRUSADERS is coming to DVD on February 24, 2015 in the U.S. and Canada from Shout! Factory Kids in collaboration with Hasbro Studios. Offered as a bonus feature is a fun new sing-along and coloring sheets!
I was ten years old when I got my first My Little Pony doll. Back then, the ponies had sad, dreamy looking eyes with round faces. I collected a number of them, my favorite being the one with shamrocks on its butt; the phrase "cutie mark" hadn't come along yet. The most exciting thing you could expect to do with your pony was brush its hair. Soon after, a cartoon series premiered. As a kid in the '80s I can tell you, it was pretty lame. Fast forward 20 years. I was married with a little girl who was in love with My Little Pony. For years, I've watched this child obsess over every detail of every pony. The toys evolved in appearance and developed an incredibly in-depth back story. By 2010, animator and writer Lauren Faust (The Power Puff Girls) gave the world My Little Pony–Friendship is Magic, bringing the franchise a commercial success never imagined. Here is some information about the new DVD:
"In EQUESTRIA, obtaining a CUTIE MARK is an important coming-of-age moment for a young Pony. After all, Ponies acquire their CUTIE MARKS only after they discover a unique characteristic about themselves, setting them apart from all other Ponies. So when Sweetie Belle, Scootaloo and Apple Bloom meet, they instantly become friends and make it their mission to find their CUTIE MARKS! They are the Cutie Mark Crusaders!"
My daughter is 16.5 years old now and a Junior in High School. I wish you could have seen her face when I told her that I'd been tasked with reviewing this DVD! We watched it together and she provided detailed commentary during and after every episode. That right there was worth every moment.
As a family who were long-time fans of The Power Puff Girls, it was easy to fall in love with the Friendship is Magic series. In fact, the characters of Sweetie Bell, Scootaloo and Apple Bloom are essentially a redux of the PPG's Blossom, Bubbles and Buttercup characters. But, the pop culture references don't stop there. Parents watching this series with their children will be entertained by look-a-like Ponies that pop up in every episode. Any cartoon that can find a way to work in 'Doctor Whooves' gets two thumbs up from me. Keep an eye out on this DVD for the 'cast' of The Big Lebowski at the bowling alley.
These Generation 4 My Little Pony characters are a lot of fun to watch no matter what your age. Each character, as expressed by their Cutie Mark, represents an aspect of friendship. The series offers good moral messages for young children. Though, its most impressive to me how this series has touched so many teens and even adults with its inside humor and positive messages. Having spawned an entire sub-culture of fans across the globe, My Little Pony has united many people in a fandom that will be around for many, many years to come. It is a far cry from the Pony days of my youth. I, for one, am glad to see this franchise re-imagined for a new generation. The target demographic is young girls aged 4-7, however this series is one that is highly enjoyed by every member of my household regardless of age or gender. I would highly recommend this DVD to those interested in joining the Pony movement. With 5 individual episodes and approx. 110 minutes running time, The Adventures of the Cutie Mark Crusaders will win your family over!
"For even more Pony fun, PlayDate Digital has announced the new Cutie Pox Storybook App. When Apple Bloom becomes impatient waiting for her Cutie Mark, she decides to take things into her own hooves! In this interactive story book, follow Apple Bloom and the fillies as they learn that taking the easy path toward your goals isn't always the best way. Enter the world of Equestria in this story book adventure full of excitement, humor and friendship! The release of "Cutie Mark Crusaders" marks the first of a series of planned collaborations between PlayDate Digital and Shout! Factory to cross-promote My Little Pony–Friendship is Magic stories and media. In this collaboration, products contain promotional material highlighting a variety of products. In addition, Shout! Factory and PlayDate will host contests and offer value-added bonus material."
Episodes: The Cutie Mark Chronicles, The Cutie Pox, Flight to the Finish, Pinkie Pride, and Twilight Time.
Bonus Features: Sing-Along, Coloring Sheets, and More!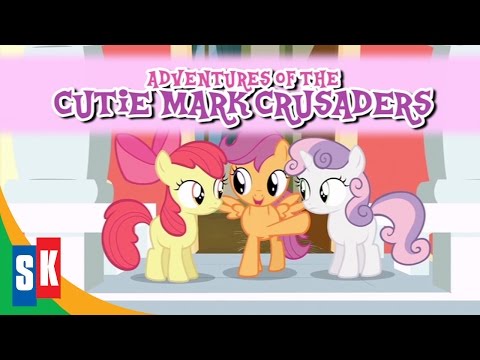 Also available on DVD from Shout! Factory Kids: My Little Pony Equestria Girls: Rainbow Rocks; My Little Pony Equestria Girls; My Little Pony-Friendship is Magic: Spooktacular Pony Tales; My Little Pony-Friendship is Magic: The Keys of Friendship; My Little Pony-Friendship is Magic: A Dash of Awesome; My Little Pony-Friendship is Magic: A Pony for Every Season; My Little Pony-Friendship is Magic: Princess Twilight Sparkle; My Little Pony-Friendship is Magic: Pinkie Pie Party; My Little Pony-Friendship is Magic: Adventures in the Crystal Empire; My Little Pony-Friendship is Magic: Royal Pony Wedding; My Little Pony-Friendship is Magic: Season Three; My Little Pony-Friendship is Magic: Season Two; My Little Pony-Friendship is Magic: Season One; My Little Pony-Friendship is Magic: The Friendship Express; My Little Pony The Complete Series (Classic); My Little Pony: Escape from Catrina and Other Adventures; My Little Pony: Classic Movie Collection; My Little Pony: A Very Minty Christmas; My Little Pony: Twinkle Wish Adventure.
About Hasbro Studios:
Hasbro Studios is responsible for entertainment brand-driven storytelling for Hasbro across television, film, commercial productions and short-form content. It develops, produces and distributes TV shows based on Hasbro's world class brands, including TRANSFORMERS, MY LITTLE PONY, LITTLEST PET SHOP and FAMILY GAME NIGHT. Many of these shows air on Discovery Channel Family Channel and on networks in more than 180 territories globally. Since its formation in 2009, the studio has received nine Daytime Emmy wins.
On the film side, the studio has developed and produced a number of features based on Hasbro's brands. In addition to partnering with leading studios, the company intends to make movies based on new and existing Hasbro brands for audiences globally through Allspark Pictures film label. Films in development or planned for release include OUIJA (Universal), CANDY LAND (Sony), GI JOE 3 (Paramount), JEM AND THE HOLOGRAMS (Universal and Allspark Pictures), MAGIC: THE GATHERING (21st Century Fox), and an animated feature based on MY LITTLE PONY (Allspark Pictures).
About Shout! Factory:
Shout! Factory, LLC is a diversified multi-platform entertainment company devoted to producing, uncovering, preserving and revitalizing the very best of pop culture. Founders Richard Foos, Bob Emmer and Garson Foos have spent their entire careers sharing their music, television and film favorites with discerning consumers the world over. Shout! Factory's DVD and Blu-Ray offerings serve up feature films, classic and contemporary TV series, animation, live music and comedy specials in lavish packages crammed with extras. Shout's audio division boasts GRAMMY nominated box sets, new releases from storied artists, lovingly assembled album reissues and indispensable "best of" compilations. In addition, Shout! Factory maintains a vast digital distribution network which delivers video and audio content to all the leading digital service providers in North America. Shout! Factory also owns and operates Timeless Media Group, Biograph Records, Majordomo Records, HighTone Records and Video Time Machine. These riches are the result of a creative acquisition mandate that has established the company as a hotbed of cultural preservation and commercial reinvention. Shout! Factory is based in Santa Monica, California. For more on Shout! Factory, visit shoutfactory.com
Press Release:
HavenCon is thrilled to welcome actors Dante Basco and Janet Varney! They will be with us both Saturday April 4th and Sunday April 5, 2015 to speak with fans as well as providing autographs.
JANET VARNEY
Janet Varney is a comedian, actor, writer and producer. In the animation world, she is lucky enough to be the voice of Korra on Nickelodeon's hit series The Legend of Korra. She also spent seven wonderful years hosting TBS's "Dinner and a Movie," recurred on HBO's Entourage, was a series regular on the beloved E! and Yahoo series Burning Love seasons 1 and 3, and has made guest appearances in hit shows including How I Met Your Mother, Key and Peele, Psych, Bones, on the panel of Chelsea Lately, as a regular co-host on HuffPost Live, and has appeared in films such as Still Waiting, Drillbit Taylor, and Judy Moody and the Not Bummer Summer. Janet is the host of the popular Nerdist podcast The JV Club and the co-founder, creative director and producer of SF Sketchfest, the San Francisco Comedy Festival, now in its 14th year.
DANTE BASCO
With a career spanning over two and a half decades, DANTE BASCO is a Hollywood actor who has become a cult classic and pioneering figure in Asian-American cinema. He was first introduced in Steven Spielberg's fairytale movie Hook, as "Rufio," the leader of the Lost Boys. He quickly jumped to leading roles like Newline's Take the Lead, opposite Antonio Banderas, and The Debut, which became the voice of a Filipino American generation. 20th Century Fox executives were so mesmerized by the uniqueness of Dante's look and ability that they gave him a development deal for his own series and he starred in a pilot for Touchstone/ABC, The Chang Family Saves the World, written and produced by John Ridley and directed by Paris Barclay. Ever versatile, he's "Jake Long" in Disney's animated series American Dragon: Jake Long as well as "Prince Zuko" in Nickelodeon's phenomenal hit, Avatar: The Last Airbender.
Born and raised in the City by the Bay, Dante started out breakdancing with his three brothers at the age of 8, calling themselves "The Street Freaks". Quickly they became one of the top groups in San Francisco, opening for acts like Ice-T and Vanity and performing during halftime shows for the 49ers and the Oakland A's.
Dante and his family moved to Los Angeles in the mid-80s where he started to work immediately. By the age of 16, Dante was fencing against Dustin Hoffman and flying with Robin Williams in Hook. He's found success on the small screen as well on from The Fresh Prince of Bel-Air and recurring on Hangin' with Mr. Cooper and Moesha in the 90s to prominent spots on Nash Bridges, Touched by an Angel, and Providence in the early 2000s and hit shows today like CSI: Miami, Entourage and Hawaii Five-O.
A young man of many talents, Dante is the founder of on e of the largest weekly poetry venue in the country, "Da Poetry Lounge" in Los Angeles and he has also shared his spoken word poetry on Russell Simmons' HBO Def Poetry Jam. He has also begun writing and producing his own features with his production company Kinetic Films, including Hang Loose, a (hilarious buddy comedy) with YouTube sensation KevJumba, winning the 2012 Los Angeles Asian Pacific Film Festival Special Jury Prizes for "Best Actor" and "Best Newcomer" respectively.
From breakdancing in the streets of San Francisco to starring in movies on the silver screen, Dante Basco has become one of the most recognizable faces in Hollywood and truly an Asian American icon.
Pre-purchase an autograph from one of our special guests and be the first in line!  Everyone who pre-registers for a VIP or 2-Day pass and pre-purchases an autograph will receive an exclusive #TeamAvatar badge!  *If you have already purchased a VIP or 2 day pass and would like to upgrade to the #TeamAvatar badge, pre-purchase an autograph and we'll take care of the rest!  Register before March 1st and Save 25% on all passes with promo code TeamAvatar!
Purchase admission tickets and autographs at the link!
Press Release:
FOURTH SET OF COMIC-CON GUESTS ANNOUNCED 
SAN DIEGO- Comic-Con International, the nonprofit educational organization dedicated to creating awareness of, and appreciation for, comics and popular artforms continued this year's practice of announcing a selection of new guests for their summer show. Comic-Con takes place in San Diego beginning on Thursday, July 9, and running through Sunday, July 12, 2015, at the San Diego Convention Center.
Guests announced today include:
Writer/artist Michael Cho: Shoplifter
Artist Tom Grummett: Fantastic Four, X-Men Forever, Teen Titans
Designer/author Chip Kidd: Peanuts: The Art of Charles M. Schulz, Batman: Death by Design
Editorial cartoonist Jen Sorenson
Artist Bernie Wrightson: Swamp Thing, Frankenstein
Be sure to visit www.comic-con.org and check out the Toucan Blog, the only OFFICIAL blog of Comic-Con International, for additional information on guests and up to date information on all aspects of the eagerly awaited summer show!
About Comic-Con International:
Comic-Con International (CCI) is a nonprofit educational organization dedicated to creating awareness of, and appreciation for, comics and related popular artforms, primarily through the presentation of conventions and events that celebrate the historic and ongoing contribution of comics to art and culture.  In addition to its San Diego convention each summer (the world's largest comics convention of its kind), CCI organizes WonderCon Anaheim each spring. On the web: Comic-Con.org, Facebook.com/comiccon, Twitter.com/comic_con.
Creators Bryan Konietzko and Michael DiMartino appear on a panel at Gallery Nucleus on Saturday March 21, 2015 at 2:00 PM for the closing of the Avatar: The Last Airbender/Legend of Korra retrospective exhibit to answer questions from fans and talking about their experience working on the shows for the past ten years.
Artists will be available for signing after the panel.
$5 Admission or FREE when you purchase any Korra / Avatar related books or prints from the gallery.
Gallery Nucleus
210 East Main Street, Alhambra, CA 91801
626.458.7477
Press Release:
Cinerama and Emerald City Comicon are once again partnering to bring you the Second Annual ECCC Cinema Series! This unique event runs three nights at Seattle's famous Cinerama and brings together movie stars talking about their films in an intimate Q&A before a screening of those same movies in glorious high definition!
On Thursday March 26, come see Marion Ravenwood herself, Karen Allen do a 30-minute Q&A session before you settle in to watch one of the best pulp action films of all time, Raiders of the Lost Ark!
On Friday March 27, it's Excelsior time with Stan "The Man" Lee as he introduces you to the film that brought together the best of Marvel's Cinematic Universe and made them a team, The Avengers!
On Saturday March 28, don't miss a Q&A with Brandon Routh that you'll tell the cleaning lady about on Monday, before watching the cult hit Scott Pilgrim vs. The World!
All Q&A's will begin at 8:30 pm, with the screenings at 9:00 pm. The Q&As will be hosted by Mike Robles. Tickets are $25 each, and available directly from Cinerama.
Poster art by Chrissie Zullo
Cinerama
2100 4th Ave Seattle, WA 98121
Press Release:
Things From Another World excited to announce a signing with Terry and Rachel Dodson, the series artists of the forthcoming Red One comic book series published by Image Comics. Be sure to visit us on Wednesday, March 18 from 6:00 to 9:00pm to purchase the debut issue of this exciting series and get it signed by the artists.
What happens when America's greatest hero . . . is a Russian Spy? Soviet Agent Vera Yelnikov is sent to 1977 Los Angeles by the Kremlin to become an American Superhero and spread communist values in the land of Uncle Sam in a funky superhero romp like something straight out of a Tarantino film.
Copies of Red One #1 will be available for purchase at the event. Don't miss out on this opportunity to meet the artists behind this exciting new book and get the first issue signed March 18 at the Beaverton TFAW!
Things From Another World
4390 SW Lloyd Ave, Beaverton, Oregon 97005
(503) 643-4222
Press Release:
Announcing the Finalists for the First Ever Dwayne McDuffie Award for Diversity
(February 18, Long Beach, CA) The finalists for the first ever Dwayne McDuffie Award for Diversity Award were announced today. The five nominated titles are:
HEX11 by Lisa K. Weber and Kelly Sue Milano (HexComics)
M.F.K. by Nilah Magruder (www.mfkcomic.com)
MS. MARVEL by G. Willow Wilson and Adrian Alphona (Marvel Entertainment)
THE SHADOW HERO by Gene Luen Yang and Sonny Liew (First Second Books)
SHAFT by David F. Walker and Bilquis Evely (Dynamite Entertainment)
The winner will be announced at the first ever Dwayne McDuffie Award for Diversity ceremony event to be held later this month at Long Beach Comic Expo on Saturday February 28 at 2 PM PT. The Award is named in honor of Dwayne McDuffie, the legendary writer and producer who co-founded and created Milestone Media. As a writer, Dwayne created or co-created more than a dozen series, including DAMAGE CONTROL, DEATHLOK II, ICON, STATIC, XOMBI, THE ROAD TO HELL and HARDWARE.
"The nominees for the first ever Dwayne McDuffie Award reflect the best of what a comic book can be," said Matt Wayne, the Director of the Dwayne McDuffie Award for Diversity. "These five titles, as different as they are, reflect Dwayne's aspirations for the comic book industry. They are diverse, inclusive and forward looking."
"I am so proud that my husband's personal mission to include a more diverse array of voices–both in content and creators–is able to continue now through this Award in his name, by encouraging others who share his vision of comics, characters, and the industry itself better mirroring society," said Charlotte McDuffie.
The Dwayne McDuffie Award Selection Committee consists of eight prominent comics and animation professionals who knew McDuffie and have demonstrated a commitment to inclusiveness:
Neo Edmund – Novelist, animation and comics writer;
Joan Hilty – Nickelodeon Comics Editor; Creator of Bitter Girl;
Joseph Illidge – Former Editor, Milestone and DC Comics; Columnist, Comic Book Resources; Writer, First Second Books;
Heidi MacDonald – Editor in Chief, The Beat;
Glen Murakami – Producer/Supervising Director, DC animated properties and Ben 10: Alien Force/Ultimate Alien;
Eugene Son – Comics writer/Story Editor, Ultimate Spider-Man Animated;
William J. Watkins – Writer; Former owner, Chicago's first Black-owned comics store;
Len Wein – Co-creator Swamp Thing, Wolverine, New X-Men; Former Editor-in-Chief- of Marvel Comics and Senior Editor, DC Comics.
"The Long Beach shows are committed to diversity," said Martha Donato, Executive Director of Long Beach Comic Expo. "It's our great pleasure to host the Dwayne McDuffie Award for Diversity Award ceremony and to celebrate the legacy of a wonderful man and writer who inspired so many people with his words, his action and his creations."
Reginald Hudlin, an innovator of the modern black film movement (House Party, Boomerang and BeBe's Kids), will be the Keynote Speaker at the Dwayne McDuffie Award for Diversity Award ceremony later this month.
Tickets for Long Beach Comic Expo are available now at www.longbeachcomicexpo.com. Follow Long Beach Comic Expo on Facebook and Twitter for the latest news and information about the McDuffie Award.
ABOUT THE CREATORS OF HEX11:
Kelly Sue Milano was introduced to comics the way most five-year-old girls are: by getting taken to the Fullerton AMC Theaters to see Batman with her Dad in the summer of 1989. Though she wasn't stoked at first, what followed was total and complete love. Not just with superheroes and comics – but with stories. She has been published in the Orange County Register, has written award-winning short stories, monologues, and comedy sketches, and has contributed to the development of several film projects for Periscope Entertainment. She also curates the blog for A.WAKE; a movement dedicated to celebrating female artists. Kelly Sue is a sucker for Nabakov and fancy coffee and currently lives in Los Angeles with her dog, Louie.
Lisa K. Weber makes art for comics, kid's books, and cartoons. She also enjoys satire, white wine, and classic rock hits. She has created artwork for comic adaptations of Edgar Allan Poe's Hop-Frog, Oscar Wilde's The Picture of Dorian Gray, Sheridan Le Fanu's Carmilla, and Saki's Tobermory, all featured in Graphic Classics. Her illustrations have appeared in publications from Penguin Books, Houghton-Mifflin Harcourt, Scholastic Inc, and Capstone Press. She has also contributed character designs and storyboards for Nickelodeon, Curious Pictures, and PBS Kids. Lisa currently lives and works in Los Angeles, California.
ABOUT THE CREATORS OF M.F.K.:
Nilah Magruder is a storyboard and concept artist artist in Los Angeles. Born and raised in Maryland, from a young age she developed an eternal love for three things: nature, books, and animation. Naturally, all of her school notebooks were full of doodles of animals and cartoon characters.
Nilah received a B.A. in communication arts from Hood College and B.F.A. in computer animation from Ringling College of Art and Design. She has illustrated for comics, children's books, film and commercial television. Interested in exploring diversity in storytelling, she launched the action-adventure webcomic M.F.K. She believes that everyone should have characters with whom they can relate in their chosen entertainment, be it comic book, novel, film, TV, or video game.
ABOUT THE WRITER & ARTIST OF MS. MARVEL:
G. Willow Wilson is a novelist and comic book writer based in Seattle. Her works include the novel Alif the Unseen, a New York Times Notable Book and winner of the 2013 World Fantasy Award for Best Novel. She is the creator, with artist Adrian Alphona, of the bestselling All-New Ms. Marvel series from Marvel Comics. Her series Air (DC/Vertigo) and Mystic: The Tenth Apprentice (Marvel) were both nominated for Eisner Awards. In what spare time she has, Willow enjoys playing MMOs, watching British television, cooking, and maintaining the proud tradition of the Oxford comma. She lives with her husband and their two children.
Adrian Alphona is the artist of MS. MARVEL. He illustrated an acclaimed run of RUNAWAYS written by Brian K Vaughan for Marvel Entertainment.
ABOUT THE CREATORS OF THE SHADOW HERO
Gene Luen Yang's 2006 book American Born Chinese was the first graphic novel to be nominated for a National Book Award and the first to win the American Library Association's Michael L. Printz Award. His 2013 two-volume graphic novel Boxers & Saints was also nominated for a National Book Award and won the L.A. Times Book Prize. Gene currently lives in the San Francisco Bay Area with his wife and children.
Sonny Liew is a comic artist, painter and illustrator whose work includes titles for DC Vertigo, Marvel Comics and First Second Books. He has received Eisner nominations for his art on Wonderland (Disney), as well as for spearheading Liquid City (Image Comics), a multi-volume comics anthology featuring creators from Southeast Asia. His Malinky Robot series was a Xeric grant recipient and winner of the Best Science Fiction Comic Album Award at the Utopiales SF Festival in Nantes (2009).
His latest work is The Art of Charlie Chan Hock Chye, which will be published by Pantheon Books in 2016.
ABOUT THE WRITER & ARTIST OF SHAFT:
David F. Walker is an award-winning journalist, filmmaker, and author of the YA series The Adventures of Darius Logan. His publication BadAzz MoFo became internationally known as the indispensable resource guide to black films of the 1970s. His work in comics includes the series Shaft (Dynamite Entertainment), Doc Savage (Dynamite Entertainment), Number 13 (Dark Horse Comics), The Army of Dr. Moreau (IDW/Monkeybrain Comics), and The Supernals Experiment (Canon Comics).
Bilquis Evely is a 24-year-old Brazilian comic book artist. She started her professional life in 2010 as the penceiller of the Brazilian comic book, Luluzinha Teen e Sua Turma" Her recent work includes The Shadow and Doc Savage for Dynamite. She is currently working on Shaft, which is written by David F. Walker.
ABOUT DWAYNE MCDUFFIE:
Dwayne McDuffie is best known as the co-founder and creator of Milestone Media. He was a Story Editor on the KIDS WB's Emmy Award-winning animated series STATIC SHOCK, which he co-created. He was also a Producer and Story Editor on Cartoon Network's JUSTICE LEAGUE. He was Editor-In-Chief of Milestone Media's award-winning line of comic books, managing an editorial operation which boasted the best on-time delivery record in the industry for nearly four years running and has also worked as an editor for Marvel Comics and Harvey Entertainment. As a writer, Dwayne created or co-created more than a dozen series, including DAMAGE CONTROL, DEATHLOK II, ICON, STATIC, XOMBI, THE ROAD TO HELL and HARDWARE. He wrote stories for dozens of other comics, including, SPIDER-MAN, BATMAN: LEGENDS OF THE DARK KNIGHT, THE TICK, CAPTAIN MARVEL, AVENGERS SPOTLIGHT, BACK TO THE FUTURE, HELLRAISER, ULTRAMAN, (The Artist Formerly Known As) PRINCE and X-O MANOWAR.
Dwayne won the 2003 HUMANITAS PRIZE for "Jimmy," a STATIC SHOCK script about gun violence in schools. He was nominated for two EMMY AWARDS for the TV series STATIC SHOCK, a WRITERS GUILD AWARD for the TV series JUSTICE LEAGUE and three EISNER AWARDS for his work in comic books. His comic book work won eleven PARENTS' CHOICE AWARDS, six "Best Editor" awards, and a GOLDEN APPLE AWARD for his "use of popular art to promote and enhance human dignity."
Dwayne was born and raised in Detroit, Michigan and attended The Roeper School. Before entering comics, he studied in undergraduate and graduate programs at The University of Michigan, then attended film school at New York University's Tisch School of the Arts. He also co-hosted a radio comedy program, while moonlighting pseudonymously as a freelance writer for stand-up comedians and late-night television comedy programs. He wrote scripts for an animated feature, episodes of BEN 10: ALIEN FORCE, STATIC SHOCK!, JUSTICE LEAGUE, WHAT'S NEW, SCOOBY-DOO? and TEEN TITANS.
ABOUT LONG BEACH EXPO:
Long Beach Comic Expo is an annual event held at the Long Beach Convention Center that celebrates comic books and pop culture and showcases the exceptional works of talented writers, artists, illustrators and creators of all types of pop culture. At Long Beach Comic Expo, you'll find exhibitors promoting and selling all types of related products, as well as entertaining and educational programs for all ages, guest signings and meet & greet sessions with celebrities. Long Beach Comic Expo is a MAD Event Management, LLC production. To learn more and purchase tickets, please visit www.longbeachcomicexpo.com.