Press Release:
The Force is back at Disney's Hollywood Studios theme park as Star Wars Weekends returns May 17th through June 9th. Fans from all over the world come to share their love of all things Star Wars and Disney during this special event. Returning for the fifth year in a row is actress Ashley Eckstein, the voice of Ahsoka Tano from Star Wars: The Clone Wars and founder of the popular sci-fi merchandise line for fangirls, Her Universe™. As with previous years, Eckstein will be bringing an all-new, unique range of Star Wars by Her Universe designs to the month-long event at Disney's Hollywood Studios including fashion tops, tunics, tanks and dresses located in Darth's Mall. Eckstein will be meeting fans and signing autographs every day during the event and she will also be returning as host for Behind the Force: Star Wars Voices each weekend.
"As a lifelong Disney fan, it's a dream come true for me to return to Disney's Star Wars Weekends and debut my new Her Universe merchandise," said Eckstein. "It's been an honor to work with Disney to create designs for this event. We have an assortment of new items for female fans of all ages, including our new exclusive Return of the Jedi necklace in honor of the 30th Anniversary!"
Her Universe has only made 1,250 necklaces to celebrate the 30th Anniversary of this beloved movie. This extremely limited edition piece will come with an autographed certificate by Eckstein and will only be sold at select Her Universe events debuting at Star Wars Weekends. Only 500 necklaces will be available for sale at Disney starting on May 17th. They are available on a first-come-first-serve basis. Also debuting at the event will be will the highly anticipated Rogue Squadron dress and X-Wing Pilot tank top. Other items premiering will be matching youth and adult R2-D2 tunic tops, an adorable youth Princess Leia tunic top, retro women's fashion tops and a limited edition Asajj Ventress costume top.
Photo credit: – Kelsey Edwards Photography
About Her Universe
Her Universe was launched in 2009 by actress and entrepreneur Ashley Eckstein, and her partner, The Araca Group, known as one of the most innovative theatrical production and merchandise companies in the world. Her Universe was created to directly address the expanding market of female fans by entering into its first agreement with Lucas Licensing to develop and produce a line of female-centered Star Wars apparel and accessories. The success of that line was followed up with a collection for the Syfy network including such shows as Battlestar Galactica and with BBC America for Doctor Who and with CBS Consumer Products for Star Trek. You can learn more about Her Universe and purchase the current line of fangirl apparel and accessories by going to www.heruniverse.com and by following Eckstein on Facebook (facebook.com/HerUniverse) and Twitter (twitter.com/HerUniverse).
About Disney's Star Wars Weekends
Running every Friday, Saturday and Sunday from May 17th through June 9th, Disney's Star Wars Weekends is an annual event at Disney's Hollywood Studios theme park celebrating all things Star Wars. In addition to offering fans a unique opportunity to join Jedi Masters, Sith Lords and Star Wars celebrities for special shows, presentations, memorabilia and the all-new Star Tours attraction: Star Tours –The Adventures Continue. For more information on Star Wars Weekends, click here.
STAR WARS™ and related properties are trademarks and/or copyrights, in the United States and other countries, of Lucasfilm Ltd. and/or its affiliates. TM & © Lucasfilm Ltd. All rights reserved. All other trademarks and trade names are properties of their respective owners.
This Return of the Jedi necklace honors the 30th Anniversary of the epic film. Her Universe has only made 1,250 necklaces to celebrate the anniversary.  This extremely limited edition piece will come with an autographed certificate by Eckstein and will only be sold at select Her Universe events and debuting at Disney's Star Wars Weekends. Only 500 necklaces will be sold at Star WarsWeekends on a first come, first serve basis!
Perfect for spring and summer, this A-line Rogue Squadron dress features the Rebel Alliance symbol on the front and the title Rogue Squadron on the back!
Revisit the dark side in this retro tee featuring the Dark Lord of the Sith himself, Darth Vader! This is a recreation of a popular shirt back from the 80′s.
For the 30th Anniversary of Return of the Jedi we used this well-known design from the classic Han Solo Underoo's set for kids from the 80′s on this new retro tee.
This gorgeous artwork featuring Padme Amidala is the perfect complement to our previous best-selling Her Universe Padme Nouveau shirt.
Pretend that you are a part of the Rogue Squadron in this colorful hooded racer-back tank. With the hoodie up, you're ready to pilot an X-wing yourself!
Trained in the ways of the dark side, Asajj Ventress is a formidable adversary on The Clone Wars. Now you can wear this hooded tank based on the beloved female bounty hunter/assassin and show your dark side!
Everyone needs a classic Star Wars logo tee, but it's even better when it's tie dye! You'll love this new fashion top, also available in plus sizes.

Any Padawan would be proud to wear this fun shirt exploding with the famousStar Wars phrase "May The Force Be With You."

By popular demand, Ashley heard the requests to create a scaled down version of our popular adult Princess Leia hoodie for young girls. Now, here it is! Slip the hoodie on, buns and all, and you instantly become a self-rescuing princess!

Everyone's favorite little droid comes to life in this ultra comfortable R2-D2 hooded tunic -available in both adult and youth sizes!
Everyone's favorite little droid comes to life in this ultra comfortable R2-D2 hooded tunic -available in both adult and youth sizes!
Writer Gerard Way and artist Becky Cloonan appear on Friday, June 14, 2013 from 5:00 until 7:00pm at Beach Ball Comics to celebrate the release of The True Lives of the Fabulous Killjoys from Dark Horse Comics!!
Beach Ball Comics
3024 W Ball Rd Ste G, Anaheim, California 92804
Special guest Len Wein joins writers Ben Acker and Ben Blacker for a Wolverine: Season One signing at Galaxy of Comics on Wednesday, June 5, 2013 from 4:00 until 7:00 pm!
Press Release:
Galaxy of Comics Proudly presents BEN ACKER and BEN BLACKER (writers on Supernatural and The Thrilling Adventure Hour), signing their new Hardcover Graphic Novel, Wolverine: Season One, Wednesday, June 5th, 2013, from 4 PM to 7 PM!
Wolverine first grabbed readers way back in 1974, in Marvel Comics' "The Incredible Hulk" #181 written by LEN WEIN and penciled by Herb Trimpe, where the clawed hero was dispatched by the Canadian government to put an end to a rampaging battle between the Hulk and Wendigo. Since that first appearance, he has remained a cornerstone of Marvel's mythology, appearing in countless comic books, films and other media. Now Wolverine: Season One, written by Ben Acker and Ben Blacker with art by Salva Espin, dives into the events surrounding the hero's first confrontation with the Hulk.
And while we're speaking of LEN WEIN, Mr. Wein will be joining the talented team of Acker and Blacker here at the GoC June 5th! So, make sure you stop by the Galaxy of Comics and chat with BEN, BEN and LEN and get Wolverine: Season One signed by MARVEL COMICS hottest writers in time for the movie!!!
Galaxy of Comics
17306 Saticoy Street, Van Nuys, CA 91406
The cast of the WB show Arrow, including Stephen Amell, Willa Holland, and Colin Donnell spoke at Wondercon 2013, and Convention Scene's own Richard Oh was there.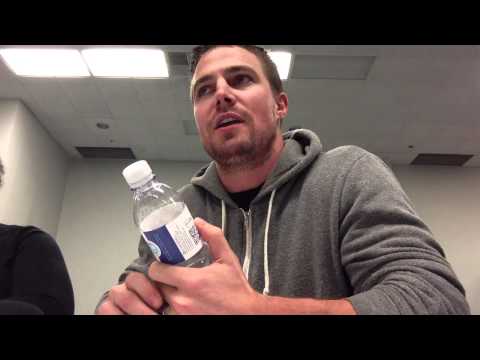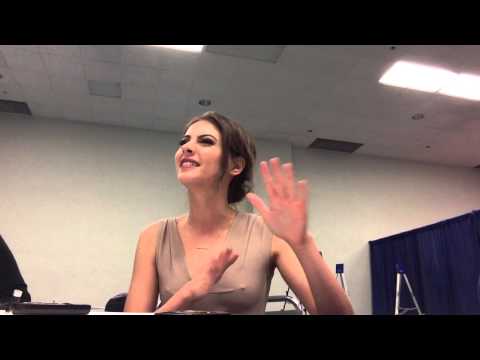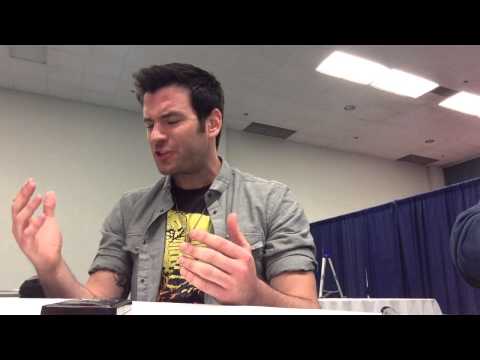 Nathan Edmondson signs at Beach Ball Comics on Wednesday, June 12, 2013 from 5:00 until 7:00 pm!
Beach Ball Comics
3024 W Ball Rd Ste G, Anaheim, CA 92804
Writer Josh Fialkov signs at Beach Ball Comics on Wednesday, June 5, 2013 from 5:00 until 7:00 pm! Bring all your Spider-Man Alpha issues, your I, Vampire collection and your copy of Tumor too!
Beach Ball Comics
3024 W Ball Rd Ste G, Anaheim, CA 92804
MegaCon 2014 makes their first guest announcements, Geoff Johns hints at SDCC media announcements for DC, and Free Comic Book Day reports come in. All that and more in this week's Scene on the Web!
Mark Edward Lewis & Alina Andrei sign at The Comic Bug on Wednesday May 15th.
Press Release:
"Omega One" takes place in the future when the lines of electronic communications are compromised by groups of terrorist hackers that have brought down not only large companies but governments from around the world; thus began the "Hacker Wars".
Out of the hacker wars grew courier services that rely on human couriers that can hold vast amounts of data and information. These couriers have become the futuristic version of the pony express encountering danger at every turn.
Among the many courier services has emerged "Alpha Courier Alliance" one of the elite companies known for their ability to get information through no matter the risk; along with their top agent "Omega One".
But who is Omega One, that's a question even she is asking herself, and why are clients and government agencies trying to kill her?
Meet the creators, Mark Edward Lewis & Alina Andrei at either of our TWO pulse pounding signing sessions. Matinee signing from 11 a.m. to 2 p.m. and the evening signing from 5:00 to 8:00 p.m. Bring a camera! Alina is known to show up in costume!
The Comic Bug 
1807 Manhattan Beach Boulevard, Manhattan Beach, CA 90266
Becky Dreistadt appears at Gallery Nucleus for an art show on Saturday June 1, 2013 from  7:00PM – 10:00PM.
Press Release:
Nucleus is very pleased to present a prolific project by one of our favorite artists, Becky Dreistadt.  Capture Creatures is a year-long showcase of 151 creatures hand-painted by the artist, accompanied with imaginative stories by her partner Frank Gibson.  Raised on a steady diet of cartoons and comics, Japanese and otherwise, Dreistadt has always dreamt of creating her own band of unique animals.
This ambitious project will culminate with an exhibition of all 151 available original 5″ x 7″ works presented in conjunction with the release of a hardcover book compiling the creatures.
Come meet Becky and Frank on opening night as they greets fans and signs copies of her new Capture Creatures book.
Also being released at the opening will be an exclusive Capture Creatures T-shirt, poster, pins/badges, and a new Squrious vinyl toy!
Don't miss out on this opportunity to meet Becky & Frank and see all 151 creatures in person! Free drinks, snacks, games, and prizes!
Capture the creatures along with the rest of us on the official website: www.capturecreatures.com
More About the Artist:
Becky Dreistadt grew up wanting to be the very best, like no one ever was. Driven by her love of cartoons and animals, she has set out on a quest taking her from her home in Virginia, to school in Georgia, to life in New Zealand and now to ply her craft in Los Angeles.
Primarily a comic artist, Dreistadt's work has been displayed in numerous galleries from Los Angeles to New York to New Zealand and Japan. She is mostly known for her online hand-painted comic Tiny Kitten Teeth and its cute companion piece Tigerbuttah. Her work has appeared on comic and poster projects with Adventure Time, animation with Yo Gabba Gabba and the fantasy comic Lookouts with Penny Arcade.
Learn more about Becky Dreistadt's artwork and products featured at Nucleus here

Gallery Nucleus 
210 East Main Street, Alhambra, CA 91801
Author Joe Hill signs at Copperfield's Books on Thursday May 16, 2013 at 7:00 pm!
Copperfield's Books
140 Kentucky Street, Petaluma, CA 94952-2994
(707) 762-0563