After taking a brief hiatus from cons, I attended the 2015 Wondercon in Anaheim! With the lack of a big entertainment presence, as well as only a few big name artists and writers, I didn't expect this show to be a successful one. But I was wrong.
Driving up to the con, I saw a long line of cars just waiting for parking! Walking on to the show floor, the con was packed for Friday at noon, and the crowds were packed all weekend long. Con season was in full swing, and Wondercon was a great warmup to Comic Con in a few months! Adding to the excitement was the news that Wondercon will be moving to Los Angeles next year. Hopefully, LA can accommodate and handle the eager fans I saw in Anaheim, and Comikaze provides an excellent indicator that LA can handle a great comic show. I guess we'll see next year if the move was the correct one. And now, onto some of cool things I saw last weekend:
And now, onto some awesome cosplay!
The star of Dead Rising: Watchtower, Jesse Metcalfe, spoke to the media at Wondercon 2015, and Convention Scene's own Richard Oh was there.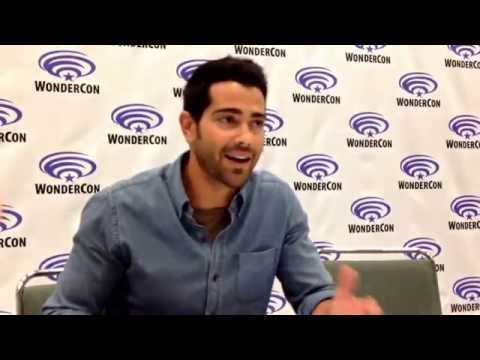 The stars of WGN America's Salem, Shane West and Janet Montgomery, spoke to the media at Wondercon 2015, and Convention Scene's own Richard Oh was there.
Bryan Konietzko & Michael Dante DiMartino (creators of Avatar: The Last Airbender and The Legend of Korra) and Gene Luen Yang (writer of the ATLA comics as well as Superman, American Born Chinese, Boxers & Saints, and many more) speak on a panel moderated by novelist Leigh Bardugo where they will break down the components of mythic storytelling on Saturday, April 11, 2015 at noon. A book signing will follow at 1:00 PM. Present as part of the Yallwest book festival in Santa Monica, CA.
Santa Monica High School – Barnum Hall
601 Pico Boulevard, Santa Monica, CA 90405
Press Release:
Celebrate Free Comic Book Day with music, food, beer and comic-book creators!
FREE COMIC BOOK DAY will be bigger than ever this year in North Hollywood, when Blastoff Comics and Knitting Factory Entertainment team up to present the first-ever BLASTOFF COMICSFEST! Taking place on May 2, 2015, at The Federal Bar in North Hollywood from 10 am to 4 pm, BLASTOFF COMICSFEST will be the place to be in Los Angeles for Free Comic Book Day, with comics creators from Marvel, DC, IDW Publishing, Image, BOOM! Studios, Dark Horse and more on hand to sign comics, provide free sketches and meet with comic-book fans young and old outdoors in the beautiful Southern California sun! With a beer garden, food stations, a live DJ, costumed hero photo ops, and of course, plenty of free comics! Plenty more details and announcements to come, so mark your calendars now!
SPECIAL GUESTS SCHEDULED TO APPEAR:
Joe Casey (MIAMI VICE: REMIX, SEX, THE BOUNCE)
Frank Gibson (CAPTURE CREATURES, ADVENTURE TIME, BEE AND PUPPYCAT)
Dana Gould (STAR TREK/PLANET OF THE APES, THE DANA GOULD HOUR)
Jim Krueger (JUSTICE, THE HIGH COST OF HAPPILY EVER AFTER)
Steve Niles (THE OCTOBER FACTION, MONSTER AND MADMAN, 30 DAYS OF NIGHT)
Valerie Perez (THE NERDIST, THE ADVENTURES OF PAULA PERIL)
Thomas Perkins (GUARDIANS OF THE GALAXY, AVENGERS: EARTH'S MIGHTIEST HEROES, BEN 10)
Kit Quinn (SWEETHEARTS OF THE GALAXY)
Mairghred Scott (TRANSFORMERS, WINDBLADE, GUARDIANS OF THE GALAXY)
Todd Stashwick (12 MONKEYS, THE ORIGINALS, GOTHAM)
J.K. Woodward (CITY ON THE EDGE OF FOREVER, STAR TREK/DOCTOR WHO)
More guests to be announced in the days to come!
The Federal Bar
5303 Lankershim Blvd, North Hollywood, CA 91601
(818) 980-2555
Meet Michael Aushenker the writer of the Slayer biography comic and see how they came to become one of the greatest heavy metal bands on the planet at Mission: Comics & Art on Saturday, April 18th from noon till 3:00 pm!
Mission: Comics & Art
3520 20th St. Suite B, San Francisco, CA 94110
(415) 695-1545
Voice actor Rob Paulsen welcomes Jim Cummings, Chuck McCann, Tad Stones, Corey Burton, and Peter Renaday to the Talkin' Toons podcast on Tuesday April 7, 2015 at 8pm!
Press Release:
The world-famous Hollywood Improv is proud to invite you to join Emmy and Annie award winner Rob Paulsen as he talks about his experiences in voice acting!
About Rob Paulsen:
Born in Detroit, Rob Paulsen spent his childhood in Livonia and Rochester, attending Junior and Senior high school in Grand Blanc, Michigan. Rob loved cartoons like most kids but aspired to be a professional hockey player. "Fortunately, thanks to some big, strong, kid from Winnipeg who drilled me so hard my ears are still ringing, I learned around age 18 I had neither the talent nor the temperament to make a living playing hockey. So, I turned to my other passions: singing and acting."
The goal of bringing absolute believability to a fictional character, live-action or animated, is what every actor strives for. Those who are committed to their career and who combine experience, passion and skill are likely to succeed.
Those gifted with exceptional talent who focus on maximizing their potential by finding their own niche, quickly break away from the pack. After years of honing their craft and consistently delivering memorable performances in which the character impacts an indelible image on the viewer, the public and the industry take notice, singling out the best.
"I'm getting paid to do what I got in trouble for in the 7th grade," jests Rob, who won a Daytime Emmy in 1999 as "Outstanding Performer in an Animated Program" for Pinky and The Brain (Warner Bros.) Though nominated twice previously, the victory was especially sweet due to some formidable competition – fellow nominees Louie Anderson, Ernest Borgnine, Dennis Franz and Jeffery Tambor. In addition to his Emmy, Rob won back-to-back Annie Awards in 1997 and 1998. "I absolutely love what I do and thank my lucky stars for twenty-five years of full-time employment in this business," he says.
"It's a treat to portray a complex character," Rob explains about Pinky, a goof-ball mouse with funny teeth, a head filled with clouds and an inane imagination that is punctuated with a staccato laugh. "Besides … where else could I find a job where emotional outbursts and odd exclamations like 'Egad!,' 'Narf!,' 'Poit!,' 'Splonk!,' and 'Zort!' are allowed and in fact, encouraged?" With over 2,000 half-hours of animation to his credit, Rob's versatility shines in his starring roles as the voices of Yakko, Pinky and Dr. Scratch 'n' Sniff in the Peabody and two-time Emmy award-winning series "Animaniacs."
Some of Rob's other well-known animated characters include Raphael of the "Teenage Mutant Ninja Turtles," Arthur in "The Tick," the title role in "The Mask" (for a WHOLE lot less dough than Mr. Carrey, thank you), the title role in "Mighty Max," Carl Wheezer in "Jimmy Neutron, Boy Genius," Jack Fenton in "Danny Phantom," Bobble in the "Tinkerbell" series of DVDs and hopefully more to come.
Paulsen's extensive credits include on-camera roles in numerous motion pictures including Body Double, Stewardess School, Eyes of Fire, The Perfect Match, and Warlocked. His television acting credits include guest-starring roles on MacGyver and St. Elsewhere. Additionally, he is one of the most sought-after voice actors in the commercial arena, performing in over 1000 commercial spots.
As passionate about "paying it forward" as he is about his lucrative career, Rob supports various charitable organizations, particularly those benefiting children and military veterans. Rob's volunteer work with GOALmodels has been particularly rewarding. GOALmodels, a high school program in Reseda, California, is designed to inspire 9th graders to set goals and overcome obstacles in life. Blending his life experiences with passion for his work, his presentations are informative, entertaining and inspiring. In his leisure time, Rob enjoys golf, riding his motorcycle and occasionally lacing up his skates for another chance to relive his past glory on the rink. He spends the majority of his free time with his wife, Parrish, and their two Yorkshire terriers, Pooshie and Tala.
Hollywood Improv
8162 Melrose Ave, Los Angeles, CA 90048
Co-creators Dan Harmon and Justin Roiland appear at Meltdown Comics and Collectibles on Sunday, April 12, 2015 at 5:00 pm to sign the Rick and Morty comic book from Oni Press!
Press release:
Oni Press, Portland's premier independent comic book publisher, announced today a signing for Rick and Morty #1 at Meltdown Comics with show creators Justin Roiland and Dan Harmon on April 12th at 5 pm.
This will be the first time the show creators sign the comic book adaptation of their hit adult swim show since the first issue's release on April 1st, 2015. The signing will be hosted by Los Angeles' mecca for all things comic book, comedy, podcasting and pop-culture related, Meltdown Comics. Dan Harmon's wildly popular comedy podcast, Harmontown, is recorded on a regular basis in the store's NerdMelt Showroom and will follow the comic book signing at 8 pm on April 12th.
Rick and Morty is created and executive produced by Dan Harmon (Community, Channel 101) and Justin Roiland (House of Cosbys). After missing for nearly 20 years, Rick Sanchez (Justin Roiland) suddenly arrives at his daughter Beth's (Sarah Chalke) doorstep looking to move in with her and her family. Beth welcomes him with open arms, but her unremarkable husband Jerry (Chris Parnell) isn't too thrilled about the tearful reunion as Rick's arrival serves to shake things up quite a bit around the household. Rick converts the garage into his personal laboratory and gets to work on all sorts of dangerous sci-fi gadgets and contraptions. That wouldn't be so bad if not for the fact that Rick continues to involve his grandchildren Morty (Roiland) and Summer (Spencer Grammer) in his insane adventures. The newly released comic from Oni Press based on Rick and Morty is written by Zac Gorman (Costume Quest, Magical Game Time), illustrated by CJ Cannon and colored by Ryan Hill (Terrible Lizard, Stumptown, Stringers).
About Meltdown Comics
The mecca for all things comic book, comedy, podcasting and pop-culture related bits, Meltdown hosts a blockbuster line-up of events and programs that in the past have garnered such accolades as "Best of LA" LA Weekly, "Best of LA" LA Magazine, "Best Comedy" LA Weekly, "Top 50 things why LA kicks ass?" LA Weekly, "Best Store" Playboy Magazine, etc.
About Oni Press
Oni Press has been Portland's premier indie comic book publisher since 1997. Home to a range of rad comics including Scott Pilgrim, The Sixth Gun, Invader Zim, Rick and Morty, Stumptown, Princess Ugg, Letter 44 and The Bunker, Oni Press strives to create comics for you.
Meltdown Comics
7522 Sunset Blvd, Los Angeles, CA 90046
323.851.7223
Big WOW! Comic Fest is thrilled to be able to offer Signature and Photo Opportunities with three of our incredible guests! Tom Felton (Draco Malfoy from the Harry Potter films) and Daniel Cudmore (X-Men and Twilight films) are both available for Photo and Signature opportunities on Saturday Only, while Jake Lloyd (Anakin Skywalker from Star Wars: The Phantom Menace) is available the entire weekend. Each signature ticket purchased will allow you to get one item signed, and if you purchase a photograph you may bring up to 3 of your friends or family for the photograph – however only one photo will be printed for the ticket holder. Tickets can be purchased here.
SATURDAY
Tom Felton:

Signing 11:00 – 12:30
Photo Op 12:30 – 1:30
Signing 1:30 – 4:00
Photo Op 4:00 – 4:30
Signing 4:30 – 5:30
Daniel Cudmore:
Signing 11:00 – 12:30
Photo Op 12:00 – 12:15
Signing 12:30 – 4:00
Photo Op 4:30 – 4:45
Signing 4:45 – 5:30
Jake Lloyd:
Signing 11:00 – 12:00
Photo Op 12:15 – 12:30
Signing 12:30 – 6:00
SUNDAY
Jake Lloyd:
Signing 11:00 – 11:00
Photo Op 1:15 – 1:30
Signing 2:30 – 5:00
Guests include: Brent Anderson, Sanya Anwar, Stephen Bissette, Mark Bode, Nick Bradshaw, Tim Bradstreet, Dan Brereton, Danny Bulanadi, Frank Cho, Frank Cirocco, Lela Dowling, Tom Felton, Stephen E. Gordon, Adi Granov, Mick Gray, Rich Koslowski, Ron Lim, Toshio Maeda, Steve Mannion, Chris Marrinan, Bill Morrison, Darick Robertson, Tone Rodriguez, Don Rosa, Stuart Sayger, Liam Sharp, Scott Shaw, Bill Sienkiewicz, John Totleben, Herb Trimpe, Rick Veitch, Tim Vigil, Ben Wolstenholme, Thomas Yeates, and more.
For more information on Big WOW! Comicfest please check the website (www.bigwowcomicfest.com) and follow on Facebook, Twitter, and Instagram!
Press Release:
Award-winning publisher BOOM! Studios is pleased to announce it will be exhibiting at WonderCon Anaheim 2015, which will take place at the Anaheim Convention Center in Anaheim, California, during the weekend of April 3-5, 2015.
BOOM! can be found at booth #611 on the show floor and will host the following creators:
Appearing and signing all weekend will be:
Sketching at the booth all weekend will be:
Kassandra Heller (Adventure Time)

Stephanie Gonzaga (Adventure Time)
Appearing for one-hour signings throughout the weekend:
Friday, April 3
3-4 PM – Marc Andreyko (Clive Barker's Nightbreed)
Saturday, April 4
11AM-12 PM – Yehudi Mercado (Rocket Salvage)

12-1 PM – Matt Gagnon (Day Men)

1-2 PM - Mike Johnson (Sleepy Hollow: Origins)

4-5 PM - Brian Lynch (Bill & Ted's Most Triumphant Return), Amy Stoch (Missy from the Bill & Ted ), Scott Kroopf (Bill & Ted films producer)
Sunday, April 5
1-2 PM – Noelle Stevenson, Shannon Watters (Lumberjanes)
BOOM! will also present and participate in the following panels at WonderCon:
BOOM! Studios: From Page to Screen
Friday, April 3, 5:30-6:30 PM, Room 208
Comics publisher BOOM! Studios is actively developing several of its original titles for film and television. Have you ever wondered what that process is like? Hear from BOOM! Studios Founder and CEO Ross Richie, President of Development Stephen Christy; screenwriter Arash Amel (Butterfly); and entertainment attorney Matt Sugarman as they talk about the process of shopping a comic book property in Hollywood. Moderated by The Hollywood Reporter's Borys Kit.
Push Comics Forward: BOOM! Studios Celebrates 10 Years and Looks Ahead to the Next 10
Saturday, April 4, 2:00-3:00 PM, Room 211
10 years ago, Ross Richie started BOOM! Studios from a spare bedroom in his house. Today, BOOM! is a multiple award-winning top 10 publisher. But rather than look back at what we've achieved the past 10 years, join us as we look ahead to the next 10 years and talk about Push Comics Forward, a movement to inspire publishers, creators, press, and fans to join the conversation on what is helping to improve the industry, and what more can be done. Join Ross Richie, President of Publishing and Marketing Filip Sablik, and Editor-in-Chief Matt Gagnon as they host creators Bryce Carlson (Hit); Shannon Watters (Lumberjanes); Trevor Crafts & Matt Daley (Lantern City), and more to talk about how BOOM! is helping to Push Comics Forward. Plus, each attendee will receive an exclusive Lantern City pin!
Push "Excellence" Forward: New "Bill & Ted" Comics Come to BOOM! Studios
Saturday, April 4, 5:30-6:30 PM, Room 208
As part of its ongoing desire to Push Comics Forward, BOOM! Studios carefully selects key licensed properties to help bring new readers to comics. In March, the publisher launches Bill & Ted's Most Triumphant Return, a new comic series based on the classic films about two, excellent high school buddies who go on to bring about world peace through their music. Join the comic's writer, Brian Lynch; editors Ian Brill and Alex Galer; star of the films, Amy Stoch, PhD (Missy); and producer of the films Scott Kroopf as they talk about the new series and the everlasting popularity of Bill & Ted. Moderated by BuzzFeed's Kirk Damato.
Push Fun Forward: The Importance of All-Ages Comics
Sunday, April 5, 11:30-12:30 PM, Room 213
All-ages comics are important now more than ever in helping to bring in new and lapsed readers, from practically every demographic. Join us as BOOM! Studios Associate Editor Whitney Leopard leads a discussion of the significance of all-ages comics—from what it has achieved thus far to what lies ahead—with creators Shelli Paroline (Adventure Time), Derek Fridolfs (Batman: Li'l Gotham), Mairghread Scott (Transformers: Windblade), and more.
BOOM! Studios editor Shannon Watters will participate in an hourlong portfolio review on Saturday of WonderCon:
Saturday, April 4
BOOM! Studios Portfolio Review
Saturday, April 4, 12:30–1:30 PM, Room 206B
Shannon Watters, the Editor of BOOM! Studios' all-ages imprint KaBOOM! and experimental imprint BOOM! Box, is conducting portfolio reviews at WonderCon Anaheim. Please bring sequential work relating to all-ages content as well as out-of-the-box ideas, plus cover art, color art, and materials showing off your personal style. No story pitches, please.
And finally, BOOM! will have the following exclusive variants available for purchase at the booth:
Bill & Ted's Most Triumphant Return #1 – Cover by Braden Lamb (Adventure Time)
Sleepy Hollow: Origins #1 – Cover designed by Michelle Ankley (Photo credit: Brownie Harris and John Lopez)
For tickets and more information on WonderCon Anaheim 2015, visit their site at comic-con.org/wca.
ABOUT BOOM! STUDIOS
Founded by Ross Richie in 2005, Diamond Gem Award-winning "Best Publisher" BOOM! Studios (boom-studios.com) generates a constellation of best-selling Eisner and Harvey Award-winning original and licensed comic books and graphic novels with the industry's top talent. BOOM! Studios is comprised of four distinct imprints. The original Studios imprint is home to Mike Carey's Suicide Risk; James Tynion IV's The Woods; Mark Waid's Irredeemable; Sons of Anarchy; and Big Trouble in Little China. Steven Grant's graphic novel 2 Guns was released as a feature film from Universal Pictures, starring Denzel Washington and Mark Wahlberg. BOOM!'s all-ages imprint KaBOOM! publishes Charles Schulz' Peanuts; Jim Davis' Garfield; Cartoon Network's Adventure Time, Regular Show, The Amazing World of Gumball, and Steven Universe; Mike Kunkel's Herobear and the Kid; and Natasha Allegri's Bee and PuppyCat. BOOM!'s experimental imprint BOOM! Box publishes The Midas Flesh and Lumberjanes. In June 2013, BOOM! acquired Archaia Entertainment (archaia.com). Archaia is the Eisner and Harvey Award-winning graphic novel publisher of Mouse Guard, Cow Boy, Gunnerkrigg Court, Rust, and Jim Henson's Tale of Sand. In October 2013, BOOM! Studios entered into a unique first-look relationship with 20th Century Fox, giving the studio access to its library of titles and giving the publisher access to Fox's vast catalog of films. In August 2014, BOOM! Studios began a similar first-look relationship with 20th Century Fox TV to develop properties for the small screen.