Disney and Dreamworks invite you to take a step back into an era of espionage and Cold War. Steven Spielberg directs a dramatic thriller set against the backdrop of a series of historic events, Bridge of Spies tells the story of James Donovan (Tom Hanks), a Brooklyn lawyer who finds himself thrust into the center of the Cold War when the CIA sends him on a near impossible mission to negotiate the release of a captured American U-2 pilot.
Press Release:
Steven Spielberg's Critically Acclaimed Spy Thriller Starring Tom Hanks Arrives on Blu-ray™ Combo Pack and Digital HD February 2, 2016
SYNOPSIS:   A dramatic thriller set against the backdrop of a series of historic events, "Bridge of Spies" tells the story of James Donovan (Tom Hanks), a Brooklyn lawyer who finds himself thrust into the center of the Cold War when the CIA sends him on a near impossible mission to negotiate the release of a captured American U-2 pilot. High stakes and suspense power a story inspired by true events that capture the essence of a man who risked everything and vividly brings his personal journey to life.
CAST: Tom Hanks (Saving Mr. Banks, Philadelphia and Forrest Gump) as James Donovan, Mark Rylance (Wolf Hall, The Other Boleyn Girl) as Rudolf Abel, Amy Ryan (Birdman, Goosebumps) as Mary Donovan, Sebastian Koch (TV's "Homeland," The Danish Girl) as Wolfgang Vogel, Alan Alda as Thomas Watters (The Aviator, Crimes and Misdemeanors), Austin Stowell (Whiplash, TNT's "Public Morals"), Mikhail Gorevoy (Die Another Day, BBC's "Space Race") as Ivan Schischkin and Will Rogers (A Good Marriage, The Bay) as Frederic Pryor.
DIRECTOR:                          Steven Spielberg (Academy Award© winner for Best Director on Saving Private Ryan and Schindler's List)
PRODUCERS:                      Steven Spielberg, Marc Platt (Into The Woods) & Kristie Macosko Krieger (Lincoln)
WRITERS:                             Matt Charman (Suite Francaise), Ethan Coen & Joel Coen (Academy Award© winners for No Country for Old Men and Fargo)
RELEASE DATE:                  February 2, 2016
PRODUCTS:                         Digital HD/SD, Blu-ray Combo Pack, DVD and On-Demand
BONUS:                                   A CASE OF THE COLD WAR: BRIDGE OF SPIES  – The story of James Donovan, Francis Gary Powers and Rudolf Abel encapsulates the Cold War era—a tense political climate shrouded in propaganda, espionage and the threat of nuclear war.  This piece explores the characters and the real-life people they're based on, ordinary men in extraordinary circumstances. Steven Spielberg and Tom Hanks share personal stories of the Cold War, describing how experiences from their youth were part of the attraction to the script, how this influenced the way they approached the film and why the history behind Bride Of Spies resonates across generations and is relevant in today's political climate.
U-2 SPY PLANE: BEALE AIR FORCE BASE – Showcases spectacular footage shot at the Beale Air Force Base of the U-2 plane and the scene where Powers and other pilots are instructed about their spying mission, including a cameo appearance in the film by Francis Gary Powers son, Gary Powers Jr. and discussion with the Air Force liaison about the significance of the scene and why they got behind the film.
SPY SWAP: LOOKING BACK ON THE FINAL ACT – Steven Spielberg and his team stage the pivotal scene of the film at Glienicke Bridge, the very same location where the historic exchange of Soviet spy Rudolf Abel and U-2 spy plane pilot Francis Gary Powers took place. Gary Powers Jr. shares his memories of his father's experience with voiceover recordings from Francis Gary Powers, as filmmakers and the cast recreate a page of Cold War history while filming in the presence of Germany's Chancellor Angela Merkel.  
BERLIN 1961: RECREATING THE DIVIDE – A mix of behind-the-scenes footage with iconic archival imagery transports viewers to another place and time as the filmmakers construct the Berlin Wall, envision what it was like to cross through Checkpoint Charlie, and recreate the divide. On set in Berlin just days after the 25th anniversary celebration of the fall of the Berlin Wall, a historian who lived through the experience describes what being there means to her. In Poland, where the Wall was recreated for the film, tanks, hundreds of extras and powerful sequences make the setting feel epic and surreal.
* Digital bonus offerings may vary by retailer
FEATURE RUN TIME:    Approximately 141 min.
RATING:  PG-13 in U.S.
ASPECT RATIO: Blu-ray Feature Film = 1080p High Definition / 2.40:1 | DVD Feature Film = 2.40:1
AUDIO: Blu-ray = 7.1 DTS | DVD = 5.1 Dolby
LANGUAGES: English, French & Spanish
SUBTITLES: English SDH, French & Spanish
SOCIAL MEDIA: Facebook: facebook.com/BridgeOfSpies
Twitter: @BridgeOfSpies
Website:  www.bridgeofspies.com
It is the return of the Philadelphia Comic-Con on Saturday January 9th. This comic book convention is held at the Clarion Hotel and Conference Center located at 76 Industrial Highway (Route 291) in Essington, PA 19029. The hotel is conveniently located off of exit 9A from I-95. It is also close to I-76, I-476 and most bridges from New Jersey. Show hours are 10 AM to 4 PM. Admission is only $3 per person. Students of any age (including college) are admitted free with a current id. Parking is also free on premises. For those of you that do not drive Septa Bus Route 37 stops directly in front of the hotel.
It is quite a site to behold with 60+ tables at the show in the 4,500 square foot ballroom of the hotel. Dealers from 5 states setup there selling, buying and even trading with collectors. Thousands and thousands of comic books from the 1940's to present day will be for sale at the show. Also available will be collecting supplies, graphic novels, action figures, statues, non-sportcards, dvd's and original artwork. The show has become a fan favorite for years with people travelling up to 3 hours one way just to shop at the show.
Special guest artists this show are graphic novelist Tony Bourne and local indy creator Steven Williams.
Any questions about the convention can be sent to derekwoywood@gmail.com or we can be reached by phone at 856-217-5737. Fans can also check us out on the web at www.philadelphiacomic-con.com. Or on facebook.com/PhiladelphiaComicCon.
Comics legend Stan Lee, co-creator of Spider-Man, Avengers, X-Men, Fantastic Four, Iron Man, and more, appears at Barnes & Noble on Saturday, January 30, 2016 at 2:00 PM to celebrate the release of "The Zodiac Legacy: The Dragon's Return." In this second illustrated novel of The Zodiac Legacy series, the dangerous dragon power only grows stronger within Jasmine, and Steven struggles to hold their ragtag team together. But as alliances become strained, the line between the "good guys" and the "bad guys" becomes blurrier and blurrier. And it all culminates in a major cliffhanger that readers won't see coming!
Stan Lee will be here to hand out pre-signed copies of "The Zodiac Legacy: The Dragon's Return."
This is a wristbanded event
-1 book per person/ 1 wristband per person – no exceptions
-Wristbands and books are limited to 300
-Wristbands will be issued to customers who purchase the book from Barnes & Noble at The Grove beginning at 9am on January 30
-the wristband will allow you into the event area where Stan Lee will hand you a pre-signed book
-personalization will not be available
-photos will not be permitted
-No memorabilia please
Barnes & Noble – The Grove
189 The Grove Dr, Los Angeles, CA 90036
(323) 525-0270
Jhonen Vasquez, Eric Trueheart, and Aaron Alexovich, the creative minds behind Invader Zim, appear at the Grove's Barnes & Noble to discuss and sign "INVADER ZIM: VOLUME ONE" on Wednesday, January 27, 2016 at 6:00 PM!
From the far reaches of weird space to the incomprehensible world of underground art, Zim is back! And his thirst for world domination has only grown. Zim and his filthy, evil ways have been gone for what feels like years. But Dib knows the alien menace will rear his head again, and he won't leave the house, or his 900 security monitors, until it happens. And it will happen. Oh, it will.
A wristband will be issued to customers who purchase "INVADER ZIM: VOLUME ONE" at Barnes & Noble at The Grove beginning January 27th at 9am
· Limit 1 wristband per book/ 3 books per customer
· Personalization will be available… sketches will not
· Photos from the line in front of the table
· They will only be signing "INVADER ZIM: VOLUME ONE"
· No memorabilia please
Barnes & Noble – The Grove
189 The Grove Dr, Los Angeles, CA 90036
(323) 525-0270
The folks at Choice Collectibles were kind enough to offer me a print to review, and I took them up on their generous offer. They dispatched to me a Limited Edition Lithograph Print called "Enforcers." Although I could not find an artist credit on the print, I recognized the work of David Finch, and a quick Google search revealed that it was originally a cover variant for Avengers/Invaders #1 back in 2008.
As a graphic artist and someone who has worked in printing in one shape or another for the past 16 years or so, I can say that the printing looks impeccable. The colors are sharp and clear (my photos do not do it justice). This matted print is going to look great hanging on the wall!
Choice Collectibles did a great job of shipping the print to me. My only peeve was that the print (covered in a plastic sleeve) was actually taped to the cardboard insert that protected it. I ended up ripping the protective plastic sleeve a little bit getting the tape off.
Choice Collectibles has been in business for over 18 years and have developed a close partnership with Marvel. They have prints from a lot of other fantastic brands, too, including DC, Disney, Hanna-Barbera, Warner Bros., etc. They also have some very cool Star Wars prints including some for The Force Awakens! Be sure to check them out.
Marvel really produced a winner with Ant-Man with great characters and great visuals. I enjoyed it a great deal. I was expecting more of a comedic caper movie, but it surprised me with how serious and dramatic it was at times.
Paul Rudd stars as the Scott Lang version of the character. After pulling off a Robin Hood-style heist and ending up in prison, he's trying to put his life back together and stay connected with his daughter. I've always liked Paul Rudd as an actor, and I think he does a great job in this.
I wasn't very enthusiastic about the decision to make Hank Pym (Michael Douglas) an older character, but I can see how it really works in this movie. The heart of this film involves two fathers and two daughters. Lang is trying to be the hero his daughter deserves while Hank is trying to reconnect with his daughter Hope (Evangeline Lilly). It all has a great deal of emotional resonance. It also manages to address the age-old comic book conundrum as to why some inventors in the Marvel Universe don't make their technological creations more readily available.
The first half of the movie might seem to drag a bit as Scott goes through quite a lot of preparation and training, but the movie really picks up when Scott and crew go into action for the task for which Hank recruited him. The end sequence manages to bring all the supporting characters together in a cool way. Along the way we also get a fun fight with a guest-starring member of the Avengers (which, of course, builds up to Ant-Man's inclusion in the upcoming Captain America: Civil War)!
Although this was a troubled production with original director Edgar Wright dropping out while the movie was in pre-production, Marvel really pulled it together and made it one of their best films. Since Marvel has been very genre-oriented of late and this movie was described as a heist movie, I'm really curious to see where they go with the already announced sequel Ant-Man and the Wasp. At any rate, we are sure to see more of Evangeline Lilly which is never a bad thing in my book.
Minor Caution for Parents: This movie does have some blatant profanity in it (as did Guardians of the Galaxy). As the parent of young kids myself, I really wish Marvel wouldn't go this route and would instead keep it family-friendly.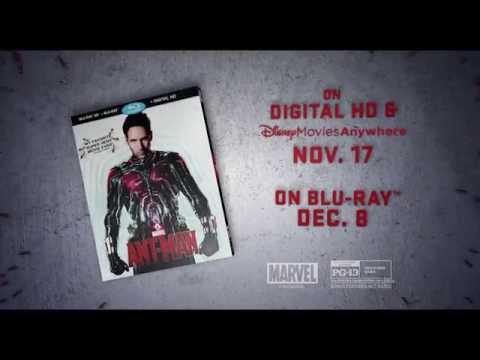 SYNOPSIS:   The next evolution of the Marvel Cinematic Universe introduces the newest member of the Avengers: Marvel's Ant-Man. Armed with the amazing ability to shrink in scale but increase in strength, master thief Scott Lang joins forces with his new mentor Dr. Hank Pym to protect the secret behind his spectacular Ant-Man suit from ruthless villains! With humanity's fate in the balance, Pym and Lang must plan and pull off a daring heist against insurmountable odds. Filled with humor, awesome special effects and exclusive bonus features, this action-packed adventure takes you to new levels of pulse-pounding excitement!
CAST:    Paul Rudd (This is 40, Role Models) as Ant-Man/Scott Lang, Evangeline Lilly (The Hobbit: The Battle of the Five Armies, Lost) as Hope van Dyne, Corey Stoll (This Is Where I Leave You, The Bourne Legacy) as Yellowjacket/Darren Cross, Bobby Cannavale (Spy, Chef) Michael Peña (Cesar Chavez, The Martian) Tip "T.I." Harris (Identity Thief, Entourage),Wood Harris (Justified, The Wire), Judy Greer (Tomorrowland, 13 Going on 30), David Dastmalchian (The Dark Knight, Prisoners), as Paxton, and Michael Douglas (Last Vegas, The Game) as Dr. Hank Pym
BONUS:Digital HD*, Disney Movies Anywhere (DMA), 3D Blu-ray Combo Pack, Blu-ray
Making Of An Ant-Sized Heist: A How-To Guide –
Set your watch and count down the action in this fast-paced behind-the-scenes look at how to pull off a heist movie, including Scott Lang's hilarious heist "family," Ant-Man's costume, plus amazing stunts and effects.
Let's Go To The Macroverse –
Shrink down to size in this fascinating look at creating the world from Ant-Man's perspective, from macro photography through the subatomic.
A hard-hitting collection of content, including a glimpse at the future of Pym Technologies with Darren Cross, anchor Christine Everhart's interview with soon-to-be-released prisoner Scott Lang on his notorious VistaCorp heist, and more.
Deleted & Extended Scenes
Audio Commentary By Peyton Reed And Paul Rudd
*Digital bonus offerings may vary by retailer
DVD:
FEATURE RUN TIME:Approximately 117 min.
RATINGS:PG-13 in U.S.; PG in CE; G in CF
ASPECT RATIO:Blu-ray 3D, Blu-ray & DVD = 1080p High Definition / 1.85:1
AUDIO:Blu-ray 3D & Blu-ray 2D = English 7.1 DTS-HDMA, French-Canadian 5.1 Dolby Digital, Latin Spanish 5.1 Dolby Digital, English DVS 2.0 Dolby Digital
DVD = English/Latin Spanish/French Canadian 5.1 Dolby Digital, English DVS 2.0 Dolby Digital
LANGUAGES:English
SUBTITLES:English, French, and Spanish
SOCIAL MEDIA:
Facebook
Ant-Man:https://www.facebook.com/antman
Marvel: https://www.facebook.com/Marvel
Disney Movies Anywhere:https://www.facebook.com/DisneyMoviesAnywhere
Twitter
@Ant-Man: https://twitter.com/AntMan
@Avengers: https://twitter.com/Avengers
@Marvel: https://twitter.com/Marvel
@DisneyAnywhere: https://twitter.com/DisneyAnywhere
Tumblr
Marvel:http://marvelentertainment.tumblr.com
DMA: http://disneymoviesanywhere.tumblr.com
Instagram
 https://instagram.com/therealagentm
YouTube
 https://www.youtube.com/user/MARVEL
ABOUT DISNEY MOVIES ANYWHERE (DMA):
Disney Movies Anywhere (DMA) is an engaging and family-friendly cloud-based digital movie service that makes it simple to buy your favorite Disney, Pixar, Marvel and Star Wars movies once and watch them anywhere.  With DMA you can explore Disney's library of over 450 eligible digital movies, discover hours of new and exclusive short-form content, and watch your digital movies from the comfort of the living room or across multiple mobile devices.  Using the free DMA apps and website, you can connect your DMA account with participating providers including iTunes, Amazon Video, VUDU, Microsoft Movies and TV and Google Play and unlock access your eligible movie collections across platforms and devices –  iPhone, iPad, iPod Touch, Apple TV/Airplay, Amazon's Fire tablets, Fire TV and Fire TV Stick, Microsoft Movies and TV service on Windows and Microsoft Xbox devices, Android mobile and tablet devices and Android TV, Chromecast and the Roku® platform.  In addition, you can redeem Digital Copy codes found in Disney, Pixar and Marvel Blu-rays and DVDs, as well as earn Disney Movie Rewards points with every digital purchase.
About Marvel Entertainment
Marvel Entertainment, LLC, a wholly-owned subsidiary of The Walt Disney Company, is one of the world's most prominent character-based entertainment companies, built on a proven library of more than 8,000 characters featured in a variety of media over seventy-five years.  Marvel utilizes its character franchises in entertainment, licensing and publishing.  For more information visit marvel.com.  © 2015 MARVEL
ABOUT THE WALT DISNEY STUDIOS:
For over 90 years, The Walt Disney Studios has been the foundation on which The Walt Disney Company was built. Today, the Studio brings quality movies, music and stage plays to consumers throughout the world. Feature films are released under the following banners: Disney, including Walt Disney Animation Studios and Pixar Animation Studios; Disneynature; Marvel Studios; Lucasfilm; and Touchstone Pictures, the banner under which live-action films from DreamWorks Studios are distributed. The Disney Music Group encompasses the Walt Disney Records and Hollywood Records labels, as well as Disney Music Publishing. The Disney Theatrical Group produces and licenses live events, including Disney on Broadway, Disney On Ice and Disney Live!.
Emerald City ComiCon announces MELISSA BENOIST and CHYLER LEIGH, the stars of SUPERGIRL, will be guests at the convention on Saturday April 9th and Sunday April 10th!
Melissa Benoist is an American actress and singer, known for her portrayal of "Marley Rose" on Glee and as Nicole from the acclaimed feature film Whiplash. She currently plays the title role on the breakout hit Supergirl.
Chyler Leigh is an actress best known for her role on the Seattle-based medical drama Grey's Anatomy. Previously she appeared as a series regular on television shows including The Practice, Girls Club, That 80's Show, and Reunion. Chyler made her feature film debut alongside Chris Evans in the 2001 spoof Not Another Teen Movie. She currently stars on Supergirl as Alex Danvers, a DEO agent and adopted sister of Supergirl.
Previously announced celebrity guests include:
Christy Carlson Romano (KIM POSSIBLE, EVEN STEVENS), Dameon Clarke (DRAGON BALL Z, BORDERLANDS 2), Danielle Panabaker (THE FLASH, JUSTIFIED), Dante Basco (HOOK, AVATAR: THE LAST AIRBENDER), David Anders (IZOMBIE, ONCE UPON A TIME), Jenna Coleman (DOCTOR WHO, LEGO DIMENSIONS), Lana Parrilla (ONCE UPON A TIME, 24), Nathan Fillion (FIREFLY, CASTLE), Robbie Amell (THE FLASH, X-FILES), Rose McIver (IZOMBIE, ONCE UPON A TIME), Sean Maguire (ONCE UPON A TIME, SCOTT & BAILEY), Will Friedle (BATMAN BEYOND, GUARDIANS OF THE GALAXY, BOY MEETS WORLD)
Comic guests include:
Aaron Conley (SABERTOOTH SWORDSMAN), Aaron Kuder (ACTION COMICS), Adam Gorham (DEAD DROP), Alé Garza (GET JIRO: BLOOD & SUSHI), Alex de Campi (NO MERCY), Amy Chu (POISON IVY), Babs Tarr (BATGIRL), Chad Hardin (HARLEY QUINN), Chris Burnham (BATMAN INC.), Chris Mooneyham (FIVE GHOSTS), Chris Moreno (ZOMBIE DICKHEADS ), Clay Mann (POISON IVY), Dan Parent (KEVIN KELLER), Daniel Warren Johnson (THE GHOST FLEET), Dice Tsutsumi (ICE AGE), Dustin Nguyen (DESCENDER), Ed Brisson (SHELTERED), Emi Lenox (PLUTONA), Evan 'Doc' Shaner (GREEN LANTERN), Faith Erin Hicks (THE NAMELESS CITY), Fiona Staples (SAGA), Jake Wyatt (MS. MARVEL), Jason Howard (TREES), Jim Mahfood (EVERYBODY LOVES TANK GIRL), Joe Keatinge (SHUTTER), Kevin Wada (CATWOMAN), Kris Anka (CAPTAIN MARVEL), Leila del Duca (SHUTTER), Liz Prince (WILL YOU STILL LOVE ME IF I WET THE BED?), Marguerite Bennett (A-FORCE), Matthew Southworth (STUMPTOWN), Mitch Gerads (THE SHERIFF OF BABYLON), Nick Pitarra (THE MANHATTAN PROJECTS), Noelle Stevenson (NIMONA), Philip Tan (GREEN LANTERN), Raina Telgemeier (SISTERS), Sean Gordon Murphy (TOKYO GHOST), Shawn Crystal (ARKHAM MANOR), Terry Moore (RACHEL RISING) and many more!
Emerald City Comicon (ECCC) is the premier comic book & pop culture convention in the Pacific Northwest. Join us April 7-10, 2016. For tickets and more information please go to the website: www.emeraldcitycomicon.com
Press Release:
TerrifiCon is unwrapping our gifts a few days early and we don't care if you've been naughty or nice!
We are presenting the fans our first, new legendary comic creator who will be appearing alongside, comic writers, artists, TV/movie actors on August 19-21 at the lavish Mohegan Sun convention center in Uncasville, CT as we present the terrific comic con…
Please welcome, the one and only, artist and writer, HOWARD CHAYKIN to his first ever con appearance in Connecticut!
Mr. Chaykin was born in 1950 in New Jersey but raised in East Flatbush and Brownsville, a neighborhood in Brooklyn, NY. He started out as a gofer for the legendary artist Gil Kane at 19, which also led him to work for Wally Wood, Gray Morrow, Neal Adams and Byron Preiss, all of whom are greats in the field of comics. This is where he honed his skills as an artist and a writer. Before starting to work in film and television he was one of the pioneers of the graphic novel with "Stars Be My Destination" and "Empire." He was also the artist of the comic adaptation of "Star Wars" as well as the artist of one of the "Luke Skywalker" movie posters for the film. He also created the revolutionary comics "American Flagg" and "Black Kiss" and did modern updates of "The Shadow" and "Blackhawk". He's worked on the original "Flash" TV series, and more recently on comics like "Satellite Sam" with Matt Fraction, SHIELD and many more!
Fans can meet Mr. Chaykin, on August 19-21 at the Mohegan Sun as Big Fedora Marketing, LLC presents the Terrific Comic Con – TERRIFICON!
Be sure to follow us throughout 2016 as we keep adding to our guest list of creators, featured artists, announce events, costume, trivia contests and more surprises.
Plus the finest DEALERS and EXHIBITORS in the North East will be there with terrific items to buy from original art, toys, clothes, statues, Funko and of course – COMICS! (if you want to be part of it remember booths/tables go ON SALE IN JANUARY). TICKETS ARE ON SALE IN FEBRUARY.
You can follow the latest news here on Facebook on this page or in our group "TerrifiCon at the Mohegan Sun August 19-21, 2016."
Hear me, Mitch Hallock, "King of the Nerds" on CT's favorite morning show – CHAZ & AJ on WPLR, WDRC and 95.9 FOX radio as your friendly neighborhood producer of cons reviews the latest news in pop culture!
Follow the Terrific Comic Con on Twitter @itsterrificon Instagram @terrificon_2016 or sign up for our newsletter on our website : www.terrificon.com
We are going to rock Connecticut and the surrounding states this Summer and are thrilled to have you along for the ride. Be sure to invite your friends along too for comics, cosplay and cool times at the Mohegan Sun!
Have a safe, happy and super – TERRIFIC Holiday and New Year!
Press Release:
ATTENTION comic book, pop culture, cosplay, and convention fans. Connecticut ComiCONN has joined forces with Altered Reality Entertainment and Hartford Comic Con to form the NEW and IMPROVED Hartford ComiCONN "A Show for the Fans by the Fans!" ™ Connecticut's BIGGEST comic book and pop culture show! ComiCONN returns for it's 7th show this September 24th & 25th at the XL Center in Hartford Connecticut with a big end of Summer event! STAY TUNED FOR MORE DETAILS!
Press Release:
The Maine Comics Arts Festival (MeCAF), an annual comics event that brings over one hundred cartoonists to Portland each year, has announced a new partnership with the Portland Public Library for the 2016 show. The show will be held at the Portland Public Library's Main Branch at Five Monument Square on Friday and Saturday, June 3rd and 4th, 2016. Over 120 comic writers, artists, publishers and cartoonists are expected to attend and exhibit at the eighth annual event. The 2016 event will be free to attend and open to the public.

Show organizers Rick Lowell and Laura O'Meara of Casablanca Comics in Portland started the festival in 2009 as a way to promote comics and provide the public with an opportunity to meet the creative talent behind the comics. "We are excited to bring this festival to the Portland Public Library. It is the perfect venue for this event, and we welcome the partnership of working with the library." says Lowell. The show has been especially popular with families. The festival is not a typical comic book convention in that there are no stores or dealers set up selling books. Instead, the exhibitors are the creative people behind the comics. The artists will have their own work on display and available for sale.
"Comics and graphic novels are so hugely popular with Portland Public Library patrons of all ages, and Casablanca Comics is one of our long-standing community collaborators, so hosting MeCAF here seems like such a natural fit." says Kelley Blue, Teen Librarian & Teen Team Leader at the Portland Public Library. "We're excited to use our space in this creative way, and for the programming potential around the festival that we can bring as a partner."
The mix of writers and artists covers a wide spectrum and includes many best-selling and award-winning comic creators. There will be programming running all day Saturday including cartooning workshops and an "Iron Cartoonist" competition. In addition, there are plans for events on Friday as part of the First Friday Art Walk.
The Maine Comics Arts Festival is a production of Casablanca Comics of Portland, Maine. Casablanca Comics is an award winning comic book retail store with two locations in southern Maine. Store owners Rick Lowell and Laura O'Meara have been sharing their love of comics with the public since 1987.