The Maine Comics Arts Festival (MeCAF) has announced the schedule for their 2013 show! Guests include Jeff Smith, Raina Telgemeier, Sean Murphy, Brian Wood, Ming Doyle, Dave Roman, Rick Parker, Colleen AF Venable, John Green, Zack Giallongo, Jeff Pert, Joe Quinones, Maris Wicks, and many more!
Press Release:
MeCAF will have panels and workshops on Saturday May 18th at the Portland Public Library and Sunday at the festival site at Ocean Gateway.
Saturday, May 18th
Portland Public Library – Rines Auditorium
1:00- A conversation with Jeff Smith, creator of Bone and RASL- We will be discussing Jeff's past work and upcoming projects. (Please note that there will not be any book signings at the library. Jeff will be signing books on Sunday at the festival).
2:00- Rick Parker cartooning workshop: Join Cartoonist Rick Parker (artist of Beavis and Butthead, Harry Potty, Diary of a Stinky Dead Kid and many others) as he shares tips and techniques for drawing comics. This will be a demonstration where members of the audience will be encouraged to draw.
3:00- Raina Telgemeier! Raina Telgemeier, creator of Smile and Drama, and artist of the Babysitter's Club series, discusses her current projects and gives a peek at her work process.
Sunday, May 19th
Ocean Gateway Terminal Maine Comics Arts Festival programming (please check back for updates as we finalize the schedule)
10:30- Jeff Pert Kid's Cartooning Class
11:30- Colleen Venable, John Green, and Zack Giallongo
1:00- Lake Region High School Comic Class Project
2:00-TBA
3:00- TBA
The cast of the WB show Arrow, including Stephen Amell, Willa Holland, and Colin Donnell spoke at Wondercon 2013, and Convention Scene's own Richard Oh was there.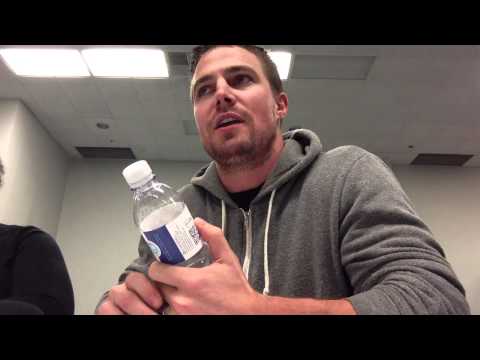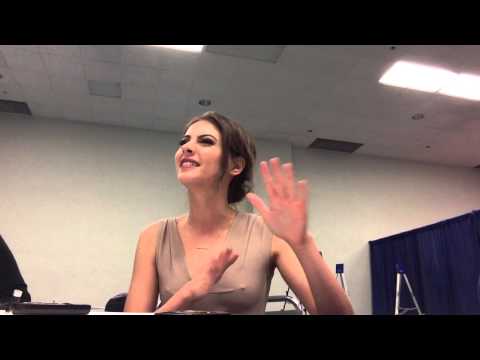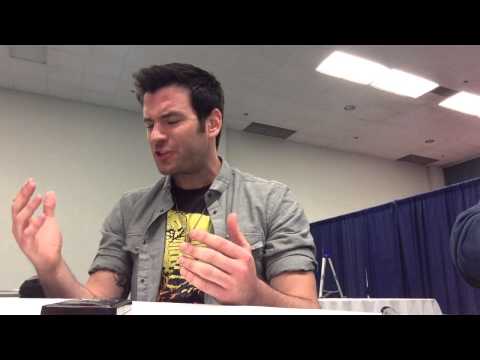 MegaCon 2014 makes their first guest announcements, Geoff Johns hints at SDCC media announcements for DC, and Free Comic Book Day reports come in. All that and more in this week's Scene on the Web!
The one and only William Shatner appears at the Hollywood Theaters to sign autographs and host screenings of Star Trek Into Darkness and Star Trek II: The Wrath of Khan on May 24-26!!
Star Trek Showtimes Schedule
Hollywood Blvd – Friday, May 24th 2013
Star Trek into Darkness (2D):   4:45, 7:15, 9:45
Star Trek into Darkness (3D):   5:30, 8:00, 10:30
Star Trek II: The Wrath of Khan:   Times TBA
Appearance Times: 4pm – 10pm
(Click here to purchase tickets)
Hollywood Palms – Saturday, May 25th 2013
Star Trek into Darkness (2D):   NOON, 2:30, 5:00, 7:30, 10:00
Star Trek into Darkness (3D):   11:30, 2:00, 5:30, 8:00, 10:15
Star Trek II: The Wrath of Khan:   Times TBA
Appearance Times: 1pm – 9pm
(Click here to visit the Hollywood Palms website)
Hollywood Blvd – Sunday, May 26th 2013
Star Trek into Darkness (2D):   NOON, 2:30, 5:00, 7:30
Star Trek into Darkness (3D):   1:00, 3:30, 6:00, 8:30
Star Trek II: The Wrath of Khan:   Times TBA
Appearance Times: 1pm – 7pm
(Click here to purchase tickets)
How our celebrity events work
Our very popular series of celebrity events includes a table in our lobby where you can briefly meet the stars of some of your favorite films for autographs and or posed photographs with them for a fee.
These events are heavily attended and we always suggest that you arrive early. Celebrities are generally scheduled to arrive one hour prior to the first showing of their film unless otherwise stated – please see schedule above. They may or may not be available to the public after a screening so we always suggest that you purchase a souvenir and meet them prior to entering the auditorium. Your early arrival also helps ensure that you can enjoy the widest selection of seats when you watch the film. You must have purchased an admission ticket or a Hollywood Cinema gift card (minimum of $15) to get in the line to meet our special guests.
Depending on the length of the line and scheduling, our guest may entertain questions from the audience and introduce the film from the stage but this is entirely discretionary and varies from event to event. Some of our guests make an extraordinary effort to ensure a great experience, and this may back up the seating for later show times.
In most instances, there is a charge per autograph – that signature can come on an 8×10 photograph provided by Hollywood Cinemas OR something of your own that you bring to the event.
We will have a professional photographer set up to take posed pictures with our guest. Tinseltown photo charges a fee for a glossy, instant print – pricing and sizing will be available closer to the event. This is the only way guests can take photos with our celebrity host. We do not allow pictures of our special guest with your own camera after a certain point in line.
We do take credit cards and there is also an ATM on premise.
Writer Rob Venditti signs at A Comic Shop on Wednesday, June 5, 2013 at 4:00 pm!
Press Release:
New Green Lantern writer, Rob Venditti, will be at A Comic Shop Wednesday June 5th to sign the first issue of his Green Lantern run!
He's taking over for Geoff Johns with issue #21, and the ring chose him mainly because of his work on Valiant's X-O Manowar.
You should also check out his Surrogates (which was made into a Bruce Willis movie) and Homeland Directive.
This will be a FREE signing and meet-up in the Geek Easy during the day with (green) food and beer specials and then a Green Lantern themed after party.
The party isn't going on too late because it's a Wednesday and Rob and I are going to Heroes Con the next day!
Come by and have a great time with a great guy. You can also warn him not to screw up Green Lantern, he can take it, he can overcome great fear!
A Comic Shop
114 S. Semoran Blvd, Winter Park, FL 32792
Press Release:
Third Eye Comics of Annapolis, MD, Cards, Comics & Collectibles of Reisterstown, MD, Laughing Ogre Comics of Lansdowne, VA, and Comics & Gaming of Gainesville, VA, have all come together to support a charity convention being held this Saturday in La Plata, MD.
The ANS Sci-Fi & Comic Con, which will be held on May 11, 2013, was founded in 2012 to benefit the Archbishop Neale School (ANS) in La Plata. The mission of the show is to create a fun and memorable event for fans and collectors of all ages that supports the educational and spiritual goals of ANS.
In its second year, the show will be expanding to feature more than 80 tables with more than 30 different vendors, as well as 13 artists from as far away as New York City, including Frank Cho, the creator, artist and writer of Liberty Meadows and the artist and writer of Marvel Comics' new Savage Wolverine comic, who is being sponsored by Cards, Comics & Collectibles. In addition, Jerry & Penelope Gaylord and Brian Turner, artists on Boom! Studios' Fanboys vs. Zombies, NFL Rush Zone, and Adventure Time, will be appearing courtesy of Third Eye Comics.
"We love seeing new conventions pop up, and the ANS Sci-Fi & Comic-Con in La Plata, MD is one of the most promising new shows we're doing in 2013," said Steve Anderson, owner of Third Eye Comics. "With superstar Frank Cho, and a retailer's room of the best vendors the area has to offer, we know this is going to be the first of many awesome shows we do with ANS."
"I knew of this show last year but was unable to go," said Marc Nathan, owner of Cards, Comics & Collectibles and show promoter of the Baltimore Comic-Con. "Lots of my closest dealer friends had great things to say about the show and the cause. This year, we are coming full force with lots of product and we are all really excited."
In addition to the vendors and artists, the show will also feature screenings of some rare and unusual films and a sneak-peak of the new documentary Plastic Galaxy – The Story of Star Wars Toys, with a special Q&A session with director Brian Stillman, as well as a game demo of the Conquest Tactics CCG by developer Andy Niggles. Additional programming includes: panels and presentations, silent auctions, door prizes, great food, and the 501st Legion!
"I am really looking forward to this event," said Gary Dills, Owner of Laughing Ogre Comics. "Any time you can put great people together with a great cause, everyone wins. I am happy to be involved with such an endeavor!"
"We're looking forward to a great show with an even better cause," said Tim Chillemi of Comics & Gaming.
The Archbishop Neale School is located at 104 Port Tobacco Road, La Plata MD, 20646. Convention hours are from 10:00 am to 3:00 pm, and admission is $5 for adults and children over 10 (children 10 and under are free). All proceeds from admissions, vendors fees, and silent auctions directly benefit Archbishop Neale School.
For more information and to register, check out the ANS Sci-Fi & Comic Con's Facebook page or visit the show's website at www.anscomiccon.com.
Local artist Maris Wicks signs her new book at Brookline Booksmith on Thursday, June 13th at 7:00 pm!
About Primates:
Primates tells the story of Jane Goodall, Dian Fossey, and Birute Galdikas, three of the most renown scientists in the field of primate research and students of the great Louis Leakey. Jim Ottaviani's words are charmingly illustrated by Maris Wicks, resulting in an engaging and utterly factual tale of the scientific life, including the personal and professional highs and lows that accompany it. Join illustrator Maris Wicks as she discusses the process of creating a graphic novel.
Brookline Booksmith
279 Harvard St Brookline, MA 02446
DC Art Director/Illustrator Mark Chiarello appears for a Dare2Draw lecture and Q & A at the Society of Illustrators on Thursday, May 23, 2013 from 6:00 pm until 9:30 pm!
About Mark Chiarello:
Mark Chiarello was born on Halloween, in 1960. His book "Heroes of the Negro Leagues" (Abrams Publishing) was named the second best sports book of 2007, by Amazon.com.
A graduate of Pratt Institute in Brooklyn, NY, Mark was fortunate enough to have as roommates, Kent Williams, John Van Fleet, and George Pratt. He worked as an illustrator for Disney World for a short time in the 1980s, then went on to work for Marvel Comics and ultimately DC Comics, where he is currently Art Director.
Society of Illustrators
128 East 63rd Street, New York, NY 10065
Industry legend and Superman Unchained artist Jim Lee will make a special appearance at the Amazing Las Vegas Comic Con on June 15th, 2013, along with other industry legend Stan Lee!
Other comic creators attending Amazing Las Vegas Comic Con include Batman artist Greg Capullo, Skottie Young, Humberto Ramos, Ryan Stegman, Rick Remender, Gerry Duggan, and many more! You can find out more info about the show as well as purchase tickets at their website listed below.
http://amazinglasvegascomiccon.com
Frank J. Barbiere and Chris Mooneyham sign at Third Eye Comics on Saturday, May 25, 2013 from 11:00 am until 1:00 pm!
Press Release:
FIRST 25 IN LINE RECEIVE A VERY SPECIAL FREE GIFT LIMITED STRICTLY TO THIS EVENT!
Folks — we're proud to announce this signing for what is sure to be one of the most popular new IMAGE COMICS titles to release this year. The artwork, the storytelling, the premise.. it's all top notch; we got the same kind of goosebumps reading the previews of this one that we did when we first thumbed through books like PETER PANZERFAUST, MANHATTAN PROJECTS, REVIVAL and BEDLAM. This fantastic new series from rising stars FRANK J. BARBIERE & CHRIS MOONEYHAM kicks off a bold new era of PULP ADVENTURE COMICS!
After a tragic encounter with an artifact known as the DREAMSTONE, infamous treasure hunter FABIAN GRAY was possessed by five literary ghosts and has been granted access to their unique abilities.
Now, we join creators Frank J. Barbiere and Chris Mooneyham for the most exciting debut of 2013 as they introduce you to a unique world full of action, black magic, exotic locales, and literary allusion!
Folks: this book takes so many of our favorite things, and rolls them into one slick package. There's the occult intrigue of series like HELLBOY and THE SANDMAN. There's the pulpy treasure hunter aspect that's not far removed from the UNCHARTED games. There's the dynamic of a guy carrying around five ghosts with him; and being able to access their unique abilities.
Five Ghosts: the Haunting of Fabian Gray is a MUST-READ, Third Eye Faithful, and we cannot recommend it enough.
We'll be having a very special release party signing with both Frank and Chris on Saturday May 25th, which is the week that the third issue of FIVE GHOSTS arrives.
Make sure to snag your copies of issues 1 & 2, when the series begins in March, so you can bring them by to get signed by Frank & Chris this May!
Third Eye Comics 
2027-A West Street, Annapolis, MD 21401