HeroesCon hosts a Kick-Off Party / Milkfed Criminal Masterminds Art Show at Buffalo Wild Wings on Thursday, June 16 from 7:00 PM till midnight! 100% of the sales of this limited edition Non-Compliant "Bitch Planet" inspired T-Shirt, along with 10% of the total sales of food and drink at Buffalo Wild Wings, will be donated to Equality NC to encourage tolerance and change in our government and society!
If you're planning to attend HeroesCon, be sure to stop by Buffalo Wild Wings on Thursday night and help make a difference!
This design will also be available as a "print-on-demand" Indie Island shirt at Fine Print Shoppe Booths 1010/1109 throughout the convention. You can bring your own shirt, tank top or bag and have it screen-printed, or you can purchase one on site. HeroesCon will donate all the proceeds from the sale of "Non-Compliant" print-on-demand items to Equality NC as well!
Also Casanova co-creators Matt Fraction, Gabriel Bá, and Fàbio Moon will be on hand to celebrate the comic's tenth anniversary with an exhibition of original artwork and live art!
Buffalo Wild Wings – Nascar Hall of Fame
400 E Martin Luther King Jr. Blvd, Charlotte NC 28202
(704) 971-9464
Plastic City Comic Con holds their inaugural event for comics, toys and pop culture fans in North Central Massachusetts on Saturday July 30, 2016 from 10:00 AM – 6:00 PM at the Leominster Veterans Memorial Center. Jam packed with comic artists, writers, creators, and vendors! FREE ADMISSION! Guests include:
Paul Kupperberg: Former editor of DC Comics and Weekly World News. Writer of Supergirl, Green Lantern, and Archie.
Joe Caramagna: Writer of Ultimate Spider-Man, Guardians of the Galaxy, and Avengers Assemble. Creator of Further Adventures of Wyatt Earp.
Veronica Fish: Artist for the New Archie Series, Pirates of Mars, and The Wendy Project.
Andy Fish: Artist and Writer for several books including How to Draw Graphic Novels, Dracula's Army, and Geeks and Greeks.
Joe St. Pierre: Artist for Spider-Man, Venom, Batman, Deadpool, and Transformers. He is also the creator of the New Zodiax.
Sean Wang: Artist for the Tick and Meltdown for Image Comics. He is also the creator of his hit Sci-Fi series Runners.
Rich Woodall: Writer of Kyrra Alien Jungle Girl for Dark Horse. Artist for the Zombie Bomb! Comic Anthology and creator of Johnny Raygun.
Further details and the full guest list may be found on the website at the link
Press Release:
The Squad Up! Suicide Squad Cosplay Contest launches today from DC Entertainment and Warner Bros. and invites you to cosplay as your favorite squad member for a chance to win a trip to San Diego this July for Comic-Con International. Have you always wanted to build a Deadshot mask? Is Harley Quinn your spirit animal? Got a purple alligator-skinned coat in the back of your closet that you've been wondering what to do with? Then this contest is for you!
Here's how it works:
Assemble a costume based on the look of any of the following characters from Warner Bros.'s upcoming Suicide Squad film: Deadshot, The Joker, Harley Quinn, Colonel Rick Flag, Amanda Waller, Captain Boomerang, El Diablo, Killer Croc, Enchantress, Slipknot, and Katana.
Take a photo of yourself wearing your costume. Make sure it's a good quality photo that really shows off your costume!
You can find the full list of rules and conditions here. Trust us, you'll want to check them out. After the entry period, fans will be able to vote in two separate rounds and help us choose finalists in each of the character categories. Once we have our finalists, eleven different winners—one for each character—will be chosen.
We expect some heavy competition, but don't worry, we're here to help. At the link are some tips, as well as a gallery of characters to help with your costumes. Click on the photos to zoom in on them.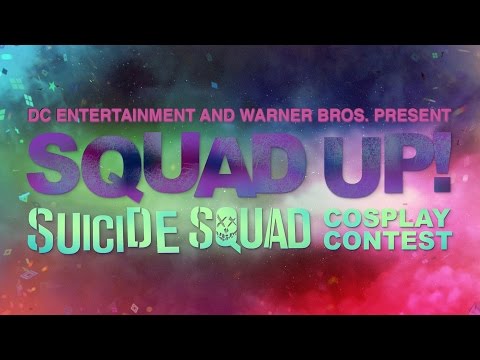 Press Release:
Recently, Electronic Arts revealed the latest details about EA PLAY including the press conference and all the games that will be playable at the show. EA will broadcast its press conference live across Los Angeles and London June 12 at 1:00pm PDT, kicking off the events of EA PLAY L.A. at The Novo in L.A. Live and EA PLAY LONDON at the Eventim Apollo in Hammersmith.
EA PLAY is an all-new event built specifically around players to bring EA's latest games to life. Following the press conference in both locations, the event will be open for the first hands-on with upcoming titles Battlefield™ 1 and Titanfall® 2, as well as fan-favorite sports titles FIFA 17, Madden NFL 17 and NHL® 17.
McFarlane Toys will have a presence at this highly anticipated event, as comic book legend Todd McFarlane himself will be at EA PLAY L.A. signing autographs for fans, and taking part in Sunday's post-press conference livestream discussing new waves of McFarlane Toys associated with popular Electronic Arts franchises such as Titanfall and Madden NFL. Todd is scheduled to appear at 3:10pm PDT, and fans across the world can watch the live stream of that, as well as the entire press conference beginning at 1:00pm PDT, at www.ea.com/play2016.
Along with Todd's appearance, McFarlane Toys will also debut prototypes of its new 7-inch and 10-inch Titanfall action figures slated to hit retail shelves this fall!
Indy Pop Con is proud to welcome Kevin Smith to Indianapolis to share with fans his upcoming film Yoga Hosers AND do a live recording of his podcast Fatman on Batman with co-host Marc Bernardin on Saturday, June 18, 2016 at 10:30 PM! Tickets available at the link…
This once-in-a-lifetime special event will feature an introduction from Kevin Smith, followed immediately by a special full screening of his film Yoga Hosers, starring Harley Quinn Smith, Lily Depp, Natasha Lyonne, and Johnny Depp.
Immediately following the film, join Kevin and Marc for a live recording/broadcast of their podcast Fatman on Batman!
Indiana Convention Center
100 S Capitol Ave, Indianapolis, Indiana 46225
(317) 262-3400
Press Release:
Join us in celebrating the anniversary of the Apollo 11 mission to the moon with legendary astronaut and American icon, Buzz Aldrin! George Takei, best known for his role as Mr. Sulu in Star Trek: The Original Series), will join Buzz to host this special black-tie event which will be held at the Apollo/Saturn V Center at Kennedy Space Center, FL on July 23, 2016. Featuring fellow Star Trek alumna Nichelle Nichols (Uhura), long-time space news reporter John Zarrella (CNN), who will serve as the evening's emcee, and NASA astronauts from each era of manned space flight, this Gala will celebrate the 47th anniversary of the historic Apollo 11 mission as well as the 50th anniversary of Star Trek: The Original Series.
During the evening you will have the opportunity to view NASA restricted property, such as the launch pads and Vehicle Assembly Building, on your private transportation from our host hotel to the Apollo/Saturn V Center, enjoy a reception and open bar, receive an exclusive professional photo with our hosts, dine underneath one of the only remaining Saturn V rockets in the world (the largest rocket ever made which took Neil Armstrong, Michael Collins, and Buzz Aldrin to the moon in 1969), enjoy a decadent dessert spread and specialty coffee, explore the award-winning Apollo/Saturn V facility which houses historic relics of the space program, and experience an engaging program with Aldrin and Takei as they share their experiences during a time when space travel transitioned from fantasy to reality.
Also included will be an Apollo 11 Memorabilia Silent Auction and special raffle, available only to gala attendees.
Event proceeds benefit Buzz Aldrin's ShareSpace Foundation, a non-profit 501(c)(3) organization dedicated to igniting children's passions for science, technology, engineering, arts, and math by providing educators with interactive and engaging hands-on educational activities.
Tickets available at the link…
Press Release:
Boston Comic Con welcomes actor Ben McKenzie to our celebrity guest line up! Ben stars as Detective James Gordon in the hit Fox series Gotham. Previously, Ben starred as Ryan Atwood in the television series The O.C. and as Officer Ben Sherman in Southland. Bat-fans will be interested to know he provided the voice for Bruce Wayne in the DC animated movie Batman: Year One.
Ben will appear to meet fans, sign autographs, and pose for photos on Saturday August 13 and Sunday August 14!
He joins our previously announced media guests William Shatner, Karl Urban, Jenna Coleman, Karen Gillan, John Barrowman, Elizabeth Henstridge, Caity Lotz, Robbie Amell, Ciara Renée, Seth Gilliam, and Vic Mignogna. Full media guest list at the link…
Boston Comic Con 2016 tickets are on-sale now at the link!
About Boston Comic Con:
The Boston Comic Con is a 100% independently run comic book show committed to bringing the biggest and best comic creators to New England. Run by fans for fans, Boston Comic Con is not affiliated with any other convention tour or corporate interests. Hosting over 120,000 square feet of vendors selling comic books, toys, posters, trading cards, and other pop culture memorabilia, this is a destination event for geeks of any stripe. This year's convention will be held Friday August 12th, Saturday August 13th, and Sunday August 14th at the Seaport World Trade Center, 200 Seaport Blvd, Boston, MA 02210. For more information please go to our website at www.bostoncomiccon.com and follow us on Twitter (@BostonComicCon) and Facebook!
New Jersey Comic Expo announced their first guest for 2016 is superstar artist David Finch! A long time fan favorite artist with runs on New Avengers, Ultimate X-Men, and Wonder Woman he is currently the artist on DC Comics Batman: Rebirth. Other guests include Paul Jenkins (Batman: The Dark Knight), Fabian Nicieza (co-creator of Deadpool), and Colleen Doran (upcoming Troll Bridge)!
Tickets for the 2016 New Jersey Comic Expo are NOW ON SALE! Take advantage of a low introductory price on tickets if you buy early this year! A weekend ticket is JUST $45, Saturday is $30 and Sunday is $25, so get your tickets now before prices go up! Remember! Kids 10 & under are FREE! (Limit 2 kids per paid adult). The convention will take place on November 19-20, 2016. Connect with social media – Facebook, Twitter & Instagram for the most up to the minute guest and event updates!
More details are on the website: www.newjerseycomicexpo.com
About New Jersey Comic Expo:
New Jersey Comic Expo is an annual event held at the New Jersey Convention and Exposition Center every fall. It's a celebration of comic books and pop culture that showcases the exceptional works of talented writers, artists, illustrators and creators of all types of pop culture. At New Jersey Comic Expo you'll find exhibitors promoting and selling all types of related products, as well as entertaining and educational programs, guest signings, and meet & greet sessions with celebrities. New Jersey Comic Expo is a production of MAD Event Management, LLC. Visit www.madeventmanagement.com for additional information.
Collider is offering a free trip for two to SDCC 2016. The winner of their contest will receive:
Airfare for two to San Diego, California
Two badges to the San Diego Comic-Con
Accommodations at a hotel located on the SDCC shuttle route.
$250 gift card for "a little extra spending money"
The contest ends June 30 and is only available to residents of the continental United States.
For more information and to enter, visit Collider.
Press Release:
The Chicago Alternative Comics Expo (CAKE), a weekend-long celebration of independent comics, returns to Chicago for its fifth year on Saturday, June 11, and Sunday, June 12, 2016, from 11am to 6pm, with over 200 local, national, and international exhibitors at the Center on Halsted, located at 3656 North Halsted Avenue. Featuring comics for sale, workshops, exhibitions, panel discussions, and more, CAKE is dedicated to fostering community and dialogue among independent artists, small presses, publishers, and readers.
Free and open to the public, CAKE celebrates the diverse community of underground and alternative comics artists, publishers, and fans, both in Chicago and the United States, as well as the rest of the world. Comics, prints, and other artwork will be available for purchase, and in addition to the expo itself, several off-site events will occur throughout the weekend.
In addition to art for sale, the expo also features workshops, exhibitions, and panel discussions with special guests Chester Brown, Tyrell Cannon, Ezra Claytan Daniels, Sammy Harkham, Cathy G. Johnson, Laura Park, Patrick Kyle, Trina Robbins, and Leslie Stein. Independent publishers appearing at CAKE include 2D Cloud, Alternative Comics, Drawn & Quarterly, Fantagraphics Books, Koyama Press, Retrofit Comics, Secret Acres, and a number of Chicago-based publishers. For a full list of this year's exhibitors, visit the website.
CAKE is an independent, not-for-profit, volunteer-run organization and would not be possible without the help of generous donations from supporters and sponsors, including Blick Art Materials, Busy Beaver Button Company, the Center on Halsted, Graham Crackers Comics, Challengers Comics, Halfwit Coffee, Print Ninja, Quimby's Books, and Spudnik Press Cooperative.
For more information about the expo, please visit www.cakechicago.com.