May 12, 2016 by Joe Fauvel
Filed under Animation, Anime, Collectibles, Comic Books, Convention News, Cosplay, Florida, Gaming, Horror, Manga, Movies, Science Fiction and Fantasy, Sports, Television, Video Games, Webcomics
THIS FRIDAY! Tickets will go on sale for Spooky Empire!
We are headed to the Orange County Convention Center for one of the biggest horror conventions to date.
Join us on the dark side of comic con October 7-9, 2016!
Rooms are now available at our host hotel, The Hyatt Regency. Just mention "Spooky Empire" and get the special rate of $119/night. For reservations call 1-407-284-1234 or visit the site to reserve online.
For more information, tickets and hotel info visit us at www.spookyempire.com
Press Release:
Boston Comic Con is excited to welcome back one of our most popular guests JOHN BARROWMAN on August 13-14th!
He currently appears as the villainous Malcolm Merlyn on CW's megahit series Arrow. And Doctor Who fans will best know John as Captain Jack Harkness, a companion to the Ninth Doctor who proved so popular he received his own spinoff series, Torchwood! Additionally he has appeared on television in Scandal and Desperate Housewives as well as films including Zero Dark Thirty, De-Lovely, and The Producers. Titan Comics has just announced John will be the co-writer of the new Torchwood comic series debuting in July!
John joins our other stars from CW's DC Universe shows – Caity Lotz and Ciara Renee from Legends of Tomorrow and Robbie Amell from The Flash.  John will be appearing on Saturday, August 13 and Sunday, August 14. Full media guest list at the link…
Boston Comic Con 2016 tickets are on-sale now at the link!
About Boston Comic Con:
The Boston Comic Con is a 100% independently run comic book show committed to bringing the biggest and best comic creators to New England. Run by fans for fans, Boston Comic Con is not affiliated with any other convention tour or corporate interests. Hosting over 120,000 square feet of vendors selling comic books, toys, posters, trading cards, and other pop culture memorabilia, this is a destination event for geeks of any stripe. This year's convention will be held Friday August 12th, Saturday August 13th, and Sunday August 14th at the Seaport World Trade Center, 200 Seaport Blvd, Boston, MA 02210. For more information please go to our website at www.bostoncomiccon.com and follow us on Twitter (@BostonComicCon) and Facebook!
May 6, 2016 by Colin Solan
Filed under Animation, Comic Books, Convention News, Florida, Horror, Movies, Other, Science Fiction and Fantasy, Television, Video Games
The Photo Op schedule with celebrities including Stan Lee, William Shatner, Nichelle Nichols, George Takei, John Cusack, Christopher Lloyd, Ming-Na Wen, Hayley Atwell, John Barrowman, and many more at MegaCon‬ 2016 is now available. Tickets are now on sale via the website: www.MegaConvention.com/photo-ops
May 5, 2016 by Colin Solan
Filed under Animation, Collectibles, Comic Books, Convention News, Cosplay, Florida, Gaming, Movies, Other, Science Fiction and Fantasy, Television, Video Games
May the 4th be with You! Star Wars Celebration comes to the Orange County Convention Center in Orlando, FL in 2017.
Tickets on sale May 25 at 12:00 PM PDT, 3:00 PM EDT, 8:00 PM GMT+1.
Press Release:
"Downright Incredible! A bloody and brilliant backwoods standoff." – Collider
Patrick Stewart Terrifies Audiences in the Gritty and Shocking Nail Biter on Blu-rayTM & DVD July 12 from Lionsgate
SANTA MONICA, CA (May 3, 2016) –  Spike your hair, throw on your combat boots, and get ready to dive into the mosh pit when the brilliantly crafted thriller Green Room hits Blu-ray (plus Digital HD) and DVD (plus Digital) July 12 from Lionsgate. Theatrically released by A24, and written and directed by Jeremy Saulnier (who achieved critical success with Blue Ruin), Green Room is a film that critics are calling "the best screw-tightening siege movie of the year" (Rolling Stone). Rotten Tomatoes Certified Fresh, the award-winning film stars Golden Globe® nominee Patrick Stewart (X-Men: Days of Future Past) in a role "that's as cool as it is evil" (Bloody Disgusting) and will haunt audiences well past the closing credits. The "delightfully nasty horror chiller" (Chicago Sun-Times) also stars Anton Yelchin (Star Trek Beyond), Imogen Poots (Fright Night), Alia Shawkat (The Final Girls), Joe Cole (Secret in Their Eyes), and Callum Turner (Queen& Country).
After witnessing a shocking crime, a young rock band is unexpectedly thrust into a life-or-death battle to escape the clutches of a diabolical club owner (Stewart) and his ruthless henchmen in this white-knuckle thriller.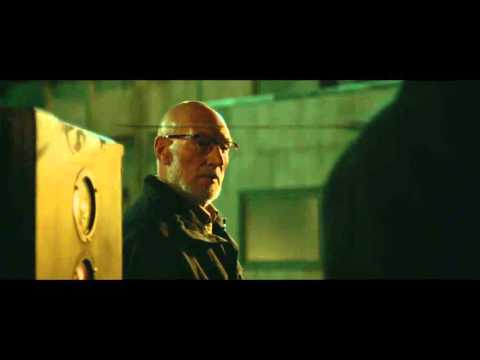 The home entertainment release of Green Room contains audio commentary with Director Jeremy Saulnier and a behind-the-scenes featurette. The Green Room Blu-ray and DVD will be available for the suggested retail price of $24.99 and $19.98, respectively.
BLU-RAY/DVD SPECIAL FEATURES*
Audio Commentary with Director Jeremy Saulnier
"Into the Pit: Making Green Room" Featurette
*Subject to Change
Website: http://greenroom-movie.com
Facebook: https://www.facebook.com/GreenRoomMovie
Twitter: @greenroommovie
PROGRAM INFORMATION
Year of Production:  2015
Title Copyright: Green Room © 2015 Green Room Production, LLC. All Rights Reserved. Artwork & Supplementary Materials © 2016 Lions Gate Entertainment Inc. All Rights Reserved.
Type: Theatrical Release
Rating: R for Strong Brutal Graphic Violence, Gory Images, Language and Some Drug Content.
Genre: Horror, Thriller
Closed-Captioned: NA
Subtitles: English SDH and Spanish
Feature Run Time: 95 minutes
Blu-ray Format:  1080p High Definition 16×9 Widescreen (2.40:1)
DVD Format: 16×9 Widescreen (2.40:1)
Blu-ray Audio: English 5.1 DTS-HD Master AudioTM
DVD Audio:  English 5.1 Dolby Digital
ABOUT LIONSGATE
Lionsgate is a premier next generation global content leader with a diversified presence in motion picture production and distribution, television programming and syndication, home entertainment, international distribution and sales, branded channel platforms, interactive ventures and games, and location-based entertainment. The Company has nearly 80 television shows on 40 different networks spanning its primetime production, distribution and syndication businesses. These include the critically-acclaimed hit series Orange is the New Black, the hit broadcast network series Nashville, the syndication successes The Wendy Williams Show and Celebrity Name Game (with FremantleMedia), the breakout series The Royals and the Golden Globe-nominated dramedy Casual.
The Company's feature film business spans eight labels and includes the blockbuster Hunger Games franchise, the Now You See Me, Divergent and John Wick series, Sicario, The Age of Adaline, Roadside Attractions' Love & Mercy and Mr. Holmes, Codeblack Films' Addicted and breakout concert film Kevin Hart: Let Me Explain and Pantelion Films' Instructions Not Included, the highest-grossing Spanish-language film ever released in the U.S.
Lionsgate's home entertainment business is an industry leader in box office-to-DVD and box office-to-VOD revenue conversion rates. Lionsgate handles a prestigious and prolific library of approximately 16,000 motion picture and television titles that is an important source of recurring revenue and serves as a foundation for the growth of the Company's core businesses. The Lionsgate and Summit brands remain synonymous with original, daring, quality entertainment in markets around the world. www.lionsgate.com
Press Release:
Boston Comic Con is thrilled to announce the appearance of stars from each of the CW's highly successful DC Universe television shows. These additions expand our already stellar Celebrity Guest line-up.
Caity Lotz is an American actress, dancer, martial artist, singer, and model. She is known for her roles in AMC's Mad Men and as Officer Kirsten Landry in MTV's mockumentary series Death Valley, as well as roles in movies including The Pact, The Machine, Battle of the Year, and the sci-fi thriller 400 Days. Caity currently stars as Sara Lance (a.k.a. The White Canary) in CW's hot new TV show, Legends of Tomorrow, a character she began playing as a recurring role on Arrow.
Robbie Amell is a Canadian actor and model best known to fans for his recurring role as Ronnie Raymond (a.k.a. Firestorm) on CW's The Flash. His previous TV appearance include The X-Files, True Jackson VP, 1600 Penn, Revenge, and the lead role on The Tomorrow People. His film roles include Left for Dead, Max, The Duff, and Freddie in Scooby-Doo! Curse of the Lake Monster.
Ciara Renée is an American actress, singer and musician. With Broadway roles as The Witch in Big Fish and the Leading Player in Pippin to her credit, as well as her portrayal of Esmeralda in the Hunchback of Notre Dame, Ciara is best known to comic book fans for her role as Kendra Saunders – aka Hawkgirl in CW's show Legends of Tomorrow. She has played Hawkgirl in three different series – appearing in both Arrow and The Flash before starring in Legends of Tomorrow.
All three will appear on Saturday August 13th and Sunday August 14th to meet fans, sign autographs, and pose for photos. Prices and schedules will be announced closer to the convention. Full media guest list at the link…
Boston Comic Con 2016 tickets are on-sale now at the link!
About Boston Comic Con:
The Boston Comic Con is a 100% independently run comic book show committed to bringing the biggest and best comic creators to New England. Run by fans for fans, Boston Comic Con is not affiliated with any other convention tour or corporate interests. Hosting over 120,000 square feet of vendors selling comic books, toys, posters, trading cards, and other pop culture memorabilia, this is a destination event for geeks of any stripe. This year's convention will be held Friday August 12th, Saturday August 13th, and Sunday August 14th at the Seaport World Trade Center, 200 Seaport Blvd, Boston, MA 02210. For more information please go to our website at www.bostoncomiccon.com and follow us on Twitter (@BostonComicCon) and Facebook!
April 30, 2016 by Michaela McPherson
Filed under Anime, Comic Books, Con Reports and Photos, Cosplay, Gaming, Horror, Manga, Movies, North Carolina, Top Stories, Video Games, Webcomics
A few years ago, when I was still in high school, a person who liked anime was made fun of for it. My school had a manga/book club, and the entire group was often ridiculed by jocks who wouldn't know good writing if it were mixed in their protein shakes. Despite this, I grew to love the art form, and when I learned that there were whole conventions devoted to it, I begged my dad to take me to one. Surprisingly, he agreed.
Anime conventions were smaller then, including my first, Ichibancon 2012, which was held at a tiny hotel in Charlotte, NC. I originally went with two friends to meet none other than Vic Mignogna, who was–and remains to this day–my favorite voice actor. We stood in his autograph line for about 30 minutes, and when I finally got to his table, I said "Hi" in a talking-to-your-crush-for-the-first-time voice.
Now, five years later, I'm still going to that same convention. It was held this year over New Year's Day weekend at Embassy Suites Hotel in Concord. Comparing this year's Ichibancon to the one in 2012 is like comparing the inside of the TARDIS to the inside of my closet. Over 5,000 attendees pre-registered this year, which doesn't include those who bought a badge on-site. I don't think 5,000 people even knew about it in in 2012. The cosplayers were awesome. I saw anime, Marvel, and DC characters, plus assorted Pokemon and pop culture figures (the guy dressed as John Cena was meme-tastic). One group of cosplayers was from Undertale, a video game that just came out, which was impressive in its immediacy and quality. Dozens of panels were scheduled on just about any nerdy topic you could imagine, even for Homestuck, the webcomic created in 2009 by Andrew Hussie. The gamers had their own room: dozens of PlayStations and Nintendos (and I don't mean Nintendogs) projected onto the walls. There was even a TARDIS bouncy house for all the children. I didn't see the cosplay contest, but I'm sure it was fabulous, especially since, for the first year, a $500 prize was available for first place (this would probably cover the cost of half an automail leg).
Speaking of automail, I got a chance to talk to my five-years-ago idol, Vic Mignogna. Vic is the Johnny Depp of anime. Other voice actors were there, including several members of the cast of Durarara!! (Saki Mikajima, Kasuka Heiwajima, Seiji Yagiri, and Saburo Togusa), whom you don't see often. But Vic was clearly the biggest draw: one girl came all the way from New Jersey to meet him.
After seeing him a dozen or more times over the years, I felt more relaxed than that initial time. Here is what we discussed.
Me: As Edward Elric, you're very emotional and over the top. Then you recently switched to playing Kasuka on Durarara!! who is emotionless with a very emotional brother. What was that like?
Vic: You know, I have to tell you, I'm kind of naturally emotional and expressive with my voice. Then, when I was doing Durarara!!, started, and they asked me, can you take the emotion out of it? Can you make it flatter? I'm thinking, it's pretty flat already. So, yeah, that was a big change.
Me: How long have you been doing conventions?
Vic: Wow. Honestly, maybe a total of thirteen years.
Me: How did you get started?
Vic: Well, I got started in voice acting sixteen or seventeen years ago, and I didn't know anything about conventions. In fact, there weren't any at the time. Then, a few years into my career, I saw Monica Rial, and she said to me, "Hey, do you want to go to an anime convention?" I was like, "A what? They have conventions?" I went to Star Trek conventions when I was a little boy, but I had never been to an anime convention. So I went as a guest to one in Ohio, in Columbus, and I was just blown away. I couldn't believe that there were these wall scrolls with my characters on it and pencil boards and plushies. I had no idea this stuff existed. That was the first one I went to, and of course it ramped up since then.
Me: I've also seen you at conventions like DragonCon that are not strictly anime conventions. Talk about the difference between those.
Vic: Anime conventions are very special in and of themselves. There is a real strong sense of community because everybody is there because they love this one specific genre of entertainment. Multicultural, pop culture conventions are more of something for everyone. It's nice to have an anime presence there, but they don't typically have the same feeling, a sense of family that you get at an anime convention. I suppose it would probably be the same for any convention that pertains to one thing. If you went to a Supernatural convention, it's a little more focused. But I enjoy pop culture conventions, mostly because I'm a big sci-fi fan myself, so it's a real pleasure to get to meet other sci-fi actors that I'm a fan of.
Me: Who is your favorite celebrity you've ever met?
Vic: Oh, Bill Shatner, of course. I've loved Captain Kirk since I was a little boy. [Want to see Vic as a little boy? Click here.] And you know, when I was young, I used to go to Star Trek conventions, and he is the only one of the original cast I never got to meet. Now, to literally be represented by the same manager who represents Bill, we get booked into conventions together, and we've gotten to have dinner together and travel a little bit and hang out, so it's a real privilege.
Me: Have you had to suppress the urge to squeal like a fangirl?
Vic: All the time. All the time. [Laughs.] I want to respect him and not turn into one of those fanboys he's dealt with for forty years.
Me: I read on your Wikipedia page that you were once a law enforcement officer.
Vic: I was. Right after college, my mom, who lives on the eastern shore of Maryland, was very good friends with the chief of police in the city where she lived. She always used to brag to him about her son who was a moral, ethical, upstanding member of the community. And so he said, well, I'd like to have someone like that on the police force. I didn't have any plans right after college, so I went back there and went through the police training and became a cop for two years. It was never a career move. I enjoyed it a lot, but it isn't something I want to do forever.
Me: It takes a special person to do that job.
Vic: It does. And to deal with the darker side of humanity so much of your life, always having to enforce the laws and deal with people breaking the rules can make a person very cynical and depressed.
Me: I have a copy of your Gospel of John CD. What was the genesis [see what I did there?] of that project?
Vic: Actually, it's kind of interesting. I was at a convention, and a mother came up to me and said, "My daughter loves your work. She could sit and listen to you for hours. She loves your voice. You could read the phone book and she would listen to it." I thought, what a nice thing to say. Then I thought, maybe not the phone book, but what if I were to record something of more importance and give it away. So I went home and recorded the Gospel of John and used a contemporary translation and played the piano underneath it to make it easy to listen to. I put a lot of money into it myself to get all the discs pressed, and now I give it away at conventions because what better thing to give to fans of my work than something that is very precious to me?
Me: Do you have plans to do more books?
Vic: I would love to, but it takes a lot of time, and to be honest, I don't know what book I would do. There aren't a lot of books of the Bible that stand by themselves, that tell the whole story. If you're gonna get one chance to tell someone the story of Jesus, why he came, what he did, his ministry, his rising again, all of that, it's all pretty self-contained in the Gospel of John. So I don't know what book I would do, and it's very time-consuming. I don't have a lot of time, especially now with the Star Trek series I'm doing.
Me: So the Star Trek series is still going well?
Vic: Oh yeah. Bigger than ever. We just finished shooting episode six. Popularity is growing, and viewership is growing. At the risk of sounding partial, it's fantastic. It looks and feels and sounds exactly like the original series. We have managed to continue the original series in every way, so you feel like you're watching episodes that were never broadcast.
Me: But they're all original stories.
Vic: Oh yes. From the recreation of the sets to the lighting, costumes, make-up, story, music, editing, characters—everything. No amount of description can prepare you for the quality. And it's free. Just go to startrekcontinues.com. The first episode is wonderful, and the second is better than the first, and the third is better than the second. They just get better and better
Me: Last question. What is it like dealing with all the fangirls who are much younger than you?
Vic: Well, it's kind of funny because, if I were half my age, I would be flattered. But I really look at it more like a father looking at younger people and going, Man, if I can give some joy to this person, if I can make them feel special about themselves, because so many of these kids are struggling with who they are and their place in the world and their security and self-esteem. I feel as if I have been given an opportunity to be an encouragement, somebody that they look up to and notices them and compliments them and puts his arms around them and gives them a big hug and engages with them. I think that's very important. I didn't used to realize how important that is, and over the years, with all the emails and letters I've gotten and interactions I've had at conventions, I've come to realize that God has put me here for a very specific purpose, and that is to bring encouragement and love and kindness and support to a lot of people who are at a very sensitive crossroads in their lives.
Of course, everyone has their criticisms no matter how much they enjoy something, and Ichibancon was not without flaws. For one thing, it needs a larger venue. There were lines to get into the dealer room and artist alley, and some of the panels were standing room only. Parking was ridiculous. I squeezed my car in next to a dumpster, and I saw people walking over from car dealerships and other hotels. According to one staff member, however, the only place large enough to expand to is the Charlotte Convention Center, whose surrounding hotels are much more expensive–$240 a night or more. Anime conventions are largely attended by teenagers, who don't have much money (and spend what they do have on Call of Duty).
It was clear from artist alley and the dealer room that neither of them was "juried." Some conventions judge vendors' merchandise ahead of time and then make decisions on who gets a slot. This is done to make sure there is enough variety and quality in the room. Ichibancon, it seems, didn't do this because there was a lot of repetition in both areas. Merchandise was mostly plushies, posters, and wall scrolls. There was no manga, and I saw only one dealer selling comic-related stuff (usually, there are more).
Even with all these negative things going on in the convention, that is no reason for the muggles to boycott this convention (I saw a picketer in the parking lot). In fact, I believe that this convention is the perfect one for any anime convention newbies.
Press Release:
Beginning in 2016, Kids Read Comics' annual two-day comics celebration, hosted by the wonderful Ann Arbor District Library, will have a new name: Ann Arbor Comic Arts Festival (A2CAF for short).
The Festival will still feature dozens of comics artists along with workshops, demonstrations and interactive drawing games. It will still be as kid- and family-friendly as ever. And attending the event will be free as always.
What we hope the new name makes clear is that young children aren't the only ones who can enjoy a fun-packed Ann Arbor weekend filled with comics and creativity. We welcome teens and adults (always have) and offer a slate of guests and activities to meet a wide range of comics-related interests (ditto).
So join us as Kids Read Comics celebrates eight years of bringing comics excitement to Michigan libraries, when we inaugurate the Ann Arbor Comic Arts Festival on June 18 & 19, 2016 at the Ann Arbor District Library.
Keynote speakers at A2CAF 2016 will be Cece Bell, whose comics memoir El Deafo was named a Newbery Honor Book, and the children's author Tom Angleberger, writer and illustrator of the bestselling Origami Yoda series.
Other guests include Kazu Kibuishi (Amulet), Rafael Rosado (Dragons Beware), Ruth McNally Barshaw (The Ellie McDoodle Diaries), Nathan Hale (Nathan Hale's Hazardous Tales), Ben Hatke (Zita the Spacegirl), Zack Giallongo (Broxo), J. Torres (Alison Dare), Katie Shanahan (Silly Kingdom), Carolyn Nowak (Lumberjanes), Kean Soo (March Grand Prix), Lucy Bellwood (Baggywrinkles), and many more!
Please go to the website for full details: a2caf.com
Press Release:
The DALLAS COMIC SHOW returns to the Richardson Civic Center on August 6-7, 2016. We continue bringing the DFW area an affordable and family-friendly event featuring comic book creators, celebrity guests, anime, cosplayers and more. John Romita Jr. (ALL-STAR BATMAN) and Peter Mayhew (Chewbacca in the STAR WARS films) kick off the guest list with many more to come. Information will be updated on www.dallascomicshow.com as details are confirmed.
Artist Alex Ross and writer Mark Waid appear at Aw Yeah Comics on Saturday, May 21, 2016 from 2:00 till 5:00 PM to celebrate the twentieth anniversary of KINGDOM COME!
Press Release:
Twenty years ago readers witnessed a startling vision of the future of the DC Universe. DC is releasing a new hard cover for the anniversary of Kingdom Come. Aw Yeah Comics will be joined by legendary creators ALEX ROSS and MARK WAID!!! There is a strict FIVE ITEM limit for the signing. In addition, Alex will not be doing sketches or portfolio reviews.
In order to guarantee a signature at this event, you must pre-order the Kingdom Come 20th Anniversary HC ($39.99) by calling 847-423-2916, or visiting us in-store. We require a minimum down payment of $20.00 for the HC. With the purchase of the Kingdom Come 20th Anniversary HC you'll guarantee your spot in line and your chance to get up to 5 items signed by Mark Waid and Alex Ross.
We will have a second line for those who did not purchase the Kingdom Come 20th Anniversary HC, but we will not be able to guarantee a signature for that line. First come first served. We will try to move as many people through the line as possible, but cannot guarantee a signature for everyone in this line.
Aw Yeah Comics
4933 Oakton Street, Skokie, IL 60077
847-423-2916