Fantasy/sci-fi luminary Michael Moorcock appears at Austin Books & Comics on Saturday, April 18th from noon till 4:00 pm for the release of the graphic novel adaptations of his Elric of Melniboné novels! In addition to signing, Moorcock will be the subject of a Q&A with editor/essayist Rick Klaw.
Austin Books & Comics
5002 N. Lamar Blvd, Austin, TX 78751
(512) 454-4197
The star of Dead Rising: Watchtower, Jesse Metcalfe, spoke to the media at Wondercon 2015, and Convention Scene's own Richard Oh was there.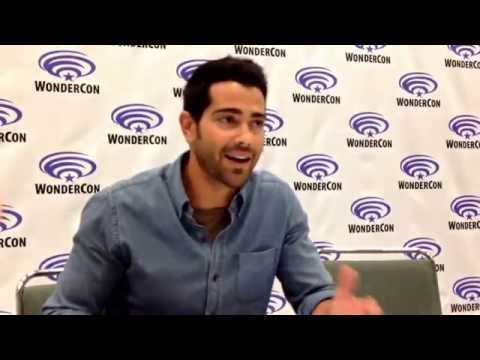 The stars of WGN America's Salem, Shane West and Janet Montgomery, spoke to the media at Wondercon 2015, and Convention Scene's own Richard Oh was there.
MegaCon gets sold to Canada's Fan Expo, becomes MegaCon Orlando!
Article Via the Orlando Business Journal
Read it all HERE!
Boston Comic Con has added several guest comic creators, both returning friends and brand new additions, for the 2015 convention! Come meet them at the Seaport World Trade Center on July 31 – August 2. Joining us are:
Nick Bradshaw: Guardians of the Galaxy, Wolverine and the X-Men
Eric Canete: Iron Man: Enter the Mandarin, Amazing Spider-Man, Tron: Legacy
Erica Henderson: Unbeatable Squirrel Girl, The Best Thing
Phil Noto: Black Widow, Uncanny X-Force, Thunderbolts
Dan Panosian: Conan/Red Sonja, G.I. Combat, X-Factor Forever
Andrew C. Robinson: The Fifth Beatle, Justice League United, Hawkman
Tim Sale: Captain America: White, Daredevil: Yellow, Batman: The Long Halloween
Babs Tarr: Batgirl
Previously announced guests include: Stan Lee, Hayley Atwell, Robin Lord Taylor, Eduardo Risso, Humberto Ramos, Jose Luis Garcia-Lopez, Tony Moore, Jason Latour, Joelle Jones, Steve Lieber, Annie Wu, Franco Aureliani, J. Bone, Frank Brunner, Michael Cho, Jeff Dekal, Evan Dorkin, Sara Dyer, Gerry Duggan, Mike Henderson, Mike Kunkel, John Layman, Stacey Lee, Laura Martin, Yanick Paquette, Jeff Parker, Kurtis J. Wiebe, Joshua Williamson, Brian Azzarello, Frank Cho, Amanda Conner, Jimmy Palmiotti, Andy Belanger, Stephanie Buscema, CB Cebulski, Dave Johnson, Joe Prado, Amy Reeder, Stephane Roux, Don Rosa, Frank Tieri, and more!
*Please note Sean G. Murphy will not be appearing as previously announced. Boston Comic Con apologizes for the error and any confusion.
**Our condolences to the family and friends of Herb Trimpe on his untimely passing.
Tickets are now available for purchase. Please note that this year tickets will be sold ONLINE ONLY, there will not be any on-site ticket sales.
If you are coming in from out of town, the official Boston Comic Con hotel is the Seaport Hotel which is attached to the show venue (The Seaport World Trade Center).
About Boston Comic Con:
The Boston Comic Con is a 100% independently run comic book show committed to bringing the biggest and best comic creators to New England. Run by fans for fans, Boston Comic Con is not affiliated with any other convention tour or corporate interests. Hosting over 120,000 square feet of vendors selling comic books, toys, posters, trading cards, and other pop culture memorabilia, this is a destination event for geeks of any stripe. This year's convention will be held Friday July 31st, Saturday August 1st, and Sunday August 2nd at the Seaport World Trade Center, 200 Seaport Blvd, Boston, MA 02210. For more information please go to our website at www.bostoncomiccon.com and follow us on Twitter (@BostonComicCon) and Facebook!
MegaCon is pleased to announce that professional wrestling icon Hulk Hogan will be taking part in a special event, Hulk Hogan: Uncut, moderated by the "Mouth of the South" Jimmy Hart. Get to hear behind the scenes stories from Hulk Hogan's career and life on the road, with a special fan Q&A with Hulk Hogan.
This special 90 minute event, will take place on Saturday, April 11th in the Valencia Ballroom A-C from 7:30 PM – 9:00 PM. This is a Special Event, and requires a separate admission ticket to attend. MegaCon wristband required. No autographs will be given out at this event.
Don't wait, tickets are limited and are on sale now. Visit MegaCon's website to purchase.
Hulkamaniacs Package: LIMITED
Cost: $150.00
Includes: (1) VIP Hulk Hogan Badge, Personal Meet and Greet with Hulk Hogan after the main event (Room Location TBD), (1) Personal Photo Op with Hulk Hogan with your own camera and VIP seating in the first (3) rows.
Champions Seating: Reserved Seating in Rows 4-6
Cost: $60.00
General Admission:
Cost: $40.00
Family Four-Pack: General Admission Seating
Cost: $125.00
Writer/creator Tim Seeley (Hack/Slash, Batman: Eternal) and cover artist Jenny Frison (Red Sonja, Vampirella) appear at Johnny Cee Cards on Saturday, May 2, 2015 to celebrate Free Comic Book Day! Sales on Comics, Trade Paper-Backs, Statues and Toys All Day Long! Each Customer is allowed up to three (3) Free Comics from the FCBD Selection! (while supplies last)
Johnny Cee Cards
536 Grand Ave, Schofield, WI 54476
(715) 843-9632
Press Release:
Meet Batman and Hercules: VIP experiences now on sale for Northeast Comic Con and Collectibles Extravaganza
Northeast Comic Con runs June 20 & 21 at Shriners Auditorium, Wilmington Mass.; VIP experiences are June 19th and 20th
WILMINGTON,Mass. (March 24, 2015) – Fans of Adam West (Batman, Family Guy) and Kevin Sorbo (Hercules, Andromeda) are invited share a VIP experience with two legendary superstars celebrating anniversaries of their first TV episodes. Both fan experiences are just one element of the largest celebration of popularculture in New England, the Northeast Comic Con and Collectibles Extravaganza. This Father's Day weekend event takes place Saturday June 20 and Sunday June 21, 2015 at the Shriners Auditorium in Wilmington, Mass. (99 Fordham Road). General show hours are 10 a.m. – 6 p.m. on Saturday and 10 a.m. to 5 p.m. Sunday; VIP experiences are at 7 p.m. on both Friday and Saturday night, June 19th and 20th.
FRIDAY, JUNE 19: Tickets are now on sale to fans of Kevin Sorbo, the handsome and talented star of Andromeda as well as Hercules: The Legendary Journeys celebrating its 20th anniversary of the first episode. Also held at the Shriners Auditorium Fez Room the evening before the Comic Con begins, tickets to the Kevin Sorbo VIP experience are $90, and limited to 100 fans. This VIP tickets includes weekend admission to both weekend days of the Northeast Comic Con (June 20 & 21) as well as a photo opportunity with Sorbo and a chance to watch the first episode of Hercules TV program, as introduced by Sorbo himself.
SATURDAY, JUNE 20: Fans of the legendary Adam West, the original Batman (and now on Family Guy), can celebrate the 50th anniversary of the star's first episode with a VIP event at 7 p.m. on Saturday, June 20th atthe Shriner's Auditorium Fez room. The $100 VIP ticket provides fans with achance to get their photo with West and then screen the first episode of the1966 "Batman" TV program, introduced by West himself.
Both VIP experiences include free gaming playon the exclusive Starship Horizon bridge simulator as well as liveentertainment, free soft drinks and snacks and a cash bar.
More about Northeast ComicCon: Thisyear's event features a40,000 sq. ft. entertainment experience for all nerds and the people who lovethem. Highlights include cosplay for all ages with"Create-A-Hero/Villain/Character" contests and a Cosplay Death Match andCosplay Dating Game, free-play video game arcade and tournaments, workshops forK!DZ, and celebrity autograph signings and panel sessions. Guests can shop at150 vendors of vintage and modern toys, comic books, collectibles, art,jewelry, fashion and pop cultural artifacts. In between Father's Day shopping,guests of all ages will enjoy music, contests and entertainment to marvel atbetween sessions and booths.
Withfree parking, regular Northeast Comic Con admission ticket prices are among thelowest in the industry. Advanced tickets are now available for purchase online;ticket prices will be higher at the door. Children under 7 are free whenaccompanied by an adult.
For schedules, VIP packages and advance tickets, visit NortheastComicCon.net.For show inquiries, email garysohmers@gmail.com. For media and sponsorship inquiries,contact Julie Dennehy, Dennehy PR, Julie@dennehypr.com.
Big WOW! Comic Fest is thrilled to be able to offer Signature and Photo Opportunities with three of our incredible guests! Tom Felton (Draco Malfoy from the Harry Potter films) and Daniel Cudmore (X-Men and Twilight films) are both available for Photo and Signature opportunities on Saturday Only, while Jake Lloyd (Anakin Skywalker from Star Wars: The Phantom Menace) is available the entire weekend. Each signature ticket purchased will allow you to get one item signed, and if you purchase a photograph you may bring up to 3 of your friends or family for the photograph – however only one photo will be printed for the ticket holder. Tickets can be purchased here.
SATURDAY
Tom Felton:

Signing 11:00 – 12:30
Photo Op 12:30 – 1:30
Signing 1:30 – 4:00
Photo Op 4:00 – 4:30
Signing 4:30 – 5:30
Daniel Cudmore:
Signing 11:00 – 12:30
Photo Op 12:00 – 12:15
Signing 12:30 – 4:00
Photo Op 4:30 – 4:45
Signing 4:45 – 5:30
Jake Lloyd:
Signing 11:00 – 12:00
Photo Op 12:15 – 12:30
Signing 12:30 – 6:00
SUNDAY
Jake Lloyd:
Signing 11:00 – 11:00
Photo Op 1:15 – 1:30
Signing 2:30 – 5:00
Guests include: Brent Anderson, Sanya Anwar, Stephen Bissette, Mark Bode, Nick Bradshaw, Tim Bradstreet, Dan Brereton, Danny Bulanadi, Frank Cho, Frank Cirocco, Lela Dowling, Tom Felton, Stephen E. Gordon, Adi Granov, Mick Gray, Rich Koslowski, Ron Lim, Toshio Maeda, Steve Mannion, Chris Marrinan, Bill Morrison, Darick Robertson, Tone Rodriguez, Don Rosa, Stuart Sayger, Liam Sharp, Scott Shaw, Bill Sienkiewicz, John Totleben, Herb Trimpe, Rick Veitch, Tim Vigil, Ben Wolstenholme, Thomas Yeates, and more.
For more information on Big WOW! Comicfest please check the website (www.bigwowcomicfest.com) and follow on Facebook, Twitter, and Instagram!
Press Release:
Award-winning publisher BOOM! Studios is pleased to announce it will be exhibiting at WonderCon Anaheim 2015, which will take place at the Anaheim Convention Center in Anaheim, California, during the weekend of April 3-5, 2015.
BOOM! can be found at booth #611 on the show floor and will host the following creators:
Appearing and signing all weekend will be:
Sketching at the booth all weekend will be:
Kassandra Heller (Adventure Time)

Stephanie Gonzaga (Adventure Time)
Appearing for one-hour signings throughout the weekend:
Friday, April 3
3-4 PM – Marc Andreyko (Clive Barker's Nightbreed)
Saturday, April 4
11AM-12 PM – Yehudi Mercado (Rocket Salvage)

12-1 PM – Matt Gagnon (Day Men)

1-2 PM – Mike Johnson (Sleepy Hollow: Origins)

4-5 PM – Brian Lynch (Bill & Ted's Most Triumphant Return), Amy Stoch (Missy from the Bill & Ted ), Scott Kroopf (Bill & Ted films producer)
Sunday, April 5
1-2 PM – Noelle Stevenson, Shannon Watters (Lumberjanes)
BOOM! will also present and participate in the following panels at WonderCon:
BOOM! Studios: From Page to Screen
Friday, April 3, 5:30-6:30 PM, Room 208
Comics publisher BOOM! Studios is actively developing several of its original titles for film and television. Have you ever wondered what that process is like? Hear from BOOM! Studios Founder and CEO Ross Richie, President of Development Stephen Christy; screenwriter Arash Amel (Butterfly); and entertainment attorney Matt Sugarman as they talk about the process of shopping a comic book property in Hollywood. Moderated by The Hollywood Reporter's Borys Kit.
Push Comics Forward: BOOM! Studios Celebrates 10 Years and Looks Ahead to the Next 10
Saturday, April 4, 2:00–3:00 PM, Room 211
10 years ago, Ross Richie started BOOM! Studios from a spare bedroom in his house. Today, BOOM! is a multiple award-winning top 10 publisher. But rather than look back at what we've achieved the past 10 years, join us as we look ahead to the next 10 years and talk about Push Comics Forward, a movement to inspire publishers, creators, press, and fans to join the conversation on what is helping to improve the industry, and what more can be done. Join Ross Richie, President of Publishing and Marketing Filip Sablik, and Editor-in-Chief Matt Gagnon as they host creators Bryce Carlson (Hit); Shannon Watters (Lumberjanes); Trevor Crafts & Matt Daley (Lantern City), and more to talk about how BOOM! is helping to Push Comics Forward. Plus, each attendee will receive an exclusive Lantern City pin!
Push "Excellence" Forward: New "Bill & Ted" Comics Come to BOOM! Studios
Saturday, April 4, 5:30-6:30 PM, Room 208
As part of its ongoing desire to Push Comics Forward, BOOM! Studios carefully selects key licensed properties to help bring new readers to comics. In March, the publisher launches Bill & Ted's Most Triumphant Return, a new comic series based on the classic films about two, excellent high school buddies who go on to bring about world peace through their music. Join the comic's writer, Brian Lynch; editors Ian Brill and Alex Galer; star of the films, Amy Stoch, PhD (Missy); and producer of the films Scott Kroopf as they talk about the new series and the everlasting popularity of Bill & Ted. Moderated by BuzzFeed's Kirk Damato.
Push Fun Forward: The Importance of All-Ages Comics
Sunday, April 5, 11:30-12:30 PM, Room 213
All-ages comics are important now more than ever in helping to bring in new and lapsed readers, from practically every demographic. Join us as BOOM! Studios Associate Editor Whitney Leopard leads a discussion of the significance of all-ages comics—from what it has achieved thus far to what lies ahead—with creators Shelli Paroline (Adventure Time), Derek Fridolfs (Batman: Li'l Gotham), Mairghread Scott (Transformers: Windblade), and more.
BOOM! Studios editor Shannon Watters will participate in an hourlong portfolio review on Saturday of WonderCon:
Saturday, April 4
BOOM! Studios Portfolio Review
Saturday, April 4, 12:30–1:30 PM, Room 206B
Shannon Watters, the Editor of BOOM! Studios' all-ages imprint KaBOOM! and experimental imprint BOOM! Box, is conducting portfolio reviews at WonderCon Anaheim. Please bring sequential work relating to all-ages content as well as out-of-the-box ideas, plus cover art, color art, and materials showing off your personal style. No story pitches, please.
And finally, BOOM! will have the following exclusive variants available for purchase at the booth:
Bill & Ted's Most Triumphant Return #1 – Cover by Braden Lamb (Adventure Time)
Sleepy Hollow: Origins #1 – Cover designed by Michelle Ankley (Photo credit: Brownie Harris and John Lopez)
For tickets and more information on WonderCon Anaheim 2015, visit their site at comic-con.org/wca.
ABOUT BOOM! STUDIOS
Founded by Ross Richie in 2005, Diamond Gem Award-winning "Best Publisher" BOOM! Studios (boom-studios.com) generates a constellation of best-selling Eisner and Harvey Award-winning original and licensed comic books and graphic novels with the industry's top talent. BOOM! Studios is comprised of four distinct imprints. The original Studios imprint is home to Mike Carey's Suicide Risk; James Tynion IV's The Woods; Mark Waid's Irredeemable; Sons of Anarchy; and Big Trouble in Little China. Steven Grant's graphic novel 2 Guns was released as a feature film from Universal Pictures, starring Denzel Washington and Mark Wahlberg. BOOM!'s all-ages imprint KaBOOM! publishes Charles Schulz' Peanuts; Jim Davis' Garfield; Cartoon Network's Adventure Time, Regular Show, The Amazing World of Gumball, and Steven Universe; Mike Kunkel's Herobear and the Kid; and Natasha Allegri's Bee and PuppyCat. BOOM!'s experimental imprint BOOM! Box publishes The Midas Flesh and Lumberjanes. In June 2013, BOOM! acquired Archaia Entertainment (archaia.com). Archaia is the Eisner and Harvey Award-winning graphic novel publisher of Mouse Guard, Cow Boy, Gunnerkrigg Court, Rust, and Jim Henson's Tale of Sand. In October 2013, BOOM! Studios entered into a unique first-look relationship with 20th Century Fox, giving the studio access to its library of titles and giving the publisher access to Fox's vast catalog of films. In August 2014, BOOM! Studios began a similar first-look relationship with 20th Century Fox TV to develop properties for the small screen.