Based on a true story, the movie tells the horrifying account of how famed paranormal investigators Ed and Lorraine Warren were summoned to help a family terrorized by a dark presence in a secluded farmhouse which they recently bought. In fighting this powerful demonic being, the Warrens find themselves in the middle of the most terrifying case of their lives!
5 Things to Know Before You Watch The Conjuring: Interactive GIFs! – Move your mouse across the GIFs to control them and read the freaky facts to prepare for the scariest movie of the year!
1) The Conjuring is directed by the acclaimed James Wan, the Australian-born director of the fright-fests Insidious and the Saw series. His Twitter handle is @CreepyPuppet. Say no more.

2) The Conjuring has been given an "R" rating by the MPAA. Not because of blood, gore, or violence, but simply because it's just so scary from start to finish!

3) The Conjuring's cast and crew experienced creepy events during filming. Scratches appeared out of nowhere on Vera Farmiga's computer soon after she agreed to act in the movie, the crew were routinely woken by something in the "witching hour" between 3 and 4AM, and the real-life Carolyn Perron fell and broke her hip while visiting the set.

4) The Rhode Island farmhouse where The Conjuring is set once belonged to an accused witch, Bathsheba, who tried to sacrifice her children to the devil and killed herself in 1863.

5) Hold your applause! The Conjuring will make you terrified to clap! Whether it's playing a traditional game of hide-and-seek by following the clapping sounds like the mother and daughter in the movie, or being terrorized by ghostly claps in different rooms of the haunted farmhouse, these claps throughout the movie will give you the creeps!

Ready to enter the contest to win the Blu-ray?


Each household is only eligible to win 1 The Conjuring Blu-ray via blog reviews and giveaways. Only one entrant per mailing address per giveaway. If you have won the same prize on another blog, you will not be eligible to win it again. Winner is subject to eligibility verification.
The Hero Initiative has listed the auctions for this year's Wake Up and Draw, an annual event created in tribute to Jack "The King" Kirby on his birthday! There is plenty of great artwork to bid on including pieces by Alan Davis (see above), Bart Sears, Chris Moreno, Cully Hamner, Darick Robertson, Fred Hembeck, Gene Ha, Grace Allison, and many more! Get some fantastic art and contribute to charity all at once! Click the link to Comic Art Fans auction page to bid!
Thanks to Orlando Weekly and Adam McCabe for this awesome write up and interview with Petey! Check it out here! Don't miss out on this event-filled weekend! See more here!
IDW Limited has launched an art competition on the website Infected By Art. The Grand Prize Winner will not only receive exclusive Locke & Key merchandise but also the opportunity to be a paid participant in an upcoming IDW Limited original art project!
Press Release:
Draw or paint your personal (or imagined!) fears into the bottle so you can conquer them once and for all!
Submission Period: October 17 – November 17, 2013
Fan Voting Period: November 12 – November 18, 2013
Fears… We've all got them to one degree or another. Your challenge is to create a work of art that shows off your real or imagined fears using the image below as a template to follow. There is no fee to enter this contest, and we're providing some great prizes as well, including the opportunity for the Grand Prize Winner to be a paid participant in an upcoming IDW Limited original art project!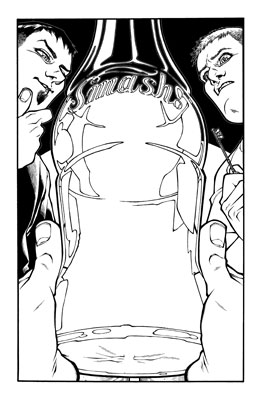 Once the November 17th deadline at midnight is hit, Locke & Key creators Joe Hill and Gabriel Rodriguez will each select one Runner Up and together they will also select the Grand Prize Winner. Fan voting will help select the 3rd Runner Up.
Remember, you have to use this image as the basis for what you create, but let your imaginations run wild! We allow each artist to submit up to 3 images towards the competition. Fan Voters will be allowed to vote for a maximum of 2 pieces of artwork they feel are most worthy. If you have any questions please contact Infected by Art.
The set up – as it appeared in LOCKE & KEY - is Kinsey (the female character) has removed aspects from her head she doesn't like, inside the bottle is the physical manifestation of her fear & sadness. Details on How To Enter.
THE IMAGE FILE YOU NEED TO WORK FROM
In order to submit your artwork to this contest, you must first save this image to your computer. To create a piece of traditional artwork you will need to transfer it to whatever surface you wish to work on (bluelined, etc), or use this file as the basis for of your digital artwork. Your entry must contain all elements from this image in order to qualify for entry.
ABOUT LOCKE & KEY
Acclaimed suspense novelist and New York Times best-selling author Joe Hill (NOS4A2, Horns, Heart-Shaped Box) creates an all-new story of dark fantasy and wonder: Locke & Key. Written by Hill and featuring astounding artwork from Gabriel Rodriguez, Locke & Key tells of Keyhouse, an unlikely New England mansion, with fantastic doors that transform all who dare to walk through them… and home to a hate-filled and relentless creature that will not rest until it forces open the most terrible door of them all… Visit the LOCKE & KEY website for more information about the series!
ORIGINAL IMAGE AS IT APPEARED IN THE COMIC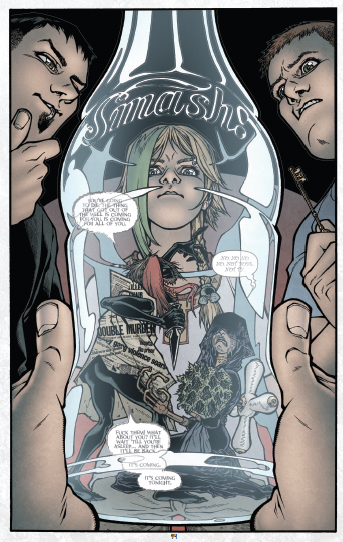 Press Release:
Women of Wonder Day returns to Heroes and Fantasies on Sunday October 20, 2013 from noon till 5:00 pm!
The event will include a celebrity memorabilia auction with autographed items from celebrities like Stephanie Meyer (Twilight books), Kevin Conroy (Batman), and Ioan Gruffold plus original artwork that feature comic book heroines donated by featured artists such as Neal Adams (Batman and Green Lantern), George Perez (New Teen Titans, Wonder Woman), Gary Frank (Batman and Shazam), Tom Grummet (Avengers), Tony Fleecs (My Little Pony), Greg Land (X-men and Iron Man) and many others. This is a family event that will have comic book artists from around the country signing books, sketching and photo opportunities with super heroines. We invite visitors to come dressed in costume.
In October 2006-2010, the Wonder Woman Day IV events raised over $110,000 for Domestic Violence programs in Portland, Oregon and Flemington, NJ. The five-year combination of auctions of over 1,100 original art pieces, plus collectibles, autograph signings, and photo opportunities garnered spectacular turnouts and four Mayoral Proclamations! On October 30, 2011, the new Women of Wonder Day — again as a part of National Domestic Violence Awareness Month — took place, returning to Excalibur Books in Portland, Oregon, and Comic Fusion in Flemington, New Jersey, as well as at Heroes and Fantasies in San Antonio, Texas! $5,500 was raised in San Antonio and $24,000 was raised with all three auctions. This year, we have online bidding at the link!
Heroes and Fantasies
4923 NW Loop 410, San Antonio, TX
(210) 340-0074
As announced at New York Comic Con, Marvel Comics is reprinting Miracleman! Cory Sedlmeier, the editor of Marvel's new releases of Miracleman, is looking for original art from the series. Sedlmeier says, "I'm just as enthused as all of you about finally bringing these stories back to print after their long time in limbo.
It's an honor and a privilege, and we're striving to present the creator's work with the utmost care and the highest quality. Nothing can top the original art boards in terms of quality.
If you're the proud owner of any art from the series, please get in touch with me at cmsedlmeier (at) marvel.com, especially if you have art from Garry Leach's issues, since those are (obviously) needed the soonest.
The preferred format for scans is full-size, 600dpi color scans saved as TIF files. If a piece is larger than 11 x 17, as is the case with art from the Warrior issues, scans of each horizontal tier of panels (with a little overlap for alignment) are the best option."
By Julio Dominguez
The Digital Revolution: Digital vs. Real Comics
More and more people are getting their comics online or on tablet devices instead of down at the local comic shop. While nobody is arguing that digital and print comics offer two completely different experiences, one question remains: Is one type of comic book better than the other? The answer will likely depend heavily on your own personal preferences and just why you started collecting comics in the first place.
Availability
If your favorite part of the comic book experience is the stories artwork contained on each page, digital comic books offer a fantastic experience that is difficult to replicate. You no longer have to call all over town trying to find those rare issues of "X-Men" or take to eBay and pay exorbitant prices for an unbroken run of Grant Morrison's "Doom Patrol." Now you can load up the Comixology app on your tablet device and download the issues in just a couple of seconds. Marvel has also made the majority of their back catalog available online through Marvel.com.
Wireless Internet for tablets makes the process of getting your favorite comics as easy as tapping a few buttons, especially if you've got a fast Wi-Fi connection at home or are traveling with a 4G connection on a device like an Apple iPad.
You also don't have to wait for your favorite comic store to open to check out the latest issues each week. Comics released "day in date," meaning that both versions of an issue become available at the same time, become available shortly after midnight each Wednesday through a variety of different services.
Comics as Collectibles
If you're a fan of the "collecting" part of being a comic book aficionado, there really is nothing quite like the print experience. Though digital comics are readily available, they also can't be resold. If the value of a particular book skyrockets due to a movie announcement, for example, it won't matter because your digital copy is still essentially worthless.
The romantic idea of the "hunt" is also gone. While it can be convenient to tap a few buttons on an iPad and download early issues of Jeff Smith's "Bone" or Robert Kirkman's "The Walking Dead" right to your device, it lacks the sense of accomplishment that goes along with searching and searching until you find that holy grail at a shop or during a convention.
Transportation and Storage
Though expensive "Omnibus" editions have increased in popularity in recent years, digital comics are still by far the best way to transport your collection and enjoy comics on the go. You don't have to carry a long box filled with dozens of issues or heavy soft cover collections with you on your trip. Tablet devices and even laptop computers can carry thousands upon thousands of issues at a time. If you can't decide whether you want to read the complete run of "Sandman" or "Y: The Last Man" while on vacation, you can easily take both if your collection is digital. With a print collection, you'd either have to carry (and protect) dozens of issues during transportation or lug heavy hardback collections around with you wherever you go.
Digital comics are undoubtedly the way of the future, but they're only a part of it. Print comics offer an experience that digital comics just can't match. Digital issues, however, also have benefits that can't be matched by the print experience. Instead of turning the comics industry into a "this one or that one" decision, it is important to realize that for the best possible experience you can embrace both at the same time. DC Comics, Marvel Comics and many other publishers offer digital copy codes in their new weekly books, similar to the digital copies found in Blu-ray discs for movies. For about $1 more, you can have both a print and a digital copy. You can have the print copy to cherish, catalog and maybe even sell if the value increases and still enjoy all of the benefits that digital copies naturally have.
The way of the future, at least as far as comic books are concerned, is realizing that digital and print don't have to be mutually exclusive.
Creative Commons image by Sam Howitz
Save the country singer, save the world? If you were a fan of Heroes, you may want to check out Hayden Panettiere's current project, Nashville. She stars along with Connie Britton on the ABC show, and Convention Scene is giving away a complete DVD set of the first season. Here is more about the show and scroll down to the bottom for the ways to enter the giveaway.
About the Show
"Music City" can mean so many things to different people. In Nashville, musicians and songwriters are at the heart of the storms driven by their own ambitions. Some are fueled by their creativity and passion for fame, others struggle to cope with the pressures of success and doing everything in their power to stay on top.
Season 1
Music legend Rayna Jaymes (Connie Britton) reigns as the Queen of Country, but after two decades, her grip on the throne is slipping. Rayna refuses to be steamrolled by her record label as they present a new arrangement. And in the face of an evolving industry, Rayna is struggling to adapt and reinvent herself, which she must do if she plans to stay relevant.
Juliette Barnes (Hayden Panettiere)  is sexy, sassy, and trails trouble in her wake— she's also the country's #1 crossover artist. In her climb to the top, Juliette's public image is threatened by circumstances she struggles to control. And while she is determined to sit on Rayna's throne, Juliette refuses to deal with her difficult past.
Offstage, things aren't much smoother for Rayna. Her father, Lamar Wyatt, Nashville's most influential businessman, continues to complicate her life. Their strained relationship is defined by years of resentment and secrets that come to a head when Lamar and Rayna's sister, Tandy, push Rayna's husband to run for mayor. For husband Teddy Conrad, this marks an opportunity to share the spotlight with his wife instead of continuing to be the man behind the woman.
The city of Nashville is the stage for many hopefuls: Deacon Claybourne, Rayna's longtime bandleader whose unrequited love for Rayna prevents him from claiming success if he went on his own. Scarlett O'Connor, the beautiful and gifted songwriter, who's here to support her boyfriend Avery's talent while still unsure of her own. Avery Barkley, a struggling alt-country musician, who can't help but feel left behind when his girlfriend Scarlett's songs have a chance to find an audience before his own. And Gunnar Scott, a wholesome up-and-coming crooner, who finds a musical soulmate in Scarlett, coming in between her relationship with Avery.
By Leigh Wendinger at HalloweenCostumes.com
Batman and Superman have dominated the superhero films for years now, spending nearly $1 billion dollars for their production over the last eight years collectively [1].  The glaring question left in the shadow of their hulking success is why are superhero movies continuing to pop up like weeds while the Wonder Woman film idea shrivels in the darkness?
It goes without saying that Superman and Batman have gained raging popularity, but those films have not always had a solid history of success.  Consider Green Lantern, Hulk and Superman Returns – all flops!  Why did they get a second chance while Wonder Woman has yet to get her first? Good question.
Since movies like Catwoman and Elektra failed to bring the fan base creators were hoping for, an appalling misconception developed: female superhero movies would never succeed.  The myth clearly follows the wake of two of the most lackluster scripts in superhero film history.
This, in turn, has aided in the creation of the proverbial glass ceiling for female superheroes.  Now, those who would like a crack at making a dominating female picture are left to face a series of obstacles ahead.
Ludicrous?  Absolutely!
Here's the scene.  Nearly every superhero movie made revolves around males while their female counterparts take a sheepish back seat.  Considering society's need for a strong female character, this theory fails to make much sense, unless of course it is too hard for society to see a woman succeed without a man to guide her.  Ludicrous again!
So the question arises, why can't women be the empowering main characters in movies instead of just a sexualized accessory to a male?
Well, there are a few reasons why Hollywood has been reluctant to create more movies where women take the lead and regrettably, that line of thinking has led to five myths:
1.       Female superheroes don't bring in revenue
Toy companies claim they cannot sell as many toys for female superheroes, but Wonder Woman products have the ability to sell to a diverse audience – gender and age included.
2.       Female superhero movies always bomb at the box office
When the movie fails to break even with the production budget while it is in theatres, it is considered a box office bomb.  Of the two 'legitimate' female superhero movies made, only one tanked at the box office.  But how many male superhero movies bombed?  Far more than one and we'll leave it at that.
The 1997 film Batman and Robin was not a fan favorite, but the prevailing Batman movies, The Dark Night and The Dark Night Rises, have been some of the highest grossing films to date.  So why can't females have another shot?  What's the harm?  We clearly know there is only room for improvement since the lukewarm reception of Catwoman!
3.       There are no actresses who will play them or who are good enough to portray them
Scarlett Johansson definitely holds her own playing Black Widow in Iron Man 2 and The Avengers – clearly it's all about casting and script.
Bets are the male population would not mind watching Wonder Woman fight crime in her skin tight attire.  But again, that's feeding into the very progression that's made the glass ceiling bullet proof!
4.       Women don't read comics and the men don't like female superheroes
Both assumptions are ridiculous and false, no need to elaborate there!
5.       No female superhero is well known enough to attract a fan base
Wonder Woman, duh!
Even though a large fan base would disagree with some of these concepts, we still are left suspicious of Wonder Woman and her success in film.  Is it because of her confusing beginning in the comic book world, her character complexity, or one of the many myths that prompted the reluctance of success?  That is left for you to ponder.
In the meantime, consider that Wonder Woman has many components to her life and for those who have not followed her in comic book culture, she may appear extremely complex.  Followers of her comic introduction know her origins are comprised of an intricate weave intertwining the notions of female strength and obedience to a male – a web not easily untangled.
Although the life of Wonder Woman is complicated, it is not convoluted to the point where followers will fail to understand her character progression.  If anything, a great plot will keep viewers on the edge of their seats as the predictable nature of many scripts is circumvented.
Finding Cracks in the Ceiling
Perhaps the true question here is whether the uncertainty is placed in Wonder Woman as a character or the inability to create a script that portrays her in a deserving light?  Undoubtedly, it will be hard to find the aspect of her existence that is the most appealing to viewers, especially males.  But it has to be done!  Indeed, the presence of strong female characters in lead roles may very well depend upon the ability to get Wonder Woman "right".
Variance from original story lines may also deter comic book fans from watching her in film; simply because that is not the Wonder Woman they know.  Ill logic aside; she has to be perfect otherwise the doubts in all the skeptic's minds will be solidified.  In other words, Hollywood only gets one shot to do this right!
Many cynics have questioned the potential success of a Wonder Woman film for years and lack of faith in an original Joss Whedon script didn't defend her case much either.  While Wonder Woman, and other female superheroes for that matter, has been pigeon-holed to lack the ability to create a good film, numerous flaws lie in doubting her capabilities and her popularity.
Wonder Woman is recognized by a large demographic whether it is because of her presence in comic books or because she is a popular cultural icon.  Superhero hero movies attract a large following that do not stem from comic books, so why wouldn't Wonder Woman be able to do the same?
A male superhero story may have an intricate story line, but the characters generally encompass one main detail – they fight crime.  The problem with doubting Wonder Woman quite possibly lies in the misconception that a female heroine movie would do the same while lacking the same success.
Female characters are much more diversified and Wonder Woman would have the ability to play on the inherent value of female empowerment.  Although Wonder Woman doesn't represent all women, her idiosyncrasies will help develop the strength of future female characters.
Shattering Boundaries
Wonder Woman's bravery and strength are enviable traits for women as well as men.  Not only is Wonder Woman an inspiration to women, she truly is a woman with no fear.  She is a strong warrior who encompasses the loving aspect of life, but isn't afraid to get her hands dirty.  In the eyes of women, there is not much better than seeing a woman who can stand up for peace, love, justice, and sexual equality.
Obviously, the problem with a Wonder Woman movie is that writers have still failed to come up with a film representation that will do her justice.  Conceivably the problem with doubting the potential success of Wonder Woman is that no male superhero movie to date has embraced the entirety of their existence.  Many fans enjoy the movies that are highly favored to the action aspects, but Wonder Woman is fighting for more than just peace.
The true concern is whether disbelief in the success of Wonder Woman compromises our societal evolvement.
Times are changing and the world is ready for female heroines to shatter tired 20th century boundaries and make the long overdue gender shift in the superhero movie genre.  Despite uncertainties of her ability to succeed in film, Wonder Woman is the perfect character to bridge that gap and extinguish the erroneous hesitations.
Source
[1] Gray, B. (2013) Box Office Mojo. IMDb.com, Inc. [permalink]
Legendary artist of Batman Neal Adams needs the public's help finding missing art work he left n a New York cab. See the story and details HERE!