It's here! The first full-length trailer for X-Men: Days of Future Past. Directed by Bryan Singer, the new movie blends the casts of the previous X-Men movies into one.
THIS. This is the best marching band halftime show I have ever seen.
Via Lionsgate:
During the pivotal Game 4 of the World Series, Lionsgate premiered the final, epic trailer for the most anticipated film of the year, THE HUNGER GAMES: CATCHING FIRE! Past victors are forced to battle again in the 75th Annual Hunger Games – Panem's 3rd Quarter Quell. Check out the FINAL trailer NOW to get your first extended look inside the Quarter Quell arena!
Don't forget, tickets for the MUST SEE movie are on sale NOW! TICKETS AVAILABLE NOW on Fandango and MovieTickets.com! You can purchase tickets for showtimes starting at 8PM on Thursday, November 21st, as well as for a special double feature screening of the blockbuster franchise! Start your night off by watching THE HUNGER GAMES immediately followed by THE HUNGER GAMES: CATCHING FIRE!!
Remember, as an added bonus to buying your tickets early from either Fandango OR MovieTickets.com, you will receive an exclusive free download of Phantogram's 'Lights,' from the upcoming soundtrack. When you buy your tickets off of Fandango, you'll also be entered into a THE HUNGER GAMES: CATCHING FIRE Sweepstakes! Buy your tickets TODAY for your chance to win!
THE HUNGER GAMES: CATCHING FIRE opens nationwide November 22, 2013! Buy your tickets TODAY!
Based on a true story, the movie tells the horrifying account of how famed paranormal investigators Ed and Lorraine Warren were summoned to help a family terrorized by a dark presence in a secluded farmhouse which they recently bought. In fighting this powerful demonic being, the Warrens find themselves in the middle of the most terrifying case of their lives!
5 Things to Know Before You Watch The Conjuring: Interactive GIFs! – Move your mouse across the GIFs to control them and read the freaky facts to prepare for the scariest movie of the year!
1) The Conjuring is directed by the acclaimed James Wan, the Australian-born director of the fright-fests Insidious and the Saw series. His Twitter handle is @CreepyPuppet. Say no more.

2) The Conjuring has been given an "R" rating by the MPAA. Not because of blood, gore, or violence, but simply because it's just so scary from start to finish!

3) The Conjuring's cast and crew experienced creepy events during filming. Scratches appeared out of nowhere on Vera Farmiga's computer soon after she agreed to act in the movie, the crew were routinely woken by something in the "witching hour" between 3 and 4AM, and the real-life Carolyn Perron fell and broke her hip while visiting the set.

4) The Rhode Island farmhouse where The Conjuring is set once belonged to an accused witch, Bathsheba, who tried to sacrifice her children to the devil and killed herself in 1863.

5) Hold your applause! The Conjuring will make you terrified to clap! Whether it's playing a traditional game of hide-and-seek by following the clapping sounds like the mother and daughter in the movie, or being terrorized by ghostly claps in different rooms of the haunted farmhouse, these claps throughout the movie will give you the creeps!

Ready to enter the contest to win the Blu-ray?


Each household is only eligible to win 1 The Conjuring Blu-ray via blog reviews and giveaways. Only one entrant per mailing address per giveaway. If you have won the same prize on another blog, you will not be eligible to win it again. Winner is subject to eligibility verification.
The Hero Initiative has listed the auctions for this year's Wake Up and Draw, an annual event created in tribute to Jack "The King" Kirby on his birthday! There is plenty of great artwork to bid on including pieces by Alan Davis (see above), Bart Sears, Chris Moreno, Cully Hamner, Darick Robertson, Fred Hembeck, Gene Ha, Grace Allison, and many more! Get some fantastic art and contribute to charity all at once! Click the link to Comic Art Fans auction page to bid!
Thanks to Orlando Weekly and Adam McCabe for this awesome write up and interview with Petey! Check it out here! Don't miss out on this event-filled weekend! See more here!
IDW Limited has launched an art competition on the website Infected By Art. The Grand Prize Winner will not only receive exclusive Locke & Key merchandise but also the opportunity to be a paid participant in an upcoming IDW Limited original art project!
Press Release:
Draw or paint your personal (or imagined!) fears into the bottle so you can conquer them once and for all!
Submission Period: October 17 – November 17, 2013
Fan Voting Period: November 12 – November 18, 2013
Fears… We've all got them to one degree or another. Your challenge is to create a work of art that shows off your real or imagined fears using the image below as a template to follow. There is no fee to enter this contest, and we're providing some great prizes as well, including the opportunity for the Grand Prize Winner to be a paid participant in an upcoming IDW Limited original art project!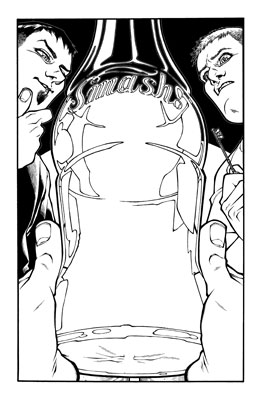 Once the November 17th deadline at midnight is hit, Locke & Key creators Joe Hill and Gabriel Rodriguez will each select one Runner Up and together they will also select the Grand Prize Winner. Fan voting will help select the 3rd Runner Up.
Remember, you have to use this image as the basis for what you create, but let your imaginations run wild! We allow each artist to submit up to 3 images towards the competition. Fan Voters will be allowed to vote for a maximum of 2 pieces of artwork they feel are most worthy. If you have any questions please contact Infected by Art.
The set up – as it appeared in LOCKE & KEY - is Kinsey (the female character) has removed aspects from her head she doesn't like, inside the bottle is the physical manifestation of her fear & sadness. Details on How To Enter.
THE IMAGE FILE YOU NEED TO WORK FROM
In order to submit your artwork to this contest, you must first save this image to your computer. To create a piece of traditional artwork you will need to transfer it to whatever surface you wish to work on (bluelined, etc), or use this file as the basis for of your digital artwork. Your entry must contain all elements from this image in order to qualify for entry.
ABOUT LOCKE & KEY
Acclaimed suspense novelist and New York Times best-selling author Joe Hill (NOS4A2, Horns, Heart-Shaped Box) creates an all-new story of dark fantasy and wonder: Locke & Key. Written by Hill and featuring astounding artwork from Gabriel Rodriguez, Locke & Key tells of Keyhouse, an unlikely New England mansion, with fantastic doors that transform all who dare to walk through them… and home to a hate-filled and relentless creature that will not rest until it forces open the most terrible door of them all… Visit the LOCKE & KEY website for more information about the series!
ORIGINAL IMAGE AS IT APPEARED IN THE COMIC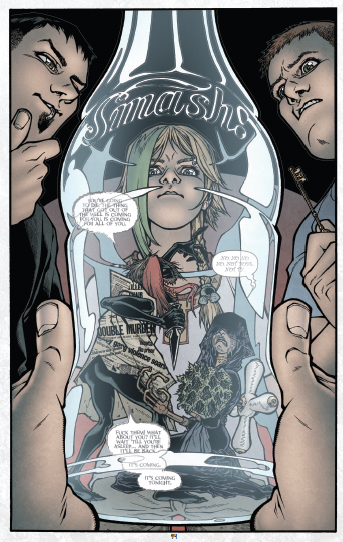 Press Release:
Women of Wonder Day returns to Heroes and Fantasies on Sunday October 20, 2013 from noon till 5:00 pm!
The event will include a celebrity memorabilia auction with autographed items from celebrities like Stephanie Meyer (Twilight books), Kevin Conroy (Batman), and Ioan Gruffold plus original artwork that feature comic book heroines donated by featured artists such as Neal Adams (Batman and Green Lantern), George Perez (New Teen Titans, Wonder Woman), Gary Frank (Batman and Shazam), Tom Grummet (Avengers), Tony Fleecs (My Little Pony), Greg Land (X-men and Iron Man) and many others. This is a family event that will have comic book artists from around the country signing books, sketching and photo opportunities with super heroines. We invite visitors to come dressed in costume.
In October 2006-2010, the Wonder Woman Day IV events raised over $110,000 for Domestic Violence programs in Portland, Oregon and Flemington, NJ. The five-year combination of auctions of over 1,100 original art pieces, plus collectibles, autograph signings, and photo opportunities garnered spectacular turnouts and four Mayoral Proclamations! On October 30, 2011, the new Women of Wonder Day — again as a part of National Domestic Violence Awareness Month — took place, returning to Excalibur Books in Portland, Oregon, and Comic Fusion in Flemington, New Jersey, as well as at Heroes and Fantasies in San Antonio, Texas! $5,500 was raised in San Antonio and $24,000 was raised with all three auctions. This year, we have online bidding at the link!
Heroes and Fantasies
4923 NW Loop 410, San Antonio, TX
(210) 340-0074
As announced at New York Comic Con, Marvel Comics is reprinting Miracleman! Cory Sedlmeier, the editor of Marvel's new releases of Miracleman, is looking for original art from the series. Sedlmeier says, "I'm just as enthused as all of you about finally bringing these stories back to print after their long time in limbo.
It's an honor and a privilege, and we're striving to present the creator's work with the utmost care and the highest quality. Nothing can top the original art boards in terms of quality.
If you're the proud owner of any art from the series, please get in touch with me at cmsedlmeier (at) marvel.com, especially if you have art from Garry Leach's issues, since those are (obviously) needed the soonest.
The preferred format for scans is full-size, 600dpi color scans saved as TIF files. If a piece is larger than 11 x 17, as is the case with art from the Warrior issues, scans of each horizontal tier of panels (with a little overlap for alignment) are the best option."
By Julio Dominguez
The Digital Revolution: Digital vs. Real Comics
More and more people are getting their comics online or on tablet devices instead of down at the local comic shop. While nobody is arguing that digital and print comics offer two completely different experiences, one question remains: Is one type of comic book better than the other? The answer will likely depend heavily on your own personal preferences and just why you started collecting comics in the first place.
Availability
If your favorite part of the comic book experience is the stories artwork contained on each page, digital comic books offer a fantastic experience that is difficult to replicate. You no longer have to call all over town trying to find those rare issues of "X-Men" or take to eBay and pay exorbitant prices for an unbroken run of Grant Morrison's "Doom Patrol." Now you can load up the Comixology app on your tablet device and download the issues in just a couple of seconds. Marvel has also made the majority of their back catalog available online through Marvel.com.
Wireless Internet for tablets makes the process of getting your favorite comics as easy as tapping a few buttons, especially if you've got a fast Wi-Fi connection at home or are traveling with a 4G connection on a device like an Apple iPad.
You also don't have to wait for your favorite comic store to open to check out the latest issues each week. Comics released "day in date," meaning that both versions of an issue become available at the same time, become available shortly after midnight each Wednesday through a variety of different services.
Comics as Collectibles
If you're a fan of the "collecting" part of being a comic book aficionado, there really is nothing quite like the print experience. Though digital comics are readily available, they also can't be resold. If the value of a particular book skyrockets due to a movie announcement, for example, it won't matter because your digital copy is still essentially worthless.
The romantic idea of the "hunt" is also gone. While it can be convenient to tap a few buttons on an iPad and download early issues of Jeff Smith's "Bone" or Robert Kirkman's "The Walking Dead" right to your device, it lacks the sense of accomplishment that goes along with searching and searching until you find that holy grail at a shop or during a convention.
Transportation and Storage
Though expensive "Omnibus" editions have increased in popularity in recent years, digital comics are still by far the best way to transport your collection and enjoy comics on the go. You don't have to carry a long box filled with dozens of issues or heavy soft cover collections with you on your trip. Tablet devices and even laptop computers can carry thousands upon thousands of issues at a time. If you can't decide whether you want to read the complete run of "Sandman" or "Y: The Last Man" while on vacation, you can easily take both if your collection is digital. With a print collection, you'd either have to carry (and protect) dozens of issues during transportation or lug heavy hardback collections around with you wherever you go.
Digital comics are undoubtedly the way of the future, but they're only a part of it. Print comics offer an experience that digital comics just can't match. Digital issues, however, also have benefits that can't be matched by the print experience. Instead of turning the comics industry into a "this one or that one" decision, it is important to realize that for the best possible experience you can embrace both at the same time. DC Comics, Marvel Comics and many other publishers offer digital copy codes in their new weekly books, similar to the digital copies found in Blu-ray discs for movies. For about $1 more, you can have both a print and a digital copy. You can have the print copy to cherish, catalog and maybe even sell if the value increases and still enjoy all of the benefits that digital copies naturally have.
The way of the future, at least as far as comic books are concerned, is realizing that digital and print don't have to be mutually exclusive.
Creative Commons image by Sam Howitz