On March 29-31, 2013, Anaheim was home to Wondercon 2013! With the decision to keep Wondercon in Anaheim this year, I couldn't help but wonder if this was a permanent move. The numbers seem to support that decision, with record numbers attending the show, backing with CCI's reputation of entertaining fans with celebrities, comic book superstars, and amazing vendors! In addition, it's proximity to Disneyland is always a big plus for any guy wanting to entertain the whole family.
The show floor was bigger this year, almost replicating the 2 show floor model that ECCC used this year. Also, the huge convention center dome was used to house movie and TV stars to promote their latest works. It was definitely a well run show, and this reporter definitely had a great time talking to fans, artists, and celebrities. Wondercon definitely put on a great show, and whether it's in Anaheim or San Francisco, and I can't wait for next year!
Now, on to the amazing things I got to see at the show:
Welcome to Wondercon 2013!
My first stop: joining the long line of fans for the Wondercon exclusives of Mondo!
Ron Lim signing some Thanos related books in Artist Alley.
Jim Steranko signing some Nick Fury books at his booth.
Admiring the beautiful Arrow statue on display at the DC booth…
And then bumping into some fans on the show floor.
The awesome display at the Oblivion booth.
And a Rocketeer behind the banner posing for fans.
Shredder and Deadpool yelling and random people on the floor. Instant comedy.
Deadpool creator Rob Liefeld sketching for fans all weekend.
Kristin Kreuk posing for photographers at Wondercon for Beauty and the Beast!
A Superman fan dressed up for the premiere for Superman Unbound.
Batman rogues running amuck at Wondercon.
Scott Snyder, Jim Lee, and Alex Sinclair, signing at the DC booth at the end of the day.
Marc Silvestri sketching for fans all weekend on his birthday!
Stan Lee came by and wishing Marc a happy birthday!
An amazing Witchblade cosplayer delighting Marc and his fans!
Excited fans waiting in line for Pac Rim.
I got to meet the talented artist Ethan Castillo in the Dan Slott line! Here's a piece that was inspired by Humberto Ramos.
Dan Slott showing Scott Snyder some love at his signing.
The cast of Revolution sharing a laugh at Wondercon.
Mark Waid talking to the Boom Studios crew.
Humberto Ramos working on a commission at Wondercon.
The crowd waiting for Joss Whedon's Much Ado About Nothing panel.
Joss Whedon and the Much Ado about Nothing cast at their Sunday morning panel.
Olly Moss and Mike Mitchell signing at the Mondo booth!
The Arrow cast pose for pictures at Wondercon!
Packed house, even on Easter Sunday!
Speaking of Easter, only Wondercon can get zombie Jesus and PSY together.
And now, onto some more cosplay pictures.
Cute dogs get so much love.
Ghost Rider judging attendees.
C is for cookie (and comics)!
Yoshi and Mario hanging out on the show floor.
DOOOM!
Rocky VII?
Stay Puft Marshmallow Man!
An awesome paper Mario.
The best Guy Gardner costume I've ever seen.
One. Punch.
The coolest spot at Wonder Con.
The couples that cosplay together, stay together.
He-Man and She-Ra!
Cyclops and Jean Grey!
Spidey and Deadpool teamup!
Don't get on the list! Don't miss out on Wondercon next year!
Cosplay, celebrities, and more. Photos, reports, and videos as we find them. Keep coming back or submit your own links.
On March 1-3, 2013, the Washington State Convention Center was home to the 10th annual Emerald City Comic Con! While I've attended the show 2 years prior, the show had undergone a massive change, particularly opening up a whole new hallway, adding to the depth of the show, as well as the serious amount of star power in their guests both in media as well as the comic world.
In terms of size alone, ECCC now seems to belong in the upper echelon of top comic conventions, trailing only SDCC, NYCC, and being on par with heavy hitter shows such as C2E2, and WonderCon. Jim Demonakos has put together a consistently solid show, and judging from the positive comments from the artists and writers that I spoke to at the show, ECCC will continue to be a great presence in the comic con circuit.
Heading into the show, I seriously underestimated the intense love of comics the fans up in the northwest have, experiencing long lines from show exclusives such as Sex # 1 and the Walking Dead Governor Special, to artist commission lines for Bruce Timm, Adi Granov, Skottie Young, Charlie Adlard, and Humberto Ramos. Going upstairs to the celebrity room, I was able to witness extremely long lines for stars such as Patrick Stewart, Christopher Lloyd, and Gillian Anderson. Overall, this show was the perfect mix of celebrities and comics one would expect from a comic convention. While SDCC is focused more on the entertainment side of it all, the love of comics was still heavily prevalent at this show, which made me happy to see so many fans line up to meet their favorite creators. I can't wait to see this show continue to grow and foster the next generation of comic fans!
And now, onto the pictures:

Welcome to ECCC!

Volunteers directing the flow of traffic.

The line anxious to get in inside the show.

Brian Posehn signing for Deadpool fans!

Mark Brooks drawing a beautiful Wonder Woman!

Mark Brooks Wonder Woman!

Mark Brooks brings his original art, including his Deadpool Gangnam Style!

Speaking of Gangnam Style, here's some horseheads!

A beautiful Castle print done by Jason Palmer!

Adi Granov drawing an amazing Iron Man at his table!

Adi Granov Iron Man!

Chris Claremont talking to fans about his time with the X-Men!

Fiona Staples sketching for Hero Initiative!

Skottie Young drawing for fans at the show!

Scott Snyder signing for eager Batman fans!

Dan Didio hanging around the DC booth!

The line to buy a copy of the Governor's Special at the start of the show!

Nothing funnier than telling people you were lining up to buy Sex in the morning.

Charlie Adlard sketching for fans!

Old school Nintendo games for sale!

Arcades out for people to play with! Nostalgia to the extreme!

Fans standing in line for Felicia Day and other celebrities!

An awesome lego display for fans to see up close and personal!

ECCC gets thumbs up!
COSPLAYERS! Cosplay was everywhere at the show, and here's some of the best ones I saw.

The lovely Jessica Nigri!

ECCC Heroes!

Constantine flanked by 2 lovely ladies!

2 Avengers with 2 Lokis.

More Avengers!

What did you say about my mom???

Gambit and Rogue!

He-Man looking bored with Skeletor.

Superman and Lex Luthor!

Boba Fett and alien warrior!

Go go Power Rangers!

Cyclops and Jean Grey!

Black Mask vs. Batman!

The girls of Gotham being interviewed at the show!

Darth Vader showing aliens who's boss.

Cable with baby Hope!

Spideys shooting webs!

Doctor Who?

Darth Maul on stilts playing the bagpipes. I couldn't even make that up if I tried.

Captain Picard and crew grabbing lunch.

Cap before the Super Soldier Serum.

Walking Dead cosplay!

The best costume of the show!

See you next year!
Press Release:
ECCC: DARK HORSE ANNOUNCES MASS EFFECT: FOUNDATION
Written by Mac Walters, lead writer of Mass Effect 2 and 3!
MARCH 2, Seattle, WA–Today at Emerald City Comicon, Dark Horse Comics announced a new ongoing canonical entry in the Mass Effect series!
Mass Effect 2 and 3 lead writer Mac Walters kicks off a new ongoing series, set in the vibrant, engaging world of BioWare's blockbuster science fiction epic! Fans of the award-winning franchise will find new characters tied directly to the newly announced Mass Effect 3: Citadel single-player DLC.
Praise for Mass Effect:
"This comic is recommended whether you are a Mass Effect groupie or someone who has never heard of it before today and just likes sci-fi. It's a strong, good, enjoyable read!"—BAMFAS.com
"On the writing front, the dialogue is straight out of what one would expect from a Mass Effect related tie in. This positively reflects Dark Horse's choice to use the lead writer of the series as the lead writer of the comics."—DualShockers.com
Mass Effect 3: Citadel will release worldwide on March 5 on Xbox 360, PC, and PS3, and on March 6 on PS3 in Europe. Price: $14.99, 1,200 Microsoft Points, or 1,200 BioWare Points.
In addition, fans can read the exclusive interview with Mac Walters on Comic Book Resources.
Mass Effect: Foundation #1 is on sale July 24 in comic shops and on Dark Horse Digital.
About Dark Horse
Founded in 1986 by Mike Richardson, Dark Horse Comics has proven to be a solid example of how integrity and innovation can help broaden a unique storytelling medium and establish a small, homegrown company as an industry giant. The company is known for the progressive and creator-friendly atmosphere it provides for writers and artists. In addition to publishing comics from top talent such as Frank Miller, Mike Mignola, Neil Gaiman, Brian Wood, Gerard Way, Felicia Day, and Guillermo del Toro, and comics legends such as Will Eisner, Neal Adams, and Jim Steranko, Dark Horse has developed its own successful properties, including The Mask, Ghost, Timecop, and SpyBoy. Its successful line of comics and products based on popular properties includes Star Wars, Mass Effect, Buffy the Vampire Slayer, Aliens, Conan, Emily the Strange, Tim Burton's Tragic Toys for Girls and Boys, Serenity, and Domo. Today Dark Horse Comics is the largest independent comic book publisher in the US and is recognized as one of the world's leading publishers of both creator-owned content and licensed comics material.
Press Release:
Comic book and Toy show draws hundreds to Jersey City waterfront hotel
A Jersey City NJ hotel was crawling with superheroes, villains and enthusiasts Thanksgiving Weekend as hundreds came out for the "Toys on the Hudson" comic book and toy show.
Held at the Westin Hotel at Washington Boulevard and Sixth Street, the three-day event had everything a comic book and toy junkie could dream of, including thousands of collectibles, panel events,  several celebrities, the Batmobile and an auction.
The show is the brainchild of Phil DeMario and Mike Spino, business partners, long time friends and toy collectors who for the past 21 years have organized similar shows in Wayne, NJ www.waynenjtoyandcollestiblesshow.com  and decided, this year to bring a larger event to Hudson County.
"Everything that's in here is about family," said DeMario, whose passion for the trade began when he was a child collecting Toys & Comics in the Jersey City area.
In all, 100 dealers participated, DeMario said, and crowded the entire 18,000 square foot second floor of the luxury hotel with 173 tables topped with various action figures, comics, toys, movie memorabilia, collectibles and even original works created by local comic artists and authors.
"The entire family can get together and enjoy this hobby," said DeMario, adding that some of the profits from the fair will be donated to the New Jersey Relief Fund, the Red Cross, the ASPCA, and Autism Speaks.
Among those in attendance was Geri Reischl, the former television star who played Jan Brady on the classic show "The Brady Bunch." She posed for pictures with fans and promoted her pop album, "1200 Riverside."
Former WWE wrestler and St. Peter's University alumnus Andrew "The Reinforcer" Anderson was also at the fair talking up his upcoming championship match against Greg "The Hammer" Valentine to be held Friday at Hudson Catholic High School in Jersey City.
Anderson, a 43-year-old toy fanatic, was staffing a table of collectibles he picked up over the years while traveling on the road, including a "giant Godzilla everyone is drooling over."
For fans of vintage superheroes and classic DC comics, the fair brings back memories of younger days.
"I love it, this is great," said Chris Santiago, 33, from Passaic. "I'm just being brought back to my childhood." With him were his two sons, 6-year-old Christian and 14-year-old Nick, who were excited about the Power Ranger action figures and showed no interest in their father's favorite 1980's GI Joe."I'm just trying to introduce the old to the new," laughed Santiago.
Attendees are welcomed to submit feedback about the show to Phil at toysonthehudson@aol.com
The gathering of all things Wizard World New Orleans Comic Con 2012 commences!
On November 18th, I stepped behind the table as a dealer for the first time in over 4 years. The site of my return was the Daytona Beach Comic and Toy Show.
The show took place at the Holiday Inn & Suites in Daytona Beach, Florida. The dealers were all located in one small ballroom with a second room set aside for creators from AC Comics, a local publisher known for their Femforce title, who were celebrating their 30th Anniversary in comics.
It was a very comic-centric show with plenty of collectibles as well. According to a post to their Facebook page, attendance was a scant 160 people, down from 250 for a previous show. They suggest the weather may have been a factor and that is definitely a possibility (it was a cold and windy day), but it is worth noting that a celebration at Coliseum of Comics featuring George Perez in Sanford the day before might have supplied some people with their comic fix for the weekend, plus a new convention, Geek Fest Florida, was also taking place in Boca Raton the same day.
It was an enjoyable show for me and my family who attended with me. Another dealer bought the entire box of action figures I brought with me within the first 5 minutes of the show, and another guy purchased a bunch of trading card sets as well. After that, it was a slow climb the rest of the day with $1 to $3 comics. I made my last sale around 2:20, however, and the show was dead after that. We packed up and left around 4:30.
I did not take any photos at the show; instead, I focused on putting together my first ever Convention Scene video. Check it out below; at least watch the first 10 seconds to catch the snazzy video intro.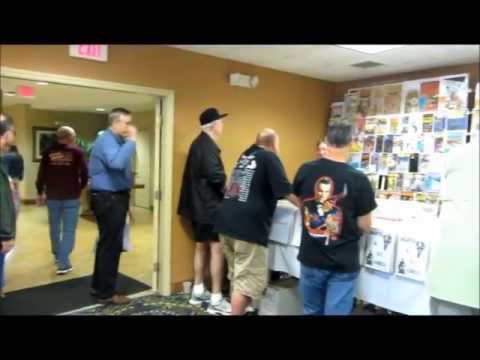 On November 3-4, 2012, the 4th annual Long Beach Comic and Horror Con took place at the Long Beach Convention Center. In the 3 shows prior to this one, fans usually had a star studded line up or Halloween to coincide with the show. However, with the show taking place the weekend after Halloween, and with the guest list nearly identical to last year sans two of its biggest stars in David Finch and Brandon Peterson, this year's show lacked the flair of the previous 3. In spite of this, the attendees of the show did have a good time, with a lot of families showing up to partake in the festivities, as well a lot of cosplayers recycling their Halloween costumes. While it may not have been as strong as in years past, I'm confident the show will rebound next year, and will finish the comic convention season strong. But for now, here was my view of this year's show.
And now, onto the cosplayers: