Comments Off on San Diego Comic Con 2014 Con Report!
On July 23-27th, San Diego was host to the 2014 San Diego Comic Con! After 10 years of attending this show, I was definitely looking forward to seeing what sort of amazing spectacles Comic Con had in store for me this year. After a week of recovery from the show, I had to admit, compared to all the other Comic Cons, this one was a bit more low key. There weren't many major announcements on the movie front, and while there were some exciting TV shows on hand, I definitely didn't feel the major buzz I typically do at SDCC.
However, like all previous Comic Cons, it's a great time to mingle with artists, writers, and friends you never get to mingle with anywhere else outside of SDCC. It was fun watching the stars come on the show floor, watching artists draw some amazing commissions, and seeing the amazing exhibits some of the booths displayed, including all of the Batman cowls celebrating the Caped Crusader's 75th birthday, as well as some very cool props from the latest movies. While it lacked that extra spark that San Diego usually brings to the table, it still was, is and always will be THE place to be. And now, on to some of the sights I saw during the weekend.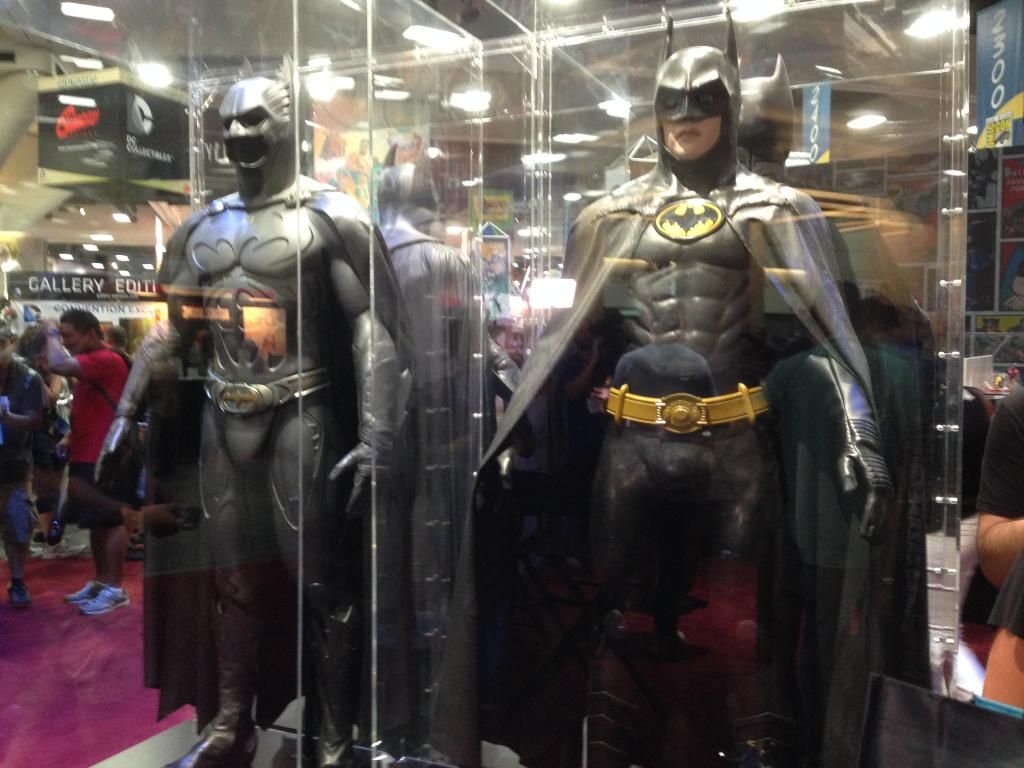 I didn't take a lot of cosplay pics this year, but here's a few that stood out!
Comments Off on SDCC 2014 Digest: 3
A look at some of the cosplayers of Comic-Con, videos of The Avengers: Age of Ultron panel and Zack Snyder and friends, plus lots of more.
Comments Off on Con-Gregate Con Report! (And Interview with the Carolina Ghostbusters)
This was the inaugural year for Con-Gregate, a general sci-fi convention held in Winston-Salem, NC on July 11-13. The guest of honor was New York Times bestselling author Larry Correia, known for his Monster Hunter series, though he does have other writing credits, including "The Christmas (Noun)" and "The Christmas (Noun) 2: The Nounening." (What's next? "How the Gerund Stole Christmas"?) Other guests included writers A.J. Hartley and Faith Hunter; Magic: The Gathering artist Mark Poole; and movie make-up professional Jennifer McCollom.
The con was led by a team of veterans, including folks from RavenCon, Stellar Con, and DragonCon. Yet, as with any first-time event, there were hiccups. Larry Correia's first book signing was held on Saturday morning, when a lot of convention goers weren't yet up and at 'em. The lighting was poor in the vendor room, and though much was made in the convention program about name badges (even vendor badges bore individuals' names), I never saw a staffer checking them.
Still, it was a fun weekend, with a costume contest, a book launch party (D.B. Jackson's A Plunder of Souls), a charity auction (I won a signed photo of Avery Brooks as Capt. Benjamin Sisko), and some fascinating panels. Plus one of my favorite groups, the Carolina Ghostbusters (www.carolinaghostbusters.com), made an appearance. On Friday, I got a chance to talk to three team members–"Doc" Geressy, Chuck Carte, and Mikki Smith.
Me: How did the Carolina Ghostbusters get started?
Doc: About 5 years ago, I got divorced and laid off from work in the same week. I got a great severance package and didn't have anyone to spend it on, so I was like, I'm gonna build a Ghostbusters car. That was five years ago. It took about 2½ years to get everything together. Once the car was built, we started getting requests for conventions, charity events, car shows, baseball games, birthday parties, weddings . . . we do a lot of weddings, oddly enough. We spend about 70-80 days a year on the road now, with the vehicle, and I never would have imagined, but it has been the most awesome thing ever. We got to meet Dan Aykroyd. He signed the car. We met Ernie Hudson from the film. So it's been a lot of fun.
Me: How did you meet Dan Aykroyd?
Chuck: He was on his Crystal Head Vodka tour, doing signings of the bottles when the liquor had first come out. And we got treated really well by the Aykroyd camp as soon as they saw us in our car. He ushered us to the front of the line, took photos with us, signed the car, and he was just a real . . . I look at it as my favorite moment of getting to do this, getting to meet him, and just how cool he was to us.
Me: Why Ghostbusters?
Doc: I am a big fan of movie cars, always have been, and when I was originally going to build a movie car, I had thought about doing a classic Batmobile. I had some people looking for a late model Lincoln to use as the base for it, and we ended up finding this hearse first, and one of the guys called me and was like, hey, would you be interested in doing a Ghostbusters car? I was like, sure, love to, and so we ended up doing a Ghostbusters car instead. And it is actually, interestingly enough, the most recognizable movie car with the least amount of screen time. It is only in the film for 5 minutes and 28 seconds. But everyone knows it. We have had people drive 20-30 miles out of their way to take pictures with us.
Me: And you also have the Men in Black car, right?
Doc: That is our new one. We're about a year into that build, and it was another one where the car kind of found me. We ended up getting it at a really good deal. It had low miles and was in excellent condition. So we started the build on that. We should have it done in the next year. It is actually roadworthy now, but there are a lot of things we want to do to it, and a lot of props we need to build. It's probably about 80% done.
Me [to Mikki]: Tell me about your involvement with the group.
Mikki: Honestly, I asked. That sounds kind of like a boring way. Basically, I originally hired the Carolina Ghostbusters for a very small, one-off convention that I ran called Jax Con that happened in my hometown of Jacksonville, Florida—
Doc: It was an awesome convention.
Mikki: Thank you so, so much. That's what people say now. That's not what people said right after it happened.
Chuck: That's what I said right afterward.
Mickey: Me booking [the Ghosbusters] was literally the best thing I ever did for that convention. After that, I was still really into cons, and I started going to them more and more, especially local cons. I became really good friends with the team, became pretty good friends with Doc and Chuck and Cher [Cheralyn Lambeth, another group member]. That was kind of how I got involved. I think at XCon 2013 was my first official event, and I worked that one. I was an intern for about 6 months, and now I have been moved up to Acting Ensign of the Deck Department, and I serve under Chuck Carte, who is a fantastic immediate boss.
Chuck: Thank you. I don't get that often.
Me: I was reading on your web site that you also do paranormal investigations. Tell me a little about that.
Doc: About 30% of what we do is paranormal investigations. We are the only Ghostbusters group in the country that actually does paranormal investigations as well. Sometimes we joke that the Ghostbusters car is our dog and pony show, but we have a lot of fun going out and actually not just dressing up as Ghostbusters but actually being Ghostbusters to an extent.
Me: How do you measure your success as paranormal investigators?
Chuck: Whether or not the check clears.
Doc: Yeah, that's a good answer! [Laughs] We approach things from a very scientific viewpoint, very much like the Ghostbusters did in the film. We don't employ or work with any mediums or psychics because we can't quantify that information. We try to be as empirical as possible, and we have captured some amazing photographs, we've got some awesome EVPs [electronic voice phenomenon], and just the experiences of being able to travel around. One of the things that being Ghostbusters has provided us is a lot of access to places that other paranormal groups can't get into. People see the car or they see us, and they're like, oh, you guys are like legit! There are so many other paranormal groups out there that are just as legitimate as we are, but just that knowledge of Ghostbusters affords us the ability for people to just wave us in and be like, yeah, come investigate this place.
Me: What are you working on next? What are your goals?
Doc: Oh god. Replenishing my bank account is what I'm working on right now.
Chuck: The speedboat from Thunder in Paradise.
Doc: Yeah, I gotta buy a boat trailer first.
Mikki: You've been talking about the Blues Brothers car lately.
Doc: I would love to find a Blues Brothers car. That would be the next thing on the list. I also really like the ambulance from Cannonball Run. That would be another one.
Me: I guess it's time to wrap up. Can you say a few words about your podcast?
Doc: Our podcast is called Sci-Fried Eggs, and we get to travel to all these conventions and meet all these cool guests, and we bring that to the rest of the people. So if you miss the convention, or even if you're at the convention and you didn't get to meet that person you wanted to meet, we may have interviewed them [on the podcast], so you can check them out.
And while you're at it, check out the photos below.
Carolina Ghostbusters: they're ready to believe you.
No, this isn't a promo poster for Avengers 2. It's the winners of the Con-Gregate costume contest.
Must . . . not . . . make . . . bird-brain joke.
"Good evening, Clarice."
Comments Off on SDCC 2014 Digest: 2
Get a glimpse of the Batman v. Superman footage from Comic-Con plus a Mad Max trailer, Wonder Woman revealed, the complete Age of Ultron poster, and more.
Comments Off on SDCC 2014 Digest: 1
Sting shows up at the WWE panel, Matthew McConaughey shows up to push Interstellar, and Microsoft releases a trailer for HALO Nightfall.
Comments Off on SDCC 2014 Digest: 0
The Batfleck costume, Avengers and Ant-Man posters, a tour of the Sideshow Collectibles booth and a lot more in our first SDCC Digest for 2014.
Comments Off on Marvel LIVE! at San Diego Comic-Con 2014
Marvel will be broadcasting live from the San Diego Comic-Con each day via YouTube, and we have their live stream for you right here.
http://youtu.be/fT3n8q9xfRs
Comments Off on Cartoon Stars Shine at ConnectiCon 2014
This past weekend was ConnectiCon in Hartford, CT. Founded in 2002 primarily as a gaming convention, it has come to encompass multiple genres and attracts attendees from all over the country.  It roots in gaming are still clearly apparent as they host a gaming room equal the size of the main vendor/artist area which hosted hundreds if not thousands of gamers playing Magic: The Gathering, Yu-Gi-Oh, WarHammer, and many other table top games. Naturally there is also a large contingent of cosplayers dressed as their favorite characters from TV, moves, comic books and video games. The projected attendenace fo this year was 17,000 people and while there were certainly a lot of people in the Hartford Convention Center, it was laid out and organized so it never felt crowded. The autograph lines for guests moved surprisingly fast and, provided you showed up a little early, panels were easy to get into.
A big draw for this year's ConnectiCon was the wealth of guests from the voice acting industry. A growing trend at conventions across the country, these talented performers need only a microphone to display their gift for breathing life into characters. Guests included Invader Zim's Richard Horvitz and Rikki Simons, Pinky and the Brain's Maurice LaMarche and Rob Paulsen, Batman: The Brave and the Bold's Dietrich Bader, Mass Effect's Jennifer Hale, and Legend of Korra's Janet Varney. Speaking to the press, Horvitz and Simons said they love having meeting fans who grew up watching Zim and are now cosplaying as their characters. The also mentioned people sometime have full sleeve tattoos where they leave room to get autographed. Horvitz said, "We always ask them to please not get murdered because we're afraid the police will think the killer signed their work."
As an actor who had success in on-screen roles on The Drew Carey Show, Outsourced, and Office Space, Bader remarked that he is in awe at the talent of his cartoon co-stars and how unpretentious and friendly most are compared to the rest of Hollywood. When asked what his favorite character to play was, Bader immediately and unequivocally said "Batman." Prior to being cast on Brave and the Bold Bader had not been terribly well-versed in Bat-lore but said that getting into character really moved him especially in the scene where Batman confronts his parents' killer, during Bader said he had literal tears running down his face.
On panels with LaMarche and Paulsen it was readily evident that their their friendship and work relationship easily rolls into one another. Paulsen remarked several times that his co-stars are people with whom he would choose to be friends had they never met at work. They often finished one another's jokes and would goad the other into saying a favorite line or catchphrase. They credited a mutual love of Monty Python and Beyond the Fringe as instantly cementing their bond when the first worked together.
LaMarche and Paulsen shared many stories from Animaniacs and Pinky and the Brain, one being the famous "Yes, Always" sketch in which LaMarche faithfully recreates a famous outtake of Orson Welles recording a commercial for peas in which the famous director angrily tells off the staff. LaMarche had regaled his co-stars, directors, and engineers with his rendition so it was added to the script as a suprise for LaMarche. They also regaled the audience to a reading of "Green Eggs in Ham" with Paulsen reading Sam I Am (in the voice of Pinky) and LaMarche playing the main character as the Brain. The showstopper, however, was Paulsen singing "Yakko's World" in which he rattles off every single country in the world to which the entire crowd clapped along.
Finally, Janet Varney who voices the title character of The Legend of Korra spoke about the series to a full panel room of Avatar-fans. She noted that they all had very pointed questions regarding many of Korra's decisions on the show. Varney said while she often disagrees with Korra's actions that is part of what makes her a well-rounded character. Twice during the Q&A Varney had to apologize for "rudely" taking a phone call. The first was from Firelord Zuko (actor Dante Basco) who called in to look for his honor and the second was Bolin (voice actor PJ Byrne), both whom were kind enough to say hello to the fans and field a question or two.
Fans were very excited to meet the people who helped bring their animated favorites to life. LaMarche said it best, "Hearing I made your childhood better makes my middle age better." Here's looking forward to seeing what voice talents are scheduled for next year's show!
Comments Off on ConCarolinas Con Report!
ConCarolinas is a general sci-fi and fantasy convention held annually in Charlotte, NC. Attendance was 300 in the inaugural year, 2002, and the guests were small potatoes, but those days are done. Well over 2,000 people (my estimate) showed up this year, and the guest of honor was a bona fide celeb: George R. R. Martin, creator of Game of Thrones. Other guests included Anthony Montgomery from Star Trek: Enterprise and Laura Parker and Kathryn Leigh Scott from the original Dark Shadows.
Sounds accomplished, right? GRRM was announced over a year ago—not even Comic Con International is that foregoing—so I expected the con to run like a thoroughly Penzoiled Sprint Cup chassis. In some areas, it did. Events started and stopped on time, and they were easy to find, for the most part. One exception was the ballroom divided into three smaller rooms that the schedule called, noninformatively, "Main," "Programming 2," and "Programming 3." I missed the start of one panel because it was scheduled for Programming 3 but took place in Main, and each time I passed these rooms, the only sign I saw bore the Hilton's name for the room: Lakeshore.
This plaint is piddling, however. The real mess came with Saturday's GRRM autograph session. It was scheduled for 3:00, and by 12:15, a line was evident. "You should get in line now," my wife said, to which I replied, "But the sign says the line will start forming at 2:00." A woman of few words when she's right, thank God, she pointed to the dozen or so people standing there. Just then, another two or three walked up. I assumed the position.
A few minutes later, a con staffer—I'll call her "Bee"—came over to wrecking-ball the line. "We'll start the line at 2:00," she announced. Until then, we should "go enjoy the rest of the con." Instead, the now-twenty of us moved six feet away to flank the concrete steps that led from the hotel entrance to a duck pond. Unsatisfied, Bee told us to move on, saying she had to "keep the steps clear." They were currently so clear that piano movers could have carried a Steinway up them.
A guy who looked like Robert Downey, Jr. tried to tell Bee she was being unreasonable. We had paid for admission, he argued, and it was our prerogative to waste three hours in line—a line that had formed against the fence surrounding the patio, well out of the way. Someone else offered that there was "nothing else to do," which hurt Downey, Jr.'s case. He wanted to negotiate, not inflame.
Bee was having none of it. She walked away and returned with con security, one of whom asked us nicely, in contrast to his Ghiscari Legion cosplay, to disperse. Downey, Jr. stood up defeatedly. "It's a little unnecessary," he said, more soliloquy than direct address, "but whatever." And we moved away.
Things were tense after that. People arrived by the minute, and because we couldn't form a line, we had to hang around pretending that we weren't forming one. Annoyance passed from one person to the next, growing with each utterance as in the telephone game. "This is literally why we bought tickets," one person said. "I don't think they were ready for this kind of crowd," said another. I took a philosophical tack. The con staff had taken an orderly line that had arisen spontaneously and, through human agency, made it into a mob. Maybe they were anarchists.
At 1:16, Bee pulled out a megaphone and announced, "If you are gathered here in order to rush the line, your badge will be taken, and you will be escorted off." All 100 of us? 200? Versus her little honor guard? We didn't move. When a Canada goose wandered off the pond, Bee walked up to it and blared through her megaphone, "This is a goose-free zone." She said it to be funny, but nobody laughed. Too much had passed between her and us.
By 1:45, at least 400 people had gathered. The original group was still camped on the concrete steps, with newcomers forming parallel lines that stretched alongside the duck pond toward the hotel parking lot. About every thirty minutes, a con employee walked between the lines, urging us to keep the sidewalk clear because "the fire marshal is here," though I never saw anyone official-looking. One person dubbed our station "the line to get into the line," and we laughed—finally.
At 2:00, Bee started assembling the line. She did it fairly, calling ten people at a time from different spots, starting with the ur-group on the steps. I got in with the seventh summoning. My reward was to wait another hour before the 3:00 start, though this was better: Revolution had been averted, and I was now guaranteed an autograph. GRRM was scheduled to sign for only an hour, and those who didn't reach him during that time might be turned away. (When someone griped about this, Bee said simply, "He is not a machine.")
In all, I waited from 12:15 to nearly 4:00 to meet George R. R. Martin, and it was over with a few strokes of his pen. But it was worth it. The writer was gracious, even charming, and he signed two books for me. Autographs are my favorite part of conventions, and Downey, Jr. was right: You can have fun just sitting and waiting. Looking at cosplays. Writing a story (I got most of this done during the downtime). My wife and I rounded out the day with a couple of panels and that evening's charity auction, hosted by podcaster and voice actor Rich Sigfrit, who also moderated a sci-fi-centric Whose Line Is It Anyway? starring the improv comedy group Pineapple-Shaped Lamps.
So that was it from Charlotte and the 13th ConCarolinas. Next year is already shaping up to be a good one with writer John Scalzi as the guest of honor. My next stop: Charlotte again for Heroes Convention on June 19. Maybe I'll see you there!
Indication #1 you are at a sci-fi convention.
Indication # you are at a sci-fi convention.
Guys, no need to fight. There are enough tickets for everyone.
I would have seen GRRM sooner if it weren't for those meddling kids!
Inside the dealer room.
People came from all over for this convention. Even Golgotha.
No, Johnny Depp was not there. Would have been awesome, though.
GRRM signing line: the Haves . . .
. . . and the Have-Nots
I'm not sure why I bought so much stuff at the auction. Any ideas?
GRRM addresses fans during one of his readings.
Lara Parker and Kathryn Leigh Scott pose for a picture.
My feet were hurting. Throbbing, in fact. With blisters on each ball and heel, even short walks delivered a four square of pain. Ever had a pebble trapped in your shoe? How about a shuriken? Watching me walk, people must have thought, "The poor man. Must have forgotten his crutches. How can he get around on two broken legs?"
I was in this predicament thanks to walking twenty-seven miles in one weekend, mostly around the latest Wizard World Comic Con, which was held May 2-4 in Minneapolis. It was that city's first-ever Wizard World con, and everything from guests to vendors to venue—the 87-room, 475,000-square-foot downtown convention center—was spectacular.
Headlining the event were Matt Smith and Karen Gillan from Doctor Who. Gillan, a former model, played traveling companion to Smith's Doctor in series 5-7. I saw her on Saturday, smiling and chatting, her hair in a bun, amid a sea of fans. Smith showed up the next day, and the two had a joint photo op—the third time in North America that this had happened (the first two were the Louisville Comic Con and the St. Louis Comic Con). Other stars were William Shatner, Robert Englund, Ernie Hudson, Ralph Macchio, Neal Adams, Mike Grell, and Lou Ferrigno (my interview with Ferrigno will appear on ConventionScene in a few days). Other events included celebrity one-on-ones, panel discussions, a film festival, RPG tournaments, speed dating, at least 75 exhibitors, and a cosplay contest.
I caught most of Ralph Macchio's one-on-one session on Saturday afternoon. Now 52 years old, Macchio delights in the Karate Kid franchise, though it used to bother him. In the early 90s, he said, he struggled to find acting work, and there were days he stayed hidden at home because he couldn't face another "wax on, wax off" encounter. But film quotes were not all that fans said to him. Some told him how the movie had helped them deal with bullying, or it had changed their lives in other ways. When he thought about those people, he realized he would be "foolish" to reject his legacy. Ralph Macchio is a funny, humble guy who likes the Karate Kid re-make (though he doesn't see it as "iconic") and who is hoping his future includes more voice acting (he has done several episodes of Robot Chicken). And do his two kids understand their dad's place in cinematic history? Macchio told the story of his son Daniel (hmm . . . coincidence?) coming across a trove of magazines and other memorabilia from the 80s. The boy raced into his sister's bedroom and said, "Julia! Dad was huge and we missed it!"
Minneapolis was cold this May—unseasonably so, according to one native, which is just my luck—but the city was grand, the people welcoming, and the comic con a smash hit. If you weren't there, browse the photos below to see what you missed. Next I am off to ConCarolinas (May 30-June 1) in the Queen City, Charlotte. Maybe I'll see you!
Day 1 of Minneapolis's first-ever Wizard World
Can't wait to get in!
I had trouble finding a parking spot, so . . .
Robert Englund plans his next nightmare.
Fabulous costumes!
Deadpool! Get out of the picture!
A couple of convention security officers.
Minnesota isn't quite the Caribbean, but this pirate didn't mind.
Look just under the poster of Karen Gillan to see the real Karen Gillan.
My cell phone wasn't working, so I asked this guy to call my wife. With his mind.
Yes, it's bigger on the inside, but how many licks does it take to get the Tootsie Roll center?
I thought about asking this guy for directions but decided against it.
Who scheduled a dance competition on the same weekend as Wizard World?!