"Why do you think horror movies are so popular?" asked my friend John. It was Friday evening, October 24, and we were standing in Tobin Bell's autograph line at Spooky Empire, the semiannual fright fest held in sunny Orlando. I have known John since 1990, when he, a transfer student from Massachusetts, walked into my high school Spanish class and took the only available seat–the one next to me. After high school, we worked together at McDonald's, and when he moved to Tennessee for college, and then Florida to work in the nursing home industry, we remained friends. He was with me at the Minneapolis Wizard World, as a matter of fact.
And this is what our friendship is like: deep thoughts. Why are horror movies popular? "Fear is primal," I answered. "We like being scared because it is a release, especially when the object scaring us is revealed to be harmless, like a man in a mask." (The Atlantic magazine ran a great article on exactly this topic; I'll recommend it here.) We talked about it more, stepping forward every so often as the incredibly slow-moving line moved forward (with incredible slowness). This is not because the line was mismanaged; there were simply a lot of people in it.
I have seen all the Saw movies, and Tobin Bell was the one person I wanted to see at my inaugural Spooky Empire, which calls itself "one of the largest horror cons in the US." Horror cons tend to be peopled by B- and C-list celebs, but this one had some moneymakers: Tara Reid, David Guintoli and Bitsie Tulloch (from TV's Grimm), Derek Mears, Chris Sarandon, some of The Walking Dead cast, most of Rob Zombie's Halloween cast, and, of course, Tobin Bell. He was very gracious with his time, talking and laughing with attendees. The person in front of me had a Tobin Bell mask for him to sign, and I wanted to ask Tobin how it felt to hold his own face in his hands, but I was afraid it'd be weird. Instead, I handed him my still-in-the-box figure of Billy, Jigsaw's creepy puppet (which I had already had Cary Elwes sign at DragonCon). Below is the result.
Want a close-up of Billy? Here it is.
Sadly, the household-name-ness did not extend to the authors. I am a writer, an English professor, and a sometime bookseller. In other words, I know literature. As a 25-year fan of horror fiction, I know horror literature. But I did not know a single writer in attendance. (Full disclosure: Carrie Harris was there. She seems pretty big in YA circles, and she got the big-author-convention treatment, meaning she got a panel of her own and her picture was the biggest in the program.) I seem to remember Clive Barker attending a couple of years ago, so I know Spooky Empire can attract true literary stars. I was disappointed that they hadn't done so this year.
The good thing is that the writers who were there stayed paneled-up. They led not just author talks but actual seminars on writing and publishing, some of which were tailored to specific interests, such as Friday night's "Writing for Screen and Other Mediums." Though the name should have been "media" (sorry, writerly tic), it was a good seminar.
Halloween is a cold weather holiday, so it seemed strange to attend a horror convention in a T-shirt and no jacket. Yet I enjoyed the experience. The dealer room seemed small for "one of the largest horror cons in the US," but some cool merchandise was available. I talked to one dealer who had a collection of vintage costumes, most still in the boxes. Had he had those costumes for 40 years, or did he buy them like that? "I assemble them," he said, buying a mask here, pants there, the box from some other source. How long does it take him to put together a costume? Over 10 years, for some. He also had an assortment of stuff like we used to order from the ad pages in 70s-era comics and magazines–stuff like X-ray glasses, monster teeth, fake blood, all still in packages, most in mint condition.
These are the dealers I like. Others had mostly new stuff, some of which I see over and over at conventions. This, however, I had never seen.
One suggestion I have for Spooky Empire: better signage. John and I went through the hotel main entrance (Doubletree at Universal), followed the crowd of ghouls and zombies and normal-looking people (who could be homicidal maniacs because, as Wednesday Addams reminds us, "they look like everyone else"), and got all the way to what turned out to be a side entrance to the convention, where a guard pointed back the way we had come and said, "The convention entrance is that way." A sign to that effect would have kept us from going in the wrong way. Also, a hotel employee was standing out front, directing drivers to the convention parking lot, up the street from the hotel parking lot. I think a sign could have done that job as well.
These complaints are trifles, though. Spooky Empire is as well-run as it is well-known, and I look forward to going again. I won't get another weekend pass–there isn't enough for multiple days–but the one-day pass is worth the money. John, who isn't a horror guy, concurs, saying he enjoyed seeing the celebs and cosplayers. Where will we go next? Dunno. But when we figure it out, you–or, since I'm from North Carolina, y'all–will be the first to know.
See below for a few more Spooky Empire pics.
Look at that disgusting blob! And Slimer, too.
With guests like this, who needs security?
"There will be time, there will be time / To prepare a face to meet the faces that you meet."
Word to the wise: don't photo bomb guys who have actual bombs.
Abraham Lincoln, convention goer
Chris Sarandon (Jack Skellington) signs a Nightmare Before Christmas picture for my daughter.
Ken Page (Oogie Boogie) signs the same picture.
Fans chat up Tara Reid.
I'm guessing this is a teacher from the Black Lagoon.
I wonder what Tobin Bell thought of HER.
Who watches the Watchmen? A few hundred people at least, all of whom were in line ahead of me at last month's Baltimore Comic-Con (Sept. 5-7) for Dave Gibbons's autograph.
Gibbons is, of course, the artist behind Watchmen, the 12-issue miniseries published by DC in the mid-80s. The accolades heaped on Watchmen are as legendary as the series itself. It was the only graphic novel to appear on Time's 2005 "100 Greatest Novels" list, and it appeared again in 2009 on the magazine's "Top 10 Graphic Novels" list. In 2008, Entertainment Weekly ranked Watchmen thirteenth on its list of the best 50 novels printed in the last 25 years, calling it "the greatest superhero story ever told and proof that comics are capable of smart, emotionally resonant narratives."
I have loved Watchmen since it came out, and when I saw that Gibbons, who lives in the UK, would be in Baltimore, I booked my flight immediately. By "flight," I mean I got up at 5:00am and drove the six hours from Raleigh, NC, passing through Washington just miles from the White House and getting stuck in horrendous construction-related traffic that even President Obama is, apparently, powerless to prevent. Other great artists and writers were there, including Steve Leialoha, Walter and Louise Simonson, Greg Capullo, David Finch, and Al Milgrom, who does few conventions these days. Denny O'Neil left early due to a family emergency, and the wait for George Perez was four hours (!), according to one woman who endured it.
But Gibbons was, for me, the star of the show. I waited about an hour in his line, and when I got to the table, I found him to be gracious, funny, and down-to-earth. He was impressed by my Graphitti edition Watchmen hardcover (the first graphic novel version of the series) and my Marvel Comics Doctor Who #1 (for the wife, a consecrated Whovian). But he oohed and ahhed—actually, we all did—over something another guy had: the 1994 computer game Beneath a Steel Sky, still in the box. Gibbons did the background art for this game, and he said he had never signed a copy before. Get it on eBay, young man!
The Baltimore Comic-Con has long been a two-day affair. This was its first year spanning a third day, and everyone I talked to thought it a success. Vendors especially were pumped-up because their rate stayed roughly the same despite the extra day. They also praised the convention staff for being responsive and professional. Sales were good, too: one dealer sold an Action Comics #252 (first appearance of Supergirl) for $900.
Dr. Chilton, the captor/tormentor of Hannibal Lecter in The Silence of the Lambs, says that Baltimore "can be quite a fun town, if you have the right guide." The only guide I needed was the folks at this year's Comic-Con. As you are planning your convention schedule for next year, mark down September 25-27 in Baltimore. It won't be a baaa-d decision.
They don't look like minions, but I'll take their word for it.
Deadpool doing what Deadpool does.
Hello, Walter Simonson!
Hello, Louise Simonson!
Don't blink. Or wink. Or think about blinking or winking. Especially when drinking.
The line to see Dave Gibbons.
And, finally, Dave Gibbons, holding my newly-signed Watchmen hardcover (which, if it were shirt, I would never wash again).
Here are some photos as posted by West Palm Beach's Channel 5 News WPTV.
For more about PalmCon check out their website HERE!
It is a truth universally acknowledged . . . No. Let me rephrase. Waiting sucks.
I was in line at the Donald E. Stephens Convention Center in Rosemont, IL. Shoulders smarting, back stiff as a statute, legs wobbly like a wooden easel, I was waiting for Josh Peck, a guest at this year's (August 21-24) Chicago Wizard World Con. Josh is best known for starring opposite Drake Bell in the Nicklodeon show Drake & Josh. My daughter loved that show, and I was standing in line for her.
Josh finally arrived, and a great cheer went up–until he realized neither he nor his handler had any photos for him to sign. So we waited another 20 minutes. Chatted him up (his take on appearing in the remake of Red Dawn: "Awesome."). Someone asked if he would yell "Megan!", his signature line from Drake & Josh; he politely declined. Oh, and I got a selfie.
(OK, it wasn't a selfie; I asked someone to take the pic. Shows you how superannuated I am.)
Josh was friendly but ill-at-ease. You could tell he was a convention novice, as opposed to, say, Lou Ferrigno. A regular at Wizard World cons, Lou is best known for his role as the Hulk in the 1978 CBS television series. I got a chance to talk to him for a few minutes.
Me: How did you get started doing conventions?
Lou: I was out with a friend of mine one time, and I went to a place in Hollywood where they had a convention. I walked around, and they kept telling me I ought to do a convention because the fans really want my autograph. I'm so used to giving autographs, and I thought, why not have a table? That's how it started. It's a good living.
Me: How long have you been doing conventions?
Lou: About 15 years.
Me: What are some crazy fan stories you can share?
Lou: I had a woman one time who came to me about a year ago, and she had a Hulk tattoo on her leg, and she had my signature tattooed on her leg. She had both legs done, and she wanted to take a picture, and her husband is standing there looking like, every morning I have to get up and look at my wife's legs with your signature and the Hulk's picture.
Me: I guess we saw where her loyalties lie. How did you get into character to play the Hulk?
Lou: It came naturally to me. I use pantomiming, acting without speaking, and they just loved it. I used the sensitive part of me to become the character.
Me: You have talked a lot about an actual actor playing the Hulk versus CGI. You've said people have told you they preferred your version.
Lou: Over 90% of the people have said that.
Me: Why do you think that is?
Lou: CGI cannot compete with a human Hulk. There is no sensitivity. The Hulk, the character I created, with his vulnerability and sensitivity—it can never be replaced.
Me: When I was growing up, my mother didn't let me watch the Hulk because she said he was "vulgar." Did you ever get negative comments from people who didn't like the character?
Lou: The only negative was a lot of mothers hated me because their sons ripped their shirts and walked around the house that way.
Another headliner was Stan Lee, whose first autograph session was scheduled for 5:00pm on Friday. I had paid online for an autograph ($80!), and though the ticket was good all weekend, I thought going the first day would help me eschew half-day lines. At 4:00, I strolled to his booth, saw about 20 people standing there, and got in line. Wonderful! I thought. Then: this doesn't seem right. Next, I noticed three things in the span of 10 seconds:
The Stan Lee VIP badges around the necks of the people in front of me;

To my left, a separate line of proletariat-looking people, where I clearly belonged; and
A con staffer walking toward me.
Once I was moved to the correct line, I waited about an hour, which isn't bad. At one point, someone said Stan Lee was somewhere in the exhibit hall posing for pictures FREE. I found him, took this picture, and noticed something strange. Do you see it too?
Five points to Gryffindor if you recognize that this person isn't Stan Lee. I don't know whether he was a cosplayer, a doppleganger, or something else, but I later got a candid (read: surreptitious) pic of the real deal.
Stan was terrific, charming and humble, and his line managers took a bend-but-don't-break approach that I appreciated. In fact, all the crowds were well managed. One helpful feature was a signing schedule at every celebrity's booth, like this one at Josh Peck's.
Despite being the biggest event in the Wizard World portfolio, Chicago was a delight. I did a lot of waiting, but that is unavoidable, and I passed the time gawking at some world-class cosplayers. The rooms were laid out well, prices were clearly advertised, most things happened on time, and I saw little tension among staff or attendees. CGC was doing comic book grading on site, and that also went well, probably because Stan Lee had his own booth.
If you go to only one Wizard World con ever, make it Chicago. You'll have a ball. Here are a few more pics to show you why.
No, this isn't security removing an unruly attendee; it's just a cadre of cosplayers.
The long and short of it.
Doin' the Cybertron shuffle.
Looking forward to the Ant Man movie in 2015.
Even the queen had a good time hanging with a few (dis)loyal subjects.
We will continue to add more videos and links here for SDCC 2014 as we come across them but for now here is our final compilation.
On July 23-27th, San Diego was host to the 2014 San Diego Comic Con! After 10 years of attending this show, I was definitely looking forward to seeing what sort of amazing spectacles Comic Con had in store for me this year. After a week of recovery from the show, I had to admit, compared to all the other Comic Cons, this one was a bit more low key. There weren't many major announcements on the movie front, and while there were some exciting TV shows on hand, I definitely didn't feel the major buzz I typically do at SDCC.
However, like all previous Comic Cons, it's a great time to mingle with artists, writers, and friends you never get to mingle with anywhere else outside of SDCC. It was fun watching the stars come on the show floor, watching artists draw some amazing commissions, and seeing the amazing exhibits some of the booths displayed, including all of the Batman cowls celebrating the Caped Crusader's 75th birthday, as well as some very cool props from the latest movies. While it lacked that extra spark that San Diego usually brings to the table, it still was, is and always will be THE place to be. And now, on to some of the sights I saw during the weekend.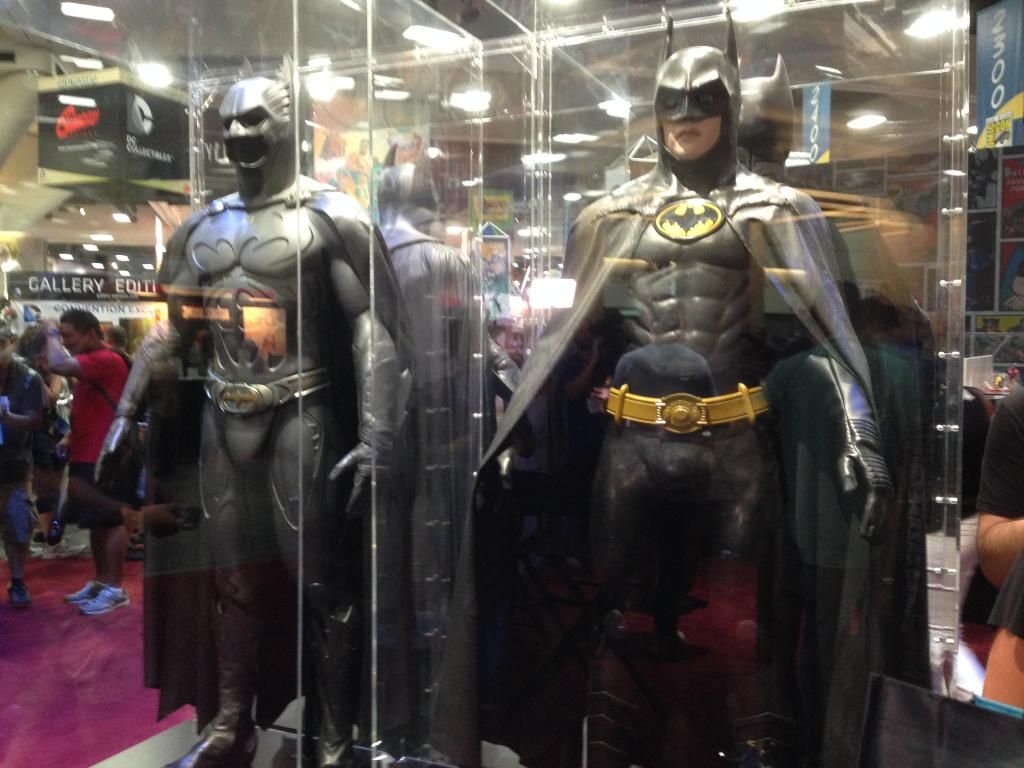 I didn't take a lot of cosplay pics this year, but here's a few that stood out!
A look at some of the cosplayers of Comic-Con, videos of The Avengers: Age of Ultron panel and Zack Snyder and friends, plus lots of more.
This was the inaugural year for Con-Gregate, a general sci-fi convention held in Winston-Salem, NC on July 11-13. The guest of honor was New York Times bestselling author Larry Correia, known for his Monster Hunter series, though he does have other writing credits, including "The Christmas (Noun)" and "The Christmas (Noun) 2: The Nounening." (What's next? "How the Gerund Stole Christmas"?) Other guests included writers A.J. Hartley and Faith Hunter; Magic: The Gathering artist Mark Poole; and movie make-up professional Jennifer McCollom.
The con was led by a team of veterans, including folks from RavenCon, Stellar Con, and DragonCon. Yet, as with any first-time event, there were hiccups. Larry Correia's first book signing was held on Saturday morning, when a lot of convention goers weren't yet up and at 'em. The lighting was poor in the vendor room, and though much was made in the convention program about name badges (even vendor badges bore individuals' names), I never saw a staffer checking them.
Still, it was a fun weekend, with a costume contest, a book launch party (D.B. Jackson's A Plunder of Souls), a charity auction (I won a signed photo of Avery Brooks as Capt. Benjamin Sisko), and some fascinating panels. Plus one of my favorite groups, the Carolina Ghostbusters (www.carolinaghostbusters.com), made an appearance. On Friday, I got a chance to talk to three team members–"Doc" Geressy, Chuck Carte, and Mikki Smith.
Me: How did the Carolina Ghostbusters get started?
Doc: About 5 years ago, I got divorced and laid off from work in the same week. I got a great severance package and didn't have anyone to spend it on, so I was like, I'm gonna build a Ghostbusters car. That was five years ago. It took about 2½ years to get everything together. Once the car was built, we started getting requests for conventions, charity events, car shows, baseball games, birthday parties, weddings . . . we do a lot of weddings, oddly enough. We spend about 70-80 days a year on the road now, with the vehicle, and I never would have imagined, but it has been the most awesome thing ever. We got to meet Dan Aykroyd. He signed the car. We met Ernie Hudson from the film. So it's been a lot of fun.
Me: How did you meet Dan Aykroyd?
Chuck: He was on his Crystal Head Vodka tour, doing signings of the bottles when the liquor had first come out. And we got treated really well by the Aykroyd camp as soon as they saw us in our car. He ushered us to the front of the line, took photos with us, signed the car, and he was just a real . . . I look at it as my favorite moment of getting to do this, getting to meet him, and just how cool he was to us.
Me: Why Ghostbusters?
Doc: I am a big fan of movie cars, always have been, and when I was originally going to build a movie car, I had thought about doing a classic Batmobile. I had some people looking for a late model Lincoln to use as the base for it, and we ended up finding this hearse first, and one of the guys called me and was like, hey, would you be interested in doing a Ghostbusters car? I was like, sure, love to, and so we ended up doing a Ghostbusters car instead. And it is actually, interestingly enough, the most recognizable movie car with the least amount of screen time. It is only in the film for 5 minutes and 28 seconds. But everyone knows it. We have had people drive 20-30 miles out of their way to take pictures with us.
Me: And you also have the Men in Black car, right?
Doc: That is our new one. We're about a year into that build, and it was another one where the car kind of found me. We ended up getting it at a really good deal. It had low miles and was in excellent condition. So we started the build on that. We should have it done in the next year. It is actually roadworthy now, but there are a lot of things we want to do to it, and a lot of props we need to build. It's probably about 80% done.
Me [to Mikki]: Tell me about your involvement with the group.
Mikki: Honestly, I asked. That sounds kind of like a boring way. Basically, I originally hired the Carolina Ghostbusters for a very small, one-off convention that I ran called Jax Con that happened in my hometown of Jacksonville, Florida—
Doc: It was an awesome convention.
Mikki: Thank you so, so much. That's what people say now. That's not what people said right after it happened.
Chuck: That's what I said right afterward.
Mickey: Me booking [the Ghosbusters] was literally the best thing I ever did for that convention. After that, I was still really into cons, and I started going to them more and more, especially local cons. I became really good friends with the team, became pretty good friends with Doc and Chuck and Cher [Cheralyn Lambeth, another group member]. That was kind of how I got involved. I think at XCon 2013 was my first official event, and I worked that one. I was an intern for about 6 months, and now I have been moved up to Acting Ensign of the Deck Department, and I serve under Chuck Carte, who is a fantastic immediate boss.
Chuck: Thank you. I don't get that often.
Me: I was reading on your web site that you also do paranormal investigations. Tell me a little about that.
Doc: About 30% of what we do is paranormal investigations. We are the only Ghostbusters group in the country that actually does paranormal investigations as well. Sometimes we joke that the Ghostbusters car is our dog and pony show, but we have a lot of fun going out and actually not just dressing up as Ghostbusters but actually being Ghostbusters to an extent.
Me: How do you measure your success as paranormal investigators?
Chuck: Whether or not the check clears.
Doc: Yeah, that's a good answer! [Laughs] We approach things from a very scientific viewpoint, very much like the Ghostbusters did in the film. We don't employ or work with any mediums or psychics because we can't quantify that information. We try to be as empirical as possible, and we have captured some amazing photographs, we've got some awesome EVPs [electronic voice phenomenon], and just the experiences of being able to travel around. One of the things that being Ghostbusters has provided us is a lot of access to places that other paranormal groups can't get into. People see the car or they see us, and they're like, oh, you guys are like legit! There are so many other paranormal groups out there that are just as legitimate as we are, but just that knowledge of Ghostbusters affords us the ability for people to just wave us in and be like, yeah, come investigate this place.
Me: What are you working on next? What are your goals?
Doc: Oh god. Replenishing my bank account is what I'm working on right now.
Chuck: The speedboat from Thunder in Paradise.
Doc: Yeah, I gotta buy a boat trailer first.
Mikki: You've been talking about the Blues Brothers car lately.
Doc: I would love to find a Blues Brothers car. That would be the next thing on the list. I also really like the ambulance from Cannonball Run. That would be another one.
Me: I guess it's time to wrap up. Can you say a few words about your podcast?
Doc: Our podcast is called Sci-Fried Eggs, and we get to travel to all these conventions and meet all these cool guests, and we bring that to the rest of the people. So if you miss the convention, or even if you're at the convention and you didn't get to meet that person you wanted to meet, we may have interviewed them [on the podcast], so you can check them out.
And while you're at it, check out the photos below.
Carolina Ghostbusters: they're ready to believe you.
No, this isn't a promo poster for Avengers 2. It's the winners of the Con-Gregate costume contest.
Must . . . not . . . make . . . bird-brain joke.
"Good evening, Clarice."
Get a glimpse of the Batman v. Superman footage from Comic-Con plus a Mad Max trailer, Wonder Woman revealed, the complete Age of Ultron poster, and more.
Sting shows up at the WWE panel, Matthew McConaughey shows up to push Interstellar, and Microsoft releases a trailer for HALO Nightfall.