The cast of Marvel's Agents of S.H.I.E.L.D. Photo by Kevin Parry.
Marvel's Agents of S.H.I.E.L.D. EPs Jeffrey Bell, Maurissa Tancharoen, and Jed Whedon, along with cast members Clark Gregg, Elizabeth Henstridge, Chloe Bennet, Iain De Caestecker, and Brett Dalton spoke to the media at Paleyfest 2014, and Convention Scene's own Richard Oh was there.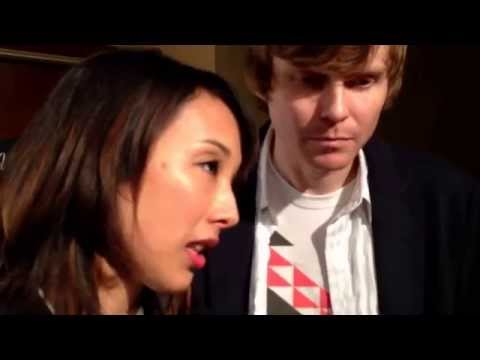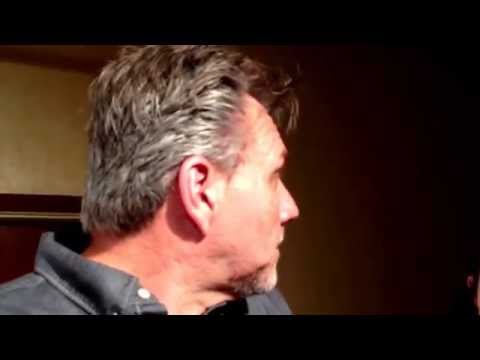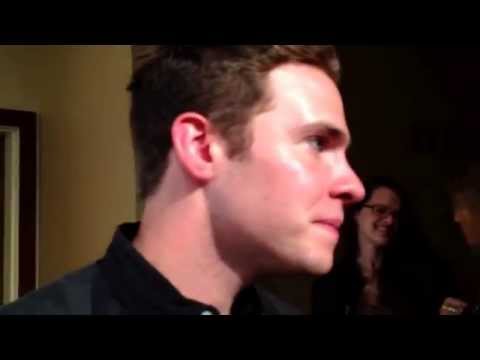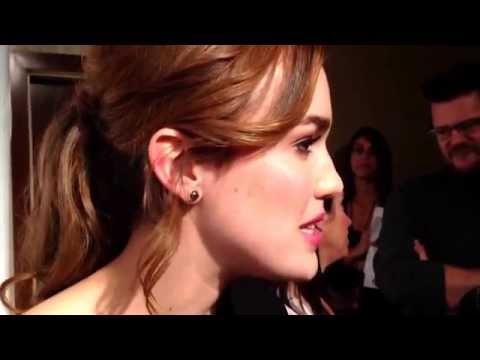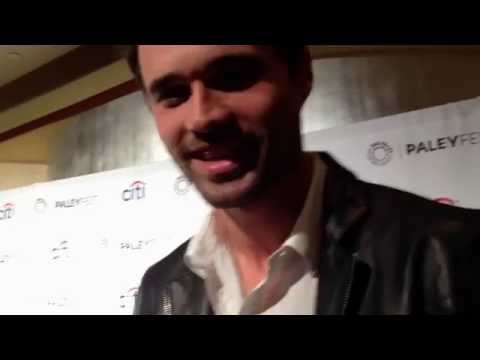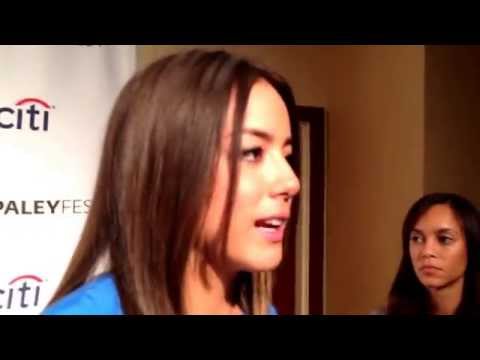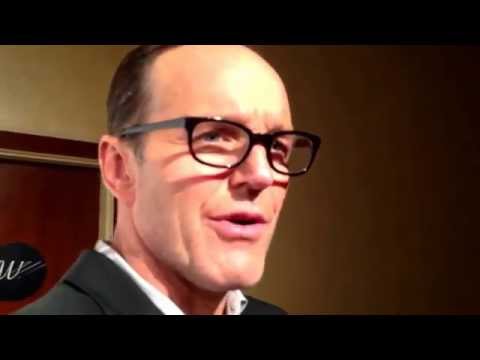 The Mad Monster Party returned to Charlotte this weekend, March 21-23, 2014, by far their biggest effort yet. This was the third year for the convention that celebrates everything from old school Twilight Zone to A House of 1,000 Corpses, and everything in between. In fact, where else could you find Leatherface himself, RA Mihailoff reciting the Bard with Shakespeare Carolina, while music legends The Misfits looked on? It was truly a bizarre weekend.
I had the great fortune to be invited by local independent film makers, Long Walk Productions, to hang with them at their vendor booth for the convention. This meant that my time was split between working the Con and also enjoying it from a visitor's perspective. It's interesting to see things from both sides of the house, especially if you want a clear impression of what is really going on around you. It's always a good thing, unless of course you are reviewing a restaurant. In that case, I assure you…stay out of the kitchen.
The Mad Monster Party (MMP) was set up between two large ballrooms at the University Place Hilton in Charlotte. The hotel is situated by a small lake, amongst many shops and restaurants all connected by small footbridge. Parking was a little tricky, but almost always is at events such as these. MMP utilized every bit of space that they could, lining the hallways of the hotel with various vendor booths and installing a gala tent in the parking lot. Everywhere you turned, strange collectibles and stars of the macabre awaited. Upon set up Friday, it seemed as though everything was planned to perfection. Little did I know how busy things were in the lobby with people trying to get through Will Call with their pre-paid ticket receipts.
And then, of course, came Saturday. Saturdays are notorious for being the busiest convention day because that's when most people are able to attend. It became evident quickly that the volunteer staff was not prepared to handle the situation. Social media began to explode with posts citing excessively long lines and ticketing issues among other things. Television and film star John Schneider, who was there to do a special screening of his new film Smothered, remained positive as he told me, "We had a good turnout [for the screening] but I wouldn't do it on a Friday night again, because I've had a bunch of people say that they couldn't get in last night because in order to see Smothered, they had to get in here first. And the line was too long, so by the time they got their ticket, Smothered was either already started or over." Aside from that snafu, Schneider seemed rather pleased with the rest of MMP.
That seemed to be the consensus all around. Nightmare on Elm Street's Heather Langenkamp, commenting on the amount of people waiting in line to meet her,  "It's something like I have never experienced." For the most part, vendors and celebrities were easily accessible, with no more than a 10 minute wait at any given time. But as Saturday progressed, maneuverability waned. Table lines grew wildly, specifically for William Shatner, Cassandra "Elvira" Peterson, and Corey Feldman. Traffic flow to the tables was not designated prior, so fans were coming at them from all sides. It was a complete cluster. Finally, someone had the sense to put some silver duct tape on the floor in front of Elvira's table to split the flow of traffic in either direction. Feldman told me, "I think it's [MMP] great, you know. It's probably the biggest one I've seen outside of [San Diego] Comic Con, that would be my guess."
Joe Moe, one of the three event organizers, was on hand throughout the weekend, talking to vendors, guests, and overseeing things first hand. I witnessed him assess a pedestrian traffic jam and quickly remedy the situation by addressing volunteer staff and guests. Having been on the working side of conventions before, I know how overwhelming things can become. Moe, always with a smile on his face, took it all in stride. "We're having some growing pains, yes. Ballpark, it looks like we're on track with 4-5,ooo in attendance, which is what we had hoped for." Moe also made sure to respond to comments on social media outlets throughout the weekend, which were not always positive, and address concerns in the best way that he could. "We're really responsive to fans."
Many of those fans had some downright horrible things to say in their posts. This is the first time that I have seen that level of response to a convention. Sure, I had issues with the event. For starters, the power went off twice in the ballroom leaving everyone in the dark for a few moments. The A/C was all but non-existent. There wasn't enough signage or a proper map laid out in their pamphlets to let guests know which celebs were in which ballroom, or to provide the location of any special panels (the tent in the parking lot, in case you were wondering). One of the actors, I won't name names, bumped into me at a water cooler. "I ain't seen a staff member in hours." He'd had to abandon his autograph table in order to get a drink of water because volunteers all but disappeared the more chaotic the crowd became. There were so many things that I witnessed–again, as both vendor and guest–that I would have done differently.
Certainly, there were cases where the venting was called for. If I'd pre-purchased tickets and still been subjected to a 3.5hr line to hand in the receipt, I would have been pissed! If my car had been lost by the valet (yes, that happened) the whole world would have known about it. But, the majority of the complaints were, in my opinion, blown out of proportion. I don't know anything about this Joe Moe or his colleagues. But what I do know, is that someone who is a fanboy at heart, got the idea to start a convention. A party by the fans for the fans. For everything that was wrong, so much of the weekend was right. Even Disney World gave me a headache (fast-pass my behind). But it was still one of the greatest vacations of my life.
That being said, let's consider the rest of MMP, shall we? One minute I'm discussing special effects make-up with the great Tom Savini, and the next, I'm cracking jokes with the likes of Richard Kiel and Dick Miller. There was a panel between WWF (yeah…I said it) legends Rowdy Roddy Piper and Hulk Hogan. Henry "the Fonz" Winkler was showing off children's books. Cherie Currie was chatting me up on the history of rock legends the Runaways. Corey Feldman used my cell phone. Megan Grant, a licensed cosmetologist and entrepreneur, was set up with her Get Dead Crew, providing air-brush and prosthetics to people, literally turning them into monsters on site. There was karaoke in the hotel bar Saturday night. I laid down the boogie and played that funky music til they died. Or at least until the Misfits' Dr. Chud cracked up laughing at me. The highlight of my weekend at MMP was Saturday night at midnight, when an estimated 1,000 guests piled into the gala tent to watch a screening of the Rocky Horror Picture Show, featuring a spectacular shadow-cast troupe called That Type from Charlotte's Cinebarre, and featuring the film's stars Barry Bostwick, Patricia Quinn and "Little" Nell Campbell. RHPS historian, Larry Vizel was on hand to film and conduct interviews for the upcoming 40th anniversary documentary Rocky Horror Saved My Life. It was an historical evening. In her second year attending with her family, Roseana Matthews found a "Golden Ticket" in the "Monsta Bar" she had purchased. The chocolates were a monster mock up of the famous Wonka Bar, with 6 lucky winners being upgraded to RIP status.
I guess the point that I'm trying to make, is that people need to lighten up. Unless something truly horrible happened to you or someone you care about as a direct result of something at a convention, you're problem isn't as big as you're making it out to be. MMP is, as Moe said, experiencing growing pains. In 3 short years, the event has grown exponentially. Given their celebrity guest list, perhaps they should have considered a different venue. This is an event that is convention center worthy, crammed into a hotel. In order to make up for the overcrowding (which, according to local news, had the attention of the Fire Marshall), organizers will need to carefully consider where they set up next year. Or at least, reconsider the amount of vendors in the halls (many in wheelchairs had difficulties navigating) or alter the layout. Volunteer staff could be better trained. But this is how it is done, honestly, trial and error. As an event organizer, you try to prepare for every possible scenario you can imagine and you train your staff based on that. Without fail, something unexpected will always crop up; being short handed, celebs that cancel, ticketing issues, photo-op issues, and so forth. Conventions should be looked at as viable organisms, growing and changing and evolving. They will never be able to please all fans all the time. But they will certainly try. Year to year, they'll try.
And it's important for MMP to learn from their mistakes and move forward a little more prepared next year. For every celebrity guest I interviewed raved about how much fun they were having and how they couldn't wait to come back. Celebrating all that scares us excites our film heroes, too. "Your first scare is the most important one you have," said Langenkamp, admitting that the Flying Monkeys from the Wizard of Oz is what started it all for her. Dick Miller laughed, "I've very rarely been scared by movies…except for something Shirley Temple did." Barry Bostwick had other ideas, "You wanna know why I do this? I do this to talk to lovely people like you and to oogle the girls. I just sit here and watch the girls go by." Thanks, Barry.
All in all, in spite of a few hiccups–some preventable, some not–I think Mad Monster Party was a huge success. It is a relaxed environment where you get to hang out with the celebrities, rather than being separated from them like at some other conventions. Between the few panels that they had, the movie screenings, and the Rocky Horror reunion, it was definitely worth the ticket price for anyone who attended. Even though I did my fair share of mumbling and complaining throughout the weekend, I will admit, as a fan I am grateful an event such as this has been put together. I hope that, in time, other fans will learn to appreciate what all goes into putting on an event of this size and what they got to experience over all. I'm looking forward to seeing what 2015 brings for the Mad Monster Party!
Photos courtesy of Garrett Marks and Walker Bait Productions, unless otherwise noted.
Thousands of colorfully dressed fans flocked to Kansas City, MO this past weekend to party and meet their heroes. And there were also comic convention-goers! While the fans of Iowa State and Baylor University were in town to cheer on their teams in the Big 12 tournament, many fans of comics, cosplay, and science fiction were at the convention center for Planet Comicon!
This was my first visit to this convention, even to the Midwest, but I still had an idea of how big the con would be. The promoters had a stellar line-up of comic creators including writers Scott Snyder (Batman), Jason Aaron (Amazing X-Men), Greg Rucka (Lazarus), Cullen Bunn (Wolverine), and Frank Tieri (Deadpool) and artists like Darwyn Cooke (New Frontier), Tim Sale (Captain America: White), Jill Thompson (Beasts of Burden), Dave Johnson (100 Bullets), Don Rosa (Uncle Scrooge), and many more.
One of the highlights of the show was meeting hip hop icon Darryl "DMC" McDaniel (1/3 of the groundbreaking rap group Run-DMC). He was in town promoting his latest venture, Darryl Makes Comics. A self-avowed comic nerd, DMC spoke at length during his signings and his panel about how he connected with comic books growing up, particularly Marvel titles as many were set in New York City. He even told a story about he and his brother selling off their beloved collection of comics at age 14 in order to purchase his first turntable set. His new line of comics will be treasury sized set in a universe in which DMC is only the first superhero to debut. With prominent industry creators such as Damion Scott, Ron Wimberley, Greg Pak, Dexter Vines, and more on-board, DMC assures fans that his comics will be created with integrity and a love of the medium.
Another big draw for Planet Comicon this year was a Star Trek: The Next Generation reunion. While the crowds were too big on Saturday and Sunday to catch all of their panels, I was able to sit in on Marina Sirtis (Counselor Troi) and Michael Dorn's (Lt. Worf) on Friday afternoon. Sirtis told the audience that the rest of the cast gets very nervous whenever she does a convention in the Midwest because she's very outspoken politically. Then she launched into a tirade against Obamacare detractors while Dorn tried to get her back onto the subject at hand. They fielded Q&A from the crowd and told many stories from behind the scenes of the show, which Sirtis described as being "like kindergarten at recess." One fan asked about the connection between TNG and the Disney animated series Gargoyles, in which Sirits voiced lead villain Demona and Dorn recurring character Coldstone. Dorn said that the producers were fans of TNG but still made everyone audition. Sirtis described Demona as being much closer to her actual personality than the demure Counselor Troi.
Growing up the only reason I even started watching TNG was because Levar Burton was the host of my favorite kids' show, Reading Rainbow. Having missed out on his panel, I decided to purchase an autograph. When I introduced and explained how much Reading Rainbow had meant to me, Burton replied by saying, "Colin, would you like a piece of gum?" holding up a pack of Extra. A fan ahead of me had given him a bag of goodies (candy, toys, hand sanitizer, etc.) and at first I demurred stuttering that I already had gum. "Are you sure?" he asked, "It's the classic bubblegum flavor." That's when a woman behind hissed, "What are you, stupid? Take the gum!" I realized that that this was a unique opportunity and thanked Burton for the pack. Naturally he signed the photo, "Colin, Enjoy the gum!"
All in all, this was a really fun convention. The organizers are to be applauded for getting a great list of guests and smoothly running a large con. I honestly have no qualms or criticisms to offer. Thanks to Ben & Jeni Defeo for showing me around the city (and then some) and my travelling partners Randy House and Christian Miller.
On March 7th, the Mondo Gallery in Austin, TX featured a fantastic exhibition of classic and modern Disney films captured brilliantly by some of today's top pop culture print artists! With fans waiting in line as early as Tuesday afternoon, over 300 fanatic fans showed up to take part in this amazing show. While the show may be closing, the remaining prints will go on sale tomorrow at the Mondo Tees website! And now, here are some pictures showing off the gorgeous artwork!
Nothing's Impossible, the title of Mondo's Disney show!
The line of chairs that stayed outside for days prior to the show.
Aaron Horkey's Ratatouille regular and variant prints!
Olly Moss' Jungle Book!
Brandon Holt's Jungle Book stole the show!
Martin Ansin's Beauty and the Beast regular and variant editions!
Kevin Tong's Up and Wall-E prints!
Jason Edmiston's beautiful trio of villain paintings gracing the walls of the Mondo gallery.
Phantom City Collective's The Skeleton Dance print!
Francesco Francavilla's The Black Cauldron print!
JC Richard's Peter Pan, Tiny Kitten Teeth's 101 Dalmatians, Rich Kelly's The Sword in the Stone, and Dave Perillo's Winnie the Pooh!
Finding Nemo, one of Tom Whalen's 4 prints for the Disney show!
Ken Taylor's Alice in Wonderland in sandwiched between 2 more Tom Whalen prints. Don't miss these on tomorrow's online drop!
Press Release:
Comic Enthusiasts witnessed and experienced a convention of International Standards
Mark Waid, an Eisner Award-winning American comic book writer, known for his work on Marvel Comics' Captain America and David Lloyd, a British comics artist best known as the illustrator of the story V for Vendetta along with other renowned International personalities are attending 4th Annual Indian Comics Convention
Comic Con India partnered with the Charles M Schulz Museum to bring a special Inside Peanuts: The Life and Art of Charles M. Schulz exhibit to India for the 4th Annual Indian Comic Con
Tinkle Magazine was honoured with a Special Award, for its over 30 years of contribution to Indian comics and graphic arts
Catch the legendary Pran Kumar Sharma, Creator of Chacha Chaudhary on Feb 9, Sunday, receiving the Lifetime Achievement award by Comic Con India
Highlights:
Kids and adults dressed as their favourite comic, superhero and gaming characters.
Workshops with creators, artists and writers of popular comics and graphic novels.
New Exclusive Book Launches took pace
Over 100 Participants-brought local, national and international content
Merchandise from across the world
Sessions with Leading Artists, Writers & Publishers from India & Abroad
New Delhi, February 7' 2014 – The Day 1 at 4th Annual Indian Comics Convention organized by Comic Con India received a great response from fans from across all age groups. Delhi's audiences seemed overwhelmed while witnessing a convention of international standards. The convention which started today will be on at Capital's Thyagraj Stadium (INA), till February 9' 2014. Spread across 50000 Sq foot of area, this year the comics convention is divided into 3 zones – (i) Experience zone (ii) Exhibitor zone and (iii) Food court.
The first day of the fest saw a special session with Mohammad Faisal, the Creator of the insanely popular comic strip, "Garbage Bin". There was also an interactive session with the team of Kuru Chronicles.
There were 5 exclusive book launches, 9XM launched their new and exclusive merchandise and Zee Cafe presented the special screening of the Hit TV Show "House of Cards".
Also, one of the major and most interesting attraction at the Indian Comic Con is Inside Peanuts: The Life and Art of Charles M. Schulz exhibit. The exhibit has been shipped in exclusively for visitors at the convention takes the visitors through the journey of Peanuts & Charles M Schulz over the years.
Fans who come dressed as their favorite comics characters always steal the show. And this year as always, COSPLAYERS are grabbing tons of prizes under these 5 categories created to increase one's chances of winning gifts. Each day, one winner is being chosen from each of five categories:
1. Comic book/graphic novel
2. Animated Series/Movie
3. Manga/Anime
4. Sci-Fi/Fantasy
5. Gaming
All 3 days, One lucky winner out of the chosen 5 wins A GOLDEN TICKET TO NEW YORK COMICS CONVENTION 2014, with a VIP ticket to the event!!
"We are extremely happy with the kind of response we are getting at the 4th Annual Indian Comics Convention from fans, artists, writers and participants all together. We are seeing everyone having a wonderful time taking part in the variety of interactive sessions. Cosplayers are having a gala time getting their pics clicked with audiences ", shared Jatin Varma, Founder, Comic Con India.
This year, Comic Con India Awards also took place at the convention itself. 3rd CCI Awards honoured the work of the professionals of India's Comics Industry with nominations in 8 categories. Tinkle Magazine was honoured with a Special Award, for its over 30 years of contribution to Indian comics and graphic arts.
Increasing the presence of International content at this convention is a highlight. There are International Exhibitors like 2000AD, british comics publisher best known for its Judge Dredd series; Toynk.com; Marvel & Image Comics By Diamond Book Distributors; Knockabout; Fanfare; Comixology, World's largest digital platform for comics bringing international content from all across the globe.
Mark Waid, an Eisner Award-winning American comic book writer, known for his work on Marvel Comics' Captain America and David Lloyd, a British comics artist best known as the illustrator of the story V for Vendetta along with other renowned International personalities are attending 4th Annual Indian Comics Convention. You can also catch the legendary Pran Kumar Sharma, Creator of Chacha Chaudhary on Feb 9, Sunday, receiving the Lifetime Achievement award by Comic Con India.
The main participants of 4th Annual Indian Comic Con are Amar Chitra Katha, Orange Radius, Abhijeet Kini, Pop Culture Publishing, Random House, Campfire Graphic Novel, Holy Cow Entertainment, HarperCollins Publishers, iComics, DC, Vertigo & Kodansha Comics By Random House India, Viz Media by Simon & Schuster India, Blaft Publications, Chariot Comics, Scholastic India, Meta Desi Comics and more!!
Comic Con India is dedicated to creating unique events and giving the fans, exhibitors and partners a platform to celebrate their undying love and passion for comics & pop culture. Comic Con India is dedicated to expanding India's popular culture by creating high profile events that cater to fans of not only comics, but also, gaming, movies, television, merchandise, toys & more.
=========================================
This year, Comic Con India Awards also took place at the convention itself. 3rd CCI Awards honoured the work of the professionals of India's Comics Industry. List of Awards and the winners which were announced today –
Best Comic Book/Graphic Novel – Gandhi: My Life Is My Message, Campfire Graphic Novels
Best Penciller/Inker/Penciller-Inker Team – Naresh Kumar for Julius Caesar, Campfire Graphic Novels
Best Colorist: Yogesh Pugaonkar for Ravanayan Finale Part 1, Holy Cow Sachin Nagar, Vijay Sharma & Pradeep Seravat for Gandhi: My Life Is My Message, Campfire
Best Cover: I am Kalki, Book 3, Vimanika Comics
Best Writer: Jason Quinn for Gandhi: My Life Is My Message, Campfire
Best Continuing Graphic Series: Mos Queeto, Tinkle Digest
Best children's illustrated book – the story & the songs, karadi tales
Best children's writer: – soyna owley, the magic of hobson-jobson, penguin
Tinkle Magazine was honoured with a Special Award, for its over 30 years of contribution to Indian comics and graphic arts
Catch the legendary Pran Kumar Sharma, Creator of Chacha Chaudhary on Feb 9, Sunday, receiving the Lifetime Achievement award by Comic Con India
Two years ago, my knowledge of anime was limited to three facts: (1) it was made in Japan, (2) the characters had weird hair and eyes, and (3) my daughter was obsessed with it. She would emerge from her room after a weekend binge, hair wild, eyes bloodshot–looking like a character herself, actually–and I would think, "What does she see in those shows?"
Then I watched Fullmetal Alchemist, then Death Note, then Black Butler, and I thought, "OK, these are pretty cool." So cool, in fact, that I took my daughter to Ichibancon 3, my first anime convention, in 2012. We are now back from Ichibancon 5, held January 9-12 in Concord, NC, a suburb of Charlotte. It has grown a lot since our first year–bigger hotel, more dealers, more fans, and three days instead of two. Last year, for instance, there were 2-3 arcade games in the hallway. This year, a room was devoted to Street Fighter, Technika 3, Versus City, Dance Dance Revolution Extreme, Guitar Freaks, and about a dozen Playstations and Xbox 360s.
There were also more guests than before. J. Michael Tatum, Bryce Papenbrook, Cherami Leigh, Jad Sexton, and Chuck Huber all had Q & A sessions following by autograph signings. I sat in on Bryce's Saturday Q & A, which had about 100 attendees in a ballroom that seated nearly 400. Respectable, but not great. Afterward, five or six people left, and about 300 streamed in. Soon cosplayers were standing against the walls and out the doors, waiting for the weekend's headliner, Vic Mignogna.
Vic is the Johnny Depp of anime. I had seen him at previous conventions, and each time I was amazed at how good he was with fans. He talks to them like old friends, lets girls hug him, and signs anything you wave in his face. In his Q & A, he showed the energy and improv skills of a young Robin Williams. Someone asked him–they always ask him–for his advice to aspiring voice actors, and it was this: (1) get as much experience as you can acting, (2) move to one of the best cities for voice actors–Los Angeles, New York, Houston, Dallas, or Vancouver–and (3) find a way to feed yourself. (Voice actors don't exactly make it rain.)
Ichibancon was fun, and I was glad to see it growing. In March, I am headed to Winston-Salem to the Triad Anime Con, which is operated by the same company, Nostalgiaconventions. Maybe I'll see you there!
On Saturday January 25, 2014 the Charlotte MiniCon returned to the Grady Cole Center. With over 2,500 guests in attendance, comic book lovers of all ages came out to enjoy the day. Admission to MiniCon was free as always, though a donation of a non-perishable food item (even pet food) was encouraged. Five tons of food, in fact, was collected for the Second Harvest Food Bank, a local non-profit organization.
The MiniCon was founded by Shelton Drum in January of 1977. In 1980, Drum would go on to found Heroes Aren't Hard To Find and the annual Heroes Convention, which is also held in Charlotte. Said Drum, "We did the MiniCon for a while and then focus shifted to Heroes. But we brought it back in 2007 and it has been growing bigger ever since."
Founder Shelton Drum
The convention focuses primarily on comic books, highlighting the writers and artists that bring them to life. One such writer, David Pinckney, traveled all the way from Atlanta, Georgia to attend the single-day MiniCon. "I actually found out about it on Convention Scene's website!" said Pinckney. He was there promoting his comic book, No West to Cross, which is the story of a female gunslinger, "…the first cowgirl in the wild west." Interestingly enough, though published a year ago, Pinckney has never met any of the artists associated with his work. "I utilized websites like Pencil Jack and Digital Webbing to find artists to work with. "I have team members located in Nebraska, Florida; it's pretty cool."
Artist John Hairston, Jr. works on a portrait at MiniCon.
Someone else who drew a sizable crowd was gallery artist, John Hairston, Jr. from All City Studios. "This is my favorite environment," said Hairston. "I'm among my people, if you know what I mean?" Hairston has been working conventions for 12 years. Painting free-hand on canvas at the MiniCon, he claimed he always knew he wanted to illustrate comic books, yet his work crosses the line into fine art. "I get a lot of commissions from a Con like this." I, for one, could have stood and watched him paint all day!
Amberle Linnea and Kristin Jann Fischer.
It's no secret that the cosplay scene in Charlotte is very impressive. Characters of every kind lined the stage at the Grady Cole Center to register for the costume contest, while Charlotte cosplay legend DJ Spider played that funky music. Fan favorites included Kristin Jann Fischer, who looked positively painted into her Black Widow costume, even going so far as to adopt a spot-on Russian accent as she chatted up the other guests as Natalia Romanoff. Amberle Linnea wowed the room with her homemade rendition of Hunger Games character Effie Trinket. Painstakingly piecing together over 1,000 tiny butterflies–including those on her eyelashes and body–Linnea laughed, "You should have seen me trying to ride in the car on the way over here. This dress doesn't bend!" That's dedication.
Charlotte MiniCon 2014
All in all, it was a fun day. The Grady Cole Center had plenty of upper deck seating for those needing to take a break. They also had a concessions booth set up in the lobby. Charlotte MiniCon was a shopper's paradise. We know of various sports' seasons, wedding season, award season and so forth. For me, the annual Charlotte MiniCon each January is a fantastic way to kick off my "convention season" of the new year. Up next for Shelton Drum and his crew will be their annual 3-day Heroes Convention June 20-22, 2014.
Photos courtesy Garrett Marks
On November 23-24th, 2013, the Long Beach Convention Center was home to the 5th annual Long Beach Comic and Horror Con! Usually held around Halloween, this show was pushed back to late November, making this one of the final comic cons of 2013! In addition to the date change, they also got rid of the Friday evening show and I believe it was the right call. Saturday was booming, with lines going out the door and a steady flow of patrons all day long! Sunday slowed down quite a bit and while still a lot of foot traffic, not enough spending.
With the usual talent of comic creators attending Long Beach, including mainstays of LBCC Amanda Conner, Jimmy Palmiotti, Whilce Portacio, Tim Bradstreet, and Todd Nauck, joined by special guests Gene Ha, Carlos D'Anda, Marc Silvestri, Mark Texeira, Art Thibert, Andrew Robinson, Mark Waid, and several other awesome comic talent, LBCC did close out the 2013 con year nicely.
While Comic Cons seem to be growing every year, it seems harder and harder for each show to bring something new. I did love the fact that there was an awesome car display in the front of some of the most famous cars in pop culture, along with a lot of retailers in prominent display at the show. One thing also appreciated was that comics were far more emphasized than pop culture stars, and that's one thing I always do appreciate at LBCC. Hopefully next year, they'll bring over the bigger hitters in comics to really close the year with a bang. Star power does draw more crowds, and I for one would love to see LBCC thrive and succeed for the next 5 years and beyond. And now, onto some photos!
A line forms inside the convention hall on Saturday morning.
Artist Alley is bustling in the morning.
An awesome array of pop culture cars. But it's not complete without…
The Batmobile. Chicks dig the Batmobile.
Gene Ha and his awesome banner graces LBCC.
Amanda Conner signs her Harley Quinn for eager fans.
Mark Waid signing for eager fans.
Mark Texeira signing comics for fans.
Todd Nauck's list is currently closed.
Richard Friend showing off his portfolio to customers.
Alex Sinclair working on a commission at LBCC!
Tim Bradstreet sketching for fans.
Andrew Robinson selling the graphic novel of 2013, The Fifth Beatle!
Carlos D'Anda wants you to buy his art!
And now, onto some cosplayers!
A new meaning to the term robot chicken.
Iron Man and Tony Stark gracing the hall floor.
Why so serious?
Black Cat crosses your path!
I asked why they were at LBCC, but they said I needed level 7 clearance.
Power Girl flexing her muscles!
This kid is making me go crazy!
I am worthy of Mjolnir!
Kid cosplayers are so darned cute!
Pull my finger.
Best costume of the show!
Lance Henriksen is greeted by a friendly alien. Don't miss more incredible moments at LBCC 2014!
On November 1st-3rd, 2013, the Los Angeles Convention Center was home to Stan Lee's Comikaze Expo! After an extremely successful first year, the guest list was even better, the show moved from the parking lot to the main floor, and even added an extra day to maximize the con! Although it was primed to be better than ever, the show this year was a bit flat compared to the previous year.
The show floor seemed a bit out of sorts, with artist alley scattered all over the place, and it lacked the charm of the first show. Friday also didn't seem to work out for the expo, as it was mostly empty. The crowds were definitely better during the weekend, but still lacked the excitement of the inaugural show. It was still a good show, with some cool panels and some great guests, but I think the appeal with the groupon deal last year was a huge part in why families flocked to the show. And I think Friday isn't necessary in LA, especially when people have to battle Friday and Laker game traffic. I'm looking forward to next year's Comikaze to get better as they adjust to the growing pains of a new show, and know that the best is yet to come!
Now, on to some photos!
Welcome to Comikaze 2013!
What good is Stan Lee's Comikaze Expo, without the man himself? Here he is signing autographs!
"
A shot of the special stage reserved for the main panel!
"
Have you seen Eee vah?
"
An awesome Masters of the Universe display!
"
The Aspen booth set up and ready to go!
"
Nerd Machine representing at Comikaze!
"
One of the best exhibits at Comikaze. Old school arcades and video games!
"
Fan favorite artist Marc Silvestri interacting and signing for fans.
" alt="" />
Spiderman artist Humberto Ramos drawing one of his many commissions during the show!
"
Who you gonna call He-Man?
"
Ecto 1 was the coolest car on display….
"
… Or was it???
"
Thor and Iron Man 2 exhibits!
"
Along with Iron Man armors from all 3 movies!
"
If you're tired, take a seat next to Iron Man!
"
Artist Noa drawing live at Comikaze!
"
Comic Book Men strike a pose! A never ending line all show!
"
John Romita Jr. greeting his long line of fans!
"
But not long as the line for Bruce Campbell!
And now, onto some cosplay pics!
"
So shiny.
"
WHERE IS THE PRINCESS???
"
Awesome dark helmet.
"
Battle of the Planets!
"
Amazing Poison Ivy and Harley Quinn!
"
Go go Power Rangers!
"
Game Over.
"
April O'Neill posing with the TMNT book from IDW!
"
Links Unite!
"
Where's Bebop?
"
You have failed this city!
"
Six shooter.
"
Got a light?
"
Are we in the new movies?
"
Pretty awesome Wolverine and Rogue!
"
Cutest cosplayers of the show!
"
The best costumes of Comikaze!
"
Stay classy Los Angeles! See you next year!
The first ever, and hopefully annual, Walker Stalker Convention was held this weekend (Nov. 1-3, 2013) at the Atlanta Convention Center at Americasmart in Atlanta, Georgia. The convention was the brain child of Walker Stalker podcast hosts, Eric Nordhoff and James Frazier. The WSC brought in around 10,000 visitors. Not too shabby for their first at-bat.
I would like to give a big round of applause to everyone who had a hand in this event. There were a few minor hiccups, as can be expected at any convention. I heard a few grumblings about the lack of limitations at autograph tables (apparently, a guest at Andrew Lincoln's table had an obscene amount of items to be signed. A limit was later enforced as a result), and also some comments about the celebrity panels being conducted in a different building. Celebrity schedule conflicts are unpredictable and not the fault of any convention personnel. It's all in how they handle such surprises. Guests like Emma Bell and Lauren Cohan, unfortunately had to cancel. Norman Reedus had to cut his Sunday appearance in half. And Andrew Lincoln could only appear for one day. However, Lincoln and Reedus stayed long after they were supposed to on Saturday evening, and didn't leave until all fans in their queue had received and autograph. Class acts! Personal con experience and all things considered, those were indeed minor hiccups.
From the creators to the volunteers, you did a fantastic job this weekend, and I am grateful to have been given the opportunity to be a part of it. On behalf of Convention Scene and Walker Bait Productions, job very well done! Thank you!
The WSC featured more than 40 celebrity guests, including almost every member of The Walking Dead cast, as well as nearly 100 vendor booths. The vendors ranged from comic and toy collectibles to an on-site tattoo shop. A special VIP Meet & Greet and Zombie Bash were held on Saturday evening, along with a private concert featuring Emily Kinney, "Beth" on The Walking Dead. The WSC even provided a "Virtual Queue" for those who did not want to spend all day standing in line for autographs. You simply checked in at the Virtual Queue booth and when it was time for you to actually get into a celebrity line, a member of the volunteer staff would send you a text message. The concept reminded me of the "Fast Pass" access at Walt Disney World. Still, I chose to get the full experience, replete with eavesdropping and people watching, by standing in every line I could. Even with the wait time, the volunteers kept everything moving smoothly and efficiently. No complaints here.
Each celebrity guest that I spoke to had very positive things to say about WSC. "This Con is unique because of the focus on The Walking Dead and zombie culture," said actor Daniel Thomas May ["Allen" on The Walking Dead]. "There are just so many cast members and spectacular fans. You know, we use the hashtag on Twitter #TWDFamily for the The Walking Dead Family, and that's what this whole weekend has felt like. We're all just a bunch of family and it's so great."
Andrew "Drone" Cossan, who has done illustrations for LUCASFILM and TOPPS, was on hand at Marc Draven's Ink-Fusion Tattoo booth creating custom designs for guests looking for a permanent WSC souvenir. "I can crank out some pieces very quickly," he said. "It's easy to make con fans happy because you are giving them a character that they like and want." When asked about his WSC experience, Drone said, "It's been quite a trip. Compared to other cons, I am very impressed with the overall organization. They've been very accommodating and good about checking in on vendors and talent to make sure that everything is going smoothly and our needs are being met. And that's a good sign."
While I did have an opportunity to meet Greg Nicotero, one of my personal highlights was speaking with a different member of zombie culture royalty, the lovely Judith O'Dea. For the uninitiated, O'Dea portrayed the iconic "Barbara" in the film that started it all, George Romero's 1968 classic The Night of the Living Dead. "I have had an absolute ball," she gushed. "At the time, none of us who were a part of the film had any idea the effect it would have [on pop culture] and I am just in awe that we really were, and are a part of what has become The Walking Dead. And I would like to say how grateful I am to the fans for their long time support.  It's hard to believe, but it is all so exciting."
Crissy Thomas, founder of fan site BitchinDixons.com met up with other Bitchin Dixon members who had traveled from near and far to meet Norman Reedus, "Daryl" on The Walking Dead. And for those members who couldn't make the journey, Crissy collected gifts, cards, and letters that they had shipped to her and presented them to Reedus on their behalf. Thomas hopes to have even more Bitchin Dixons attend next year.
Did you hear that, Walker Stalkers? The fans and guests have spoken. It's time to start preparing for next fall! Congratulations.
The following images are (c)WalkerBaitProductions ** Additional images, including celebrity panels, can be found by visiting the Walker Stalker Con Flickr site.