Boston Comic Con is excited to welcome JEWEL STAITE to our 2014 convention n August 8th – 10th! Jewel Staite is best known for playing Kaylee Frye, the cheerful ship's mechanic, on Joss Whedon's beloved space western series Firefly. Jewel made her feature film debut reprising the role in 2005′s Serenity. Since then she has gone on to portray Dr. Jennifer Keller on Syfy's Stargate: Atlantis alongside fellow Boston Comic Con guest Jason Momoa. Jewel has also held roles on series including The Killing, State of Syn, Animism, The L.A. Complex, and Space Cases. Furthermore she has made appearances on several genre shows like Supernatural, The X-Files, and Warehouse 13.
Previously announced guests include Jason Momoa, James Marsters, Eve Myles, Simon Bisley, Amanda Conner, Adam Kubert, Danielle Corsetto, Carlos Pacheco, Jimmy Palmiotti, Eric Powell, Gail Simone, Stan Sakai, and many more!
For the full guest list plus artist alley, exhibitor, and film fest registration please check out the Boston Comic Con website!
Online ticket purchases are available at the link! Tell your friends!
About Boston Comic Con:
The Boston Comic Con is a 100% independently run comic book show committed to bringing the biggest and best comic creators to New England. Run by fans for fans, Boston Comic Con is not affiliated with any other convention tour or corporate interests. Hosting over 120,000 square feet of vendors selling comic books, toys, posters, trading cards, and other pop culture memorabilia, this is a destination event for geeks of any stripe. Next year's convention will be held Friday August 8th, Saturday August 9th and Sunday August 10th at the Seaport World Trade Center, 200 Seaport Blvd, Boston, MA 02210. For more information please go to our website at www.bostoncomiccon.com and follow us on Twitter (@BostonComicCon) and Facebook!
Via DC Comics:
Enter for a chance to win two 4-day passes to San Diego Comic-Con® 2014 which includes the preview night, airfare vouchers for two, and a hotel to stay at in San Diego, California!
To enter, watch this week's episode of DC All Access, fill out the form answering all 3 questions correctly, and click "submit" by Monday, April 28 at 10:00am PST.
Watch DC All Access every week for 12 chances to win.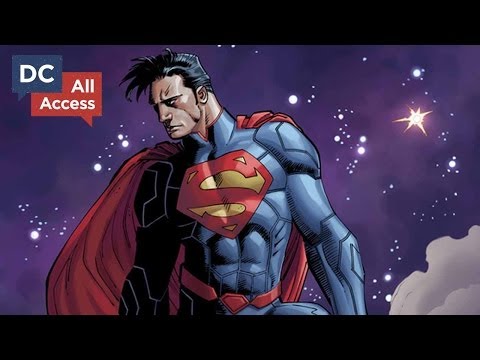 Press Release:
Jacksonville Show Has Balls!
Jacksonville, Florida's Retr-O-Rama Collectibles Show has balls, the shiny silver flying kind with razor sharp tines! When the vintage pop culture show returns on Sunday, February 9 to the Ramada Conference Center in Mandarin they won't just be sponsoring the largest show its kind in North Florida, they will also be bringing cult film director Don Coscarelli in from Los Angeles, CA, for his first ever show appearance in Florida! Coscarelli is best remembered for his Phantasm film franchise whose four installments date back to 1979 and feature those aforementioned nasty metallic spheres that do the bidding of the nefarious "Tall Man". The California director, who also helmed the 80's sci-fi fantasy The Beastmaster, pitted Elvis against a murderous mummy in Bubba Ho-Tep in the 90's, and most recently was responsible for the art house hit John Dies at the End in 2012, won't be alone. Joining him on the guest list are English actress Suzanna Leigh who starred in films for venerable Hammer Studios and opposite the real Elvis in Paradise Hawaiian Style in 1966, and Michael Weldon, author of the 1983 fanboy bible The Psychotronic Encyclopedia of Film.
As if this impressive guest list were not enough, they have taken over the entire conference center and filled it with over 8000 square feet of nostalgic goodies. Vendors will be set up from all over Florida, Georgia, and the Carolinas with an eclectic line up of all things pop culture. Inside the multiple dealers areas you'll find everything including action figures, Barbie dolls, movies posters, board games and a whole lot more. "We get a little bit of everything at these shows" says promoter Dan Tuchmann, "so there is something for everyone from the hardcore collector to the casual browser". Retr-O-Rama shows are family friendly events that offer fun and nostalgia for those who want to relive their childhoods, purchase unique gifts, or even reclaim that childhood treasure that mom threw away when you moved out! It's all here under one air conditioned roof, rain or shine.
The retro-rangers at Retrorama Collectibles have a few more tricks up their sleeves too. For this show they have enlisted some help from the dark side in the form of Squad 7 of the 501st Legion. Don't be surprised if you see Imperial Stormtroopers patrolling the halls of the convention center or even an appearance by the dark lord himself! They will be available for photo ops with guests throughout the day. At 2PM there will be a very special onsite collectibles auction sponsored in conjunction with Emerald Auctions of Jacksonville. Some cool and unique items will be offered up for sale and a portion of the proceeds will go to benefit the Children's Miracle Network. Auction preview and registration will begin at 1PM.
If you just can't wait until Sunday to get your nostalgia fix then head to Latitude 30 on Saturday, February 8 for a little something the Retrorama gang likes to call Throwback Theater! The entertainment complex's luxury dine-in theater will be host to a double creature feature screening for the whole evening. First up it's Hammer's The Lost Continent at 6PM followed by a Q&A with star Suzanna Leigh. Then at 9PM it's the original Phantasm followed by a visit with director Don Coscarelli! This theater has a full menu including adult beverages so you can enjoy dinner while you watch the movies. The film screenings are $20.00 each or $35.00 for a VIP double feature pass.
Whew, what a wacky weekend for lucky film and collectibles fans in Jacksonville! The main event starts at 10AM on Sunday at the Ramada Convention Center at 3130 Hartley Road. A special show preview will be offered at 9AM for diehard collectors and those who just have to have the best selection of bargains. Door prizes and extra surprises will be going on throughout the day until 4PM. General admission is $10.00 per adult and includes one free admission for children 12 and under. Additional child admissions are only $2.00 each. For more information or to purchase tickets for the show or screening, check out the Retrorama website at www.jaxretrorama.com, follow them on Facebook at Pop Retrorama, E-mail retrorama66@aol.com or really go old school and call (904) 880-4281. There's nothing else like this celebration of nostalgia that's fun for the entire family so don't miss it!
Press Release:
ORLANDO MEGACON – Look What's Happening
MegaCon, the largest comic book, anime, gaming and multi media event in the southeastern U.S., begins announcing guests for the 2014 show. MegaCon will take place March 21 -23, 2014 at the Orange County Convention Center Hall SB in the North/South Building in Orlando, FL.
Confirmed comic book guests include:
J. Scott Campbell, Frank Brunner, Neal Adams, Bill Sienkiewicz, Mark Waid, Ron Marz, Greg Land, Michael Golden, Dennis Calero, George Pérez, Brandon Peterson, Amanda Conner, Jimmy Palmiotti, Cully Hamner, Karl Story, Renee Witterstaetter, Billy Tucci (20th anniversary of Shi) and Brian Pulido (15th anniversary of Lady Death), Nick Bradshaw, Adam Kubert, Dan Jurgens, Mike Miller, Joshua Ortega, Digger, Bart Sears, Ethan Van Sciver, Mike McKone, Frank Tieri, Mike Mayhew, Chuck Dixon, Skottie Young
Confirmed media guests include:
Walking Dead – Lauren Cohan, Steven Yeun, David Morrissey, Beth Kinney, Sonequa Martin-Green
Torchwood – John Barrowman, Eve Myles, Burn Gorman, Gareth David-Lloyd
Torchwood animated series, Buffy the Vampire Slayer, Angel, Dollhouse – Eliza Dushku
Buffy the Vampire Slayer, Angel, Torchwood – James Marsters
Smallville – Michael Rosenbaum, Allison Mack, John Glover, Laura Vandervoort, Aaron Ashmore
Napolean Dynamite – John Heder
Battlestar Galactica – Richard Hatch, Dirk Benedict, Herbert Jefferson, Anne Lockhart
Star Wars – Peter Mayhew, Tom Kane
Comic Book Men – Mike Zapcic, Ming Chen, Bryan Johnson
Star Trek, Big Bang Theory – Wil Wheaton;
Voice Actors:
Rob Paulsen, Jim Cummings, Quinton Flynn, Phil LaMarr, Rich Horvitz, Vic Mignogna, Jennifer Hale
You won't want to miss Comos
First time ever official MegaCon Friday evening Dance for 18+ only
Costume Contest – Drinks – Dancing
Spectacular Laser show & visuals by Empire Visuals
Nelson Flux – Evolv 3
Hosted by Nick Wolfe
$10 – Friday evening from 9pm – 11:30pm
Introducing: The Ghost of the Robot Band with James Marsters – Saturday evening performance $20 in advance $25 at the door.
Other events include: MegaCon video gaming and the Supercon 2K series provided by National Video Gaming Association and Vibras Five.One, RPG, LARP, card and miniature gaming events, children events provided by the Skiffytown Heroes, Speed Dating, anime events, belly dancing, Indy Film Festival, movie trailers screening room, Saturday evening dance, late night adult only dance, and professional panel room.
Thanks to our sponsors: 101.1 WJRR, The am 740 Game, 104.1 Real Radio, Certified Guaranty Company, Central Florida Mensa, Students of the Unusual
The MegaCon guest list is constantly growing. Check www.MegaConvention.com frequently for more updates.
MegaCon 2014
Orange County Convention Center
Orlando, Florida
March 21st – 23rd
Contact Info: info@megaconvention.com or www.megaconvention.com
Press Release:
Eisner Hall of Famers Neal Adams, Mike Mignola, Marv Wolfman, Stan Lee Among Top Comics Creators At Wizard World New Orleans Comic Con, February 7-9
Mike Zeck, Humberto Ramos, Carlos Pacheco, Eric Powell Also Among Most Decorated Artists, Writers At Pop Culture Festival At Ernest N. Morial Convention Center
NEW ORLEANS, January 28, 2014 – Eisner Award Hall of Famers Neal Adams ("Batman," "Green Lantern"), Mike Mignola ("Hellboy," "The Avengers"), Marv Wolfman ("DCU Online," "The New Teen Titans") and Stan Lee ("Spider-Man," "X-Men") headline a roster of nearly 150 comics creators scheduled to attend Wizard World New Orleans Comic Con, February 7-9 at the Ernest N. Morial Convention Center. The all-star lineup also includes such notables as Mike Zeck ("Punisher," "Secret Wars"), Humberto Ramos ("Amazing Spider-Man," "Impulse"), Carlos Pacheco ("Captain America," "Superman"), Eric Powell ("The Goon," "Buffy"), Chris Claremont ("Uncanny X-Men," "Daredevil") and many others.
In all, six Eisner Award winners and five other nominees will populate the show floor, for one of the most decorated Artist Alleys ever in New Orleans. Local favorites like Eisner winner Rob Guillory ("Chew") and Kody Chamberlain ("Sweets," "Punks") will also be prominent at the fourth annual event.
Fans will also be excited to meet other special guest creators such as Bob Layton ("Iron Man," "Valiant Comics"), Dustin Nguyen ("Batman Beyond Unlimited," "American Vampire") Pere Perez ("Birds of Prey," "Action Comics"), Phil Ortiz ("The Simpsons," "Muppet Babies"), Arthur Suydam ("Marvel Zombies," "Army of Darkness"), Greg Horn ("Marvel: War of Heroes" iPhone app, "Guardians of the Galaxy"), Michael Golden ("Hulk," "Batman"), Tyler Kirkham ("Action Comics," "Superboy"), J.G. Jones ("Green Lantern Corps," "Before Watchmen"), Robert "Corpsy" Rhine ("Girls and Corpses Magazine," "My Brain Escapes Me") and Joe Eisma ("Morning Glories," "Existence 3.0″).
Celebrities attending New Orleans Comic Con include Norman Reedus, Steven Yeun, Jon Bernthal and Michael Rooker of "The Walking Dead," Matt Smith ("Doctor Who"), Robert Englund ("Freddy Kruger" of A Nightmare on Elm Street) and John Ratzenberger ("Cheers," Toy Story). It is the second of 16 events currently scheduled in the 2014 series produced by Wizard World, Inc. (OTCBB: WIZD) and will also feature a variety of activities, exhibitors and special attractions.
Wizard World Comic Con events bring together thousands of fans of all ages to celebrate the best in pop-fi, pop culture, movies, cosplay, graphic novels, comics, toys, video gaming, television, sci-fi, gaming, original art, collectibles, contests and more. Wizard World New Orleans Comic Con show hours are Friday, Feb. 7, 3-8 p.m.; Saturday, Feb. 8, 10 a.m.-7 p.m., Sunday, Feb. 9, 11 a.m.-5 p.m.
A first-class lineup of topical programming takes place all three days at the event, with celebrity Q&A's, comics-themed sessions, costume contest, movie screenings, evening parties and more. Sunday, Feb. 9, is also Kids Day, with an array of activities and programming especially designed for the younger Wizard World fans.
New Orleans Comic Con is also the place for cosplay, with fans young and old showing off their best costumes throughout the event. Fans dressed as every imaginable character – and some never before dreamed – will roam the convention floor, often stopping by the Show Stage, the ideal place to see and be seen.
For more on the 2014 Wizard World New Orleans Comic Con, visit http://www.wizardworld.com/home-neworleans.html.
About Wizard World
Wizard World (OTCBB: WIZD) produces Comic Cons and pop culture conventions across North America that celebrate graphic novels, comic
books, movies, TV shows, gaming, technology, toys and social networking. The events often feature celebrities from movies and TV, artists and writers, and events such as premieres, gaming tournaments, panels, and costume contests.
The full event schedule can be found at www.wizardworld.com.
Wizard World 2014 Schedule
February 7-9 – Wizard World New Orleans Comic Con
March 7-9 – Wizard World Sacramento Comic Con
March 28-30 – Wizard World Louisville Comic Con
April 4-6 – Wizard World St. Louis Comic Con
May 2-4 – Wizard World Minneapolis Comic Con
May 30-June 1 – Wizard World Atlanta Comic Con
June 19-22 – Wizard World Philadelphia Comic Con
August 1-3 – Wizard World San Antonio Comic Con
August 21-24 – Wizard World Chicago Comic Con
September 12-14 – Wizard World Richmond Comic Con
September 26-28 – Wizard World Nashville Comic Con
October 2-4 – Wizard World Austin Comic Con
October 31-November 2 – Wizard World Ohio Comic Con
November 7-9 – Wizard World Tulsa Comic Con
November 21-23 – Wizard World Reno Comic Con
Press Release:
Super Star Artist Greg Horn to attend Steel City Con
Pittsburgh — Orangestone Promotions, Inc., promoters of the Pittsburgh based convention called the Steel City Con (http://www.steelcitycon.com) is celebrating 25 years as Pennsylvania's largest toy, comic book and pop culture show on April 11-13, 2014 at the Monroeville Convention Center with special appearances from classic TV and movie celebrity guests. The Steel City Con is known for bringing rare celebrity signing appearances and photo opportunities into the Pittsburgh market.
Steel City Con attendees will be excited to know that a major talent in the comic book industry will be attending the upcoming Steel City Con. Greg Horn, a professional artist, is known for his work in Marvel, DC Comics, Zenescope, Image, Top Cow and many others. In addition to Greg Horn's appearance fan will also have a chance to meet celebrity guests like Lee Majors. Mr. Majors will be headlining the upcoming show. Lee Majors is best known for his roles as "Heath Barkley" in the TV series The Big Valley and as "Colonel Steve Austin" in The Six Million Dollar Man. Majors will be autographing photos and items for fans as well as providing photo opportunities. Fans will be especially excited to participate in a Celebrity Q & A sessions and have a chance to ask Lee Majors and other celebrities attending the show questions of their careers. Joining Mr. Majors will be Cindy Williams ("Shirley" from Laverne & Shirley); Brent Spiner ("Data" from Star Trek: The Next Generation); Lou Ferrigno (TV and film actor from roles in the TV series King of Queens and especially The Incredible Hulk); Dermot Crowley ("General Madine" from Star Wars); Femi Taylor ("Jabba the Hutt's slave dancer Oola" from Star Wars); Parker Stevenson (TV and film actor known for his roles in Baywatch and The Hardy Boys/Nancy Drew Mysteries); Mackenzie Lintz ("Norrie" from Under The Dome and the "Tribute Girl District 8" from the Hunger Games). Bruno Sammartino and George "The Animal" Steele (WWE Legendary Hall of fame wrestlers). Many more guests to be added.
Attendees can also expect to participate in many planned activities. An official costume contest, celebrity Q & A sessions, panels, charity auctions and official sanction tournament gaming. Get your picture taken with your favorite Star Wars characters with special participation from the official Star Wars costuming organization. Fans can also meet and talk comics with many comic book artists, illustrators and writers.
Attendees can expect to see hundreds of vendor tables selling millions of toys, comic books, diecast, Anime, action figures, dolls, statues, G.I. Joe, Star Wars, Star Trek, posters, artwork and much more. The Steel City Con offers attendees one of the biggest shows in the United States at an affordable price. With vendor space offered at a low cost dealers are able to sell their items to attendees for much less than conventions that charge a huge amount of money for dealer space. Anyone interested in finding out more about the Steel City Con can go to http://www.steelcitycon.com
Via Toucan Blog:
The Wait is Over: Preregistration is Coming!
Comic-Con International 2014 badge preregistration will begin shortly after 9:00 AM Pacific Time (PT) on Saturday, February 8. The EPIC Registration landing page will open at 7:00 AM PT for registration code entry.
An email with additional information has been sent to all eligible attendees. If you are eligible to participate in preregistration and did not receive your email, please check your SPAM folder first and allow 4 – 6 hours for email batch processing before contacting Comic-Con through the "Contact Us'" feature in your Member ID account.
Remember, the EPIC landing page will be open for two full hours for registration code entry. You do not need to arrive at 7:00 AM to participate and there is no advantage in arriving early. For additional details, check out our previous Toucan registration blog post or click here to visit our 2014 Preregistration page.
The creator/writer/producer of Community will be attending the Florida Supercon this July.
Press Release:
The 4th Annual Indian Comic Con is back and this time it's bigger than ever! February, 2014 will witness a never before seen celebration of comics in India, which will feature the some of the most exciting names in International and Indian comic book industry including Mark Waid, Fábio Moon, Gabriel Ba, John Layman, and David Lloyd! Spread over an area of 50,000 sq.ft of awesomeness at Thyagaraj Indoor Stadium, Delhi is gearing up to host the coolest & most exciting comics and pop culture event of the country.
Follow us on Twitter, become a fan of our Comic Con India page on Facebook for instant updates and added information!
SPECIAL GUESTS:
MARK WAID
Mark Waid has written a wider variety of well-known characters than any other American comics author, from Flash to Superman to the Justice League to Spider-Man to Archie and hundreds of others. His award-winning graphic novel with artist Alex Ross, KINGDOM COME, is one of the best-selling comics of all time.mark weid
FÁBIO MOON & GABRIEL BÁ
Multiple Eisner Award winners Fábio and Gabriel were born in São Paulo in June 5th, 1976 and have, in one way or another, been telling stories ever since. They are best known for their works, The Umbrella Academy and Casanova & are both Eisner Award winners. Ba & Moon have collaborated on numerous projects like 5, PIXU, Daytripper, among many others.
JOHN LAYMAN
Once an editor for Wildstorm, a branch of DC Comics, Layman turned to writing comics full-time in 2002 and mainly writes for Marvel Comics. He has also worked on several comic books based on pre-existing licenses such as Xena: Warrior Princess, ThunderCats, as well as crossovers like Marvel Zombies vs. The Army of Darkness[1] and Army of Darkness/Xena: Why Not? He is best known for his creator-owned title, CHEW, with artist Rob Guillory for Image Comics. He is currently writing Batman for DC Comics.
DAVID LLOYD
David Lloyd (born 1950) is a British comics artist best known as the illustrator of the story V for Vendetta, written by Alan Moore. He was one of the artists on the graphic horror anthology Wasteland for DC Comics with writers John Ostrander and Del Close. Lloyd has also worked on Hellblazer, with writers Grant Morrison and Jamie Delano, and War Story, with Garth Ennis, for DC; and Global Frequency, with Warren Ellis, for Wildstorm. With Delano he drew The Territory for Dark Horse Comics, where he also worked on some of their licensed properties such as Aliens and James Bond.
Press Release:
The POP CULTURE EXPO comes to the Shriners Auditorium in Wilmington Mass. Memorial Day Weekend, Saturday and Sunday, May 24 and 25 as a celebration to all forms of popular culture including a Comic Con and Collectibles Extravaganza, featuring Cosplay, Costume and Videogame Competitions for Cash Prizes, Celebrity Guests, Panels, Autographs, Screenings, Animation and Anime, plus 150 vendors of Vintage and Modern Toys, Comic Books and Pop Cultural Artifacts.
If you love movies, television, comic books, science fiction, horror, art, fantasy, music, toys, animation, collecting, celebrities, autographs, magazines, posters, jewelry or just having a fun day with the family, the POP CULTURE EXPO will be the place to be for the Holiday Weekend.
This Fan Convention is produced by Gary Sohmers, who created and produced the successful Collectibles Extravaganzas in the 20th century, and he brings new technology to enhance the event, and relieve the long lines of fans waiting for autographs.  Gary is also well known as the appraiser of Pop Culture for 13 seasons on the PBS TV program "Antiques Roadshow," along with producing over 1000 concerts and 150 consumer/fan events like this.
A low admission fee of only $15 per day, or $25 prepaid online for a two-day pass, is perfect for collectors to shop the vendors' booths along with families, fans, nerds, geeks and photographers who just want to come to the event to dress up in costumes, play video games or to see and be seen.
Celebrities will be attending to sign autographs in person, which may be the only way to know that they are authentic, along with panels on pop culture subjects and genres.  There will be fees for autographs and photographs with the celebrities. Celebrity fees will vary, and will be posted online in advance.
Pete Best, original drummer for The Beatles, Actress Rae Dawn Chon, Jon Provost from "Lassie" and Mark Goddard of "Lost In Space" are the first guests announced to appear with many more to come.
IMAGE Meet and Greet Personalized Autograph Experiences called "Video Op" will be available to capture the signing of your autograph with video for authentication and to allow the fan to be in the video with the celebrity when they sign the autograph.  And if you cannot attend due to geography and still want a video recorded personal autograph experience you can order online at http://www.imagemeetandgreet.com/events.
Purchasing autographs and tickets in advance is the best way to avoid standing in long lines. Many autograph experiences and panels will sell out in advance.
Each panel room holds only 150 people so the audience can be close and personal with the celebrities and panelists.  Panels and Screenings will be announced in advance on the website.  These reserved seats will be included with VIP and Conventioneer Packages and while supplies last will then be offered individually priced from $5 and up.  Unfortunately, there may be disappointed fans as these will sell out.  The celebrities, panels and screenings will be announced on the website as soon as they are confirmed.
Attendees can win prizes and cash in contests at the Pop Culture Expo. There will be costume contests with cash and show money prizes including children's, teens and adult categories. Pop culture Expo is proud to announce a new attraction, the Create-A-New-Superhero contest, where contestants compete in costumes but they are back story is the most important part of winning. With cash prizes and the audience will vote for the winners.
Game Underground of Framingham MA, will be organizing and operating the Video Game Area with contests in fighting and racing games with cash prizes and "show money" prizes which can be spent with the vendors on the show floor.  Top experts from around the country will compete in front of a live audience and online audience.
Since our event does not take place at a hotel, we have a lot more room for Cosplay, Contests, Vendors and Fun.  We will be offering several options from our host hotels, which are all within 8 miles of the venue. We will have shuttles going back and forth between the hotels and the Shriners Auditorium all weekend.  There is plenty of FREE PARKING around the venue and we will have shuttles taking people back and forth from the far ends of the lots also.
Other Fan and Conventioneer activities will be taking place at our host hotels including Friday Night May 23 Banquet Dinner with the Stars and a Pop Culture Party that includes an Adult Costume Contest with Prizes and live entertainment. Saturday May 24 activities at the hotel include Banquet Dinner with the Stars and a Pop Culture Party that includes an Adult Costume Contest with Prizes and live entertainment.  Sunday May 25 includes a Breakfast with the Stars.
Each Banquet and Breakfast will involve 9 lucky fans sitting with each celebrity, along with autographs from, and pictures with, the celebrities at the meal. VIP and Conventioneers get first choice of Meals, and table placement, based on date of reservation.  Celebrity meal availabilities will be announced by email and online.
Vendor spaces are available for dealers who sell pop-culture items, antique and collectible toys, authentic memorabilia, accoutrements of the nerd or geek lifestyle, anime and animation artwork and toys, comic books and art along with a large variety of out of the ordinary. Consumers expect to buy items they can't get locally, so specialized exhibitors will be chosen to satisfy every collector or fans needs.
The schedule of events will be posted online and continuously updated at www.PopCultureExpo.com, along with ticket information and autograph opportunities. For further information, or to apply for vendor space, contact Gary@IMAGEMeetAndGreet.com or wexrex@aol.com.