Press Release:
Fan favorite and self described "Writer of Stuff" PETER DAVID will be making his very first trip to the Long Beach Comic Con on September 17 & 18, 2016 at the Long Beach Convention Center!
We've wanted to have Peter as a guest for quite some time and we're happy to say he had the room in his busy schedule to join us for the 2016 LBCC!
A prolific writer Mr. David's work include a beloved twelve year run on The Incredible Hulk, as well as runs on Aquaman, Young Justice, and X-Factor. His TV work includes Babylon 5, Young Justice, and Ben 10: Alien Force. And then there's his many, many novels that include movie film adaptations, media tie-ins, and original works.
Right now a Weekend Pass for LBCC 2016 is just $50!
Saturday tix are $30 and Sunday is $25! Ticket prices will go up at the end of June, so don't miss your chance to save! Kids 10 & Under get in FREE with a paid adult. Limit 2 children per paid adult.
Click Here to get your tickets now!
About Long Beach Comic Con:
Long Beach Comic Con is an annual event held at the Long Beach Convention Center each fall. It's a celebration of comic books and pop culture that showcases the exceptional works of talented writers, artists, illustrators and creators of all types of pop culture. At Long Beach Comic Con you'll find exhibitors promoting and selling all types of related products, as well as entertaining and educational programs, guest signings, and meet & greet sessions with celebrities. Long Beach Comic Con is a production of MAD Event Management, LLC. Visit www.longbeachcomiccon.com for additional information.
HeroesCon has released their panel schedule for this weekend's convention:
THURSDAY JUNE 18th
Kick-Off Party with Milkfed Criminal Masterminds
Decade of Casanova Art Exhibition
7PM Buffalo Wild Wings NASCAR Hall of Fame

FRIDAY JUNE 17th

2:00 pm
Room 201/202
SCAD WORKSHOP I: COMIC BOOK STORYTELLING – a CRASH COURSE!
SCAD PROFESSOR TOM LYLE gives you a rousing workshop that highlights the basics of comic book storytelling. He'll help you find your own voice through pictures. Just like the big guys.
2:00 pm
Room 203A
MATT KINDT
What's MATT KINDT been up to? Quite a lot and Adam Daughhetee (Dollar Bin Productions) talks to this busy creator about Dept H, Mind MGMT and much, much more!
2:00 pm
Room 207AB
Comic Book Women Presents: STRESS AND THE FREELANCER
Being your own boss can be great, but the responsibilities and stress can be enough to send you hightailing back to the office. Never fear–you can be a successful freelancer and learn how to manage whatever comes your way. Join Comic Book Women's panel of savvy pros for tips on everything from scheduling to ergonomics to building a community of other freelancers. Featuring MONICA GALLAGHER, MARISA LOUISE, KATA KANE, JESSI JORDAN, and more!
2:00 pm
Room 206
SELF PUBLISHING
CHRIS BRENNAMAN (Owner/Operator of AtlantaGeekScene.com) sits down with a group of creators who really walk-the-walk and have gone into business for themselves: JIM RUGG (Supermag), JASON GONZALEZ (La Mano Del Destino), RYAN CECIL SMITH (Style and Fashion Zine), and RICHIE POPE (Newdini).
2:00 pm
CONVENTION FLOOR-COSPLAY STAGE-HALL C
Cosplay and Charity
A discussion of the various ways cosplayers are giving back to the community, and proving that heroes sometimes really do wear capes.
Panelists: Cherlyn Lambeth, Michael Cox, DJ Spider
2:30 pm
Room 208
SIXTH GUN 50TH ISSUE CELEBRATION
Come celebrate the Golden Anniversary of one of the best comics of the past decade. Moderator CHRIS SCHWEIZER (Crogan Adventures) sits down with creative team supreme CULLEN BUNN and BRIAN HURTT.
3:00 pm
Room 203B
QuickDraw—A HeroesCon tradition
We give you #2 pencils and Bristol board; you give us 20 minutes and your feverish inspiration. Then we have an Art Instructor judge the results and we, in turn, give the winner some fabulous prizes. It's a win-win. Prizes are awarded for 1st, 2nd, and 3rd place in the following age categories: 0-10, 11-15, and 16 to 99. The Quick-draw is held on all three days, so we need those pencils back!! Be there!
3:00 pm
Room 209/210
Let's Make a Hero!
Everybody loves a hero – they're the characters you root for and the people you want to be. Award nominated duo COMFORT and ADAM, with special guests panelists RON MARZ and BRIAN SCHIRMER lead this panel in two parts: first, you'll learn what makes great heroes in both writing and in art. Then, the panelists will invite the audience to participate in creating a new hero which will be designed and
drawn live.
3:30 pm
Room 203A
INTROVERT VS EXTROVERT
Featuring ERICA HENDERSON, BRIDGIT CONNELL, MONICA GALLAGHER, KATA KANE. Creators can lead a solitary life so what's it like when they jump into the big comic convention scene or start promoting their work? Hear tales of their struggle and ultimate success as they wade through the comic landscape. Presented by JIMMY AQUINO of COMIC BOOK INSIDER
3:30 pm
Room 206
REN AND STIMPY
MIGHTY YOUNG JOE RAUCH sits down with legendary animator BOB CAMP to celebrate the cartooning genius that is REN AND STIMPY. Hard to believe ol' Stinky is 25 years old and still missing!
3:30 pm
Room 207AB
THE ART OF COVER PAINTINGS
Greg Matiasevich (Multiversity Comics) and (Artist Proof with) Adrian Johnson land the primo gig of sitting down with three of the greatest Cover Illustrators around: BILL SIENKIEWICZ, SCOTT HAMPTON, and BASIL GOGOS. WOW!!!!
4:00 pm
Room 201
SCAD WORKSHOP II: CHARACTER DESIGN-DESIGNING UNIQUE CHARACTERS
If you've ever wondered what makes us love our favorite superheroes, sci-fi rogues, and anime champions this workshop will delve into the process of what makes them so effective. Using examples from Star Wars to Adventure Time we will explore just how important it is to have a clear story/concept when you're creating these heroes and villains. Everything from color choice, to posture, and powers should reinforce this storytelling foundation. This workshop will analyze what works and teach how to create or enhance your own characters. Instructed By Professor Rashad Doucet (Oni Press, USA Today, Invader Zim, Alabaster Shadows).
4:00 pm
Room 203B
SUPERHERO PSYCHOLOGY: How Weakness, Trauma, and Loss is Turned into Strength, Service, and Resiliency
A group of psychologists from the staff of SOUTHEAST PSYCH explore common psychological issues that arise from superheroes and the relevance that superheroes can have on the lives of everyday people. From the staff of: JONATHAN ANSLOW, Psy. D, FRANK GASKILL, Ph.D., CRAIG POHLMAN, Ph.D., DAVE VERHAAGEN, PhD, ABPP
4:00 pm
Room 207CD
LGBTQ CULTURE IN COMICS
CAP BLACKARD (Nerdy Show) sits down with some of today's most exciting comic's talents BROOKE ALLEN, PAULINA GANUCHEAU, KEVIN WADA, KRIS ANKA, TAMRA BONVILLAIN to discuss the state of LGBTQ Culture in comics today and where it is headed in the years to come!
4:00 pm
Room 208
MARVEL HOUSE STYLE?!
BRIAN STELFREEZE, CHRIS VISIONS & SANFORD GREENE always defy expectations and categorization with their art and lately they've been bringing their unique gifts of style and storytelling to Marvel fans with brilliant work on books like Black Panther, Power Man and Iron Fist, Runaways, Spider-Gwen, and Scarlet Witch. Spend an hour with them and moderator Chris Arrant and hear how they got here!
5:00 pm
Room 206
WRESTLING AND COMICS
Join Referee CHRIS BRENNAMAN (Owner/Operator of AtlantaGeekScene.com) for a Battle Royal with wrestling comics' pros JASON GONZALEZ, ROBERT NEWSOME, KYLE STARKS, JB ROE, and EVAN DORKIN (better check him for foreign objects!). Brace yourself and watch that turnbuckle!!
5:00 pm
Room 209/210
INKWELL AWARDS
Celebrate 6 years of recognizing and awarding comic's finest inkers at HeroesCon
Joining our host BOB ALMOND and spokes-model MS. INKWELL:
A SPECIAL APPEARANCE BY JIM STERANKO! And guest speakers: creator MIKE GRELL and award-winning author J. DAVID SPURLOCK!  Surprise creator guests!  See the live results of who was chosen on last April's ballot as your favorite 2015 comic book ink artists! Who will enter the Joe Sinnott Hall of Fame? And the FIRST 20 non-member ATTENDEES will win a DOORPRIZE in a post-ceremony giveaway! Please join us!
5:15 pm
Room 208
DMC MEET AND GREET
Tickets available in lobby
5:30 pm
Room 201/202
COMIC REPRINTS– an In-depth look

This is Golden Age of Comic Reprints, but there is so much material published with more every Wednesday. ANDY MANSELL moderates an all-star panel CRAIG YOE (YOE! Books), CRAIG FISCHER (TCJ), MICHAEL EURY (Back Issue) and TOM HEINTJES (Hogan's Alley). We will look at this topic at length and discuss the following topics: Complete runs vs. BEST OF Collections, Paper vs. PDA, the importance of introductory materials, what deserves to be reprinted (and perhaps what doesn't) A MUST FOR ALL CLASSIC COMICS FANS!!!!
5:30 pm
Room 203A
HORROR COMICS ROUNDTABLE
Join Aaron Haaland (A Comic Show, Nerdy Show) as he talks craft with some of the best Horror comics' creators around. FRANK BARBIERE (Five Ghosts), JEREMY HAUN (The Beauty), DREW MOSS (Terrible Lizard), KYLE STRAHM (Haunt), DAVE WACHTER (Breath of Bones), and JOHN LEES (And then Emily was Gone).
5:30 pm
Room 203B
COLOR US LUCKY…
to have six great colorists on one panel LAUREN AFFE, LAURA MARTIN, CHARLIE KIRCHOFF, BRIAN REBER, MATTHEW WILSON, NOLAN WOODARD. Moderator Greg Matiasevich (Multiversity Comics) will keep order and keep the colorists within the lines.
5:30 pm
Room 207AB
BATGIRL IN TRANSITION

Adam Daughhetee (Dollar Bin Productions) talks to BABS TARR, RAFAEL ALBUQUERQUE, and BRENDEN FLETCHER with about the changing of the guard on everyone's favorite Batgirl.
I wanted to call it YvonneCraigslist, but cooler heads prevailed.
5:30 pm
Room 207CD
BERGEN STREET
Find out about this incredible Comics Collective: Shawn Daughhetee (Dollar Bin Productions) meets THE BERGEN STREET IRREGULARS: MICHEL FIFFE (Copra), TOM ADAMS (Bergen Street Comic Press), and CHARLES FORSMAN (Revenger).
7:00 pm— THE CON IS CLOSED FOR THE DAY, BUT THE FUN DOESN'T STOP!!!!
7:30 PM
HEROESCON'S DRINK AND DRAW BEGINS ACROSS THE STREET AT BUFFALO WILD WINGS / NASCAR HALL OF FAME!
BE A MULTI-TASKER: DRINK AND DRAW
COME CREATE SOME GREAT MEMORIES AND BUY SOME GREAT ART AND HELP US RAISE MONEY FOR TEAM CUL DE SAC AND PARKINSON'S SATURDAY
HURRY: ONLY ONE MORE SHOPPING DAY UNTIL FATHER'S DAY
SATURDAY JUNE 18th
11:00 AM
Room 203A
DR. STRANGE THROUGH THE DECADES
Join ROY THOMAS, FRANK BRUNNER, GEOF ISHERWOOD, and RICHARD CASE as they look back on four decades of the Sorcerer Supreme!
11:00 am
Room 203B
GET GRAPHIC AT THE LIBRARY
Graphic novels and comics are an important and popular literacy tool for the modern library. This panel will share the history of graphic novels at Charlotte Mecklenburg Library, the importance of the format with regard to literacy development and programs and materials offered for free at the library. We'll also discuss challenges aiming to remove graphic novels from library collections.
11:00 AM
Room 206
KEEPING UP WITH THE DORKIN-DYERS
Moderator JOE RAUCH sit down with EVAN DORKIN and SARAH DYER as they update us on BEASTS OF BURDEN, CALLA CTHULU, an upcoming episode of BEN 10(!) and lots more! Don't miss it!
11:00 AM
Room 208
SPOTLIGHT ON STERANKO
Legendary Agent of S.H.I.E.L.D. co-creator JIM STERANKO is interviewed by his partner in crime, award-winning author, J.DAVID SPURLOCK. Controversial topics include: The true Father of the graphic novel; why Captain America Winter Soldier is dedicated to Steranko who, has been called one of the 10 Toughest Guys in Comics; followed by the Flamingo Bar fight, motorcycles, death-defying escapes, redheads, Marvel, Spielberg and more. Don't you miss it, Pal.
11:30 AM
Room 201/202
SCAD WORKSHOP III: MINI-COMICS: A LITTLE FUN
Cartoonist and SCAD professor David Allan Duncan leads students young and old through the process of drawing, producing, and distributing mini-comics! Learn about the planning, storytelling, and drawing that goes into making a mini-comic. Create a mini-comic and a little sketchbook during the workshop. Materials provided, so come join the fun!
11:30 AM
Room 207AB
EDITORIAL ILLUSTRATION
Adam Daughhetee (Dollar Bin Productions) discusses the process of editorial illustration with four of the best: RICHIE POPE, REBECCA MOCK, NATALIE ANDREWSON, and CHRIS KINDRED.
11:30 AM
Room 209/210
LET'S MAKE A VILLAIN!
Creating great villains is essential for making great stories, whether you love their every appearance or just love to hate them. Award nominated duo COMFORT AND ADAM joined by DAVID PETERSEN and CHRIS SIMS lead this seminar in two parts: first, you'll learn what makes great villains in both writing and in art. Then, Comfort & Adam will invite the audience to participate in creating a new villain which will be designed and drawn live.
12:00 pm
Room 203B
Comic Book Women Present: COLORISTS-WHAT WE DO!
Join moderator ANDREA PURCELL as she talks to TAMRA BONVILLAIN (Wayward, Moongirl and Devil Dinosaur), MARISSA LOUISE (Escape from New York, Robocop), MARIA VICTORIA ROBADO (Jem and the Holograms, Littlest Pet Shop), and CHRISTINE BRUNSON.
12:00 pm
Room 207CD
MARVEL X-MEN
CAP BLACKARD (Nerdy Show) holds court with some of Mutant MARVEL's best. RAMON VILLALOBOS (E Is For Extinction), MARK BAGLEY (All New X-Men), CHAD BOWERS (X-Men '92), and MARCIO TAKARA (All New Wolverine).
12:30 pm
Room 203A
SEXY VS. SEXUALIZED
Several of today's most erudite comic creators tackle a challenging subject: the fine line between sexy and sexist in comic art. Join moderator MARGUERITE BENNETT and panelists KRIS ANKA, BABS TARR, KEVIN WADA, and JEN BARTEL for a provocative, mature discussion.
12:30 pm
COSTUME STAGE HALL C
(1:00 pm) – ANNUAL CLASS-PICTURE COSPLAY PHOTO
NOTE: If you plan to be in the picture, please be at the STAGING AREA ON THE CONVENTION FLOOR no later than 12:30pm
12:30 pm
Room 206
IFC (INDEPENDENT FABULOUS CREATORS)
These talented cartoonists work by their own rules and make fabulous comics. JOE RAUCH talks with JIM RUGG (Street Angel), TOM NEELY & KEENAN KELLER (The Humans), ALEXIS ZIRITT (Space Riders), AARON CONLEY (Sabertooth Swordsman) and RICH TOMMASO (Dark Corridor) to see what makes their work special.
1:00 pm
Room 201/202
PANEL BY PANEL
KEVIN COLDEN, MISS LASKO-GROSS, BOBBY TIMONY. Come join these great cartoonists as they draw YOUR story. Moderator Jimmy Aquino of Comics Insider will take story ideas from the audience and the artists will draw it live! Help create your own comic!
1:00 pm
Room 208
HIP HOP AND THE COMICS
CHRIS BRENNAMAN (Owner/Operator of AtlantaGeekScene.com) talks comics and Hip Hop with the music legend DMC, ED PISKOR (Hip Hop Family Tree), and SANFORD GREENE (Hip Hop Variant Sampler). This will be the one everybody is talking about all weekend. Come and enjoy!!
1:30pm
Room 203B
THE BIG OWLY HOOTENANNY
Join Owly creator ANDY RUNTON and his friends for an amazing hour of fun! We'll sing, craft, learn how to draw Owly, and listen to an Owly story. You don't have to be a kid to join, just young at heart!
1:30pm
Room 207CD
DEADPOOL
It's CULLEN BUNN, REILLY BROWN, and DOMO STANTON and it's moderated by – Aaron Haaland (A Comic Show, Nerdy Show). Stop reading and get over here now.
2:00pm
Room 203A
THE FUTURE OF VALIANT IS HERE!
Find out what summer 2016 and beyond hold for the most celebrated publisher in comics today as an all-star panel of Valiant creators and staff detail a brand-new wave of must-read titles! Featuring news and artwork from upcoming blockbusters like FAITH, GENERATION ZERO, BRITANNIA, HARBINGER RENEGADES, and SAVAGE, alongside 4001 A.D., DIVINITY, NINJAK, and more, join panelists MATT KINDT, LEWIS LAROSA, RAFER ROBERTS, and BRIAN REBER right here to find out what's coming next for Valiant.
2:00 pm
Room 206
ROMANCE COMICS—A CELEBRATION
Editor/Publisher extraordinaire CRAIG YOE! And his special panelists–comics' historians MICHELLE NOLAN, JACQUE NODELL and contemporary Romance practitioners JUNE BRIGMAN (Brenda Starr, Mary Worth) and MEGAN LEVENS (Ares & Aphrodite) — examine one of the richest and underrated genre in comics! Bring a lot of tissues or better yet—a squeegee!
2:30 pm
Room 201/202
SCAD WORKSHOP IV Drawing Dynamic Anatomy for Comics
Figure drawing is the single most important aspect of visual storytelling in cartooning and comics. Whether you are drawing super stylized images of fantasy characters, crime fiction detectives or superheroes, the ability to communicate through your figures is critical. Professor Dove will talk about and show you the different approaches to inventing dynamic figures based in correct anatomy for comics' application through several drawing demos. There will also be a Q and A period at the end of the demos to answer and demonstrate solutions to your specific figure drawing and anatomy questions.
2:30pm
Room 207AB
GREEN LANTERN—A CELEBRATION
CHRIS BRENNAMAN (Owner/Operator of AtlantaGeekScene.com) sits down with RON MARZ and DARRYL BANKS to discuss one of the most celebrated and entertaining eras for the Emerald Warrior(s).
2:30pm
Room 208
THE MILKFED CRIMINAL MASTERMINDS PANEL
Last year's HeroesCon marked the very first-ever Milkfed Criminal Masterminds Panel. Masterminds KELLY SUE DECONNICK and MATT FRACTION return with beloved collaborators including but not limited to VALENTINE DE LANDRO, GABRIEL BÁ & FÁBIO MOON — plus Milkfed managing editor LAUREN SANKOVITCH and Lt. Trouble, KIT COX. We'll talk current projects, what's new and what's upcoming for Milkfed. There will be giveaways
3:00pm
Room 203B
QuickDraw—A HeroesCon tradition.
We give you #2 pencils and Bristol board; you give us 20 minutes and your feverish inspiration. Then we have an Art Instructor judge the results and we, in turn, give the winner some fabulous prizes. It's a win-win. Prizes are awarded for 1st, 2nd, and 3rd place in the following age categories 0-10, 11-15, and 16 to 99. The Quickdraw is held on all three days, so we need those pencils back!! It's just like the 3D glasses.
3:30pm
Room 203A
STELA: DIGITAL COMICS FOR THE NEXT GENERATION
Digital comics are changing every day, and Stela is leading the digital revolution! Join the Stela team, along with superstar creators JEN BARTEL (Crystal Fighters), FABIAN RANGEL JR. (Santos), JASON COPELAND (Santos), and SARAH DYER (Calla Cthulhu) as they discuss the advantages of an infinite vertical scrolling digital format, and why comics optimized for your smartphone is the revolution that comics' fans have been waiting for.
3:30pm
Room 206
WRITING NOVELS IN THE MULTIVERSE
Comics, television, video games, and movies all have original novels being set in their rich and exciting worlds. For example, CLAY AND SUSAN GRIFFITH have written the first original FLASH novel that intimately ties in with the TV show, and crosses-over into their upcoming ARROW novel. Join them and their editor, STEVE SAFFEL of Titan Books, as they reveal the secrets of tying in with such exciting properties as ALIEN, INDEPENDENCE DAY, DISHONORED, PREDATOR, PLANET OF THE APES, MASS EFFECT, and more.
3:30pm
Room 207CD
SPIDER-GWEN, SPIDER-WOMEN & MEN
Oh, what a talented web they weave. Luckiest moderator ever JOE RAUCH gets to sit down with JASON LATOUR, ROBBI RODRIGUEZ, CHRIS VISIONS, VANESA DEL REY and STACEY LEE. There is talk of a RICO RENZI sighting too.
4:00pm
COSPLAY STAGE HALL C
Building a Superhero
Our panel of experts will tackle all aspects of a single cosplay costume, from planning to fabrics to props and the final reveal. If you've ever wondered how much work can go into a build, this is the panel for you!
Panelists: Riki LeCotey, Chris Donio, Sean Patton, Amberle Linnea, DJ Spider
4:00pm
Room 203B
ARCHIE 2.0
CHRIS BRENNEMAN (Owner/Operator of AtlantaGeekScene.com) talks with VERONICA FISH (Archie), FRANCESCO FRANCAVILLA (Afterlife with Archie), and ERICA HENDERSON (Jughead) about all the new things concepts happening at Archie, This is NOT your parent's Riverdale!
4:00pm
Room 207AB
MIKE GRELL
MICHAEL EURY (Back Issue magazine) sits down with MIKE GRELL the legendary writer/artist behind GREEN ARROW, JON SABLE: FREELANCE, STARSLAYER, WARLORD and so many more.
4:00pm
Room 209/210
CREATURES IMAGINED AND REAL
For this year's mega-panel, cartoonist BEN TOWLE and critic CRAIG FISCHER corral a host of talented creators to discuss the improbable animals (fictional and real) that stomp and slither through our favorite comics. Craig begins by presiding over a chat with GABRIEL BÁ and FÁBIO MOON about the elegant vampires, saddled bears, and Lovecraftian monsters they introduced to the Mignolaverse flagship title B.P.R.D. Then Ben presents the preliminary work he's done on his future graphic novel In the Weeds—and why he's chosen to draw his central characters as badgers, rhinos, bears, and other animals. Finally, librarian and Women Write About Comics contributor JENNIE LAW leads three world-class dinosaur artists—DUSTIN HARBIN, BUDD ROOT and WILLIAM STOUT—through a talk about the challenges and joys of drawing giant reptiles
4:30pm
Room 208
MARVEL-BEYOND THE AVENGERS
Moderators Cap Blackard (Nerdy Show) and Aaron Haaland (A Comic Show, Nerdy Show) return to MARVEL with special panelists: BEN CALDWELL (A-Force), RYAN STEGMAN (Inhuman), STEVE EPTING (Velvet), and JOE QUINONES (Howard the Duck).
6:00 pm CONVENTION FLOOR CLOSES
BUT THE ART AUCTION IS NOW OPEN—COME OVER TO THE WESTIN AND SPEND SOME HARD-EARNED SCRATCH ON SOME REALLY GREAT ORIGINAL ART. BIDDING BEGINS AT 8:00, BUT THE GAWKING (AND OCCASIONAL DROOLING) BEGINS NOW!!!!!
SUNDAY JUNE 19th
12:00pm
Room 201/202
SCAD WORKSHOP V: Storyboards: The Basics
You're watching one of your favorite films and an emotionally powerful scene begins playing. It's your favorite. You love how the main character gets their revenge/finally gets to eat dinner/saves the day. You think it's awesome how the final shot pulls out to reveal the hero standing on a cliff looking over the sea as the sun comes up over the cliffs behind him. Epic. End film, roll credits. What made that scene so great? Was it the music? The visuals? The camera moves? The composition and framing and precise rule of thirds so meticulously applied to the- hang on a second, what? Don't fret. SARAH MYER (BFA, MFA SCAD Sequential Art) is here to explain the challenges and storytelling potential of one of the most important aspects of film: Storyboarding.
12:00 pm
Room 203A
The 6th Annual INKING Panel
A peek behind the curtain of some of the industry's most respected professionals. Learn more about their origins, their process and what motivated them to become COMIC BOOK INKERS! Join us as we discuss the fine art of the fine line with KARL STORY (Thors) DEXTER VINES (Amazing X-Men,) MARC DEERING (Supergirl) WADE VON GRAWBADGER (Empress) WALDEN WONG (Guardians of Infinity) with Moderators: BRANDON PADGETT and TERENCE HOSKINS
12:00 pm
Room 203B
ALL AGES PANEL—A HEROESCON TRADITION!
CHRIS SCHWEIZER (of Crogan's fame) hosts. This year it is an all-star panel of first-timers to the All Ages including BROOKE ALLEN (Lumberjanes), ANDY HIRSCH (The Baker Street Peculiars), PAULINA GANUCHEAU (Another Castle), REBECCA MOCK (AT: Candy Capers), MATT KINDT, and BRIAN HURTT (Poppy and the Lost Lagoon).
12:00 pm
Room 207AB
ADAMS & SIENKIEWICZ
Moderator Greg Matiasevich (Multiversity Comics) sits down with two of comics' all-time great artists: NEAL ADAMS and BILL SIENKIEWICZ, This will be as enlightening as it will be entertaining.
12:00pm
Room 207CD
CRIME PANEL – happy noir year!
JOE RAUCH talks crime, dames, guns, double crosses, triple crosses and more with JUSTIN GREENWOOD (The Fuse), JOHN LEES (And Then Emily was Gone), RICH TOMMASO (Dark Corridor), CHRISTOPHER SEBELA, and IBRAHIM MOUSTAFA (High Crimes) and we know for sure somebody's gonna squeal.
12:00 pm
Room 208
'There's been a break in the continuum': The 10th Anniversary of CASANOVA.
CRAIG FISCHER sits down with the creative team of the Award-winning series CASANOVA!
Writer: MATT FRACTION, Artists: GABRIEL BA and FABIO MOON, and Letterman: DUSTIN HARBIN along with MILKFED managing editor LAUREN SANKOVITCH.
12:00 pm
Room 209/210
AFTERSHOCK
Launched in April 2015, AfterShock Comics is a comic book company that combines the creative edge of an independent comic book publisher with the strengths and experience of a traditional powerhouse. Featuring: RAY FAWKES, MARGUERITE BENNETT, JUSTIN JORDAN and FRANK BARBIERE.
1:30 pm
Room 203A
OMINOUS STUDIO
Meet the creators of Ominous Studio: BART SEARS, RON MARZ, ANDY SMITH, TOM RANEY as they discuss their plans for the future with moderator SEAN HUSVAR.
1:30pm
Room 203B
QuickDraw—A HeroesCon tradition.
We give you #2 pencils and Bristol board; you give us 20 minutes and your feverish inspiration. Then we have an Art Instructor judge the results and we, in turn, give the winner some fabulous prizes. It's a win-win. Prizes are awarded for 1st, 2nd, and 3rd place in the following age categories 0-10, 11-15, and 16 to 99. The Quickdraw is held EVERY YEAR, so we need those pencils back!! Be there!
1:30 pm
Room 207AB
LATOUR LIVE DRAW(L)
JASON LATOUR (Southern Bastards, Spider-Gwen, Loose Ends, Winter Soldier) shows everybody how it's done. Last year, this was the panel with the most buzz; this year—we have a vastly improved sound system.
1:30 pm
Room 208
NON-COMPLIANCE WITH TEAM BITCH PLANET
KELLY SUE DECONNICK, VALENTINE DE LANDRO, Milkfed managing editor LAUREN SANKOVITCH and Lt. Trouble, KIT COX. A LOT OF ANGRY WOMEN. Probably the most fun you'll have all year.
1:30 pm
Room 209/210
Teaching Comics Series: THEORY IN PRACTICE
ED PISKOR (Hip Hop Family Tree) and JIM RUGG (Street Angel) sit down with moderator Shawn Daughhetee as they talk about their experiences teaching comics. Piskor leads comics' workshops and boot camps around the world. Rugg is a faculty member at the School of Visual Art where he teaches classes in the MFA Visual Narrative program. They discuss instilling a foundation of comics' knowledge, encouraging growth and development, and working with the future of the industry. Get ready for a practical lesson in teaching theory!
2:30 pm
Room 201/202
THE COMICS CANON: RELOADED!!!! FIRE!!!!!
Comics are being studied in Colleges, High Schools and even Grade schools. Isn't it time to establish a CANON to have some basis of a standard reading list? Maybe, maybe not, but if so, WHAT belongs in the CANON? Heroes' own ANDY MANSELL will try to keep the peace between Academics ANDY KUNKA University of South Carolina Sumter, DEREK ROYAL University of Texas at Dallas, CRAIG FISCHER Appalachia State, CMS Librarian, MARK ENGLEBRECHT and our two favorite Editor/Publishers/ Historians CRAIG YOE and TOM HEINTJES. We tried this a few years ago and didn't get very far, but we had a lot of fun getting there. Join us, and plan to participate if you'd like. It's the perfect way to end a great weekend.
2:30 pm
Room 203B
FASHION IN THE COMICS
Nerdy News Network presents Fashion and Comics: A hero in a hoodie?! Leather jacket costumes?! Join TRAVIS GRIMM and COURTNEY FLANAGAN along with their special guest BRIDGIT CONNELL as they discuss fashion in comics and superhero costumes, and how they have also influenced fashion today in clothing brands and cosplay.
2:30 pm
Room 207CD
JEM AND THE HOLOGRAMS—AN APPRECIATION
Heroes' own KARLA MARSH and fellow Jem fanatic ROXANNE RISKY talk all thing JEM with JEN BARTEL and MARIA VICTORIA ROBADO.
3:00 pm
Room 203A
DYNAMIC WATERCOLOR DEMO
No more muddy watercolors! For those getting started in watercolors, TONY MOY will review some basic skills, techniques and tools to begin your journey.  A demo will cover creating a variety of washes, textures and lines all while creating a dynamic, hero related painting.  Bring your questions and enjoy the show!
3:00 pm
Room 207AB
LIVE COMIC PENCILLING DEMO!
Comics artists SANFORD GREENE (Power Man & Iron Fist, Army of Frogs) and BEN CALDWELL (A-Force, Prez) live-draw comics pages while discussing their processes, common storytelling concerns, tricks etc. page art from previous comics work will also be displayed on-screen and their development discussed. Questions from the audience throughout the demo are encouraged!
3:00 pm
COSPLAY STAGE HALL C
Cosplay Q & A
Curious about cosplay? Burning questions about the "right way" and the "wrong way"? Wondering if it's true that anyone can cosplay?  This annual panel is a great jumping off point if you're new to the hobby and also a chance to get re-inspired if you're starting to feel jaded.
Panelists: DJ Spider
6:00 pm CONVENTION ENDS
HEROES CONVENTION was founded in 1982 by Shelton Drum, owner of Charlotte's Heroes Aren't Hard To Find comics shop. Since then the convention has become famous for its comics-first and family-friendly atmosphere, where fans can mingle directly with professionals and exhibitors. Boasting an incredible guest list built mainly on reputation and goodwill, HeroesCon is known nationwide as a "must" on the summer schedule, drawing fans, exhibitors, and creators from all over the world to the Charlotte Convention Center.
Press Release:
A Special Appearance by Jim Steranko to Highlight the 2016 Inkwell Awards Ceremony at Heroes Con
(New Bedford, MA/USA—June 10, 2016) Results from the 9th annual Inkwell Awards will be presented at the inking advocacy group's 6th live awards ceremony this June 17-19 at Heroes Con in Charlotte, NC.  Eisner Hall of Fame award-winning creator Jim Steranko will be making a special appearance at the event.
"Graphic artist, comic book writer/artist, historian, magician, editor, publisher and film production illustrator….Jim is a modern Renaissance Man, globally recognized and respected in the sequential art medium for his epics and innovations in the field" said Bob Almond, the non-profit organization's founder and director.  "Having a legendary icon like him speaking on behalf of ink artists and the art form of inking is an immense honor."
The Inkwells have five categories: Favorite Inker, the "Props" award for under-recognized professionals, the S.P.A.M.I., for Small Press And Mainstream-Independent work, Most-Adaptable Inker and the "All-in-One" for the artist who inks his/her own pencil art. Thousands of voters visited and voted from April 15-30 at the group's website to show their support.
The awards ceremony is scheduled for Friday (not Saturday as in the past),June 17, 5:00 PM at the Charlotte Convention Center in room 209-210. In addition to Steranko, other speakers include host and presenter Almond, hostess Holly Black as spokesmodel Ms. Inkwell, legendary creator Mike Grell and award-winning author (and Inkwell special ambassador), J. David Spurlock. Announced with the award-winners will be the two recipients of the annual Joe Sinnott Hall of Fame Award and the second recipient of the Special Recognition Award.
Other attendees include Inkwell ambassadors Laura Martin and Mike McKone, plus contributor Enrica Jang. As an added bonus, the first 20 non-member attendees will receive a raffle ticket for an automatic door prize. After the event, every ticket holder will win a prize as explained at the ceremony.
Almond added, "Last year, with the change of day and the door prizes offered, we had our record-best attendance ever. We plan to repeat that winning combination, especially with Steranko's appearance."
The Inkwells will be set up in Artists Alley at table AA-521, offering for donations their new, fifth annual Joe Sinnott Inking Challenge book and plenty of other Inkwells merchandise to help raise much-needed funds. "We're immensely grateful to promoter Shelton Drum and the Heroes Con staff for supporting the community and giving fans an opportunity to learn more about and appreciate this often overlooked industry craft."
The Inkwell Awards (www.inkwellawards.com) is an official 501(c)3 non-profit organization whose mission is to educate the public and promote the art form of comic-book inking, as well as annually recognize the best ink artists and their work. Now in its ninth year, the organization is overseen by a committee of industry professionals and assisted by various professional ambassadors and numerous contributors. They sponsor the Dave Simons Inkwell Memorial Scholarship Fund for the Kubert School and host the Joe Sinnott Hall of Fame Award.
HeroesCon hosts a Kick-Off Party / Milkfed Criminal Masterminds Art Show at Buffalo Wild Wings on Thursday, June 16 from 7:00 PM till midnight! 100% of the sales of this limited edition Non-Compliant "Bitch Planet" inspired T-Shirt, along with 10% of the total sales of food and drink at Buffalo Wild Wings, will be donated to Equality NC to encourage tolerance and change in our government and society!
If you're planning to attend HeroesCon, be sure to stop by Buffalo Wild Wings on Thursday night and help make a difference!
This design will also be available as a "print-on-demand" Indie Island shirt at Fine Print Shoppe Booths 1010/1109 throughout the convention. You can bring your own shirt, tank top or bag and have it screen-printed, or you can purchase one on site. HeroesCon will donate all the proceeds from the sale of "Non-Compliant" print-on-demand items to Equality NC as well!
Also Casanova co-creators Matt Fraction, Gabriel Bá, and Fàbio Moon will be on hand to celebrate the comic's tenth anniversary with an exhibition of original artwork and live art!
Buffalo Wild Wings – Nascar Hall of Fame
400 E Martin Luther King Jr. Blvd, Charlotte NC 28202
(704) 971-9464
Plastic City Comic Con holds their inaugural event for comics, toys and pop culture fans in North Central Massachusetts on Saturday July 30, 2016 from 10:00 AM – 6:00 PM at the Leominster Veterans Memorial Center. Jam packed with comic artists, writers, creators, and vendors! FREE ADMISSION! Guests include:
Paul Kupperberg: Former editor of DC Comics and Weekly World News. Writer of Supergirl, Green Lantern, and Archie.
Joe Caramagna: Writer of Ultimate Spider-Man, Guardians of the Galaxy, and Avengers Assemble. Creator of Further Adventures of Wyatt Earp.
Veronica Fish: Artist for the New Archie Series, Pirates of Mars, and The Wendy Project.
Andy Fish: Artist and Writer for several books including How to Draw Graphic Novels, Dracula's Army, and Geeks and Greeks.
Joe St. Pierre: Artist for Spider-Man, Venom, Batman, Deadpool, and Transformers. He is also the creator of the New Zodiax.
Sean Wang: Artist for the Tick and Meltdown for Image Comics. He is also the creator of his hit Sci-Fi series Runners.
Rich Woodall: Writer of Kyrra Alien Jungle Girl for Dark Horse. Artist for the Zombie Bomb! Comic Anthology and creator of Johnny Raygun.
Further details and the full guest list may be found on the website at the link
Press Release:
The Squad Up! Suicide Squad Cosplay Contest launches today from DC Entertainment and Warner Bros. and invites you to cosplay as your favorite squad member for a chance to win a trip to San Diego this July for Comic-Con International. Have you always wanted to build a Deadshot mask? Is Harley Quinn your spirit animal? Got a purple alligator-skinned coat in the back of your closet that you've been wondering what to do with? Then this contest is for you!
Here's how it works:
Assemble a costume based on the look of any of the following characters from Warner Bros.'s upcoming Suicide Squad film: Deadshot, The Joker, Harley Quinn, Colonel Rick Flag, Amanda Waller, Captain Boomerang, El Diablo, Killer Croc, Enchantress, Slipknot, and Katana.
Take a photo of yourself wearing your costume. Make sure it's a good quality photo that really shows off your costume!
You can find the full list of rules and conditions here. Trust us, you'll want to check them out. After the entry period, fans will be able to vote in two separate rounds and help us choose finalists in each of the character categories. Once we have our finalists, eleven different winners—one for each character—will be chosen.
We expect some heavy competition, but don't worry, we're here to help. At the link are some tips, as well as a gallery of characters to help with your costumes. Click on the photos to zoom in on them.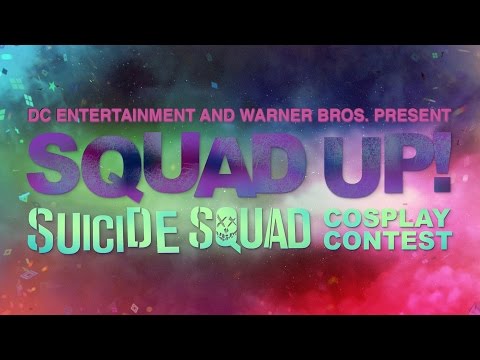 Press Release:
Recently, Electronic Arts revealed the latest details about EA PLAY including the press conference and all the games that will be playable at the show. EA will broadcast its press conference live across Los Angeles and London June 12 at 1:00pm PDT, kicking off the events of EA PLAY L.A. at The Novo in L.A. Live and EA PLAY LONDON at the Eventim Apollo in Hammersmith.
EA PLAY is an all-new event built specifically around players to bring EA's latest games to life. Following the press conference in both locations, the event will be open for the first hands-on with upcoming titles Battlefield™ 1 and Titanfall® 2, as well as fan-favorite sports titles FIFA 17, Madden NFL 17 and NHL® 17.
McFarlane Toys will have a presence at this highly anticipated event, as comic book legend Todd McFarlane himself will be at EA PLAY L.A. signing autographs for fans, and taking part in Sunday's post-press conference livestream discussing new waves of McFarlane Toys associated with popular Electronic Arts franchises such as Titanfall and Madden NFL. Todd is scheduled to appear at 3:10pm PDT, and fans across the world can watch the live stream of that, as well as the entire press conference beginning at 1:00pm PDT, at www.ea.com/play2016.
Along with Todd's appearance, McFarlane Toys will also debut prototypes of its new 7-inch and 10-inch Titanfall action figures slated to hit retail shelves this fall!
Indy Pop Con is proud to welcome Kevin Smith to Indianapolis to share with fans his upcoming film Yoga Hosers AND do a live recording of his podcast Fatman on Batman with co-host Marc Bernardin on Saturday, June 18, 2016 at 10:30 PM! Tickets available at the link…
This once-in-a-lifetime special event will feature an introduction from Kevin Smith, followed immediately by a special full screening of his film Yoga Hosers, starring Harley Quinn Smith, Lily Depp, Natasha Lyonne, and Johnny Depp.
Immediately following the film, join Kevin and Marc for a live recording/broadcast of their podcast Fatman on Batman!
Indiana Convention Center
100 S Capitol Ave, Indianapolis, Indiana 46225
(317) 262-3400
Press Release:
Join us in celebrating the anniversary of the Apollo 11 mission to the moon with legendary astronaut and American icon, Buzz Aldrin! George Takei, best known for his role as Mr. Sulu in Star Trek: The Original Series), will join Buzz to host this special black-tie event which will be held at the Apollo/Saturn V Center at Kennedy Space Center, FL on July 23, 2016. Featuring fellow Star Trek alumna Nichelle Nichols (Uhura), long-time space news reporter John Zarrella (CNN), who will serve as the evening's emcee, and NASA astronauts from each era of manned space flight, this Gala will celebrate the 47th anniversary of the historic Apollo 11 mission as well as the 50th anniversary of Star Trek: The Original Series.
During the evening you will have the opportunity to view NASA restricted property, such as the launch pads and Vehicle Assembly Building, on your private transportation from our host hotel to the Apollo/Saturn V Center, enjoy a reception and open bar, receive an exclusive professional photo with our hosts, dine underneath one of the only remaining Saturn V rockets in the world (the largest rocket ever made which took Neil Armstrong, Michael Collins, and Buzz Aldrin to the moon in 1969), enjoy a decadent dessert spread and specialty coffee, explore the award-winning Apollo/Saturn V facility which houses historic relics of the space program, and experience an engaging program with Aldrin and Takei as they share their experiences during a time when space travel transitioned from fantasy to reality.
Also included will be an Apollo 11 Memorabilia Silent Auction and special raffle, available only to gala attendees.
Event proceeds benefit Buzz Aldrin's ShareSpace Foundation, a non-profit 501(c)(3) organization dedicated to igniting children's passions for science, technology, engineering, arts, and math by providing educators with interactive and engaging hands-on educational activities.
Tickets available at the link…
Press Release:
Boston Comic Con welcomes actor Ben McKenzie to our celebrity guest line up! Ben stars as Detective James Gordon in the hit Fox series Gotham. Previously, Ben starred as Ryan Atwood in the television series The O.C. and as Officer Ben Sherman in Southland. Bat-fans will be interested to know he provided the voice for Bruce Wayne in the DC animated movie Batman: Year One.
Ben will appear to meet fans, sign autographs, and pose for photos on Saturday August 13 and Sunday August 14!
He joins our previously announced media guests William Shatner, Karl Urban, Jenna Coleman, Karen Gillan, John Barrowman, Elizabeth Henstridge, Caity Lotz, Robbie Amell, Ciara Renée, Seth Gilliam, and Vic Mignogna. Full media guest list at the link…
Boston Comic Con 2016 tickets are on-sale now at the link!
About Boston Comic Con:
The Boston Comic Con is a 100% independently run comic book show committed to bringing the biggest and best comic creators to New England. Run by fans for fans, Boston Comic Con is not affiliated with any other convention tour or corporate interests. Hosting over 120,000 square feet of vendors selling comic books, toys, posters, trading cards, and other pop culture memorabilia, this is a destination event for geeks of any stripe. This year's convention will be held Friday August 12th, Saturday August 13th, and Sunday August 14th at the Seaport World Trade Center, 200 Seaport Blvd, Boston, MA 02210. For more information please go to our website at www.bostoncomiccon.com and follow us on Twitter (@BostonComicCon) and Facebook!