Press Release:
ARCHAIA EXHIBITING AT C2E2 THIS WEEKEND!

New Titles! A panel on 3D comics! And, contests to win great Archaia Books at our booth through Twitter, Instagram, FourSquare, and more!
CHICAGO, IL (April 25, 2013) – Award-winning graphic novel publisher Archaia Entertainment is excited to announce it will exhibit at booth #1019 at the Chicago Comic and Entertainment Expo (C2E2) for a fourth straight year since the event's inception! C2E2 is one of the Midwest's biggest celebrations of comics and pop culture, taking place during the weekend of April 26-28, 2013 in the West Hall of McCormick Place in Chicago, Illinois. Archaia's corporate headquarters is based in Chicago.
"We love making C2E2 one of our biggest events of the year. Nearly our entire management team is from Chicago, the Chicago fans are great, and our creators really make it a special show for us," raved Chicago native, Jack Cummins, President & COO of Archaia. "We have great new titles like Strange Attractors, Mumbai Confidential, and HAWKEN: GENESIS, as well as Rust Vol. 2: Secrets of the Cell, Jim Henson's The Dark Crystal: Creation Myths Vol. 2, and Pantalones, TX: Don't Chicken Out. We are excited for our fans to see these new books and find out about the new upcoming Mouse Guard books directly from Eisner Award winner David Petersen."
Creators and contributors scheduled to appear at the Archaia booth include:
Andrew E. C. Gaska (writer: Space: 1999: Aftershock and Awe, Conspiracy of the Planet of the Apes, Critical Millennium: The Dark Frontier, the upcoming Classic Space: 1999)
Andrew Rostan (writer; An Elegy for Amelia Johnson)
Brent Schoonover (artist, Mr. Murder Is Dead)
Chandra Free (writer/artist: The God Machine, Fraggle Rock)
Charles Soule (writer: Strange Attractors)
Cory Godbey (artist: Fraggle Rock, the upcoming Jim Henson's Labyrinth and Spera Vol. 3)
David Marquez (artist: Syndrome, the upcoming The Joyners in 3D)
David Petersen (writer/artist: Mouse Guard)
Janet Lee (artist: Return of the Dapper Men)
Jeremy Bastian (writer/artist: Cursed Pirate Girl)
Jim McCann (writer: Return of the Dapper Men)
Ramón Pérez (artist: Jim Henson's Tale of Sand)
R. J. Ryan (writer: Syndrome, the upcoming The Joyners in 3D)
Royden Lepp (writer/artist: The Rust)
Tom Pinchuk (writer: Hybrid Bastards!)
Yehudi Mercado (writer/artist: Pantalones, TX: Don't Chicken Out)
Check the signing schedule at Archaia.com for your favorite creator's availability. Here's what else is going on at the Archaia booth during C2E2 weekend:
• We will present a panel on Sunday! Archaia Entertainment Presents: Comics Storytelling and the Lost Art of 3D, 1:30-2:30pm, Room W471. Join us for an uncensored discussion of the medium's benefits and drawbacks, as well as a wide-ranging survey of the highs and lows of 60 years of 3D comics, only at C2E2 2013!   We will preview the 2013 release of the ambitious, all-3D graphic novel The Joyners in 3D from Archaia, writer R.J. Ryan (Syndrome), New York Times best-selling illustrator David Marquez (All-New X-Men, Ultimate Comics Spider-Man, Syndrome), and Archaia Editor-in-Chief Stephen Christy have invited a panel of creatives from across comics to dig deep into both the highs and lows of using 3D as a storytelling tool. The multimedia presentation will include big-screen glimpses of comics' most famous—and most forgettable—3D projects, as well as a brief, exclusive sneak peek at Ryan & Marquez's epic 3D melodrama, The Joyners in 3D. Moderated by Word Balloon podcast host John Siuntres, every panel attendee receives a free pair of 3D glasses and a coupon to receive a copy of the 2012 Free Comic Book Day hardcover at the Archaia booth (while supplies last)!
• Mouse Guard creator David Petersen and Rust creator Royden Lepp are among the guests on the Imaginative Sci-Fi Authors of C2E2panel! Saturday, 12:45-1:45pm, Room W475B. They will join other science fiction and fantasy authors like E.B. Hudspeth (The Resurrectionist, published by Quirk), Jeffrey Brown (Darth Vader and Son, Top Shelf), Brandon Easton (Roboy, Lion Forge), and Rachel Rawlings (The Maurin Kincaide Series) to talk about their imaginative Sci-Fi and Fantasy graphic novels!
• Meteor Entertainment is bringing the experience of their smash hit, online, free-to-play, giant-mech video game HAWKEN to C2E2 with two play-test kiosks set up at the Archaia booth! Copies of the accompanying graphic novel, HAWKEN: GENESIS, will be on hand for purchase, and each copy comes with a scratch-off card with a code that can be redeemed for 10,000 HAWKEN Credits for use in the game!
• Charles Soule, the new writer of DC's Swamp Thing, will be on hand to autograph advance copies of his new Archaia graphic novel, Strange Attractors, which is the fascinating sci-fi story of how a professor uses mathematics to help keep New York City from destroying itself! Check for his signing schedule at the booth (#1019) or on Archaia.com.
• Fans who purchase copies of Hopeless, Maine will receive a free, handmade postcard created by authors Tom and Nimue Brown. Quantities are limited!
• Using Foursquare, fans have a chance to win an all-ages prize pack containing copies of: Mouse Guard Vol. 1: Fall 1152; Rust Vol. 1; Pantalones, TX; and Cow Boy: A Boy and His Horse. To enter, simply check in to "Archaia Entertainment: Booth #1019" (http://4sq.com/12FDU7y) through the Foursquare app on your iOS or Android phone and tweet your check-in using #ArchaiaC2E2. Winners will be contacted to receive their prize. More info: http://on.fb.me/12G8IFk .
• Using Instagram, fans have a chance to win a Henson/Archaia graphic novel prize pack containing copies of: Fraggle Rock Vol. 1, Fraggle Rock Vol. 2: Tails and Tales, The Dark Crystal: Creation Myths Vol. 1, and The Dark Crystal: Creation Myths Vol. 2. To enter, take creative photos of the Archaia booth at C2E2 (#1019), upload it using the Instagram app on your iOS or Android phone, and use the hashtag #ArchaiaC2E2. Archaia will choose the best photo and contact the winner to receive their prize! Photos will be posted on the Archaia Facebook page! More info: http://on.fb.me/11idRR2.
• Archaia Entertainment will be hosting a Retweet to Win contest through Twitter for fans who can't make it to C2E2! Retweeting starts Friday, April 26th at 10am CST! This contest will run thru Sunday, April 28th. To enter, you must follow Archaia on Twitter, look for the special "RT to Win" tweet from our account (@Archaia) which will be sent out several times each day throughout C2E2 weekend (April 26-28). Multiple winners will be selected each day. Prizes include copies of: Cow Boy: A Boy and His Horse; The Dark Crystal: Creation Myths Vol. 1; Fraggle Rock Vol. 1; Gunnerkrigg Court Vol. 1; HAWKEN: GENESIS; Mouse Guard Vol. 1: Fall 1152; Pantalones, TX; Return of the Dapper Men; andRust Vol. 1. More info: https://www.facebook.com/events/434507266642329/.
See you at C2E2! Visit c2e2.com for information on how to buy tickets!
About Archaia Entertainment, LLC

Archaia is a multi-award-winning graphic novel publisher with more than 75 renowned publishing brands, including such domestic and international hits as Mouse Guard, Rust, Cow Boy, Cursed Pirate Girl, Gunnerkrigg Court, and Artesia. Archaia has also published an entire line of graphic novels in partnership with The Jim Henson Company, including the multiple award-winning Jim Henson's Tale of Sand and such beloved tales as The Dark Crystal, The Storyteller, and Fraggle Rock. Alongside these celebrated titles, Archaia has released English translations of numerous renowned foreign titles to much fanfare, including The Killer, Sergio Toppi's Sharaz-De, and The Secret History.
This year, Archaia was honored with two Eisner nominations, and in 2012, Archaia was honored with six Harvey Award nominations, two Harvey Awards, six Eisner nominations, and three Eisner Awards (Jim Henson's Tale of Sand won for Best Graphic Album–New, Best Penciller/Inker, and Best Publication Design). Also in 2012, Archaia earned both Gold and Silver awards from ForeWord Reviews. Archaia was honored with nine 2011 Eisner Awards nominations and two Eisner Awards for Best Graphic Album and Best Anthology.
In addition to its partnership with The Jim Henson Company, Archaia has forged creative partnerships with storytellers in all facets of the entertainment industry, resulting in print and digital expansions of such noted properties as Bleedout and HAWKEN (video games), Immortalsand Planet of the Apes (film), and Space: 1999 (television).
Archaia has built an unparalleled reputation within the creator community for producing meaningful, transformative content, building one of the industry's most visually stunning and eclectic slates of graphic novels.
Press Release:
IMAGE COMICS ANNOUNCES IMAGE EXPO 2013
Publisher to host media event on July 2 in San Francisco
At the Diamond Comics Retailer summit in Chicago today, Image Comics Publisher Eric Stephenson announced Image Expo 2013, a unique media event that will take place in San Francisco's Yerba Buena Center for the Arts on July 2, 2013.
Image Expo 2013 will be an all-day event featuring announcements from Image Comics, the publisher of the best-selling comic book titles THE WALKING DEAD, SAGA, FATALE, EAST OF WEST and JUPITER'S LEGACY, as well as appearances by superstar creators, including Image partner and THE WALKING DEAD creator Robert Kirkman and Ed Brubaker, co-creator of the Eisner-nominated FATALE, revealing panels, and autograph sessions. Tickets for this exciting event will available to the general public for purchase on May 3, 2013.
Image Expo 2013 follows the publisher's successful 2012 Image Expo convention, which was held in Oakland, California. Image Expo 2013 will be be the most intimate comics event of its kind, offering unprecedented access to creators, exclusive swag, and the first chance to hear what the publisher that has been taking the comics industry by storm has planned for the future.
Image Comics fans can keep on top of all the latest Image Expo 2013 developments at www.imagecomics.com/expo for ticket information and guest announcements.
Press Release:
Bryan Hitch, Salvador Larroca, Leinil Yu, Bob Layton, Yildiray Cinar, Barry Kitson Head Up 175+ Comics Creators At Wizard World Philadelphia Comic Con, May 30 – June 2
Mico Suayan, Julian Totino Tedesco, Angel Unzueta, Michael Golden, Greg Horn, J.G. Jones Among Other Superstar Artists On Board At Pennsylvania Convention Center
NEW YORK and PHILADELPHIA, April 18, 2013 – A superstar lineup of comics writers and artists, including such luminaries as Bryan Hitch ("Wolverine," "Captain America"), Eisner Award winner Salvador Larroca ("Avengers vs. X-Men," "Iron Man"), Leinil Yu ("Hulk," "Superman: Birthright"), Bob Layton ("Avengers," "Batman"), Yildiray Cinar ("Teen Titans," "Action Comics") and Barry Kitson ("Thor," "Green Lantern") will be among the more than 175 scheduled to populate Artist Alley at Wizard World Philadelphia Comic Con, May 30 – June 2 at the Pennsylvania Convention Center.  Eisner Award Hall of Famer Stan Lee will attend on Friday and Saturday, May 31 – June 1, appearing in the celebrity area.
The international roster also features top creators like Mico Suayan ("The Punisher," "Batman: Arkham Unhinged"),Julian Totino Tedesco ("X-Treme X-Men, "Daredevil"), Angel Unzueta ("Titans, "DC Comics Presents"), Michael Golden ("Star Wars," "BSG"), Greg Horn ("Spider-Man: Turn off the Dark," "Wonder Woman"), Phil Noto("Buffy," "Batgirl") and J.G. Jones ("Final Crisis," "Wanted").  Nearly any comics character and franchise imaginable are represented by at least one, and usually more, of these talented men and women.
In addition to displaying some of their best work at the event, most creators at Wizard World Philadelphia Comic Con will be available for commissions.  Many will also take part in four full days of Creator Spotlights and a wide variety of other panel programming focusing on the comics industry, to be announced in the coming weeks.
Other special guest creators scheduled to attend are Tyler Kirkham ("Superboy," "Ultimate FF"), Doug Sneyd("Playboy"), Mark Texeira ("The Punisher," "Black Panther"), Tom Raney ("AVX: Consequences," "Deadpool") and recent Eisner Award nominee Ryan Inzana ("Johnny Jihad," "Ichiro").
Celebrities featured at Philadelphia Comic Con include "Castle" star Nathan Fillion, fellow "Serenity" and Firefly headliner Summer Glau, "Star Trek's" William Shatner, WWE® Superstars John Cena® and Daniel Bryan®and "The Walking Dead" trio of Norman Reedus, Michael Rooker and Jon Bernthal.
Wizard World Comic Con events bring together thousands of fans of all ages to celebrate the best in pop-fi, pop culture, movies, graphic novels, comics, toys, video gaming, television, sci-fi, gaming, original art, collectibles, contests and more.  Wizard World Philadelphia Comic Con show hours are Thursday, May 30, 3-8 p.m.; Friday, May 31, noon – 7 p.m.; Saturday, June 1, 10 a.m. – 7 p.m., Sunday, June 2, 10 a.m. – 5 p.m.
For more on the 2013 Wizard World Philadelphia Comic Con, visit http://www.wizardworld.com/home-pa.html.
About Wizard World:
Wizard World (OTCBB: WIZD) produces Comic Cons and pop culture conventions across North America that celebrate graphic novels, comic books, movies, TV shows, gaming, technology, toys and social networking. The events often feature celebrities from movies and TV, artists and writers, and events such as premieres, gaming tournaments, panels, and costume contests.
The full event schedule can be found at www.wizardworld.com.
***** SAVE THE 2013-14 DATES *****
May 30 – June 2 – Wizard World Philadelphia Comic Con
June 28-30 – Wizard World New York City Experience
August 8-11 – Wizard World Chicago Comic Con
September 20-22 – Wizard World Ohio Comic Con
October 18-20 – Wizard World Nashville Comic Con
November 22-24 – Wizard World Austin Comic Con
January 24-26, 2014 – Wizard World Portland Comic Con
February 7-9, 2014 – Wizard World New Orleans Comic Con
April 4-6, 2014 – Wizard World St. Louis Comic Con
Press Release:
Big WOW! ComicFest is extremely excited and proud to welcome comic book legend STAN LEE for his first ever appearance at the Bay Area's Premier Comic Book and Pop Culture Convention!
The legendary architect of the Marvel Universe, Stan Lee will spend the entire day on Sunday May 19, 2013, meeting with fans, signing autographs, posing for pictures, and answering questions in an exclusive panel presentation. Stan "The Man" Lee, whose legendary comic book career has spanned over 60 years, is the creative mind behind many of the biggest names in the comic book universe, including co-creating Iron Man, Spider-Man, the X-Men, the Hulk, Thor and numerous others, and his body of work is far and away the most extensive in the history of comic books.
"It's a dream to have Stan attend our show" said Big WOW! co-organizer Steven Morger. "There is no one who exemplifies the creative spirit that Big WOW! brings to the fans more than Stan Lee. He truly is a legend in the comic book industry."
Stan Lee headlines an impressive guest list at this years Big WOW! ComicFest. Joining Stan are some of today's top comic industry professionals including Neal Adams (Superman, Batman), Tony Daniel (Batman), Adam Hughes (Fairest, Wonder Woman), Writer Brian Azzarello (100 Bullets, Joker), Toshio Maeda (Urotsukidoji & La Blue Girl), Eduardo Risso (100 Bullets), Lee Bermejo (Rorschach, Joker), Sanjulian (Vampirella), Brian Stelfreeze (Batman), Sergio Aragones (MAD, Groo), Herb Trimpe (Hulk), Terry & Rachel Dodson (X-Men, Wonder Woman), and Arthur Adams (Classic Avengers).
Advance Ticket Sales and Hotel Information
CreaturesCon 2
CreaturesCon, the official Creature Features Convention dedicated to the classic San Francisco Bay Area TV Show, will join forces with Big Wow Comicfest this May 2013 in San Jose. John Stanley, Ernie Fosselius, Lord Blood-Rah, Strephon Taylor, Tom Wyrsch and a gang of special guests will be on hand.
Creature Features Props & Memorabilia
Creature Features Panel dedicated to Bob Wilkins
Creature Features items for sale
Creature Features shows on giant monitor ran continuously
And for the first time ever, Creature Features Live. A complete Creature Features show done live on stage with John Stanley as host, guests, and feature length movie with breaks. Guaranteed to be the largest Creature Features event ever. All part of CreaturesCon 2 at Big WOW! ComicFest.
And no Big Wow! ComicFest is complete without our:
Art Auction, Costume/Cosplay Contest (Saturday night directly after the show), Gaming, Card & Role-Playing Games with Sanctioned Tournaments and Live Demonstrations of Magic the Gathering, World of Warcraft, Hero Clix, and more!
Tickets are available on the website. And we have tickets available at over 30 participating comic book stores around Northern California.
Admission is only:
1 Day Adult $20.00
2 Day Adult $30.00
1 Day Child (8-14) $10.00
2 Day Child  $15.00
CHILDREN UNDER 8 ARE FREE!
Press Release:
Wizard World, Inc. CEO Issues Letter to Shareholders
NEW YORK and LOS ANGELES, April 23, 2013 (GLOBE NEWSWIRE) –
Wizard World, Inc. (OTCBB:WIZD) announces letter to shareholders from its Chief Executive Officer, John Macaluso:
Dear Valued Shareholder,
I write to you at an exciting and important time for Wizard World, Inc. ("Wizard World" or the "Company") and would like to offer my most sincere thank you for your continued and amazing support over the past year. We have experienced a number of recent positive developments that I would like to share with you as we continue to grow as a company and as the leading presenter of Comic Con touring exhibitions around the country.
Improved Financial Results in 2012
We believe that our ability to successfully grow our Comic Cons will enhance our ability to be profitable on an annual basis for the first time in many years. During the fiscal year 2012, we made substantial progress in expanding our shows through organic growth, and better business practices that we have put in place. While we have experienced a loss of approximately $1.02 million and approximately $2.01 million for the years ended December 31, 2012 and 2011, respectively, total revenue for the year ended December 31, 2012 increased by 78% to $6.74 million compared to $3.78 million for the comparable year ended December 31, 2011. The net loss during the year ended December 31, 2012 was primarily attributable to derivative and interest expenses associated with our financing activities. We had income from operations of approximately $198 thousand for the year ended December 31, 2012 as compared to a loss from operations of approximately $3.2 million for the comparable year ended December 31, 2011. In addition, we generated approximately $243 thousand in cash from operations during the year ended December 31, 2012 as compared to exhausting approximately $1.6 million in cash from operations during the comparable year ended December 31, 2011. Such stronger revenue growth has enabled us to leverage opportunities afforded by our business model, as evidenced by our significant improvements in gross profit as compared to the previous year. Our primary operational objective is achieving sustainable long-term profitability.
Going Concern
As of December 31, 2012, management and our auditors concluded that there is no longer substantial doubt about our ability to continue as a going concern. This is a result of many positive milestones we achieved during fiscal year 2012 including, but not limited to, the following: (i) the securing of financing through the issuance of Series A Cumulative Convertible Preferred Stock; (ii) the undertaking of converting promissory notes and other liabilities into equity; (iii) the increase in revenues and margins from our existing Comic Cons; (iv) our ability to decrease our consulting fees and overall overhead; and (v) the increase of cash flows from our operations.
Appointment of Two New Directors
On March 17, 2013, the board of directors of the Company (the "Board") appointed Paul L. Kessler and Kenneth Shamus as new members of the Board. Both members possess extensive experience in their respective fields as described in further detail below.
Paul L. Kessler combines over 30 years of experience as an investor, financier and venture capitalist. He is the founder of Bristol Capital Advisors, LLC, a Los Angeles based investment advisor, and serves as the company's Principal and Portfolio Manager. He has broad experience in operating, financing, capital formation, negotiating, structuring and re-structuring investment transactions, and is involved in all aspects of the investment process including identification and engagement of portfolio companies. His investment experience encompasses both public and private companies. Paul also actively works with executives and boards of companies on corporate governance and oversight, strategic repositioning and alignment of interests with shareholders.
The Board believes that Paul's extensive experience in matters including capital formation, corporate finance, investment banking, founder, owner, operator of successful companies, corporate governance, as well as his understanding of capital markets, will provide a significant contribution to the growth of the Company.
Kenneth Shamus combines over 25 years of experience in the toys and collectibles industry. He currently serves as the Chief Executive Officer of ToyWiz, Inc., an online toys, action figures and trading card games company.
The Board believes that the combination of Kenneth's extensive experience in the pop culture space, including toys, games, action figures and collectible trading cards, and his business acumen brings a unique blend of skills which will help steer the Company's growth and development.
The Formation of Two Committees of the Board of Directors
On March 17, 2013, the Board authorized the formation of a Compensation Committee and an Audit Committee. The Board believes that the establishment of such committees will enhance the Board's ability to assist management in setting the direction for growth of the Company. The committees have not yet adopted written charters which govern their conduct but anticipate doing so by the end of the next fiscal quarter.
Audit Committee
Vadim Mats, Kenneth Shamus and Paul L. Kessler were appointed as the initial members of the Audit Committee, with Mr. Mats serving as Chairman. As mentioned above, the Audit Committee has not yet adopted a written charter but its functions shall include: selecting our independent registered public accountants; reviewing the results and scope of the audit and other services provided by our independent registered public accountants; reviewing our financial statements for each interim period and for our year end and our internal financial and accounting controls; and recommending, establishing and monitoring the Company's disclosure controls and procedures.
Compensation Committee
Gregg Suess, Vadim Mats and John Maatta were appointed as the initial members of the Compensation Committee, with Mr. Suess serving as Chairman. While the committee has not yet adopted a written charter, the Compensation Committee shall be responsible for establishing and administering our policies involving the compensation of all of our executive officers and establishing and recommending to our Board the terms and conditions of all employee and consultant compensation and benefit plans.
Looking Ahead to 2013
For 2013, we shall continue to work on expanding the Wizard World brand and our current focus on growing our existing Comic Cons by obtaining new exhibitors and dealers and attracting more high profile celebrities and VIPs. We also plan to expose our database of fans and our target market to our content through digital media such as Facebook, Twitter, YouTube, Flickr, and Tumblr. We anticipate that we will be able to draw higher traffic to our website, www.wizardworld.com, by creating content from our live multimedia events and promoting such events through email and newsletters.
For more information about the Company, please refer to our most recent Annual Report on Form 10-K/A, filed with the Securities and Exchange Commission on April 16, 2013. You may access a copy of the report at the SEC's website maintained at www.sec.gov.
In closing, we at Wizard World will not rest until we are the dominant name in this industry. I thank you for your continued support and the opportunity to serve you.
Sincerely,
John Macaluso
Chief Executive Officer
Forward-Looking Statements
This letter may contain forward-looking statements within the meaning of the Private Securities Litigation Reform Act of 1995 that involve certain risks and uncertainties. The actual results or outcomes of Wizard World, Inc. may differ materially from those anticipated. Although Wizard World, Inc. believes that the assumptions underlying the forward-looking statements contained herein are reasonable, any such assumptions could prove to be inaccurate. Therefore, Wizard World, Inc. can provide no assurance that any of the forward-looking statements contained in this letter will prove to be accurate.
In light of the significant uncertainties and risks inherent in the forward-looking statements included in this letter, such information should not be regarded as a representation by Wizard World, Inc. that its objectives or plans will be achieved. Included in these uncertainties and risks are, among other things, fluctuations in operating results, general economic conditions, uncertainty regarding the results of certain legal proceedings and competition. Forward-looking statements consist of statements other than a recitation of historical fact and can be identified by the use of forward-looking terminology such as "may," "intend," "expect," "will," "anticipate," "estimate" or "continue" or the negatives thereof or other variations thereon or comparable terminology. Because they are forward-looking, such statements should be evaluated in light of important risk factors and uncertainties. These risk factors and uncertainties are more fully described in Wizard World, Inc.'s most recent Annual and Quarterly Reports filed with the Securities and Exchange Commission, including under the heading entitled "Risk Factors." Wizard World, Inc. does not undertake an obligation to update publicly any of its forward-looking statements, whether as a result of new information, future events or otherwise, except as required by law.
Boston fans and pros make the best of a bad situation, Sanjulian is coming to to the U.S. for the next Tampa Bay Comic Con, and Halle Berry suits up again as Storm. All this and more in the latest in-progress Scene on the Web.
Press Release:
WIKIA PARTNERS WITH THE CHICAGO COMIC & ENTERTAINMENT EXPO (C2E2)
Wikia [LIVE] Interactive Series To Be Featured At Annual Pop Culture Event
San Francisco – April 19, 2013 - www.Wikia.com, the world's leading collaborative media company and home to many of the Web's largest social communities, announced today that it has partnered with C2E2, the annual comic and entertainment extravaganza which takes place every Spring in Chicago and is organized by ReedPOP, the leading producer of pop culture events around the world. The partnership is designed to integrate Wikia's powerful community of entertainment experts into the industry's leading events through Wikia [LIVE]. The live, interactive series will consist of a variety of programs that weave in the site's popular hubs: Video Games, Entertainment and Lifestyle.
"It is with great excitement that we announce this partnership with C2E2," said Eric Moro, Director of Entertainment Programming, Wikia. "We feel it is yet further recognition of Wikia as one of the largest communities of pop culture experts, and we look forward to working with C2E2 and the ReedPOP team to bring these voices to par with other industry experts."
"Through this partnership, there is great opportunity for all parties involved," notes Lance Fensterman, Global Vice President for ReedPOP and Show Manager for C2E2. "I'm looking forward to working with Wikia to our mutual benefit, for C2E2 and throughout the year, and I know that we will be able to do some awesomely creative things together and make this the best C2E2 yet."
At C2E2, Wikia will produce a live version of its "Expert Showcase." The Wikia video series invites its most active and robust communities to join in a rapid-fire discussion on fun pop culture topics; at C2E2, the group will discuss "The Walking Dead." Jake Trusheim of the Walking Dead Wikia community will serve as the voice of the fans for the panel. The "Expert Showcase" panel begins Friday, April 26 at 12:15 PM in Room W471. Past episodes include the "Marvel NOW! comic book imprint" and "The ongoing depiction of Iron Man on the big screen."
"Wikia Heroes and Villains Cosplay Contest" will tie the community's passion for pop culture topics to the lifestyle topics that dominate their world. Wikia invites fans to come dressed on Saturday, April 27 to the Variant Stage as their favorite character or asks contestants to create a hero or villain of their very own. Members of the Wikia community will serve as the panel of judges. All contestants must individually compete and provide one form of character reference. Prizes will be awarded by Wikia to the winners. The contest is full but further details about the event area vailable here.
"Wikia Qwizards" is a two day live-action quiz show beginning Friday, April 26 (2:00 – 3:00 PM) in Room W470b that will feature a special "Sci-Fi" theme. Qwizard contestants will be tasked with answering the host's questions related to movies, TV, and video games, but in a twist, aspiring Qwizards get to write and ask questions for each other. Qwizards with the highest scores at the end will be invited to the center stage on Sunday, April 28 (3:15 – 4:14 PM) in Room W474 to determine the smartest C2E2 attendee. Prizes to be awarded by Wikia to the winners.
Additionally, Wikia will be sponsoring the official C2E2 after-hours hangout and watering hole known as the Wikia Bar at C2E2 for the entire weekend. All are welcome.
ABOUT REEDPOP: ReedPOP is a boutique group within Reed Exhibitions which is exclusively devoted to organizing events, launching and acquiring new shows, and partnering with premium brands in the pop culture arena. ReedPOP is dedicated to producing celebrations of popular culture throughout the world that transcend ordinary events by providing unique access and dynamic personal experiences for consumers and fans. The ReedPOP portfolio includes: New York Comic Con (NYCC), Chicago Comic & Entertainment Expo (C2E2), Penny Arcade Expo (PAX) Prime & East, Star Wars Celebration, and the UFC Fan Expo. In 2013 ReedPOP will add Star Wars Celebration Europe and PAX Australia to its rapidly expanding portfolio of international events. The staff at ReedPOP is a fan based group of professionals producing shows for other fans, thus making them uniquely qualified to service those with whom they share a common passion. ReedPOP is focused on bringing its expertise and knowledge to world communities in North America, South America, Asia and Europe.
ABOUT WIKIA:
Wikia is a trusted collaborative media platform. It is the definitive place for people to contribute to the assembly of original bodies of multi-media content around subjects they know and love. Using Wikia, anyone can form new communities around any subject or participate in over 300,000 existing communities by reading or contributing new content. With over 20 million pages of rich content, Wikia's communities are the most authoritative information about any topic on the Internet. Wikia's video game vertical (www.wikia.com/videogames) is a leading video-game focused network on the Web. Its entertainment vertical (www.wikia.com/entertainment) is the fastest growing US entertainment destination around the world.
Launched in 2006 by founders Jimmy Wales and Angela Beesley, Wikia attracts more than 70 million global unique visitors per month and is ranked a Quantcast Top 35 Internet site.www.wikia.com or @wikia
Via Marvel:
Marvel's Agent M joins Executive Editor Tom Brevoort, talent scout C.B. Cebulski and editors Ellie Pyle and Jordan D. White in Chicago, from April 26-28, for C2E2 2013! Will you be at the convention as well?
What are you most looking forward to seeing from Marvel at C2E2? Let us know in the comments below or on Twitter by tweeting @Marvel or using the hashtag #MarvelC2E2!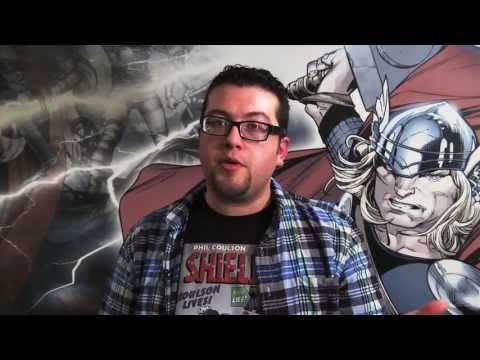 Press Release:
Hero Initiative at Chicago's C2E2
With special guests John McCrea, Gene Ha and longtime Chicago Bear Israel Idonije
Los Angeles (April 9, 2013) Hero Initiative, the non-profit organization that aids comic creators in medical and financial need, is breezing into the windy of Chicago to attend the Chicago Comic & Entertainment Expo, also known as C2E2, located at McCormick Place.
Hero will have an all-star lineup of guests including John McCrea, the artist on IDW Publishing's Mars Attacks!series and Gene Ha, the acclaimed artist of Top 10.
In addition, Hero Initiative is proud to have longtime Chicago Bears defensive end Israel Idonije as he launches his new comic, The Protectors, from Athleta Comics. Idonije will be on hand with Protectors writer Ron Marz and artist Bart Sears for one hour on Saturday starting at 2 p.m. Fans will need to purchase an autograph ticket at the Hero booth, #829 on the floor, starting at 10 a.m. on Saturday. The $25 ticket gets you a limited edition, exclusive color image of Idonije in his trademark #71 jersey by Bart Sears. Idonije, Marz and Sears will be there to sign it, PLUS you can bring one additional item of your own to be signed by Idonije. There is a strict limit of ONE ticket per person. Don't miss out!
And Hero encourages fans to seek out the many creators on the show floor asking for donations to Hero Initiative for their signatures. Please check out Amanda Conner, Paul Cornell, Chris Giarrusso, Phil Hester, John Layman, Jay Leisten, Ron Marz, Paul Mounts, Mike Norton, Jimmy Palmiotti, Brandon Peterson, Norm Rapmund, Chris Samnee, Alex Saviuk, Tim Seeley, Joe Staton, Jill Thompson, Skottie Young, and Chrissie Zullo.
Hero's booth schedule at booth #829 is as follows:
Friday, April 26 (con hours 1100-700):
1130-130: John McCrea
130-230: Peter Krause
230-330: Gordon Purcell
330-530: John McCrea
530-700: Jim Brozman
Saturday, April 27 (con hours 1000-700):
1030-1200: Gene Ha
1200-200: John McCrea
200-300: Ron Marz, Bart Sears and Israel Idonije
300-400: Gene Ha
400-600: John McCrea
600-700: Jim Brozman
Sunday, April 28 (con hours 1000-500):
1030-1230: John McCrea
1230-200: Gene Ha
200-400: John McCrea
About The Hero Initiative
The Hero Initiative is the first-ever federally chartered not-for-profit corporation dedicated strictly to helping comic book artists and craftsmen in need. Hero Initiative creates a financial safety net for yesterday's creators who may need emergency medical aid, financial support for essentials of life, and an avenue back into paying work. It's a chance for all of us to give back something to the people who have given us so much enjoyment.
Since its inception, The Hero Initiative has had the good fortune to grant over $500,000 to the comics veterans who have paved the way for those in the industry today. For more information, visit www.heroinitiative.org or call626-676-6354.
Press Release:
DARK HORSE COMICS ANNOUNCES C2E2 2013 SCHEDULE!
APRIL 19, MILWAUKIE, OR— Dark Horse Comics is headed to Chicago's fastest growing pop culture event - Chicago Comics & Entertainment Expo!
Join us for signings at booth #801! Free comics and/or prints with each signing while supplies last.
Please note that lines may be capped or tickets issued for any signing as needed. Inquire about your favorite signings as early as possible. Some restrictions apply. All events are subject to change.
Comics, books, and collectibles will be available for purchase from Dark Horse or your favorite retailer.
DARK HORSE SIGNINGS
FRIDAY, APRIL 26
12:00 p.m. AMALA'S BLADE signing with Steve Horton
Free 8" x 10" print featuring art by Michael Dialynas
1:00 p.m. BATTLEPUG and THE ANSWER! signing with Mike Norton
Free copy of The Answer! #1
2:00 p.m. HUSBANDS signing with Jane Espenson and Brad Bell
Free 5.5" x 8.5" print featuring art by Ron Chan
3:00 p.m. THE SHAOLIN COWBOY signing with Geof Darrow
Free 11" x 17" print featuring art by Geof Darrow
5:00 p.m. BUFFY THE VAMPIRE SLAYER: SPIKE signing with Jenny Frison
Free copy of Buffy the Vampire Slayer: Spike #1
SATURDAY, APRIL 27
10:00 a.m. AMALA'S BLADE signing with Steve Horton
Free 8" x 10" print featuring art by Michael Dialynas
11:00 a.m. CRIMINAL MACABRE signing with Steve Niles and Christopher Mitten
Free 5.5" x 8.5" print featuring art by Christopher Mitten
12:00 p.m. BEASTS OF BURDEN and SCARY GODMOTHER signing with Jill Thompson
Free copy of Beasts of Burden: Neighborhood Watch
1:00 p.m. DREAM THIEF signing with Jai Nitz and Greg Smallwood
Free 5.5" x 8.5" print featuring art by Alex Ross
Free limited edition Dream Thief paper in action figures
2:00 p.m. THE MASSIVE, STAR WARS, and CONAN signing with Brian Wood
Free 11" x 17" print featuring art from The Massive by J. P. Leon
3:30 p.m. THE GOON signing with Eric Powell
Free copy of The Goon #38
5:00 p.m. THE FIFTH BEATLE signing with Vivek J. Tiwary
Free 8" x 10" print featuring art by Andrew C. Robinson
Enter to win an exclusive print signed by writer Vivek J. Tiwary and artist Andrew C. Robinson and The Beatles Stereo CD Box Set
SUNDAY, APRIL 28
10:00 a.m. AMALA'S BLADE signing with Steve Horton
Free 8" x 10" print featuring art by Michael Dialynas
11:00 a.m. DARK HORSE SUPERHERO and BRAIN BOY signing with Freddie Williams II
Free 11" x 17" print featuring art by Freddie Williams II, as depicted on the Dark Horse booth superhero mural
12:00 p.m. EX SANGUINE and THE OCCULTIST signing with Tim Seeley
Free copy of Ex Sanguine #1 and The Occultist #1
1:00 p.m. BATTLEPUG and THE ANSWER! signing with Mike Norton
Free copy of The Answer! #1
2:00 p.m. TO BE ANNOUNCED! Come to the Dark Horse Spring Fever Panel on Saturday, April 27, from 5:15 p.m. to 6:15 p.m. in room W471 to meet two special guests and find out about an exciting new project featuring one of your favorite Dark Horse characters.
DARK HORSE PANELS
SATURDAY, APRIL 27
12:15 p.m.–1:15 p.m. SPOTLIGHT ON BRIAN WOOD, Room W471
3:15 p.m.–4:15 p.m. MUSIC AND POP CULTURE featuring various artists and creators, including Vivek J. Tiwary, writer of the upcoming Dark Horse graphic novel The Fifth Beatle, Room W475b
5:15 p.m.–6:15 p.m. DARK HORSE SPRING FEVER with Scott Allie, Jeremy Atkins, Eric Powell, Tim Seeley, Mike Norton, Steve Horton, and surprise guests! Room W471
7:45 p.m.–8:45 p.m. HUSBANDS: TELEVISION AND BEYOND with Brad Bell, Jane Espenson, Sean Hemeon, and moderator Matthew Aaron, Room W471