TONIGHT! It's the Original Cast Photo Op! ON SALE! These are limited to JUST 50!
The photo is just $495 and goes on sale at 9 pm Eastern/8 pm Central time!
www.walkerstalkercon.ticketleap.com/lincoln-photos
Remember, if you get put into the waiting room, you're already too late!
August 15, 2014 by Joe Fauvel
Filed under Animation, Anime, Collectibles, Comic Books, Convention News, Cosplay, Florida, Gaming, Horror, Manga, Movies, Science Fiction and Fantasy, Television, Video Games, Webcomics
TARA REID will make her very first Spooky Empire appearance this October in Orlando, FL!

TARA REID's resume of films includes American Pie, Urban Legend, A Return to Salems Lot, The Crow: Wicked Prayer, The Big Lebowski and of course her most popular appearance of late the Sharknado films, Part 1 and 2 and rumored Sharknado 3!

TARA is ready to party with all of you at Spooky Empire's Ultimate Horror Weekend,
October 24-26, 2014 at the DoubleTree @ Universal Studios. 

Get your advance tickets today, VIP Packages will be selling out quickly! 
Press Release:
It is the return of the Philadelphia Comic-Con on Sunday August 17th. This comic book convention is held at the Clarion Hotel (formerly the Ramada) located at 76 Industrial Highway (Route 291) in Essington, PA 19029. The hotel is conveniently located off of exit 9A from I-95. It is also close to I-76,I-476 and most bridges from New Jersey. Show hours are 10 AM to 4 PM. Admission is only $3 per person. Students of any age (including college) are admitted free with a current id. Parking is also free on premises. For those of you that do not drive Septa Bus Route 37 stops directly in front of the hotel.
It is quite a site to behold with 60+ tables at the show in the 4,500 square foot ballroom of the hotel. Dealers from 5 states setup there selling, buying and even trading with collectors. Thousands and thousands of comic books from the 1940′s to present day will be for sale at the show. Also available will be collecting supplies, graphic novels, action figures, statues, non-sportcards, dvd's and original artwork. The show has become a fan favorite for years with people travelling up to 3 hours one way just to shop at the show.
Special guest artist this show is Neil Vokes. Neil is a long time comic book artist who has been an industry professional since the early 80's. A South Jersey resident with a international following for his past work on "Superman Adventures" by DC Comics.
Any questions about the convention can be sent to dwoywood@yahoo.com or we can be reached by phone at 856-217-5737. Fans can also check us out on the web at www.philadelphiacomic-con.com. Or on Facebook at facebook.com/PhiladelphiaComicCon.
Press Release:
San Jose Super Toy, Comic Book & Collectible Show Hosts actors Adrienne Barbeau & Cindy Williams.
Saturday & Sunday August 16 & 17, 2014
Early Bird admission: 9 am -11 am, $15
General Admission: 11 am – 4:30 pm, $8
Where:
The Santa Clara County Fairgrounds
344 Tully Rd.
San Jose, CA 95111
Toy & Comic Book collectors are invited to the San Jose Super Toy, Comic Book & Collectible Show on Saturday & Sunday August 16 & 17, 2014!
Come see over 250 tables filled with every variety of Vintage to Modern Collectibles, including Toys, Magazines, Comic Books, Vinyl Records, Posters, GI Joes, Robots, Disneyana, Legos, Sports, TV, Music, and Movie Memorabilia, and lots more! We are Northern California's Largest vintage Toy and Collectible show, growing in size and attendance since 1995.
Our Scheduled Media guests are Adrienne Barbeau & Cindy Williams.
Adrienne Barbeau is known for her creation of Rizzo in the original Broadway production of Grease. She also played Bea Arthur's daughter, Carol, in the hit series Maude. Movie fans know her best for her performances in The Fog, Escape From New York, Creepshow, and Swamp Thing. She also played Catwoman in the Batman animated TV series.
Cindy Williams played Laurie Henderson, Ron Howard's high school sweetheart in George Lucas's American Graffiti . Williams was cast as a fun-loving brewery worker, Shirley Feeney, in an episode of Happy Days, alongside Penny Marshall, who played her best friend/roommate Laverne De Fazio. The girls were introduced as female companions of Fonzie (Henry Winkler), and their appearance proved so popular that Garry Marshall, producer of Happy Days and Penny Marshall's brother, commissioned a spin-off for the characters. The television series was named LAVERNE & SHIRLEY.
All guests will be signing photos and taking snapshots with attendees for a nominal fee. All guests are subject to cancellation due to professional commitments.
For Show and Dealer Information:
(408) 298-1709
artapartment@yahoo.com
http://timetunnelnews.blogspot.com/
Press Release:
Calafiore, Chen, Curtis, Kitchen, and Stanton at the Baltimore Comic-Con!
BALTIMORE, MARYLAND – July 28, 2014 – Join the Baltimore Comic-Con at the Baltimore Convention Center this fall for our inaugural 3-day event on Friday-Sunday, September 5-7, 2014! Joining us in Baltimore's Inner Harbor for our 10th annual show are Jim Calafiore,
 Jo Chen, Mike Curtis, Denis Kitchen, and Joe Staton!
Jim Calafiore, whose early work was for the now-reformed Valiant Comics on titles like X-O Manowar and  Armorines, has made a name for himself working extensively for the Big Two: DC and Marvel Comics. Calafiore had noteworthy runs at Marvel on titles such as Black Panther, Deadpool, Exiles, and Iron Man, and over at DC on  Aquaman, Batgirl, Red Lanterns, and Secret Six. More recently, his successful Kickstarter effort, Leaving Megalopolis (with Gail Simone) has been published by Dark Horse Comics, he's done interior work for Dynamite's Red Sonja title, and he's provided covers for Archer and Armstrong at Valiant.
Jo Chen (at the show Saturday and Sunday only!) was born in Taipei, Taiwan, and came to the US in 1994. Working professionally in the Asian comic book industry since age 18, her work in the U.S. comic book scene caught people's attention with her art work for the Racer X mini-series from Wildstorm/DC Comics in 2000. From there, her artwork graced interiors and covers of titles like Fight For Tomorrow, The Demon, and Robin from DC Comics, Runaways, Taskmaster, and Thor from Marvel Comics, and her covers for Dark Horse's Buffy the Vampire Slayer became the title's trademark. Recently, her work has been seen on covers of DC Comics Presents: The Demon – Driven Out.
The Harvey Award-winning (and nominated again this year!) Denis Kitchen began
 his comics career as a self-published underground cartoonist (Mom's Homemade Comics, 1969), but quickly became primarily a publisher. His Kitchen Sink Press for three decades published such legendary and diverse artists as Will Eisner, Harvey Kurtzman, R. Crumb, Mark Schultz, Charles Burns, Al Capp, Scott McCloud, Neil Gaiman, Alan Moore, Eddie Campbell, Dave McKean, Howard Cruse, and countless others. Kitchen also founded the Comic Book Legal Defense Fund and chaired it for eighteen years. A monograph of his cartoons, The Oddly Compelling Art of Denis Kitchen, was recently published. Kitchen curates exhibitions, is an art agent, a literary agent, a comics historian and author (The Art of Harvey Kurtzman and a biography, Al Capp), and has recently brought back Kitchen Sink Books as an imprint of Dark Horse Comics with partner John Lind. This is Denis's 5th appearance at Baltimore Comic-Con where he has a special connection: as the representative of the Kurtzman estate, he was responsible for bringing the annual Harvey Awards to us. Nominated for the same awards this year are Denis's work on Best of Comix Book: When Marvel Comics Went Underground from Kitchen Sink Books/Dark Horse Comics and Al Capp: A Life to the Contrary with Michael Schumacher from Bloomsbury.
Mike Curtis and Joe Staton are the writer and artist respectively of the Harvey Award-winning (and, like Denis above, nominated again this year!) Dick Tracy comic strip. Curtis began working in comics in the 1980s for kids comics publisher Harvey Comics, writing for titles such as Richie Rich, Casper the Friendly Ghost, and New Kids on the Block. From there, he created Shanda the Panda for Mu Press and, later, Antarctic Press. He later went on to create the publishing house Shanda Fantasy Arts. Staton got his start in the comics industry in 1971 with publisher Charlton Comics, where he worked on E-Man, and went on to work for Warren and Marvel Comics as well. He moved to DC Comics to provide art duties on All Star Comics, Adventure Comics, and DC Special where he illustrated tales of the Justice Society of America, and on titles like Superboy and the Legion of Super-Heroes, Showcase, Metal Men, and Green Lantern. His career at DC Comics brought him to other titles too, like Millennium, Guy Gardner, The Huntress, and, most recently, Scooby Doo.
"What a privilege to have such esteemed creators join us this year," said Marc Nathan, promoter of the Baltimore Comic-Con. "From critically acclaimed artists to award-winning creators and creative teams, adding this group of talent only adds to the experience our fans can expect from our show this year!"
The Baltimore Comic-Con will be held Friday, September 5 through Sunday, September 7, 2014, at the Baltimore Convention Center, which is located immediately across the street from the historic Camden Yards sports complex (which includes Oriole Park and Geppi's Entertainment Museum). Tickets, a full guest roster, and additional information is available on the convention's website.
Tickets
General Admission and VIP Package tickets for Weekend, Friday, Saturday, and Sunday are now on sale! Visit www.baltimorecomiccon.com/tickets/ for more information and to purchase your advanced tickets now!
This year's previously confirmed guests for the show include: Eddy Barrows (Earth 2); Marty Baumann (Pixar artist); Jeremy Bastian (Cursed Pirate Girl); Marguerite Bennett (Batgirl); Mark Buckingham (Fables); Dave Bullock (Batman Black and White); Darrenn Canton (Tunnels & Trolls); Greg Capullo (Batman); Richard Case (Sandman); John Cassaday (Doc Savage); Bernard Chang (Green Lantern Corps); Sean Chen (Amazing Spider-Man); Jimmy Cheung (Infinity); Cliff Chiang (Wonder Woman); Frank Cho (X-Men:  Battle of the Atom); Amy Chu (Girls Night Out); Richard Clark (House of Gold & Bones); Steve Conley (Bloop); Jeremy Dale (Skyward); Alan Davis (Wolverine); Rachel Deering (In the Dark); Todd Dezago (Tellos); Tommy Lee Edwards (Star Wars); Garth Ennis (Preacher, The Boys); Ray Fawkes (Constantine); Tom Feister (G.I. Joe); David Finch (Forever Evil); Jose Luis Garcia-Lopez (All-Star Western); Gerhard (Cerebus the Aardvark); Dave Gibbons (Watchmen); Keith Giffen (The New 52: Future's End); Bryan JL Glass (Mice Templar); Michael Golden (The Ravagers); Allan Gross (Road Song); Cully Hamner (Animal Man); Dean Haspiel (The Fox); Fred Hembeck (Garfield); Marc Hempel (Sandman: The Kindly Ones); Adam Hughes (Before Watchmen: Dr. Manhattan); Justin Jordan (Luther Strode, Green Lantern: New Guardians); Dan Jurgens (The New 52: Future's End); Chris Kemple (Red Vengeance); Barry Kitson (Empire); Aaron Kuder (Action Comics); David Mack (Shadowman); Kevin Maguire (Guardians of the Galaxy); Alex Maleev (Moon Knight); Billy Martin (Vitriol, The Hunter); Ron Marz (Witchblade); Mike McKone (Ultimate FF); Bob McLeod (X-Men: Gold); Tradd Moore (Deadpool Annual); Mark Morales (New Avengers); Dan Parent (Archie, Veronica, Kevin Keller); David Peterson (Mouse Guard); Joe Prado (Justice League); Brian Pulido (Lady Death); Ron Randall (Trekker in Dark Horse Presents); Tom Raney (Incredible Hulk); Ivan Reis (Aquaman and The Others); Budd Root (Cavewoman); Don Rosa (Donald Duck); Craig Rousseau (Perhapanauts); Joe Rubinstein (The Official Handbook of the Marvel Universe); Andy Runton (Owly); Alex Saviuk (Web of Spider-Man); Louise Simonson (Power Pack); Walter Simonson (Thor); Andy Smith (Superman #23.1: Bizarro); Allison Sohn (sketch card artist); Charles Soule (Thunderbolts); Jim Starlin (Thanos: The Infinity Revelation); Paul D. Storrie (Sheena, Queen of the Jungle); Ben Templesmith (The Memory Collectors); Robert Tinnell (The Wicked West); Peter Tomasi (Batman and Two-Face); John Totleben (Swamp Thing); Herb Trimpe (GI Joe:  A Real American Hero); Billy Tucci (Shi); Rick Veitch (Saga of the Swamp Thing); Mike Vosburg (Lori Lovecraft); Mark Waid (Daredevil); Lee Weeks (Daredevil); Mark Wheatley (Frankenstein Mobster); Bill Willingham (Fables); Renee Witterstaetter (Joe Jusko: Maelstrom); Rich Woodall (Teenage Mutant Ninja Turtles); Kelly Yates (Amber Atoms); Thom Zahler (My Little Pony); and Mike Zeck (Secret Wars).
In the coming weeks, look for more announcements from the Baltimore Comic-Con. We are looking forward to highlighting our guests, the Harvey Awards, industry exclusives, and programming. The latest developments can always be found on our website, Twitter, and Facebook pages.
Contact Information
Please use the following e-mail addresses to contact the Baltimore Comic-Con:
press@baltimorecomiccon.com – for any general press inquiries or to be added to our PR distribution
promoter@baltimorecomiccon.com – for requesting exhibitor, publisher, and Artist Alley applications
registrar@baltimorecomiccon.com – for inquiries about submitted registrations
harveys@baltimorecomiccon.com - for the Harvey Awards ceremony and banquet
general@baltimorecomiccon.com - for general Baltimore Comic-Con inquiries
About The Baltimore Comic-Con
The Baltimore Comic-Con is celebrating its 14th year of bringing the comic book industry to the Baltimore and Washington D.C. area. For more information, please visit www.baltimorecomiccon.com.
About The Harvey Awards
The Harvey Awards are one of the comic book industry's oldest and most respected awards. With a history of over 20 years, the last 9 in conjunction with the Baltimore Comic-Con, the Harveys recognize outstanding achievements in over 20 categories. They are the only industry awards nominated and selected by the full body of comic book professionals. For more information, please visit www.harveyawards.org.
Legendary hip-hop icon and Rock and Roll Hall of Fame inductee Darryl DMC McDaniels (Run-DMC) along with Editor-in-Chief Edgardo Miranda-Rodriguez and artists the MadTwiinz,  Mike & Mark Davis, appear at Boston Comic Con to talk about their forthcoming graphic novel DMC #1 scheduled for release on October 29, 2014. DMC, the inaugural title from Darryl Makes Comics, imagines an alternate history that blends traditional comic book storytelling with the pressures and anxieties of 1980s NYC, and explores how we got to where we are now. DMC is a superhero for those who need one most. Don't miss their panel on Saturday August 9th at 4:00 PM!
Listen to his interview with Boston Herald Radio at the link!
Other guests include Sean Astin, John Barrowman, Jason Momoa, Jewel Staite, Sam Witwer, Simon Bisley, Greg Capullo, Amanda Conner, Danielle Corsetto, Ivy Doomkitty, Adam Kubert, Carlos Pacheco, Jimmy Palmiotti, Eric Powell, Gail Simone, Stan Sakai, Jeff Smith, Scott Snyder, Mark Waid, Skottie Young, and many more! For the full guest list plus artist alley, exhibitors, and panel/film fest schedule please check out the Boston Comic Con website!
Online ticket purchases are available at the link!
About Boston Comic Con:
The Boston Comic Con is a 100% independently run comic book show committed to bringing the biggest and best comic creators to New England. Run by fans for fans, Boston Comic Con is not affiliated with any other convention tour or corporate interests. Hosting over 120,000 square feet of vendors selling comic books, toys, posters, trading cards, and other pop culture memorabilia, this is a destination event for geeks of any stripe. This year's convention will be held Friday August 8th, Saturday August 9th and Sunday August 10th at the Seaport World Trade Center, 200 Seaport Blvd, Boston, MA 02210. For more information please go to our website at www.bostoncomiccon.com and follow us on Twitter (@BostonComicCon) and Facebook!
July 28, 2014 by Colin Solan
Filed under Animation, Comic Books, Comic Strips, Convention News, Cosplay, Gaming, Horror, Massachusetts, Movies, Other, Science Fiction and Fantasy, Television, Top Stories, Video Games, Webcomics
Press Release:
Celebrity appearances, artist meet-and-greets, a film festival, a Cosplay costume contest, the first official after party and Cosplay Harbor Cruise are among many activities lined up for this year's Boston Comic Con. Boston Comic Con will bring its first three-day convention to the Seaport World Trade Center Friday August 8 through Sunday August 10, 2014. In the seven years since its founding, Boston Comic Con has grown from a one-day show that attracted an estimated 900 comic book enthusiasts to last year's record turnout of more than 23,000, which organizers expect to top this year.
"The community in Greater Boston that loves comic books and related television and film is tremendous and growing," said Nick Kanieff, a founder of Boston Comic Con. "We are home to some of the industry's most talented artists and devoted fans, all of which will join us in great numbers this August. Boston Comic Con has just enough of a celebrity touch to bring in ardent fans while still honoring the artists and writers who are the backbone of the industry."
The 2014 Boston Comic Con will feature celebrity appearances by Jason Momoa of "Game of Thrones"; John Barrowman of "Doctor Who," "Torchwood" and "Arrow"; Sean Astin of "The Goonies" and "The Lord of the Rings" trilogy; James Marsters of "Buffy the Vampire Slayer" and "Angel"; Katie Cassidy of "Arrow"; Eve Myles of "Torchwood"; Jewel Staite of "Firefly"; Sam Witwer of "Being Human"; and Darryl McDaniels, aka DMC, of Run-DMC, one of the founding fathers of the hip hop and rap movement, who is producing his own comic about a rap superhero. Celebrities will also participate in panel discussions, Q&As, photo ops, and signing autographs throughout the three-day convention.
Among the 200+ comic book creators taking part in the convention are well known artists such as artist Greg Capullo and writer Scott Snyder, who together produced legendary Batman story arcs as The Court of Owls, Death of the Family and Zero Year for DC Comics. Indie sensation Jeff Smith, creator of the fantasy epic Bone, makes rare appearance at this year's convention. Also featured is artist Adam Kubert, best known for his work with Marvel Comics on Wolverine, Incredible Hulk, Ultimate Fantastic Four, and X-Men. He is both a graduate of and an instructor at the famed Kubert School, founded by his father, legendary artist Joe Kubert. Other creators include Skottie Young, whose current project, Rocket Raccoon ties in with Marvel's summer blockbuster Guardians of the Galaxy, fan-favorite Gail Simone, writer of Batgirl, Birds of Prey, and Wonder Woman, and Mark Waid who is the most prolific writer of popular characters such as Superman, Spider-Man, and Daredevil.
Participating Boston-area artists include husband and wife team Shelli Paroline and Braden Lamb, Joe Quinones, Maris Wicks, Ming Doyle, Norman Lee, Sara Richard, and several others.
Boston Comic Con is especially proud of its showcase of 14 top women creators including: Christy Blanch, Danica Brine, Katie Cook, Danielle Corsetto, Ming Doyle, Dawn Griffin, Rebekah Isaacs, Shelli Paroline, Sara Richard, Gail Simone, Cat Staggs, Babs Tarr, Maris Wicks, and Chrissie Zullo.
"Boston Comic Con is at the forefront of supporting local artists, especially women creators. It is truly an organic, home-grown event that has gained popularity over the past few years," said Kanieff, a Framingham resident who is also an avid collector. "We welcome everyone, from families with young children, to college students, to older comic book fans. There is something for everyone at Boston Comic Con."
New This Year
The first Boston Comic Con Cosplay Harbor Cruise will take place on Saturday, August 9 from 8 p.m. to 11 p.m. The cruise will be hosted by Ivy Doomkitty, international costume designer and cosplayer, and features noted cosplayers including Nicole Marie Jean, Destiny Nickelsen, and Bethany Maddock. After the harbor cruise, Boston Comic Con will host the official "after party" at Laugh Boston, at the Westin Waterfront Hotel. Also new this year, a limited number of tickets will be sold to allow early entry on the first day of Boston Comic Con, Friday, August 8 at 1 p.m., one hour before the general admission at 2 p.m.
Additionally, Marvel editor C.B. Cebulski will be on hand to provide portfolio reviews for aspiring comic artists. And this year's exclusive t-shirt features Rocket Raccoon drawn by Guardians of the Galaxy artist Nick Bradshaw with colors by Rich Woodall.
"Not only is Boston Comic Con drawing interest from the area's extensive comic book community, but it's becoming a destination event that brings tourists to Boston," said Kanieff. "The growing excitement around this convention demonstrates the strength and vibrancy of the creative community we have here in Boston and in the surrounding region."
More information about events, artists and celebrity guests can be found on www.bostoncomiccon.com. General admission and VIP tickets are on sale now, as are tickets for celebrity photo ops. Boston Comic Con is also accepting entries for this year's film festival.
For information on ticket sales please visit: www.bostoncomiccon.com.
Press Release:
VIRTUAL REALITY MEETS MIDDLE EARTH — AND THE MUPPETS (!) AT WARNER BROS.' STAR-PACKED BOOTH FOR COMIC-CON 2014
Go Into the Storm with the 4D Oculus Rift Experience and Get Up Close and Personal with Stars, Smaug, Sesame Street and Soft Kitty
Full Signing Schedule Released for Warner Bros. Booth
BURBANK, Calif. (July 22, 2014) — With Comic-Con 2014 only days away, the behind-she-scenes team at the Warner Bros. booth (#4545) is working its magic creating another must-see environment, including a 4-D immersive Oculus Rift experience allowing fans into the heart-stopping excitement of Warner Bros. upcoming Into the Storm film (unleashed on August 8, 2014); an epic-sized LEGO® Smaug, the legendary dragon from Warner Bros. trilogy of The Hobbit films; a personal appearance by some of Sesame Street's most familiar faces; and an exclusive Soft Kitty giveaway for fans of The Big Bang Theory, only in San Diego. Always a destination for Comic-Con fans, the Warner Bros. booth will be a constant flux of activity, including giveaways, autograph signings and more.
For a closer look at this year's Warner Bros. booth activities, read on:
INTO THE STORM: THE 4D OCULUS RIFT EXPERIENCE
Prepare to go #IntoTheStorm with an intense experiential booth featuring a 4-D immersive Oculus Rift experience that puts fans directly into a recreated scene from the upcoming tornado survival film.
Releasing on August 8th, Into the Storm, from New Line Cinema, in association with Village Roadshow Pictures, stars Richard Armitage (The Hobbit films), Sarah Wayne Callies (The Walking Dead), Matt Walsh (Ted), Alycia Debnam-Carey (Where the Devil Hides) and Arlen Escarpeta (Final Destination 5).
In the span of a single day, the town of Silverton is ravaged by an unprecedented onslaught of tornadoes. The entire town is at the mercy of the erratic and deadly cyclones, even as storm trackers predict the worst is yet to come. Most people seek shelter, while others run towards the vortex, testing how far a storm chaser will go for that once-in-a-lifetime shot. Told through the eyes and lenses of professional storm chasers, thrill-seeking amateurs, and courageous townspeople, Into the Stormthrows viewers directly into the eye of the storm to experience Mother Nature at her most extreme.
Fans who survive the storm will have their reactions to the experience captured on camera, and once they exit the booth, they will be able to immediately share their experience from a social wall on Facebook, Tumblr, Twitter and YouTube.
FIND YOURSELF FACE TO FACE WITH SMAUG
 The LEGO Group's large-scale LEGO brick model of Smaug from The Hobbit Trilogy will be on
display in the Warner Bros. booth #4545 at San Diego Comic-Con. Pictured: designer Erik Varszegi.
The creative MasterBuilders at The LEGO Group are at it again with a Comic-Con exclusive: a life-sized recreation of the legendary Dragon Smaug (that's "human" life-sized vs. "dragon" life-sized), from The Hobbit Trilogy.
Standing at more than six feet tall and weighing in excess of 400 pounds, the large-scale dragon is constructed from 83,433 LEGO® bricks and took over 625 hours to design and build. Featuring a (to Dragon scale) Hobbit-sized Bilbo Baggins and shining Arkenstone, the epic LEGO Smaug stands guard at the Warner Bros. booth!
This December, Oscar®-winning filmmaker Peter Jackson will unleash the epic final film in The Hobbit Trilogy, based on the timeless masterpiece by J.R.R. Tolkien, from New Line Cinema and Metro-Goldwyn-Mayer Pictures. In The Hobbit: The Battle of the Five Armies, Bilbo's journey culminates in a desperate and dangerous choice as darkness converges on the Lonely Mountain and the races of Dwarves, Elves and Men must decide — unite or be destroyed. Ian McKellen returns as Gandalf the Grey, with Martin Freeman as Bilbo Baggins, and Richard Armitage as Thorin Oakenshield. The ensemble cast is led by Evangeline Lilly, Lee Pace, Luke Evans, Benedict Cumberbatch, Ken Stott, James Nesbitt, with Cate Blanchett, Ian Holm, Christopher Lee, Hugo Weaving, and Orlando Bloom.
MUPPETS TAKE SAN DIEGO!
In celebration of its upcoming 45th season, Sesame Street is sending a Muppet delegation to the Con for a Meet & Greet on Sunday, July 27th from 2:00–3:00 p.m. at the Warner Bros Booth.
Fans of all ages will have the chance to meet Cookie Monster, Bert, Grover and Murray Monster and their performers in a one-of-a-kind get together at the Warner Bros. booth.
IN addition, the first 100 fans will walk away with the latest Sesame Street and Warner Bros. DVD – Learning Rocks!
THE CAT'S OUT OF THE BAG!
COMIC-CON EXCLUSIVE: SOFT KITTY PREVIEW GAME PIECE FROM
MONOPOLY® THE BIG BANG THEORY EDITION GAME
The cat's out of the bag — and can be found at the Warner Bros. booth!
In a Comic-Con exclusive, Warner Bros. is offering fans of hit comedy The Big Bang Theory the chance to get their hands on a Soft Kitty preview game piece from the MONOPOLY®: The Big Bang Theory edition game, which will be available at retailers nationwide next month.
Available only at Comic-Con and not included in the actual game, a limited number of the Soft Kitty mover tokens will be distributed at the Warner Bros. booth Wednesday, July 23–Sunday, July 27. In-the-know fans can ask for the token at the redemption window at the booth.
STARS & SIGNINGS AND MORE!
From Thursday through Sunday, a cavalcade of talent — including producers and stars from Warner Bros. Television shows, HBO, Warner Bros. Animation, Warner Home Entertainment and Warner Bros. Pictures — will be signing for fans at the Warner Bros. booth.  Talent to be announced. The signing schedule is as follows:
THURSDAY, JULY 24, 2014

3:30pm-4:00pm           Into the Storm
4:45pm-5:30pm           Childrens Hospital
FRIDAY, JULY 25, 2014

10:15am-11:00am       iZOMBIE
11:45am-12:30pm       The Originals
2:15pm-2:45pm           The 100
3:30pm-4:30pm           Game of Thrones
5:00pm-5:45pm           Mike Tyson Mysteries
5:30pm-6:30pm           Batman: Assault on Arkham
6:15pm-6:45pm           Banshee
SATURDAY, JULY 26, 2014

11:15am-11:45am       Mad Max:  Fury Road
11:45am-12:30pm       Arrow
12:30pm-1:00pm         The Hobbit:  The Battle of the Five Armies
1:30pm-2:00pm           Constantine
2:00pm-3:00pm           True Blood
2:45pm-3:30pm           The Vampire Diaries
4:00pm-4:45pm           Gotham
5:00pm-5:45pm           Person of Interest
5:45pm-6:15pm           The Flash
SUNDAY, JULY 27, 2014

10:30am-11:15am       Teen Titans Go!
11:30am-12:15pm       Supernatural
12:00pm-12:45pm       Scooby-Doo! Frankencreepy
12:30pm-1:15pm         The Following
12:45pm-1:15pm         Tom and Jerry:  The Lost Dragon
For continuing info on the Studio's plans at Comic-Con, please visit comiccon.thewb.com and follow @warnerbrostv on Twitter (hashtag #WBSDCC).
Press Release:
LEGENDARY AT SDCC 2014
At Comic-Con 2014, we invite our fans to 'step inside our worlds'.
We will be at San Diego Comic-Con 2014 hosting a booth on the show floor, holding a panel in Hall H, and much more.  Follow us on Twitter and Instagram for the latest announcements and updates.  We know everyone can't make it to Comic-Con so we will be covering all the activities through photos & videos, and hosting fan giveaways on our social accounts during and after Comic-Con.  Keep an eye out!
Legendary Booth
Booth Location: #3920
We have worked with master filmmaker Guillermo del Toro to bring his incredible imagination to life, delivering two unique fan experiences for Pacific Rim and Crimson Peak.  The booth hosts unique physical props from the hotly anticipated Warcraft, giving fans an exclusive first look right out of the world of the film.  Additionally the booth offers previews of Legendary's upcoming psychological thriller As Above/So Below and the new catalogue of titles from Legendary Comics.
Crimson Peak Gothic Gallery
Step inside the imagination of Guillermo del Toro with The Gothic Gallery, an immersive handcrafted exhibit from master filmmaker. This exclusive fan experience offers a glimpse behidnd the curtain of Crimson Peak, through an intimate set piece of the gothic haunted house he is creating… Beware Crimson Peak!
Head to facebook.com/CrimsonPeakMovie to view images of the Gothic Gallery and sign up for a chance to win an exclusive tour of the Gothic Gallery with the visionary filmmaker Guillermo del Toro.
Visit the Legendary Booth to experience the Gothic Gallery.
Pacific Rim Jaeger Pilot
We have worked closely with the leading pioneers of virtual reality, Oculus VR, to deliver a new benchmark in Oculus Rift experiences.
Fans will experience what it feels like to pilot a 250-story robot as they step into a fully-realized Jaeger Combat Simulator.  Strapping on the Oculus Rift headset, fans will 'Drift with the Rift' and experience the beloved universe of Pacific Rim in a whole new way.
Watch this video and visit the Legendary Booth at 9 am daily for tickets.  First come, first served.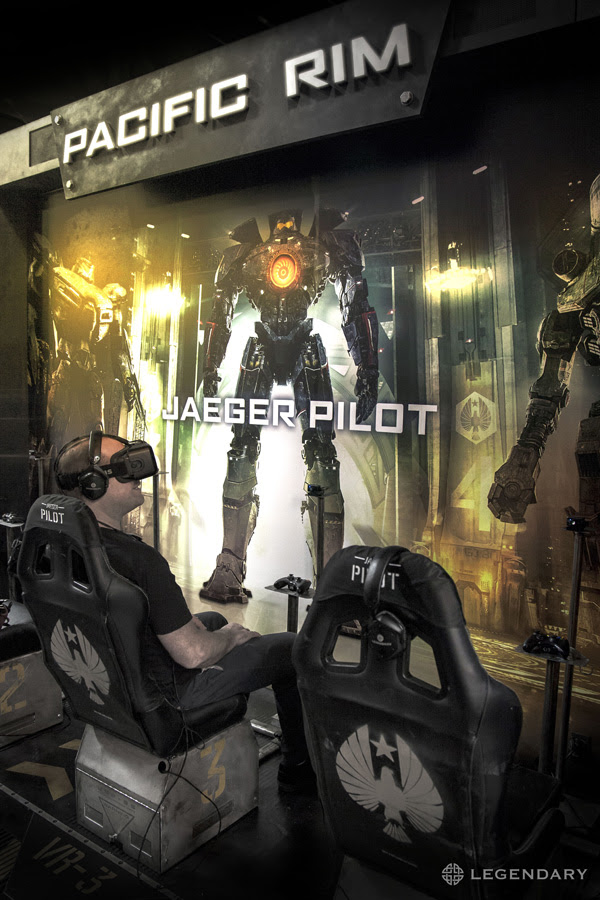 Signing with Warcraft Director Duncan Jones
Legendary and Warcraft fans now have the chance to meet director Duncan Jones, the man responsible for bringing Warcraft to the big screen.  Duncan Jones will be doing a signing on Saturday 7/26 at 2 pm at the Blizzard Booth (#115). Tickets will be handed out that morning at 11 am on a first come, first served basis at the Blizzard Booth.
Legendary's Film Panel – Hall H
Date: Saturday, July 26
Time: 12:35 pm
During our panel, we will be live tweeting from Hall H.  Follow along here:@Legendary.
Press Release:
Marky Ramone at San Diego Comic Con
Marky Ramone, Rock and Roll Hall of Fame Inductee and 20 year member of The Ramones and currently starring in the comic book series "Alan Robert's Killogy" will be at appearing at San Diego Comic Con International at Exhibitor Table J-8 signing autographs and taking photos with fans the following dates and times:
Wednesday July 23 6:00 PM – 8:00 PM
Thursday July 24 11:00 AM – 2:00 PM
Friday July 25 3:00 PM – 6:00 PM
Saturday July 26 11:00 AM – 3:00 PM
Sunday July 27 11:00 AM – 2:00 PM
On Friday July 25th from 1:00 PM – 2:00 PM, Marky will be at the IDW Publishing Booth 2643 signing "Killogy" Comics (free while supply lasts).On Saturday, July 26th from 7:00 PM – 8:00 PM, Marky will be appearing on the Comic Con Panel "Comics & Pop Music!" taking place in Room 28DE. This hour-long program brings together comic creators and musical innovators to discuss their work combining the worlds of music and comic booksDepth Of Field Magazine is proud to present Comics And Pop Music!, a panel discussion at San Diego Comic-Con. This program features an all-star selection of creators, publishers, and musicians discussing the historical ties between popular music and comics, the two forms' shared passions and common inspirations, and how these two media continue to inform and impact each other in the 21st century.
Patrick Reed (editor of Depth Of Field Magazine) will moderate, and panelists include musical legend Marky Ramone (drummer of The Ramones, Grammy Award winner, Rock & Roll Hall Of Fame inductee, star of IDW's 'Killogy' series), Vivek J. Tiwary and Andrew Robinson (the creative team of the NY Times-bestselling, Eisner Award-nominated 'The Fifth Beatle'), Chynna Clugston-Flores (creator of 'Blue Monday' and 'Scooter Girl'), Jennifer de Guzman (writer, director of trade book sales at Image Comics), Matthew Rosenberg (writer of Ghostface Killah's '12 Reasons To Die'), Alex Segura (VP of publicity for Archie Comics, author of 'Archie Meets Kiss'), and other special guests.
See more at: http://www.markyramone.com
For those not attending Comic Con International, Marky will be doing an in store appearance and signing at FeeLit Records on E Street in San Diego on Thursday July 24th from 4:00 PM – 6:00 PM PST.
After Comic Con Saturday Night July 26, 2014: Marky Ramone Til-Two After Party. Marky Ramone will DJ an exclusive set along with performances by Wild Records Recording Artists The Black Mambas, Rock the House and Gizzelle Andrea Becerra. For more information and tickets click on the photo below.