Press Release:
Planet Comicon will be better and bigger than ever this year. We have expanded the exhibit hall for even more dealers, artists, celebrities, cosplay, and special attractions. Planet Comicon will be held March 13-15, 2015 at Kansas City's Bartle Hall. Admission packages are now available for purchase at the link…
We've announced great guests with many more announcements to come. You'll meet Hollywood stars including Cary Elwes (The Princess Bride), Stephen Amell (Arrow), John Barrowman ( Arrow, Torchwood, Doctor Who), Laura Vandervoort (Smallville), Sam Witwer (Being Human), Robbie Amell (The Tomorrow People, The Flash), Eve Myles (Doctor Who, Torchwood) and many others.
We also have a great array of top comics creators on the slate. So far, we've confirmed Tim Bradstreet (Punisher), Stan Sakai (Usagi Yojimbo), Katie Cook (My Little Pony), Don Rosa (Uncle Scrooge), Dan Parent (Archie) and local favorites including Jason Aaron (Thor), Phil Hester (Green Arrow), Rick Burchett (Lady Sabre).
Check out our new website for more information our guests and attractions: www.planetcomicon.com
Tyler B. Ruff appears at AM Trading Co on Saturday, December 13th from 1:00 – 5:00 PM to sign THE UNFORGIVEN.
AM Trading Co
4005 Utah Street, St. Louis MO 63116
314-338-6419
Cartoonist Tyler Ruff hosts a special release party for his first graphic novel, The Unforgiven, at Star Clipper on Saturday, December 20th from 1:00 to 6:00 pm. Don't miss your chance to meet the creator and get a signed copy of The Unforgiven.
Star Clipper Comics
6392 Delmar Blvd, St. Louis, MO 63130
(314) 725-9110
Tim Lane, one of St. Louis' most influential & popular indie cartoonist, will be hosting a special release party for his newest Fantagraphics book, The Lonesome Go, at Star Clipper on Saturday, November 1st at 7:00 PM. Come meet Tim Lane and get an autographed copy of The Lonesome Go. Tim will also be hosting a carousel film connected to his new graphic novel and the short film will be accompanied with a live musical performance.
About The Lonesome Go:
Tim Lane continues his exploration of the Great American Mythological Drama that began with his first book, the critically acclaimed Abandoned Cars. This collection of stories is broadly linked together by the experience of wandering — both literally and figuratively. With compelling verisimilitude, the lives of his characters are depicted by way of rich mixtures of obscure myths and documented facts, dreams and reality, belief and disbelief, throughout a haunted landscape populated by the ghosts of a complex and rich fictional tapestry. You'll witness a young man's dubious quest to discover the myth of the protagonist from an obscure vintage comic strip; encounter sociopathic hobos in boxcars and misled young men whose facial pores sprout worms and who throw up babies into gas station toilets; visit modern "Hoovervilles"; and experience the life and death of an undocumented immigrant bookstore doorman, former boxer, and expert hustler.
Star Clipper Comics
6392 Delmar Blvd, St. Louis, MO 63130
Phone: (314) 725-9110
Novelist R.A. Salvatore signs at Webster Groves Public Library on Thursday, October 2nd, 2014 at 7:00 pm!
Webster Groves Public Library
301 E. Lockwood Ave. Webster Groves, MO 63119-3102
314.961.3784
Writer Jason Aaron appears at Barnes & Noble to sign Amazing X-Men: The Quest for Nightcrawler on Saturday August 2, 2014 6:00 PM!
Author Event
Come check out a new era for the X-Men! The critically acclaimed writer of The Other Side and Scalped and the master Marvel X-Men writer, Jason Aaron will be here discussing and signing his latest, Amazing X-Men Volume 1: The Quest for Nightcrawler.
Barnes & Noble – Zona Rosa
8625 Northwest Prairie View Rd Spac, Kansas City, MO 64153
816-505-3355
Josh Blaylock appears at Star Clipper on Sunday July 6th from 4:30 – 7:30 pm to sign MERCY SPARX!
Star Clipper Comics
6392 Delmar Blvd, St. Louis, MO 63130
Phone: (314) 725-9110
Cartoonist Danielle Corsetto will be in St. Louis for one night and has chosen Shameless Grounds as the venue to host her book signing.
There will be a Q&A on Tuesday, July 8th from 7:00 until 8:00 and then she will be selling and signing books from 8:00 until 11:00. You will want to purchase something from Shameless in order to claim a special gift from Danielle.
For those of you that haven't been to Shameless Grounds yet: Parking is on the street. PLEASE TRY TO PARK ON LEMP. (Withnell is a residential street and we try to leave those spots for the residents.) If you want to sit inside, be sure to get here early to grab a table. If you do end up sitting outside, you'll still be able to hear Danielle's answers through our PA.
Girls With Slingshots debuted on October 1st 2004, both online and at SPX in Bethesda, MD. Since its humble beginnings as a twice-weekly black-and-white webcomic, it's become a self-sustaining color webcomic that updates five times a week, Monday through Friday.
The strip's two main characters, Hazel and Jamie, sprung to life in a strip called Hazelnuts, the unintentional prequel to GWS. The title was derived from requests Danielle used to get at comic conventions to draw girls with guns (she sucked at drawing guns, so she drew them with slingshots).
Danielle Corsetto is the artist and creator of Girls With Slingshots. She created her first comic strip when she was 8, starting with a blatant rip-off of Garfield called Fat Cat. She started writing Hazelnuts in high school, and ran a comic about super-senior college kids called Ramblers in the student paper at Shepherd College (as well as Pop Image and World Famous Comics). She also briefly ran a comic called Larry and Caroline in the Hagerstown Herald-Mail newspaper.
In October of 2004, she began Girls With Slingshots, and by 2007, with the first print collection of GWS and other merchandise & art sales, she was doing the strip full-time. It's now updated 5 times a week at some god-awful hour.
In addition to GWS, Danielle wrote and drew The New Adventures of Bat Boy for the Weekly World News, taking the reins from Peter Bagge. She's also written two Adventure Time graphic novels for BOOM! and has several other projects in the works.
Danielle hails from Ijamsville, MD and now lives in Shepherdstown, West Virginia in a 230-year-old house with her two cats, Smudge and Ellie (aka Fluffy and Sprinkles). She loves drinking tea, going for hikes, traveling, cooking, gardening and eating local foods, because she is a filthy hippie. Danielle has taught illustration at her alma mater Shepherd University, and hopes to teach more in the future. She is a lifetime Girl Scout.
Shameless Grounds, LLC
1901 Withnell, St. Louis, MO 63118
(314) 449-1240
Come meet Jeff Weigel, the creator of the graphic novel, Dragon Girl, on Saturday July 26, 2014 at 2:00 PM! Jeff will demonstrate and talk about cartooning. He'll do a reading and signing. This is your chance to meet a successful graphic novelist and learn about the art.
Barnes & Noble – Fenton Commons Shopping Center
721 Gravois Road, Fenton, MO 63026
636-326-4619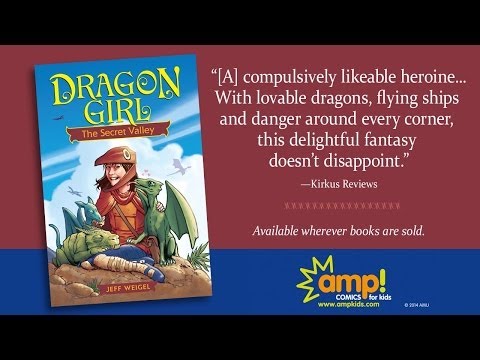 Local cartoonist Jeff Weigel appears at Star Clipper for the release of his new graphic novel, DRAGON GIRL, on Saturday, June 21st from noon to 4:00 pm.
DRAGON GIRL is the story of Eleven-year-old Alanna and her brother, Hamel, who are both orphans doing their best to to make their way in a grim world until Alanna stumbles upon a cave full of dragon eggs. When the eggs hatch and a mother comes to claim the babies, Alanna is swept along on an adventure beyond her wildest imaginings as they journey to Dragon Rock, whose mysterious force draws dragons of all shapes and sizes to a magical, untouched valley. But when the valley is threatened by outsiders, Alanna must join forces with a mysterious explorer to save the dragons' homeland. Kids will love this graphic novel adventure, filled with action, adventure, suspense and humor.
Star Clipper Comics
6392 Delmar Blvd, St. Louis, MO 63130
Phone: (314) 725-9110