Writer/director John Michael McDonagh and actor Brendan Gleeson appear for a special advance screening of Fox Searchlight's CALVARY to be followed by a Q & A on Tuesday July 22, 2014 at 7:00 PM. Presented by the Irish Film Festival.
Get free tickets at the link SOLD OUT
Kendall Square Cinema
1 Kendall Square, Cambridge, MA 02139
617-621-1202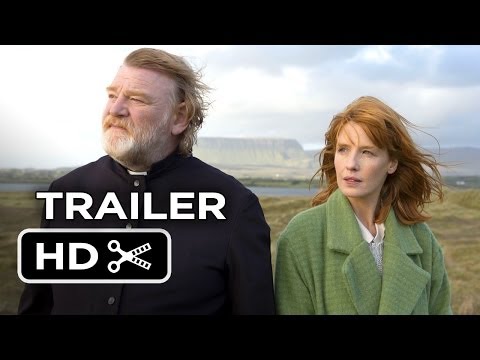 Cartoonist Lucy Bellwood appears at Trident Booksellers on Monday, July 14th at 7:00 pm!
Press Release:
Have you ever yearned for a life at sea? Wondered what it would be like to sail aboard an 18th century vessel? Been perplexed by the confusing nautical terminology in Melville and O'Brian? Join tall ship sailor-turned-cartoonist Lucy Bellwood as she reads from her educational, autobiographical comic series Baggywrinkles. Whether working as a deckhand on the Lady Washington or documenting the restoration of the Charles W. Morgan at Mystic Seaport, her visual insights into life on board historic vessels will illuminate and delight.
About the author: Lucy Bellwood is a cartoonist and illustrator working out of Periscope Studio in Portland, OR. Since 2007 she has been an avid lover of tall ships and sailing, working aboard vessels up and down the West Coast. In 2014 she traveled to Boston to document the 38th voyage of the freshly-restored 1840s wooden whaling ship the Charles W. Morgan. Her work has appeared in Symbolia Magazine, The Nib, Cartozia Tales, and many other venues. You can find her online at lucybellwood.com or on Twitter as @LuBellWoo.
Trident Booksellers and Cafe
338 Newbury St, Boston, MA 02115
(617) 267-8688
Meet author Tom King at Friendly Neighborhood Comics on Saturday July 12th, 2014 from noon – 4:00 pm!
About:
Tom King is the author of A Once Crowded Sky, a postmodern super hero novel named by USA Today as one of the best Graphic Novels of 2012. Prior to becoming a novelist, King served in the CIA as an operation officer in the Counterterrorism Center. While in college at Columbia University, King interned at Marvel and DC Comics. He lives in Washington DC with his wife and two children.
Friendly Neighborhood Comics
191 Mechanic Street (Route 140), Bellingham, MA 02019
508-799-4406
Maris Wicks (Primates) and Zack Giallongo (Broxo) talk about their graphic novels on Wednesday July 30, 2014 at 7:00 PM! Both will appear on August 8-10th at Boston Comic Con at tables C321 (Wicks) and D423 (Giallongo)!
Barnes & Noble
1 Worcester Rd, Framingham, MA 01701
508-628-5567
Press Release:
That's Entertainment presents comic book signing events at their locations in Worcester and in Fitchburg on July 2 and 9, respectively. Creators of a newly-released Xeric Grant winning comic book called "How i Made the World" will be on hand on those two Wednesday evenings to sign copies of their work, and to chat with fans and aspiring comic book creators. The event is free and open to the public.
Artist Randy Michaels is set to be at Thats Entertainment, 244 Park Avenue in Worcester on July 2 (4:00 to 7:00 p.m.); both Michaels and writer Liz Plourde will be at the 56 John Fitch Highway, Fitchburg signing on July 9 (4:00 to 6:45 p.m.). Michaels will also be adding free sketches of a character from "How i Made the World" to the covers of the comics purchased by fans.
"How i Made the World" is a semi-autobiographical story about a college student and writer who is assigned a challenging art project; the work begins to consume her thoughts and restless nights until an epiphany brings all the details of the story together. The central character, in the words of Plourde, translates her everyday experiences into epic adventures. Advance reviews from industry websites and publications have praised the synergy between writer and artist, as well as the strong prose, memorable supporting characters and lovely, clean artwork. These are some of the characteristics that propelled this engaging slice-of-life comic to victory in the competition for the coveted Xeric Grant.
Ken Carson, manager of Thats Entertainment, says the comic belongs with other great, non-superhero or alternative comics like Love & Rockets and Optic Nerve. There is a very persistent, devoted market for this type of clever and literary comic. To me, its very character-driven. I really enjoyed spending time in the setting Liz and Randy created.
The Xeric Foundation is a private, nonprofit corporation based in Northampton, Massachusetts, which for twenty years awarded self-publishing grants to comic book creators. The Xeric Foundation was established by Peter Laird, co-creator of the "Teenage Mutant Ninja Turtles". A few years ago, the Foundation announced it would award publishing grants for only a short time longer, changing their focus to charitable work, including fostering environmentalism, literacy, and the arts. Fortunately for Plourde and Michaels, How i Made the World was submitted just in time and awarded one of the final grants. The sole major wholesaler to comic book shops, Diamond Distributors, then accepted the comic for solicitation to retailers, which also gave How i Made the World an important edge over most self-published comics.
Michaels and Plourde, who both currently live in southern New Hampshire, have strong ties to the Central New England area. Michaels works in illustration and TV production, and Plourde currently teaches at Mt. Washington College.
Dan Mazur and Alexander Danner sign at Barnes & Noble on Thursday July 24, 2014 at 7:00 PM!
Barnes & Noble
1 Worcester Rd, Framingham, MA 01701
508-628-5567
WWE Hall-of-Famer Mick Foley (a.k.a. Mankind, Cactus Jack, Dude Love) appears at Kowloon to perform his one man show "Tales from Wrestling Past" at 8:30 pm on Friday June 27th and Saturday June 28th.
Kowloon
948 Broadway, Saugus, MA 01906
(781) 484-6002
Cartoonist Matt Smith appears at Million Year Picnic in Harvard Square for a signing of his new graphic novel BARBARIAN LORD on Saturday, July 5th, 2014 from 2:00 till 4:00 pm!
Million Year Picnic
99 Mt Auburn Street, Cambridge, MA 02138
(617) 492-6763
Cartoonist Box Brown appears at Brookline Booksmith on Tuesday, July 1st at 7:00 pm!
In this stunning biography of André René Roussimoff, better known as André the Giant, cartoonist Box Brown brings the larger-than-life man to human form. He tells of the highs: from his illustrious career in the WWF to his beloved role as Fezzik in The Princess Bride, to his lows: from the daughter he essentially ignored, to his alcohol-fueled rages.
Brookline Booksmith
279 Harvard Street, Brookline, MA 02446
(617) 566-6660
Comic creator Paul Pope appears at New England Comics' Harvard Square store on Saturday June 21, 2014 from 2:00 till 6:00 pm! A limited number of certificates of authenticity are available to customers who pre-order Pope's new book ESCAPO. Please contact the store for further details.
PAUL POPE is a prolific comic book artist and writer best known for his work on Batman: Year 100, Battling Boy, One Trick Rip Off, Heavy Liquid, and 100%. In addition he has done cover art and several short stories for both independent and mainstream publishers.
Please note times may be subject to change.
New England Comics - Harvard Square
14A Eliot Street, Cambridge, MA 02138
Phone 617-354-5352