Press Release:
WIKIA PARTNERS WITH THE CHICAGO COMIC & ENTERTAINMENT EXPO (C2E2)
Wikia [LIVE] Interactive Series To Be Featured At Annual Pop Culture Event
San Francisco – April 19, 2013 - www.Wikia.com, the world's leading collaborative media company and home to many of the Web's largest social communities, announced today that it has partnered with C2E2, the annual comic and entertainment extravaganza which takes place every Spring in Chicago and is organized by ReedPOP, the leading producer of pop culture events around the world. The partnership is designed to integrate Wikia's powerful community of entertainment experts into the industry's leading events through Wikia [LIVE]. The live, interactive series will consist of a variety of programs that weave in the site's popular hubs: Video Games, Entertainment and Lifestyle.
"It is with great excitement that we announce this partnership with C2E2," said Eric Moro, Director of Entertainment Programming, Wikia. "We feel it is yet further recognition of Wikia as one of the largest communities of pop culture experts, and we look forward to working with C2E2 and the ReedPOP team to bring these voices to par with other industry experts."
"Through this partnership, there is great opportunity for all parties involved," notes Lance Fensterman, Global Vice President for ReedPOP and Show Manager for C2E2. "I'm looking forward to working with Wikia to our mutual benefit, for C2E2 and throughout the year, and I know that we will be able to do some awesomely creative things together and make this the best C2E2 yet."
At C2E2, Wikia will produce a live version of its "Expert Showcase." The Wikia video series invites its most active and robust communities to join in a rapid-fire discussion on fun pop culture topics; at C2E2, the group will discuss "The Walking Dead." Jake Trusheim of the Walking Dead Wikia community will serve as the voice of the fans for the panel. The "Expert Showcase" panel begins Friday, April 26 at 12:15 PM in Room W471. Past episodes include the "Marvel NOW! comic book imprint" and "The ongoing depiction of Iron Man on the big screen."
"Wikia Heroes and Villains Cosplay Contest" will tie the community's passion for pop culture topics to the lifestyle topics that dominate their world. Wikia invites fans to come dressed on Saturday, April 27 to the Variant Stage as their favorite character or asks contestants to create a hero or villain of their very own. Members of the Wikia community will serve as the panel of judges. All contestants must individually compete and provide one form of character reference. Prizes will be awarded by Wikia to the winners. The contest is full but further details about the event area vailable here.
"Wikia Qwizards" is a two day live-action quiz show beginning Friday, April 26 (2:00 – 3:00 PM) in Room W470b that will feature a special "Sci-Fi" theme. Qwizard contestants will be tasked with answering the host's questions related to movies, TV, and video games, but in a twist, aspiring Qwizards get to write and ask questions for each other. Qwizards with the highest scores at the end will be invited to the center stage on Sunday, April 28 (3:15 – 4:14 PM) in Room W474 to determine the smartest C2E2 attendee. Prizes to be awarded by Wikia to the winners.
Additionally, Wikia will be sponsoring the official C2E2 after-hours hangout and watering hole known as the Wikia Bar at C2E2 for the entire weekend. All are welcome.
ABOUT REEDPOP: ReedPOP is a boutique group within Reed Exhibitions which is exclusively devoted to organizing events, launching and acquiring new shows, and partnering with premium brands in the pop culture arena. ReedPOP is dedicated to producing celebrations of popular culture throughout the world that transcend ordinary events by providing unique access and dynamic personal experiences for consumers and fans. The ReedPOP portfolio includes: New York Comic Con (NYCC), Chicago Comic & Entertainment Expo (C2E2), Penny Arcade Expo (PAX) Prime & East, Star Wars Celebration, and the UFC Fan Expo. In 2013 ReedPOP will add Star Wars Celebration Europe and PAX Australia to its rapidly expanding portfolio of international events. The staff at ReedPOP is a fan based group of professionals producing shows for other fans, thus making them uniquely qualified to service those with whom they share a common passion. ReedPOP is focused on bringing its expertise and knowledge to world communities in North America, South America, Asia and Europe.
ABOUT WIKIA:
Wikia is a trusted collaborative media platform. It is the definitive place for people to contribute to the assembly of original bodies of multi-media content around subjects they know and love. Using Wikia, anyone can form new communities around any subject or participate in over 300,000 existing communities by reading or contributing new content. With over 20 million pages of rich content, Wikia's communities are the most authoritative information about any topic on the Internet. Wikia's video game vertical (www.wikia.com/videogames) is a leading video-game focused network on the Web. Its entertainment vertical (www.wikia.com/entertainment) is the fastest growing US entertainment destination around the world.
Launched in 2006 by founders Jimmy Wales and Angela Beesley, Wikia attracts more than 70 million global unique visitors per month and is ranked a Quantcast Top 35 Internet site.www.wikia.com or @wikia
Via Marvel:
Marvel's Agent M joins Executive Editor Tom Brevoort, talent scout C.B. Cebulski and editors Ellie Pyle and Jordan D. White in Chicago, from April 26-28, for C2E2 2013! Will you be at the convention as well?
What are you most looking forward to seeing from Marvel at C2E2? Let us know in the comments below or on Twitter by tweeting @Marvel or using the hashtag #MarvelC2E2!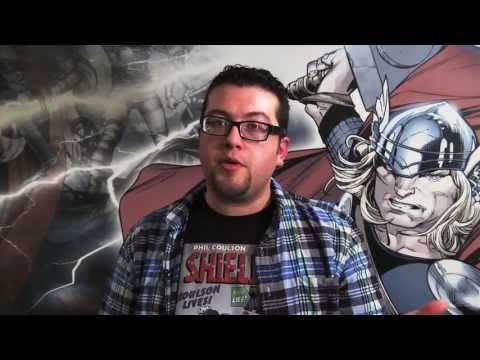 Press Release:
Hero Initiative at Chicago's C2E2
With special guests John McCrea, Gene Ha and longtime Chicago Bear Israel Idonije
Los Angeles (April 9, 2013) Hero Initiative, the non-profit organization that aids comic creators in medical and financial need, is breezing into the windy of Chicago to attend the Chicago Comic & Entertainment Expo, also known as C2E2, located at McCormick Place.
Hero will have an all-star lineup of guests including John McCrea, the artist on IDW Publishing's Mars Attacks!series and Gene Ha, the acclaimed artist of Top 10.
In addition, Hero Initiative is proud to have longtime Chicago Bears defensive end Israel Idonije as he launches his new comic, The Protectors, from Athleta Comics. Idonije will be on hand with Protectors writer Ron Marz and artist Bart Sears for one hour on Saturday starting at 2 p.m. Fans will need to purchase an autograph ticket at the Hero booth, #829 on the floor, starting at 10 a.m. on Saturday. The $25 ticket gets you a limited edition, exclusive color image of Idonije in his trademark #71 jersey by Bart Sears. Idonije, Marz and Sears will be there to sign it, PLUS you can bring one additional item of your own to be signed by Idonije. There is a strict limit of ONE ticket per person. Don't miss out!
And Hero encourages fans to seek out the many creators on the show floor asking for donations to Hero Initiative for their signatures. Please check out Amanda Conner, Paul Cornell, Chris Giarrusso, Phil Hester, John Layman, Jay Leisten, Ron Marz, Paul Mounts, Mike Norton, Jimmy Palmiotti, Brandon Peterson, Norm Rapmund, Chris Samnee, Alex Saviuk, Tim Seeley, Joe Staton, Jill Thompson, Skottie Young, and Chrissie Zullo.
Hero's booth schedule at booth #829 is as follows:
Friday, April 26 (con hours 1100-700):
1130-130: John McCrea
130-230: Peter Krause
230-330: Gordon Purcell
330-530: John McCrea
530-700: Jim Brozman
Saturday, April 27 (con hours 1000-700):
1030-1200: Gene Ha
1200-200: John McCrea
200-300: Ron Marz, Bart Sears and Israel Idonije
300-400: Gene Ha
400-600: John McCrea
600-700: Jim Brozman
Sunday, April 28 (con hours 1000-500):
1030-1230: John McCrea
1230-200: Gene Ha
200-400: John McCrea
About The Hero Initiative
The Hero Initiative is the first-ever federally chartered not-for-profit corporation dedicated strictly to helping comic book artists and craftsmen in need. Hero Initiative creates a financial safety net for yesterday's creators who may need emergency medical aid, financial support for essentials of life, and an avenue back into paying work. It's a chance for all of us to give back something to the people who have given us so much enjoyment.
Since its inception, The Hero Initiative has had the good fortune to grant over $500,000 to the comics veterans who have paved the way for those in the industry today. For more information, visit www.heroinitiative.org or call626-676-6354.
Press Release:
DARK HORSE COMICS ANNOUNCES C2E2 2013 SCHEDULE!
APRIL 19, MILWAUKIE, OR— Dark Horse Comics is headed to Chicago's fastest growing pop culture event - Chicago Comics & Entertainment Expo!
Join us for signings at booth #801! Free comics and/or prints with each signing while supplies last.
Please note that lines may be capped or tickets issued for any signing as needed. Inquire about your favorite signings as early as possible. Some restrictions apply. All events are subject to change.
Comics, books, and collectibles will be available for purchase from Dark Horse or your favorite retailer.
DARK HORSE SIGNINGS
FRIDAY, APRIL 26
12:00 p.m. AMALA'S BLADE signing with Steve Horton
Free 8" x 10" print featuring art by Michael Dialynas
1:00 p.m. BATTLEPUG and THE ANSWER! signing with Mike Norton
Free copy of The Answer! #1
2:00 p.m. HUSBANDS signing with Jane Espenson and Brad Bell
Free 5.5" x 8.5" print featuring art by Ron Chan
3:00 p.m. THE SHAOLIN COWBOY signing with Geof Darrow
Free 11" x 17" print featuring art by Geof Darrow
5:00 p.m. BUFFY THE VAMPIRE SLAYER: SPIKE signing with Jenny Frison
Free copy of Buffy the Vampire Slayer: Spike #1
SATURDAY, APRIL 27
10:00 a.m. AMALA'S BLADE signing with Steve Horton
Free 8" x 10" print featuring art by Michael Dialynas
11:00 a.m. CRIMINAL MACABRE signing with Steve Niles and Christopher Mitten
Free 5.5" x 8.5" print featuring art by Christopher Mitten
12:00 p.m. BEASTS OF BURDEN and SCARY GODMOTHER signing with Jill Thompson
Free copy of Beasts of Burden: Neighborhood Watch
1:00 p.m. DREAM THIEF signing with Jai Nitz and Greg Smallwood
Free 5.5" x 8.5" print featuring art by Alex Ross
Free limited edition Dream Thief paper in action figures
2:00 p.m. THE MASSIVE, STAR WARS, and CONAN signing with Brian Wood
Free 11" x 17" print featuring art from The Massive by J. P. Leon
3:30 p.m. THE GOON signing with Eric Powell
Free copy of The Goon #38
5:00 p.m. THE FIFTH BEATLE signing with Vivek J. Tiwary
Free 8" x 10" print featuring art by Andrew C. Robinson
Enter to win an exclusive print signed by writer Vivek J. Tiwary and artist Andrew C. Robinson and The Beatles Stereo CD Box Set
SUNDAY, APRIL 28
10:00 a.m. AMALA'S BLADE signing with Steve Horton
Free 8" x 10" print featuring art by Michael Dialynas
11:00 a.m. DARK HORSE SUPERHERO and BRAIN BOY signing with Freddie Williams II
Free 11" x 17" print featuring art by Freddie Williams II, as depicted on the Dark Horse booth superhero mural
12:00 p.m. EX SANGUINE and THE OCCULTIST signing with Tim Seeley
Free copy of Ex Sanguine #1 and The Occultist #1
1:00 p.m. BATTLEPUG and THE ANSWER! signing with Mike Norton
Free copy of The Answer! #1
2:00 p.m. TO BE ANNOUNCED! Come to the Dark Horse Spring Fever Panel on Saturday, April 27, from 5:15 p.m. to 6:15 p.m. in room W471 to meet two special guests and find out about an exciting new project featuring one of your favorite Dark Horse characters.
DARK HORSE PANELS
SATURDAY, APRIL 27
12:15 p.m.–1:15 p.m. SPOTLIGHT ON BRIAN WOOD, Room W471
3:15 p.m.–4:15 p.m. MUSIC AND POP CULTURE featuring various artists and creators, including Vivek J. Tiwary, writer of the upcoming Dark Horse graphic novel The Fifth Beatle, Room W475b
5:15 p.m.–6:15 p.m. DARK HORSE SPRING FEVER with Scott Allie, Jeremy Atkins, Eric Powell, Tim Seeley, Mike Norton, Steve Horton, and surprise guests! Room W471
7:45 p.m.–8:45 p.m. HUSBANDS: TELEVISION AND BEYOND with Brad Bell, Jane Espenson, Sean Hemeon, and moderator Matthew Aaron, Room W471
Press Release:
VALIANT Heads to C2E2 with ROBERT VENDITTI, CLAYTON HENRY, MICO SUAYAN and More!
From April 26th to April 28th, Valiant Entertainment will be joining the festivities at C2E2, Chicago's premier comics and pop culture convention, and we're bringing along a ton of special guests and exclusive giveaways to celebrate!
Visit Valiant at booth #1029 all weekend long to get a sneak peek at the next big things to rock the Valiant Universe inside the pages of the Valiant Summer 2013 Preview Edition – a FREE C2E2-exclusive convention giveaway, featuring a look inside Quantum & Woody #1 by James Asmus and Tom Fowler and an extended preview of Harbinger Wars #1, the debut issue of Valiant's first crossover event.
Stop by for signings and appearances throughout the show by some of the Valiant Universe's greatest talents, including New York Times best-selling writer Robert Venditti (X-O Manowar, Demon Knights, The Surrogates), New York Times best-selling artist Clayton Henry (Harbinger Wars, Archer & Armstrong, Incredible Hercules), and acclaimed artist Mico Suayan (Harbinger, Batman: The Dark Knight).
As always, Valiant will also have a complete selection of Valiant comics, trade paperbacks, hardcovers, and t-shirts on hand, alongside a brand new convention-exclusive Harbinger Wars #1/Shadowman #1 blank flip book – debuting for the very first time at C2E2!
Then, find out everything you need to know about the Valiant Universe in 2013 on Saturday, April 27th at 4pm in room W471 for the Valiant 2013: Harbinger Wars and Beyond panel presentation! With the landmark events of Harbinger Wars and Planet Death currently underway, find out what's next for Valiant's greatest heroes directly from a panel of Valiant insiders, including X-O Manowar writer Robert Venditti, Harbinger Wars artist Clayton Henry, Executive Editor Warren Simons, Publisher Fred Pierce, and CEO & Chief Creative Officer Dinesh Shamdasani.
And rounding out the weekend, join Valiant's Executive Editor and a special slate of surprise guests on Sunday, April 28th at 11:30 AM W474 for Valiant 2013: The Craft of Comics with Warren Simons. In this candid, behind-the-scenes panel discussion, find out just what it takes to put together a compelling story from start to finish, how to make your series stand apart, and how the editorial process functions at the highest levels – from the award-winning industry veteran behind the Valiant relaunch and a host of fan favorite titles, including Thor, Immortal Iron Fist, Invincible Iron Man, and many more!
For more information, please visit C2E2.com and ValiantUniverse.com.
We'll see you at C2E2!
ABOUT VALIANT ENTERTAINMENT
Valiant is a leading character-based entertainment company with a library of over 1,500 characters, including X-O Manowar, Bloodshot, Shadowman, Harbinger, Eternal Warrior, and many more. Established in 1989, Valiant has sold over 80 million comic books, and today its characters continue to be forged in publishing, licensing, film, video games, and beyond. In 2012, Valiant was named Publisher of the Year by numerous press and industry sources, including Diamond Comic Distributors, Inc.
Event Details:
Convention Name

Toys, Comics, Statues (T-C-S) Convention

Convention Website Address
http://t-c-s.webs.com/
This convention will take place:
Date (Format mm/dd/yyyy)

11/16/2013

About This Convention

SATURDAY, November 16

Adults: $3, kids: $1

Come to the Orland Park Civic Center between the hours of 10 am to 4 pm.

We will have 55 DEALER tables of Silver Age, Bronze Age, and Modern comic books, vintage and hot toys, as well as the occasional statue or two.

AND there will be a Heroclix tournament along with a video game tournament with a chance to win PRIZES!!! (separate fee for each applies).

So come on down, and you may even see an occasional artist or two as well!! Plenty of FREE parking.

Venue Name and Address
Orland Park Civic Center
14750 South Ravinia
Orland Park, IL 60462
United States
Map It
Number of Dealer/Exhibitor Tables

55

Projected Attendance

450

Please select the Category that best describes the convention

Collectibles

Additional Categories
Man of Steel gets a new trailer, Agent Smith reenters the Matrix, and Diamond Select Toys prepares for C2E2…all in this week's Scene on the Web Weekly…in progress.
Jamal Igle and Elio sign at Challengers Comics on Saturday May 4, 2013 for Free Comic Book Day!
Challengers Comics 
1845 N. Western Ave, Chicago, IL 60647
George Gant of Hound Comics signs copies of The Worst Day Ever and On the Grind on Wednesday, April 17th from 5:00 PM – 7:00 PM at Graham Crackers' Lakeview store
Graham Crackers Comics - Lakeview
3162 N. Broadway, Chicago, IL 60647
MATTHEW SPRADLIN, co-creator, co-writer and director of BAD KIDS GO TO HELL, signs TPBs and movie posters of Bad Kids Go To Hell and copies of Bad Kids Go to Hell 2 #1 on Wednesday, April 17th from 11:30 AM – 1:00 PM at the Wheaton store.
Graham Crackers Comics
1207 E. Butterfield Road, Wheaton, IL 60189