Event Details:
Convention Name
SF:SE 2015
Convention Website Address
http://sfse2015.com
This convention will take place:
Start Date (Format mm/dd/yyyy)
09/25/2015
End Date (Format mm/dd/yyyy)
09/27/2015
About This Convention
SF:SE—Speculative Fiction: Southeast—is an event for all lovers and artists of Speculative Fiction, a term encompassing Horror, SciFi, Fantasy, Paranormal and Weird.

Attendees will witness a marriage of cultures: conference standards such as workshops, panels and editor one-on-ones, together with convention debauchery like werewolf LARPing, masquerade balls and a tattoo gallery. All events to be shared with authorial greats like Orson Scott Card, Jacqueline Carey, Peter V. Brett, Kelley Armstrong, and a slew of industry icons.

Venue Name and Address
Sheraton Orlando North
600 north lake destiny drive
maitland, FL 33498
United States
Map It
Number of Dealer/Exhibitor Tables
40
Projected Attendance
1,000
Please select the Category that best describes the convention
Science Fiction and Fantasy
Additional Categories

Book Festival
Gaming
Horror
Collectibles

Guests
Orson Scott Card, Jacqueline Carey, Kelley Armstrong, Cat Valente, Carrie Jones, Shannon Hale, Peter V. Brett, Maria V. Snyder, Rachel Higginson, Kiersten White
Comic Book Creator STEVEN BUTLER will appear at 3 Alarm Comics Pensacola on Saturday, April 11th! Steven has worked in the comic book industry for decades doing books for Marvel, DC, Archie and many more. He is currently working on Sonic Boom and on the Gallant Comics project with Barry Gregory. We will also be giving away another VERY special piece that is one of a kind by Steven Butler. A raffle ticket will be given for every print or sketch bought from Steven and additional tickets will be given for every $25 spent in the store that day. The fun continues at 3 Alarm Comics!
3 Alarm Comics
3960 West Navy Blvd #14, Pensacola, FL 35207
(850) 356-6421
Writer/director Kevin Smith (Clerks, Mallrats, Chasing Amy, Jay & Silent Bob Strike Back) appears at the Orlando Improv on Sunday April 19th at 10:30 PM!
During the session, Kevin Smith answers questions regarding his movies, as well as his life. He discusses how he got started in the movie industry, how different films came about, his friendship with Jason Mewes, and his relationship with the media, fans, and various other celebrities.
Orlando Improv
9101 International Dr Suite 2310, Orlando, FL 32819
(407) 480-5233
Press Release:
Music, science and film come together in the stunning, multimedia work, Icarus at the Edge of Time, a collaboration by Philip Glass, Brian Greene, David Henry Hwang, and Al+Al.
Icarus at the Edge of Time is a mesmerizing tale set in outer space about a boy who challenges the awesome might of a black hole. Based on the children's book by physicist Brian Greene, this futuristic re-imagining of the classic myth takes audiences of all ages on a whirlwind voyage through space and time to the very edge of understanding.
Featuring an original score by Philip Glass, script adapted by Brian Greene and David Henry Hwang, and film created and directed by Al + Al, Icarus at the Edge of Time has been performed by orchestras around the world and narrated by acclaimed performers, such as John Lithgow, Liev Schreiber, Kal Pen and LeVar Burton.
At UCF Celebrates the Arts 2015 on Friday, April 10, 2015 at 7:30 PM, Icarus at the Edge of Time will be narrated by Kate Mulgrew (Star Trek: Voyager; Orange is the New Black) and the score will be performed by the UCF Symphony Orchestra, under the direction of conductor Art Pranno.
Icarus at the Edge of Time was commissioned and produced by World Science Festival (New York) with the Alfred P. Sloan Foundation, and Southbank Centre (London), with the Royal Society. Co-commissioned by Associazione Festival della Scienza, the Baltimore Symphony Orchestra and Glasgow's Concert Halls. Executive Producers: Tracy Day, World Science Festival, New York; Gillian Moore, Southbank Centre, London.
Ticket are FREE and available at the link…
Dr. Phillips Center for the Performing Arts
445 S. Magnolia Ave., Orlando, FL 32801
844.513.2014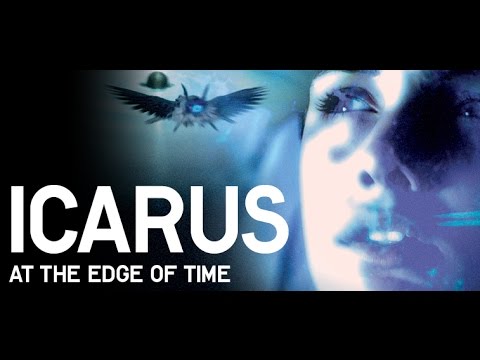 Press Release:
Hero Initiative, the non-profit that aids comic book veterans in medical and financial need, is kicking off the 2015 Orlando MegaCon in an all-new and exciting way!
Hero Board of Directors member George Pérez will be the grand marshal and lead the way for the first-ever MegaWalk, a simple and fun one-mile walk that leads participants right into the 2015 MegaCon.
For $40, participants get an exclusive T-shirt, a super-cool race bling medal, and coupon for a swag bag at the Coliseum of Comics booth at the con! All proceeds benefit Hero Initiative.
The walk starts at the Orange County Convention Center, home of MegaCon, Friday April, 10 at 11 a.m. The doors to MegaCon open at noon!
"With all the heroes I've drawn, I take great joy in being able to walk to MegaCon with some real-life heroes on behalf of Hero Initiative," said George Pérez. "All are welcome. Let's make this more than a walk—Let's make this a Parade! See you all there!"
The MegaWalk takes place indoors at the Orange County Convention Center, so it will go on, rain or shine. MegaWalk does not include admission to MegaCon, which must be purchased separately at MegaConvention.com
To sign up for the first-ever MegaWalk, go to HeroInitiative.org and click on the MegaWalk link. You can also sign up directly at the MegaWalk event page! See you there!
And even if we don't see you there…you can still participate! You can sign up for the MegaWalk "Virtual Race" and get a T-shirt and race bling mailed to you! Just do a mile at your convenience, huh? We'll trust you. The Virtual MegaWalk is at the exact same MegaWalk event page!
Press Release:
Orlando MegaCon Returns to the Orange County Convention Center April 10-12, 2015
 ORLANDO, Fla. (March 2, 2014) — Orlando MegaCon, the Southeast's largest comic book, anime, gaming and multi-media event, is returning to the Orange County Convention Center April 10-12.  The popular event promises to be bigger and better than ever with more events, exhibits and the announcement of celebrity guests including comic book icon, Stan Lee (Saturday and Sunday only).
The weekend starts off with the First Annual MegaWalk at MegaCon 2015, hosted by the Hero Initiative. This event will take place on Friday, April 10 at 11 a.m. with all proceeds going towards the Hero Initiative. The Hero Initiative creates a financial safety net for comic creators who may need emergency medical aid, financial support for essentials of life, and an avenue back into paying work. The walk's grand marshal will be comic book legend George Perez.
The festivities continue on Friday night at The Cosmos Party. With DJ performances, dancing, laser light show, VIP celebrities and costume contest, The Cosmos Party is the official launch of MegaCon. The Cosmo Party takes place in Ballroom D and tickets are $20 in advance and $25 at the door.  Attendees must be 18 or older with proper ID to attend this event.
MegaCon's avid attendees come first and foremost to see the all-star line-up of comic book guests including George Pérez, Ed McGuiness, Mike Perkins, Marv Wolfman, Allen Bellman, Amanda Conner, Jimmy Palmiotti, Frank Cho, Ethan Van Sciver, Andy Smith, Darwyn Cooke, Drew Geraci, Rob Hunter, Katie Cook, Bob Layton, Chuck Dixon, Andy Price, Mike Lilly, Sean Chen, Greg Horn, Dan Parent, Sergio Cariello, Billy Tucci and Brian Pulido
Also big draws at MegaCon are the "media guests" (stars of TV, film and professional sports).  Media guests include:
Norman Reedus, Michael Rooker, Jon Bernthal, Sarah Wayne Callies – The Walking Dead
Ron Perlman (Hellboy) and Mark Boone Junior – Sons of Anarchy (Saturday and Sunday only)
Hulk Hogan – Professional wrestling icon (Saturday and Sunday only)
Cary Elwes – The Princess Bride
Karen Gillan – Doctor Who, Guardians of the Galaxy (Saturday and Sunday only)
Jenna Colman, Arthur Darvill – Doctor Who (Saturday and Sunday only)
Summer Glau – Firefly, Arrow (Saturday and Sunday only)
Adam Baldwin – Firefly, Chuck
Alan Tudyk — Firefly
David Ramsey – Arrow
Lou Ferrigno – The Incredible Hulk
Sean Patrick Flanery, David Della Rocca, Clifton Collins, Jr. – The Boondock Saints
Jeremy Shada, Olivia Olson – Adventure Time
Rob Paulsen, Jess Harnell and Trey MacNeille – The Animaniacs and professional voice actors
Grey DeLisle and Troy Baker – professional voice actors
Other weekend events include the MegaCon video gaming with the Supercon 2K series and an arcade room by Freeplay Florida.
MegaCon 2015 Showroom Dates and Hours:
Friday, April 10:        12 p.m. – 7 p.m.
Saturday, April 11:   10 a.m. – 6 p.m.
Sunday, April 12:     10 a.m. – 5 p.m.
MegaCon 2015 Ticket Prices:
Online:  Friday – $30, Saturday – $35, Sunday $30, 3-day – $70
Onsite:  Friday – $35, Saturday – $40, Sunday $35, 3-day –$75
MegaCon 2015 Location:
Orange County Convention Center
West Building – Exhibit Halls A4 through B4
9899 International Drive
Orlando, FL  32819
Saturday tickets are expected to sell out, so guests are encouraged to consider attending MegaCon on Friday or Sunday.
About MegaCon
MegaCon has grown to become one of the largest comic book and sci-fi conventions in the nation with attendance increasing each year. Designed to appeal to all ages and interests, MegaCon allows attendees to meet and mingle with their favorite comic book artists and TV/film stars, buy amazing collectibles from hundreds of vendors and artists, enjoy gaming events, and participate in numerous activities throughout the weekend.
The MegaCon guest list is constantly growing. Check www.MegaConvention.com frequently for more updates.
Artist Steve Scott appears at 3 Alarm Comics on Saturday, March 14th starting at 11:00 am to sign, sketch and talk with fans. We will be holding a raffle to give away a VERY limited collectible done by Steve Scott himself! For each print or copy of "Ink Slappin" purchased from Steve, you will receive a ticket for entry into the drawing. ALSO, for every $25 spent at the store, you will receive an additional entry! The piece will be given away at the end of the day and you don't have to be present to win!
As an additional BONUS, Steve has agreed to GIVE AWAY FREE BATMAN HEAD SKETCHES for the first 2 hours he is at the store!
3 Alarm Comics
3960 West Navy Blvd #14, Pensacola, FL 35207
(850) 356-6421
Writer/artist Tony Daniel appears at Epic Comics on Sunday, March 29, 2015 from noon till 4:00 PM! His work has appeared in the pages of Action Comics: Superman, Teen Titans, Hawkman, Batman (with Grant Morrison), Detective Comics, Superman/Wonder Woman, and recently relaunching the return of Slade Wilson in the pages of Deathstroke!
Epic Comics
570 N Alafaya Trl, Building C, suite 106, Orlando, FL 32828
407-730-3742
Aaron Lopresti, Andy Smith, Chad Hardin, Chuck Dixon, Dave Myers, Graham Nolan, Greg Land, James Bukauskas, Kate Carleton, Morry J. Hollowell, Ron Garney, Sergio Cariello, Tim Townsend, Tommy Castillo, Wil Quintana, Fierce Comics, and more appear at Yancy Street Comics on Saturday, May 2, 2015 for Free Comic Book Day 2015!
Yancy Street Comics
9409 US 19 (inside Gulfview Square Mall), Port Richey, FL 34668
727-817-0888
Sylvester McCoy, the seventh Doctor Who and Radagast the Brown in the Hobbit films, appears at Coliseum of Comics in Kissimmee, Florida for a signing on the evening of Sunday, February 22nd at 4:00 PM. Joining him will be Doctor Who Classic Series Guest Actor David John, who appeared opposite McCoy in the last story of the Classic Series, "Survival." Autograph and Photo costs are TBD and will be posted as soon as we get them.
Coliseum of Comics
3159 W Vine St, Kissimmee, FL 34741