Event Details:
Convention Name

ComiCONN "A Show for the Fans by the Fans!"

Convention Website Address
http://www.comiconn.com
This convention will take place:
Date (Format mm/dd/yyyy)

08/18/2012

Venue Name and Address
Trumbull Marriott Hotel
180 Hawley Lane
Trumbull, Connecticut 06611
United States
Map It
Number of Dealer/Exhibitor Tables

100

Projected Attendance

2000

Please select the Category that Best Describes The Convention

Comic Books
Well, that didn't take long. Just days after announcing 10 tour dates (and little details) about a series of mini-cons in support of the release "Comic-Con Episode IV: A Fan's Hope," the documentary about the San Diego Comic Con directed by Morgan Spurlock, word comes via The Beat that the whole tour has been cancelled  due to the typical "circumstances" beyond their control. They also say that Director Morgan Spurlock will be making in-person appearances at many of the theaters.
UPDATE: The tour has been cancelled.
While details are somewhat scarce, a "live pop-culture movie and tour" is being launched in support of "Comic-Con Episode IV: A Fan's Hope," the documentary about the San Diego Comic Con directed by Morgan Spurlock and produced by the likes of Joss Whedon, Stan Lee, and Harry Knowles. Whether any of them will actually be in attendance at these events remains to be seen, but the promotional material promises "live superstar panels, exclusive footage from upcoming blockbusters, previews of the coolest new toys and collectibles" and "the incredible goodie bag."
Ten tour dates have been announced so far with more to come:
Thu Apr 5 – Atlanta, GA – Cobb Energy PAC
Fri Apr 6 – Orlando, FL – UCF Arena
Sat Apr 7 – Miami Beach, FL – Fillmore Miami
Thu Apr 12 – Rochester, NY – Dome Arena
Fri Apr 13 – Albany, NY – Palace Theatre
Sat Apr 14 – Philadelphia, PA – Girard College
Sun Apr 15 – Wallingford, CT – Oakdale
Thu Apr 19 – Cincinnati, OH – Taft Theatre
Fri Apr 20 – Rosemont, IL – Akoo Theatre
Sun Apr 22 – Detroit, MI – Fillmore Detroit
And here is the just released trailer for the film: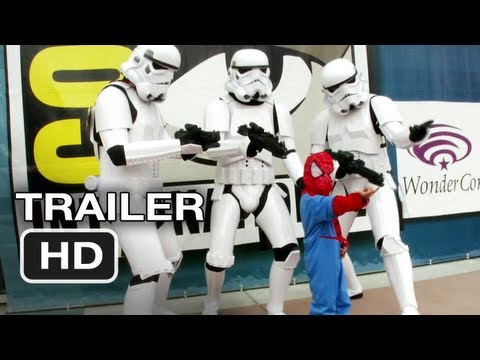 Bill Griffith signs at Real Art Ways on Saturday March 3, 2012 at 3pm.
Press Release:
Bill Griffiths will share his new book Bill Griffith: Lost & Found, a collection Pre-Zippy underground classics.
Bill Griffith will sign books afer his reading. Lost & Found will be available for purchase in the cafe.
Bill Griffith: Lost & Found collects hundreds of Griffith's early underground comics, most of them long out of print and unavailable. Much of the work will be unfamiliar and a real revelation to those readers who only know Griffith from his long-running Zippy strip.
"In two decades, Bill Griffith's Zippy the Pinhead has been transformed from a one-shot gag into the idiot savant of our whirling consumer culture… Griffy's tirades against advertising, truckers' caps, and Bruce Springsteen are hilarious, but he'd be just another elitist snotball without Zippy's cut-and-paste giddiness. Together they're irresistible: the good cop/bad cop of surrealist social criticism… Zippy's not the biggest fool this country has — we elect those — but he is our best." – Entertainment Weekly
"Griffith has actually made room for essays and meditations on the 'funnies' page. No other strip challenges the reader in such a smart way." – Time Magazine online
"Zippy the Pinhead… he's like a word processor with dyslexia!" – Robin Williams
About Bill Griffith
Bill Griffith grew up in Levittown, New York. He attended Pratt Institute and studied painting and graphic arts concurrently with Kim Deitch — they dropped out about the same time. Inspired by Zap, Griffith began making underground comics in 1969, and joined the cartoonists in San Francisco in 1970. Griffith's famous character Zippy the Pinhead made his initial appearances in early underground comic books, morphing into a syndicated weekly strip in 1976 and then a nationally-syndicated daily strip a decade later. Griffith is married to cartoonist and editor Diane Noomin. They live in Connecticut.
Real Art Ways
56 Arbor Street, Hartford, CT 06106
Event Details:
Convention Name

New Haven Comic & Collectible Spectacular

This convention will take place:
Date

06/03/2012

About This Convention
The New Haven Comic & Collectible Spectacular is back again!   We intend to bring another great atmosphere for all participants coming to our show with grab bags to the first fifty fans and free prize drawings throughout the day!  Guest artists will also be announced as well.  Currently this show will run at the Annex Y.M.A. Club in New Haven, Connecticut on June 3rd, 2012 from 10:00 am – 3:00 pm. Right off I-95N at Exit 50, admission will be $3.50 per person and children 10 & under are free. There will be plenty of parking for all with ground floor entry ways, handicapped parking and ramps are also on premise. Tables are currently available for artists, dealers, and fans, and they will be sold on a first-come, first-serve basis. Come dressed in your favorite costume and tell all your friends and family, we hope to truly make this a 'spectacular' event! DON'T FORGET TO TUNE IN AND FOLLOW US ON TWITTER@NHSpectacular OR FRIEND US ON FACEBOOK!
Venue Name and Address
Annex Y.M.A. Hall
554 Woodward Ave
New Haven, CT 06512
United States
Map It
Number of Dealer/Exhibitor Tables

60

Projected Attendance
400
Please select the Category that best describes the convention

Comic Books
Superstar artist Andy Kubert signs at A Timeless Journey on Saturday February 4, 2012 from 4-6pm!
A Timeless Journey
2538 Summer Street, Stamford, CT 06905
Billy Tucci signs at Legends of Superheroes on Saturday December 17, 2011 from 2-6pm!
Legends of Superheroes
1655 Straits Turnpike, Middlebury, CT 06762
(203) 577-2445
Jane Yolen signs on Thursday December 8, 2011 at 7:00 PM!
Barnes & Noble
Blue Back Square, 60 Isham Road, West Hartford, CT 06107
860-236-9900
Mort Walker, Ray Billingsley, Jerry Craft, and many more appear at UConn on Saturday September 10th from 10:00am – 4:00pm.
Press Release:
Don't miss the "Artists' Alley" on Saturday, September 10th from 10:00am – 4:00pm at the UConn Stamford Art Gallery. The "Artist's Alley" gives cartoon, comic strip and comic book fans the chance to meet and greet these exhibitors in person, some of whom will sell original art, books, and sketches, and will be available to sign autographs.
Come meet in person…Scott Barnett, Ray Billingsley, Orlando Busino, Jerry Craft, Carl Herring , Jr., Tyler James, Kevin Liell, Frank McLaughlin, Barbara Slate, Everett Soares, Mort Walker, Adam Wallenta, and billboard artist Russell Rainbolt.
Admission is FREE to the Exhibit and the Artists' Alley. Visitors to the Artists' Alley on September 10th will receive a free Marvel Comics Calendar while supplies last. UConn Stamford is located at the corner of Washington Blvd. and Broad Street in downtown Stamford. FREE Visitor Parking is available at the UConn garage, 2nd level, on Washington Blvd. For more information contact Gary Faulkner at UConn Stamford 203.251.8400
University of Connecticut – Stamford
One University Place, Stamford, CT 06901