Mark Siegel appears at Bank Square Books on Wednesday October 10, 2012 from noon till 1:30pm.
Press Release:
Please join us for an author luncheon at Bank Square Books with author Mark Siegel and his literary fantasy "SAILOR TWAIN". Purchase of the book is the ticket to a catered lunch with dessert and a choice of seltzer or wine. Call or email us for a reservation at 860-536-3795 or banksquarebks@msn.com
One hundred years ago. On the foggy Hudson River, a riverboat captain rescues an injured mermaid from the waters of the busiest port in the United States. A wildly popular–and notoriously reclusive–author makes a public debut. A French nobleman seeks a remedy for a curse. As three lives twine together and race to an unexpected collision, the mystery of the Mermaid of the Hudson deepens. A mysterious and beguiling love story with elements of Poe, Twain, Hemingway, and Greek mythology, drawn in moody black-and-white charcoal, Sailor Twain is a study in romance, atmosphere, and suspense. Pete Hamill calls it "This extraordinary work of fiction pushes the graphic novel well beyond its previous limits."
Bank Square Books
53 West Main Street Mystic, CT 06355
 Mark Siegel debuts his new graphic novel Sailor Twain with several signings across the Northeast.
September 23, 2012 – 1:00 PM
Brooklyn Book Festival!
BROOKLYN BOROUGH HALL
209 JORALEMON STREET
BROOKLYN, NEW YORK
"Make Believe" panel with Derek Kirk Kim,
Becky Cloonan and moderated by Ellen Kushner.
St Francis Screening Room
180 Remsen Street
& other events!
Tuesday October 2
SAILOR TWAIN BOOK RELEASE!
Posman Books Chelsea Market
75 9th Avenue, New York NY 10011
Friday October 5th 5:30 PM
SAILOR TWAIN SAIL ABOARD CLEARWATER
Food and wine and the Hudson River! Departs at 5:30 PM from the 79th Street Boat Basin, NEW YORK Reception continues after the sail, at the dock.
Reserve your spot now! Limited Space!
Saturday October 6th 7:00 PM
THE MARK TWAIN HOUSE Sailor Twain Special Author Presentation
351 Farmington Avenue, Hartford, CONNECTICUT
Sunday October 7th 4:00 PM
Books and Books Westhampton
130 Main Street Westhampton Beach, NEW YORK
Tuesday October 9th 7:00 PM
Porter Square Books
25 White Street Cambridge, MASSACHUSETTS
Wednesday October 10th 12-1:30 PM
Bank Square Books
53 West Main Street Mystic, CT
Thursday October 11th 3:00 -5:00 PM
THE CENTER FOR CARTOON STUDIES
Guest Speaker
94 South Main Street, White River Junction, VERMONT

Thursday October 11th 7:00 PM
The Norwich Bookstore
291 Main Street, Norwich, VERMONT
October 12th–14th
NEW YORK COMIC CON: First Second Booth #1214
FRIDAY:
Steampunk 101 Panel 9:00 – 10:00 PM LATE NIGHT Room 1A06
SATURDAY:
From Concept to Comic
NYCC Stage 11:00 – 12:00pm
The Unbound Stage 12:45 – 1:45pm – Author Autographing Table 5
Comics Quickfire 5:15 – 6:15pm NYCC / Variant Stage
Live-drawing game run by Dave Roman
SUNDAY: 11:30 – 12:30PM – Author Signing First Second Booth #1214
Monday October 15th 7:00 PM
Brookline Booksmith
279 Harvard St. Brookline, MASSACHUSETTS
Tuesday October 16th 6:00 PM
Doylestown Books
16 S Main St. Doylestown, PENNSYLVANIA
Wednesday October 17th 7:00 PM
The Village Bookstore
10 Washington Avenue Pleasantville, NEW YORK
Thursday October 18th 7:00 PM
Oblong Books & Music
6422 Montgomery Street Rhinebeck, NEW YORK
Friday October 19th 7:00 PM
Books on the Square
471 Angell Street Providence, RHODE ISLAND
Saturday October 20th 1:00 PM
Chester County Book & Music Company
975 Paoli Pike, West Chester, PENNSYLVANIA
Tuesday October 23rd 7:00 PM
Newtonville Books
10 Langley Road/ Newton Centre Newton, MASSACHUSETTS
Thursday October 25th 6:30 PM
"SECRETS & MYSTERIES OF THE RIVER HUDSON" THE NYPL SAILOR TWAIN EXHIBIT!
The New York Public Library, Old Maps Division Exhibit opening and special author presentation at 6:30
RECEPTION/DRINKS to follow
The New York Public Library
Fifth Avenue at 42nd Street, New York, NEW YORK
Saturday October 27th 12:00-3:00PM
Friendly Neighborhood Comics
191 Mechanic Street/Route 140, Bellingham, MASSACHUSETTS
Tuesday October 30th 7:00 PM
WORD BOOKSTORE
126 Franklin Street, Brooklyn, NEW YORK
Mark Siegel appears at the Mark Twain House & Museum on Saturday, October 6, 2012 from 7:00pm until 8:30pm.
Press Release:
Join The Mark Twain House & Museum as we celebrate the release of a brand new graphic novel by author/illustrator Mark Siegel. Much like Twain's work in the 1800s, Siegel serialized "Sailor Twain" online in installments. To be released in October 2012 in book form, "Sailor Twain" is an entirely illustrated, original tale inspired by Twain and the steamboat era. Exciting for fans of Twain, graphic novels and Steampunk, Mark Siegel will be on hand to tell the tale of creating this fascinating new book!
FREE EVENT!
The Mark Twain House & Museum
351 Farmington Avenue, Hartford, CT 06105
James Gurney, author and illustrator of Dinotopia, appears at the Lyman Allyn Art Museum for a presentation and book signing on Saturday October 13th, 2012 at 2:00pm.
Press Release:
Lyman Allyn Art Museum announces a new exhibition DINOTOPIA: Art, Science, and Imagination opening September 22, 2012 and on view through February 2, 2013.
Dinosaur fans get ready! DINOTOPIA: Art, Science, and Imagination showcases the original artwork of James Gurney. Gurney is the author and illustrator of Dinotopia, an illustrated book series that tells the story of an island where humans and sentient dinosaurs live together in harmony. Dinotopia appeals to both adults and children and was the inspiration for the 2002 television miniseries.
On view from September 22, 2012 through February 2, 2013, the exhibition brings together paintings from Gurney's well-loved books A Land Apart From Time, The World Beneath, Journey to Chandara, and First Flight, along with sketches and maquettes from Gurney's studio. Dinosaur specimens from the Yale Peabody Museum of Natural History, including a Deinonychus skull and a Tyrannosaurus tooth, will complement the paintings and illuminate the science behind Gurney's art. Children, families, steampunk enthusiasts, and dinosaur fans of all ages will agree that this exhibition should not be missed!
The Lyman Allyn Art Museum's mission is to respond and appeal to the regional community. In that spirit, the museum has planned an exciting schedule of programs to accompany this exhibition.
Image ©2012 James Gurney.
Lyman Allyn Art Museum
625 Williams Street, New London, CT 06320
Exit 83 off of I-95
Open Tuesday through Saturday, 10am-5pm
For more information, please call 860 443-2545
Event Details:
Convention Name

New Haven Comic & Collectible Spectacular

Convention Website Address
http://www.newhavenspectacular.com/
This convention will take place:
Date

11/11/2012

About This Convention
SAME BAT FUN!!! NEW BAT-LOCATION!!!  We had our second event this past June and it was absolutely 'spectacular' so we're coming back once again!  Come back for our Fall show and get your fill of pop cultural goodies from comics to toys to video games and so much more!  There will be an artist panel featuring guest STAR WARS artist Kevin Liell, an 'art fight' hosted by CT's own Free Lunch Studios, and FREE hourly raffle drawings for all attendees!

This show will run on NOVEMBER 11th, 2012 from 10:00 am – 3:00 pm; Admission will be $3.50 per person and children 10 & under are FREE! We have great table prices available, these will be sold on a first come-first serve basis. Please tell all your friends and family, we hope to truly make this a 'spectacular' event!

For ATTENDING VENDORS AND ARTISTS – All tables are 6′ and there is also access to limited electrical outlets at no charge for those that need them, please inquire within.  Table prices are as follows: $50.00 per table, $90.00 = 2 tables, $125.00 = 3 tables, and $150.00 = 4 tables.  Additional tables will be sold at an extra $25.00 per table.

DON'T FORGET TO TUNE IN AND FOLLOW US ON TWITTER@NHSpectacular OR FRIEND US ON FACEBOOK!

Venue Name and Address
Holiday Inn
201 Washington Avenue
North Haven, CT 06473
United States
Map It
Number of Dealer/Exhibitor Tables

60

Projected Attendance
400-500
Please select the Category that best describes the convention

Comic Books
Event Details:
Convention Name

ComiCONN "A Show for the Fans by the Fans!"

Convention Website Address
http://www.comiconn.com
This convention will take place:
Date (Format mm/dd/yyyy)

08/18/2012

Venue Name and Address
Trumbull Marriott Hotel
180 Hawley Lane
Trumbull, Connecticut 06611
United States
Map It
Number of Dealer/Exhibitor Tables

100

Projected Attendance

2000

Please select the Category that Best Describes The Convention

Comic Books
Well, that didn't take long. Just days after announcing 10 tour dates (and little details) about a series of mini-cons in support of the release "Comic-Con Episode IV: A Fan's Hope," the documentary about the San Diego Comic Con directed by Morgan Spurlock, word comes via The Beat that the whole tour has been cancelled  due to the typical "circumstances" beyond their control. They also say that Director Morgan Spurlock will be making in-person appearances at many of the theaters.
UPDATE: The tour has been cancelled.
While details are somewhat scarce, a "live pop-culture movie and tour" is being launched in support of "Comic-Con Episode IV: A Fan's Hope," the documentary about the San Diego Comic Con directed by Morgan Spurlock and produced by the likes of Joss Whedon, Stan Lee, and Harry Knowles. Whether any of them will actually be in attendance at these events remains to be seen, but the promotional material promises "live superstar panels, exclusive footage from upcoming blockbusters, previews of the coolest new toys and collectibles" and "the incredible goodie bag."
Ten tour dates have been announced so far with more to come:
Thu Apr 5 – Atlanta, GA – Cobb Energy PAC
Fri Apr 6 – Orlando, FL – UCF Arena
Sat Apr 7 – Miami Beach, FL – Fillmore Miami
Thu Apr 12 – Rochester, NY – Dome Arena
Fri Apr 13 – Albany, NY – Palace Theatre
Sat Apr 14 – Philadelphia, PA – Girard College
Sun Apr 15 – Wallingford, CT – Oakdale
Thu Apr 19 – Cincinnati, OH – Taft Theatre
Fri Apr 20 – Rosemont, IL – Akoo Theatre
Sun Apr 22 – Detroit, MI – Fillmore Detroit
And here is the just released trailer for the film: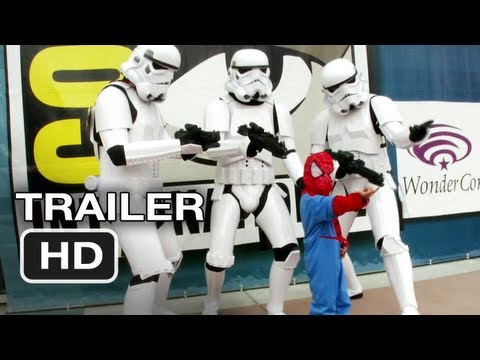 Bill Griffith signs at Real Art Ways on Saturday March 3, 2012 at 3pm.
Press Release:
Bill Griffiths will share his new book Bill Griffith: Lost & Found, a collection Pre-Zippy underground classics.
Bill Griffith will sign books afer his reading. Lost & Found will be available for purchase in the cafe.
Bill Griffith: Lost & Found collects hundreds of Griffith's early underground comics, most of them long out of print and unavailable. Much of the work will be unfamiliar and a real revelation to those readers who only know Griffith from his long-running Zippy strip.
"In two decades, Bill Griffith's Zippy the Pinhead has been transformed from a one-shot gag into the idiot savant of our whirling consumer culture… Griffy's tirades against advertising, truckers' caps, and Bruce Springsteen are hilarious, but he'd be just another elitist snotball without Zippy's cut-and-paste giddiness. Together they're irresistible: the good cop/bad cop of surrealist social criticism… Zippy's not the biggest fool this country has — we elect those — but he is our best." – Entertainment Weekly
"Griffith has actually made room for essays and meditations on the 'funnies' page. No other strip challenges the reader in such a smart way." – Time Magazine online
"Zippy the Pinhead… he's like a word processor with dyslexia!" – Robin Williams
About Bill Griffith
Bill Griffith grew up in Levittown, New York. He attended Pratt Institute and studied painting and graphic arts concurrently with Kim Deitch — they dropped out about the same time. Inspired by Zap, Griffith began making underground comics in 1969, and joined the cartoonists in San Francisco in 1970. Griffith's famous character Zippy the Pinhead made his initial appearances in early underground comic books, morphing into a syndicated weekly strip in 1976 and then a nationally-syndicated daily strip a decade later. Griffith is married to cartoonist and editor Diane Noomin. They live in Connecticut.
Real Art Ways
56 Arbor Street, Hartford, CT 06106