Siike Donnelly, Joe Slepski, Tara Murphy, Chris Thorne, Dylan Campbell, and more appears at Golden Apple Comics on Wednesday April 22, 2015 from 6:00 till 9:00 PM to sign THE ADVENTURES of SOLESTAR !
Golden Apple Comics
7018 Melrose Avenue, Los Angeles, CA 90038
323-658-6047
Gail Simone, the fan favorite writer of Red Sonja, Secret Six, Birds of Prey, Batgirl, The Movement, the upcoming Swords of Sorrow, and many more, appears at Fantastic Comics on Saturday May 2nd for Free Comic Book Day!. Gail will be signing comics as well as selling limited edition, original scripts! The signing will begin at noon so come by the store to take advantage of all-day, store-wide sales (details TBA), get your picture taken with members of the 501st Legion, and pick up a bag of specially produced FREE COMICS!
Fantastic Comics
2026 Shattuck Ave, Berkeley, CA 94704
510-848-2988
Press Release:
Books Inc. proudly present New York Times-bestselling author Eric Jerome Dickey in celebration of his latest romantic adventure One Night on Thursday, April 23rd from 7:00 – 9:00 pm!
For one night, a couple checks in to an upscale hotel. The pair seem unlikely companions, from opposing strata of society, but their attraction is palpable to all who observe them–or overhear their cries of passion. In the course of twelve hours, con games, erotic interludes, jealousy, violence, and murder swirl around them. Will they part ways in bliss, in sorrow, or in death?
Books Inc.
1344 Park Street, Alameda, CA 94501
(510) 522-2226
After taking a brief hiatus from cons, I attended the 2015 Wondercon in Anaheim! With the lack of a big entertainment presence, as well as only a few big name artists and writers, I didn't expect this show to be a successful one. But I was wrong.
Driving up to the con, I saw a long line of cars just waiting for parking! Walking on to the show floor, the con was packed for Friday at noon, and the crowds were packed all weekend long. Con season was in full swing, and Wondercon was a great warmup to Comic Con in a few months! Adding to the excitement was the news that Wondercon will be moving to Los Angeles next year. Hopefully, LA can accommodate and handle the eager fans I saw in Anaheim, and Comikaze provides an excellent indicator that LA can handle a great comic show. I guess we'll see next year if the move was the correct one. And now, onto some of cool things I saw last weekend:
And now, onto some awesome cosplay!
The star of Dead Rising: Watchtower, Jesse Metcalfe, spoke to the media at Wondercon 2015, and Convention Scene's own Richard Oh was there.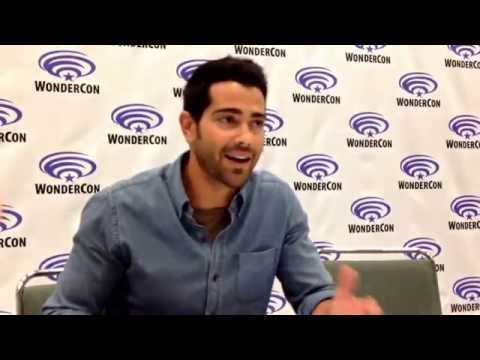 The stars of WGN America's Salem, Shane West and Janet Montgomery, spoke to the media at Wondercon 2015, and Convention Scene's own Richard Oh was there.
Bryan Konietzko & Michael Dante DiMartino (creators of Avatar: The Last Airbender and The Legend of Korra) and Gene Luen Yang (writer of the ATLA comics as well as Superman, American Born Chinese, Boxers & Saints, and many more) speak on a panel moderated by novelist Leigh Bardugo where they will break down the components of mythic storytelling on Saturday, April 11, 2015 at noon. A book signing will follow at 1:00 PM. Present as part of the Yallwest book festival in Santa Monica, CA.
Santa Monica High School – Barnum Hall
601 Pico Boulevard, Santa Monica, CA 90405
Press Release:
Celebrate Free Comic Book Day with music, food, beer and comic-book creators!
FREE COMIC BOOK DAY will be bigger than ever this year in North Hollywood, when Blastoff Comics and Knitting Factory Entertainment team up to present the first-ever BLASTOFF COMICSFEST! Taking place on May 2, 2015, at The Federal Bar in North Hollywood from 10 am to 4 pm, BLASTOFF COMICSFEST will be the place to be in Los Angeles for Free Comic Book Day, with comics creators from Marvel, DC, IDW Publishing, Image, BOOM! Studios, Dark Horse and more on hand to sign comics, provide free sketches and meet with comic-book fans young and old outdoors in the beautiful Southern California sun! With a beer garden, food stations, a live DJ, costumed hero photo ops, and of course, plenty of free comics! Plenty more details and announcements to come, so mark your calendars now!
SPECIAL GUESTS SCHEDULED TO APPEAR:
Joe Casey (MIAMI VICE: REMIX, SEX, THE BOUNCE)
Frank Gibson (CAPTURE CREATURES, ADVENTURE TIME, BEE AND PUPPYCAT)
Dana Gould (STAR TREK/PLANET OF THE APES, THE DANA GOULD HOUR)
Jim Krueger (JUSTICE, THE HIGH COST OF HAPPILY EVER AFTER)
Steve Niles (THE OCTOBER FACTION, MONSTER AND MADMAN, 30 DAYS OF NIGHT)
Valerie Perez (THE NERDIST, THE ADVENTURES OF PAULA PERIL)
Thomas Perkins (GUARDIANS OF THE GALAXY, AVENGERS: EARTH'S MIGHTIEST HEROES, BEN 10)
Kit Quinn (SWEETHEARTS OF THE GALAXY)
Mairghred Scott (TRANSFORMERS, WINDBLADE, GUARDIANS OF THE GALAXY)
Todd Stashwick (12 MONKEYS, THE ORIGINALS, GOTHAM)
J.K. Woodward (CITY ON THE EDGE OF FOREVER, STAR TREK/DOCTOR WHO)
More guests to be announced in the days to come!
The Federal Bar
5303 Lankershim Blvd, North Hollywood, CA 91601
(818) 980-2555
Meet Michael Aushenker the writer of the Slayer biography comic and see how they came to become one of the greatest heavy metal bands on the planet at Mission: Comics & Art on Saturday, April 18th from noon till 3:00 pm!
Mission: Comics & Art
3520 20th St. Suite B, San Francisco, CA 94110
(415) 695-1545
Voice actor Rob Paulsen welcomes Jim Cummings, Chuck McCann, Tad Stones, Corey Burton, and Peter Renaday to the Talkin' Toons podcast on Tuesday April 7, 2015 at 8pm!
Press Release:
The world-famous Hollywood Improv is proud to invite you to join Emmy and Annie award winner Rob Paulsen as he talks about his experiences in voice acting!
About Rob Paulsen:
Born in Detroit, Rob Paulsen spent his childhood in Livonia and Rochester, attending Junior and Senior high school in Grand Blanc, Michigan. Rob loved cartoons like most kids but aspired to be a professional hockey player. "Fortunately, thanks to some big, strong, kid from Winnipeg who drilled me so hard my ears are still ringing, I learned around age 18 I had neither the talent nor the temperament to make a living playing hockey. So, I turned to my other passions: singing and acting."
The goal of bringing absolute believability to a fictional character, live-action or animated, is what every actor strives for. Those who are committed to their career and who combine experience, passion and skill are likely to succeed.
Those gifted with exceptional talent who focus on maximizing their potential by finding their own niche, quickly break away from the pack. After years of honing their craft and consistently delivering memorable performances in which the character impacts an indelible image on the viewer, the public and the industry take notice, singling out the best.
"I'm getting paid to do what I got in trouble for in the 7th grade," jests Rob, who won a Daytime Emmy in 1999 as "Outstanding Performer in an Animated Program" for Pinky and The Brain (Warner Bros.) Though nominated twice previously, the victory was especially sweet due to some formidable competition – fellow nominees Louie Anderson, Ernest Borgnine, Dennis Franz and Jeffery Tambor. In addition to his Emmy, Rob won back-to-back Annie Awards in 1997 and 1998. "I absolutely love what I do and thank my lucky stars for twenty-five years of full-time employment in this business," he says.
"It's a treat to portray a complex character," Rob explains about Pinky, a goof-ball mouse with funny teeth, a head filled with clouds and an inane imagination that is punctuated with a staccato laugh. "Besides … where else could I find a job where emotional outbursts and odd exclamations like 'Egad!,' 'Narf!,' 'Poit!,' 'Splonk!,' and 'Zort!' are allowed and in fact, encouraged?" With over 2,000 half-hours of animation to his credit, Rob's versatility shines in his starring roles as the voices of Yakko, Pinky and Dr. Scratch 'n' Sniff in the Peabody and two-time Emmy award-winning series "Animaniacs."
Some of Rob's other well-known animated characters include Raphael of the "Teenage Mutant Ninja Turtles," Arthur in "The Tick," the title role in "The Mask" (for a WHOLE lot less dough than Mr. Carrey, thank you), the title role in "Mighty Max," Carl Wheezer in "Jimmy Neutron, Boy Genius," Jack Fenton in "Danny Phantom," Bobble in the "Tinkerbell" series of DVDs and hopefully more to come.
Paulsen's extensive credits include on-camera roles in numerous motion pictures including Body Double, Stewardess School, Eyes of Fire, The Perfect Match, and Warlocked. His television acting credits include guest-starring roles on MacGyver and St. Elsewhere. Additionally, he is one of the most sought-after voice actors in the commercial arena, performing in over 1000 commercial spots.
As passionate about "paying it forward" as he is about his lucrative career, Rob supports various charitable organizations, particularly those benefiting children and military veterans. Rob's volunteer work with GOALmodels has been particularly rewarding. GOALmodels, a high school program in Reseda, California, is designed to inspire 9th graders to set goals and overcome obstacles in life. Blending his life experiences with passion for his work, his presentations are informative, entertaining and inspiring. In his leisure time, Rob enjoys golf, riding his motorcycle and occasionally lacing up his skates for another chance to relive his past glory on the rink. He spends the majority of his free time with his wife, Parrish, and their two Yorkshire terriers, Pooshie and Tala.
Hollywood Improv
8162 Melrose Ave, Los Angeles, CA 90048