Press Release:
TICKETS NOW ON SALE FOR LONG BEACH COMIC CON 2016!
MAD Event Entertainment Announces First Wave of Guests Coming to the Long Beach Convention Center September 17 and 18!
MARCH 28, LONG BEACH, CA–Just over a month after the incredibly successful Long Beach Comic Expo, advance ticket sales are on sale now for Long Beach Comic Con! To kick things off, MAD Event Entertainment announces the first wave of guests attending this year's show!
Nick Spencer & Joe Eisma are the writer and artist behind Image Comics popular Morning Glories series, now in it's tenth volume. Nick Spencer is also the writer of Thief of Thieves, Bedlam and has written for both DC and Marvel. In addition to illustrating Big Trouble in Little China, Evil Empire & Higher Earth from Boom! Studios, Eisma has worked for Archie, IDW, Valiant, Vertigo, and more.
Dustin Nguyen is the artist on Image Comics' Descender series, currently in development for film, and garnering critical acclaim issue after issue. Prior to that, Nguyen worked on multiple series at both Wildstorm and DC Comics.
Joëlle Jones is best known for her work on HELHEIM, and the follow up Brides of HELHEIM the supernatural viking thriller series written by Cullen Bunn and published by Oni Press. Currently she is co-writing and drawing a new original series called Lady Killer published by Dark Horse. Additionally, she has worked on various projects with the New York Times, Graphic Universe, Vertigo, DC, Marvel, Dark Horse and ONI press.
Brandon Easton is a writer working in comics and television currently working on such series as Agent Carter for Marvel Television. He is the creator and writer of the Shadowlaw online comic, and one of the writers on Marvel's highly anticipated Civil War II: Choosing Sides.
At the time of press, other confirmed guests include Brett Booth, Jane Chung, Phil Lamarr, Jae Lee, Brian Miller, Stephane Roux, and Vegas Power Girl!
Enjoy an exciting weekend full of exceptional guests and exhibitors, and engaging panels, at Long Beach Comic Con, Saturday, September 17 from 10:00 am – 7:00 pm and Sunday, September 18 from 10:00 am – 5:00 pm at the Long Beach Convention Center. The show opens to advance ticket holders at 9:30 AM on Saturday and 10AM on Sunday. Tickets are available now through the website: www.longbeachcomiccon.com.
Follow Long Beach Comic Con on Facebook and Twitter for the latest news and information.
###
ABOUT LONG BEACH COMIC CON: Long Beach Comic Con is an annual event held at the Long Beach Convention Center that celebrates comic books and pop culture and showcases the exceptional works of talented writers, artists, illustrators and creators of all types of pop culture. At Long Beach Comic Con, you'll find exhibitors promoting and selling all types of related products, as well as entertaining and educational programs for all ages, guest signings and meet & greet sessions with celebrities. Long Beach Comic Con is a MAD Event Management, LLC production. To learn more and purchase tickets, please visit www.longbeachcomiccon.com.
Producers Jeph Loeb and Jeffrey Bell, along with the cast of Agents of SHIELD spoke to the media at Wondercon 2016, and Convention Scene's own Richard Oh was there!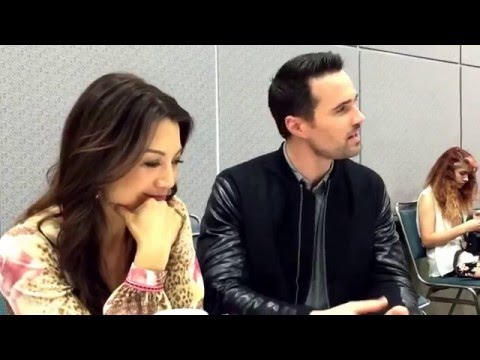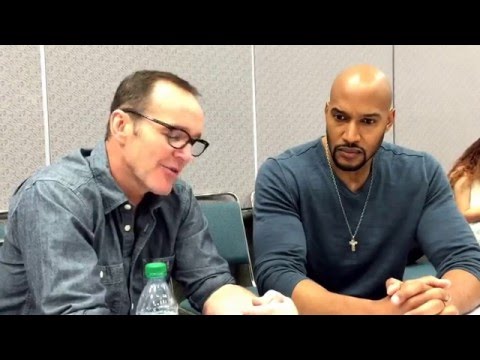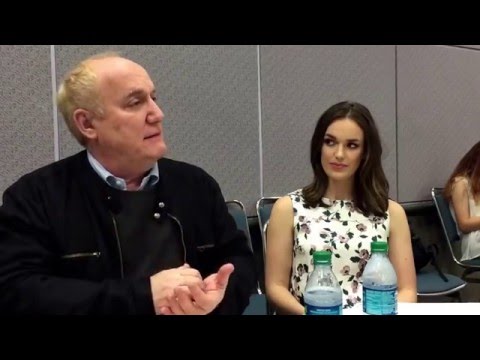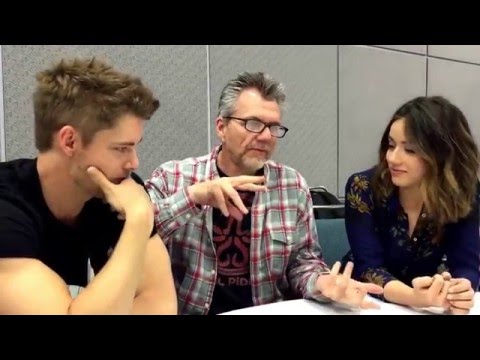 AMC released today a teaser image of "The Walking Dead" character Negan, played by Jeffrey Dean Morgan, along with his weapon of choice, "Lucille," a baseball bat wrapped in barbed wire. The iconic villain from Robert Kirkman's graphic novel is set to make his debut in the show's highly-anticipated season six finale this Sunday at 9:00 p.m. ET/PT on AMC.
The cast of iZombie spoke to the media at Wondercon 2016, and Convention Scene's own Richard Oh was there!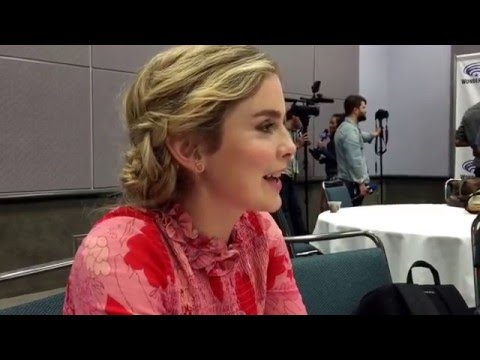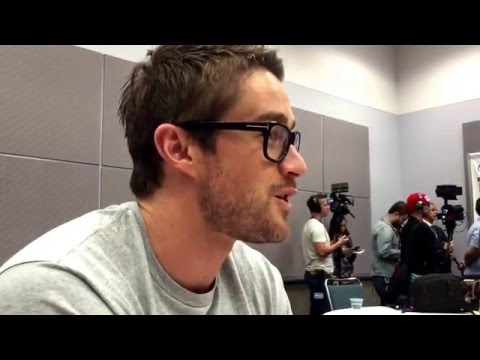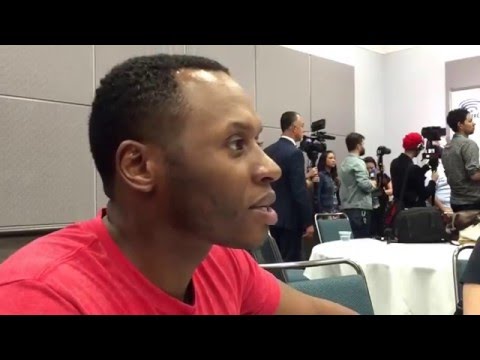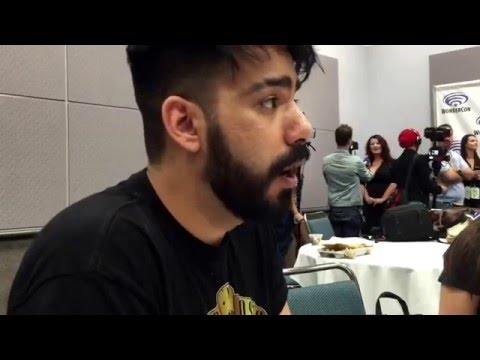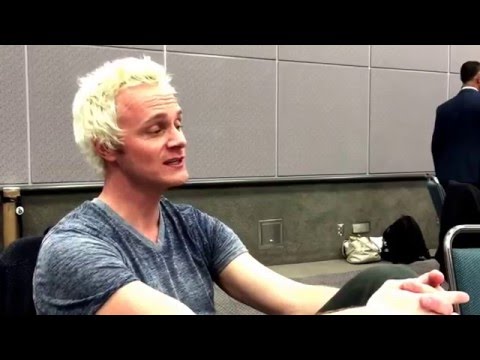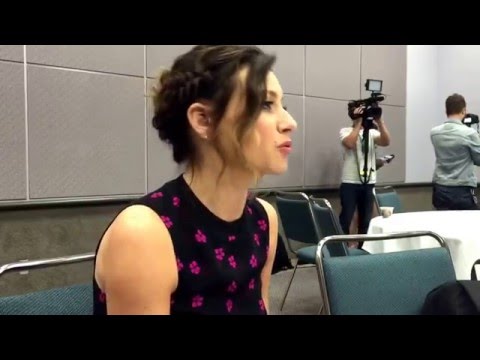 Press Release:
DC Entertainment (DCE) has an exciting line-up of WonderCon 2016 fan signings taking place in its show stopping booth (#1602) beginning Friday, March 25 to Sunday, March 27 at The Los Angeles Convention Center. Comic book fans attending the three-day show will have the chance to meet their favorite artists and authors for signings – including Jim Lee, Scott Snyder, John Romita, Jr. and more – at the DCE booth.
A full schedule of WonderCon 2016 talent signings is available below:
Friday, March 25, 2016*
12:30-1:30: Amanda Conner, Jimmy Palmiotti and Ming Doyle
1:30-2:30: Dan Jurgens, Bernard Chang and Marv Wolfman
2:30-3:30: Dan Abnett and Paul Dini
3:30-4:30: Jason Fabok
4:30-5:30: Tim Seeley, Tom King and Mitch Gerads
5:30-6:30: John Romita, Jr.**
Saturday, March 26, 2016*
10:30-11:30: Babs Tarr and Gilbert Hernandez
11:30-12:30: Robert Venditti and Philip Tan
12:30-1:30: JT Krul and Gene Luen Yang
1:30-2:30: Jason Fabok**, Geoff Johns** and Steve Orlando
2:30-3:30: Tony Daniel and Ming Doyle
3:30-4:30: Jim Lee** and Amy Chu
4:30-5:50: Tom King, Tim Seeley and Mitch Gerads
5:30-6:30: Scott Snyder**, Danny Miki, Collin Kelly, Jackson Lanzig and James Tynion IV
Sunday, March 27, 2016*
10:30-11:30: Amy Chu and Steve Orlando
11:30-12:30: John Romita, Jr.**
12:30-1:30: Dan Jurgens and Bernard Chang
1:30-2:30: Annie Wu
2:30-3:30: Scott Snyder** Danny Miki and James Tynion IV
3:30-4:30: Amanda Conner, Jimmy Palmiotti and Robert Venditti
During the three-day convention, DCE's booth will serve as the go-to location for fans to mingle with some of the best comic writers and artists in the business with a robust schedule of talent signings, in addition to swag giveaways celebrating DC Comics and the upcoming feature film, Batman v Superman: Dawn of Justice. Plus, the booth will feature an impressive collection of items from DC Collectibles and Warner Bros. Consumer Products, and a towering, working Bat Signal made entirely of LEGO bricks in an homage to the Batman v Superman: Dawn of Justice movie from acclaimed exhibition, THE ART OF THE BRICK: DC COMICS.
* schedule is subject to change
** denotes a wristband is required
Come meet some of the amazing talent behind Star Wars: The Force Awakens! Art and concept design superstars Christian Alzmann, Ryan Church, James Clyne, Yanick Dusseault, Colin Fix, Kurt Kaufman, Dela Longfish, Luis Carrasco, and Chris Bonura will be joined by New York Times bestselling author Phil Szostak at the  Sketchpad Gallery on Saturday, March 26, 2016 from 2:00 – 4:00 PM to meet with fans and sign copies of The Art of Star Wars: The Force Awakens.
Sketchpad Gallery
66 6th Street, San Francisco, California 94103
(415) 756-8522
Press Release:
The cast and Executive Producers of "Marvel's Agents of S.H.I.E.L.D." will be heading to WonderCon in Los Angeles! Join them for an exclusive panel Q&A session at the Los Angeles Convention Center on Saturday, March 26.
The "Marvel's Agents of S.H.I.E.L.D." panel will be moderated by Marvel's Head of Television and series Executive Producer, Jeph Loeb, and will include a Q&A discussion where fans can get a glimpse of what's ahead for the team in Season 3. Fans lucky enough to attend will also get a sneak peek at an upcoming episode of the series before it airs on ABC as well as a limited edition show-themed mini-poster, featuring never-before-seen art by Marvel comic artist, Mike McKone. (Entertainment Weekly has a preview at the link)
Can't make the panel? Fans can catch the cast at a poster signing after the panel in the private signing room.
EVENT INFORMATION:
SATURDAY, MARCH 26:
"Marvel's Agents of S.H.I.E.L.D." — Panel Session and Poster Giveaway
2:00 PM PT – 3:30 PM PT in Room 408AB
"Marvel's Agents of S.H.I.E.L.D." — Cast Signing Event and Poster Giveaway
4:00 PM PT – 5:00 PM PT in the private signing room.
Please note that signings are ticketed events and passes will be available via a ticket drawing beginning at 7:30 AM PT on Saturday, March 26 in West Hall A.
Keep up with the latest from your favorite S.H.I.E.L.D. Agents by following @AgentsofSHIELD on Twitter and liking the "Marvel's Agents of S.H.I.E.L.D." Facebook page.
Sean Patrick Flanery (The Boondock Saints, Powder, Young Indiana Jones) appears at Vroman's Bookstore on Friday, April 15, 2016 at 7:00 PM when he stops by to discuss and sign JANE TWO!
A coming of age debut novel from accomplished actor, director, and writer Sean Patrick Flanery explores that powerful first taste of love that sets the bar for something that we'll chase, usually unsuccessfully, for the rest of our lives. A young Mickey navigates through the dense Texas humidity of the 70's and out onto the porch every single time his Granddaddy calls him, where he's presented with the heirloom recipe for life, love, and manhood. But all the logic and insight in the world cannot prepare him to operate correctly in the presence of a wonderfully beautiful little girl who moves in just behind his rear fence. How will this magical moment divide Mickey's life into a "before and after" and permanently change his motion and direct it down the unpaved road to which only a lucky few are granted access? (Center Street)
Those wishing to get books signed will be asked to purchase at least one copy of the author's most recent title from Vroman's. For each purchased copy of the newest title, customers may bring up to three copies from home to be signed. This policy applies to all Vroman's Bookstore events unless otherwise noted. Save your Vroman's receipt; it will be checked when you enter the signing line.
Vroman's Bookstore
695 E. Colorado Blvd Pasadena, CA 91101
(626) 449-5320
Bestselling author Ernest Cline (Ready Player One) appears at Barnes & Noble to discuss and sign Armada on Wednesday April 13, 2016 at 7:00 PM.
ABOUT THE AUTHOR:
Ernest Cline is a novelist, screenwriter, father, and full-time geek. His first novel, 'Ready Player One,' was a New York Times and USA Today bestseller, appeared on numerous "best of the year" lists, and is set to be adapted into a motion picture by Warner Bros. and director Steven Spielberg. Ernie lives in Austin, Texas, with his family, a time-traveling DeLorean, and a large collection of classic video games.
ABOUT THE BOOK:
Zack Lightman has spent his life dreaming. Dreaming that the real world could be a little more like the countless science-fiction books, movies, and videogames he's spent his life consuming. Dreaming that one day, some fantastic, world-altering event will shatter the monotony of his humdrum existence and whisk him off on some grand space-faring adventure. But hey, there's nothing wrong with a little escapism, right? After all, Zack tells himself, he knows the difference between fantasy and reality. He knows that here in the real world, aimless teenage gamers with anger issues don't get chosen to save the universe.
And then he sees the flying saucer. Even stranger, the alien ship he's staring at is straight out of the videogame he plays every night, a hugely popular online flight simulator called Armada—in which gamers just happen to be protecting the earth from alien invaders. No, Zack hasn't lost his mind. As impossible as it seems, what he's seeing is all too real. And his skills—as well as those of millions of gamers across the world—are going to be needed to save the earth from what's about to befall it.
It's Zack's chance, at last, to play the hero.
Barnes & Noble – Bella Terra
7881 Edinger Ave. #110, Huntington Beach, CA 92647
714-897-8781
Press Release:
World renowned comics artist ARTHUR ADAMS will be visiting Flying Colors on Saturday April 2, 2016 from 11:00 AM till 1:00 PM.
Art is the cover artist for Flying Colors exclusive edition of AVENGERS STANDOFF ALPHA #1 which features Pleasant Hill CA's historic landmark Soldier's Memorial Monument. This will be your best chance to get a signed copy of this special edition that is available exclusively at Flying Colors Comics in Concord CA.
His work includes X-MEN, FANTASTIC FOUR, SUPERMAN, GUARDIANS OF THE GALAXY, MONKEYMAN & O'BRIEN, ULTIMATE X, UNIVERSAL MONSTERS, the creation of LONGSHOT and so much more.
Arthur's work has influenced a generation of comics artists. He currently is Marvel's "go-to guy" for iconic and fan-favorite covers.
PLEASE NOTE: Due to the limited time Art has for this signing, he will not be able to do any sketches. We will be giving priority to fans buying Art's Flying Colors Pleasant Hill exclusive Avengers special edition. We reserve the right to limit the number of signatures on other items. Thanks for your understanding!
Flying Colors Comics
2980 Treat Blvd (at Oak Grove Rd), Concord, CA 94518
(925) 825-5410