Gene Luen Yang (Boxers & Saints, American Born Chinese) appears at Eastwind Books on Saturday, September 13, 2014 at 3:00 pm to present his latest graphic novel The Shadow Hero!
In the comics boom of the 1940s, a legend was born: the Green Turtle. But this mysterious masked crusader was hiding something more than your run-of-the-mill secret . . . The Green Turtle was the first Asian American superhero.
The original Green Turtle comic only had a short run, but now Gene Luen Yang has revived the character, creating an origin story for a forgotten hero.
Hank just wants to enjoy his quiet life running the family grocery store with his father, but his mother wants him to become a superhero, and to clean up their Chinatown neighborhood! Can he find a way to live the life he wants and not disappoint his mother?
With artwork by Sonny Lieu, this dazzling, funny comics adventure for teens is a new spin on the long, rich tradition of American comics lore.
Eastwind Books
2066 University Avenue, Berkeley, CA 94704
(510) 548-2350
Cartoonist Liz Prince appears at Skylight Books on Monday September 8th at 7:30 PM!
Press Release:
Razorcake and Skylight Books are teaming up to present graphic novelist Liz Prince, presenting her new graphic memoir Tomboy!
Growing up, Liz Prince wasn't a girly girl, but she wasn't exactly one of the guys either (as she learned when her little league baseball coach exiled her to the distant outfield). She was somewhere in between. But with the forces of middle school, high school, parents, friendship, and romance pulling her this way and that, the middle wasn't exactly an easy place to be. Tomboy follows award-winning author and artist Liz Prince through her early years and explores—with humor, honesty, and poignancy—what it means to "be a girl."
From staunchly refuting "girliness" to the point of misogyny, to discovering through the punk community that your identity is whatever you make of it, Tomboy offers a sometimes hilarious, sometimes heartbreaking account of self-discovery in modern America.
Liz Prince's first book, Will You Still Love Me If I Wet the Bed?, was nominated for several awards and won the Ignatz Award for Outstanding Debut in 2005. Born in Boston, MA, she grew up in Santa Fe, NM, and has been drawing comics since the third grade. She has since produced many of her own comics and mini-comics, which mix her real-life foibles with charming cartooning and comic timing. Fans have described her work as being "cute," making them feel "warm and fuzzy," or simply being "too much information." She now lives outside of Boston and drinks more than her fair share of coffee.
Skylight Books
1818 N. Vermont Ave, Los Angeles, CA 90027
Tel: 323.660.1175
 Stan Sakai, Sergio Aragonès, Mark Evanier, William Stout, Tone Rodriguez, Bill Morrison, and many more appear at Meltdown Comics on  Saturday, August 16, 2014 from 4:00 – 6:00 PM to sign THE SAKAI PROJECT!
Press Release:
On Saturday, August 16, twenty-two members of the cartooning community will descend upon Meltdown Comics on Sunset Boulevard to sign copies of Dark Horse Comics' recently released book "The Sakai Project" to help raise money for the medical bills of fellow cartoonist Stan Sakai, creator of Dark Horse's "Usagi Yojimbo" comic book, now in its thirtieth year.
Fundraising efforts were initially spearheaded by the Comic Art Professional Society (CAPS), an organization of professional comic book artists and writers of which Stan Sakai is a member. Organized by artist Tone Rodriguez, CAPS began collecting original art last December for an online auction to lend a helping hand to Sakai, whose wife Sharon has been suffering from an inoperable brain tumor. As art poured in from the cartooning community, many pieces were custom drawings of Stan's samurai rabbit creation Usagi Yojimbo.
Bill Morrison, a member of CAPS and an art director at Bongo Comics (publisher of "The Simpsons"), approached Sakai's publisher, Dark Horse, about collecting these wonderful images into a book to also benefit the Sakais. Dark Horse publisher Mike Richardson was enthusiastic about the idea, and offered to pay for the book's publication so that all sales could go to the Sakais. Bill Morrison proceeded to volunteer his time to edit the book in tandem with Dark Horse editor Randy Stradley which was designed voluntarily by noted book designer Serban Cristescu. The result is a beautiful 160-paged hardcover art book featuring interpretations of Usagi Yojimbo by some of the top cartoonists in comics today.
Between the online auction and the book, the cartooning community came together in a unique way to help one of their own. Now twenty-one artists local to Los Angeles will gather one more time to help their friend with a fundraising book signing event.
Attending the signing event will be "The Sakai Project" contributors Sergio Aragonès ("Groo the Wanderer", "MAD Magazine"), Mark Evanier ("Groo" writer), Tom Luth ("Groo" and "Usagi" colorist), William Stout (noted illustrator), Ricardo Delgado ("Age of Reptiles"), Jeff Keane ("Family Circus"), Rubèn Procopio ("Batman 66"), Dean Yeagle ("Playboy"), Bill Morrison (editor of "The Sakai Project"), Tone Rodriguez ("The Simpsons" comics), Steven E. Gordon, Anson Jew, Benton Jew, Aidan Casserly, Chad Frye, Brad Rader, Patrick Scullin, Robert Stanley, Mark Dos Santos and Mike Kazaleh all joining with Stan Sakai ("Usagi Yojimbo") himself.
Books will be sold for $45 each, or if fans already have the book, they will be charged a nominal $15 to have their books signed by the artists in attendance.
In addition to "The Sakai Project" book, there will be limited edition prints available exclusively at the event of four images from the book by artists attending the signing: Sergio Aragonès, Stan Sakai, William Stout, and Bill Morrison.
The event will take place on August 16 from 4-6pm at Meltdown Comics & Collectibles, 7522 Sunset Blvd., Los Angeles, CA 90046. Thanks to Meltdown, all proceeds go to Sharon & Stan Sakai to help with their medical bills.
Meltdown Comics
7522 Sunset Blvd, Los Angeles, CA 90046
(323) 851-7223
Writer Jay Faerber appears at Beach Ball Comics on Wednesday, September 10th from 5:00 PM till 7:00 PM to celebrate the release of COPPERHEAD!
Beach Ball Comics
3024 W Ball Rd Ste G, Anaheim, CA 92804
(714) 826-6127
Writer Geoff Johns (Green Lantern, Superman: Unchained)  appears at Barnes & Noble to sign Forever Evil on Tuesday September 9, 2014 at 7:00 PM!
Barnes & Noble – The Grove at Farmers Market
189 The Grove Drive Suite K 30, Los Angeles, CA 90036
323-525-0270
Saul Griffith, Nick Dragotta, and Ingrid Dragotta appear at Mission: Comics & Art on Saturday, August 30th at 12:30 pm to sign HOWTOONS!
Mission: Comics & Art
3520 20th St. Suite B, San Francisco, CA 94110
(415) 695-1545
We will continue to add more videos and links here for SDCC 2014 as we come across them but for now here is our final compilation.
Writer/actress Jenny Mollen appears at Book Soup on Saturday August 9, 2014 at 7:00 PM to discuss and sign I Like You Just the Way I Am, her outrageous, hysterical memoir of acting on impulse, plotting elaborate hoaxes and refusing to acknowledge boundaries in any form.
Press Release:
Jenny Mollen is an actress and writer living in Los Angeles. She is also a wife, married to a famous guy (which is annoying only because he gets free shit and she doesn't). She doesn't want much from life. Just to be loved–by everybody: her parents, her dogs, her ex-boyfriends, her ex-boyfriends' dogs, her husband, her husband's ex-girlfriends, her husband's ex-girlfriend's new boyfriends, etc. Some people might call that impulse crazy, but isn't "crazy" really just a word boring people use to describe fun people? (And Jenny is really, really fun, you guys!)
In these pages, you'll find stories of Jenny at her most genuine, whether it's stalking her therapist (because he knows everything about her so shouldn't she get to know everything about him?); throwing a bachelorette party so bad that one of the guests is suspected dead; or answering the eternal question, "Would your best friend blow your husband on a car ride to dinner if she didn't know you were hiding in the backseat?"
I Like You Just the Way I Am is about "not" doing the right thing–about indulging your inner crazy-person. It is Jenny when she's not trying to impress anyone or come across as a responsible, level-headed member of society. With any luck it will make "you" better acquainted with who "you" really are and what "you" really want. Which, let's be honest, is most likely someone else's email password. (St Martins Press)
Those wishing to get books signed will be asked to purchase at least one copy of the author's most recent title from Book Soup. For each purchased copy of the newest title, customers may bring up to three copies from home to be signed. This policy applies to all Book Soup events unless otherwise noted. Save your Book Soup receipt; it will be checked when you enter the signing line.
A purchase of this title supports the author and your local independent bookstore! We thank you. Don't forget we have free parking in a small lot behind the store. Parking is first come, first serve and free while you are in the store.
Book Soup
8818 Sunset Blvd, W. Hollywood, CA 90069
310.659.3110
On July 23-27th, San Diego was host to the 2014 San Diego Comic Con! After 10 years of attending this show, I was definitely looking forward to seeing what sort of amazing spectacles Comic Con had in store for me this year. After a week of recovery from the show, I had to admit, compared to all the other Comic Cons, this one was a bit more low key. There weren't many major announcements on the movie front, and while there were some exciting TV shows on hand, I definitely didn't feel the major buzz I typically do at SDCC.
However, like all previous Comic Cons, it's a great time to mingle with artists, writers, and friends you never get to mingle with anywhere else outside of SDCC. It was fun watching the stars come on the show floor, watching artists draw some amazing commissions, and seeing the amazing exhibits some of the booths displayed, including all of the Batman cowls celebrating the Caped Crusader's 75th birthday, as well as some very cool props from the latest movies. While it lacked that extra spark that San Diego usually brings to the table, it still was, is and always will be THE place to be. And now, on to some of the sights I saw during the weekend.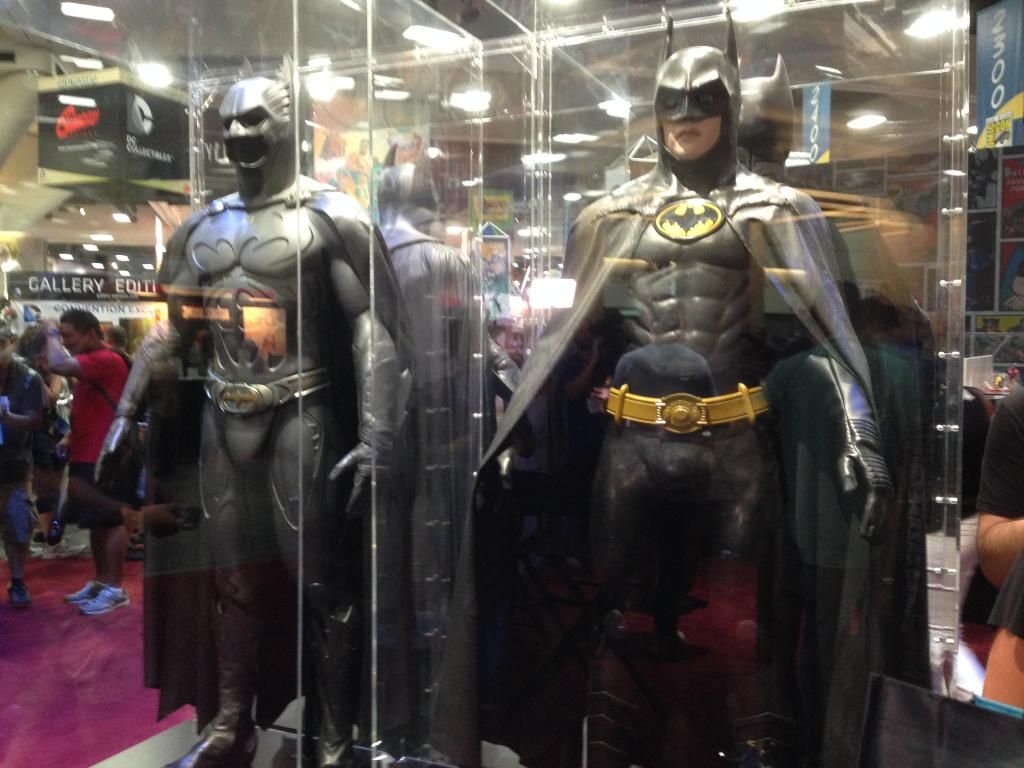 I didn't take a lot of cosplay pics this year, but here's a few that stood out!
A look at some of the cosplayers of Comic-Con, videos of The Avengers: Age of Ultron panel and Zack Snyder and friends, plus lots of more.