We will continue to add more videos and links here for SDCC 2014 as we come across them but for now here is our final compilation.
Writer/actress Jenny Mollen appears at Book Soup on Saturday August 9, 2014 at 7:00 PM to discuss and sign I Like You Just the Way I Am, her outrageous, hysterical memoir of acting on impulse, plotting elaborate hoaxes and refusing to acknowledge boundaries in any form.
Press Release:
Jenny Mollen is an actress and writer living in Los Angeles. She is also a wife, married to a famous guy (which is annoying only because he gets free shit and she doesn't). She doesn't want much from life. Just to be loved–by everybody: her parents, her dogs, her ex-boyfriends, her ex-boyfriends' dogs, her husband, her husband's ex-girlfriends, her husband's ex-girlfriend's new boyfriends, etc. Some people might call that impulse crazy, but isn't "crazy" really just a word boring people use to describe fun people? (And Jenny is really, really fun, you guys!)
In these pages, you'll find stories of Jenny at her most genuine, whether it's stalking her therapist (because he knows everything about her so shouldn't she get to know everything about him?); throwing a bachelorette party so bad that one of the guests is suspected dead; or answering the eternal question, "Would your best friend blow your husband on a car ride to dinner if she didn't know you were hiding in the backseat?"
I Like You Just the Way I Am is about "not" doing the right thing–about indulging your inner crazy-person. It is Jenny when she's not trying to impress anyone or come across as a responsible, level-headed member of society. With any luck it will make "you" better acquainted with who "you" really are and what "you" really want. Which, let's be honest, is most likely someone else's email password. (St Martins Press)
Those wishing to get books signed will be asked to purchase at least one copy of the author's most recent title from Book Soup. For each purchased copy of the newest title, customers may bring up to three copies from home to be signed. This policy applies to all Book Soup events unless otherwise noted. Save your Book Soup receipt; it will be checked when you enter the signing line.
A purchase of this title supports the author and your local independent bookstore! We thank you. Don't forget we have free parking in a small lot behind the store. Parking is first come, first serve and free while you are in the store.
Book Soup
8818 Sunset Blvd, W. Hollywood, CA 90069
310.659.3110
On July 23-27th, San Diego was host to the 2014 San Diego Comic Con! After 10 years of attending this show, I was definitely looking forward to seeing what sort of amazing spectacles Comic Con had in store for me this year. After a week of recovery from the show, I had to admit, compared to all the other Comic Cons, this one was a bit more low key. There weren't many major announcements on the movie front, and while there were some exciting TV shows on hand, I definitely didn't feel the major buzz I typically do at SDCC.
However, like all previous Comic Cons, it's a great time to mingle with artists, writers, and friends you never get to mingle with anywhere else outside of SDCC. It was fun watching the stars come on the show floor, watching artists draw some amazing commissions, and seeing the amazing exhibits some of the booths displayed, including all of the Batman cowls celebrating the Caped Crusader's 75th birthday, as well as some very cool props from the latest movies. While it lacked that extra spark that San Diego usually brings to the table, it still was, is and always will be THE place to be. And now, on to some of the sights I saw during the weekend.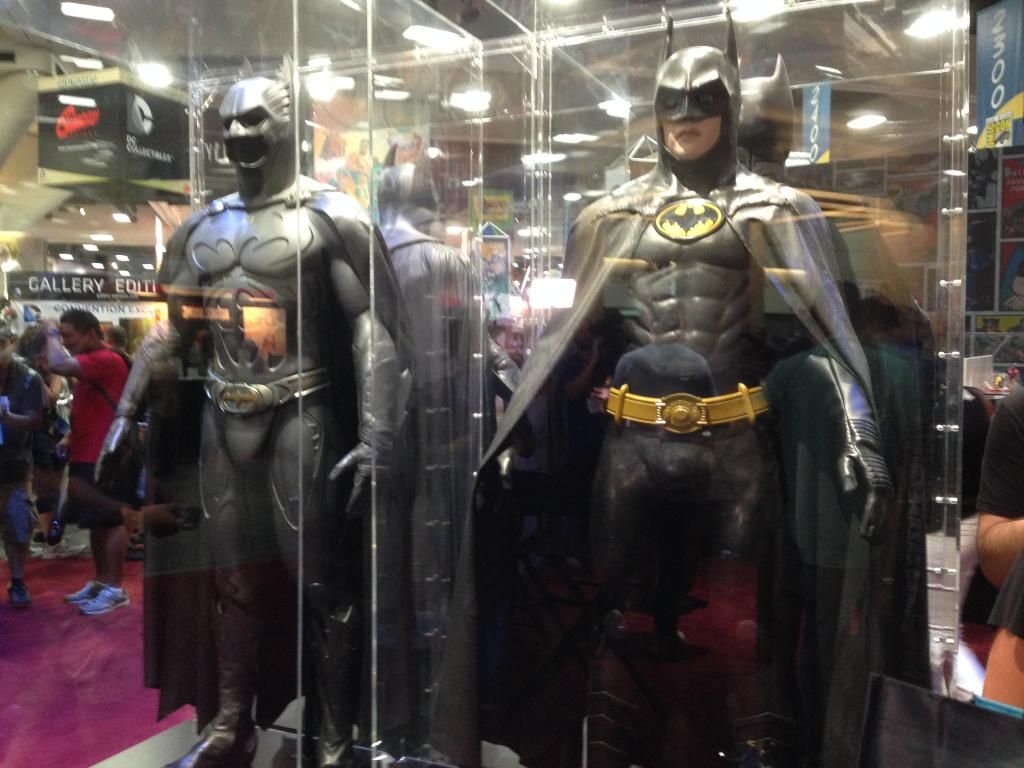 I didn't take a lot of cosplay pics this year, but here's a few that stood out!
A look at some of the cosplayers of Comic-Con, videos of The Avengers: Age of Ultron panel and Zack Snyder and friends, plus lots of more.
Press Release:
The Simpsons is widely considered to be one of the greatest TV shows of all time – 28 Primetime Emmys®! The longest running American sitcom ever continues to thrive with its dead-on satire and razor-sharp wit. Journey from the Springfield Bowl to the Hollywood Bowl for this unprecedented event, as the orchestra accompanies your favorite scenes on the big screen. Join the celebration of a quarter century of groundbreaking creativity, with plenty of special guests and a fireworks finale.
ARTISTS
Hollywood Bowl Orchestra
Thomas Wilkins, conductor
Hank Azaria, host
Nancy Cartwright
Beverly D'Angelo
Jon Lovitz
Yeardley Smith
"Weird Al" Yankovic
Gay Men's Chorus of Los Angeles
and
Matt Groening
Programs, artists, dates, prices and availability subject to change.
SHOWTIMES:
Hollywood Bowl
2301 N Highland Ave, Los Angeles, CA 90068
Director Jonathan Liebesman and producers Brad Fuller and Andrew Form of the Teenage Mutant Ninja Turtles movie appear at Golden Apple Comics on Saturday August 2nd at 7:00 pm for a signing! Plus there will be Turtles trivia and costume contest with prizes including masks, posters, and pass to the L.A. premiere of the new movie.
Golden Apple Comics
7018 Melrose Avenue, Los Angeles, CA 90038
323-658-6047
Get a glimpse of the Batman v. Superman footage from Comic-Con plus a Mad Max trailer, Wonder Woman revealed, the complete Age of Ultron poster, and more.
Gabe Hardman, Corrina Bechko, Christian Gossett, Barbara Kesel, Brian Wood, and Garry Brown sign at The Comic Bug to give the Star Wars Expanded Universe a final farewell on Saturday, August 23rd from 1:00 pm – 3:00 pm! They'll be joined by members of the REBEL LEGION to bring life to the characters from a galaxy far, far away and provide some amazing photo opportunities.
The Comic Bug
1807 Manhattan Beach Boulevard, Manhattan Beach, CA 90266
(310) 372-6704
Writer Nathan Edmondson appears at Barnes & Noble to sign Black Widow: The Finely Woven Thread on Saturday August 2, 2014 at 2:00 PM!
Barnes & Noble – Glendale Americana
The Americana at Brand, 210 Americana Way, Glendale, CA 91210
818-545-9146
Sting shows up at the WWE panel, Matthew McConaughey shows up to push Interstellar, and Microsoft releases a trailer for HALO Nightfall.