Cab Comics hosts a plethora of Arizona's best and brightest comic creators this Saturday September 15, 2012 from 11:00 am – 4:00 pm! Guests include:
Brian and Kristy Miller (Hi-Fi Colour Design)
Armand Villavert (Image Comics)
Brian Augustyn (DC Comics)
Ryan Cody
Vincent Hood
Jean Arrow
Val Hochberg
Nathan Schulte
David Stoll
Russ Kazimerczak
Dave Dell'oso
Denny Michael Riccelli
Stephen Kozak
Alec Kozak
Levi Olson
Cab Comics
1471 S. Milton Road, Flagstaff, AZ 86001
928-774-1655
Eric Esquivel signs at Samurai Comics on  Saturday August 18, 2012 from 6:00pm until 8:00pm.
Samurai Comics
1051 E. Camelback Rd, Phoenix, AZ 85014
602-265-8886
Author James A. Owen signs at Barnes & Noble on Tuesday August 28, 2012 at 6:00 PM for the launch party of the sixth book in the acclaimed 'Chronicles of the Imaginarium Geographica' series. As with all events with Mr. Owen, this is sure to be a blast with twists and surprises! Dragon Army, prepare to meet in North Phoenix.
Barnes & Noble
Desert Ridge Marketplace, 21001 N. Tatum Blvd. Suite 42, Phoenix, AZ 85050
480-538-8520
First up, we have 4 very cool music videos from Twisted Manga:

Geekssociated Press's Toni Darling's interviews various cosplayers: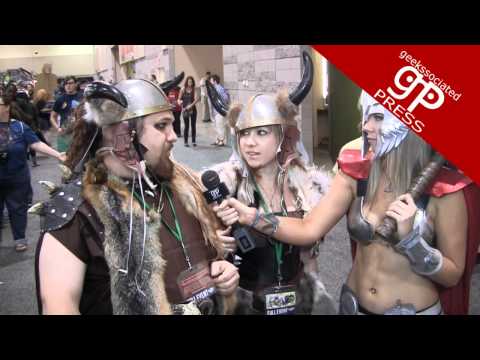 Toni sings at the Masquerade as well:

mstrjedi38 provides an artsy montage: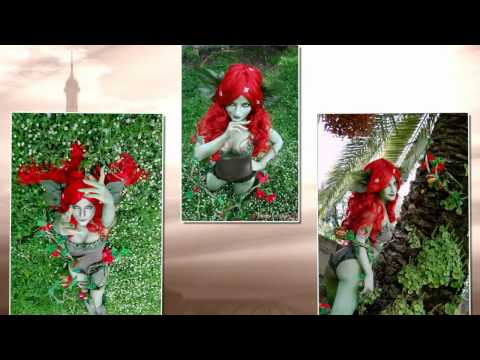 Press Release:
Coming to Phoenix Comic Con? Eager to meet the likes of Garth Ennis, Jacen Burrows, Rich Johnston, and David Lapham? Want to meet the deranged minds behind such hit comics and graphic novels as Crossed: Badlands, Neonomicon, and Ferals? Of course you do! We proudly present our confirmed signing schedule for this weekend's exciting convention below. Watch for more updates to come!
Signing All Weekend Along:
– Jacen Burrows (Crossed, Neonomicon)
– Rich Johnston (Bleeding Cool Magazine)
Friday Schedule
2:00pm – 3:00pm: Garth Ennis Signing (Booth #501)
3:00pm – 4:00pm: Get Crossed Panel with Garth Ennis (Room 126B)
4:00pm – 6:00pm: Garth Ennis Signing (Booth #501)
6:00pm: Bleeding Cool Fan Awards (Room 132BC)
7:00pm: Stitched Screening and Panel with Garth Ennis & Cast (Hyatt Regency Phoenix Ballroom – 2nd Floor)
Saturday Schedule
12:00pm – 2:00pm: Garth Ennis Signing
12:00pm – 1:00pm: Avatar Press Panel (Room 126B)
3:30pm – 7:00pm: Garth Ennis Signing
7:30 – 8:30pm – Bleeding Cool Panel with Rich Johnston (Room 126B)
Artist/writer Stuart Immonen (New Avengers, Ultimate Spider-Man) will raffle off four sketches each day of the Phoenix Comicon (Phoenix AZ, May 24 – 27, 2012) to benefit the Hero Initiative. This is a rare opportunity to commission a sketch as Immonen famously declines requests as outlined in his book 50 Reasons to Stop Sketching at Conventions.
Press Release:
Hero Initiative, the non profit organization that helps comic creators in need, is spending its Memorial Day weekend at Phoenix Comic Con, May 24th thru 27th at the Phoenix Convention Center Hyatt Regency, booth #1048-1050.
Artist Stuart Immonen will be helping Hero out at the con! The artist of Marvel Comics' X-Men and Fear Itself will be at his own artist alley table, but sketching ONLY for Hero! Stuart will do four full-size 11-by-17-commission sketches per day. To get in in, you MUST purchase raffle tickets at $1 each. Four tickets per day will be drawn, and winners will pay $200 for a single-character, full-figure grey marker wash drawing. Drawings take place Friday, Saturday and Sunday at noon!
In addition, you MUST buy the Spawn/Lady Death Phoenix Con print with art by Andy Arias and inked by Todd McFarlane! Both McFarlane and Lady Death creator Brian Pulido will sign each print, limited to 250 serial-numbered pieces. All proceeds benefit Hero Initiative.
And go see John Layman! Layman, writer of the Image Comics hit Chew, has sat on both sides of the pitching process as an editor and as a creator. He'll be putting on a special panel Sunday, May 27 at 130 p.m. to tell you what it takes to develop a winning pitch for your comics and graphic novels! Tickets to this in-depth workshop and Q&A are available ONLY with a $25 donation to Hero Initiative. Seating is limited!
And Hero's booth schedule at the con is as follows:
Thursday (May 24) con hours 4:00 PM – 9:00 PM
4:00-6:00: Mike Stewart
5:00-6:00: Denae Frazier
6:00-7:00: Ben Glendenning
7:00-8:00: Jason Gonzalez
Friday (May 25) con hours 10:00 AM – 7:00 PM
12:30-1:30: Mike Stewart
1:30-2:30: Marat Mychaels
2:30-4:00: Jason Gonzalez
Saturday (May 26) con hours 10:00 AM – 7:00 PM
12:30-1:30: Mike Stewart
3:00-3:45: JLA 100 signing: Andy Kuhn, Bill Tucci, Chris Moreno, Francis Manapul, George Perez, Marat Mychaels, Mark dos Santos, Ryan Cody, Scott Koblish, Scott Kolins, Stuart Sayger, Tony Parker
Sunday (May 27) con hours 10:00 AM – 5:00 PM
11:30-12:30: Jim Hanna
1:230-1:30: Mike Stewart
1:30-2:30: Jay Fotos
2:30-4:00: Jason Gonzalez
4:00-5:00: Jim Hanna
Author Greg Rucka signs at The Poisoned Pen Bookstore on Wednesday May 30, 2012 at 7:00pm!
About Alpha
For the visitors to Wilsonville, the largest theme park in the world, the day began with a smile. By the end, they wonder-will they be able to escape with their lives?
Retired Delta Force operator, Master Sergeant Jonathan "Jad" Bell, is Wilsonville's lead undercover security officer. The threat begins with the announcement of a hidden dirty bomb, but quickly becomes something far, far worse.
Trained since the age of seventeen to save innocent victims from impossible hostage situations, Jad scrambles to assess the threat and protect the visitors. He will come face to face with a villain whose training matches his in every way-and presents a threat Jad may not be able to stop.
Author Bio
Greg Rucka was born in San Francisco and raised on the Central Coast of California, in what is commonly referred to as 'Steinbeck Country.' He began his writing career in earnest at the age of 10 by winning a county-wide short-story contest, and hasn't let up since. He graduated from Vassar College with an A.B. in English, and from the University of Southern California's Master of Professional Writing program with an M.F.A.
He is the author of nearly a dozen novels, six featuring bodyguard Atticus Kodiak, and two featuring Tara Chace, the protagonist of his Queen & Country series. Additionally, he has penned several short-stories, countless comics, and the occasional non-fiction essay. In comics, he has had the opportunity to write stories featuring some of the world's best-known characters—Superman, Batman, and Wonder Woman—as well as penning several creator-owned properties himself, such as Whiteout and Queen & Country, both published by Oni Press. His work has been optioned several times over, and his services are in high-demand in a variety of creative fields as a story-doctor and creative consultant.
Greg resides in Portland, Oregon, with his wife, author Jennifer Van Meter, and his two children. He thinks the biggest problem with the world is that people aren't paying enough attention.
The Poisoned Pen Bookstore
4014 N Goldwater Blvd STE 101, Scottsdale, AZ, 85251
Cory Walker, Scott Kolins, Patrick Scherberger, and many more sign at Samurai Comics on Saturday May 5th for Free Comic Book Day!
Artists appearing:
Cory Walker – Invinicible, Destroyer Max, Science Dog
Scott Kolins – The Flash, DC and Marvel artist
Patrick Scherberger – Spider-Man, Marvel and DC artist
Tony Parker – Dead Man's Run, Aspen & Boom Studios artist
Scott Godlewski – Dracula: The Company of Monsters, Boom Studios artist
Armand Villavert – Gladstone's School for World Conquerors, Image and Tokyopop artist
Hi-Fi Color – Marvel and DC Comics colorist
Jay Fotos – 30 Days of Night, Frazetta Comics creator & Image Comics colorist
Steam Crow – Monster Commute, book illustrator, designer
Ben Glendenning – Tin Star Tex, Zombies Vs. Robots, Moonstone & Image artist
Ryan Cody – Villains, Icarus, Red 5 & Image artist
Jim Hanna – Philly, Jack Rabbit, Arcana Comics artist
Val Hochberg – Kick Girl, Mystery Babylon
John "Dadicus" West – Spazdog Press artist
Ernie Najera – Spazdog Press artist
Samurai Comics East 
1120 S. Country Club Drive #107, Mesa, AZ 85210
480-962-1123
Writer Adam Beechen and artist Dustin Nguyen sign at All About Books and Comics on Saturday May 5th from:
•11:30 a.m. to 1:30 p.m.
•2:30 p.m. to 4:30 p.m.
The 11th Annual FREE COMIC BOOK DAY is fast approaching and All About Books and Comics is having a huge party!  Mark your calendars now, for Saturday, May 5, 2012 from 10 AM to 6 PM.
Of course there will be lots and lots of FREE Comics, free refreshments and free balloons for the kids.
Events include an autograph signing by two of DC Comics hottest creators, DC writer, Adam Beechen and DC Artist, Dustin Nguyen.  Adam and Dustin will be at All About from 11:30 am  to 1:30 pm  and 2:30 pm to 4:30 pm.  AABC will have plenty of comics available that Adam and Dustin have worked on. See below for more information on the works of Adam Beechen* and Dustin Nguyen*
Bring the kids between 1pm and 4pm and they can get their faces painted like a super-hero!  A Balloon twister will be on hand to entertain and hand out fun Twisted Balloons as well.
This year's Charity Fundraiser is for Hospice of the Valley in memory of a good friend of Alan and Marsha's that just lost her battle with cancer. Donations will be taken in any amount, but donations of $5.00 or more will get you 15% off your purchase. Help us raise money for Hospice of the Valley while enjoying a day of fun at All About Books and Comics.
* Adam Beechen
Currently writer of the New York Times Best-Selling DC Comic Batman Beyond, Adam Beechen has been one of the most sought-after writers of comics and animation of the last decade. He has also served as regular writer on such popular titles as Teen Titans, Robin, Batgirl, W.I.L.D.C.A.T.S., Justice League Unlimited, Countdown to Adventure, his creator-owned Killapalooza miniseries, and DC's major "event" comic, Countdown to Final Crisis. In animation, Adam currently serves as Executive Producer for the Hub's hit pre-school series, The Adventures of Chuck and Friends, and has worked as Story Editor on such series as The Pink Panther, Edgar and Ellen and Hi Hi Puffy Amiyumi. Adam has also written multiple episodes for such acclaimed series as Ben Ten, Ben Ten: Alien Force, Teen Titans, Secret Saturdays, The Batman: The Brave and the Bold, The Batman (for which he received an Emmy nomination) Rugrats, The Wild Thornberrys, X-Men: Evolution, , Little Bill, Jackie Chan Adventures, Static Shock and Mucha Lucha, as well as the live-action kids' series Ned's Declassified School Survival Guide, Out There, and The Famous Jett Jackson..
* Dustin Nguyen
Dustin Nguyen is an American comic artist whose body of work, for the past 10 years, includes flagship titles for both DC Comics and Wildstorm. His past projects include Wildcats v3.o, The Authority Revolution, Batman, Superman/Batman, Detective Comics, his creator owned project- Manifest Eternity, Batgirl, and Batman: Streets of Gotham. He is currently exclusive to DC Comics, writing as well as illustrating Justice League Beyond .  Aside from providing cover illustrations for the majority of his own books, his cover art can also be found on titles from Batman Beyond , Batgirl, Justice League: Generation Lost,  Supernatural, and Friday the 13th, to numerous other DC/WS titles.
All About Books and Comics
5060 N. Central, Phoenix, AZ 85012
602-277-0757
Naomi Novik signs at on Changing Hands on Monday, March 12, 2012 at 7:00pm!
Changing Hands Bookstore
6428 S McClintock Dr, Tempe, AZ 85283