Press Release:
Big Wow Comic Fest arrives to the San Jose Convention Center on April 18-19, 2015, bringing two days of comic books, art, collectable toys, sci-fi, fantasy, and celebrity FUN! Many of the nation's best vendors of all things cool and collectible will tempt your wallets with the perfect gifts for geeks, nerds, fans and true collectors, everywhere!
As the original comic-friendly show, we have fantastic comic book creator guests spanning all decades and genres! This year we are pleased to welcome as our Featured Guests:
Jim Steranko (Legendary artist of Captain America & Nick Fury: Agent of SHIELD)
Neal Adams (Legendary Illustrator of Superman, Batman, Avengers, X-Men, and lots more)
Dave Gibbons (Co-Creator of the classic comic "Watchman" made into a major Motion Picture)
Fan-Favorites: Art Adams (X-Men, Godzilla, and more), Bill Morrison (The Simpsons, Futurama, Disney Poster Artist), Stan Sakai (Usagi Yojimbo), Herb Trimpe (Co-Creator of Wolverine) and over 75 more confirmed and added to our website!
Meet, get autographs, and learn the secrets of Show Biz from our spectacular CELEBRITY GUESTS:
Tom Felton (Harry Potter's "Draco Malfoy" and Dawn of the Planet of the Apes)
Daniel Cudmore (X-Men's "Colossus", and Twilight's "Felix")
Jake Lloyd (Star Wars: The Phantom Menace's "Anakin Skywalker" and Jingle All The Way)
Also appearing will be Richard Hatch (Battlestar Galactica), Gary Graham (Alien Nation, Star Trek: Enterprise), George "The Giant" (Big Fish), John Stanley (Creature Features) and more.
Admission is only:
•  1 Day Adult (15 and older) $25.00 and 2 Day Adult $35.00
• 1 Day Child (8-14) $10.00 and 2 Day Child $15.00 Children under 8 are Free!
Save $5.00 off tickets by purchasing them online at www.bigwowcomicfest.com or at participating comic book retailers.
Megan Levens, artist of Ares & Aphrodite, Madame Frankenstein, and Buffy the Vampire Slayer, appears at Earth-2 Comics on Wednesday April 15, 2015 from 6:30-8:30 pm!
Earth-2 Comics
15017 Ventura Blvd, Sherman Oaks, CA 91403
(818) 386-9590
George O'Connor appears at Barnes & Noble to sign Ares: Bringer of War on Friday April 17, 2015 at 4:00 PM!
Author Event
The spotlight is thrown on Ares, god of war, and primarily focuses on his battle with the clever Athena. Who will win this epic clash of power in George O'Connor's latest title from the 'Olympians' series?
Special Instructions
As part of our Educator Reception, we are pleased to welcome author George O'Connor! He will be here signing copies of his book after his presentation.
Barnes & Noble – Park Slope
267 7th Avenue, Brooklyn, NY 11215
718-832-9066
Manga artist Keith Sparrow teaches two manga drawing workshops at Gnash Comics on Sunday the 12th of April 2015!
There are two workshops to choose from:
1:00pm to 2:30pm
3:00pm to 4:30 pm
Cost: £9 a workshop. All materials are provided.
10% discount for Gnash Comic Club members!
To book your place on these workshops, just phone us on (01364) 653 835 or email info@gnashcomics.co.uk.
Don't hang around, a great time was had by all the last time we ran a workshop with Keith, so demand is sure to be high!
Gnash Comics
9A West Street, TQ13 7DT Ashburton, Devon UK
Scott Marder and Rob Rosell (writer/producers of It's Always Sunny in Philadelphia and Unsupervised) along with their co-writer Jack Lambert and cover Artist Bernard Chang (Green Lantern Corps, Wonder Woman) at Hi De Ho Comics on Saturday, March 21, 2015 from 7:00 till 10:00 PM to celebrate the launch of DOBERMAN!  Free drinks will be served, a DJ will be spinning, and entertainment will be provided, including an 80's action hero costume contest; Break out the duct tape and put on your best John McClane costume because prizes will be awarded for the best 80's action movie costumes.
About DOBERMAN:
If Ron Burgundy had an illegitimate child with Steven Seagal, their bastard prodigy would be DOBERMAN — a roundhouse-kicking, beer-shotgunning, Dodge Stealth-driving badass with a badge! From the twisted minds who brought you "It's Always Sunny in Philadelphia" comes the story of Frank Doberano, a.k.a. Doberman, a cop who plays by his own rules and rules wherever he plays. But when his partner is killed during a bust gone bad, Doberman must walk the thin line between vengeance… and even more vengeance.
Hi De Ho Comics
1431 Lincoln Blvd, Santa Monica, CA 90401
(310) 394-2820
Press Release:
Artists including Andrew MacLean (Apocalyptigirl, Head Lopper), Paul Hornschemeier (Forlorn Funnies, Marvel Comics) Robert Gill (Batgirl, Valiant Comics), Shelli Paroline & Braden Lamb (Adventure Time, Midas Flesh) and more appear at the second Beverly Comic Con will be on Saturday, March 21st for hosted at Porter Mills Studio!
Free to the public and jam packed with local comic creators and unique vendors. Original art, posters, prints, handmade collectibles, t-shirts, graphic novels and of course comic books, will all be on hand for this one of a kind event.
DJ Noel Snow will be in the house teaming up with our featured live artist Brett Mason.
Guests of honor include Andrew MacLean (Apocalyptigirl, Head Lopper), Paul Hornschemeier (Forlorn Funnies, Marvel Comics) and Robert Gill (Batgirl, Valiant Comics).
FULL LIST of artists & vendors include: Amanda Beard, Andy Driscoll, Ben Donahue, Shelli Paroline, Braden Lamb, Chris Letarte, Christian Miller, Daniel Kern, David LeBlanc, Eric Boeker, EyeFormation, Omega Level, Jacob Carignan, Jason Casey, Dennis Burke, Joe DellaGatta, Jon Paddol, Joe Haley, Josh Morrissette, Adam Miller, Montserrat Illustration, Robert Van Wagner, Keith Gleason, Matt Mcguirk, Michael Doherty, Patt Kelley, Randy House, Tom Torrey, Harrison's Comics, Andrew Houle, Jesse Danger, PressBound, Michael Crockett, & John Cardinal.
Alongside our new friends at Wicked Art Bar, our old friends at Montserrat College of Art and the gang at Tryptic Press, we hope to put on a killer event of comics, art, and pop culture!
Plenty of parking across the street & super kid friendly.
Free admission
Doors open at 10am
Studios at Porter Mill
95 Rantoul Street, Beverly, MA 01915
Press Release:
Music, science and film come together in the stunning, multimedia work, Icarus at the Edge of Time, a collaboration by Philip Glass, Brian Greene, David Henry Hwang, and Al+Al.
Icarus at the Edge of Time is a mesmerizing tale set in outer space about a boy who challenges the awesome might of a black hole. Based on the children's book by physicist Brian Greene, this futuristic re-imagining of the classic myth takes audiences of all ages on a whirlwind voyage through space and time to the very edge of understanding.
Featuring an original score by Philip Glass, script adapted by Brian Greene and David Henry Hwang, and film created and directed by Al + Al, Icarus at the Edge of Time has been performed by orchestras around the world and narrated by acclaimed performers, such as John Lithgow, Liev Schreiber, Kal Pen and LeVar Burton.
At UCF Celebrates the Arts 2015 on Friday, April 10, 2015 at 7:30 PM, Icarus at the Edge of Time will be narrated by Kate Mulgrew (Star Trek: Voyager; Orange is the New Black) and the score will be performed by the UCF Symphony Orchestra, under the direction of conductor Art Pranno.
Icarus at the Edge of Time was commissioned and produced by World Science Festival (New York) with the Alfred P. Sloan Foundation, and Southbank Centre (London), with the Royal Society. Co-commissioned by Associazione Festival della Scienza, the Baltimore Symphony Orchestra and Glasgow's Concert Halls. Executive Producers: Tracy Day, World Science Festival, New York; Gillian Moore, Southbank Centre, London.
Ticket are FREE and available at the link…
Dr. Phillips Center for the Performing Arts
445 S. Magnolia Ave., Orlando, FL 32801
844.513.2014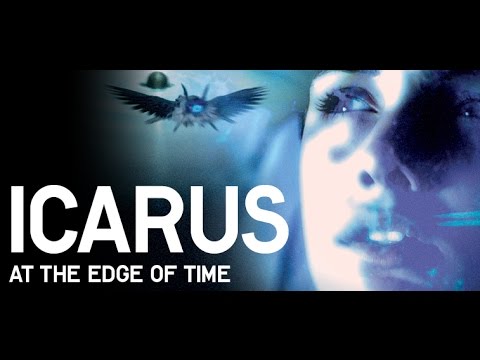 Writer Jonathan Maberry appears at Mysterious Galaxy Books on Tuesday April 7th at 7:30 PM to sign his new novel PREDATOR ONE.
Mysterious Galaxy Books
5943 Balboa Avenue, San Diego, CA 92111
Michel Fiffe appears at Floating World Comics on Thursday April 16th, from 5:00 – 8:00 pm.
Michel Fiffe is the creator of the monthly action series Copra as well as the one-man anthology Zegas, both of which he produces and self publishes under Copra Press, est. 2011. On top of making comics, Fiffe has also edited the comics anthology Twisted Savage Dragon Funnies and has conducted in-depth creator interviews for several institutions including The Comics Journal.
Floating World Comics
400 NW Couch Street, Portland, OR 97209
(503) 241-0227
Cecil Castellucci and Rachel Searles appear at Mysterious Galaxy Books on Friday March 27th at 6:00 PM for a signing focused on SF for teens, and middle grade readers, but of interest to readers of all ages.
Mysterious Galaxy Books
5943 Balboa Avenue, San Diego, CA 92111